2003 LAKE SONOMA CABERNET SAUVIGNON THE
POWER OF GOOD DECISIONS
Many decisions go into making fine wine, and the better the decisions, the better the wine. Such is the case with the 2003 Lake Sonoma Alexander Valley Cabernet Sauvignon; uncommonly concentrated and impressively full-bodied, it shows how informed decisions in the vineyard and in the cellar contribute to wine character. In 2003, as in previous years, Lake Sonoma selected hillside vineyards in Alexander Valley, Dry Creek Valley and Sonoma Valley as the primary source for Cabernet Sauvignon grapes. Always more difficult to farm and less productive than vineyards in the valleys, upland vineyards offer a long growing season, poor, thin soils and limited soil moisture late in the growing season, all of which contribute to intense Cabernet Sauvignon character. This boldness was so obvious when the 2003 Cabernet completed fermentation, the decision was made to give the wine an unusually long 28 months in small oak barrels to gain smoothness and complexity. Lastly, just before bottling, the winemaker opted to blend a small amount of rare Petit Verdot into the 2003 Cabernet Sauvignon to broaden its aromatic palette. The 2003 Lake Sonoma Cabernet Sauvignon's deep color suggests the power to come. Dense aromas of blackberry and currant are accented by hints of cocoa and cedar. Blackberry, raspberry and cedar dominate the mouthfilling flavors, with an array of spice notes in the background. Showing integrated tannins on the palate and moderate acidity in the lingering finish, this firm, structured Cabernet Sauvignon may be enjoyed now with hearty dishes, but promises to evolve beautifully in the cellar. With 3,000 cases produced, the 2003 Lake Sonoma Winery Alexander Valley Cabernet Sauvignon is available nationally at a suggested retail of $22.Since 1977, Lake Sonoma Winery has followed a "best of the best" philosophy to create outstanding Sonoma County wines. The winery's superb Zinfandel, Sauvignon Blanc, Chardonnay and Cabernet Sauvignon may be sampled at its handsome, award-winning tasting room in downtown Healdsburg.
---
SOCCER LEGEND PAOLO ROSSI INVITES GUESTS
TO SHARE HIS TUSCAN PASSION.
"Here I have rediscovered my roots and the passionate pleasure of growing those products which only the soil of Tuscany can produce" – Paolo Rossi

In the heart of Tuscany, Paolo Rossi and partner Luigi Pelaggi have created a one-of- a-kind refreshing retreat where lovers of food, life, sport and beauty can escape from their humdrum daily life. The Poggio Cennina Farm on sixty-four hectares of wood, vines, olives and fruit trees offers an opportunity to experience life in the Tuscan countryside. Both Pelaggi and Rossi want to share the colors of the vineyards and olive-groves, local wildlife and voice of nature that is an important aspect of the Tuscan tradition…an affordable escape for couples and families who will have a chance share the their passion.

The Poggio Cennina Farm was built on organic principles. It is a working farm which produces high-quality products like Borgo Cennina Wine and Borgaccio olive oil. It was transformed into an agritourism enterprise by restructuring a group of stone houses perched on a knoll into 3 villas and 8 apartments. This center is actually a real country village which has maintained the charm and simplicity of the ancient farm dwellings, now solidly restructured. In the farmhouses, each apartment has been attractively furnished in the local traditional style and with modern conveniences. The atmosphere alone breeds a sense of serenity and guests can just relax and enjoy the farm's produce by tasting the Tuscan olive oil and wonderful red wine and by wandering through the fields and wood and relaxing by the side of the lake or pool.

For the sports minded, there is a gym, Turkish Bath, Jacuzzi, tennis court and mountain bike trails and rentals. There is also horseback riding at the nearby "Cavallo Toscano" riding school just 15 km away. The" Golf Course, Florence's most prestigious Golf Course, 'L'Ugolino is only one half hour away. Also site seers are in a strategic position to reach most historic cities. And, of course there is a real football pitch where guests can play, perhaps with Paolo Rossi himself!

There are two restaurants, country style on the property and many restaurants, easily reachable in the vicinity. Rates ranging from 825 euros per week for a one bedroom apartment to 3200 euros per week for a 4 bedroom house and it is open all year.
---
FALL HARVEST DAY AT VIANSA WINERY:
A FEAST FOR EYE AND PALATE
On Thursday, October 5th Sonoma Valley's Viansa Winery and Italian Marketplace will welcome some 500 guests, mostly members of the winery's online Tuscan Club, to an exciting day of fine food and vintage wine samplings, cooking demos with a top chef, winery tours, a live orchestra...it's enough to make your mouth water and your spirits soar. We'd love to have you join us to cover this joyful event, which is being held to help launch both a new season and a new brand of fine wines, the Cucina Viansa series.

Making it even more fun and visually interesting, Jake Shapiro, CEO of 360 Global Wine Company, which owns Viansa Winery, will be on hand. Jake will be doing more than pressing hands: he'll be pressing grapes with his bare feet.

Besides the unique sight of a company's CEO having a wonderful time with the Viansa family of customers, Tuscan Club members and staff, what makes this winery celebration so rare are the cooking and tasting demonstrations: pairing wine with food is one of Viansa's specialties. As they say at Viansa, "If you have a glass of Viansa in one hand, you should have a fork in the other." www.viana.com.
---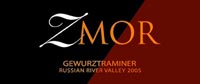 From the winemakers who brought you SoloRosa......
ZMOR Dry Gewürztraminer Returns with a New "First" Release
For more information, e-mail www.zmorwinery.com
Cheers and Best Wishes!