SIPS   .     .     .
JORDAN WINERY ANNOUNCES CHANGES TO WINEMAKING STAFF

Rob Davis moves entirely into new winegrower role; Maggie Kruse promoted to winemaker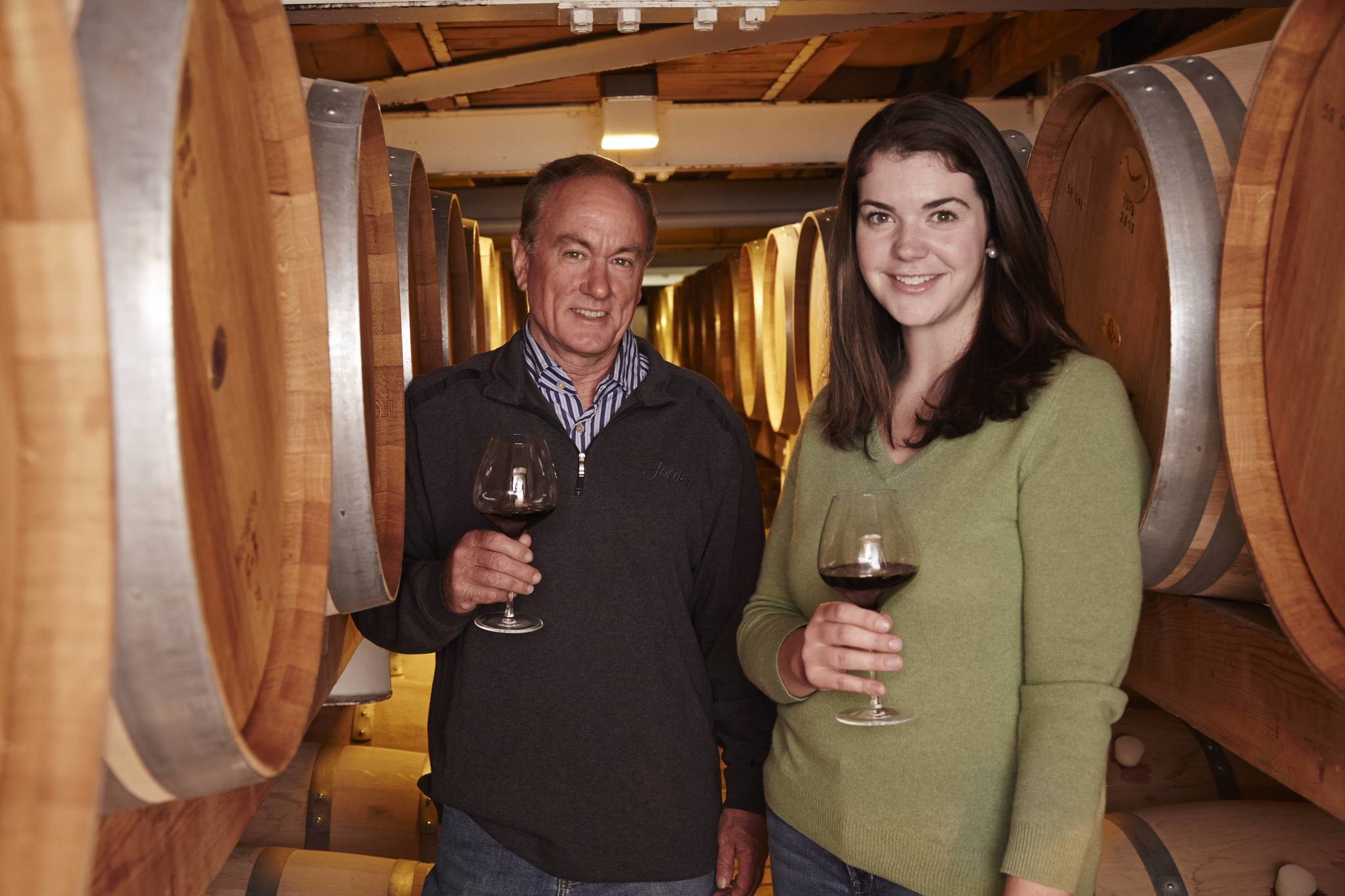 Rob Davis & Maggie Kruse
Rob Davis, who has worked at Jordan since the inaugural 1976 harvest and is considered the longest-tenured winemaker in Sonoma County, is transitioning into the newly created role of winegrower at Jordan, effective July 1, 2019. He has turned over lead winemaking and management responsibilities to Maggie Kruse, who has worked alongside Davis for the last 13 harvests.
Davis's winemaking career began after he graduated from the University of California at Davis in 1976, when legendary winemaker André Tchelistcheff, consulting enologist at Jordan Winery, selected Davis to be his protégé in crafting the inaugural vintage of Jordan Alexander Valley Cabernet Sauvignon. Tchelistcheff continue to mentor Davis until his death in 1994. Davis's role expanded into working with grower vineyards during the phylloxera epidemic in the mid-1990s, when Jordan transitioned from estate bottled to purchasing grapes from local growers. Since then, he has managed both grower vineyards and winemaking, spending his mornings visiting a dozen Alexander Valley grape growers for Jordan Cabernet Sauvignon and a half-dozen Russian River Valley grape growers for Jordan Chardonnay—and his afternoons at the winery working with his production staff. Davis will continue to manage all grower vineyards and serve as a mentor and advisor to Kruse and assistant winemaker John Duckett on many aspects of winemaking—just as André Tchelistcheff did for him.
"At many wine companies, managing grape growers is a full-time job, and we are grateful for all of Rob's work to lead both the winemaking and grower relations for so many decades," said John Jordan, CEO and proprietor of Jordan Vineyard & Winery. "For family businesses like ours, leadership changes like this only come around two or three times in a century. This newly created position will allow Rob to focus entirely on grapegrowing while letting Maggie to take on more leadership responsibility after 13 years of dedication to the company."
Kruse joined Jordan in 2006, not long after John Jordan took the reins from his father. She worked closely with Davis on wine quality improvement programs initiated by John Jordan in 2006, fine-tuning barrel and cork selections while Davis focused on finding even better vineyards for sourcing grapes. Kruse was promoted from enologist to assistant winemaker in 2009 and began overseeing all aspects of barrels and bottling. She also took over day-to-day management of the cellar that year.
Fermentation science runs deep in Kruse's family. Her father spent his career brewing beer at Miller in Milwaukee, and she moved to California from Wisconsin right after high school graduation to pursue her winemaking studies. Kruse graduated from the University of California at Davis in 2005 and worked as an intern at J Vineyards & Winery before joining Jordan the following year.
ABOUT JORDAN WINERY
Founded in 1972, Jordan Vineyard & Winery was inspired by the great wine estates of France and the timeless connection between food, wine and hospitality. Under the guidance of second-generation vintner John Jordan,
Jordan Estate is an extension of these traditions, with its iconic chateau, formal dining room, breathtaking views, sustainably farmed vineyards, natural habitat for wildlife and gardens for the chef's inventive cuisine, offering a distinctive sense of place in Sonoma County wine country. Learn more at www.jordanwinery.com.
_____________________________________________
Fine Alfresco Dining at 7th Annual Solvang Solstice Sundowner S
Merrymaking at Jonata Vineyard to Benefit Elverhoj Museum of History & Art
by Bonnie Carroll
Generous benefactors of Elverhoj Museum of History & Art, which is now celebrated it's 31st year, came together at Jonata Vineyards to honor the Danes who settled in Solvang over a century ago and the locals who have supported Elverhoj Museum of History and Art to present at an outstanding 7th Annual Solstice Sundowner 'Sunset to Firelight' Party on June 22, featuring a Savoir Faire catered dinner served on the exquisite lake property of Jonata Vineyards.
The lovely crowd in attendance included many local area Rotarian's, who enjoyed a reception where a bevy of outstanding local wines were served along with Figueroa Mountain Brew and Paradise Road pilsner to be enjoyed with fine cheese, bread and dried fruits. The silent auction featured wine gifts provided by wineries including Beckman Vineyards, Gorham Vineyards, Foxen Vineyard & Winery, Falcone Family Vineyards, Zaca Mesa Winery, Stolpman Vineyards and many more.
The delicious dinner buffet and live auction were followed by coffee and dessert. The grand finale was the lighting of the Sankt Hans Aften Bonfire (a traditional celebration in Denmark during the month of June honoring Saint John the Baptist) by official fire tenders Rodney Nielsen and Bruce Pedersen. Live music was provided throughout the evening by Solstice Entertainment.
Solstice Sundowner sponsors for the event included Jonata, The Copenhagen House, Montecito Bank & Trust, C&D, AB Bernstein, El Rancho Marketplace & The Alisal.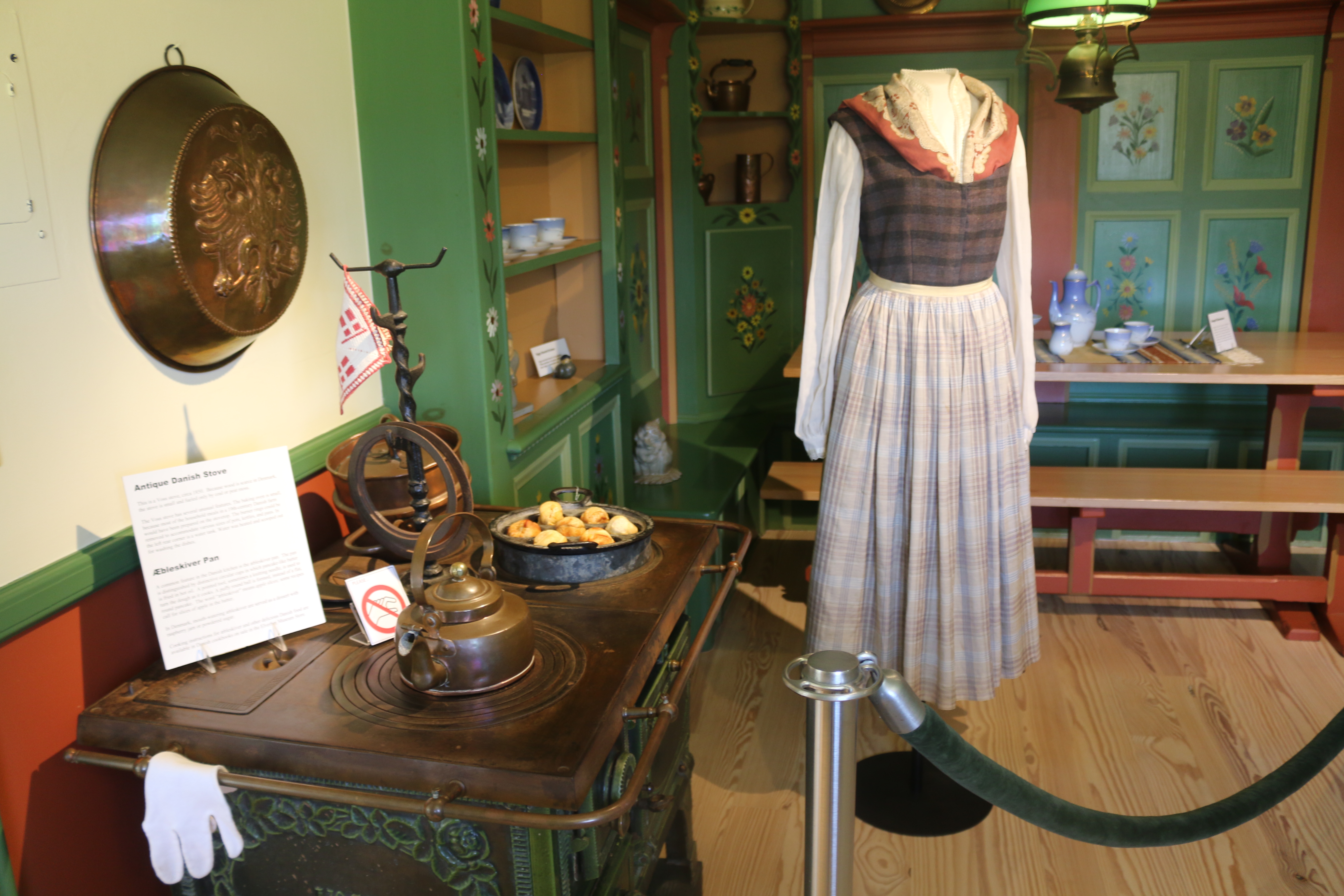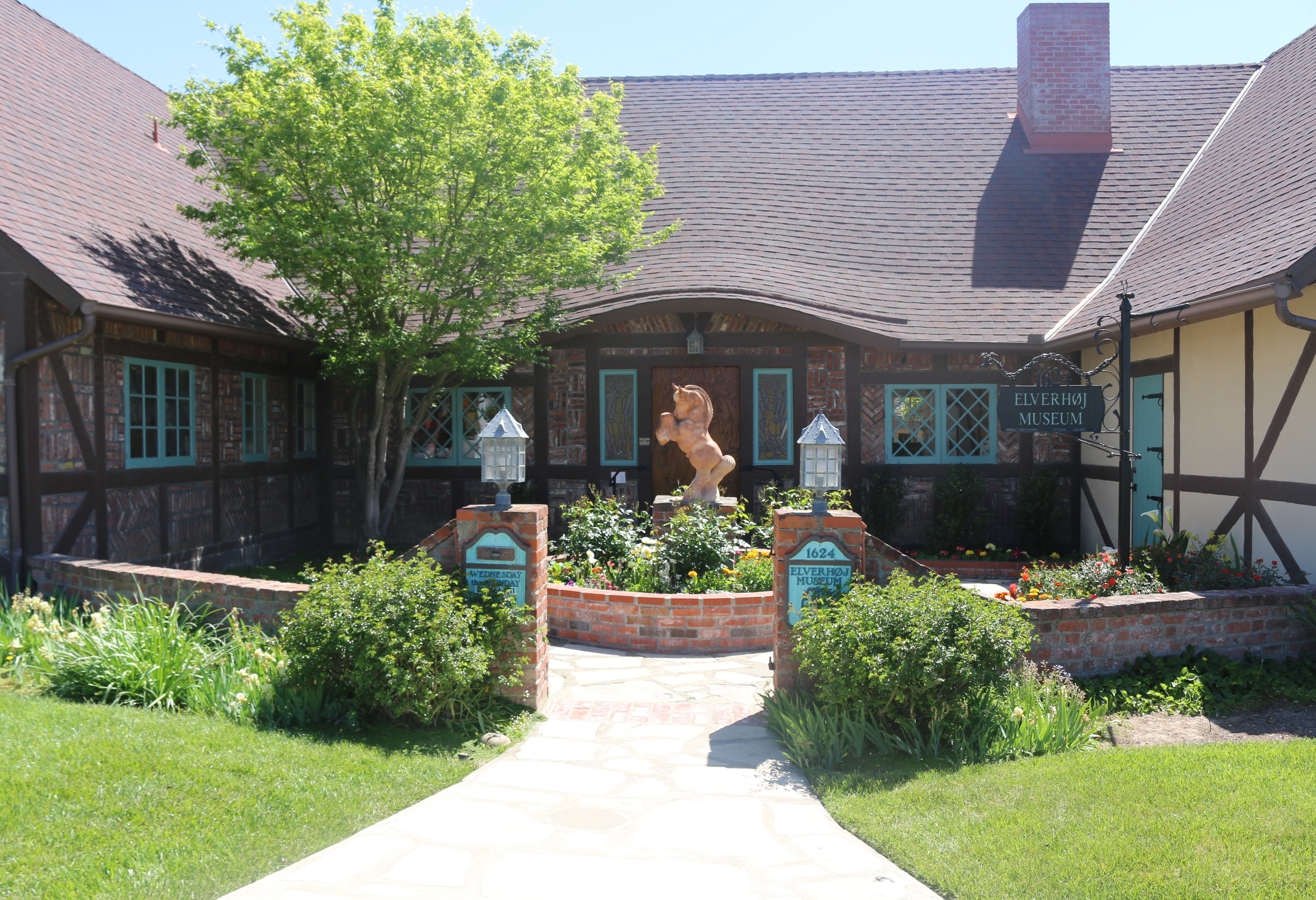 Elverhoj Museum, Solvang USA
The kindness and generosity of these local people to raise funds for Elverhoj Museum was inspiring, and auctioneer Allan Jones did a fantastic job getting the crowd bidding. Erik Gregersen, Board Member and Event Co-Chair gave a charming introduction and Esther Jacobsen Bates, Executive Director and her Elverhoj staff, as well as the countless volunteers, were so hospitable and did an amazing job.
Cheers, to a another truly magical evening and I am so grateful to have been there. Mange Tak to these charming and dedicated Solvang people, and congratulations on a superb event in support of Elverhoj Museum of History & Art. Elverhoj Museum has played a major role in preserving the customs and culture that the Danes brought to this area in 1911. To visit the Elverhoj Museum or make a donation visit: www.elverhoj.org.
_____________________________________________________________________________
HITCHING POST WINES ANNOUNCES WINEMAKING MOVE
TO THE SANTA MARIA VALLEY
Frank Ostini and Gray Hartley Return their Production to Au Bon Climat Winery
on the Bien Nacido Vineyard After Nineteen Years
Frank Ostini and Gray Hartley owners and winemakers of Hitching Post Wines are proud to announce that with the 2019 harvest, they are moving their winemaking operation to The Au Bon Climat Winery on the Bien Nacido Vineyard in the Santa Maria Valley of Northern Santa Barbara County. With this move, Hitching Post Wines goes full circle as the winery returns to Au Bon Climat after making wine there in the 1990s.  
Hitching Post Wines has always focused upon the production of high-quality Pinot Noirs and has a storied 36-year history of winemaking near Santa Barbara. Starting at Byron in 1984 with a move to ABC/Qupe in 1991, Frank and Gray moved their winemaking to Central Coast Wine Services in 2001, then Terravant Wine Company from 2008 to present. Over the years, the steady rise in quality and consistency is attributed to personal experience and improvements in grape-growing. 
After an eleven vintage run, it is with mixed feelings that Hitching Post Wines leaves the ultra- modern Terravant Wine Company. According to Frank, Terravant made it possible for them to craft a "small lot" style of Pinot Noir using amazing open-top fermenters and both winemakers are very proud of the wines they made there for more than a decade.
With a return to their original "home," Frank and Gray feel like this is their last move. Frank is excited to state "We are returning to where we learned our sensibilities to make balanced age-worthy wines from the great vineyards of Santa Barbara and to work again with the pioneering winemaking legends Jim Clendenen and Bob Lindquist." Gray adds, "We look forward to working with Jim Adelman, General Manager and cellar master Enrique Rodriguez – the same team that was there in the 90s." Frank concurs, saying, "We are so thrilled to join this team that has been at the forefront of quality winemaking in Santa Barbara since 1988."
The move is in process and should be completed by harvest 2019.
Gray Hartley and Frank Ostini – photo credit Rob Stark 
ABOUT HITCHING POST WINES:
Hitching Post Wines are the creation of Gray Hartley and Frank Ostini, two friends that have been making wines in Santa Barbara County, California since 1979. Long before Hollywood discovered the winemaking landmark and its great wines, Gray Hartley, a former Alaskan salmon fisherman and Frank Ostini, the chef and owner of the famed Hitching Post 2 Restaurant in Buellton, were brought together through their love of wine and winemaking. Over the years their backyard hobby has turned into a highly acclaimed winemaking enterprise. In 1981 they discovered the wonder of Pinot Noir grapes; since then Pinot has been their primary focus. A great example of these wines is the Hitching Post Highliner. The "Highliner" is the best fishermen in the fleet, and this name honors the great men of the Alaskan Salmon Fishery alongside whom Gray Hartley worked for 28 years. A special wine, Highliner is meant to be the "best of their fleet" of Pinot Noirs. Along with ten selections of Pinot Noir, Hitching Post produces a dry Rosé called Pinks, a Syrah, and a Merlot-based blend named Gen Red. Then came Sideways in 2004, the Academy Award® winning film set in Santa Barbara wine country, prominently featuring The Hitching Post 2 and Hitching Post Wines. Since Sideways exposure in the film, Hitching Post wines have gained in popularity. Currently, the winery has 1200 barrels and produces about 17,000 cases a year. Hartley and Ostini strive to create flavorful handcrafted wines that possess poise and balance, putting a slice of Santa Barbara in each glass, and a piece of their soul in every bottle of Hitching Post. Hitching Post Wines are enjoyed by an audience that reaches around the globe who admire Santa Barbara wines for their lively refreshing fruit, and their complexities of earth and spice. Hitching Post Wines are produced by Hartley Ostini Vintners, Buellton, California.
Hitching Post Wines has received accolades from Eater LA, Forbes, Santa Barbara News-Press, LA Weekly, TimeOut LA, Santa Barbara magazine, and Santa Barbara Seasons among others.
HITCHING POST WINES
420 East Highway 246, Buellton, CA 93427
 For updates on the opening the public can visit:
---