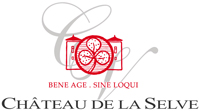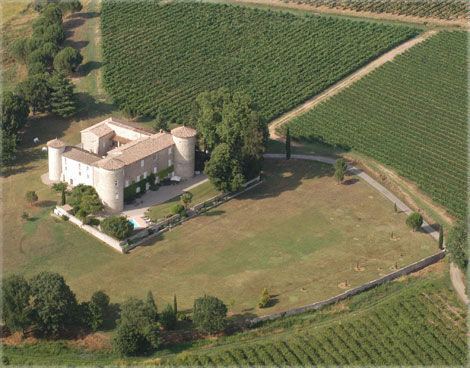 HISTORY OF THE DOMAIN
Originally, the Château de la Selve was a fortified house first on the frontier of the
Empire and then of the Kingdom of France.  It then became the hunting lodge of a
famous family from the Vivarais, the Dukes de Joyeuse, before being transformed,
century after century, into a farm.

Built during the 13th century, it has the typical architecture of all houses and castles
of the Bas-Vivarais.      Located on the bank of the Chassezac, the main Ardèche'stributary, it benefits from a unique and protected environment.

In 1990, this magnificent house became the property of my parents, Jean-Régis and
Magdeleine Chazallon.  The Château thus became familial, touristic and agricultural destination. 

Today, a wing of the castle has been converted into six Gîtes de France (from 3 to 6 persons). In a large yard planted with trees, they offer a heaven of peace in the
heart of the touristic Ardèche.
The young organic & biodynamic wines of this winery will be att Salon de la Revue du Vin de France, November 6-7, Auto Workd Park in Brussels. For information visit www.chateau-de-selve.fr.
---
LIVE, LOVE, EAT! The Best of Wolfgang Puck
GREAT NEW COFFEE & TEA FROM WOLFGANG PUCK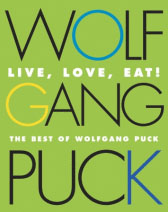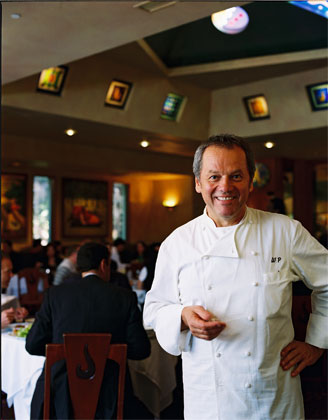 The brilliant chef/entreprenier is now offering specialty coffee and products for home and the office. His "live, love, eat" coffee and tea products are outstanding, and his new book "Live, Love, Eat! .. The Best of Wolfgang Puck is brilliant as well.
Austrian-born Wolfgang Puck opened his first restaurant, Spago, on Hollywood's Sunset Strip in 1982. Building on Spago's phenomenal success, he has become one of the most influential chefs in North America with a restaurant empire that includes a growing number of fine dining restaurants, catering venues and fast-casual restaurants. Wolfgang Puck's name has become synonymous with culinary passion and the very best in eating and dining well.

For more than 25 years, Chef Puck has catered to Hollywood's elite in his restaurants and at the industry's most prestigious events. The master chef also has published six popular cookbooks and his weekly syndicated newspaper column appears in more than 30 newspapers throughout the United States and Canada.

In 2007, Wolfgang led the culinary industry by formalizing his personal passions and healthful philosophy with his WELL (Wolfgang's Eat Love Live) program, which celebrates creating innovative tastes using all-natural, organic ingredients and a first-of-its-kind humane farm animal treatment program created in partnership with the Humane Society of the United States (HSUS).

Wolfgang applies his dedication to quality and authenticity to his distinctive coffee and strives to offer coffee lovers the most delicious and innovative tastes and the highest quality products.

For more information, visit wolfgangpuck.com
---
SUNLIGHT and WATER - Celebrating the Winemakers of Santa Barbara County    by Mark Robert Halper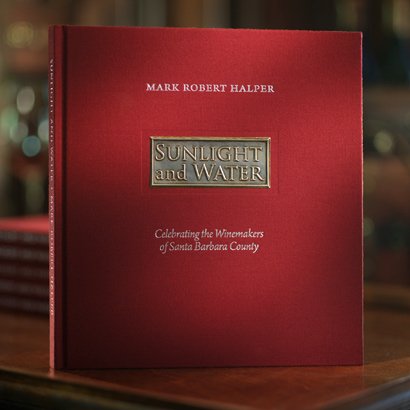 "This beautifully realized book is an achievement on several levels. It is a lovely work of art; it is a dramatic exposition of a time and place; it is about sunlight and water; and it is about wine. How is it about wine when there are no pictues of wine? Just look in their eyes. Look Closely." Anthony Dias Blue, Paris, April 2010.
"Wine is sunlight, held together by water." Galileo Galilei
Halper has created an exquisite compilation of outstanding black and white photos of the Santa Barbara County winemakers, which tell a story of the real moments in the lives of a select group of people dedicated to growing and preserving the art of outstanding wine making. The book is simple and beautiful; a treasure for wine lovers and for those people who spend their lives growing the grapes that produce award winning wines for the enjoyment of afficionados around the world to enjoy. For additional information v isit: www.HalperFineArt.com.
---
---