SIPS   .    .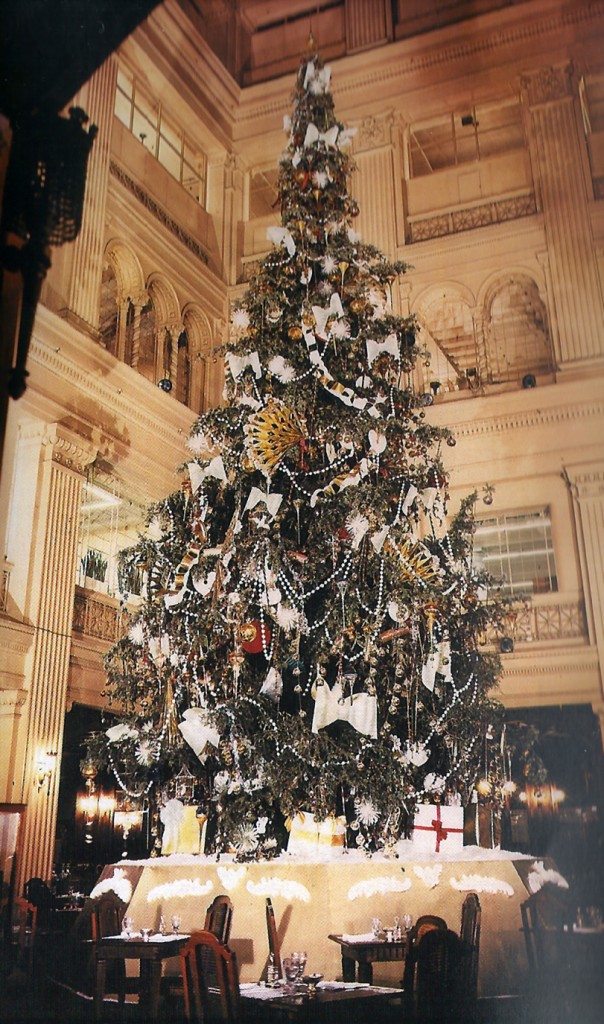 Marshall Field's Walnut Room 1940s

FAVORITE HAUNTS FOR HOLIDAY HIGH TEA    by Bonnie Carroll

Some of my happiest moments were spent under the Christmas Tree in the Walnut Room of the Marshall Field's Department Store on State Street in Chicago. This was my first introduction to a formal tea setting and became a traditional actiity of my family while I was growing up, and also one I shared with my own children. Today Macy's owns the former Marshall Field venue, but still features the Holiday dining with the huge Christmas Tree in the Walnut Room. 
My love for tea grew over the years and led me to seek out unusual and beautiful tea opportunities around the world. Below are a few I know you will enjoy during your travels.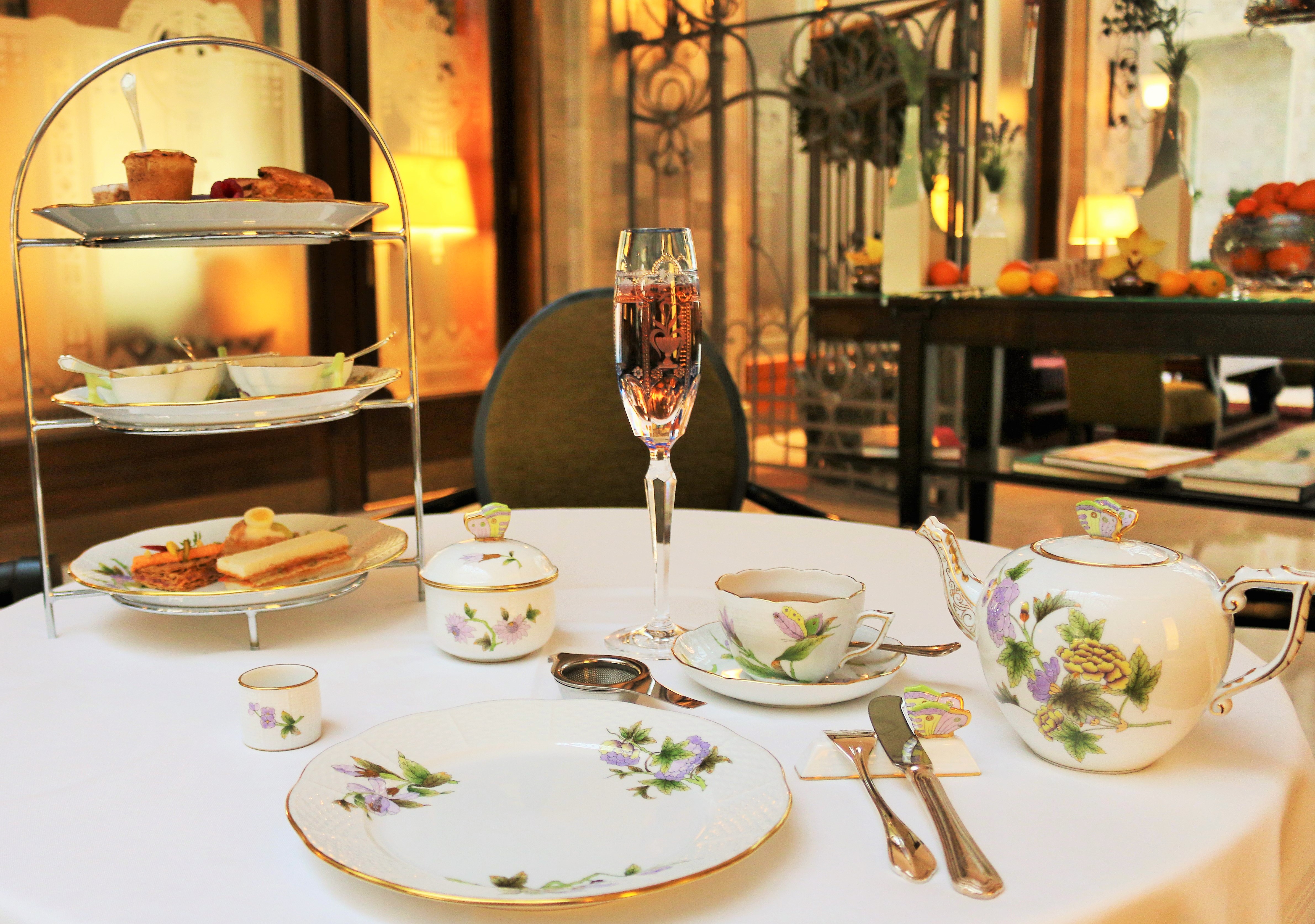 Herend Tea Four Seasons Gresham Palace Budapest Hungary

One that is ever on my mind is the Herend Tea served at the Four Seasons Gresham Palace in Budapest. The hand-painted Herend porcelain is signature to Hungary and the unique finger sandwiches, cakes and sweets paired with pink champagne served in a crystal flute create a tea vision of loveliness that guests of the historic Art Deco hotel will never forget. This is an unusual tea in that the ingredients of the menu are completely Hungarian and exciting in taste and presentation.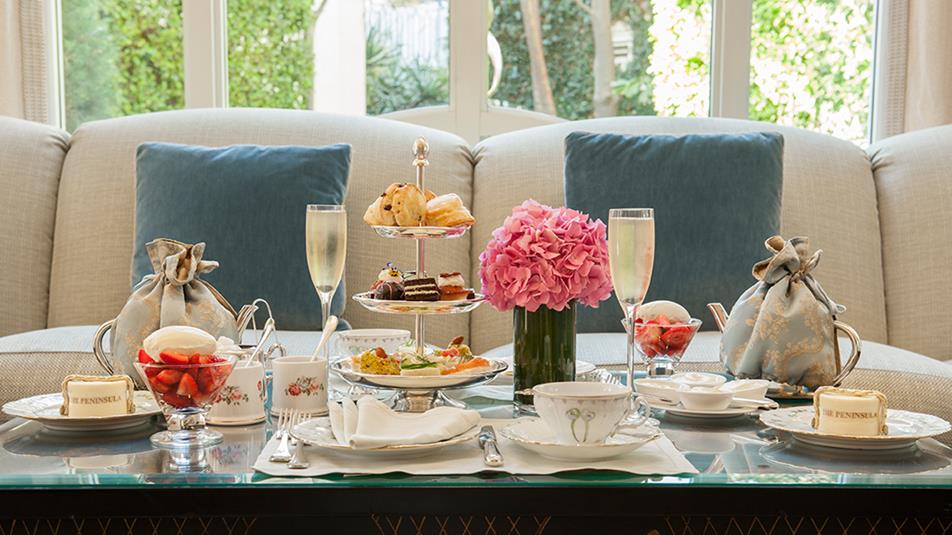 Elegant Beverly Hills Hotel High Tea

The Beverly Hills Hotel is another venue that presents an exquisite tea service to guests during the holidays when the hotel is alive with excitement and good cheer. Families join together for special Christmas luncheons complete with a visit from Santa and naturally high tea service in the Polo Lounge for family and business groups is the perfect place to be seen. The Bel Air Hotel, located a mile away on Sunset Boulevad, also offers a unique tea service with a view of the Swan Court.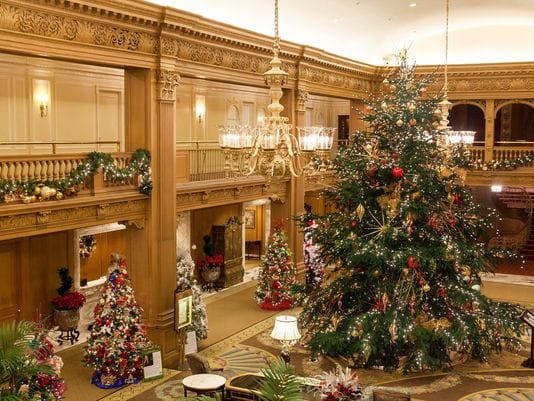 Christmas High Tea at the Fairmont Olympic Seattle Washington
Seattle's beautiful Fairmont Olypic Hotel offers a historic high tea that is renowned and is served on exquisite china complete with all the delicious trimmings one expects during a well done high tea for the holidays. The chef and pastry chef at this grand and historic venue are experts in perfect presentation.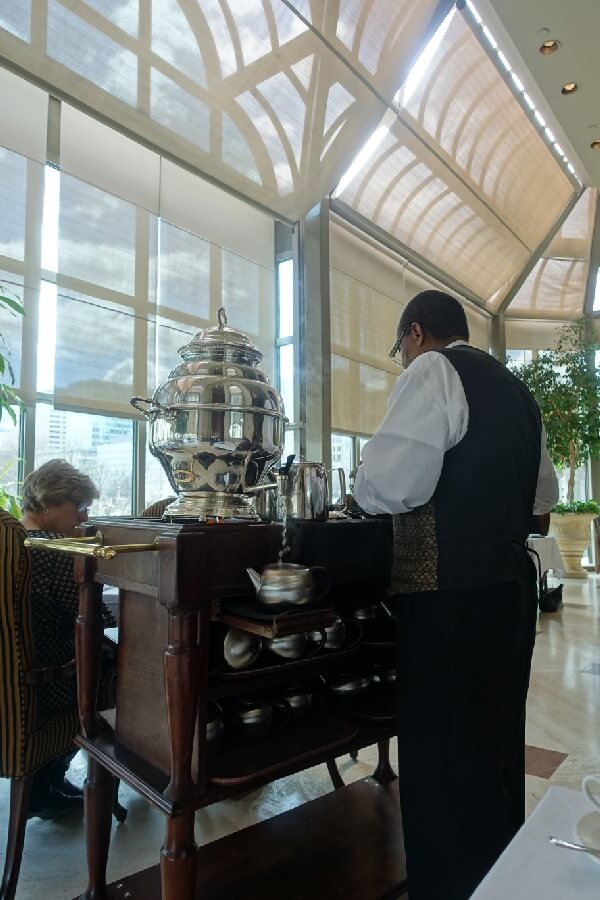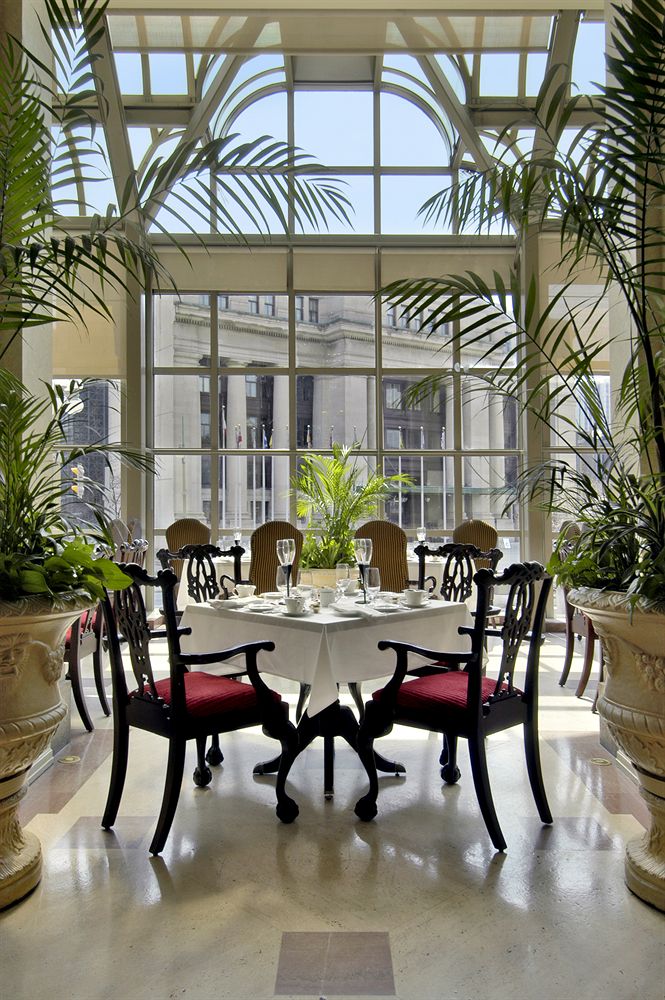 Fairmont Chateau Laurier Historic Tea Cart & Dining Room Ottawa Canada
A sister hotel The Fairmont Chateau Laurier in Ottawa, Canada is one of my all time favorites and offers individual tea selection from an historic tea cart similar to the one used when this renowned hotel opened in the early 1900s. Their elegant dining room has open views of the city and Rideau River which become an enchanted winter wonderland during the holiday season. The high tea is perfect in every way, and the service is excelllent.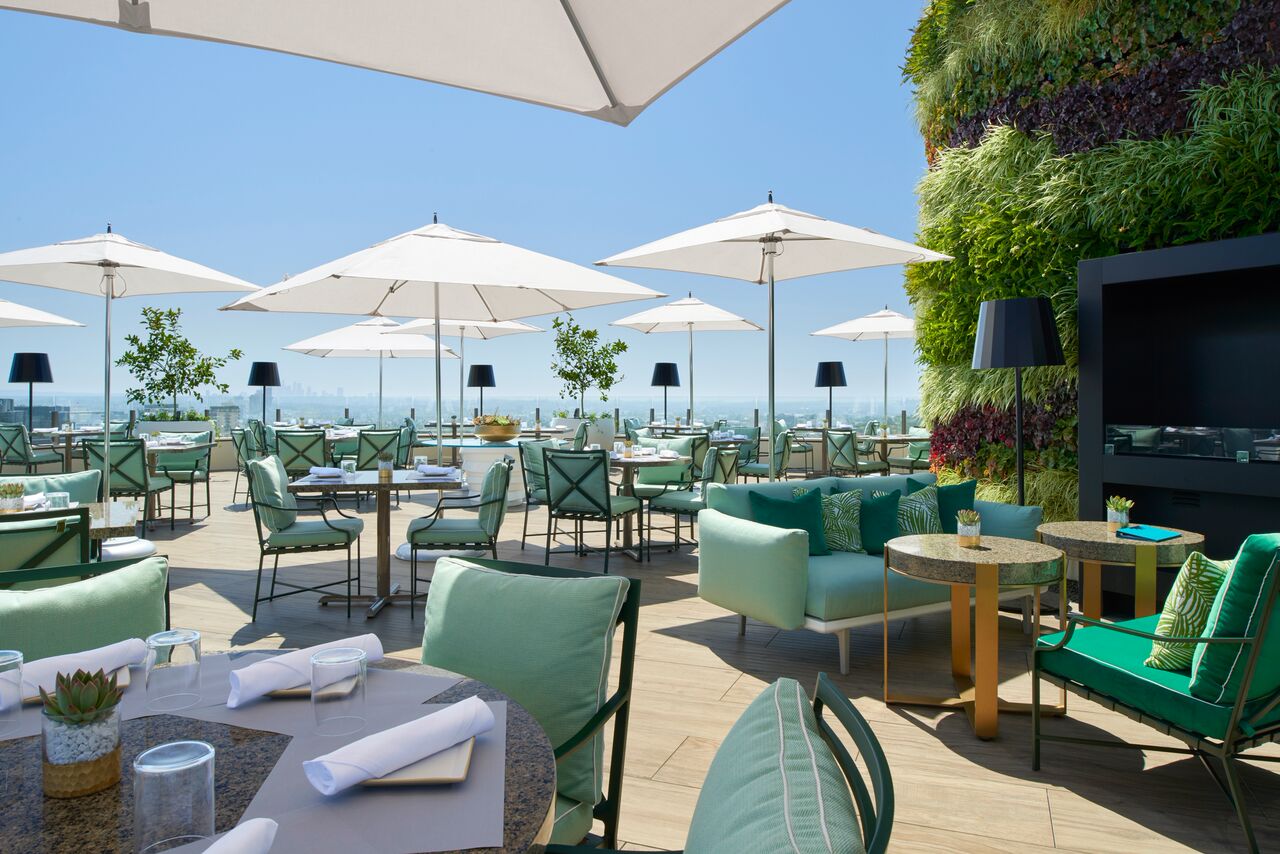 Tea with a View Jean Georges Rooftop Waldorf Astoria Beverly Hills
The Waldorf Astoria Jean Georges rooftop venue is also one to consider for holiday tea parties. This lovely garden site with an endless view of  Beverly Hills and beyond is a memorable site for a family gathering during the holidays and one that will never be topped, if you will excuse the pun. The pastry chef at this prestegious hotel is beyond wonderful and the sweets alone would be an amazing compliment to any cup of tea.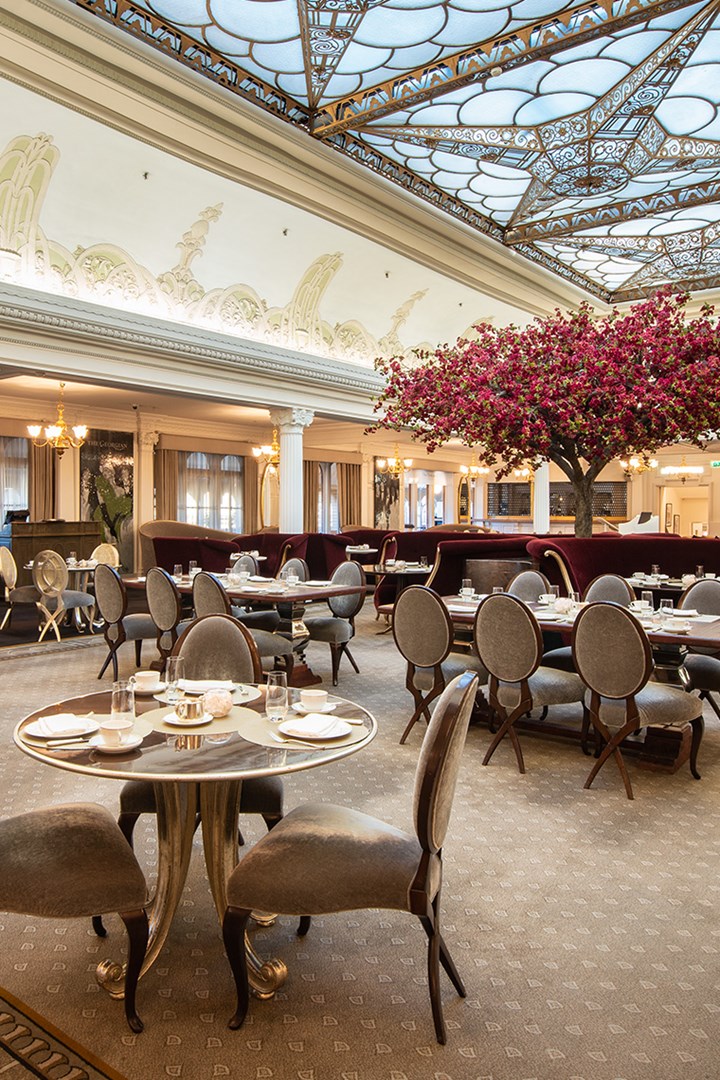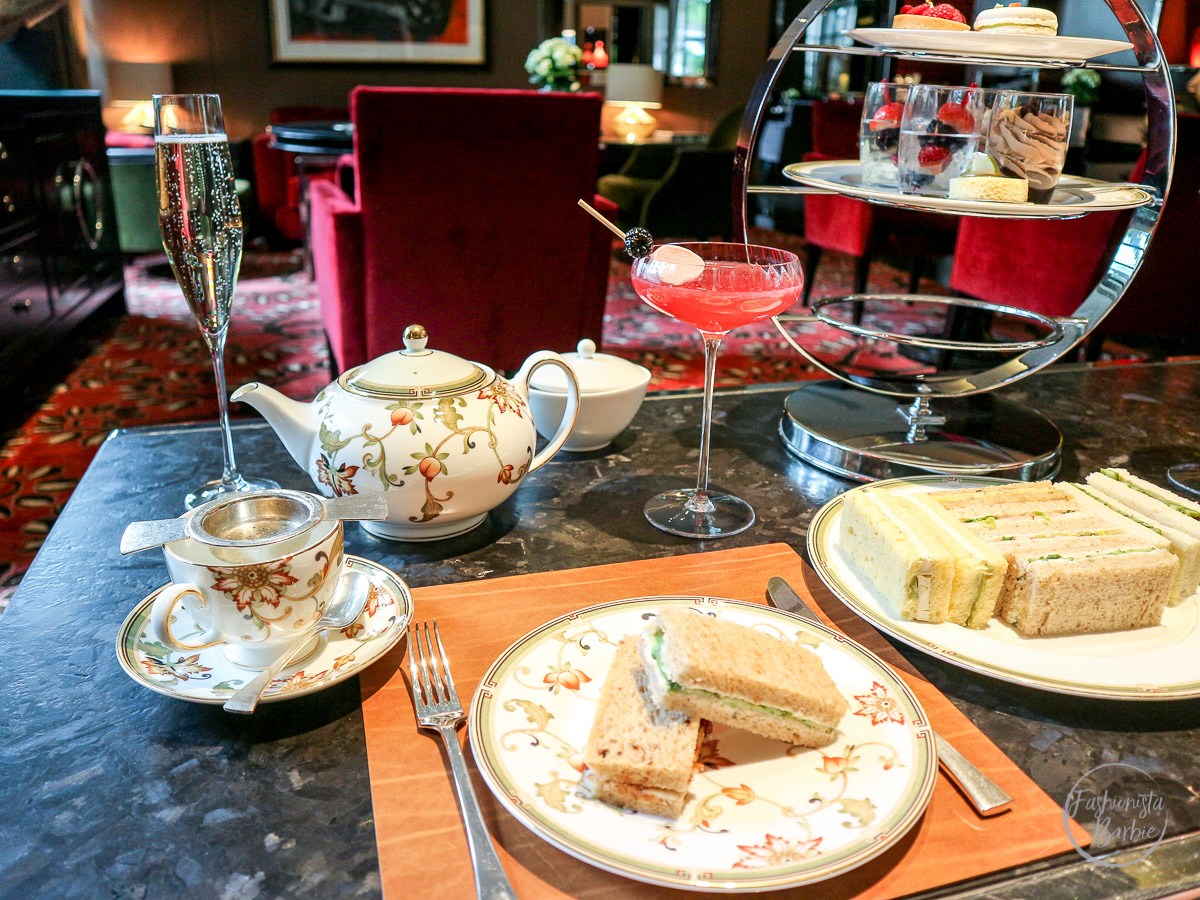 Harrods Tea Room London England - Four Seasons Park Lane London High Tea

In London I love the tea at Harrods Department Store or the Four Seasons Park Lane overlooking the park. Harrods Tea Room (formerly the Georgian Room) is a more relaxed setting then the very formal Four Seasons, however, it is a lovely room to take a break during a shopping spree and savor some outstanding signature Harrods tea with cake.
HOLIDAY TREATS  .  .  .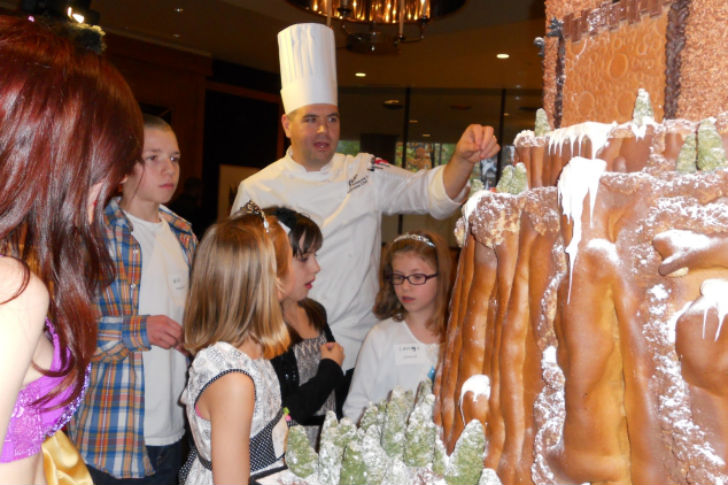 Executive Chef John Armstrong IV Sheraton Grand Seattle

Among the many hotels offering exceptional gingerbread exhibits during the holidays is the Sheraton Grand Seattle where chef John Armstrong IV and his team create life size magical displays to raise funds for a local charity. I believe this is the 10th year, and they do a stellar job!
____________________________________________________________________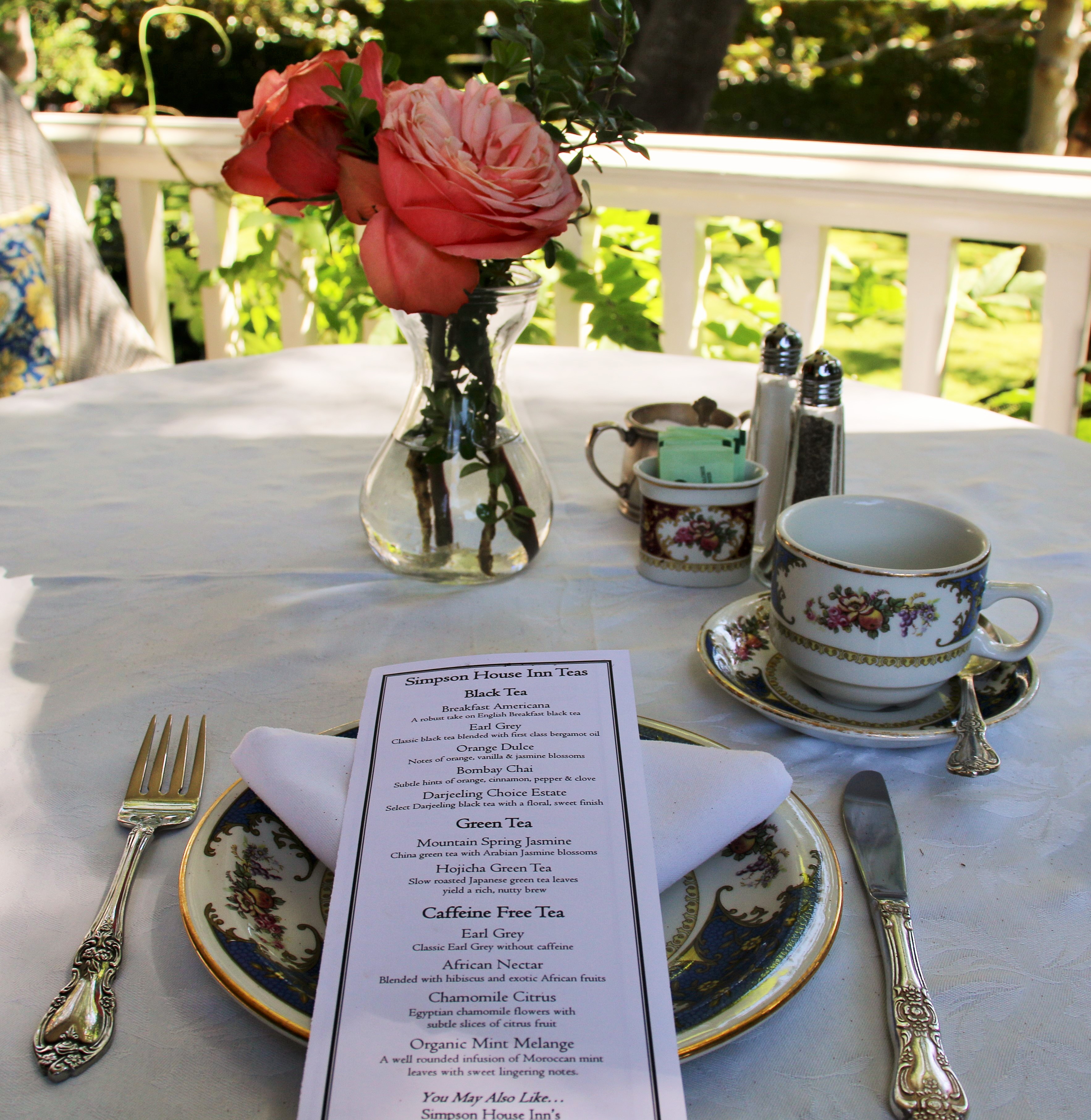 AFTERNOON TEA AT THE SIMPSON HOUSE    by Bonnie Carroll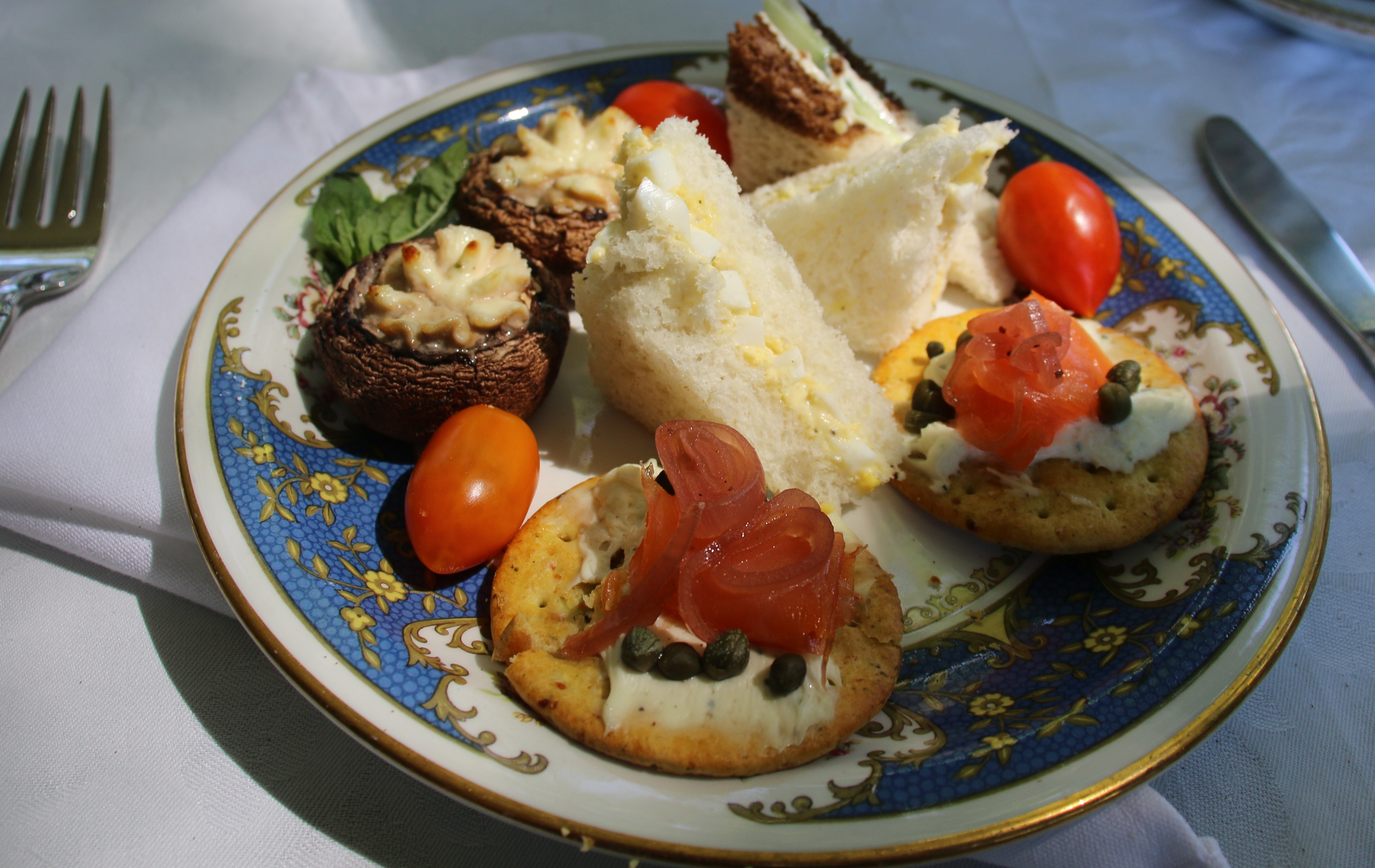 One of the best kept secrets for a delightful afternoon tea anytime of year, but especially in the fall, is the Simpson House Inn, located at 121 East Arrellaga Street in Santa Barbara. In 1874 Robert and Julia Simpson completed their beautiful Italiataic Victorian home on Arellaga Street, where they raised their family.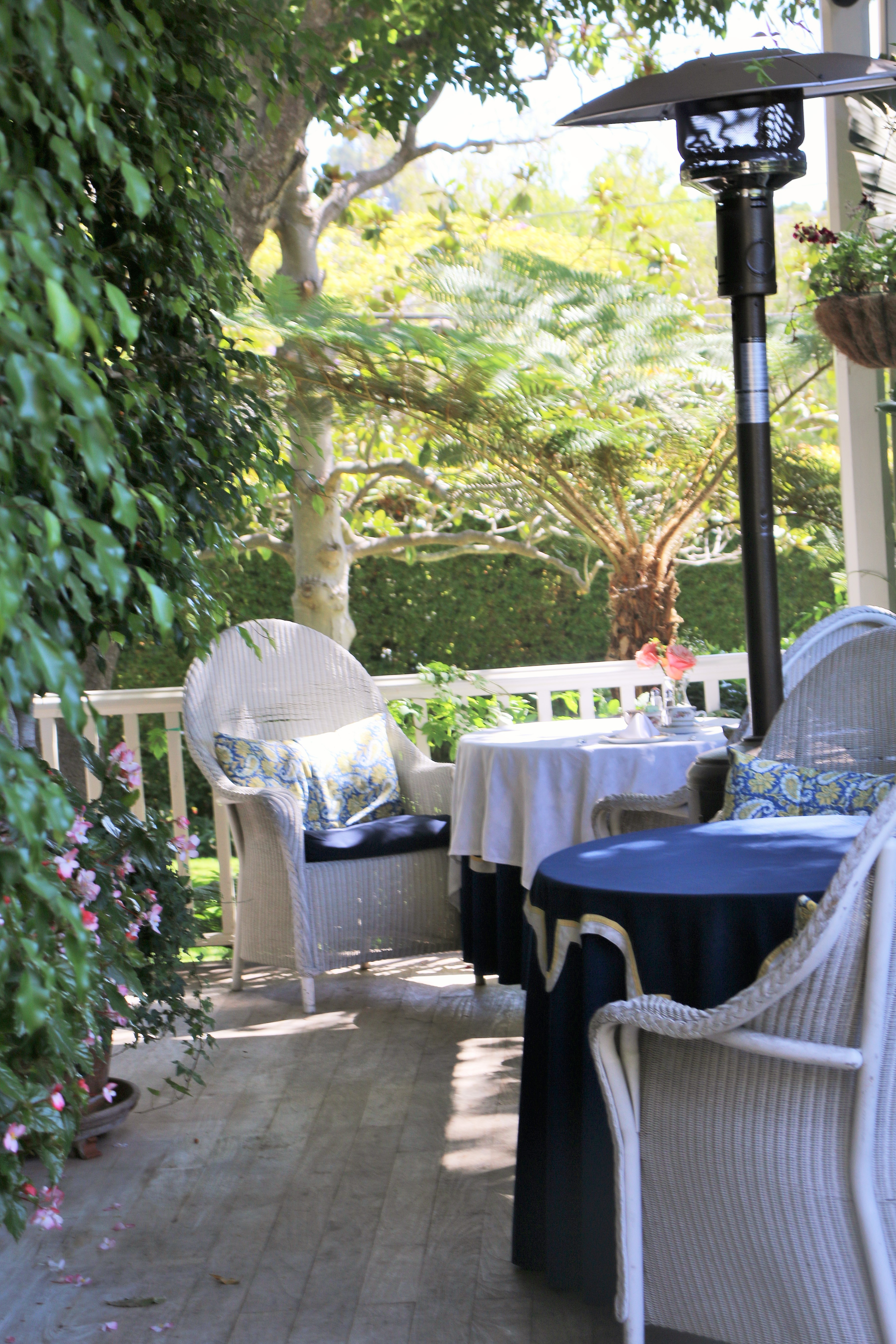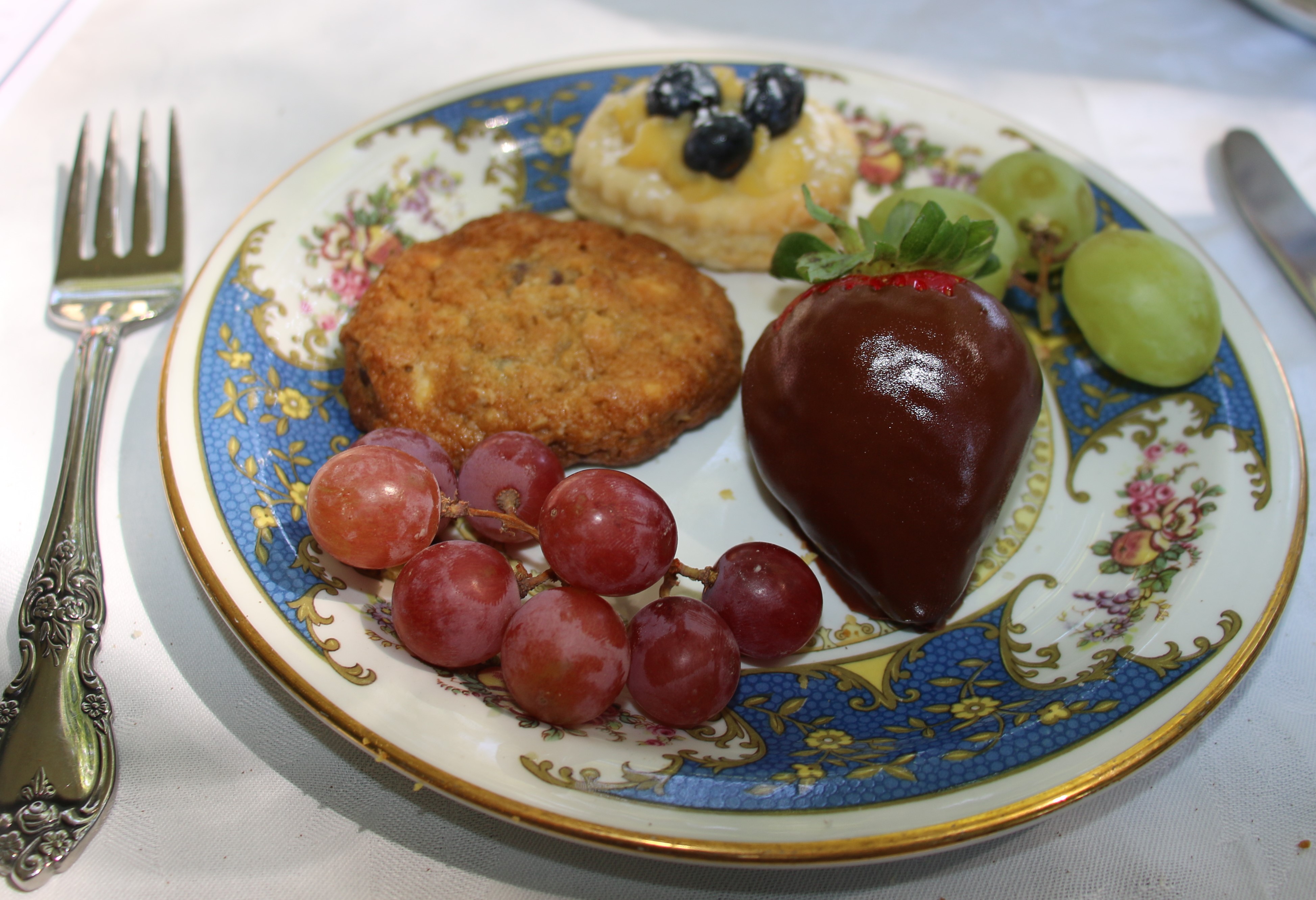 This historic home had many owners, and the last were Glyn and Linda Davies, who re-inveted this family home into a beautiful bed and breakfast in 1985. Not only does this home offer guests all the comforts of home, but they can also stay in hidden English garden style cottages built on the property in 1993 that are quite romantic.

My favorite time at Simpson House is afternoon tea on the lovely front porch, where the staff serve a high tea that could hold its own against the Fairmont in Seattle or Peninsula in Beverly Hills, however, guests are sitting in a blissful garden setting complete with the sound of water dancing created by the antique fountain. Wonderful place for a private talk or just to enjoy some moments of peace and quite over a cup of tea.

The tea offers chef made finger sandwiches, cakes, cookies and a choice of amazing tea with enchanting names in regular or cafeine free, as well as an orange mimosa or peach bellini at a small additional charge. General Manager Tony Pace and the staff are always alert and helpful, but never intrusive at Simpson House Inn.
Guests are also welcomed to enjoy a beautiful gourmet breakfast in the morning, afternoon cookies with beverages, and wine with hors d'oeuvres  in late afternoon before going out to dinner at one of the renowned local restaurants such as Opal Restaurant on State Street just a short walk from the relaxing Victorian Estate, which was declared an Historic Landmark in 1993.
Simpson House Inn
121 East Arrelaga Street
Santa Barbara, CA 93101
---