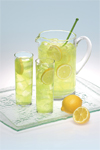 MIDORI Lemonade
Calorie Count:  80
1 oz. MIDORI

Top with Crystal Light Lemonade

Mix and serve over ice in a tall glass with a lemon wedge garnish.

---
SALUTE SUMMER AND RAISE A GLASS TO FALL
WITH VAN GOGH VODKA

Labor Free Punch
3 cups Van Gogh Pineapple Vodka
1/2 gallon fruit punch
1 can frozen orange juice concentrate
1 quart ginger ale
3-4 scoops orange sherbet (optional)
Mix vodka, punch and orange juice in pitcher or punch bowl until orange juice is dissolved. Add ginger ale and sherbet just prior to serving.

Espresso Ice Cream Treat
2 ounces Van Gogh Double Espresso® Vodka
2 scoops vanilla ice cream (or your favorite flavor)
Pour vodka over ice cream and garnish with your favorite toppings.

Coconut Soaked Ambrosia
1/2 cup Van Gogh Coconut Vodka
1 1/2 cups grapefruit
1 1/2 cups pineapple or 1 (13 ounce) can of pineapple chunks, drained
1 (11 ounce) can of mandarin oranges, drained
1/2 cup shredded coconut
3/4 cup mini marshmallows
Peel and cut fruit into small pieces. Place fruit into a serving dish and add coconut, marshmallows and vodka. Stir well and chill overnight.

Spiked Mango Salsa
1/4 cup Van Gogh Mango Vodka
2 fresh, diced mangos
1/2 cup fresh, diced pineapple
2 tablespoons chopped fresh cilantro
2 tablespoons fresh lime juice
1/2 teaspoon crushed red pepper flakes (optional)
1/4 cup chopped green bell pepper
1 seeded and minced jalapeño pepper
2 tablespoons extra virgin olive oil
1 clove garlic, minced
salt and pepper
Combine ingredients in bowl and refrigerate for 2-3 hours. Serve over freshly grilled seafood or as a snack with tortilla chips.

---
FRANK FAMILY VINEYARDS OPENS NEW TASTING ROOM IN CALISTOGA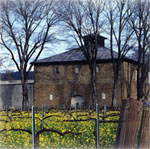 Rich Frank and Connie Frank, owners of Frank Family Vineyards, are thrilled to announce the opening of the winery's new tasting room on Larkmead Lane in Calistoga. The original tasting room, loved by many for its no-frills feel, was demolished last week. Headed by Tasting Room Manager Dennis Zablosky, Frank Family's new tasting room is now located in the original Craftsman house on property, and will keep its welcoming no-charge policy for tasting.
Designed by renowned local architects Terry Tracy and Tom Faherty of Valley Architects, with interior design by Sara Marsten Bittner of Marsten Interior Design, the famously friendly tasting room retains its warm, convivial charm while expanding and enhancing the tasting facilities, which includes two additional rooms for private tastings.
"Our goal was to give new life to this historic property while maintaining the rustic charm and rich heritage of this landmark winery," says Rich Frank. "We sought to infuse more of the architectural aspects in the newly remodeled structures through the use of enduring materials like native stone and rustic wood," adds Connie Frank. By repeating design elements such as color, finishes, architectural details and spatial relationships, Frank Family sought to create a balanced and integrated overall design that will give visitors a cohesive, harmonious experience.
The tasting room was fashioned from the original winery owners' former residence, a classic Craftsman bungalow brimming with character. The original brick fireplace was lovingly restored after being found beneath layers of plaster and paint. The use of rich, warm wood and historic paint colors, taken from the era when the original home was constructed create a cozy retreat that invites guests to linger and savor the charm of a bygone era.
In addition to the new tasting room, the remodeling of the winery, which includes a new state-of-the-art small-lot production red wine facility, will allow Frank Family to have its first crush at the winery this harvest.
Construction also exposed a third side of the original Larkmead Winery at Frank Family Vineyards, which was built in 1884 and refinished in 1906 with native sandstone from the nearby hills. The massive stone edifice is considered one of the finest structures in the Napa Valley; appearing on the National Register of Historical Places and listed as a Point of Historical Interest in the state of California.
Landscaping on the property is expected to be complete by mid-September. Photos of the new tasting room will be available at that time.
About Frank Family Vineyards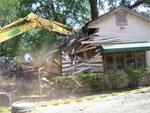 Frank Family Vineyards is located in the historic Larkmead winery in Napa Valley (the third oldest winery in Napa), and is well known for producing excellent Chardonnay and Cabernet Sauvignon. The highly acclaimed Rutherford Reserve Cabernet Sauvignon and Winston Hill Red wine are made from select lots of fruit grown on Rich Frank's steep Rutherford hillside estate, Winston Hill Vineyard.
Frank Family's national distribution is growing due to market demand, and their wines may be found in at least 20 states throughout the country. In addition to the nationally-distributed Napa Valley Chardonnay, Zinfandel, and Napa Valley Cabernet Sauvignon, the winery produces small quantities of Rutherford Reserve Cabernet Sauvignon, Reserve Chardonnay, Carneros Chardonnay, Reserve Sangiovese, Reserve Zinfandel, Reserve Pinot Noir and Port, which are sold only at the winery.
The winery originally secured its reputation producing sparkling wines and five sparkling wines are handcrafted today: Signature Brut, Blanc de Blancs, Blanc de Noirs, Rouge and Reserve. All of these are made in the traditional French methode champenoise style.
Located at 1091 Larkmead Lane in Calistoga, Frank Family Vineyards is open to the public daily from 10:00 am to 6:00 p.m. No appointment is necessary for a tasting, and there is no charge for a tasting or tour. Please visit www.frankfamilyvineyards.com.
---
RED HOT PREMIUM WINE TREND
WITHSTANDS THE COOLING ECONOMY
It's Ecological and Economical to Think Inside the Box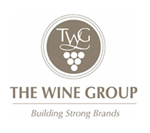 San Francisco - August 6, 2008: As the economy weathers day after day of choppy economic news, consumers are cutting back on away-from-home consumption of wine, beer and spirits. New research from The Nielsen Company and Bevinco reveals that on-premise sales of alcoholic beverages have been considerably impacted by the declining economy.
Danny Brager, Vice President, Client service, Beverage Alcohol, The Nielsen Company states: "Watching their wallets, a growing number of consumers are simply opting to stay home more often than go out for dinner or drinks. As a result, sales of alcohol beverage purchases at restaurants, bars and nightclubs are declining as consumers seek ways to economize. In contrast, some off-premise alcoholic beverage segments continue to grow, including the explosive 3L Premium Cask segment which for the fourth year is up over 30% versus a year ago," Brager stated.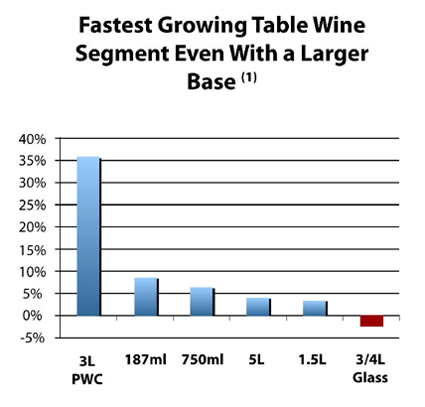 (1) Nielsen Scanner Food/Drug/Liquor data 52 weeks ending 6/28/08
Because 3-liter wine casks cost less to produce and transport than bottles, wine consumers save cash while they help to save the earth. A 3-liter box, holding the equivalent of four standard 750ml bottles of wine, typically sells for the same price as three bottles of wine. This is real savings in today's hard economic times. And, the savings don't stop there. Once opened, BIB wine stays fresh for a minimum of six weeks. The plastic lining compresses as it empties and protects the wine from damaging contact with oxygen. No wine is dumped down the drain and there is no need to buy another bottle to accompany tomorrow night's dinner; nor a need for expensive vacuum pumps or other wine-saving gadgets.
To offer consumers more choices in the 3L Cask format, The Wine Group has recently completed national distribution for J.P. Chenet 3L Premium Cask. J.P. Chenet is the world's best-selling French wine brand, and is now available in the U.S. in a cost and carbon friendly 3L package. Even French wine drinkers now have an alternative that isn't impacted by the exchange rate.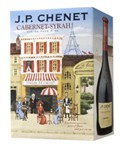 With a charming French café scene on its package, J.P. Chenet utilizes bag-in-box technology which preserves the fresh taste for at least 6 weeks once opened, saves over 55% in carbon efficiency and has 85% less packaging waste than glass bottles. The line includes Syrah-Cabernet Sauvignon and Chardonnay and is priced to retail at $16.99. J.P. Chenet spokesperson Nicolas Tucker states, "Its rapid growth in distribution is due to the trade focusing more on value and environmental issues, and the consumer on value with quality."
     
Other environmentally-friendly wines available from The Wine Group are Boho Vineyards, Killer Juice, Angel Juice, Fish Eye, Pinot Evil, Corbett Canyon, Casarsa Vineyards and Pacific Peak.
 
For more information, go to www.betterwinesbetterworld.com
---
GRAND TETON BREWING COMPANY
INTRODUCES A NEW BREW
XX Au Naturale Double Red Ale (Organic) is the late summer/early fall release of Grand Teton Brewing's 20th anniversary commemorative "Cellar Reserve" beers.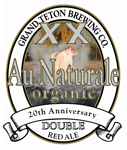 Grand Teton Brewing Company, known throughout the West for their exceptional microbrews, has introduced XX Au Naturale Double Red Ale, the latest in their "Cellar Reserve" series of specialty beers.  XX Au Naturale Double Red Ale will be available in kegs and 1 liter, flip-top bottles.
Grand Teton's most recent year-round brew, Au Naturale Organic Blonde Ale, was first brewed in summer of 2006 as a summer seasonal draft beer. However, at the end of the summer, it was too popular to discontinue.  It became our next annual brew and 6-packs were introduced in May 2007. Crafted with organic German malt and hops, it has a clean, smooth character reminiscent of the best European lagers.
For our 20th Anniversary celebration, we've traded in the blonde for a redhead while keeping our German roots.  Still brewed with all German organic malt and hops, the XX Au Naturale is bigger, maltier (and redder) than the original.

The reddish Vienna malts that give this ale its color provide a spicy sweetness and some caramel notes that perfectly complement roast or grilled chicken, pizza, or pasta.  7.5% alcohol by volume.
The Cellar Reserve series of beers are unique among average beers and even from other craft beers. Grand Teton¹s Cellar Reserves are brewed with specialty grains and more unusual ingredients than most micro brewed beers.Most ales and lagers are produced in 2-4 weeks.  However, 3 to 8 months are spent on each of the Cellar Reserve specialty brews.  They are also bottle and cask conditioned, which produces natural carbonation and will blend and smooth the flavors with age.  These beers have a long shelf life and don't have to be rapidly consumed. Proper aging of these bottles creates beers to be cherished.   
Grand Teton Brewing releases four or five different beers a year in the Cellar Reserve line. The production quantity is very limited. The Au Naturale Double Red is available in kegs and unique brown one-liter bottles, with captivating silver and gold labels.  Each bottle has a flip-top and wire bale lid that has been sealed in colored wax.
The XX Au Naturale Double Red Ale will be available starting August at select locations in Idaho, Wyoming, Colorado, California, Oregon, Montana, Washington, New York and now Arizona, Wisconsin, Kansas and Missouri!  Call the brewery at 1-888-899-1656 for information and availability on this exciting new product.  Watch for our next Cellar Reserve beer, 20th Anniversary edition XX Bitch Creek Double ESB Ale early this Winter.
Grand Teton Brewing Company was founded in 1988 as the first modern "micro" brewery in the state of Wyoming. Today, founder Charlie Otto and his company are in the top 100 craft breweries in North America.  Premium microbrews include the 2X gold-medal-winning Bitch Creek ESB, Sweetgrass IPA, Workhorse Wheat and the favorites of the Yellowstone and Grand Teton National Parks,Old Faithful Ale (pale golden), Au Naturale (organic blonde ale) and Teton Ale (amber).  From their production facility in Victor, Idaho, Grand Teton Brewing Company beers are hand-crafted from only the finest ingredients, including locally-grown grains and pure Teton mountain spring water.  GTBC is a green company utilizing bio-diesel and feeding local farmer¹s cattle with spent grain from the brew kettle. Discriminating beer drinkers can find their favorite GTBC brews on tap and in bottles throughout Idaho, Wyoming, Montana, Utah, California, Colorado, Oregon, Washington and now Wisconsin, Arizona, Kansas, New York and Missouri.
---
LIMONCELLO 101
The quest for the best lemon liqueur this side of Italy leads to Ventura, California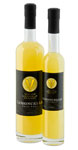 Residents of Italy's Amalfi Coast have always been passionate about their limoncello -- the lemon liqueur that provides a cool coda to every dinner with friends and family. Now, California's coast has a limoncello of its own to love.
 
The best limoncellos are far greater than the seeming simplicity of their parts: lemon zest, sugar, water and alcohol. The ingredients and their handling, the proportions in which they are combined, and the length of infusion time all determine the quality and taste of the final product.
 
Every bottle of Ventura Limoncello Originale is artisanally crafted using only natural ingredients. The lemons – specially selected for the company by the nearby and highly regarded Petty Ranch and Limoneira Company -- are picked at peak ripeness from the tree, allowing the fruit's oils and sugars to fully develop. The fruit is meticulously hand peeled by Manuela and her team, and not even the tiniest bit of bitter pith escapes their eyes.
 
Ventura Limoncello Originale is bringing back cordial culture and stirring up the cocktail category. Already, it has inspired several Southern California restaurants to adopt the Italian custom of offering a well-chilled limoncello as an after-dinner digestivo. It is just as delightful before dinner in cocktails ranging from limosas – substituting Ventura Limoncello Originale for a traditional mimosa's orange juice – to specialty martinis. The company recommends that their product always be stored in the freezer and served icy cold.
visit www.venturalimoncello.com

---
CHATEAU DE LA SELVE
WINS SILVER AT SMV
The Sélections Mondiales des Vins (SMV) Canada, large international wine competition in North America, took place from May 30 to June 5, 2008. 

Proud owners Florence and Benoit announced that the Château de la Selve presented three wines and received three Silver medals for their red wines Serre de Berty and Beaulieu and for its white wine Saint Regis. "Nice award for our young vineyard! Moreover our vintage Serre de Berty 2005 is also ranked among the top 200 wines of France thanks to its 3 stars in the Guide Hachette 2008" said the couple.

for any further query.visit:info@chateau-de-la-selve.fr

Château de la Selve
07120 Grospierres
Tél : 04.75.93.02.55
Fax : 04.75.93.09.37
---