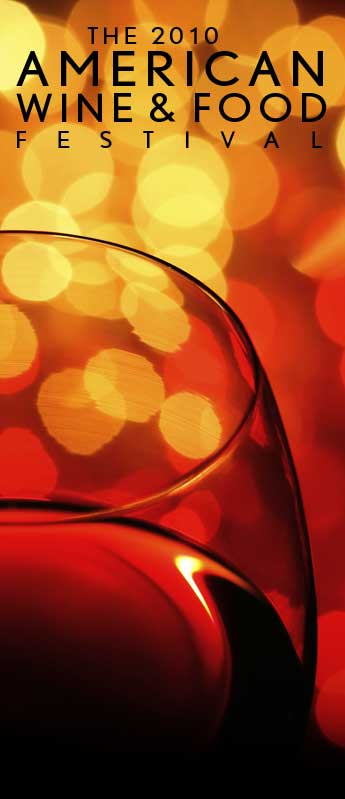 28th AMERICAN WINE & FOOD FESTIVAL
A Delicious Evening Raising Charity Dollars for Meals On Wheels Programs of Los Angeles
by Bonnie Carroll
The backlot of Universal Studios was once again alive with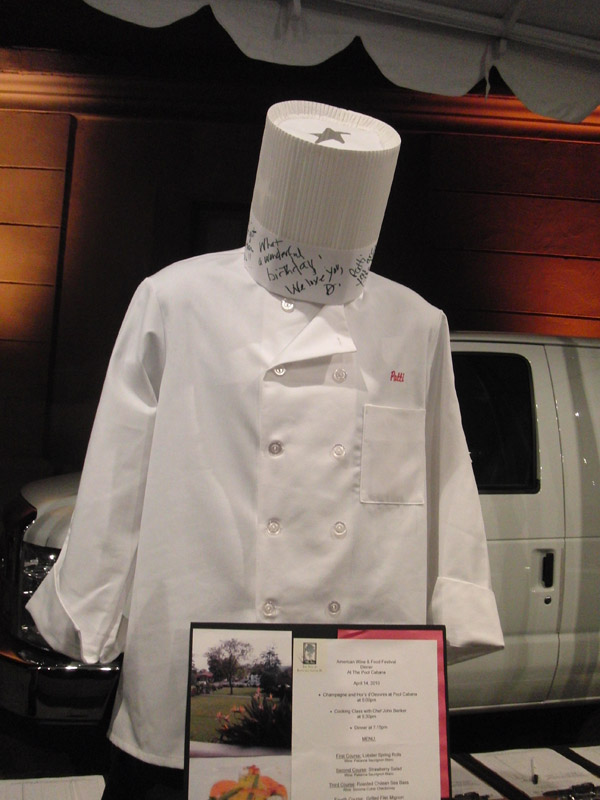 foodies, chefs, wine and spirit purveyors, sponsors and thousands of happy people all raising charity dollars for Meals On Wheels Programs of Los Angeles.
Auction items were fabulous and included tickets from American Airlines, dream vacations around the world, dinners at the finest foodie favorite restaurants in the US and Europe, rare and preferred wines, valuable chef memorabilia items, get-a-way weekends to hotels and to  spas and more. Dining, dancing, sampling delicious beverages and bidding on outstanding silent auction gifts make this event the best wine & food evening on the planet.
Since its inception in 1982, the Puck-Lazaroff Charitable Foundation event has raised more than $15 million for the Meals On Whels Programs of LA, which serve thousands of meals each day to Los Angeles homebound, senior and disabled citizens.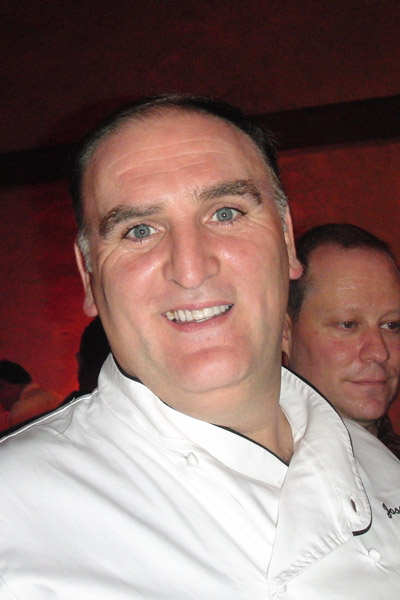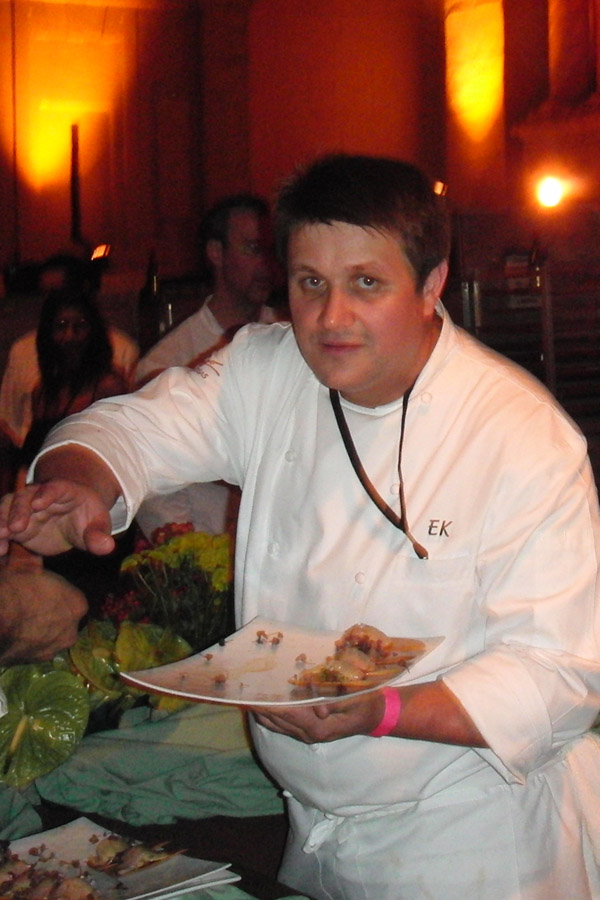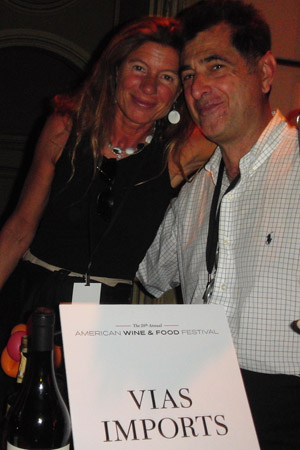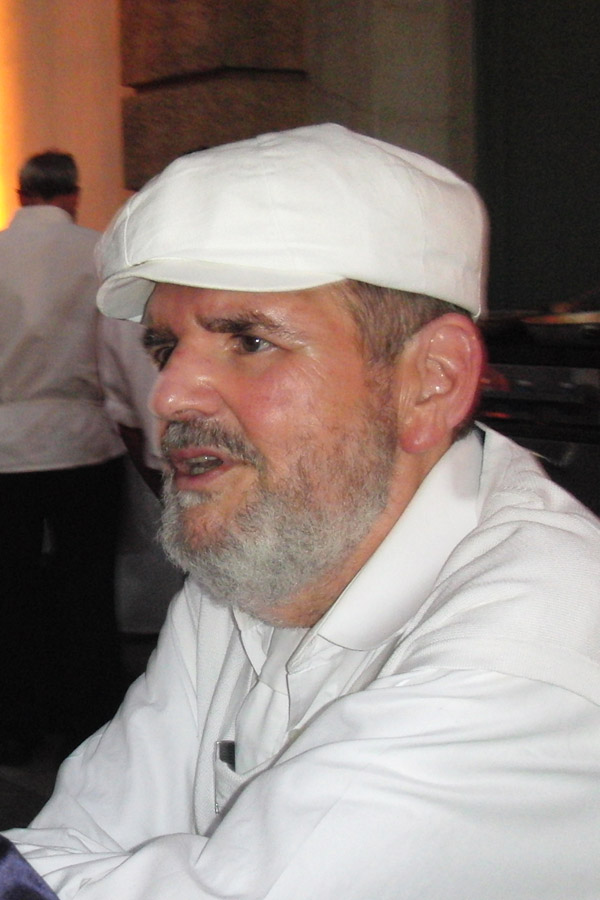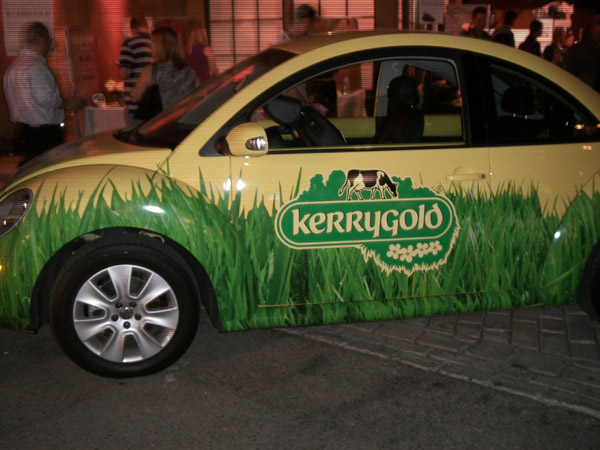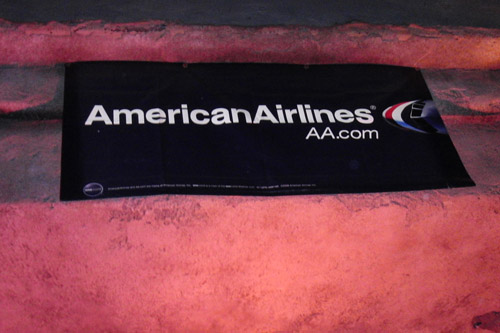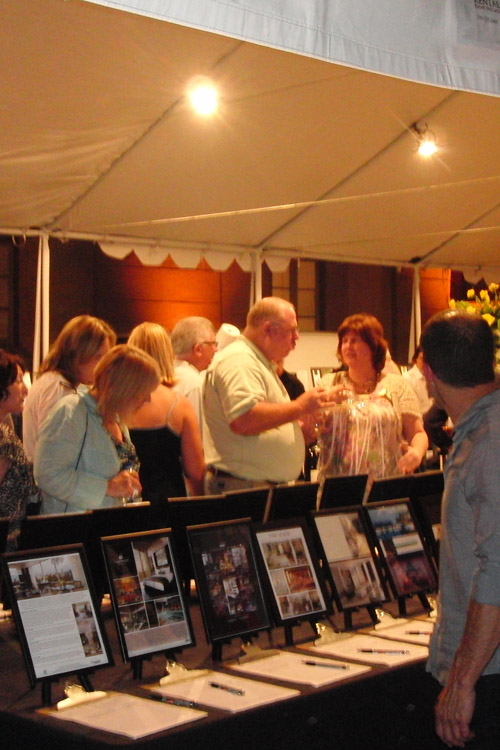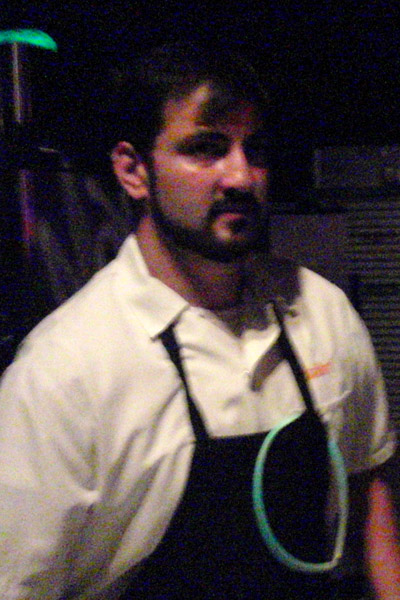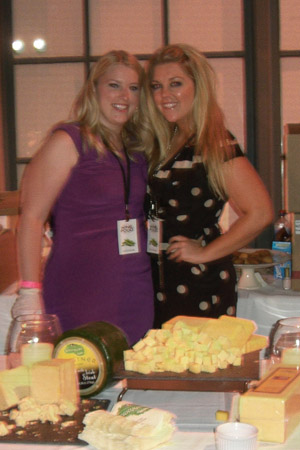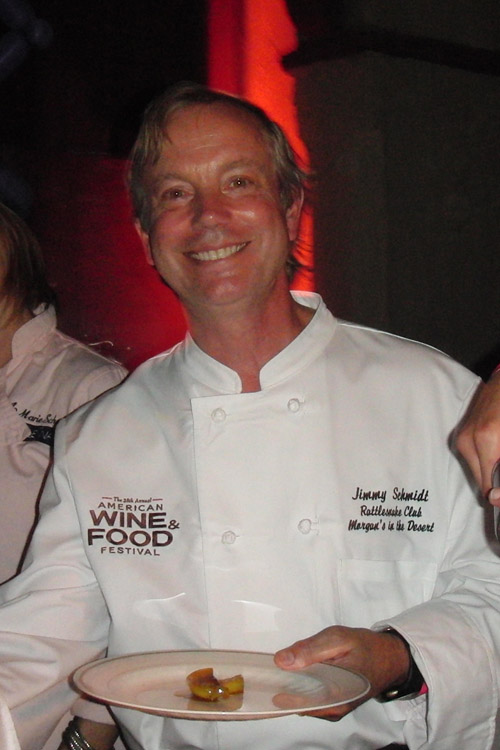 The 2010 star chefs included Gino Angelini Angelini Osteria; BRUCE BROMBERG & ERIC BROMBERG; Blue Ribbon Sushi Bar & Grill; Thomas Keller Bouchon; Mark Peel Campanile/Tar Pit; China Poblano Rene Mata Chinois On Main; DAVID MYERS
Comme Ça; Paul Liebrandt Corton; Ari Rosenson & Matt Hurley CUT Las Vegas & CUT Beverly Hills; D.O.C.G.;COSTAS SPILIADIS Estiatorio Milos Dean Fearing
Fearing's (Ritz Hotel Dallas) Alfred Portale & John Suley Gotham Steak Miami Fountain Blue ANTHONY MEIDENBAUER Holstein's Jaleo JOE MILLER Joe's Restaurant
Marinus at Bernardus Lodge Nobu Matsuhisa Matsuhisa Beverly Hills & Nobu West Hollywood OCTAVIO BECERRA Palate Food + Wine Julian Serrano Picasso
Slanted Door Scott Drewno & Sara Johannes Source & Five Sixty Kerry Heffernan South Gate Mark Ferguson Spago Bachelor Gulch Lee Hefter
Spago Beverly Hills David Robins & Eric Klein Spago Las Vegas Cameron Lewark
Spago Maui Stephan Pyles Stephan Pyles Restaurant Floyd Cardoz Tabla
Wolfgang Puck Bistro Scott Irestone, John Lechleidner & Aram Mardigian
WP Bar & Grill David McIntyre WP24. THE COSMOPOLITAN OF LAS VEGAS: JOSÉ ANDRÉS.  Pastry Chefs: Patrick Fahy Blackbird, Dominique Ansel Daniel New York
.Ben Spungin Marinus at Bernardus Lodge, Francois Payard Payard Patisserie & Bistro, Nicole Plue Redd, Sherry Yard Spago Beverly Hill , Yigit Pura Taste Catering, Sally Camacho WP24 at the Ritz Carlton.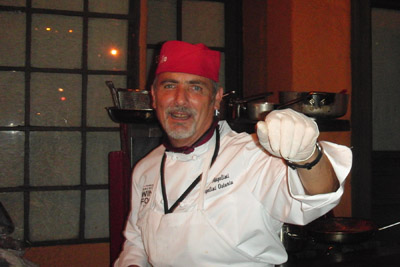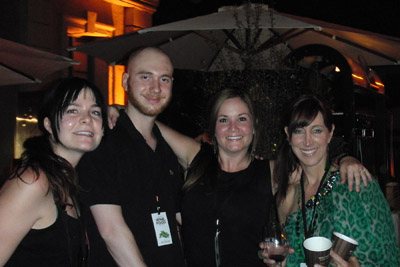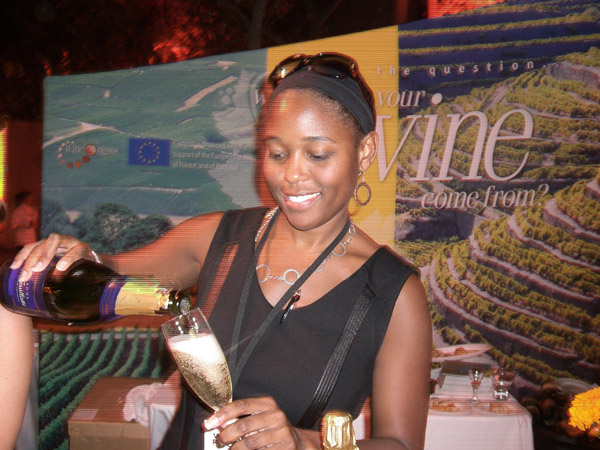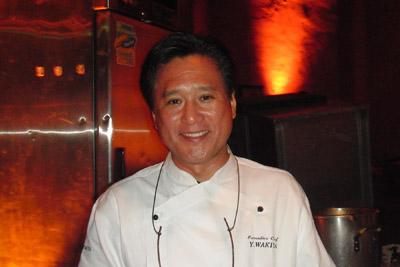 Vintners inclded Antica Terra, Au Bon Climat, Baker Lane/Singer Olio, Beckmen Vineyards, Bernardus Wine Company, Bonaccorsi Wine Company, Bonny Doon Vineyard, Breggo Cellars, C. Donatiello Winery, Chappellet Winery, Charles Krug Winery, Cielo Malibu Estate Wineyards, Cosentino Signature Wines, Derby Wine Estates, Domaine Serene, Dr. Loosen, Duckhorn Wineyards & Paraduxx, Favia Wines, Ferrari-Carano Vineyards & Winery, Flowers Vineyard & Winery Foster's Wine Estates, Foxen, Francis Ford Coppola Winery, Frank Family Vineyards Frog's Leap Winery, Gramercy Cellars, Grgich Hills Estate, Gridley Family Cellarsk Hall Wines, Hirsch Vineyards, Hitching Post Wines, Hollywood & Wine, Hunt Cellars, Inception Wines, Iron Horse Vineyards, J Vineyards & Winery, Jordan Winery, Joseph Phelps, Vineyards, Justin Vineyards & Winery, Kalin Cellars, Keplinger Wines, Kimmel Vineyards L'Aventure, Ladera Vineyards, Laetitia Vineyard & Winery, Linne Caldo Cellars, Longoria Malibu Family Wines, Malibu Vineyards, Melville, Miner Family, Morgan Winery, O'Shaughnessy Estate Winery, Ortman Family Vineyards, Palmina Winery, Paul M. Young Fine Wines, Pride Mountain Vineyards, Qupé, Ramey Wine Cellars, Robert Weil Wine Estate Rosenthal-The Malibu Estate/Surfrider, Sacred Cellars, The Scholium Project, Stoller Vineyards, Summerland Winery, Symington Family Estates, Topanga "TV" Vineyards, Torbreck Vintners, Va Piano Vineyards, Waters Winery, Whitcraft Winery, W.J. Deutsch & Sons, Spirit Sponsors included: Aperol, Beam Global Spirits & Wines, Nicolas Feuillate

PAMA, Patron Tequila, The Center for Wine Origins, Ultimat Vodka.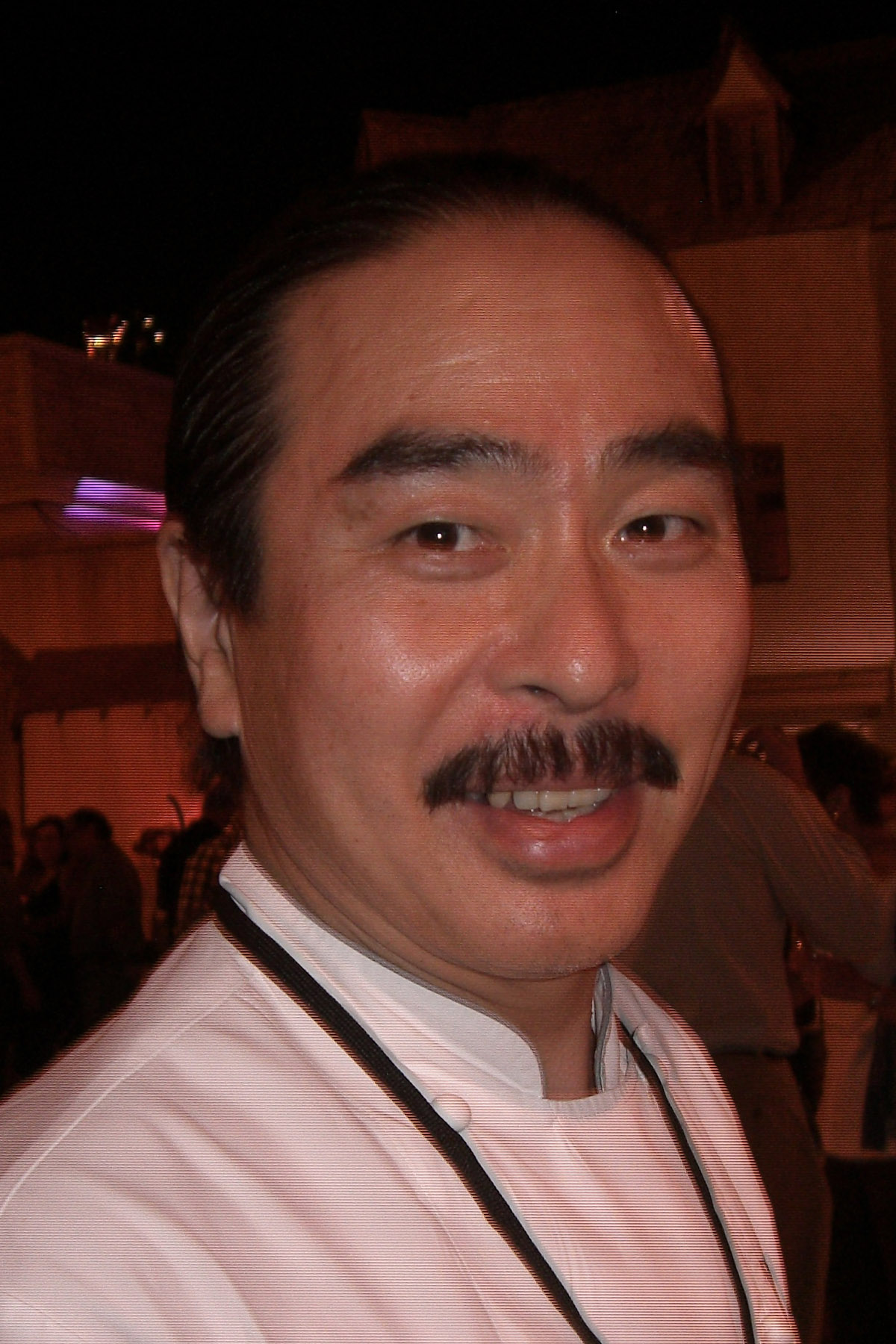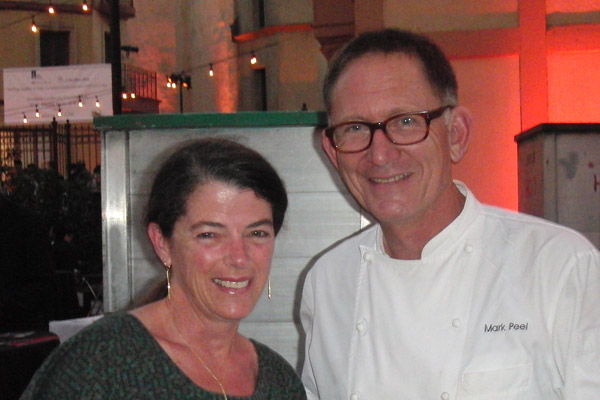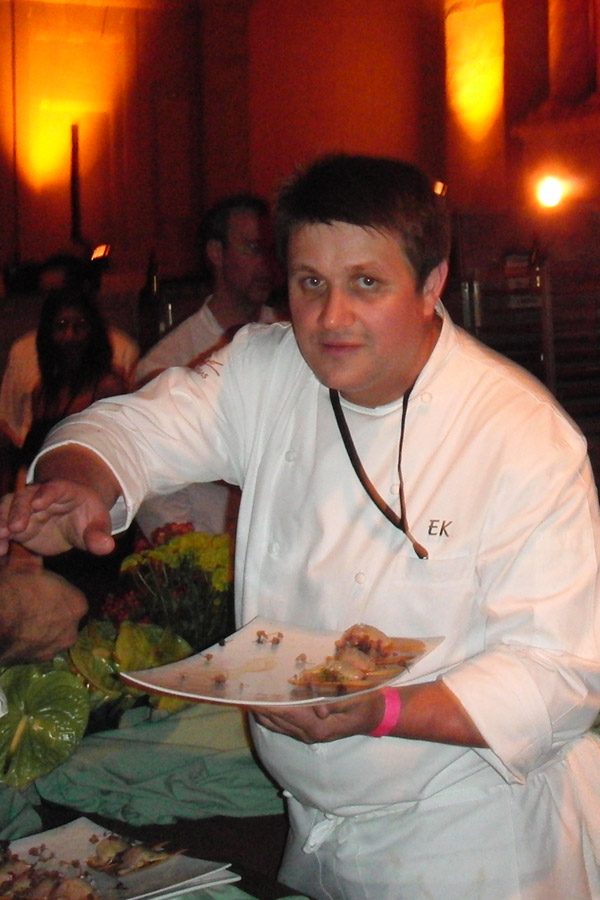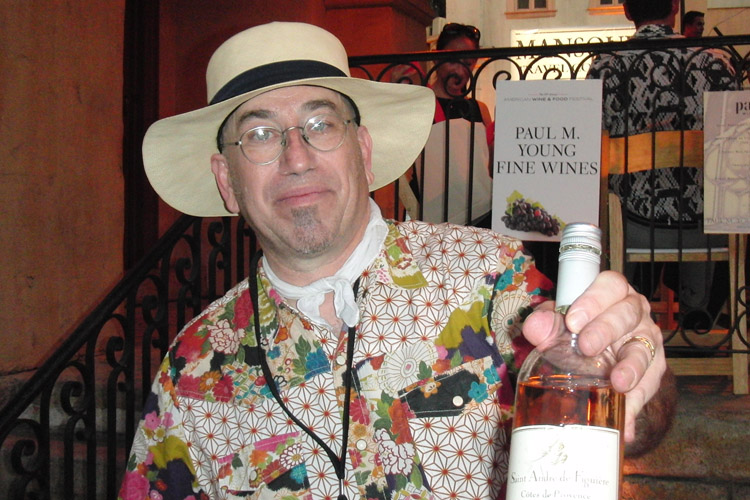 Acording to Wolfgang "back in 1982 when we held the first festival in a tent on Sunset Strip we had five chefs and twenty vintners who came to support Meals on Wheels of LA. 300 ticket holders showed up hungry,and  today we have 3,000 who look forward to this annual event. We are proud to have raised funds for this worthy cause, and acknowledge Sister Alice Marie Quinn - known as Sister Sam to us. She has been overseeing the preparation and delivery of nutritious meals to the needy for over three decades."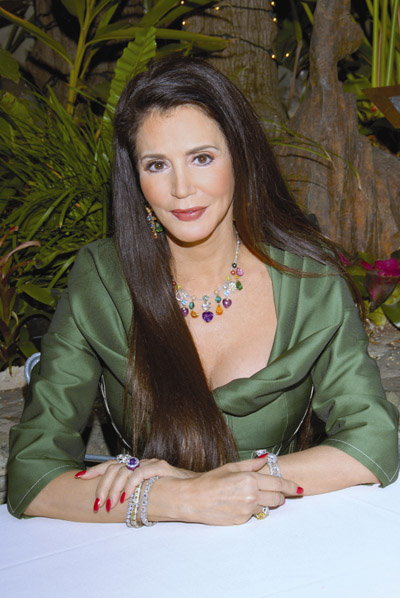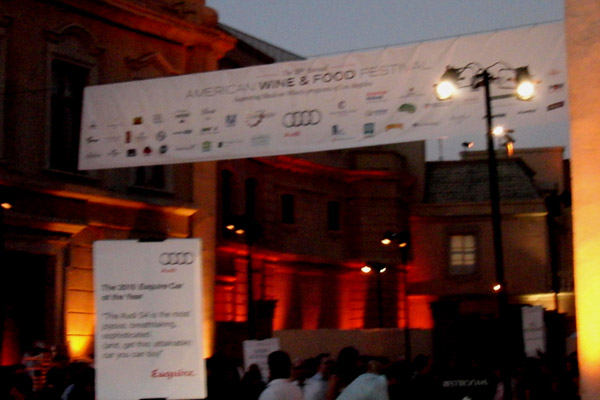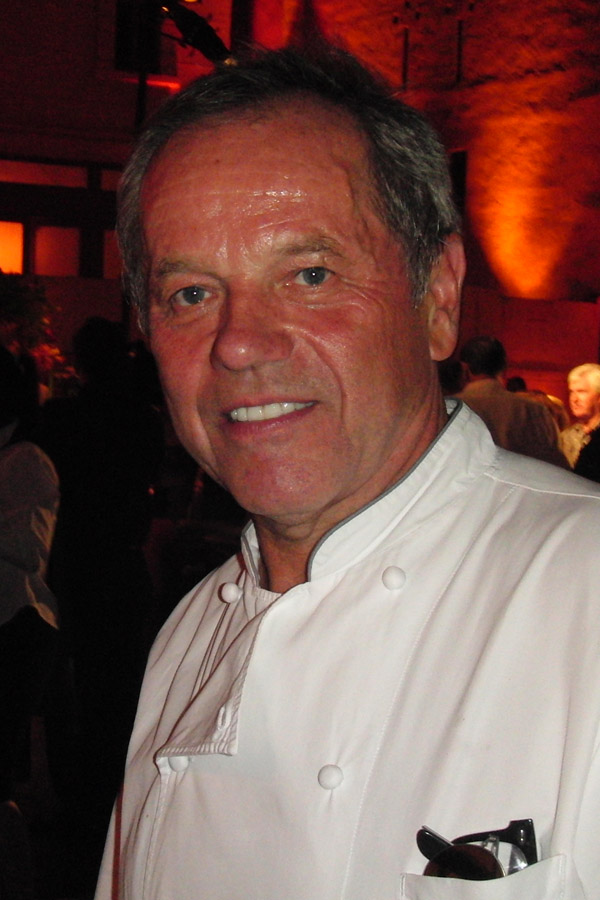 The larger than life co-producer of this amazing festival is the extremely talented designer and marketing professional Barbara Lazaroff, who sums it up by acknowledging everyone involved, and by saying "We can change the world, one warm meal and kind gesture at a time".
This 2010 event seemed to attendees to be the best one ever. The spirit of fun and the passion of the chefs and purveyors, filled the backlot of Univerdal once again. The generous and highly visible commitment of the many sponsors involved was impressive, and helped make it yet another outstanding and successful festival. The warm summer night lent itself to a memorable 'mid-summer nights dream' experience that no one will soon forget. A Delicious, blissful blast would be an apt description, and I am happy to have in attendance one more time! For additional information visit:www.americanfoodandwinefestival.com
____________________________________________________________________
SUNLIGHT and WATER - Celebrating the Winemakers of Santa Barbara County    by Mark Robert Halper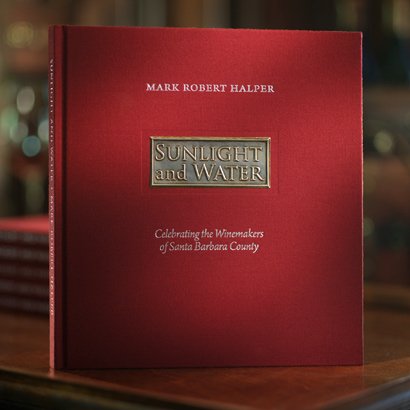 "This beautifully realized book is an achievement on several levels. It is a lovely work of art; it is a dramatic exposition of a time and place; it is about sunlight and water; and it is about wine. How is it about wine when there are no pictues of wine? Just look in their eyes. Look Closely." Anthony Dias Blue, Paris, April 2010.
"Wine is sunlight, held together by water." Galileo Galilei
Halper has created an exquisite compilation of outstanding black and white photos of the Santa Barbara County winemakers, which tell a story of the real moments in the lives of a select group of people dedicated to growing and preserving the art of outstanding wine making. The book is simple and beautiful; a treasure for wine lovers and for those people who spend their lives growing the grapes that produce award winning wines for the enjoyment of afficionados around the world to enjoy. For additional information v isit: www.HalperFineArt.com.
____________________________________________________________________
THE LONDON BAR PREMIERES
THE GILDED LILY COCKTAIL FOR Mercedes-Benz Fashion Week
Nothing pairs better with the glitz and glamour of Mercedes-Benz Fashion Week than enjoying a cocktail in a chic and sophisticated setting like The London Bar by Gordon Ramsay at The London NYC. Only minutes away from all the action at LincolnCenter, it's the place to be and be seen for the fashion crowd.
 To complement the allure of Fashion Week, The London has created The Gilded Lily, an exquisite prosecco cocktail hybrid, using fresh strawberries, St. Germain, and grains of paradise to cut the sweetness. Priced at $17, it's the perfect drink at the perfect place to be immersed in the excitement of Fashion Week.
                 Photo Credit Tyler Shedden
The Gilded Lily
1 oz St. Germain
3 oz Prosecco
2 fresh ripe strawberries
1 small pinch fresh ground Grains of Paradise
Muddle fresh strawberries in mixing glass, add St. Germain and pepper grinds. Shake with ice. After shaking pour prosecco into mixing tin, stir to combine, and strain into champagne glass.
 From breakfast to traditional afternoon tea to smart cocktails, stimulate your senses at The London Bar. The London offers excellent service and sits at a great location: 151 West 54th St., nestled between 6th & 7th Ave. Reservations requested 212-468-8889.
For more information on The London NYC and to see a full menu for The London Bar visit www.thelondonnyc.com.
_________________________________________________________________
HINT . . . DRINK WATER, NOT SUGAR

Hint is a premium essence water with a hint of flavor. It has no calories, sweetners or preservatives and is a healthy alternative to juice or soda. The company if privately owned by CEO Kara Goldin, a former AOL executive and mother of four. Hint is distributed to 10,000 retailers throughout the US, and the blackberry flavor is available at Starbucks. Flavors include watermelon, honeydew, hibiscus, blackberry, mango-grapefruit, pomegranate-tangerine, lime, raspberry-line, pear, cucumber and strawberry kiwi. For additional information visit www.drinkHINT.com.
---
INTRODUCTORY COURSE TO ITALIAN WINE

The Italian Sommelier Association of California is excited to present their inaugural Italian
Wine class in the US at the Wine House.
who are interested in the vast world of Italian wine.
DATES

Mondays and Tuesdays -  September 13, 14, 20, 21 and (Exam) 27 - 9 AM to 2:30PM
Saturdays - September 25, October 2, 9 , 23 and (Exam) 30 - 9 AM to 2:30PM
Intensive Class -  October 15, 16, 17, 18 (Exam) - 9 AM to 3:00PM
 
The price for the full course is $ 750
you can enroll online here

The course includes the following material that will be given the first day of class:
- "The Wine Tasting" Published by Italian Sommelier Association
- Wine Colors Chart
- Sommelier Case with N. 3 Riedel Tasting Glasses
 
For inquiries you can contact us at info@aiscalifornia.com or the Wine House at 310.479.3731

The course consists of 18 hours of class time and tasting with an exam in order to get the certification, issued by the Italian Sommelier Association of California.The class will explore all the 20 wine regions of Italy, their wine laws, grape varietals and include a brief overview of cuisine and culture. A portion of the class will be dedicated to wine tasting technique and the sophisticated wine service for which the ISA is famous.
This course will be extremely beneficial to both wine industry professionals and enthusiasts
________________________________________________________________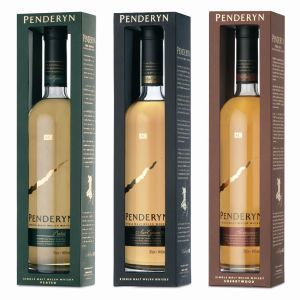 PENDERYN RELEASES CELTIC MANOR LIMITED EDITION WHISKY
Special edition to be released September 7th to honour
Celtic Manor, the 2010 Ryder Cup venue

Penderyn, the award-winning Welsh whisky distiller, has announced that it will be releasing a special edition whisky to celebrate The Celtic Manor Resort, the venue for the 2010 Ryder Cup, one of the world's biggest sporting events.
The Penderyn Celtic Manor 2010 whisky, which will be launched on 7th September, is strictly limited to 200 bottles and was commissioned by The Celtic Manor Resort to commemorate what is a very historic year for not only the Resort, but also for Wales. 
The whisky is a unique Welsh single malt matured in a single Oloroso Sherry cask.  The single cask used for this expression was selected by Penderyn's head distiller, Gillian Macdonald, and is bottled at 50% ABV. Each bottle will be presented in a hand-made tulip wood box, crafted in South Wales by the fine furniture maker Giancarlo Bianchi. 
Tasting Notes
"A rich whisky from an Oloroso sherry cask drenched with sherry from years in a bodega. Fresh and clean to the palate and brimming with sultana raisins and creamy toffee. Hints of oak from the Spanish oak cask. Long finish with the aftertaste of creamy fudge tablet."
The expression will be released on 6 September and is priced at £150 per bottle including VAT.  Bottles of the whisky will be available to purchase from the Celtic Manor's online shop, the retail outlets at Celtic Manor and from the Penderyn website and Distillery.
Stephen Davies, managing director of Penderyn commented, "This specially selected single malt is an example of Penderyn at its very best and we are delighted to be able to celebrate this important year with the Celtic Manor Resort."
Gareth Rees Jones, Marketing Director at Celtic Manor said, "This is a very exciting and important year for Celtic Manor and we wanted to mark the occasion by producing something special that our members and guests could enjoy.  We are delighted to be working with Penderyn, another quality Welsh brand that is at the forefront of promoting Wales around the world, to offer this limited edition whisky."
This release comes as Penderyn prepares to celebrate 10 years of distilling at its unique distillery in the BreconBeaconsNational Park.
About Penderyn
Penderyn is the award winning single malt whisky, launched in 2004 to revive the Welsh whisky distillation tradition after an absence of more than 100 years.  Produced on the southern reaches of the Brecon Beacons, only two barrels of the single malt whisky are produced per day. 
Since its launch, Penderyn has become one of the most recognised brands to emanate from Wales and is now sold extensively throughout the UK and worldwide.  It has gained the highest praise of the whisky industry and won numerous international awards, including honours at the prestigious International Wine and Spirit Competitions.
__________________________________________________________________
STARS "GIVELOVE" AT PRIVATE DINNER IN LA on Sunday, August 29th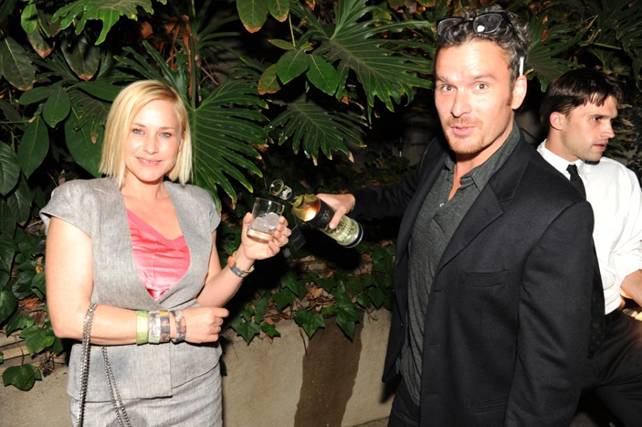 GiveLove co-founders Patricia Arquette and Rosetta Getty, along with Jacqui Getty, welcomed guests to a private LA residence for the 1st Annual GiveLove to Haiti Dinner. The event's mission was to raise awareness for GiveLove -- a collaborative project to rebuild communities, homes and livelihoods for displaced Haitian earthquake survivors.  The exclusive dinner, which drew out "giving" celebs including Maria Bello, Odette Yusman, Rose McGowan  and Rachel Bilson, featured Maestro DOBEL Diamond Tequila, which guests enjoyed throughout the nights.  James Van Der Beek and "Brothers and Sisters" co-stars Dave Annable and Balthazar Getty all sported the Choose Haiti H.E.L.P. Bracelet, while they toasted Maestro DOBEL Diamond Tequila. The H.E.L.P. Bracelet which is created by Haitian artisans is available at BlanketAmerica.com; all funds for the bracelet and for the GiveLove event benefit the Haiti relief efforts.
---
THE LANESBOROUGH HOSTS EXCLUSIVE
LAURENT-PERRIER CHAMPAGNE MASTER CLASS
The Lanesborough, a celebrated London property boasting an unparalleled commitment to offering innovative service, amenities and experiences, hosted an exclusive partnership with Laurent-Perrier, esteemed brand and avant-garde creator of unique and elegant Champagnes. The Lanesborough will hosted a unique tasting of Laurent-Perrier champagnes presented by David Hesketh, Managing Director of Laurent-Perrier UK and distinguished Master of Wine.
The master class featured the world's finest champagnes including the Grand Siècle prestige cuvée, Laurent Perrier vintages from 1999 and 1993, as well as an extremely rare offering from 1982. In addition, the champagnes were paired with an 8-course menu designed by Michelin starred chef Heinz Beck.
 Blue Lobster, papaya, mango and avocado,
Ultra Brut
Langoustine potato and black olive dust,
Grand Siècle, 
Risotto with oyster and champagne,
Grand Siècle, 
Gnocchi with chive and caviar, L
aurent Perrier 2000, 
Cod fillet with "Spellos" beans,
aurent Perrier 1996, 
Composition of turbot, scallops and shellfish,
Laurent Perrier 1993, 
Lamb variation,
Laurent Perrier 1982, 
Parfait with wild berries, marshmallows and chocolate cannoli,
Demi-Sec.
____________________________________________________________________
The Donnafugata grape harvest has begun
At Contessa Entellina the 2010 grape harvest began on August 16, a few days later than in the past. As has long been customary, it began with the nighttime picking of the Chardonnay, the earliest variety to ripen. The nocturnal harvest is a technical decision, rewarding from the enological and environmental viewpoints in taking advantage of the zone's big differences between day and nighttime temperatures. In fact, picking the grapes at night makes it possible to conserve their aromas better during transit from vineyard to cellar thanks to much cooler temperatures. In the mid-August, when daytime heat can reach even 95°F, the grapes are picked well after sundown, when temperatures drop to 60° or 65°F, thereby preventing undesirable fermentation during transport and saving 70% on energy in cooling the grapes before pressing (at 50°F), when there are greater risks of aroma volatilization.
The start of the grape harvest is an important time and one in which Donnafugata can take stock of the agrarian year and provide some figures on vineyard growth and grape output.
Normal weather conditions and meticulous vineyard tending are the premises for a good harvest bringing healthy and perfectly ripe grapes to the cellar.
And here is a rundown of the past year. In autumn and winter rainfall was above seasonal averages. In the spring (April-May), there was a slight delay in budding and blossoming. In June some trimming was done to spur the growth of new leaves physiologically active in the last stages of ripening.
In the summer, temperatures were within seasonal norms. Days were hot and nights were cool, helping the vines to achieve balanced plant/grape growth, preventing stress from summer heat and enabling what was photosynthesized during the day to pass from the leaves to the grapes at night.
For example, on the hills of Donnafugata's Contessa Entellina estate, on one of the hottest days, like July 17, peak temperature was 102°, while the lowest was 62°, a difference of 40°.
In July the grapes went through the setting stage. Towards the end of the month some vines were thinned, but only in the most productive vineyards.
On the whole the year was less productive, with initial estimates of 10% fewer grapes than in 2009.
In August the Sauvignon Blanc, Viognier and some of the Merlot will be picked. The other varieties (Syrah, Nero d'Avola, Grecanico, Ansonica, Cabernet Sauvignon, Catarratto, Alicante, Tannat and Petit Verdot) will be harvested in September.
Where total rainfall is concerned, the year was wetter than usual: from October 1 2009 to July 30, 2010 there were 29 inches of rain, compared to an average of 23.5 over the past eight years (recorded by the S.I.A.S. weather station at Contessa Entellina, www.sias.regione.sicilia.it).
__________________________________________________________________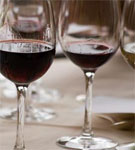 BEST COMPETITION WINE LIST WINNERS ANNOUNCED

"California restaurants prove time and again to be the best in the world," said California Restaurant Association President + CEO Jot Condie. "This was the most rigorous competition yet, with dozens of stellar restaurants demonstrating their commitment to serving the best wines California has to offer."

California restaurants that feature wines produced in the state were invited to submit their wine lists, along with an essay detailing their wine program and commitment to promoting California wines. Winners were selected by a panel of volunteer judges from the Wine Institute of California in four categories:

The single-location category came down to a two-way tie between Sacramento's The Kitchen and LA Prime of Los Angeles. Both restaurants showed tremendous commitment to showcasing a wide variety of California regions and varietals, as well as staying active with creative wine promotions and events.

Fleming's Prime Steakhouse & Wine Bar in Newport Beach won out in the restaurant companies with 10 or more outlets category. The Newport Beach-based company offers an impressive 100 wines-by-the-glass menu that is overwhelmingly dedicated to California wines.

San Diego restaurants Top of the Market and Addison came out on top in the categories of restaurant companies with two to nine locations and annual revenue of more than $1 million and less than $1 million, respectively.

The judges also recognized Monterey's Sardine Factory and Los Angeles-based California Pizza Kitchen with Merit Awards for each company's dedication to keeping a highly educated staff and menu creativity.

"It was illuminating to see how restaurants showcased the diversity of California wines on their menus and increased wine sales with creative promotions and staff education" said Nancy Light, Wine Institute of California director of communications. "Our California Wine Month campaign builds consumer awareness of the state's wines and supports restaurants as they feature the state's exceptional array of wines."

In its third year, the statewide competition presented by the CRA was created in partnership with the Wine Institute of California to celebrate September as California Wine Month, by proclamation of Gov. Arnold Schwarzenegger. Wine is an important part of California's economy, as the state is the fourth largest wine producer in the world, making 90 percent of American wine and is responsible for $17.9 billion in retail wine sales in the United States.

The winners were initially announced in the August/September issue of The Restaurant Standard magazine, which will be devoted to the California wine and spirits industry.

Winners will be treated to getaway packages to some of California's most renowned wine regions, courtesy of the Santa Barbara Conference and Visitors Bureau, the San Luis Obispo County Visitors and Conference Bureau, the Amador County Vinters Association and the Lodi Winegrape Commission.
---