SIPS . . . .
TOASTING THE MEN OF IWO JIMA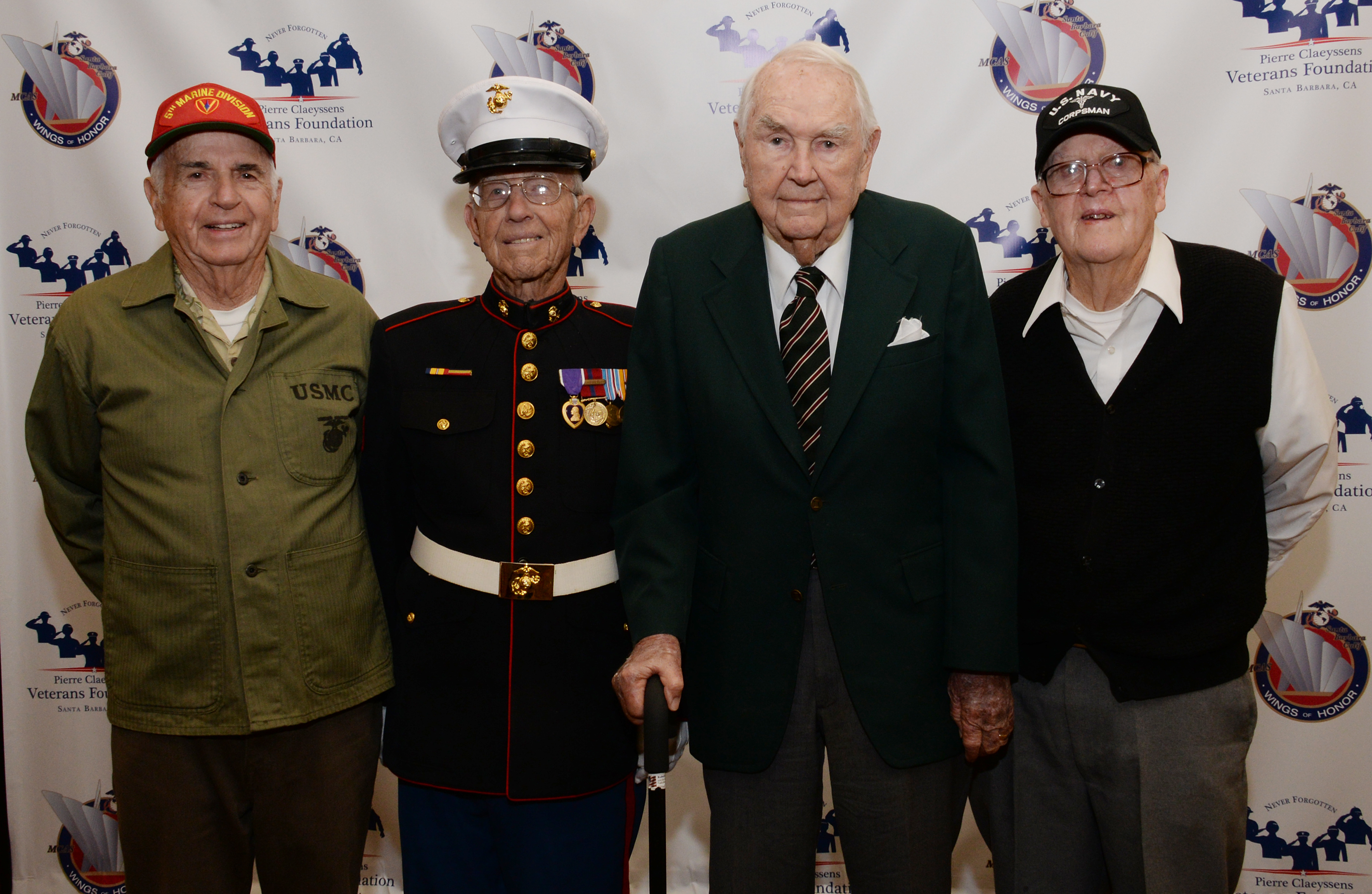 L to R: Joe Hale, Ben Bellefeuille, Bob Beckham and Ken Morehouse - Photo by Rick Carter
70th ANNIVERSARY "SANDS OF IWO JIMA" LUNCHEON
Santa Barbara Honors US Marine Heros with Awards & Jarhead Red
by Bonnie Carroll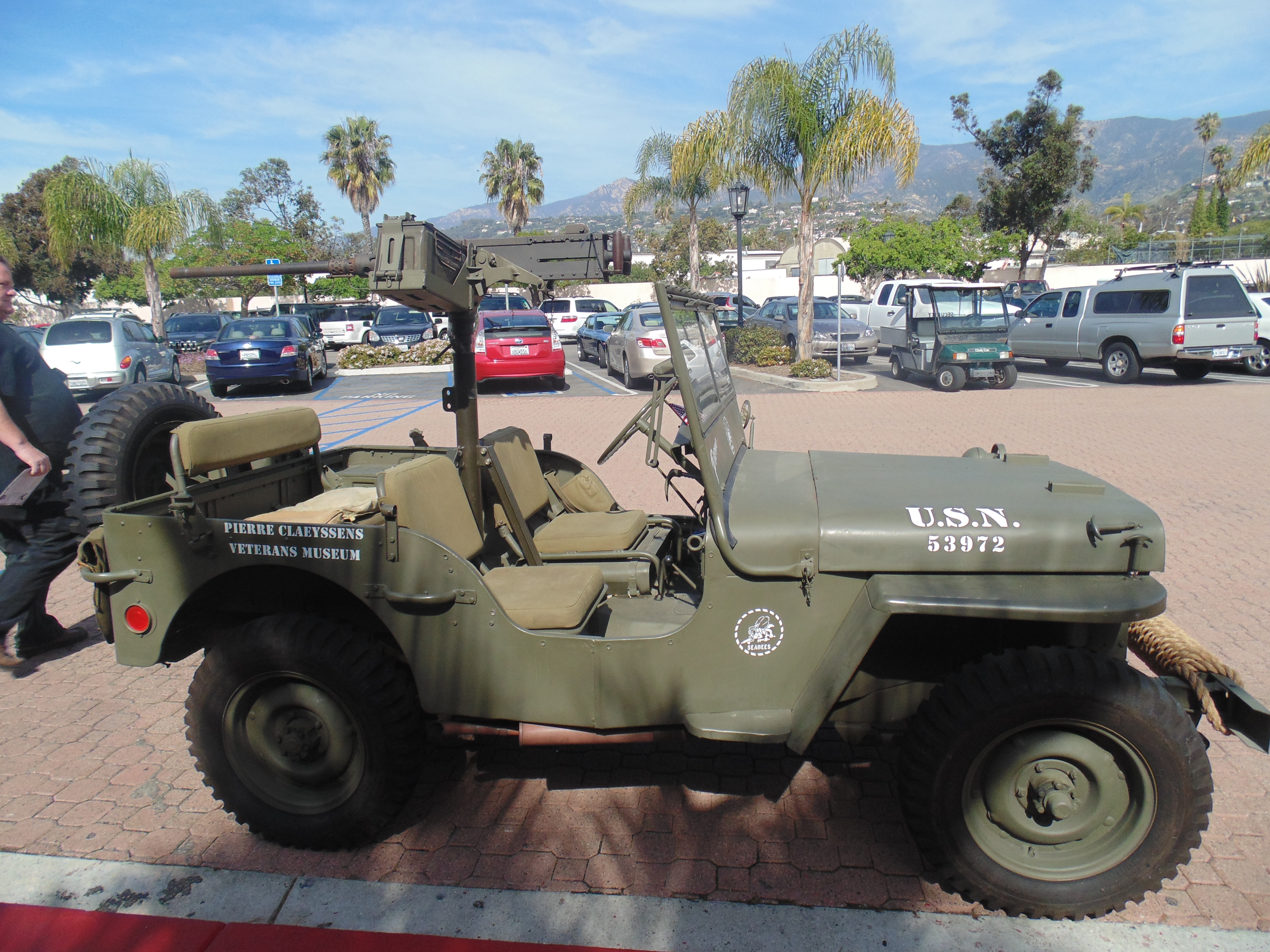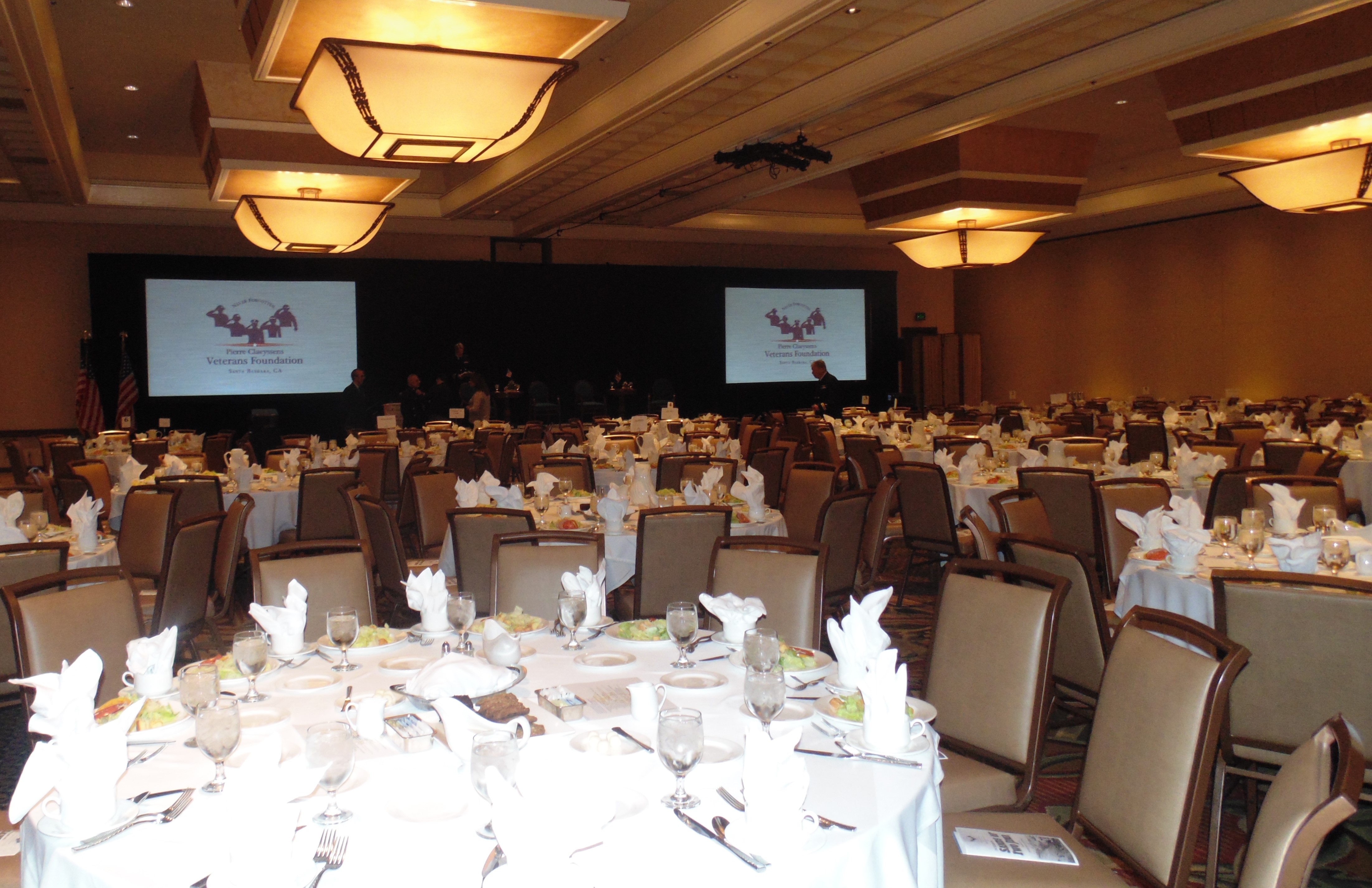 The Fess Parker Hotel in Santa Barbara was overflowing with men in uniform and their ladies on February 26, 2015 to celebrate the 70th Anniversary of Iwo Jima and pay homage to four area US Marine Corp and Navy members who had served at Iwo Jima during WWII. The Pierre Claeyssens Veterans Foundation in collaboration with the Channel City Club sponsored the luncheon honoring Cpl. Joseph Hale, USC, PhM2 Kenneth E. Morehouse, US, Cpl. Benedict E. Bellefeuille, USMC LtCol. Robert P. Beckham, USMC.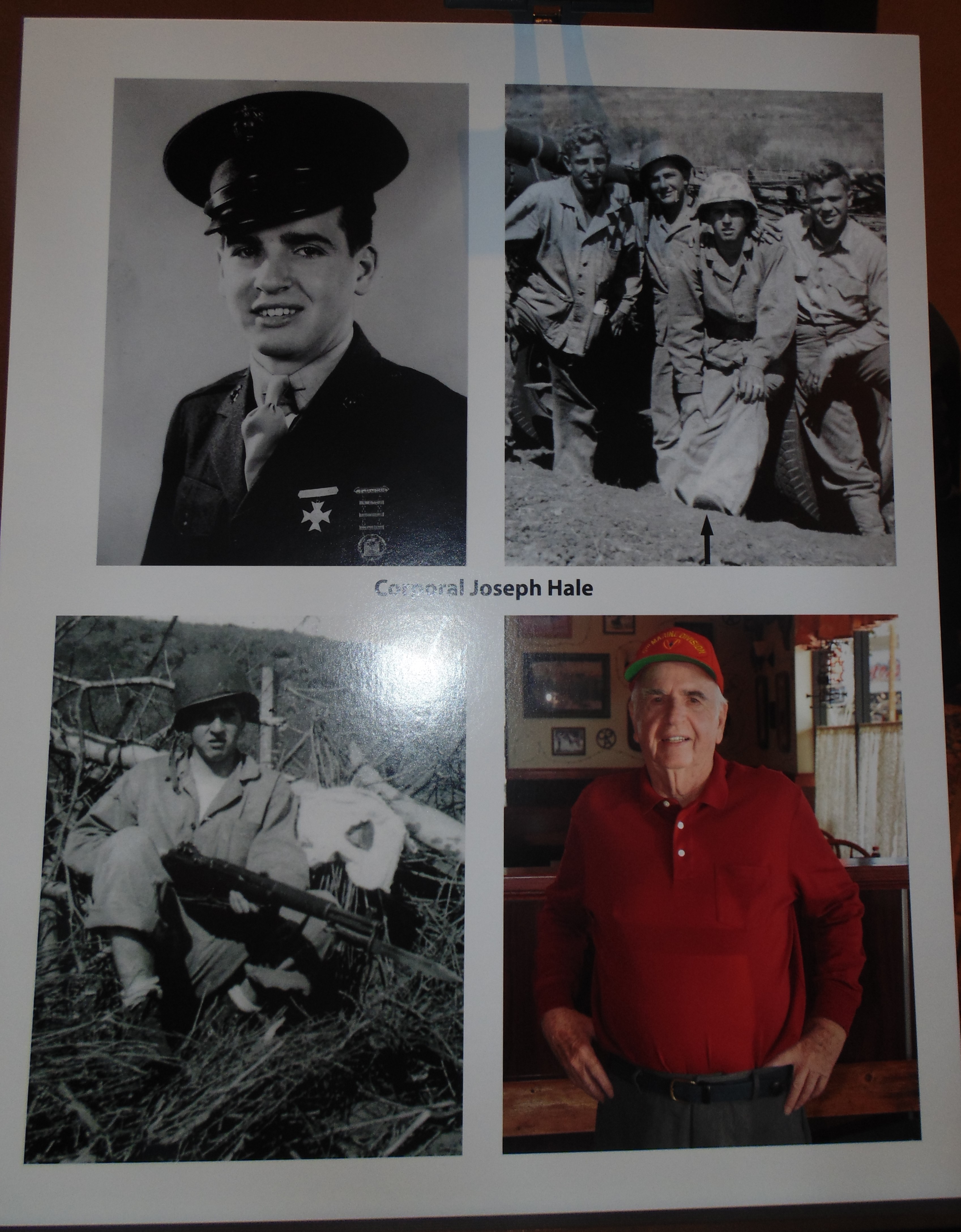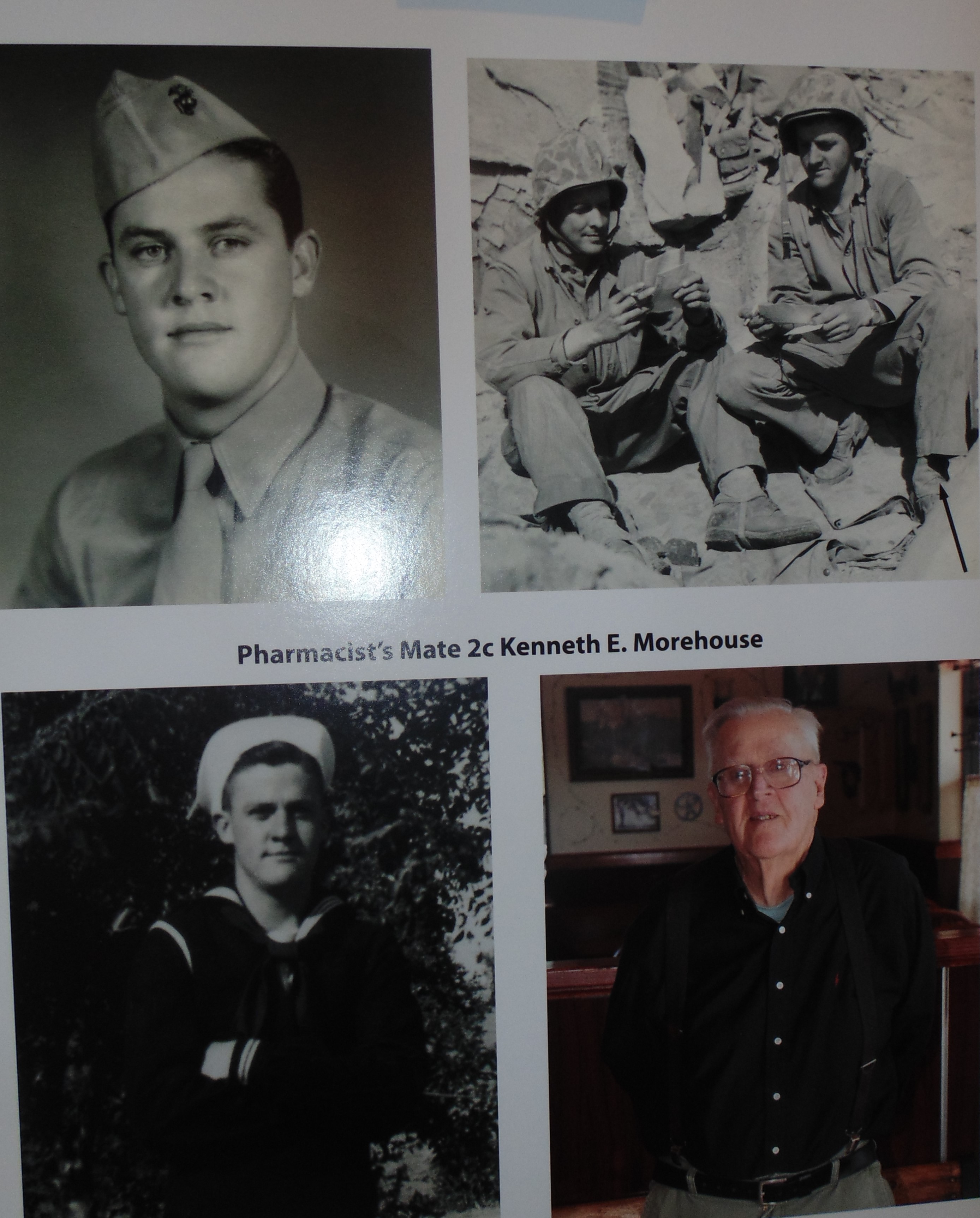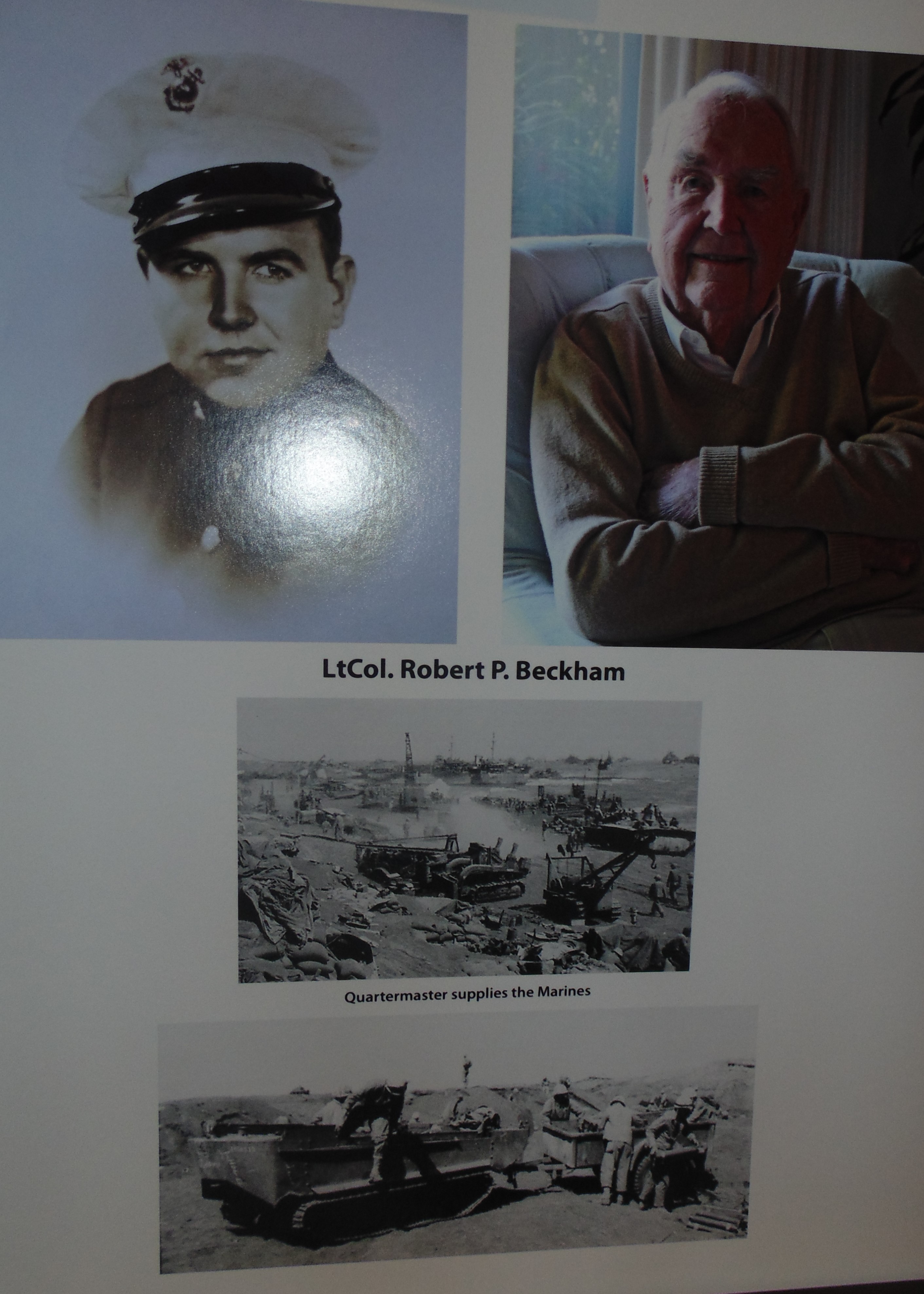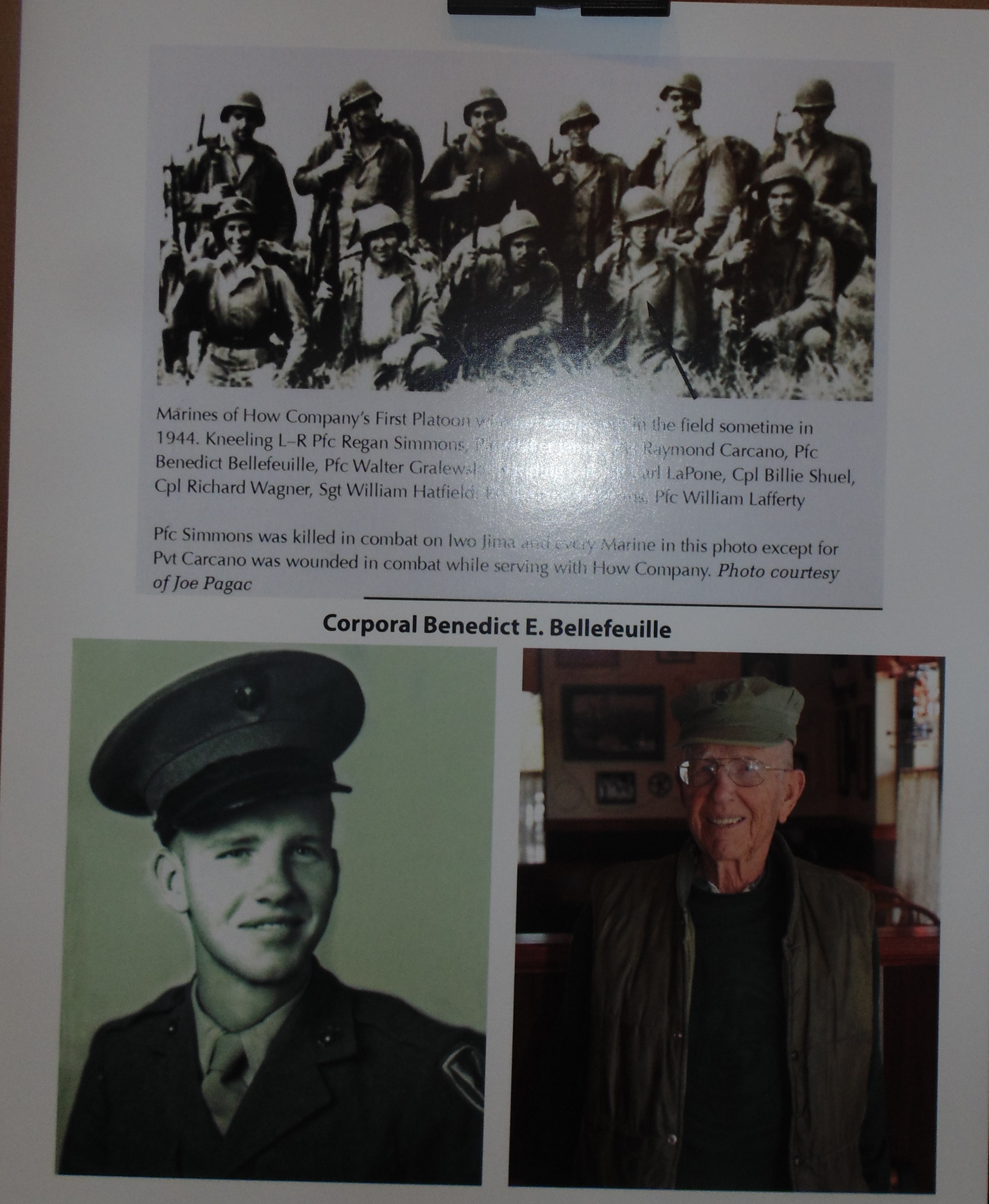 Joe Hale - Kenneth Morehouse - Bob Beckham - Ben Bellefeuille
Lt. John Blankenship, Executive Director of PCVF, opened the program with information on the sacrifices made at Iwo Jima, which included 669,1000 Marines serving during WWII, with more that a quarter of the total US Marine casualties occurring during the 36-day battle of Iwo Jima. 27 U.S. military personnel were awarded the Medal of Honor for their action on Iwo Jima; 22 were presented to Marines and five were awarded to US Navy sailors. Of the 82 Medals of Honor awarded to Marines during WWII in the Pacific, 28% of those were given to Marines on Iwo Jima. BGen. Fred Lopez shared the strategic implications and ground battle; Col. Phil Conran talked on AAF Battle and Lt. Stephen E. Penner discussed the Navy Battle. Carol Kallman Channel City Club Chairan of the Board opened and closed the program.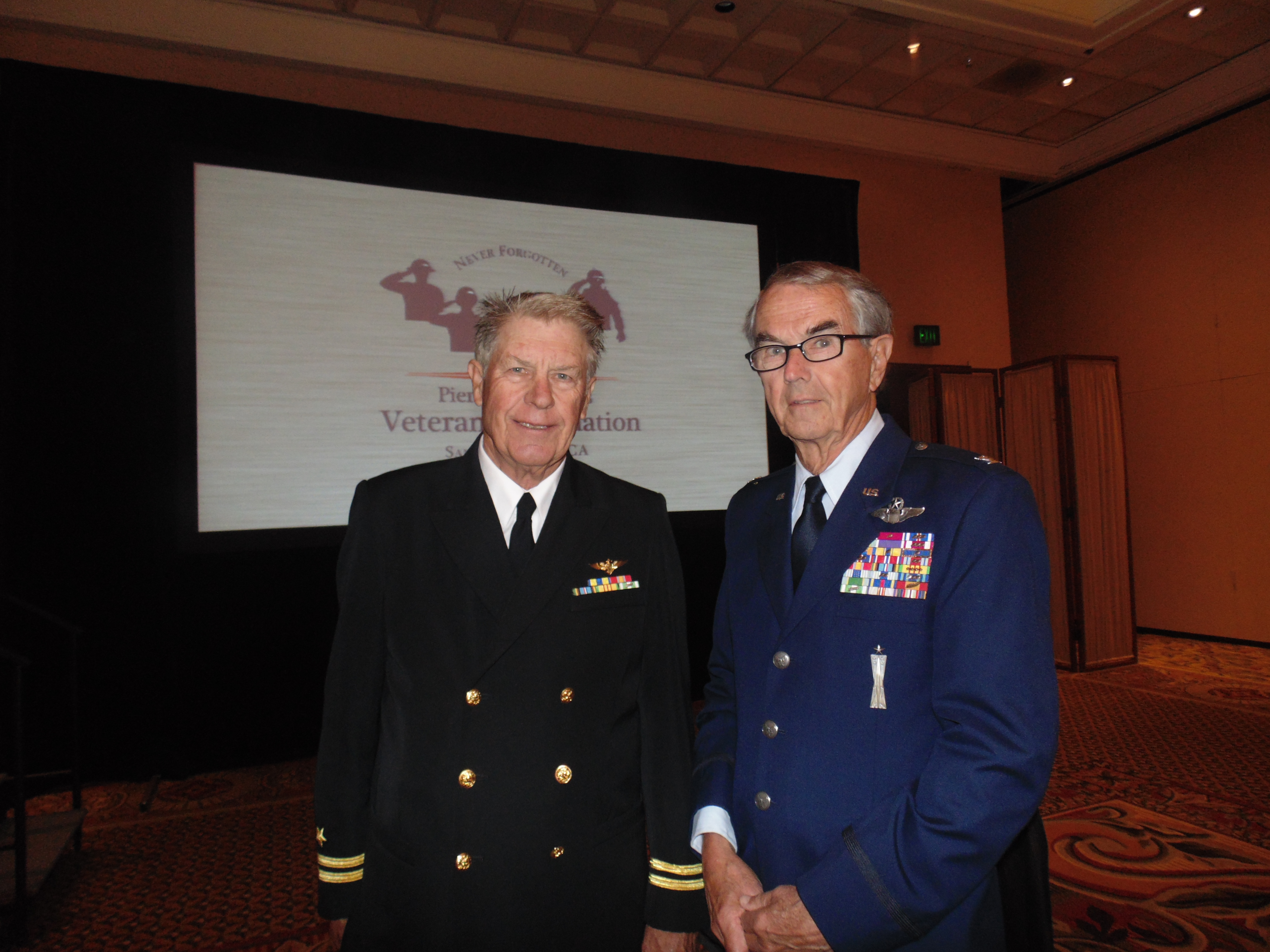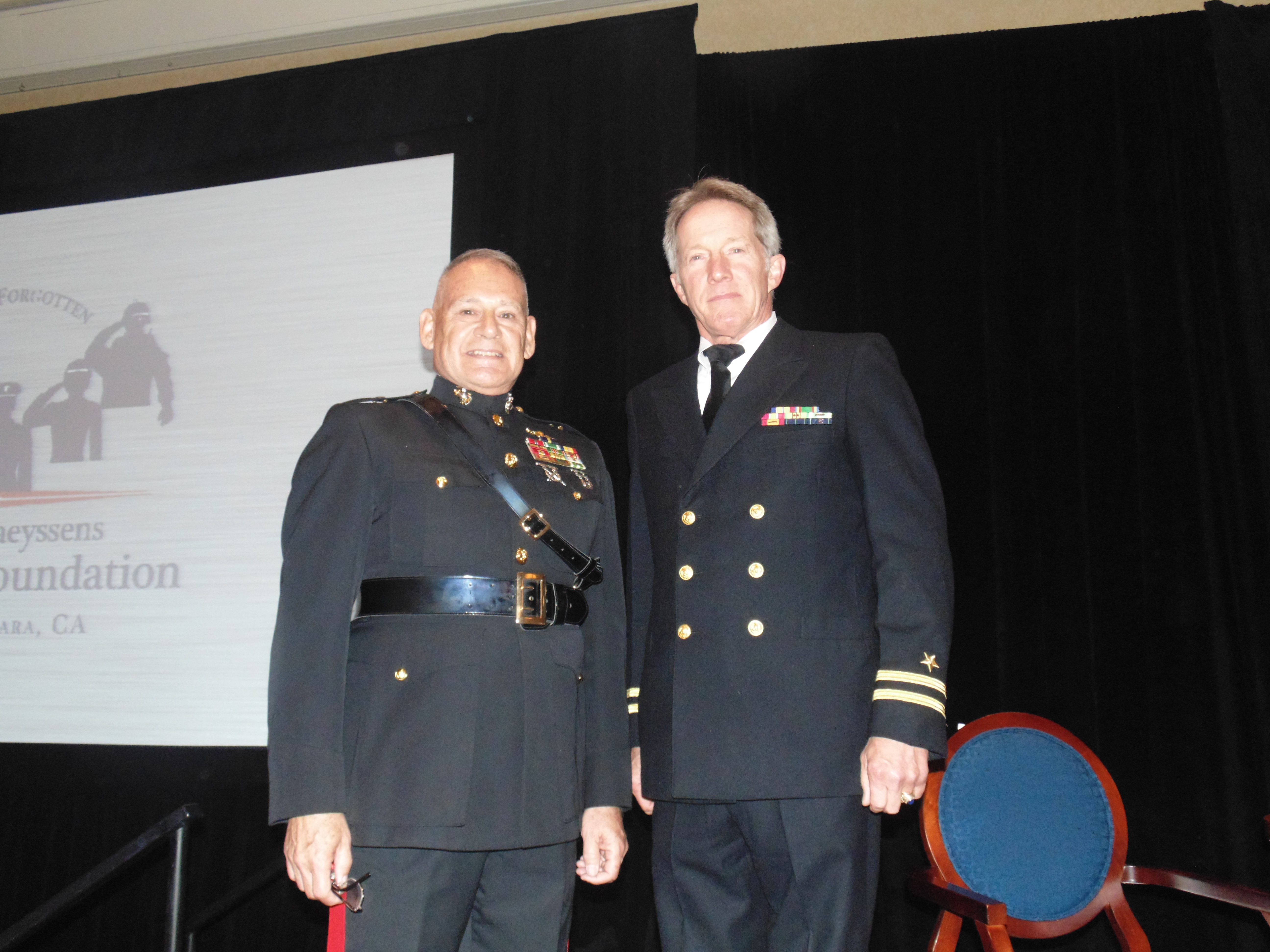 Lt. John Blankenship & Col. Phil Conran                              BGen Frederick Lopez & Lt Stephen E. Penner
Bob Beckham was an ROTC graduate School who later went to USMC Supply School and was on Iwo Jima for 36 days, where he worked alongside Major General Keller E. Rockey who relied on him as Captain/Quarter Master for his 5th Marine Division, for everything from tanks to pencils and more. Bob served from 1942 to 1946. He retired from a successful insurance company in LA, and now lives in Montecito. He is still the owner of the successful Pasadena restaurant Beckham's Place.
Ben Bellefeuille enlisted at 17 years of age, and served two years and three months as a member of the 5ath Marine Division, 26th Regiment, 3rd Battalion. Ben was a BAR gunner without an ammo-bearer, and was severely wounded and sent home, where he was awarded a Purple Heart when he was flown out on the 18th day. Following WWII he worked in creamery management and also at the Men's Colony before retiring.
Joe Hale was on Iwo Jima from day one to the end. He was another young recruit who convinced his mom to sign the papers. He was in the 5th Marine Division, 13th Regiment, Third Battalion, H Battery. Joe was called to service in 1942 and discharged in 1946. Joe worked at Disney for 35 years starting as an animator, working up through the ranks to be a writer, and producer.
Ken Morehouse was a Navy Corpsman who operated as a medic to the Marine units he was assigned to; on Iwo Jima it was the 4th Marine Division for the 36-day battle. This was his fourth invasion, having served in battles on Roi, TinianiSaipan and finally, Iwo Jima. Challenges abounded for medics; no water, poor sanitation, and surgical procedures were primitive. Ken lives in Atascadero and is retired from owning a grocery store in Paso Robles. He was cited for "moving into the direct line of enemy fire to treat his comrades in arms with utter disregard for his own safety."
The days speakers included Colonel Phil Conran, (USAF Ret) a highly decorated Command Pilot who logged more than 6,000 hours in a single and multi engine fixed wing aircraft as well as helicopters. Conran retired after 30 years in 1988 with the rank of Colonel. He was awarded USAF Air Force Cross, The Airman's Medal, four Distinguished Flying Cross, eight Air Medals, the Purpose Heart and more. He is also a member of the Legion of Valor and serves as National Adjutant. Col. Conran is President of the Board of PCVF.
Brigadier General Frederick Lopez, a Vietnam veteran served in the US Marine Corps Reserve for 31 years (1967-1988). He held numerous key commands including Commanding General 4th Marine Division, and Deputy Commanding General 1st Marine Expeditionary Force. His honors include Navy & Marine Corps Parachutist Wings, Distinguished Service Medal, Bronze Star Medal with Combat "V", Navy Commendation Medal, and many more. This Iwo Jima program is significant to him because the 4h Marine Division at Iwo Jim established the legacy of valor and sacrifice that all Marine Divisions try to emulate to this day. Bgen. Lopez also had a 29 year career at Raytheon Electronic Warfare Systems, retiring as Director of Engineering in 2007. He is a board member for PCVF.
LT Stephen E. Penner, USN Ret is a 1971 graduate of the U.S. Naval Academy. He served a combat tour during the Vietnam War from 1972-73, as Gunnery Officer on the USS Turner Joy, which was one of the two sister ships that started the Vietnam War in "Tonkin Gulf Incident" August 1964; and after eight years of war, on January 28 1973 the High Command gave the order that same destroyer to fire the last shot of the Vietnam War. Steve is currently an attorney in Santa Barbara County, and resides in Goleta with his wife.
Following a short version of "Sands of Iwo Jima" the film, individual awards were presented. Each of the honorees was presented a beautiful commemorative plaque and a bottle of special label Jarhead Red wine
THE MARINES BEHIND FIRESTONE JARHEAD RED
ADAM FIRESTONE – CAPTIN USMC 1984-91

Adam is a third-generation winegrower and former captain in the Marine Corps who was deployed to Saudi Arabia and Kuwait in 1991. Today, Adam oversees his family's wine making endeavors (including Curtis Winery, as well as Firestone Walker Brewing Company, which he founded with his brother-in-law, David Walker. Adam resides with his family in the Santa Ynez Valley in Santa Barbara County on California's Central Coast. RUBEN DOMINGUEZ – SERGEANT USMC 1979-84. Born in Texas and raised in central Kansas, Ruben joined the Marines in 1979. He served on guard duty in 60-foot towers at Guantanamo Bay in Cuba, and later transferred to driving heavy trucks before returning to the 1st Marine Division at Camp Pendleton. He started his wine industry career at Firestone Vineyard in 1995. Today, Ruben is the vineyard foreman for Coastal Vineyard Care Associates. Ruben resides with his family in Santa Ynez Valley.
According to Adam Firestone and Ruben Dominguez "The Marine Corps gave us both a remarkable opportunity to serve our country. Along the way, we learned invaluable skills and forged friendships that will last a lifetime. With Jarhead Red, we aim to give back while honoring the men and women who defend our nation. Each bottle of Jarhead Red supports the Marine Corps Scholarship Foundation, which provides educational assistance to children of U.S. Marines, with special consideration given to families of fallen Marines. While Jarhead Red is made by Marines, for Marines, it will appeal to anyone who enjoys a robust red wine crafted in an approachable style. Semper fi." In 2007 Curtis purchased Firestone wines; all net proceeds still go to Marines and their families. For wine information visit: www.jarhead.com.
The members of the Robert Beckham family all joined together for a family photo following the award, many of whom live in the Montecito or nearby areas. I had the pleasure of sitting with them and was touched by their obvious family love and pride. All the guests in attendance at the luncheon seemed filled with pride remembering the sacrifices made by all the brave men who went to battle in Iwo Jima. My own father fought side-by-side with these men, and I found myself struggling to hold back tears throughout the entire program. The first song I learned at five years of age was "Semper Fidelis" and all I can say today is "Uh rah" for the United States Marines now and forever!

For information on the next program Vietnam Remembered being planned by the Pierre Claeyssens Veterans Foundation please visit: www.PierreClaeyssensVeteransFoundation.com.
___________________________________________________________________
Raise a Glass to "Green" for California Wines Down to Earth Month
 April Winery Events Highlight Sustainable Winegrowing Around the State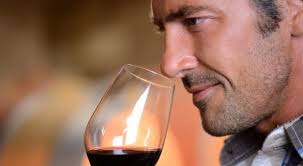 This April, get ready to raise your glass of red, white or rosé in a toast to all things "green" during the fourth-annual Down to Earth Month in California.  The eco-friendly fun lasts all month long with dozens of sustainability-focused events and activities to enjoy. 
Created by Wine Institute—the association of 1,000 California wineries and affiliated businesses— Down to Earth Month raises awareness of California's leadership in sustainable winegrowing and winemaking.  Wineries across the state will engage consumers, policy leaders, media and trade with active and educational festivities such as Earth Day festivals, organic wine trails, dog-friendly vineyard hikes, wildlife talks, horseback rides, eco-tours and more.   
"We created Down to Earth Month as an engaging way for wine lovers to explore California wine's sustainability practices and the people and places behind them," said Bobby Koch, President and CEO of Wine Institute.  "It gives us the opportunity to celebrate and share the successes of our California Sustainable Winegrowing Program and help consumers and policy leaders understand our commitment to the environment."
A state Senate and Assembly joint resolution proclaiming April as "Down to Earth" month in California has been introduced to celebrate the sustainable leadership of California wineries and winegrape growers. Vineyards and wineries representing more than 70 percent of California's vineyard acreage and wine case production participate in the comprehensive California Sustainable Winegrowing Program, a remarkable scale of accomplishment as California is the world's fourth-largest wine producer.
If you're going to be in California in April, it's a great opportunity to immerse yourself in our world of wine and food at various events, such as: 
Mendocino County wineries are joining the Party for the Planet 2014 April 17–26, where visitors can attend organic gardening demos, enjoy musical performances, taste organic foods and wines from local purveyors, visit the amazing farmers markets and take advantage of lodging specials.  From April 1-30 in northern Sonoma County, the Green Trail of Dry Creek Valley offers a customized experience exploring the region's certified organic and biodynamic wineries. Eat, drink and be green April 19 at Celebrate Earth Day in Green Valley, which showcases music, food, the Chardonnays and Pinot Noirs of Green Valley and a true "rock star" experience: guest speaker Kevin Jorgeson, who free climbed the 3,000-foot Dawn Wall of El Capitan in Yosemite National Park. April 25, the fun-filled festival Celebrate Earth Day in Downtown Napa highlights the Napa Valley Vintner's commitment to having all their eligible members certified Napa Green by 2020.  
San Francisco South Bay/Central Coast 
Who would bring an owl to a party? San Luis Obispo County wineries, that's who! The Earth Day Food & Wine Festival on April 18 offers a fun, casual experience with more than 200 growers, vintners and chefs serving local wines and foods with music, dancing and more.  Plus the event proceeds benefit educational scholarships for relatives of farmworkers.  Paso Robles will celebrate the region's sustainable food and wine culture with the Central Coast Earth Day Food & Wine Weekend April 17-19. Nearby the Taste of Pismo on April 25 will offer local, sustainably grown wine and edibles at Dinosaur Caves Park overlooking the ocean in Pismo Beach.  
The Santa Cruz Mountains Organic Wine Trail celebrates its earth-friendly wine region with organic wine trails, while the Santa Cruz Mountains Winegrowers Association Passport Day boasts many eco-friendly barrel samples and special tasting flights on April 18.  Livermore Valley wineries are highlighting "Down to Earth" tours and tastings on April 18-19, including guided tastings and organically farmed vineyard and winery tours where visitors can learn about energy conservation (some use solar power) and discover sustainable methods for pest, soil and plant management. 
California Sustainable Winegrowing 
California is a world leader in sustainable winegrowing practices.  CSWA, a 501(c)(3) educational nonprofit organization established by Wine Institute and the California Association of Winegrape Growers more than a decade ago, received the governor's top environmental award for increasing adoption of sustainable winegrowing practices in California and for  initiating new educational tools and program improvements. CSWA now has 1,900 vineyards and wineries as program participants.  
Nearly 80 wineries and 308 vineyards around the state have taken an extra step by earning Certified California Sustainable Winegrowing status through a third-party certification program launched by the California Sustainable Winegrowing Alliance. To learn more, visit: www.discovercaliforniawines.com/sustainable-winegrowing.  
Explore all of the Down to Earth Month activities at www.discovercaliforniawines.com/d2e. 
__________________________________________________________________________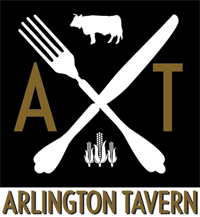 The Best of California Wines and Beer, along with amazing dishes created by co-owner chef Ron True.
Arlington Tavern is a "Cheers" style venue, where patrons can sit on the patio, in private dining areas or at the bar and savor great local wine, beer and gourmet delicious small plates, as well as complete dinners. Filet of beef, short ribs or lamb shanks grace the menu, as well as a bevy of healthy items like tofu with Portobello mushrooms, Tuscan kale salad, white polenta and green faro. The atmosphere is fun and alive, and the menu includes recipes from True's past culinary experiences and some exciting new surprises. The kitchen is like a finely tuned beehive of culinary activity, and the plates coming out are amazing. The prices are reasonable, quality outstanding and the service is friendly and attentive.
           Arlington Tavern, 22 Victoria Street, Santa Barbara - (805)770-2626
---