INDIAN FLAIR AT LXV WINE LOUNGE IN PASO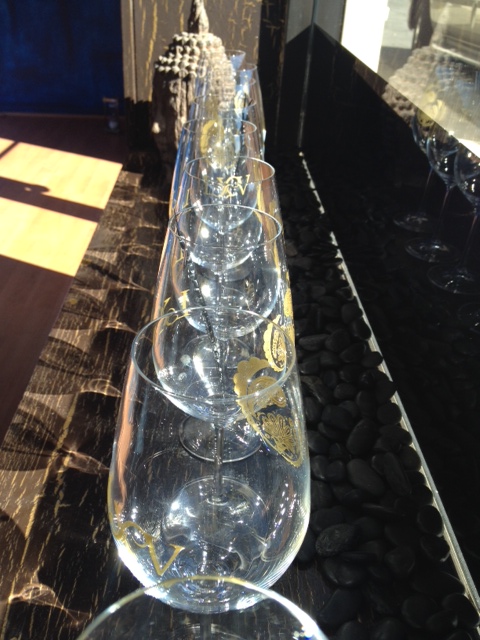 LXV Wine Lounge in Paso Robles redefines wine hospitality with a sensuous Indian flair Paso Robles Downtown introduces LXV Wine Lounge, a sensory wine experience inspired by the 64 arts of KamaSutra Paso Robles.
Romantic evenings have moved from being a deux to ménage-a trois: you, them and a bottle of wine. 1 New LXV WIne Lounge in Downtown Paso Robles The brand new LXV Wine Lounge, with deep blue walls, day beds full of vibrant colors and plush pillows, wines paired with spices, and labels inspired by the 64 arts of KamaSutra, elevates your mood and intimacy that goes beyond just sensing. The Lounge was designed by renowned local artist, Daniel, The Artist, who found the project exciting because "it allowed me to explore the fusion of Eastern/Western Cultures while staying true to the 'roots' of our local wine community." LXV has emerged from the teaming up of two entrepreneurial geniuses – those of Kunal and Neeta Mittal. And the iconoclastic winemaker Amy Butler. "Even the most exotic recipes have to begin with the basics: the best ingredients and time-honored techniques. The chef's art should be subtle - nothing should taste overworked. This is also my approach to winemaking at LXV" says Amy, who is known for her old-world approach of making balanced wines that got her a nod from Wine Enthusiast magazine. The team sources fruit for small-lot vineyards from the best terroirs of Paso Robles, where unique micro-climates create lower yields and intensely flavored fruit. Paso Robles was announced as the Wine Region of the year 2013 by Wine Enthusiast magazine, where the style of the wine is at once classic and contemporary, showcasing the uniqueness of Paso Robles AVA. 2 LXV Wines 3 Paso Robles- Wine Region of the Year For Neeta, Paso Robles reminds her of India. "There is an intimacy in the ecosystem in Paso, maybe because of the relationship people have with the earth and with each other. And that expresses itself in the grapes, in the winemaking, and ultimately in the wines" says Neeta, fondly, as she walks on their ranch on Willow Creek Ranch where they will be planting vineyards and building a winery and a tasting room. Wine has been known throughout history as an aphrodisiac, a bringer of pleasure and shearing through timid inhibitions, ingeniously captured by the unique LXV Wine and spice pairings at the Lounge. The Willow Creek Ranch hosts private tastings for LXV Club members, with Indian food and Art events. The Mittals' approach re-frames the entire wine experience as a novel Indian series of events that sequentially awaken the full range of senses to more keenly appreciate wine, frame, and ambiance, all strategically designed for an arousingly pleasurable experience.
The LXV Wine Lounge is located at 1306B Pine Street, Paso Robles, CA with a private parking lot. The wine is also available for purchase through their website (www.lxvwine.com), and the owners are available to offer personal assistance at 805.296.1902.
_________________________________________________________________
Moët & Chandon Finally Introduces Champagne
Vending Machine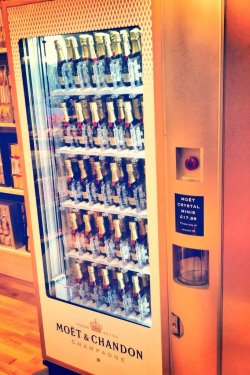 Because the holidays are all about alcohol and superfluity, Moët & Chandon is selling tiny bottles of Champagne from a vending machine in the Christmas section of department store Selfridges in England. Targeted to entry-level buyers, a 200-milliliter bottle goes for about $29, which also notes it's a "feasible price for budding luxury buyers when compared to other bottles for purchase at the department store."
_________________________________________________________________
2013 GEORGES DUBCEUF

 BEAUJOLAIS NOUVEAU
Celebrate with the taste of Harvest 2013
Red Beaujolais Wine from France
___________________________________________________________________
Top 100 Cellar Selections 2013
list of wines that need to be in your cellar.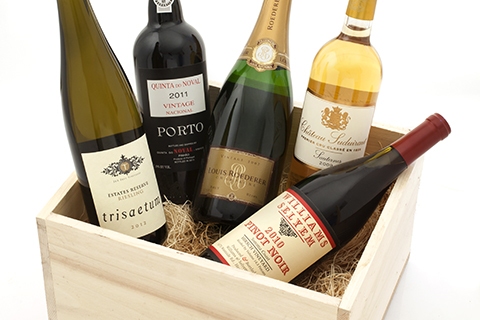 While American culture in general is preoccupied with the here and now, wine devotees are well accustomed to thinking long term. Laying down bottles and monitoring their evolution are passions of true enthusiasts, and this year in particular has proven to be a wine collector's dream. With so many wonderful releases from around the world—thanks to favorable vintage conditions in many iconic wine regions, as well as more competitively priced and available offerings across the board—the stars were aligned for those looking to build or restock a wine cellar in 2013. 
To a large extent, our list of Top 100 Cellar Selections reflects which classic wine regions released the best vintages during the past year. In 2013, that means the list is heavy on 2010 Bordeaux and Burgundy, 2011 vintage Port and 2007 Brunello riservas. In the interest of diversity, we sprinkle in wines from a wide range of countries and grape varieties, but since most of these ageworthy wines come from established regions and top vintages, the emphasis is on quality, not value. 
This is a refined list, and many of the wines are expensive—no surprise there. Many of these wines are also limited in production, and just like selections on our other Top 100 lists, some may have sold out or increased in price since our initial reviews were published. But all are collectible investments, requiring time in a properly temperature-and-humidity controlled cellar to deliver maximum pleasure. Our top-ranked Cellar Selection for 2013 is perhaps the most perfect example of such a bottling: A flawless wine from a highly lauded vintage of a style that ages extremely well for decades. Remarkably, we have six other 100-point wines included on this list, emphasizing it as one of the highest-quality lists we've ever released.
Usually, the phrase "you're not getting older, you're getting better" is wishful thinking. In these wines, it is the truth. Enjoy! 
From Wine Enthusiast Magazine December 2013
---