WINE PICKS BY ALBERIO SALUTE!
Alberio Astarita, owner of The Wine Corner, Via Capo 12/B, Sorrento, features this month's wine picks.
For more information, or to order,
Call Alberio Astarita at The Wine Corner +39 081 8074731 or info@soledisorrento.com or visit: www.soledisorrento.com.
Alberio ships from Italy directly at your home or office anywhere in the world, in safe, custom-made packaging, customs cleared.
Only for Christmas!
Brunello di Montalcino
Campogiovanni 2001
One of the top vintages for Brunello.Wine Spectator's rating for this vintage: 98. Great wine, generous, balanced, tannic and fruity, velvety finish. Drink or hold.
9 bottles at 287E – 18 bottles at 549E - packed and shipped door to door, US customs cleared. Credit cards taken with guaranteed shipping.
Barolo Nirvasco 2001
Nice aroma, well-structured and firm character. Wine Spectator's rating for this vintage: 95
9 bottles 270E, or 18 bottles 513E -
18 bottles at 549 - packed and shipped to door to door, US customs cleared. Credit cards taken with guaranteed shipping.
Compliments of www.ItalianCookingVactions.com.

---
NOVA SCOTIA OYSTERS ON THE HALF SHELL WITH MASALA
SPICED ENGLISH CUCUMBER RELISH
For 6 to 8 appetizer servings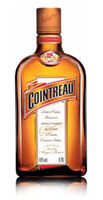 2 dozen Prince Edward Island oysters such as Blue Point, shucked, reserving oyster liquor. Set oysters on the half shell aside, keeping them cold and returning just enough liquor to oysters to keep from drying out.
1 small shallot, minced, ¼ cup champagne vinegar, 1 Tbsp. Sugar, 1 Tbsp. Cointreau, 1 English cucumber, peeled and diced, about 1 cup, 1 tsp. garam masala spice mixture, salt, 1 small red bell pepper, stemmed, seeded and cut into small brunoise for garnish, fresh seaweed, steamed and refreshed
1. Make dressing for relish. In a saucepan, simmer shallots, champagne vinegar, sugar and Cointreau until reduced by half. Cool to room temperature. 2. Toss dressing in with cucumber, masala and salt to taste. Put dollop of relish on top of each oyster. Garnish with red bell pepper. 3. Serve oysters on a bed of seaweed.
---
CHAMPAGNE COCKTAILS
Some might consider it in poor taste to mix champagne with anything. For real cocktail aficionados, champagne or sparkling wine is considered a choice ingredient that adds delightful flavors.
Kir Royale
Pour iced champagne or sparkling wine into a large chilled wine glass,
add 1/2 ounce of crème de cassis, and stir gently.
Garnish with a twist of lemon peel.
Regent's Punch
Three bottles of Champagne or sparkling wine, two of Madeira, one of German white wine, an ounce of Curaçao, a quart of brandy, a pint of rum, two bottles of seltzer, four pounds of raisins, oranges and lemons, sugar, and all diluted with green tea.
Queen's Cousin
Combine 1 ounce vodka, 1/2 ounce Grand Marnier,
1/2 ounce of fresh lime juice, and 1 tsp Triple Sec.
Gently add 3 ounces of well-chilled champagne or sparkling wine.
Top with 2 dashes Angostura bitters.
Bellini (add fresh peach puree and juice)
Black Velvet (add chilled stout)
Mimosa (add orange juice)
Nelson's Blood (add tawny port)
Poinsettia (add cranberry juice
Great champagnes stand apart, to be enjoyed on their own. Champagne/sparkling wine should always be served chilled, preferably at about 42-45° F

0 people taste the contenders. Only top winners move on for sale on the site. After doing panels for over 2 years, the positive reactions from panelists spurred the Home Tasting Party idea.
"MyWinesDirect.com is excited to offer customers yet another way to learn about and discover wine," said President and CEO Bryan Dougherty. "One doesn't have to be an expert or connoisseur to throw a wine tasting party, and once they've tasted our wines, they can share comments and not feel intimidated. We want feedback, and with additions like the Home Tasting Party Kit, we hope to continue to find new ways to keep making wine simple and fun.