WINE LOVERS CHOCOLATE A BIG TREAT AT
WESTERN FOOD & WINE FESTIVAL
San Francisco Chocolate Factory Wins Hearts at LA Show
The San Francisco Chocolate Factory effectively predicted the newest trend of matching wine with dark chocolate. President and founder of The San Francisco Chocolate Factory, Michael Litton notes that, "The American palate has become quite sophisticated in terms of dark chocolate taste. Our process of blending different cocoa beans from different continents to produce the best taste possible mimics the process used by many vintners who use several different varieties of grapes to produce their wines."
The Wine Lover's Chocolate Collection offers a myriad of gift ideas for businesses and consumers. The San Francisco Chocolate Factory offers gift packs in three tin assortments as well as a six tin assortment that showcases the entire collection. These come beautifully packaged in elegant black boxes that highlight the artwork on the tins. These make striking additions to retail shelves as well as uniquely beautiful gifts. Kathy Mooney, Direct Sales Manager of Passalacqua Winery located in Healdsburg, California states, "The gift sets are the perfect wine country gift. Not only is the packaging attractive, but they are also convenient for customers to travel with. We can't keep them in stock!"
The San Francisco Chocolate Factory was established in 1999 with the express purpose of providing gourmet chocolate without the gourmet prices. For more information about The Wine Lover's Collection, or any of the innovative products offered by The San Francisco Chocolate Factory, please call 888-732-4626 or visit their website: www.sfchocolate.com.
---
Seagram's Announces Winner of Tahitian Sunset Mixology Contest
New Jersey Bartender Tad CarducciWins Grand Prize Of A Five Night Tahiti Getaway at Sheraton Hotel Tahiti and Sheraton Moorea Lagoon Resort & Spa

Seagram's Coolers, celebrating the release of its newest flavor Tahitian Sunset, hosted the Seagram's Tahitian Sunset Mixology Contest at LQ nightclub, awarding one grand prize winner a trip for two to Tahiti with accommodations provided by the Sheraton Hotel Tahiti and Sheraton Moorea Lagoon Resort & Spa. Tahitian Sunset combines the flavors of mandarin orange, pineapple and pomegranate creating a tropical blend that captures the mood of paradise. Calling on yellow, red and orange fruits, the color of this tropical cooler mirrors a true island sunset. Bartenders from New York City and the surrounding areas had the opportunity to pour their own layered cocktail –creating a sunset all of their own—with just one rule of incorporating Seagram's Cooler Tahitian Sunset into their ingredients. Tad Carducci, of the Pluckemin Inn in Bedminster, NJ, was crowned the lucky champion with his Scallywag Sling, a smoldering sunset of a cocktail made from Tahitian Sunset, white rhum agricole, cherry Heering liqueur, guava nectar, fresh orange, lime juice and topped with coconut ginger foam. Under the eyes of a panel of judges that consisted of world champion mixologist Alex Ott, as well as several high-profile NYC media personalities, Tad scored a near-perfect average of 4.9375 out of a possible 5-point average, "With all of the eclectic personalities throughout New York, we wanted everyone to have a chance to create a beverage that was unique to themselves," said Justin Fisch, Brand Manager for Seagram's. "We are proud to have such a creative cocktail artisan as Tad associated with Seagram's."
Tad has received a five-night trip for two to Tahiti with accommodations and airfare courtesy of Sheraton Hotel Tahiti and Sheraton Moorea Lagoon Resort & Spa and will have his winning beverage featured on the menu of LQ, as well as on the menu of Sheraton Hotel Tahiti's Quinn's Bar and Sheraton Moorea Lagoon Resort & Spa's Eimeo Bar.
---
Signorello Vineyards Expands Hospitality Offerings
and Adds New Executive Staff

Signorello Vineyards, located on the Silverado Trail just south of the Stags Leap District, announces its new executive winery staff, creating a dynamic internal hospitality, marketing and sales team to meet expanded visitor's center programs and marketing objectives. Appointed by proprietor and head winemaker, Ray Signorello, Jr., the announcement concludes an intensive six-month search initiated to create a well-rounded team dedicated to the evolving success of Signorello Vineyards based on its 30year history in Napa Valley.
Sophia Tsilimigras-Hendricks joins Signorello Vineyards as the new National Sales Director, bringing more than 15 years of wine industry experience to the team. Sophia's introduction to the wine industry began in Chicago where she worked for Continental Distributing and Wirtz Beverage Group. To diversify her career in wine, she moved to Napa Valley where she became Marketing Director and later Director of Fine Wines for Icon Estates. "Sophia has demonstrated her passion, dedication and leadership in the industry and we are excited to have her representing Signorello Vineyards across the country. She will be instrumental in setting up new distributor relationships and enhancing existing ones, in addition to building Signorello's on and off premise accounts," says Ray Signorello, Jr.
New private reserve tastings, the planting of vineyard gardens and the development of cooking classes are just a few of the new programs and projects spearheaded by Director of Hospitality and Special Events Élan Fayard. Her background in restaurant marketing, travel and tourism emanates from her work for Diablo Grande Winery, Robert Sinskey Vineyards, Windsor Vineyards, Marmiton.com (France's top culinary website) and Princess Tours. After spending two years in France working for Marmiton.com, Elan returned to her first passion, Napa Valley wine country, and recently became part of the Signorello Vineyards family.
Also bringing a passion for wine country to Signorello Vineyards is Bruce Donsker, the new Director of Marketing. Bruce's extensive experience includes 25 years of sales and marketing work in Silicon Valley. In 2000, Bruce traded Silicon Valley for Napa Valley, working for a small, family owned winery. There, he spent five years creating marketing collateral, managing winery staff, implementing and developing a wine club and overseeing day-to-day activity in the tasting room. "Our mission at Signorello Vineyards is to produce the best quality wines and offer our visitors a unique experience in the Napa Valley," says Ray Signorello, Jr., "Signorello Vineyards' new team will continue to provide that with the same devotion and pride that has existed since the early days of the vineyard."
Signorello Vineyards, on Napa Valley's Silverado Trail, is a highly regarded producer of premium estate Cabernet Sauvignon. Additionally, the winery produces estate Syrah, Chardonnay Vieilles Vignes and Seta, a proprietary Semillon + Sauvignon Blanc blend and Signorello Vineyard's signature Bordeaux blend, Padrone. Vintner Ray Signorello, Jr. carries on his family's passion for winemaking on a 100-acre estate producing the best quality grapes the land can offer.
---
KENWOOD VINEYARDS SPONSORSDEBUT OF
NEW JACK LONDON OPERA
KENWOOD, SONOMA VALLEY, CA
On November 11-19, 2006, the Sonoma City Opera will debut a newly commissioned, full length opera on the life of legendary author Jack London. Written by noted librettist Philip Littell, with music by Grammy award-winning composer Libby Larsen, Every Man Jack will premiere during the Green Music Festival at Sonoma State University, with financial support from Kenwood Vineyards, its exclusive wine sponsor.Drawing on Jack London's own writings for inspiration, Every Man Jack brings to life one of American literature's most fascinating men. Supremely talented, hugely successful, adventurous, youthful and self-made, London was a heroic figure in the early 20th century, but he also was a deeply flawed individual struggling with personal demons. It is the dichotomy of these two sides of his personality and their influence on his life path that Every Man Jack explores.
Internationally acclaimed baritone Rod Gilfry will star as Jack London. Mr.Gilfry is renowned for premiering leading roles in successful adaptations of literary works to the opera stage, while electrifying audiences and critics alike. It is fitting that Kenwood Vineyards is the exclusive wine sponsor of Every Man Jack.
For 30 years, Kenwood Vineyards exclusively has produced superb Cabernet Sauvignon, Merlot and Zinfandel with grapes from Jack London Vineyard. Located in the hills above Glen Ellen in the Sonoma Valley, Jack London Vineyard occupies a portion of the author's Beauty Ranch, where he spent the last years of his life. Each bottle of Kenwood Vineyards Jack London Vineyard wine bears a sand etched label featuring Jack London's personal "wolf" bookplate. Every Man Jack will be presented at the Person Theatre, located on the Sonoma State University campus near Cotati, on November 11, 12, 15, 18 and 19, 2006. Ticket information is available from the Sonoma City Opera at www.sonomacityopera.org. Kenwood Vineyards handcrafts wines to showcase the character of premium Sonoma County vineyards. Established in 1970 in the scenic Sonoma Valley, just an hour north of San Francisco, Kenwood Vineyards welcomes visitors to its tasting room daily.
---
TAOS INN NEW MEXICO WINE NEWS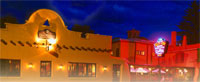 Straight from the Domaine de Perignon vineyards of Burgundy, France… the Lescombes family lands in New Mexico! The high desert, with its warm days and cool nights, offers an optimal climate for growing grapes. As the state's largest winery, New Mexico Wineries offers wine under several different labels. Family owned and operated by the Lescombes family, who came to America from France in the early '80s, the winery continues to make a wide variety of wines according to generations of French tradition. Come take a tour! Serving award-winning favorites such as Pinot Noir, Chardonnay, and Merlot, New Mexico Wineries also offers a full range of classic varietals, in addition to some fun Southwestern alternatives. Available both in stores and online, visit www.stclairvineyards.com for selection and shipping.
The famous Taos Inn in New Mexico is turning 70 this year. Along with it, comes a lot of history, ghost sightings, and legend. Come see why the Taos Inn continues to be popular with celebrities and tourists alike. Named "one of America's Great Inns" by National Geographic Traveler, The Taos Inn has been visited by celebrities like Bruce Willis, Robert Redford, Julia Roberts, Sean Connery, and Al Pacino, to just name a few. The Taos Inn also celebrates its award-winning Doc Martin's restaurant, which has been serving up great steaks and martinis for decades. The Taos Inn is an attractive venue for both locals and tourists. The Taos inn offers the charming atmosphere of old Taos but with modern amenities.
To read more history and see photos of the Taos Inn, visit www.taosinn.com
---
Stags Leap District Ranks as Number One Appellation
in Barrel Auction at Auction Napa Valley
The Stags Leap District shined at the Napa Valley Vintners' annual Auction Napa Valley, proving its continuous popularity as Napa's neighborhood destination for world-class Cabernet. In addition to raising $35,000 for the live auction lot, the appellation took top honors in the barrel auction with three Stags Leap District wineries in the top 10 barrel lots – Cliff Lede Vineyards, Hartwell Vineyards and Shafer Vineyards. Combined, the three wineries raised more than $70,000.
"The Stags Leap District comprises 4% of Napa Valley's planted acres. It is an honor to have three Stags Leap District wineries represented in the top 10 of the barrel lot auction and a true reflection of the demand of wine produced by our small piece of the valley," says Stags Leap District Winegrowers Association President Russ Weis.
The Stags Leap District Winegrowers Association is a non-profit organization of vintners dedicated to the betterment of its grapes and the recognition of the Stags Leap District as a pre-eminent Cabernet Sauvignon producer. The Stags Leap District Winegrowers Association is comprised of 15 wineries, in alphabetical order: Baldacci Family Vineyards, Chimney Rock Winery, Cliff Lede Vineyards, Clos Du Val, Griffin Vineyards, Hartwell Vineyards, Ilsley Vineyards, Pine Ridge Winery, Regusci Winery, Shafer Vineyards, Silverado Vineyards, Robert Sinskey Vineyards, Stags' Leap Winery, Steltzner Vineyards and Taylor Family Vineyards. A new Visitor's Guide is now available for those interested in exploring the appellation.
---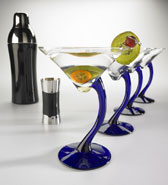 SWANK MARTINI RECIPES
Abra Cadabra Martini Recipe
Works its magic sip by sip.
2 oz. Vodka
½ oz. Peach schnapps
½ oz. Apricot brandy
1 oz. Pineapple juice
Combine ingredients in mixing glass. Add ice, stir to chill and strain into your Swank Martini Glass.
Apple Pie Martini Recipe
6 parts vanilla flavored vodka
1 part Calvados
1 part dry vermouth
Apple slice
Combine liquid ingredients in a cocktail shaker with cracked ice and shake well. Strain into a chilled cocktail glass and garnish with a thin piece of apple.
Banana Cream Pie Martini Recipe
As yummy as it sounds.
2 oz. Light rum
½ oz. Creme de banane
½ oz. Godiva Liqueur
½ oz. White creme de cacao
Pour rum and liqueurs into mixing glass. Add ice, stir to chill and strain into your Swank Martini Glass.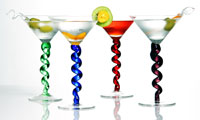 Flirtini Martini Recipe
Not relegated to singles nights.
1½ oz. Vodka
½ oz. Triple sec
½ oz. Cranberry juice
½ oz. Lemon juice
½ tsp. Sugar
1 oz. Champagne
Orange twist for garnish
Combine vodka, liqueur, juices and sugar in mixing glass. Add ice and shake. Strain into your Swank Martini Glass and top with champagne. Stir gently and garnish.
Nature Girl Martini Recipe
Free-spirited and alluring.
2 oz. Gin
1 oz. Triple sec
1 tsp. Blue curacao
1 dash Orange bitters
Combine ingredients in mixing glass. Add ice, stir to chill and strain into your Swank Martini Glass.
---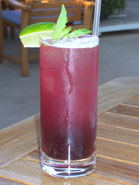 POMEGRANATE MOJITO
Peninsula Hotel, Beverly Hills
1 and 1/2 oz Bacardi rum
1 oz Fresh sweet and sour
½ oz pomegranate juice
pinch of fresh mint leaves

blend with ice
strain contents over 8oz tall glass (filled with ice)
garnish with mint leaf and lime wedge
(foam from the blender contents can be added to top off drink for decorative purposes)