SIPS  .  .  .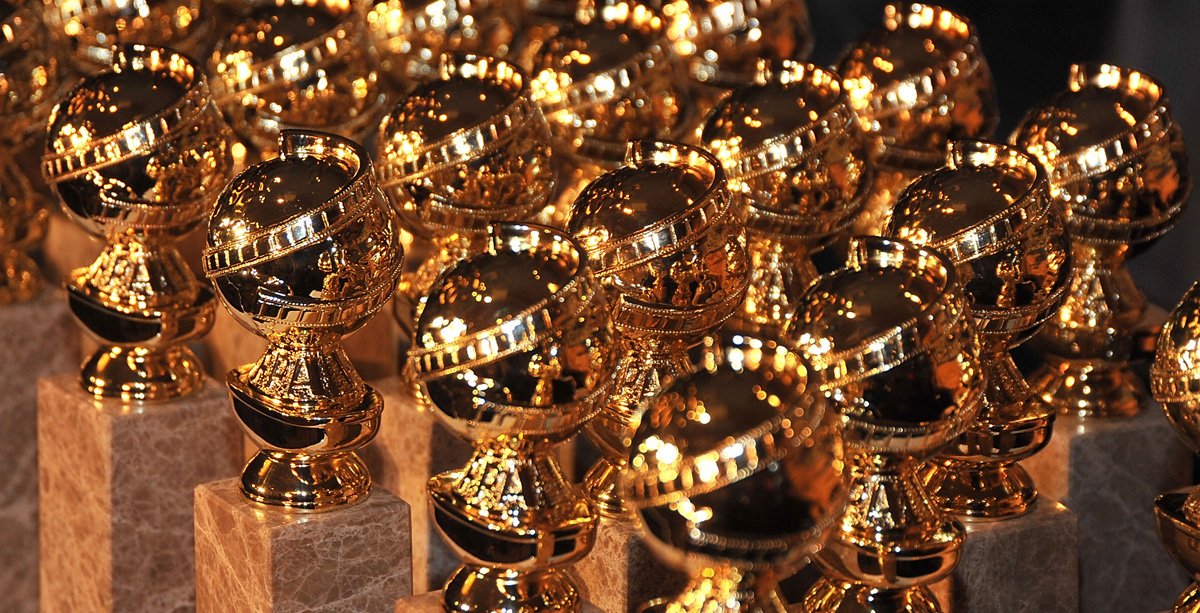 Vegan Menu With Moet & Chandon A First At 2020 Golden Globes Dinner
Bonnie Carroll, LBN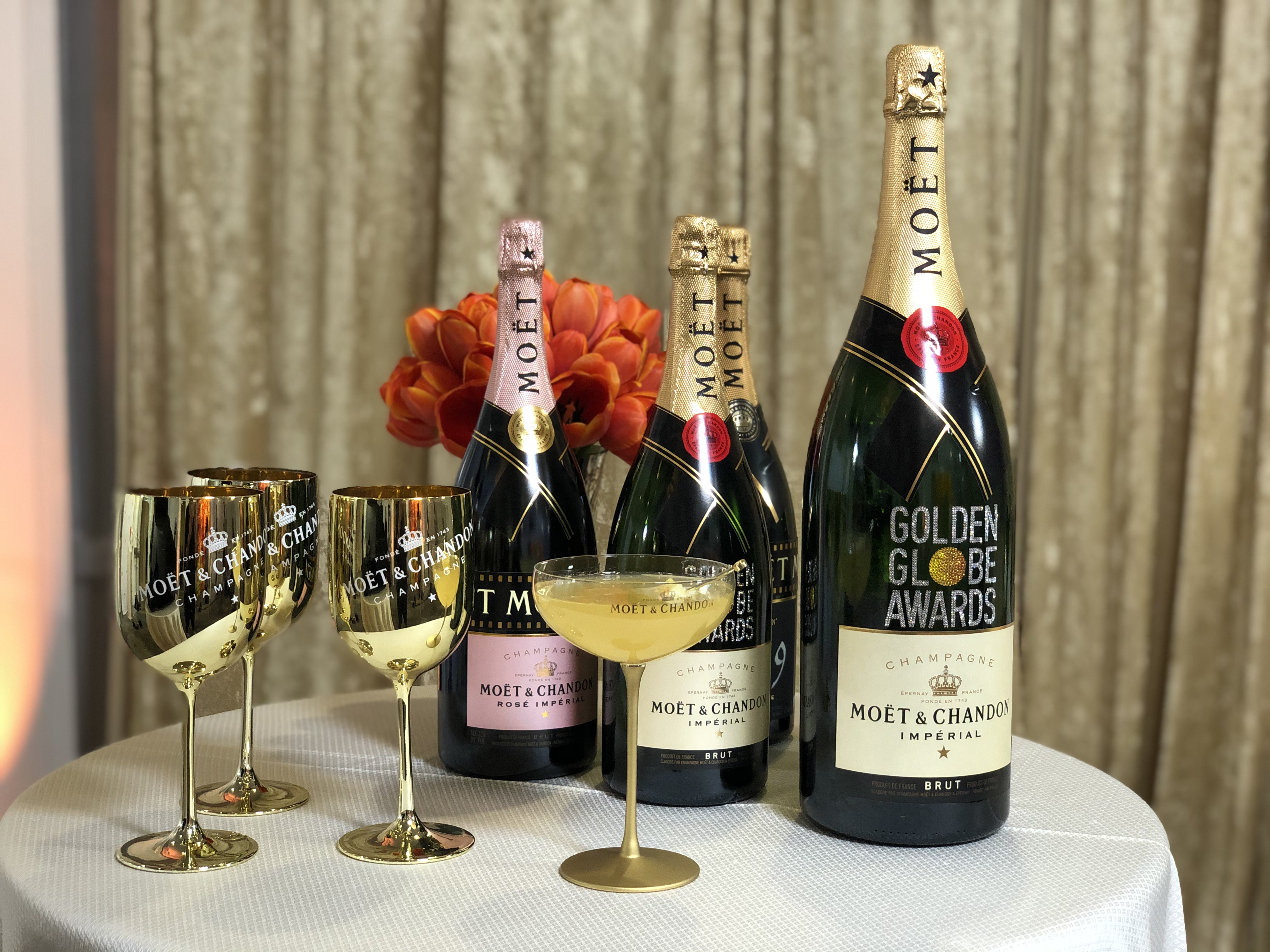 Moet Golden Hour Cocktail, Photo: Moet & Chandon
Big menu and dinner changes at Golden Globes 2020 for 1,300 guests announced by Lorenzo Soria of Hollywood Foreign Press. "The climate crisis is impossible to ignore and after speaking with our peers, and friends in the community, we felt challenged to do better," Soria said in a statement regarding his decision. "We're hoping to raise awareness around small changes that can have a greater impact." Environmental activist and actor Leonardo DiCaprio has already applauded the HFPA for their choice: "Thank you HFPA @goldenglobes," he tweeted on Friday.
The 77th annual Golden Globes, hosted by Ricky Gervais, on Sunday January 5, 2020 will feature an entire three-course meat free menu of plant-based food created by Executive Chef Matthew Morgan at the Beverly Hilton that was implemented only two weeks prior to the annual glitz & glam event. The decision to serve a vegan meal and raise environmental awareness about food consumption and waste was made by Lorenzo Soria, president of the Hollywood Foreign Press Association. HEPA also joined with Islandic Glacial to eliminate single-use plastic and utilize glass water bottles.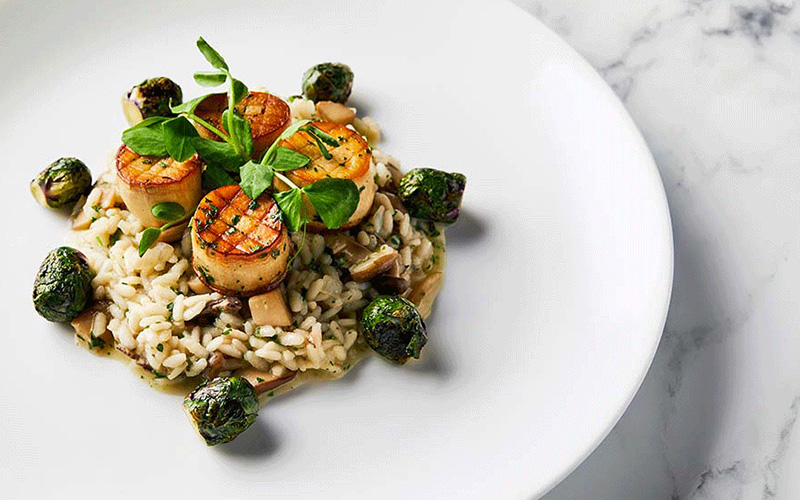 Scallops & Mushroom Entree,  Photo:Beverly Hilton
The first course of the night is a creamy, chilled golden beet soup with citrus oil and pistachio. The main course originally planned as a sea bass entrée will instead be king oyster mushroom "scallops" featuring a wild mushroom risotto with roasted baby purple and green Brussels sprouts and carrots. The dessert is equally decadent: a vegan opera dome with a praline gunaja crumble and caramelized hazelnuts.
Moët & Chandon, the official champagne of the Golden Globes, and fashion designer LaQuan Smith teamed up to craft "Moët Golden Hour" cocktail, a light and crisp citrus drink with surprising smokey notes.
Below find Chef Matthew Morgan's delicious and easy to prepare recipe for Golden Beet Soup to enjoy during the Golden Globes.
Golden Beet Soup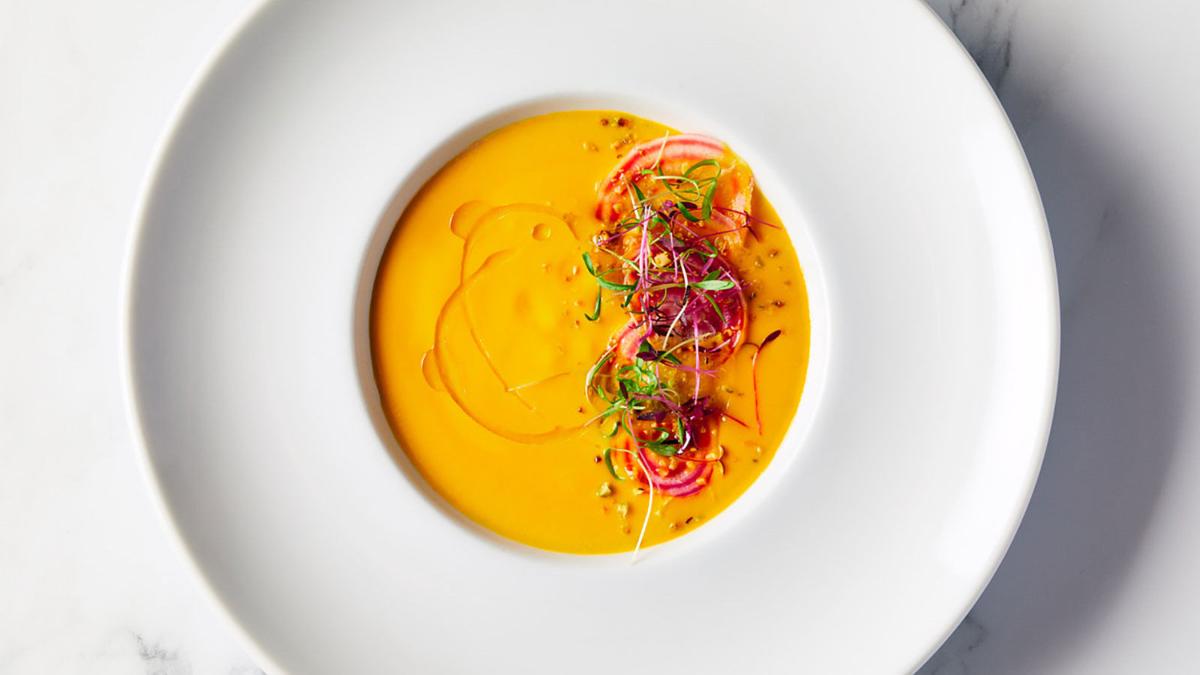 Chef Morgan Golden Beet Soup, Photo: Beverly Hilton
By Chef Matthew Morgan, Beverly Hills Hotel
2 Tbsp. extra-virgin olive oil
2 ½ lbs. golden beets, peeled and chopped into 1/2-in. pieces (6 cups), green tops reserved
1 medium yellow onion, roughly chopped (2 cups)
2 medium carrots, peeled and roughly chopped (1 1/2 cups)
4 garlic cloves, roughly chopped
½ cup dry white wine
1 (48-oz.) container vegetable stock
1 cup water
1 tsp. orange zest plus ½ cup fresh juice (from 2 oranges)
1½ tsp. kosher salt
¼ cup chopped roasted salted pistachios
1. Heat oil in a large pot over medium. Add beets, onion and carrots. Cook, stirring occasionally, until onion starts to caramelize, 15 to 18 minutes. Add garlic; cook, stirring constantly, until fragrant, 1 minute. Add wine, and use a wooden spoon to scrape up browned bits from bottom. Add stock and water. bring to a boil over medium; reduce heat to medium low. Cover and cook until beets are very tender, about 1 hour. Remove from heat; let cool 20 minutes.
2. Puree cooled soup in a blender until smooth; water can be added for desired consistency. Return puree to pot. Stir in orange zest, juice and salt. Chill 30 minutes or until ready to serve.
3. Thinly slice beet green tops. Ladle soup into bowls, and sprinkle with greens and pistachios. Drizzle with more olive oil, if desired.
Serves: 4
Active time: 40 minutes
Total time: 2 hours, 10 minutes
____________________________________________
NEW MEXICO WINES GET TOP HONORS AT SAN FRANCISCO INTERNATIONAL WINE COMPETITION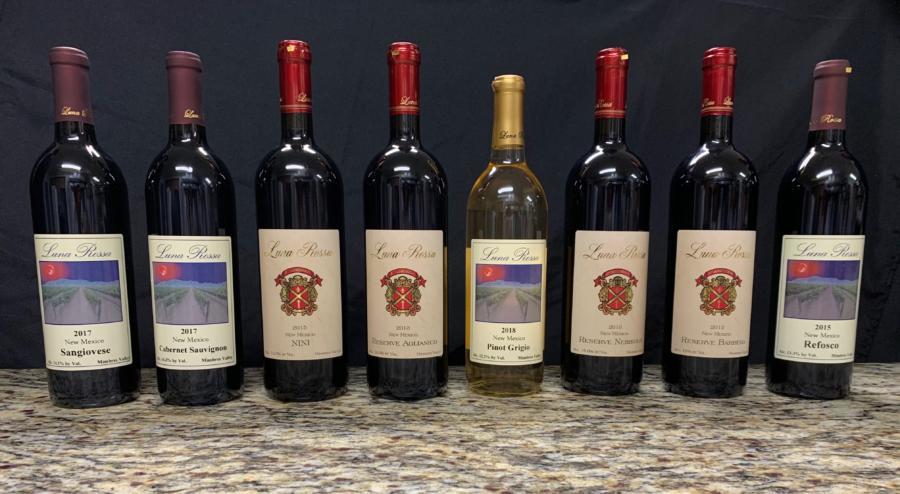 New Mexico wines are holding their own in the world.
Luna Rossa Winery received one of the top awards at one of the most prestigious wine competitions in the United States.
It received Double Gold for its 2018 New Mexico Pinot Grigio at the San Francisco International Wine Competition, which took place Nov. 9-11. The competition is one of the largest and most influential wine competitions in the world. This year, thousands of wines were judged from more than 30 countries, according to a VARA Wines news release.
Luna Rossa Winery won Double Gold at the San Francisco International Wine Competition. It won four golds and three silver medals for the other wines it submitted. (Courtesy of Luna Rossa Winery)
"We have several wine competitions in the United States, but probably the most prestigious one is the San Francisco International Wine Competition," said Paolo D'Andrea, Luna Rossa founder. "I decided to send our wines to see how they compare to wines around the world, because it's international. You know, because sometimes the customers, they've got a misconception of New Mexico wines, you know, oh it's New Mexico; the quality is not good or something. So this is the proof that we can compete in international competition with our wines."
Luna Rossa also received gold medals at the competition for its 2017 Sangiovese; 2017 Cabernet Sauvignon; 2013 Reserve Aglianico, which is aged for five years in barrels; and for its 2015 NiNi Italian Blend. The NiNi is Luna Rossa's signature wine. It is a blend of seven varietals of grapes that are grown in the vineyards. Luna Rossa won silver for its 2013 Reserve Nebbiolo, 2012 Reserve Barbera, and 2015 Refosco, a dry red wine.
Luna Rossa Winery, in Deming, has about 30 acres of vineyards. It produces about 7,000 cases of wine a year. All its wines are made with New Mexico grapes grown by D'Andrea. He also runs New Mexico Vineyards, the largest vineyard in New Mexico, which has been in New Mexico for 33 years. New Mexico Vineyards produces and sells grapes to wineries in New Mexico, Texas and Arizona, including medal winners Vivac Winery in Dixon, Noisy Water Winery in Ruidoso and Gruet Winery in Albuquerque.
Vivac took home the gold for its NM Riesling – Bone Dry RS, made with estate-grown grapes. It received silver medals for its 2016 Nebbiolo, 2017 Tempranillo, 2016 Syrah/Shiraz and 2016 Merlot. It took bronze for its 2015 Montepulciano. All the grapes used to make the wines were grown in New Mexico's Abbott Vineyard, Mimbres Valley and New Mexico Vineyards. Noisy Water received silver medals for its 2016 Red Blend: Zinfandel and its 2016 Mourvedre. It won bronze for its 2016 Cabernet Sauvignon and 2016 Malbec.
"Noisy Water uses a variety of growers in southern New Mexico, so they're located basically on the Texas border all the way over to Deming and they use a variety of growers in Las Cruces, basically from El Paso to Deming," said Chris Goblet, executive director of New Mexico Wine. "And then they now they have their own vineyard in Engle, New Mexico."
Jaramillo Vineyards, located in the Middle Rio Grande Valley of New Mexico, grows all of its own fruit. It took home silver for its 2016 Red Blend: Cabernet Franc and bronze for its Red Blend: Barbera.
"It's nice to see New Mexico recognized on an international wine competition that's highly respected," Goblet said. It seems like this is a pretty decent year, in terms of the folks that did participate did well, and I think the bigger thing is if it ties to the fact that New Mexico wineries are going to New York to pour wines for Wine Spectator and Wine Enthusiast, we're really elevating the industry, whether it's participating in these big competitions or going on these press tours, press junkets. We're finally in a position to take high-quality wines that stand up with wines anywhere in the world."
Gruet Winery and VARA Wines of Albuquerque also received recognition. But their winning wines were made with grapes from out of state. Gruet won silver for its Rosé Sparkling American Brut. VARA took home gold for its Silverhead Brut, Cava DO, Spain and silver medals for its 2018 Vino Blanco Espanol Viura, Rioja DOCa, Spain; 2017 Tempranillo, Rioja DOCa, Spain; and bronze for its 2018 Albariño, American, USA and 2018 Garnacha Rosádo, Rioja DOCa, Spain.
"Gruet is the biggest client that we have," D'Andrea said. "We sell a lot of grapes to Gruet. Unfortunately, Gruet is so big that the production here in New Mexico is not enough to satisfy their sales so Gruet likes to use New Mexico grapes, but there is not enough so they need to go elsewhere to buy the grapes. Gruet has been part of the wine industry for 30 years, and like I say, they are a big supporter of New Mexico grapes, whatever they can find."
---