SIPS   .    .    .
JULIA FITZROY SBIFF 'HOSTESS WITH THE MOSTESS' FOR DOM PERIGNON
Hospitality Star of the Santa Barbara International Film Festival Charms Award Recipients
     by Bonnie Carroll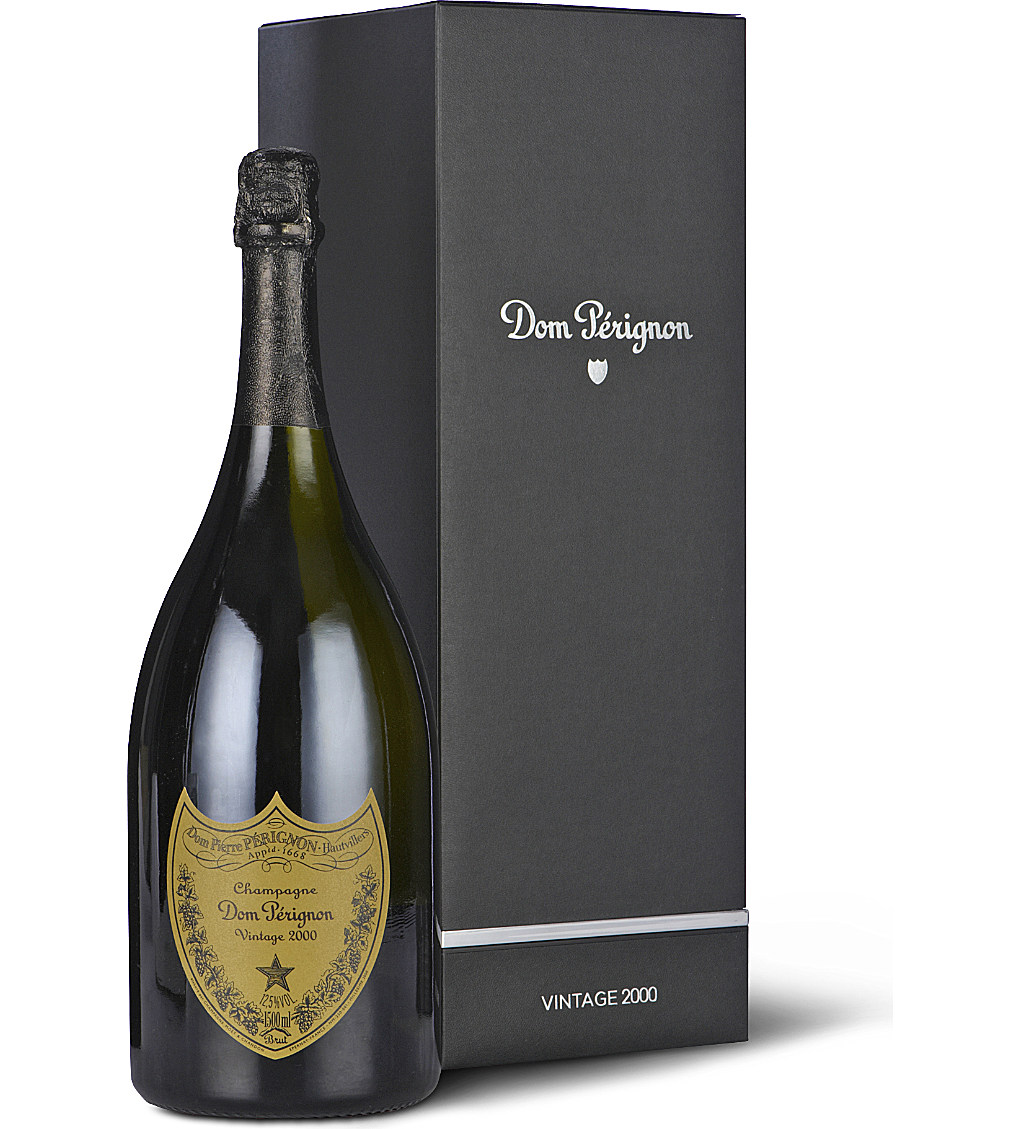 Beyond the prying eyes of fans and the public there is a magical venue created each year in the Arlington Theatre in Santa Barbara by Julia Fitzroy, Regional PR Marketing Director for Moet Hennessy USA, Dom Perignon, who is 'hostess with the mostess' in the Dom Perignon Lounge.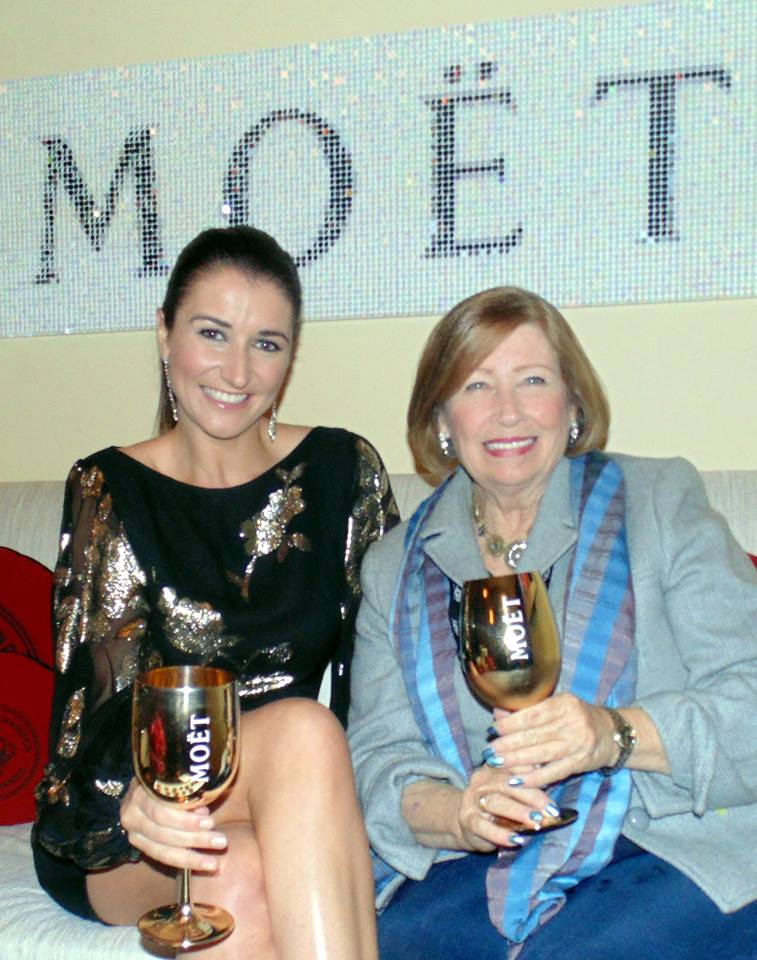 Dom Perignon Marketing Star Julia Fitzroy with LBN Publisher Bonnie Carroll 2015
I had the pleasure to meet this dynamic marketing woman several years ago and experience for myself the fantastic and artistic design this lounge takes on during the Santa Barbara International Film Festival. Moet was the focus then, and the beautiful fabrics, stylized couches and cases containing bottles of bubbly covering the walls turns a drab backstage area into a glimmering celebrity venue.
During the festival engraved bottles of Dom Perignon are presented to the celebrities being honored, and this lounge provides a lush respite prior to going on stage, as well as private place to celebrate following their interviews and award presentations; a glitzy room where sips, congratulations and photo ops happen. Fitzroy told me when I spoke with her in 2015 that Moet is the champagne of success and glamor," and we all know what Dom Perignon means to champagne afficionados!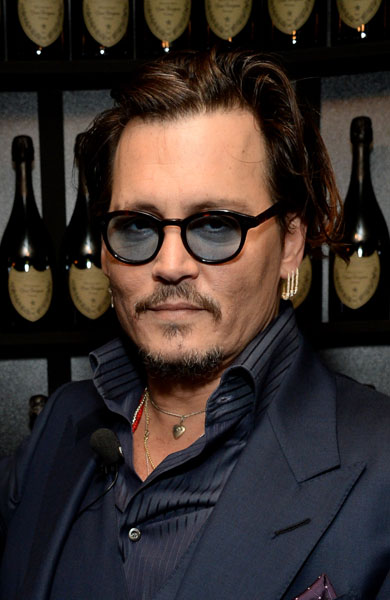 Johnny Depp, Modern Master Award Recipient 2016 in the Dom Perignon Lounge
Julia is one of most charming young women I have ever met, and it's no small wonder she has been the number #1 girl with Moet Hennessy USA and Dom Perignon. Her grace under fire is so admirable, and every person I've met who spent time with her in the lounge was also disarmed by her understated elegance, and warm sense of hospitality. Miss Fitzroy has been an award winning horse woman for many years, and has a treasure trove of winning ribbons of her own.
Each evening of the SBIFF festival, inside the exclusive backstage Dom Pérignon Lounge, the honorees are presented with a personalized magnum of Dom Pérignon to toast their outstanding performances and respective tribute awards. Past honorees going home with their own magnum have included Johnny Depp, Michael Keaton, Sylvester Stallone, Rachel McAdams, Brie Larson and Elizabeth Banks.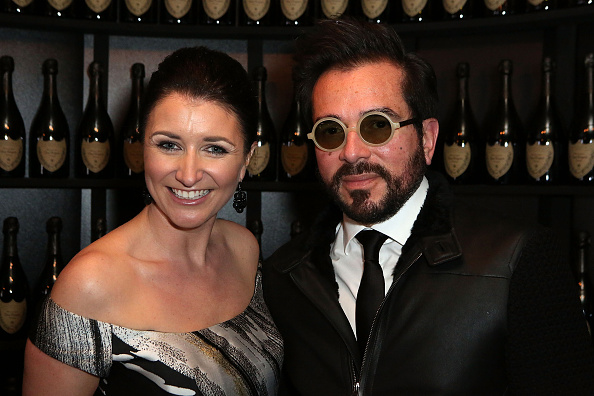 SBIFF Executive Director Roger Durling with Julia Fitzroy in Dom Perignon Celebrity Lounge
That being said, while you are settled in your seat in the Arlington waiting for a tribute to begin just know that the celebrities who are being introduced by Executive Director Roger Durling are also being pampered by Julia Fitzroy in the 'Dom Perignon Lounge' as only a focused professional marketing star like Julia Fitzroy can do so well. Two additional vital compenents to the success of this lounge for many years are Richard Yates and Tina Takaya, co-owners of Opal Restaurant and Lounge, who provide scrumptious appetizers to the visiting celebs and guests waiting for their cue to go on stage.
Santa Barbara International Film Festival
The Santa Barbara International Film Festival (SBIFF) is a 501(c)(3) non-profit arts and educational organization dedicated to discovering and showcasing the best in independent and international cinema. SBIFF offers 11 days of 200+ films, tributes and symposiums that transforms beautiful downtown Santa Barbara, CA into a rich destination for film lovers which attracts more than 90,000 attendees. SBIFF continues its commitment to education and the community through free programs like its 10-10-10 Student Filmmaking and Screenwriting Competitions, Mike's Field Trip to the Movies, National Film Studies Program, AppleBox Family Films, 3rd Weekend and educational seminars. In recent years SBIFF has expanded its year round presence with regular screenings and Q&As with programs like Cinema Society, The Showcase and its Wave Film Festivals. The dates for the 32nd Santa Barbara International Film Festival are Feb 1-11. For tributes and all additional event information visit www.sbiff.org.
____________________________________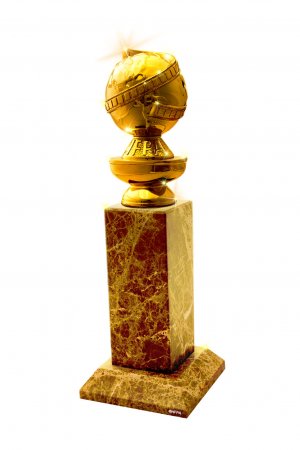 74th GOLDEN GLOBE GLAMOUR BITES AT THE BEVERLY HILTON HOTEL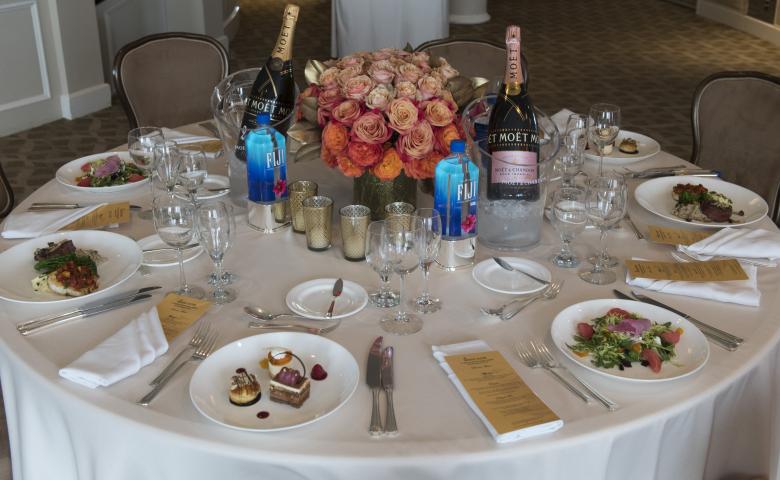 More than a thousand of Hollywood's film elite will be celebrating the Golden Globe 2017 Awards in the Beverly Hilton Hotel in Beverly Hills on January 8, where a staff of 11 chefs, 120 culinary staff, 50 bartenders, 160 stewards and 250 servers under the creative direction of Chef Alberico Nuniata were enlisted to prepare and serve culinary delights for the after-parties and a divine three course awards dinner.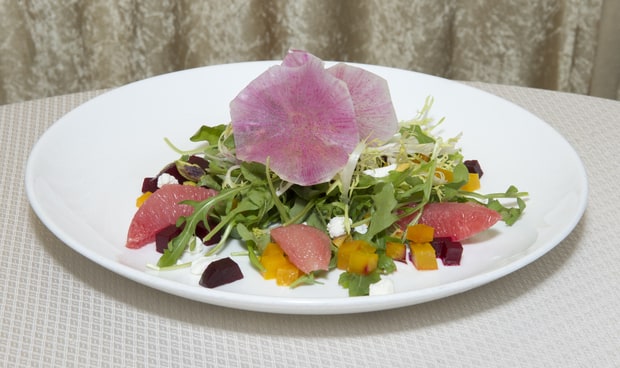 Photo: Courtesy of the Beverly Hilton
The premiere starter is a golden salad of roasted golden and red beets with watermelon radish, goat cheese, grapefruit and roasted pistachios with cevIche lime dressing for the memorable dinner designed by Chef Alberico Nunziata.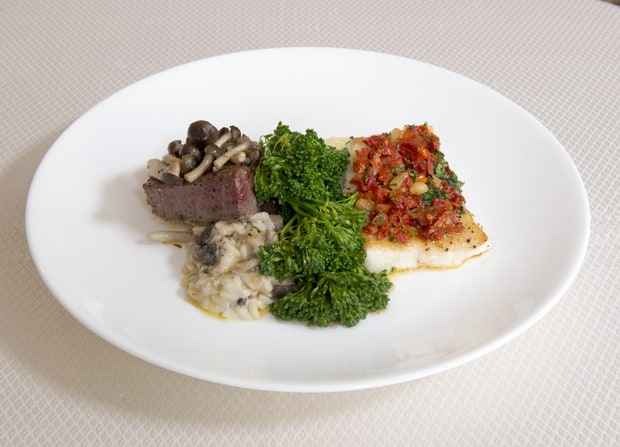 Photo: Courtesy of the Beverly Hilton
The Chilean sea bass and filet mignon combination complete the entreé, topped with celery puree and sun-dried tomato pesto, served with twenty-four month aged Parmigiano risotto with wild mushrooms and broccolini flowers.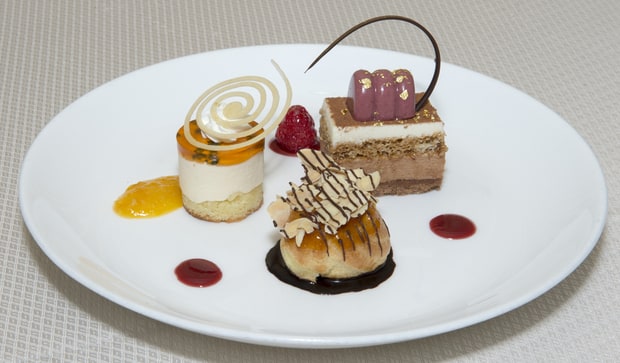 Photo: Courtesy of the Beverly Hilton
The Beverly Hilton's Executive Pastry Chef Thomas Henzi created a dreamy dessert trio to include a delizia, a traditional Neapolitan almond cake served with orange mascarpone cream, lovely profiteroles filled with amaretto vanilla cream topped with crispy sugared almonds and chocolate sauce, along with a sampling of chocolate gianduja crunch bar.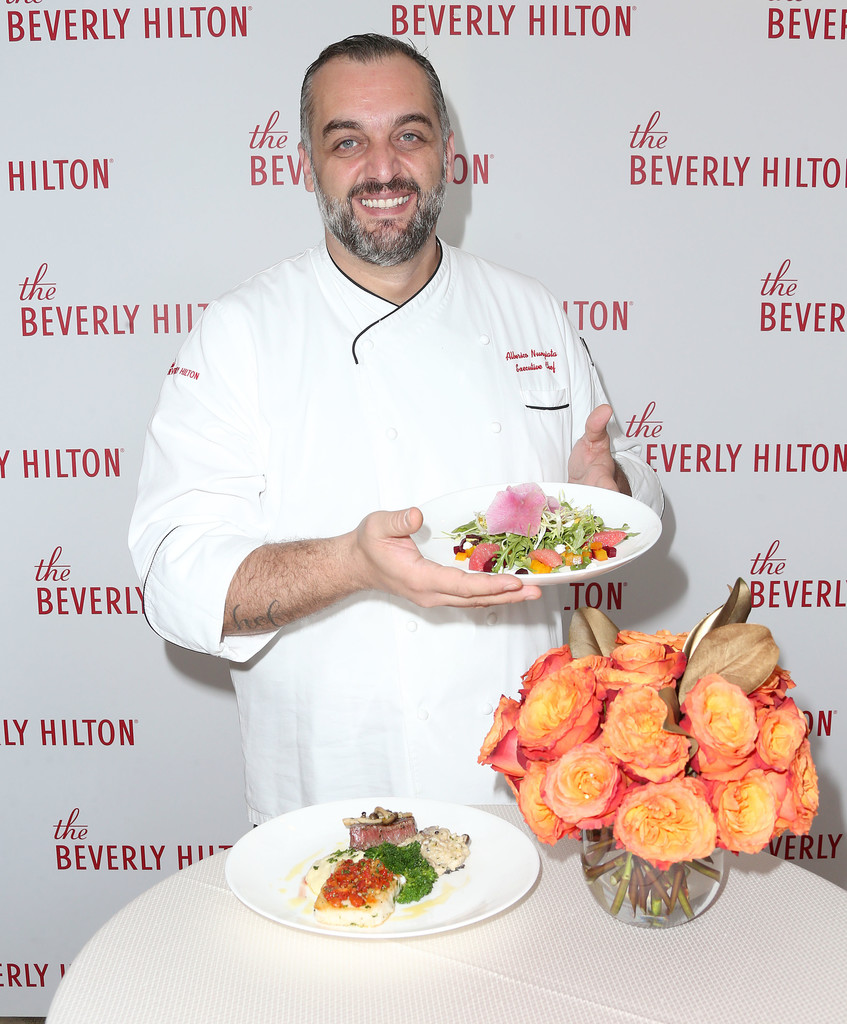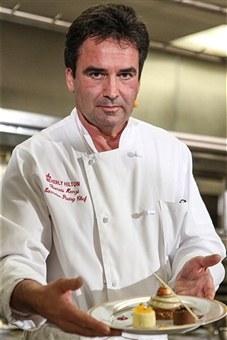 Chef Alberico Nuniata    Executive Pastry Chef Thomas Henzi
74th GOLDEN GLOBES SIGNATURE SIP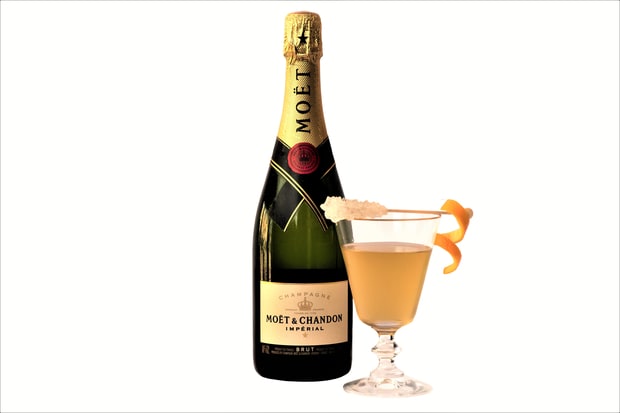 Photo: Aliza J. Sokolow for Moët & Chandon
The Moët Diamond by Olivia Culpo
• 3 oz. Moët Imperial Brut champagne
• 1/2 oz. orange liqueur
• 2 dashes cherry bitters
• 1 rock candy stick, for garnish
• Orange zest, for garnish
Directions: Pour orange liqueur into champagne flute and add cherry bitters.
Gently pour in chilled champagne. Garnish with rock candy stick.
Cheers!!!
74th Golden Globe Awards - January 8, 2017 
---