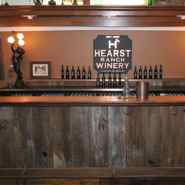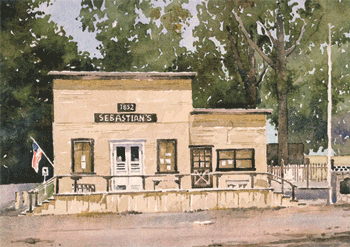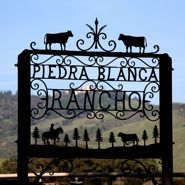 HEARST RANCH WINERY TASTING ROOM OPENS IN SAN SIMEON
"A Legacy of Quality" Offering A Wine for Every Special Occasion
by Bonnie Carroll
Jeremy Leffert, Viticulturist/Assistant Wine Maker for Hearst Ranch Wines was working the room following the inauguration of his 'rock-star' mother Nancy Leffert as the new President of Antioch University in Santa Barbara. The event was held at the historic Santa Barbara Museum of Natural History and was a who's who of local leaders and social celebrities.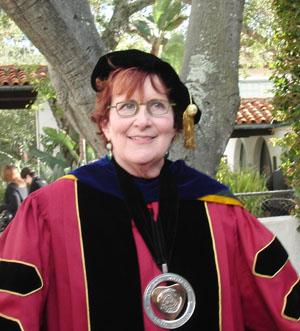 An impressive procession, which included Helene Schneider, Mayor of Santa Barbara, Das Williams, State of California Assemblyman for the District, representatives from the office of Lois Katz and County of Santa Barbara officials, along with dozens of elegantly robed professors and teachers from Santa Barbara City College, UCSB and additional distinguished schools of learning began and ended the inauguration event.
Following her acceptance speech the newly installed Nancy Leffert finished by saying "we're gonna knock your socks off" and lifted her gown to reveal the wild striped socks she was wearing in honor of the special occasion.
I have enjoyed visiting and writing articles about the Hearst Castle in the past, and I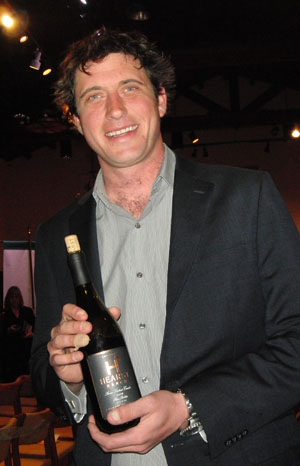 was delightfully surprised to meet Jeremy Leffert, Viticulturist and Assistant Wine Maker from Hearst Ranch Wines at this Santa Barbara event. I was also delighted to learn of the new wine operation they have undertaken. Tasting several of the Hearst Ranch wines was a highlight of the afternoon for attending guests, and the wine was paired with light hors d'oeuvre. According to wine maker Leffert, Hearst Ranch wines will be featuring these new products at the upcoming Paso Robles Wine Festival in May.
The wine opening premiere is a special venture for the renowned family who own the largest cattle operation in San Luis Obispo County, as well as a billion-dollar media empire. Steve Hearst, great-grandson of William Randolph Hearst, is a vice president of Hearst Corporation, and is responsible for managing its real estate commercial interests and extensive ranching, timber and property operations located on over 214,000 acres of California land. The new winery has bottled 10,000 cases of six types of wine in the past year. "Sales of the Hearst Ranch wines began in March at the tasting room in the Sebastian Grocery and Café in Old San Simeon Village, across the road from Hearst Castle" said Hearst.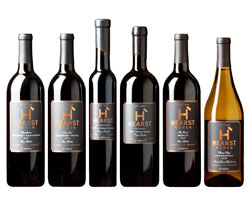 They will be offering six wines selling between $25 and $70 a bottle and they include chardonnay, merlot, cabernet franc, cabernet sauvignon, a red blend and a late harvest zinfandel. According to Steve Hearst they will be sold with names associated with the Hearst Ranch such as Glacier Ridge, Pico Creek, Lone Tree, The Point, Enchantment and Bunkhouse. Winemaker Adam LaZarre said "the tasting facility, located across Highway 1 from Hearst Castle, should be a great location to capture an estimated 1 million visitors who stream through the state landmark every year."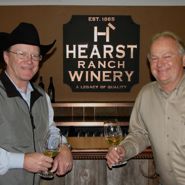 The wine will be part of the Hearst Ranch business operations in partnership with Jim Saunders of Saunders Vineyard in Paso Robles, Steve Hearst told the Tribune. "We have become quick and high-quality friends. He is a real dynamo, and I think we compliment each other's businesses. It was a lot of fun putting it together," Hearst added. The  wines can be enjoyed at the Paso Robles Wine Festival to be held at the Sebastian Grocery and Café on May 22 and 23. For additional Information call 805-927-4100 or visit: www.hearstranchwinery.com.  BC
---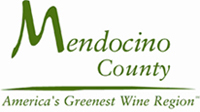 MENDOCINO GRAPEVINE MASTERS WIN CASH, BRAGGING RIGHTS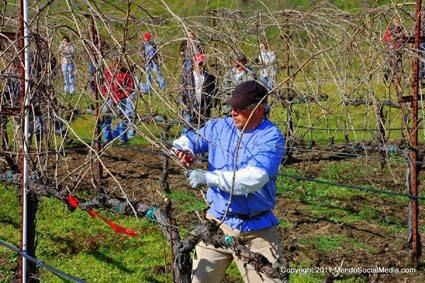 Surgical accuracy and lightning speed dazzled onlookers at the Mendocino County Vineyard Pruning Contest held on March 1. The event, the 10th annual, drew top vineyard hands from throughout "America's Greenest Wine Region" to the competition site at Jaxon Keys Winery in Hopland, CA.
 
In a five-acre block of Clone 1 Syrah grapevines, 40 hands competed on speed and the number and quality of their cuts, vying for the $1000 first place purse. The top five scorers advanced to the final heat.

Raul Lau, of Welch Vineyard earned himself bragging rights and $1,000 pruning nearly 30 feet of vines in 4 minutes and 11 seconds. Alejandro Oliveras took second place and $500 and brings Welch Vineyards a second honor.  Guillermo Martinez, from Beckstoffer Vineyards received the third place award and $250.  Cornelio Morales, who works for Middleridge Vineyard, and Gabriel Navarro, winner of last year's competition, received gifts from the local sponsors for their fourth and fifth place wins.

"Pruning more than 16,000 acres of grapevines in less than three months, pretty much all by hand and in the dead of winter, is no mean feat," said Rich Schaefers, General Manager and Viticulturist for Beckstoffer Vineyards. "The skills these men and women bring to the job are not easily learned, as anyone who sees them at work will quickly see, but there is a straight line between the quality of the pruning job and the quality of the wine that the vine ultimately produces."

The shape and extent of a grapevine affects both the yield and the quality of the grapes the vine will produce in the current and future seasons. Given the large investment growers make in each grapevine, pruning is one of the least noticed but most important stages in the vineyard lifecycle.  Vineyard hands tap years, if not decades, of professional experience.  

The Mendocino Winegrape and Wine Commission, host of the competition, is an alliance of 84 wineries and 343 winegrape growers in Mendocino County, California.  The Commission fosters education, research, and specialized viticultural techniques appropriate to growing premium grapes and making wine in Mendocino's 12 diverse regions.  

From pristine wild lands and coastline to multi-generational hands-on family farmers and winemakers, America's greenest wine region is at the forefront of the sustainable, organic, Biodynamic and fish friendly farming movements.  The Mendocino Winegrape and Wine Commission's website, www.mendowine.com, conveys the integrity of winegrapes, wines and people that define Mendocino wine.
---
         "PALIO DI VENTURA" BRINGS THE GLAMOUR AND EXCITEMENT OF 
                       ITALY'S FAMED EVENT TO VENTURA COUNTY ON MAY 14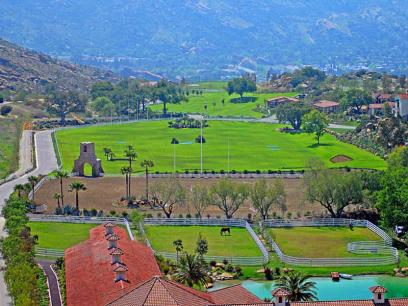 Hosted by Four Brix Winery at Santa Susana's extraordinary Hummingbird Next Ranch, 
Palio di Ventura offers guests a dazzling evening of wine, food, live music, and spectacle.
For centuries, avid fans have queued up in Siena, Italy's central piazza to witness the heart-pounding, barebacked horse race known as the Palio di Siena. This year, stateside fans of the race – or anyone who enjoys a good time – can experience the excitement and pageantry of this famed event at Four Brix Winery's 2nd Annual "Palio di Ventura" on Saturday, May 14 from 6:00 to 10:00 p.m.
"Palio di Ventura" is an elegant evening of food, wine, and live music, amidst one of Ventura County's most spectacular settings, Hummingbird Nest Ranch. In keeping with the Palio theme, the event will take place in the ranch's stunning Grand Stables, where guests will dine at banquet tables arrayed along the corridors that once housed renowned Jumpers.
Traditional silk pageant flags and video footage of the famed race will incorporate the feel and excitement of the original event. Guests can also explore the luxurious grounds as they visit tasting stations throughout the venue to sample Four Brix wines alongside delectable eats such as wild mushroom and gorgonzola tart, braised short rib on potato pancakes, Tuscan stuffed chicken breast, and much more. Live music by Jamaican-born troubadour, Owen Plant, will keep the party rolling.
Tickets are $100 for Four Brix Winery's "Brix Head" wine club members; $125 General Admission. Purchase online at FourBrixWinery.com.
---
Save the Date--13th-Annual Paso Robles Rotary Winemakers' CookoffTM Date, Title Sponsor and Location Announced
§  Winemakers' Cookoff to be Held August 6 at River Oaks Hot Springs  
§  Heritage Oaks Bank Re-ups as 2011 Title Sponsor
The Paso Robles Rotary Club is hoping to follow up the record-matching attendance and proceeds from its 12th-Annual Winemakers' Cookoff  scholarship fundraiser held in 2010 with another successful Cookoff this coming August. Today, it announced that Heritage Oaks Bank has renewed its title sponsorship for the 2011 Cookoff. Once again, Estrella Associates will host the event at its River Oaks Hot Springs in Paso Robles on Saturday, August, 6, 2011 from 6-9 PM.       
"Since its beginning in 1999, the Cookoff has focused on benefitting local high-school seniors by providing them with college and vocational scholarships," said Sharon Ross, 2011 Rotary Winemakers' Cookoff chair. "Our youth are in increasing need of financial assistance to continue their education and the Rotary, along with the support of Heritage Oaks Bank, again this year as our title sponsor, will continue to support deserving youth in offsetting the rising cost of furthering their education."
"Our bank's longstanding commitment to our community is personified in benefits this event makes possible for local youth," stated Larry Ward, CEO of Heritage Oaks Bank. "This annual Paso Robles Rotary fundraiser makes a very positive impact in the continued educational opportunities for local students and we're delighted to once again lend our support."
 During its thirteen-year history, the Paso Robles Winemakers' Cookoff has become one of Paso Robles' most-popular wine, food and music events. It is also one of its most unique. The Cookoff features not just local wines, but the culinary talents of more than 30 of the appellation's winemakers. Participating wineries pair their culinary creations with their finest wines and compete for both Judges' Choice and People's Choice awards the day of the event. Since the first Winemakers' Cookoff in 1999, proceeds from the Winemakers' Cookoff have been deposited in Rotary's Harlow Ford Scholarship Foundation building a perpetual fund that has enabled the Paso Robles Rotary Club to award scholarships exceeding $350,000 as well as build a perpetual fund that will help guarantee future scholarship benefits. For more information on the Paso Robles Rotary Club and the Winemakers' Cookoff visit: www.winemakerscookoff.com or call toll-free 877 264-6979.
---
Mark Ukra, nicknamed Dr. Tea because of his tea-and-diet weight loss advice in "The Ultimate Tea Diet," and actual medical doctors say similar things about tea: it can help you shed pounds, treat some types of cancer, lower your cholesterol and blood sugar and protect you against heart disease and stroke. Drinking five cups of natural tea daily --- black, green, oolong and white --- may also help you to live longer.
Weight Loss Benefits of Black Tea
If you need an energy boost in the morning, a calorie-free cup of strong black tea might speed your weight loss efforts in the right direction. Black tea contains more caffeine than any other type of tea. Some black teas contain as much caffeine as brewed coffee but, on average, a cup of black tea will give you about half of the stimulating, appetite-suppressing effect of coffee. You will get 40 mg to 120 mg in a cup of black tea, according to the U.S. Department of Agriculture. Coffee contains 95 mg to 200 mg.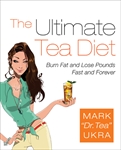 Mark Ukra owns the Tea Garden & Herbal Emporium on Melrose in West Hollywood. He has spent the past 16 years studying tea, visiting the world tea markets, and has a great new book out. Visit:www.teagarden.com
---