THIRD-ANNUAL WINE, CUISINE & ART OF MEXICO AT COPIA TO BRING BAJA CALIFORNIA WINEMAKERS, ARTISTS AND TOP CHEFS TO THE NAPA VALLEY JANUARY 26-27TH

(On the weekend of January 26th and 27th, winemakers, chefs and artists from the Guadalupe Valley in Baja California, Mexico will bring their wine, food and art to the Napa Valley for the third-annual Wine, Cuisine & Art of Mexico at COPIA event. COPIA, is the American Center for Wine, Food and the Arts, located at 500 First Street in downtown Napa, California.
The two-day showcase, which celebrates the cuisine, culture and long-history of winemaking in Mexico, began two years ago as a half-day tasting. "The January, 2007 event attracted over 1500 people, so we've expanded the event to two full days this year," noted Splash Productions' Tash Rahbar. The 2008 event features a panel of winemakers from both the Napa Valley and the Guadalupe Valley to discuss parallels and differences between the two winemaking regions and to address the question, "Is Guadalupe Valley the Napa Valley of the 1970s?" The event is open to the public, and is a rare opportunity to taste and purchase wines from the Guadalupe Valley, in the United States. General admission is $30, COPIA members, $20. Tickets can be purchased by calling 888.51.COPIA or 707.259.1600. A schedule for the two-day event will be posted in early January at www.copia.org.
"We are thrilled to expand this year's event to two-days, and to incorporate Napa vintners into the fold of the event. Baja, California is Mexico's largest wine-producing region and has undergone a tremendous renaissance over the past ten years. The quality of the wines produced today is world-class and ready for and deserving of international attention. Our goal in bringing this annual event at COPIA is to enlighten and educate attendees to this opulent region," commented Stacie Hunt, co-producer of the Exhibition, wine expert commentator for KCRW's "Good Food" and co-owner of Du Vin Wine & Spirits boutique shop in Los Angeles. "The event is a great opportunity for attendees to mingle with winemakers, chefs and artists as they enjoy regional tastes from some of the top restaurants and chefs of Baja."
---
GREEN COOLERS FOR CHARITY
"Sex and the City" actor Jason Lewis and Grammy-nominated musician Michelle Branch were both spotted sipping VeeV's açaí-infused "Gorgeous & Green Cooler" last night at Global Green's 3rd Annual San Francisco Party held at the glamorous, LEED-certified Bentley Reserve in San Francisco.
A refreshing concoction of cucumber, lemon, agave nectar and soda, VeeV's exclusive Gorgeous & Green Cooler was clearly the crowd's favorite eco-friendly cocktail of the night! VeeV cocktails are served at top Bay Area locales including Cantina, Americano, Ambassador, Oola, Harlot and Mamacita, and is available for $34.99/bottle at the Jug Shop and John Walker & Co.
Launched in May 2007, VeeV is the world's first açaí spirit, and the first and only spirits company to donate $1 per bottle sold to green initiatives via its charitable partners the Rainforest Action Network and Sambazon's Sustainable Açaí Project. VeeV's donations directly benefit the farming communities that harvest the Açaí berries, promote organic certification, and ensure that Açaí is wild harvested to preserve the surrounding flora and protect biodiversity. The money also works towards promoting the alignment of corporate and governmental policies with conservation efforts.
VeeV is also the first alcohol company to become certified carbon neutral, partnering with www.climateclean.org for "Climate Clean" certification in Jan. 08.
Proceeds from last night's Global Green gala will help reconstruct New Orleans in a sustainable manner and allow Global Green to help create healthier schools.

---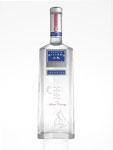 HOLIDAY COCKTAIL RECIPES:
Allow me to introduce you to another gin to look
Martin Miller's Mistletoe Martini
2 oz Martin Miller's Gin
1/2 oz Campari
1oz Ruby Grapefruit juice
1/2 oz Maple syrup
3 basil leaves
Dash egg white (optional)
Add all ingredients to shaker. Fill with ice and shake. Double strain into a
chilled martini glass.
Merry Irishman
2 parts Tullamore Dew Irish Whiskey
1 part Coffee Liqueur
½ part Mint Schnapps
Serve over ice in a Rocks glass and garnish with a candy cane
Midori Sparkle
1 oz Midori
Top with Frexinet Sparkling Wine

Midori Mistletoe Punch
1 part SKYY Vodka
1 part Champagne
1 part Midori
2 parts Pineapple juice
1 part Soda water
Prepare in a punch bowl or any bowl 5lt+, pour over ice.

Irish Kiss
2 parts Tullamore Dew Irish Whiskey
½ part of Irish Mist
1 part Heavy Cream/Ice Cream
Chocolate Syrup
Shake with ice and serve in a chilled Martini glass and garnish with shaved
chocolate

Martin Miller's Sugar & Spice Martini
2 oz. Martin Miller's
2 oz. Apple Cider
¾ oz. Fresh Orange
Splash of Brown Sugar Simple Syrup
Shake with ice. Serve in Martini glass that has been rimmed with a mixture of
cinnamon, superfine sugar.
---
New Oxygenising - Treatment

A wine poured into this glass for just two to four minutes will show signs of aeration equivalent to the same wine that has been decanted and aerated for 1 to 2 hours.
Duck decanters have their origin in the earliest wine jugs used in ancient times. Translated into a modern, attractive design, they combine traditional wine culture with today's knowledge of wine handling

WWW.EISCH.DE International contact www.laurencrystal.com.
---
What Wine to drink with oysters?

Taylor Shellfish Recommendations for 2007
Taylor has done their own research and they have a complete list of great wine to enjoy with your holiday oysters. Visit www.oysterwine.com to compare notes for sipping with these great oyster selections .
OYSTER PROFILES:
Olympia Ostrea lurida: Popular during the Califronia Gold Rush. Only as big as a fifty cent piece. Sweet, coppery flavor and a coppery finish. We like "Olys" taken cold, glistening and uncompromised, directly from their shells with a dry, crisp, clean-finishing white wine.
Kumamoto Crassostrea sikamea: Small deep cup, sculptured, fluted shell, uniform size and shape with clean, sweet, nutty flavor. 2 inch shell. The sweetheart of the half shell trade.
Totten Inlet Pacific Crassostrea gigas: Nicely cupped 3 inch shell with pronounced flutes. Shell color varies from whitish-grey to greenish to brown to nearly black depending on growing location. Flesh is white to chestnut with grey to black mantles. Plump with fresh, clean, briny-sweet flavor.
Totten Inlet Virginica Crassostrea virginica: Some say this is the best oyster in the country. Attractive pear-shaped shell with a somewhat flat top-shell and slightly concave bottom-shell. The meat color is a beige-cream with a thin slightly black or brown-trimmed mantle. The flavor combines a clean, briny, smooth sweetness with a pronounced mineral finish. 3.25 to 3.5 inch shell.
Taylor Shellfish Farms is a fourth generation family-owned company producing Manila clams, Mediterranean mussels, geoduck, Olympia, Kumamoto, Pacific, European Flat and Virginica oysters for the half shell trade and shucked and frozen oysters for national and international markets. www.taylorshellfish.com