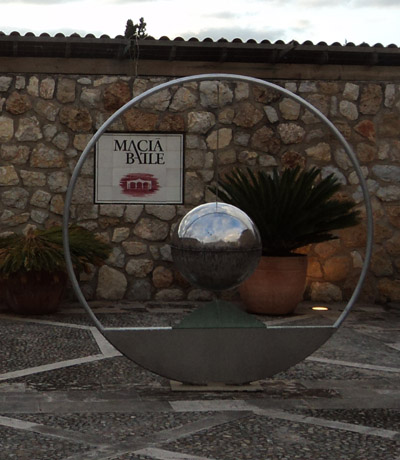 HISORIC MALLORCAN BODEGA DE MACIA BATLE
The winemaking tradition on the island of Mallorca began with the arrival of the Romans in 123 B.C. and has lasted to the present era. Hundreds of hectares currently used as vineyards for native grape varieties stand to show the excellent work of Majorcan grape-growers. This figure is constantly growing, as is the number of new generation wines made and the Majorcan wineries with Denomination of Origin labels. Almost all of them include local varieties such as moll or prensal for white wines and manto negro, callet and fogoneu amongst the reds.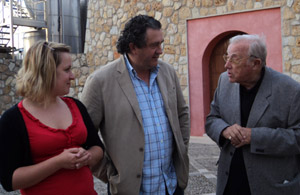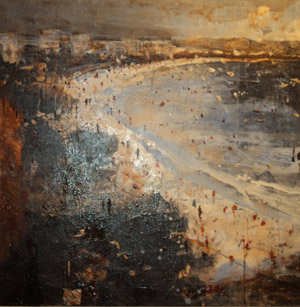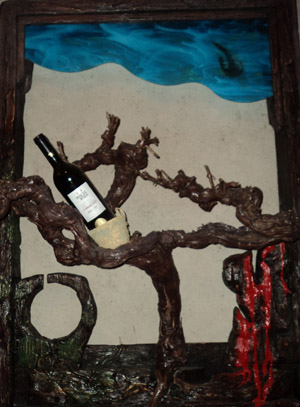 The best known winemaking region is categorized as D.O. Binissalem, comprising the municipalities of Binissalem, Consell, Santa Maria del Camí (where Bodegas Maciŕ Batle is located), Santa Eugčnia and Sencelles. These lands have been producing excellent harvests of local grapes for more than five centuries, and they guarantee wines that stand out for their excellent flavour, deep colour and unique aroma.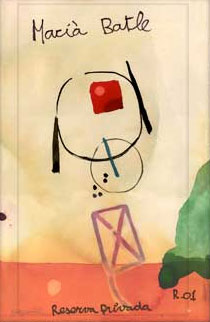 This area is sheltered from the cold winds from the north by the Sierra de Tramuntana mountains, creating a mild microclimate. The Mediterranean climate is mild, with long, hot dry summers, short winters and slightly rainy periods in the spring and autumn. The soil is rich in calcium, and the terrain is flat or slightly rolling, giving rise to brown or limy brown soils. The land is low in relief and the vines grow some 75 to 200 metres above sea level.
All together, this makes Majorca a unique grape-growing region, with wines offering all the special characteristics derived from its island nature, climate, varieties and terrain. Tasting these wines is a must for anyone with an inquisitive and demanding palate.
Today Bodega de Macia Batle is in a Moorish cavern, where the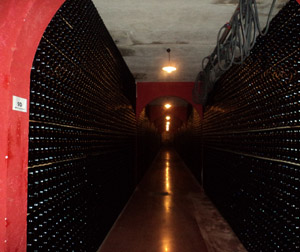 family owned business creates the benchmark Majorcan wines by using the latest and most advance machinery to develop 150 hictares of vineyards to offer excellent wines with special charactistics native to the island (Montegnegro, Callet and Prensal). A qualified team of oenologists and grape growers strive to make this wine outstanding.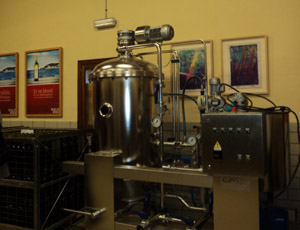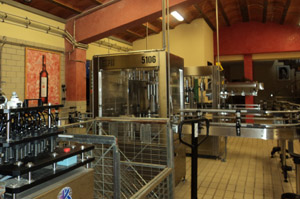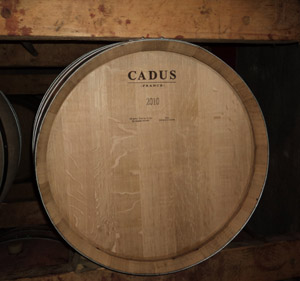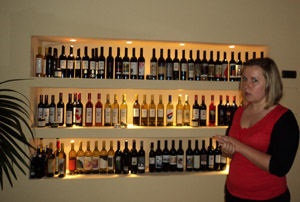 A tour through this wine making venue is outstanding. The owners and staff provide a bevy of wine history as well as art history. This winery features labels with the art of many fine renowned Spanish artists, and the winery itself is filled with wonderful fine art. The rooms filled with barrels and the room with floor to ceiling bottles is amazing to see.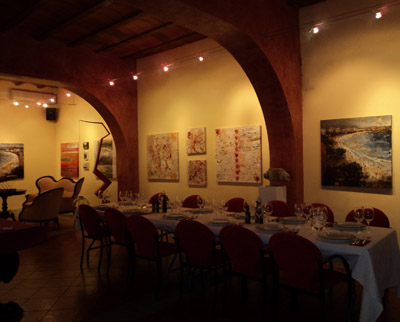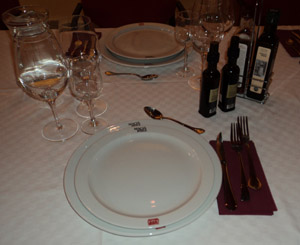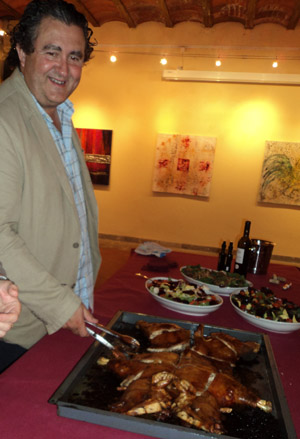 The art gallery dining room where our traditional Mallorcan dinner was served was beautiful and included appetizers, dinner and dessert all paired with fine Bodega Macia Batle, personally described and served by our host, the grandson of the founding family. The delightful end to this adventure dinner in the winery was to be serenaded by our host, and everyone at the table, including the former Mallorcan Consul General. We all sang along with him.
Wines include Bodega Biniagual Blanc Veran, Veran Rosat, Sant Gall and Gran Veran as well as the Macia Batle Crianza, Reserva Privade, Blanco   De Blanco, Rosado and Ariada.                 BC
Bodega de Macia Batle, Cami de Coanegra s/n, 07320 Santa Maria del Canri, Mallorca www.bodegamacia.com
---
FOODCHANNEL.COM PREDICTS TOP TEN BEVERAGE TRENDS 2011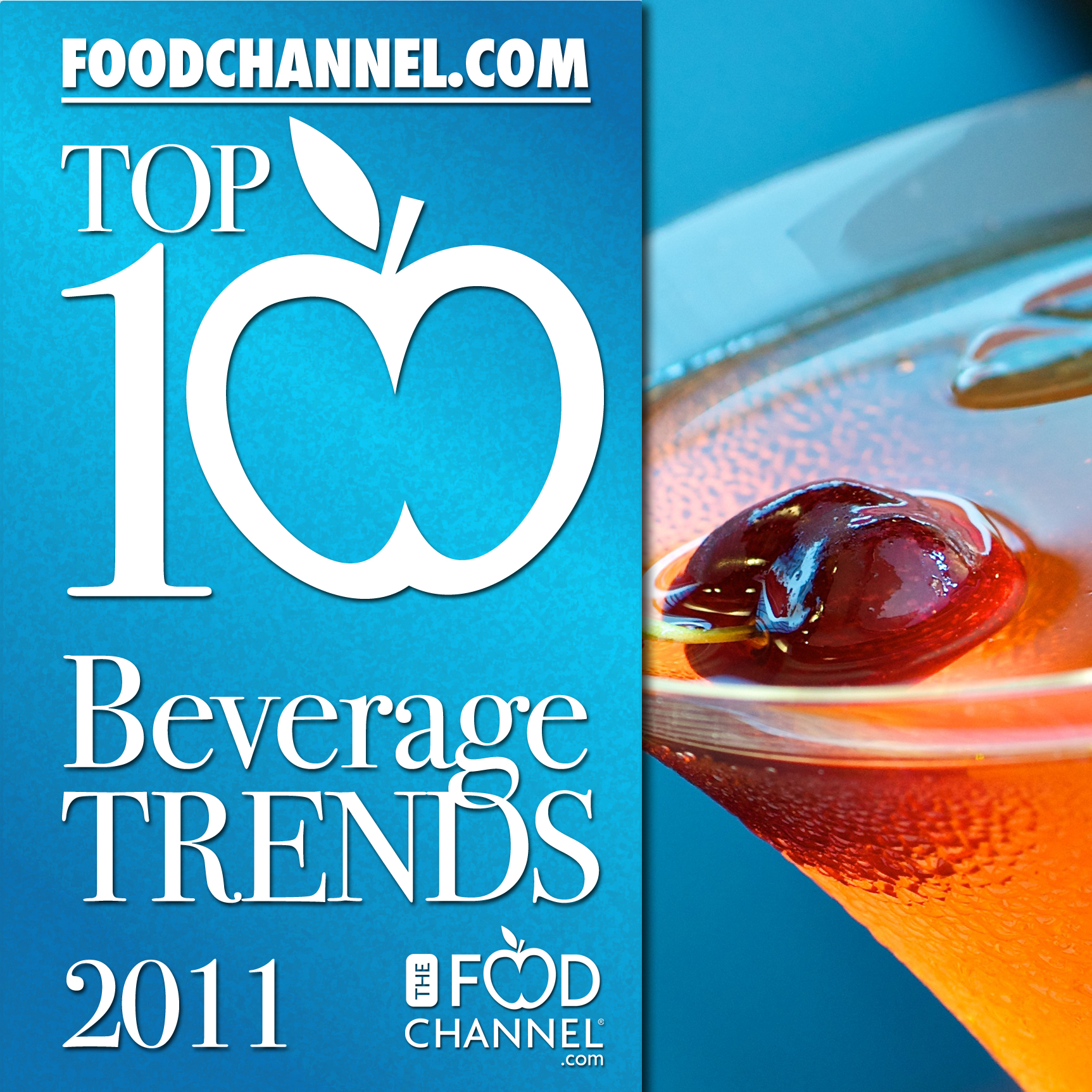 Food Channel® ( foodchannel.com) presents its " Top Ten Beverage Trends for 2011." By partnering with CultureWaves®, the International Food Futurists®, and Mintel International, The Food Channel has been able to identify the most significant beverage trends in dessert for 2011, from adding flavors to water, to new adult beverages, to drinking for enhanced nutritional benefits.
The Food Channel readers also weighed in, responding to the website's beverage survey. You can view the results here. "Our Food Channel beverage survey confirmed what we've seen in the marketplace," said The Food Channel Vice President and Editor in Chief Kay Logsdon. "It indicated we're drinking more water these days, although we like to dress it up a little. And, it told us that coupons have little or no influence on whether we purchase a beverage at a fast food restaurant."
The Food Channel Top Ten Dessert Trends in 2011
1.      D.I.Y. Flavor— Many of us are taking flavor matters into our own hands.
2.     Parental Discretion Advised— We're seeing lots of buzz around beverages & kids.
3.      Iced Coffee Is Hot— Consumption of this cold beverage has heated up.
4.      For Medicinal Purposes- There's no shortage of ways to "drink to your health."  
5.     Sipping Seasonally - We're eating local and we're drinking that way, too.
6.     Fast Food Beyond the Fizz—specialty drinks getting chosen over burgers & fries.
7.     Craft Beers: The Buzz Is Back— Sales of craft brews see double-digit increases.
8.     Bourbon Booming —Hip young consumers bellying up to the bar for whiskey.
9.     Show Biz— Beverages are being offered more starring roles.
10.  Drinking Ourselves Thin—We want to enjoy a drinks without extra calories.
About The Food Channel®
The Food Channel is a place for great food inspiration, the latest trends, the most compelling stories, and original perspective. This website offers insightful original content that is distributed to everywhere foodies interact with culinary creativity by influencing, contributing to, learning from, gaining inspiration through, and being a part of the experience around great food. For more information, visit foodchannel.com. Follow The Food Channel on Twitter at twitter.com/foodchannel or on Facebook at facebook.com/FoodChannel.
---
KANON ORGANIC VODKA FUELS SUNDAY BRUNCH AT ESCAPE TO NEW YORK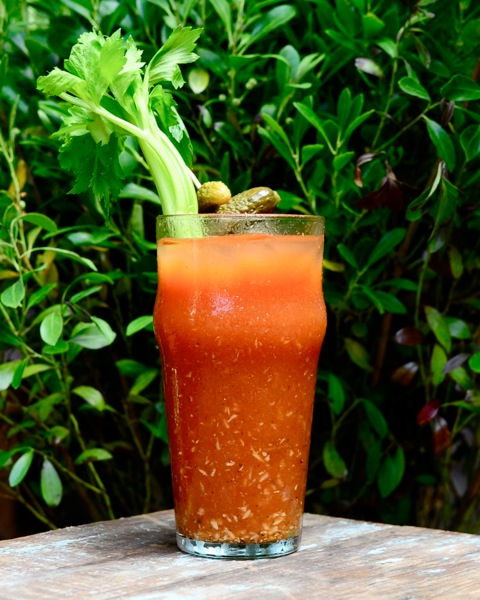 On Sunday, August 7th, Kanon Organic Vodka held a Sunday brunch at Escape to New York, celebrating the first time music festival as it came to a close.
The Kanon Bloody Mary was the star of the show on Sunday and the cocktail, created by The Fat Radish team, was enjoyed by all. Accompanying the pitchers of Kanon Bloody Mary's were plates of delicious avocado toasts, granola with fresh berries and bubble and squeak.
The Kanon Bloody Mary, created by
Steven Bustos at The Fat Radish
, was the official drink of the brunch. The recipe below makes a one quart pitcher, perfect for recreating at home.
Kanon Bloody Mary
4 cups of organic tomato juice
2 tbsp Worcestershire Sauce 
Sweet splash of Sriracha sauce
Stir together and combine with 8 ounces Kanon 
Kanon Organic Vodka
is made from 100% organic wheat, distilled in a continuous, single column and mixed with fresh spring water. Kanon's unique and natural process means that there are little to no impurities in our vodka with just one distillation. It has a light and aromatic taste with a warming feeling, but without the typical vodka burn.
---

Savor Paso Robles Wines at Savor the Central Coast: Sept. 29 - Oct. 2, 2011
Celebrate the beauty and bounty of this coastal region in an incredible four-day experience during Sunset Savor the Central Coast. Paso Robles Wine Country will be participating in multiple events including Paso Glow (10.01), the Market Place (10.01 - 10.02) and two Paso Robles Winemaker Seminars!
Paso Robles Crazy Blends - Saturday, October 1, 11 a.m. - 12 p.m.Paso Robles winemakers invite you to defy categorization and delight your senses during this seminar! These crazy blends achieve a balance of fruit, tannins, and acidity:
Featured wines:
Vina Robles - 2010 White4
Niner Wine Estates - 2010 Sangiovese Rosato
Clayhouse Wines - 2008 Adobe Red
Thacher Winery - 2008 Controlled Chaos
JUSTIN Vineyards and Winery - 2009 Savant 
Le Vigne Winery - 2007 Cuore della Vigna
L'Aventure - Estate Cuvee
Roxo Port Cellars - 2007 Magia Preta
Click here to purchase your tickets and learn why Sunset Wine Editor, Sara Schneider coined these blends as "crazy."
Distinct. Different. - Paso Robles - Sunday, October 2, 1 - 2 p.m. Still Waters Vineyards - 2009 Sauvignon Blanc
JK Wine Company - 2009 Viognier
Derby Wine Estates - 2008 Fifteen10
Tablas Creek Vineyard - 2010 Paletin Rouge
Castoro Cellars - 2007 Zinfandel
Wild Horse Winery & Vineyards - 2006 Blaufrankisch
Ancient Peaks Winery - 2009 Cabernet Sauvignon
Ortman Family Wines - 2007 Whittstrom Vineyard Petite Sirah
Click here to purchase your tickets and learn why Paso Robles Wine Country can produce these diverse varietals!
Don't forget to enter to win a $2,000 getaway during Savor the Central Coast. Click here!
For more information on Savor the Central Coast as well as events where Paso wines are featured, visit www.savorcentralcoast.com!
Questions: Call 800.634.1414 or email Lauren@SavorCentralCoast.com
---
GOVERNOR PROCLAIMS SEPTEMBER 10                                    "CHARLES KRUG WINERY DAY"

Tasting on the Lawn Celebrates 150th Anniversary of Napa's First Winery
On Saturday, September 10, 2011 Charles Krug Winery and the Peter Mondavi Sr. Family will gather to toast the 150th anniversary of Napa Valley's first winery's annual Tasting on the Lawn event. 
In addition, Governor Edmund G. Brown Jr. has proclaimed September 10 "Charles Krug Winery Day" in honor of founder Charles Krug and the innovations proprietor Peter Mondavi Sr. has brought to the wine industry over the past seven decades.
Founded in 1861, Charles Krug Winery represents the birthplace of Napa Valley wine. Peter Mondavi Jr. puts the winery's history in perspective: "1861 was the year President Lincoln was inaugurated, and the year the Civil War began." The venerable winery has been in the Peter Mondavi Family for nearly 70 of its 150 years. The governor's proclamation will be presented to Peter Mondavi Sr., 96, during the annual event to be held in the shade of heritage oaks thought to have been planted by Charles Krug himself.
Also for the 150th anniversary, Peter Mondavi Sr. has recently announced his search for the oldest Charles Krug Winery bottle in existence.  The public is encouraged to scour wine cabinets, cellars, closets and caves for the oldest Charles Krug bottle they can find, empty or full.  To submit an entry, participants should visit Charles Krug Winery on Facebook and describe the bottle and post a photo, or email it to oldestbottle@charleskrug.com. Early bottle entries may be displayed at the Tasting on the Lawn.
A summary of the Tasting on the Lawn activities:
Visitors will enjoy tastings of all Charles Krug's current releases, from sauvignon blanc to cabernet sauvignon, including the winery's Limited Release and Family Reserve wines. Tastings will be paired with a moveable feast selected especially to complement the wines by Knickerbockers' Catering.
Chefs from several Napa Valley restaurants will also be on hand, serving samples of their specialties to pair with Charles Krug wines. Featured restaurants are Michael Chiarello's acclaimed Bottega, Cindy Pawlcyn's eclectic Backstreet Kitchen, and her brand new Mediterranean eatery, Brassica.
Recently added: In addition to the chefs' pairings mentioned above, members of the fourth generation of the Peter Mondavi Family will share what they are calling "easy everyday pairings" — Charles Krug wines served with fun, casual foods like pizza from the wood-fired oven, grilled burgers, tacos and even popcorn — to demonstrate that you don't have to be a chef to perfectly pair Charles Krug wine with food.
To add to the festive ambiance of the celebration, actors portraying Charles Krug and his wife Carolina Bale Krug will stroll the Great Lawn in period costume, presenting vignettes from their lives 150 years ago. Also on display will be Charles Krug's antique basket press, originally used for cider, which he used for his historic first grape pressing.
Two opportunities will offer a taste of Napa wine history that guests will get nowhere else. There will be special pourings from magnums of Charles Krug's 150th Anniversary Cabernet Sauvignon, and a rare tasting of older wines from the estate's cellar (additional fee applies). These premium tastings will take place in the ballroom of Charles Krug's 1881 Carriage House. The Carriage House ballroom boasts a soaring cathedral ceiling and stunning period-design chandeliers and was recently restored, using heritage redwood recovered from historic wine tanks.
All attendees will have the opportunity to enjoy wine tasting directly from the barrels and meet members of the Peter Mondavi Family, who will be on hand for photos and to sign bottles for visitors.
Live music on the main stage will provide a backdrop for all of the festivities. Featured is the popular Steely Dan tribute band, Steely Scam.
___
Tastings on the Lawn were started in 1951 as an enjoyable venue where the family could meet their customers, and educate visitors about fine wine: in the United States at that time, the wine industry was known more for 'jug' wines and not varietal wines. This Charles Krug tradition is believed to have been the first wine celebration of its kind, and went on to inspire myriad other Wine Country tasting events.
Lawn chairs, picnic blankets, and sun hats are encouraged for the September 10 event, which runs from 2 to 5 p.m. Tickets are available online ($40) at www.charleskrug.com.  Admission for Wine Club members is complimentary, by calling Wine Club Manager Colin Wright at 888.747.5784. Charles Krug Winery is located at 2800 Main Street, St. Helena.
---