SIPS   .   .   .
LBN COCKTAIL OF THE MONTH
My favorite cocktail of the month goes to Hyatt Carmel Highlands for their magnificent Lavender Lemondrop Martini. This is the ultimately beautiful and delicious cocktail to match the breath taking views of the Ocean from their Pacific's Edge Lounge. Magnifique!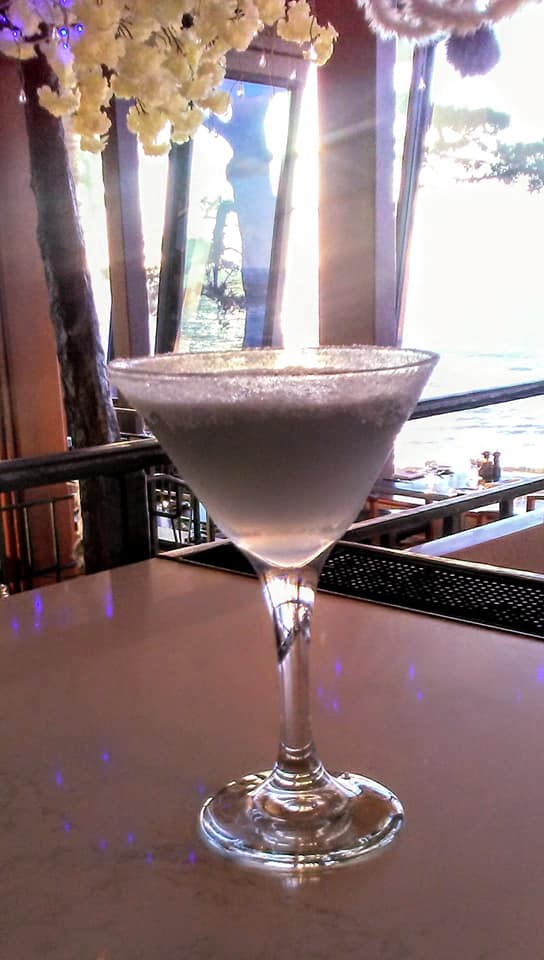 ______________________________________________________
POUR ME A GUINNESS
by Bonnie Carroll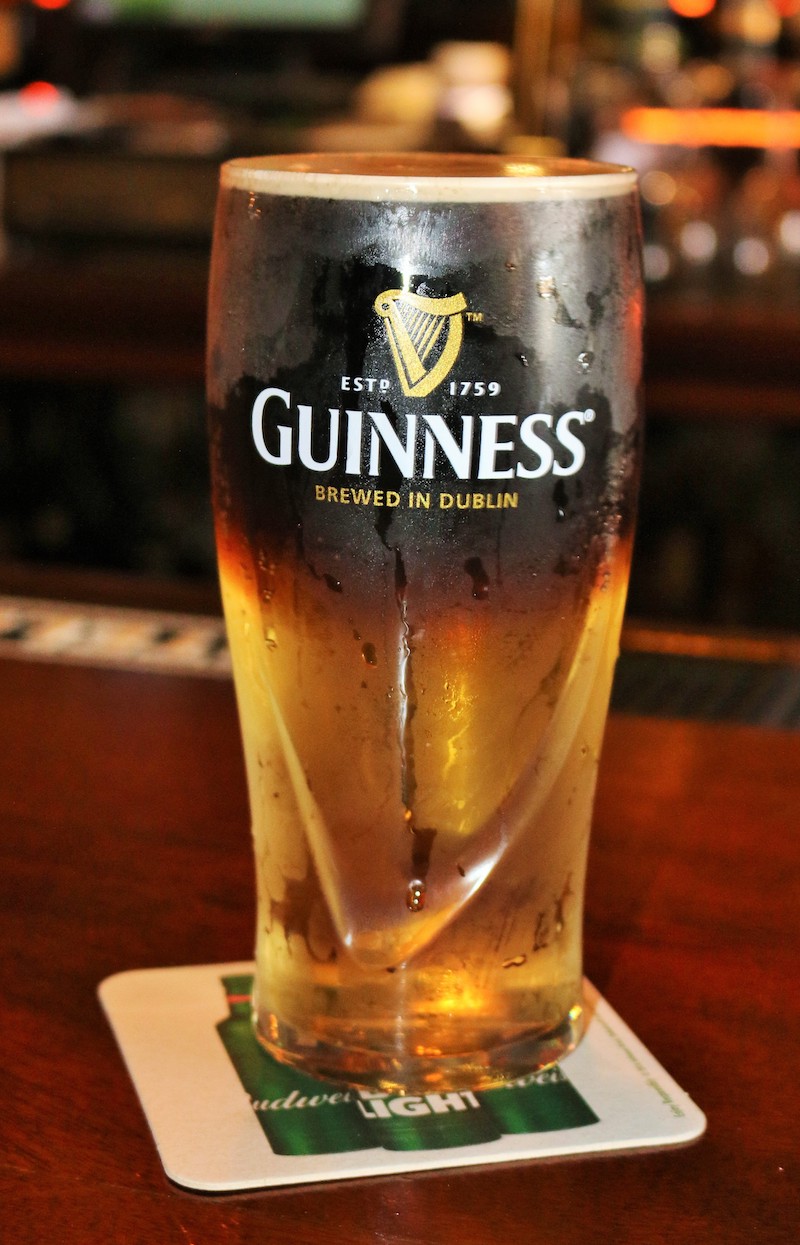 A Perfect Guinness Black Velvet
The original Black Velvet was a beer cockyail made from stout and white sparkling wine, traditionally champagne. It was crafted by the bartender of the Brooks Club in London in 1861 to mourn the death of Prince Albert, and symbolizes the black or purple cloth armbands worn by mourners. This drink is still very popular with members of the United Kingdom.
IT'S GREAT TO BE IRISH IN SANTA BARBARA
These Irish estblishments in Santa Barbara have served delicious Irish fare and drinks for many years.
Three Generations of Dargan's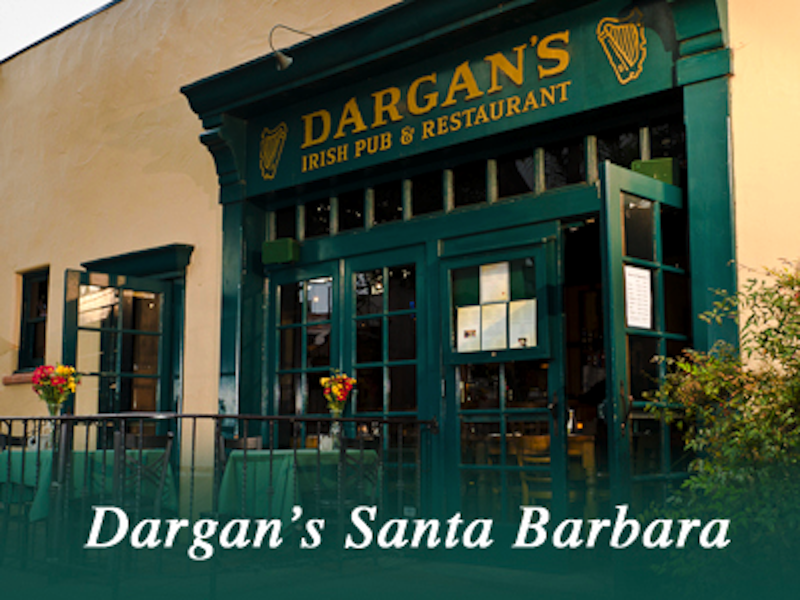 Dargan's Restaurant & Pub
Dargan's in Santa Barbara was established in October 1997, but the name Dargan's has been associated with public houses in Ireland since the beginning of the 20th Century.

In 1927, Lawrence Dargan built a pub and grocery to serve the small population of Cookstown, a market town in the north of Ireland. He and his family ran a successful business, well known locally as a center of Irish traditional msic and craic (Gaelic for good times).
When Lawrence retired his son Benny took over the business. The tradition has spanned three generations, with Paul Dargan, who moved from Ireland when he was 21, ow the proud owner of Sargan's in Santa Barbara.
   Paul's motto "Cead mile failte romhat! A hundred thousand welcomes to you!"
Dargan's authentic Irish Pub on East Ortega Street in the charming Santa Barbarba beach city packs them in on St. Patrick's Day, as well as every other day. Since its opening, Irish musicians and dancers have entertained for patrons. The menu includes original recipes from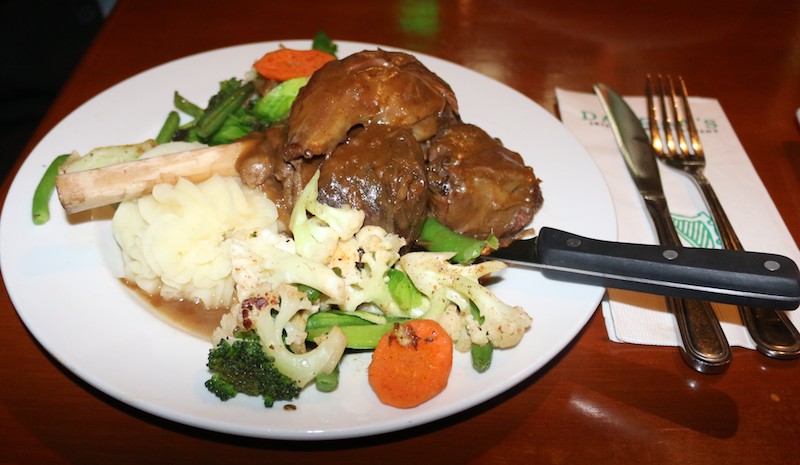 Paul's mother, who was from the Belfast, Ireland area.

The food is a bit more foral than the average run of the mill pub. The Guinnes onion soup with Gruyere cheese is quite amazing. They serve a hearty lamb shank covered with homemade gravy, but also offer baked beans with bangers, corned beef & cabbage and a variety of sandwiches, appetizers and salads.
Dargan's showcases an impressive collection of fine Irish whiskey and a respectable variety of Irish and domestic beers and ales. The atmosphere at Dargan's is upscale zirish all the way, with a wonderful wood paneled pool hall in the back, and a cozy fireplace room for dining with friends, while enjoying live Irish music.
Slainte' (good health) at James Joyce Pub
We must pay credence to a place considered to be the best Irish bar in Santa Barbara. The James Joyce at 513 State Street was the first Irish bar in Santa Barbara, opening in 1996. This enue is very reminiscent of bars I've visited in Dublin with wooden everythig, and offering Irish beers and ale on tap.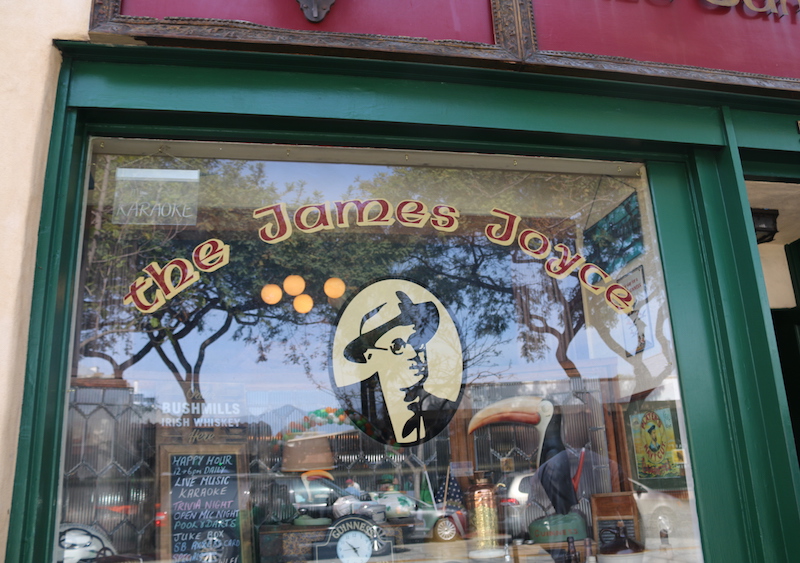 Entrance to The James Joyce (credit: Bonnie Carroll)
It's a place where people enjoy quiet conversations in the afternoon, and get rowdy as the night goes on. There are very few places to sit down, and not unlike the real Irish wtering holes in Ireland, people stand in crowds and order drinks, which are then passed back through the crowd to them. Local misciians provide entertainment here six nights a week.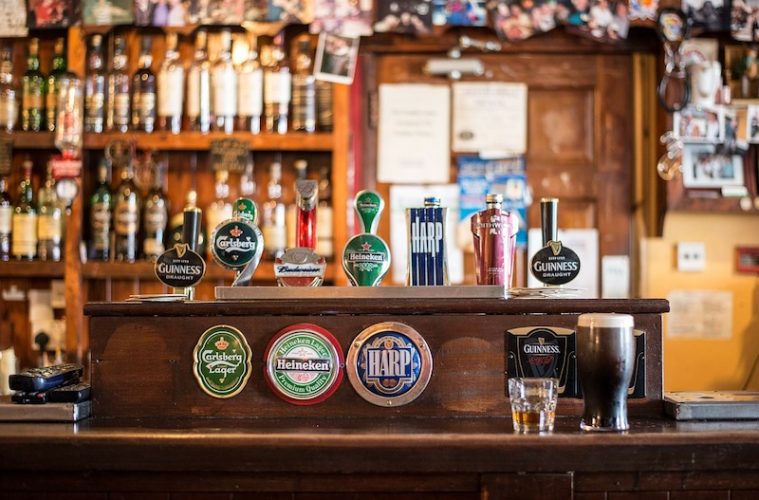 It is always fun to watch the bartender at James Joyce pour a perfect Guinnes pint or make a lovely Black Velvet (a Guiinnes and cider beer cocktail, known as a poor man's Black Velvet).
Slainte' and Happy St. Patrick's Day to you!
________________________________________________________
SANTA BARBARA WINE AUCTION 2020
Saturday's Santa Barbara Wine Auction Honored Local Farmworkers
Proceeds from the biennial event supported Direct Relief and Community Health Centers, which provide medical services to Santa Barbara's farm laborers and their families.
~
Stolpman Vineyards was awarded this year's Vintner Honoree.
Actor Billy Baldwin emceed the dinner and auction.
 
The Santa Barbara Vintners Foundation is proud to announce this year's Santa Barbara Wine Auction was a resounding success in its fundraising mission to bolster healthcare services for local farmworkers and their families.
 
Held on Feb. 15, at the Ritz-Carlton Bacara, leaders of the Santa Barbara wine community, celebrities and philanthropists gathered for a gala of food, wine, music and two fundraising auctions.
 
"We could no
t be more proud of our vintners and friends, who reached deep into their pocketbooks to help our community," said Jessica Gasca, President of the Santa Barbara Vintners Foundation. "Our mission is Grounded in Giving, and our aim is to bring together and support the vital work of Direct Relief and Community Health Centers, which work tirelessly to serve this historically underserved segment of our Santa Barbara wine family."
 
For 20 years, the Santa Barbara Vintners Foundation has been active in sustaining and expanding Direct Relief's health assistance for people in need, both locally and globally. This year, the Foundation additionally partnered with Community Health Centers (CHC), which is dedicated to providing healthcare in the Central Coast – with a special emphasis on agricultural workers.
 
The numerous auction lots included select and rare wines from Santa Barbara's top producers, as well as once-in-a-lifetime wine and travel experiences. The top-earning travel lot was a luxury wine-and-safari trip for two in South Africa, graciously donated by Enthoven Family. The lot saw some the fiercest bidding of the evening, and was ultimately won for $30,000. The largest single wine lot went for an exclusive FOXEN wine dinner for 60 people at Industrial Eats featuring rare and exclusive wines from the winery. The lot went for $28,000.
 
The evening finale was a paddle raise with direct contributions, and actress Jane Lynch was the first person to raise her paddle for the $10,000 level. Winemaker Jim Clendenen, of Au Bon Climat, bested his wine peers by pledging a record-high $15,000 in direct contributions. Additionally, Jackson Family Wines matched every $250-level pledge up to $25,000, marking one of the most successful $250-level drives in the Auction's history.

In addition to funds raised, the Foundation is especially proud this year's event has helped forge what will be a lasting partnership between Direct Relief and Community Health Centers, a synergy that will further benefit Santa Barbara's farmworkers beyond Saturday's auction.
 
"Disasters call attention to those who are most vulnerable," Thomas Tighe, CEO of Direct Relief told the crowd Saturday. "But those who are in the most need, are those who were the most vulnerable the day before the disaster. These are the people who attend [CHC's] clinics and who you are supporting tonight."
 
Ron Castle, CEO of, CHC agreed.
 
"The medically underserved farmworkers are who we at CHC are working for and why we are gathered tonight," Castle said. "And I have to say, we are humbled by this amazing show of support, and you, the Santa Barbara wine community need to be commended."
 
During the evening, the Santa Barbara Vintners Foundation also honored this year's Vintner Honoree, Stolpman Vineyards, for its community leadership and its unparalleled dedication to the farmworker community.
 
"The Stolpman family epitomizes our mission and we couldn't be more pleased to honor them as this year's Vintner Honoree," said Gasca.
 
Emceed by film and television star – and Santa Barbara resident – Billy Baldwin, the gala featured a four-course meal directed by Peter Lee, executive chef of Loquita Santa Barbara, a wide selection of wines from Santa Barbara vintners and music by electronic violinist SPAGS Music. An elite team of guest sommeliers managed the wine service throughout the evening.
 
About Santa Barbara Wine Auction
The biennial Santa Barbara Wine Auction has evolved through the years with the partnership of the Santa Barbara Vintners Foundation and Direct Relief, and now Community Health Centers. The 2020 Wine Auction marked its 11th year of gathering together to support and strengthen our community. https://sbwineauction.org
 

---