GREAT WINES FROM THE REGION OF RIMINI
SANGIOVESE DI ROMAGNA DOC
Bottiglia da 0.75 litri €. 3.50 disponibilità: 117
VENDEMMIA DEL 2006
Rosso rubino brillante talvolta con orli violacei e tendente al granato; profumo vinoso che ricorda la viola; gusto asciutto armonico, con retrogusto gradevolmente amarognolo. Per cogliere appieno le sue qualit? si consiglia di servirlo a temperatura ambiente, stappando la bottiglia circa un'ora prima di mescere.
CONSIGLIATO CON: pastasciutte con salse a base di carne; pollame in umido, arrosti di carni bianche
%VOL. 12
SANGIOVESE DI ROMAGNA DOC 'LA LEVATA'
Bottiglia da 0.75 litri €. 4.50 disponibilità: 133
VENDEMMIA DEL 2006
Questo vino ? prodotto con le uve di un vigneto che, per la particolare esposizione e natura del terreno, produce uve favolose da cui si ricava un vino con tutte le qualit? del Sangiovese di Romagna, ma ampiamente sviluppate e marcate. Apprezzato fin dai tempi andati per il suo bouquet delicato che ricorda la viola, per il colore rosso rubino tendente al granato, per il gusto asciutto, armonico, con retrogusto gradevolmente amarognolo. Per cogliere appieno le sue qualit? si consiglia di servirlo a temperatura ambiente, stappando la bottiglia circa un'ora prima di mescere.
CONSIGLIATO CON: arrosti, cacciagione, funghi, brasati e piatti forti in genere.
%VOL. 13
VISIT:WWW.TENUTADELMONSIGNORE.COM
---
SPAIN'S 'MONASTRELL' IDEAL FOR SUMMER GRILLING
Affordable, Up-and-Coming Wine Varietal
is the Perfect Partner to Burgers, Steaks and Sausage
With grilling season right around the corner, barbeque aficionados will soon begin their annual pursuit of the perfect beverage to pair with that burger. When looking for barbeque wines, seek out those that are full-bodied with good structure and tannins. One such wine, Monastrell, a full-bodied red Spanish wine with blackberry, pepper and spice aromas, is the ultimate partner for warm weather cookouts.  To mature properly, indigenous Monastrell grapes need a Mediterranean climate; long, hot summers yield powerful wines with solid tannins which enable it to stand up to bold barbeque fare.
"To tame the tang of barbeque and echo the earthiness of meat straight from the grill, reach for Spanish reds made from Monastrell," said Leslie Sbrocco, renowned wine consultant and author. "Also known as Mourvèdre, this hearty red variety produces warm, weighty wines with a kick of spice making them a perfect choice for smoky summertime ribs."
Grilled meats, such as steaks and lamb kabobs, pair well with full-bodied wines, which feature a fruit-forward flavor and spices that harmonize with the smoky, spicy and sweet flavors imparted by barbequing.  "An ideal barbeque wine is bold enough to stand up to a fattier cut of meat, higher in acidity to refresh the palate and uncomplicated so as not to distract from the satisfying flavors of the meal," said Katrin Naelapaa, director of Wines from Spain.
Below is a select list of affordable Monastrell wines, all under $20, available at major retailers nationwide:
2005 Castaño Monastrell - Yecla
Amethyst in color with spicy wild berries, red fruit and plum aromas. Medium-bodied, dry, rustic tannins. Round and balanced.
Retail price: $9
2005 Juan Gil Monastrell - Jumilla
Dark cherry in color, it offers up red berries and toasted, smoky notes from aging in oak barriques. It has good structure with ripe and sweet tannins, and a long finish.
Retail price: $16
2005 - Casa Castillo Monastrell – Jumilla
Medium violet in color, this Monastrell varietal has aromas and flavors of blueberry, blackberry with beef jerky and vanilla-spice while the finish is smooth, ripe and long.
Retail price: $11
About Monastrell
Known as Mourvèdre in other parts of the world, Monastrell is a robust, dark red grape indigenous to Central Mediterranean Spain, a region that is home to many of the oldest vines in the country. Monastrell is grown in the sandy, limestone-rich soils of Jumilla and Yecla where the Mediterranean climate and cool Sierra-influenced breezes produce distinctive, thick-skinned grapes with ample flavor. Monastrell grapes turn out wines deep in color with considerable alcohol content and, despite relatively low yields of this highly valued wine,  remains affordable for everyday enjoyment.
---
ICONIC SKYY VODKA® BOTTLE SHAPES UP;
ENTIRE LINE GETS NEW, SLEEKER DESIGN
New Bottle Design Garners Both Bartender and Consumer Praise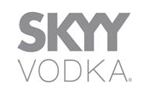 Fifteen years after its iconic cobalt blue bottle was first introduced, Skyy Spirits, the definitive marketer and distributor of super-premium and luxury spirits brands in North America, unveils a new design for its flagship SKYY Vodka® line. Taller, sleeker and more contemporary than the original, the new bottle will first appear in the soon-to-be-introduced SKYY Infusions in April 2008 and SKYY Vodka in May.
One doesn't tinker with such a pioneering design as the original SKYY Vodka bottle lightly. The signature cobalt blue glass remains the same. But, to arrive at the new bottle shape, the company conducted extensive bartender and retailer research and testing, creating a design that stands taller on the back bar/store shelf, is easier to handle and better defines the premium style that is SKYY Vodka. In consumer research, the respondent approval rating of the new bottle was 62 percent higher than the old bottle, with "intent to purchase" climbing 23 percent. The labeling on the package remains unchanged.
Skyy Spirits' newest product, ground-breaking all-natural SKYY Infusions, will also be housed in the new bottle, but will feature labeling that includes visual fruit cues demonstrating the all-natural and true-to-fruit flavors of the infused product, including Citrus, Cherry, Passion Fruit, Raspberry and Grape. In consumer research, responder's "intent to purchase" increased an astounding 100 percent upon viewing the new SKYY Infusions bottles. On premise, the one liter SKYY Infusions bottles will sport colored neck bands coordinated with the Infusion flavors to assist bartenders even more when creating delicious SKYY Infusions cocktails.
"We revolutionized packaging in the vodka category 15 years ago with the introduction of our iconic blue SKYY Vodka bottle," said Gerry Ruvo, Skyy Spirits president and CEO. "We view our new packaging as an evolutionary design, utilizing in-depth consumer, retailer and bartender research to develop a new, contemporary bottle that looks as good on the back bar as it does on the retail store shelf."
Since its launch in 1992, SKYY Vodka has enjoyed terrific growth. Today, the brand sells 2.5 million 9-liter cases annually and is the leading domestic super-premium vodka in the U.S. In 1992, the brand was originally introduced in a clear bottle, but the following year the cobalt blue bottle was created to truly signify the name of the product. The exotic blue glass is sourced from Mexico, and, as a testament to its universal appeal, the bottle has found its way into numerous recycled glass art projects found in galleries and museums around the world.
---

Join us for a Taste of the 2008
New Orleans Wine & Food Experience
May 20-24, 2008
Tickets are on sale now!
For More Information or to Purchase Tickets Please Visit www.nowfe.com

---
MEADOWOOD PRESENTS RARE & COLLECTIBLE
WINE LOVERS' GETAWAY
Napa Valley, CA February 28, 2008—Meadowood Napa Valley is offering a romantic Rare & Collectible Wine Lovers' Getaway through the month of April, Monday through Saturday. This special offer begins at $1,540 per couple and includes:
One night's lodging in a guest room with a fireplace

A welcome glass of wine fireside in The Restaurant Bar with Restaurant Sommelier Rom Toulon

 

Dinner for two in The Restaurant at Meadowood featuring Meadowood's Rare & Collectible Wine Lovers' Menu created by Michelin Two-Star Chef Christopher Kostow & Rom Toulon
To reserve the Rare & Collectible Wine Lovers' Getaway, please call 707-963-3646 or 800-458-8080.
Menu:
At the Bar
Jonata, "La Flor de Jonata", Santa Ynez Valley – 2006
Lobster Carpaccio
Black River Osetra Caviar
Le Reve, Domaine Carneros by Taittinger, Napa – 2001
Cold Smoked Kampachi
Rhubarb, Beet, Spring Onion
Kongsgaard, "The Judge", Napa Valley – 2005
Sonoma Pousin
Clam, Chorizo, Lemon Verbena
Marcassin, "Blue Slide Ridge Vineyard", Russian River Valley - 2003
Roasted Sonoma Lamb
Date Carpaccio, Cinnamon, Arugula
Harlan Estate, Oakville - 2003
Strawberries
From the Garden
Château D'Yquem, Sauternes, France – 1995
About Meadowood Napa Valley:
Meadowood is nestled among 250 private acres in the heart of Napa Valley, America's premiere wine growing region. The estate is a center for social, cultural, and viticultural life in the valley and is known for its beautiful, natural setting, gracious hospitality, classic architecture and traditional pastimes including croquet, tennis, golf, swimming, hiking, bird-watching, fine dining, and the enjoyment of wine. Also a private club, Meadowood counts Napa Valley's most prominent vintners among its membership. A Relais & Chateaux property, Meadowood is one mile east from downtown St. Helena and 18 miles north of Napa. For reservations or more information on Meadowood please call (800) 458-8080 or visit www.meadowood.com. 
---
FIFTH ANNUAL MALIBU WINE
CLASSIC BENEFITS CHILDHELP
Saturday April 5, 2008
Over Sixty Wineries from  Santa Barbara, San Luis Obispo, Los Angeles and Ventura Counties,
Several Dozen Leading Malibu and Los Angeles Restaurants returns to a new locations in malibu - the malibu civic center  
The Fifth Annual Malibu Wine Classic.  The Wine Classic showcases the most highly regarded wineries from Santa Barbara, San Luis Obispo, Los Angeles and Ventura Counties, combined with top Malibu and Los Angeles area restaurants.
More than sixty wineries including Brander and Ken Brown; and cult favorites like L'Aventure, Linne Calodo,and Saxum.  More than twenty restaurants such as Water Grill, JerNe, Allegria, Geoffrey's, Casa Escobar, Michael's, Il Grano and many more

Malibu Civic Center, 23525 Civic Center Way, Malibu California 90265
 Saturday, April 5th 2008   Noon – 5pm
A portion of the ticket sales benefits Childhelp®, www.childhelp.org; largest national non-profits dedicated to the treatment and prevention of child abuse.
Public advance purchase tickets are $79 each and features a live auction.  A portion of the purchase price ($50) is a tax deductible charitable donation to Childhelp®.  For more information or to purchase tickets visit
www.malibuwineclassic.com
---
HOT NEW ENTERTAINING TREND: HIGH TEA AT HOME
Gourmet Entertaining Expert Shares Secrets
For A Perfect High Tea Celebration - For Any Occasion
A thriving new trend out of New York, many women are now staying home to celebrate bridal showers, baby showers, birthdays and more, indulging in high-end teas and the finest finger foods. Entertaining Expert Donna Jacobs, from Chicago-based gourmet company Sun-Rich International, can discuss how to throw the perfect high tea party for every occasion. Donna can explain all the important finer details of tea including, how to make the ideal cup, what teas to serve and when and the various specialties to add to your cup. Donna can further discuss the perfect fine food pairings to serve and how to make your high tea celebration really stand out.
High Tea must-haves we can share:
Getting Started - What time to throw your party, when to send invitations
Setting the Table - For a proper high tea ,serve on china and silver flatware, elegant cloth napkins and tablecloths, topped off with a stunning flower centerpiece
Brewing the Tea - The best high-end teas and what to serve with them such as cream, lemon, sugar, etc… And the proper way to boil, steep and serve
 Finger Foods – We can share recipes such as - Cucumber Tea Sandwiches with Mint, Shrimp Toast, Capers and Salmon Sandwiches, Cinnamon Scones, Almond Popovers, Banbury Cakes, Butter Tarts, Clotted Cream, and Devonshire Cream
---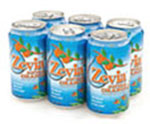 ZEVIA - THE GREAT NATURAL
SUBSTITUTE FOR DIET SODA
This is the solution for diet soda addicts, it comes in a variety of delicious flavors. The orange is outstanding. You get the taste of a popular diet soda without the sugar. This product is sweetened with Stevia, and it is perfect for weight watchers or diabetics. Visit: www.zivia.com
---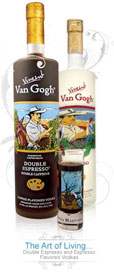 VAN GOGH AND THE GRILL
Easy summer grilling recipes using Van Gogh Vodka can also add flavor to the occasion. "Vodka has strong tenderizing power and is perfect for marinating shrimp, chicken and meat. A flavor miracle worker, vodka balances everything, softening harsh tastes and accenting others," says Ashton. "Flavored vodkas add a tasty twist, giving dishes that extra zing. You can go effortlessly from the refrigerator to the grill."
Pineapple Shrimp Kabobs
1/2 cup Van Gogh Pineapple Vodka
2 tablespoons minced ginger
3 clove garlic, minced
1/4 cup olive oil
1 tablespoon sesame oil
2 tablespoons lime juice
1 tablespoon chopped cilantro
1 bunch scallions, 1 inch slices
1 large red pepper, chopped
2 pounds large, peeled shrimp
In a large bowl, whisk together ginger, garlic, Van Gogh Pineapple Vodka, lime juice, olive oil, sesame oil, and cilantro. Add shrimp. Toss to coat shrimp; cover and refrigerate for 1 hour.
Remove shrimp from marinade. Pour marinade into a small saucepan. Bring to a boil and boil for one full minute. Remove from heat. Alternately thread shrimp, scallions, and peppers onto skewers.
Grill kabobs until shrimp turn pink and opaque, turning once halfway through cooking time, and basting with reserved marinade.
---
THE CRAFT BREWERS CONFERENCE
will be held at: Town and Country Resort & Convention Center,
San Diego, CA
To apply for credentials, please complete the Media Registration.
What is the Craft Brewers Conference?
This 25th Craft Brewers conference is the main craft brewing industry educational event for more than 1,600 of the world's leading brewers, brewery owners, and brewing supply professionals. Read the official conference Press Release.
What is BrewExpo America®?
BrewExpo America is THE main trade show for American Craft Brewers with over 130 vendors all in one location.
What is the World Beer Cup®?
The Brewers Association developed the World Beer Cup International Competition in 1996 to celebrate the art and science of brewing by recognizing outstanding achievement. Every two years, a highly qualified professional panel of beer judges honors the top three beers in 70+ categories with gold, silver, and bronze awards. The World Beer Cup, often referred to as "The Olympics of Beer Competition", is the most prestigious beer competition in the world.  The World Beer Cup is not open to the public but media and or industry professionals can purchase a ticket to attend the Gala Awards Dinner and also attend a mock judging during the Thursday, April 17, 11:30 am media briefing.
---
2008 ZINFANDEL FESTIVAL AUCTIONS
REACH NEW RECORDS
16th Annual Marquee Wine Event Raises a Record $85,000
Paso Robles, CA (March 27, 2008) The Paso Robles Wine Country Alliance announced today that a new record amount was raised at the 2008 Paso Robles Zinfandel Festival Live and Silent Auctions.  On the evening of Saturday, March 15 the auctions raised a cumulative $85,000 – a 14% increase from 2007.  This is an all time high record for the Zinfandel Festival, where portions of the proceeds raised go toward health and educational programs for the vineyard worker population in the Paso Robles community.  Over 180 auction goers were in attendance and over 800 wine enthusiasts purchased tickets to the Grand Tasting.  A total of 106 wineries hosted individual events throughout the weekend.
Thanks to the efforts of auctioneer duo Doug Beckett (Peachy Canyon Winery) and Doug Filipponi (Ancient Peaks Winery) who graciously donated their time and the spotter crew of Bernie Brauer (wine enthusiast), Dennis Cassidy (Paso Robles Police Chief-Ret) and 1st District County Supervisor Harry Ovitt, this team of magnanimous individuals helped bids reach their highest potential.  Popular and unique auction items that lifted the competitive fervor amongst bidders in the room included generous offerings from Eberle Winery, Peachy Canyon Winery, and Brave Oak Vineyard; whose individual lots included large format bottles, overnight stays, personalized tours and unique dining experiences.  Each of these items had their hosts in attendance, whose generosity spilled over by duplicating the lot for other high bidders.  Auction lots of note include – Villa Creek Restaurant dinner for 50 with Paso Robles Winemakers ($9,100); Artisan Restaurant dinner for 40 with Steve Heimhoff, West Coast Wine Editor, The Wine Enthusiast Magazine ($8,000); and The 2008 Zinfandel Festival Commemorative Artwork by Silvia Santos-Hunt and etched six liter Zinfandel Festival Collaborative Blend ($3,000).
There were 25 live auction lots and 60 silent auction lots available over the duration of the evening.  A new milestone of 185 tickets to the Live Auction were sold in advance.  This is a record amount and proof positive of the growing popularity to this one and only Paso Robles Wine Country focused auction.  The Zinfandel Festival Grand Tasting also featured a new record in wineries showcased with 51 Paso Robles producers pouring their best Zinfandel and Zinfandel blend wines.  A crowd of more than 800 guests filled the grand tasting, sampling the fine wines and tastes from 12 of the best chefs and caterers from Paso Robles Wine Country.
"This annual event is a perfect example of the Paso Robles Wine Industry coming together for a evening of wine, art and food to support a worthy cause," said Stacie Jacob, Executive Director, Paso Robles Wine Country Alliance.  "This evening could not be possible without the amazing auction lots donated from the wineries, vineyards and associated businesses in Paso Robles Wine Country, as well as the diligent efforts of the Zinfandel Festival Committee."
A portion of the proceeds raised go toward health and educational programs for the vineyard worker population and their families in Paso Robles and will be allocated in the fourth quarter of 2008.  In 2007 funds went to support four free flu immunization clinics in a partnership with Twin Cities Hospital; ongoing dental care programs through La Clinica de Tolosa and a remote study center by the Paso Robles City Library Foundation.
The Paso Robles Zinfandel Festival takes place on the third weekend in March and is a celebration of the area's heritage varietal – Zinfandel.  The weekend traditionally begins with individual winery events on Friday, the marquee Zinfandel Festival Live Auction and Grand Tasting on Saturday, and more individual winery events that span the day on Sunday.  Wineries reported record amounts of visitors throughout the three days of the 2008 Zinfandel Festival.
The next Paso Robles Wine Country event scheduled is the 26th Annual Paso Robles Wine Festival.  Save the date for Saturday, May 17, 2008 when more than 90 Paso Robles wineries converge on the Downtown City Park in the largest outdoor wine tasting event in the State of California.  Many new aspects have been incorporated into this year's showing of the Paso Robles Wine Festival that pairs the culinary assets of Paso Robles Wine Country with the premium wines showcased in the park.  These exciting new changes include an Artisan Alley, wine education seminars, a demonstration kitchen and new ticket levels.  Visit www.pasowine.com to learn more and purchase tickets.
---