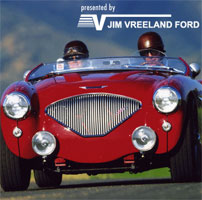 SANTA YNEZ CLASSIC REVS UP
FOR SECOND ANNUAL CLASSIC CAR EVENT ON JUNE 10 & 11
Several Local Charities To Benefit From Proceeds Raised
SCHEDULE:
Saturday, June 10, 2006
4:30pm Exhibitor Tour/Flag Is Up Farms,
901 E. Highway 246, Buellton 93427
6:00pm Event Party and Auction/Foley Estates Vineyard & Winery, Santa Rita Hills/Rancho Santa Rosa, 6121 E. Highway 246, Lompoc 93436
Public is welcome Tickets are $100.
Sunday, June 11, 2006
8:00am Firestone Time Trial/Mattei's Tavern,
2350 Railway Avenue, Los Olivos 93441
11:00am - 4:00pm Car Show/Dunn School,
2555 W. Highway 246, Los Olivos 93441
Tickets $20/ includes program Kids15+under free
Purchase online: www.santaynezclassic.com
Or mail to: SY Classic, PO Box 237, SY CA 93460
KICK-OFF Saturday Tour, Saturday, 4:30pm - 6:00pm
Monty Roberts of "Horse Whisperer" fame, who is based in Buellton, has very kindly agreed to let us use Flag is Up Farms as the starting-point for the Exhibitor Tour at 4:30 p.m. Saturday, June 10. Of particular note, there will be a demonstration of horse-training by expert trainer Katja Elk immediately prior to the Tour. After this, exhibitors are invited to drive a scenic, 30-mile vineyard and countryside Tour along relatively open roads, ending at the beautiful new Foley Estates Winery on Highway 246 between Buellton and Lompoc, in the Santa Rita Hills. Those who prefer not to drive the long route can opt for a shorter, 7-mile drive from Buellton.
The Event Party, Saturday, 6:00 pm - 10:00 pm
This year's Party at the beautiful new Foley Estates Winery will feature a great combination of Foley wines and cuisine from Trattoria Grappolo of Santa Ynez. There will be live music and both silent and live auction items to bid and buy. The setting is idyllic, the nourishments and music perfect, and the company, no doubt, sparkling! Please note that we encourage non-exhibitors to attend this charitable fund raising event.
THE FIRESTONE TIME TRIAL, SUNDAY, 7:30 AM - 10:30 AM
Adam Firestone was the first to suggest a "regularity" or "time & distance" event now happily called the Firestone Time Trial.
In Europe, most classic car rallies are geared to navigation and timing, with each competitor receiving a daily route book and average speeds to maintain, as measured at checkpoints en route.
We plan a mini-version of one of these "regularity" sections, limited to 100 cars. Driver/navigator teams of two, will execute timed starts at one-minute intervals from Mattei's Tavern – a wonderful restaurant and bar in Los Olivos – and traverse two checkpoints over about 15 miles (30-minutes) before the final checkpoint at the show site at the Dunn School. The Time Trial will be held early Sunday morning, to allow participants to field their cars and enjoy breakfast before the Show opens to the public.
THE CAR & MOTORCYCLE SHOW, SUNDAY, 11:00 am - 4:00 pm
The Dunn School has again generously offered to host the Classic on their grounds south of Los Olivos. The grounds will be open from Saturday evening, with an overnight security guard, and exhibitors will receive an Italian breakfast courtesy of Trattoria Grappolo on Sunday morning prior to the public opening at 11:00 a.m.
In addition to souvenirs, the Santa Ynez Classic will offer wine tasting and food, with an awards ceremony at 3:00 pm. The phalanx of eagle-eyed celebrity judges from the automotive, entertainment, and lifestyle worlds will again scour the field, judging vehicles against criteria only they know or understand.
Beneficiaries: Santa Barbara Firefighters Alliance, CHP 11-99 Foundation, St Marks Church, Shelter Services for Women, VIKINGS OF SOLVANG. For information visit;
www.santaynezclassic.com.
---

FATHER'S DAY COCKTAIL
VSOP Fine Champagne or VSOP Exclusif.
The COURVOISIER® Regent XV Main Spirit COURVOISIER® VSOP Exclusif
Method
Stir over cubed ice and strain
Glass Pre – chilled balloon
Recipe
40ml COURVOISIER® VSOP Exclusif
15ml Creme de Cassis
10 ml Dry Vermouth
---

Bohemia Rhapsody – St. Kitts Marriott Resort
Recipe
Equal parts Banana, Pineapple and Coconut Rum (1 ¼ oz)
Pineapple Juice
Passion Fruit Juice
Splash of Orange Juice
Garnish with wedge of lime or orange and speared Maraschino cherries. Combine all ingredients in shaker to mix, pour over ice and add garnish.
---

WHO LOVES ART, WINE, AND MADONNA?
The W Hotel Madonna Gallery exhibition was officially launched a gallery, featuring art canvasses and framed photographs by renowned visual artists, such as Steven Klein and Jean Baptiste Mondino. The weeklong Madonna Wine Tastings featured Madonna's new line of red and white wines, which were sold exclusively at W Los Angeles during the May exhibition and wine tasting promotion.
---
THE 4th ANNUAL BOGART WINE AFICIONADO DINNER AND AUCTION AT DISNEY CONCERT HALL ON MAY 15th RAISED $254,000 FOR PEDIATRIC CANCER RESEARCH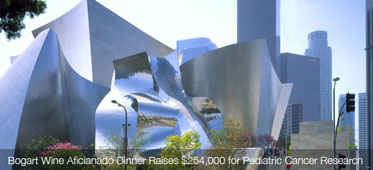 The much anticipated Fourth Annual Wine Aficionado Dinner benefiting the Bogart Pediatric Cancer Research Program proved to be an enormous success on Monday night. The sold-out dinner and live auction—aptly called "L'Affaire diVine"—raised $254,000, an unprecedented amount for the dinner. To date, the annual affair has raised over $750,000. "Each year, wine lovers and collectors from the world of entertainment, finance and philanthropy get up close and personal with chefs and wine experts at this intimate event, and each year the heartwarming support and generosity exceeds my expectations. We are already looking forward to planning next year's event," commented Bogart Board Member and Event Co-Chair Sandra
The night began with a Charles Heidsieck Champagne reception in the upstairs lobby of the Disney Concert Hall, followed by a sumptuous dinner created by all-star chef Joachim Splichal of the Patina Group in BP Hall. Wines were provided by donations from many private collectors, including members of the wine committee. Wines included a flight of Chassagne-Montrachet from the most prized producers, a vertical of Clos des Lambrays from Domaine des Lambrays and a flight of 1985 Bordeaux (Lafite, Mouton and Palmer from magnum) and Colgin's own highly coveted "Jubilation" Merlot paired with each course. The highlight of the evening was the live auction, led by persuasive and playful auctioneer and vintner Ann Colgin. Colgin is also a Board Member and Event Co-Chair.
Founded in 1984, the Bogart Pediatric Cancer Research Program, a division of the T.J. Martell Foundation, supports research in children's cancer, leukemia, and AIDS at five dedicated laboratories and Children's Hospital in Los Angeles. To date, Bogart has helped to raise over $200 million towards the treatment and cure of these terrible diseases. Bogart researchers are continuously making landmark discoveries in many fields: In Gene Therapy, Bogart Laboratories have recently performed the first trials on children with HIV infection, showing feasibility and safety. A "second generation" trial is now underway. The Bogart Cancer Research Program or for details on next year's Wine Aficionado benefit dinner, please check out www.tjmartellfoundation.org.
---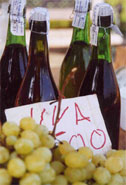 WINE PICKS FROM COOKING VACATIONS
Wine Picks Salute!
Luce 1999
$79.99
Tuscany
Winemaker's Notes:
Tuscany's 1999 vintage is acclaimed for red wines of long aging potential. The intense sun of the summer months encouraged early maturation of the berries, leading to Sangiovese and Merlot grapes of superior soft tannins and lower levels of acidity. The heavy rains of October did not compromise fruit quality, since the sunshine and constant breeze that shortly followed dried off any excess moisture. The grapes for Luce were brought to the winery in excellent condition with fully developed flavors and an ideal balance of sugar concentration and acidity. Luce, the signature wine of the Frescobaldi family of Tuscany and the Robert Mondavi family of Napa Valley, captures the unique terroir expression of a beautiful hillside vineyard in the famous region of Montalcino. Powerful, yet elegant, the 1999 Luce reflects the expertise of the two renowned winegrowing families with rich, complex layers of ripe fruit. The intense bouquet offers enticing aromas of raspberries and black currants layered with nuances of vanilla and cloves. On the palate, this wine shows its great consistency, perfectly integrated tannins and just the right touch of acidity. The vibrant flavors of blackberry and blueberry weave into a long, warm finish.
Frescobaldi 2000 Castel Giocondo Brunello di Montalcino
$53.00
Tuscany
Winemaker's Notes:
It exudes expansive, multi-layered aromas, ripe-fruit fragrances of dark cherry and dried plum melding into more pronounced, mineral essences of pencil lead and stone, while suggestions of tobacco leaf seem to bring a sense of balance and completeness.
Pulpy fruit comes to the fore in the attack, with tannins that are expressive but not invasive; they ably balance a nice vein of crisp acidity that makes the flavors sing. The long-lingering finale flaunts a rich mosaic of nuanced flavors.

Marchesi di Barolo 2003 Barbera d Alba Ruvei
$20.00
Piemonte
Winemaker's Notes:
Grape Varieties 100% Barbera Vinification Grapes are handpicked, de-stemmed and softly pressed. Fermentation takes place in thermo-conditioned vats at a controlled temperature of 85ºF. Maceration lasts about 7-8 days 70% of the wine is aged for about one year in Slavonian oak barrels, while the remaining 30% is aged in American oak, to enhance suppleness, balance and the wine's bouquet of pronounced finesse. Color: deep ruby red. Bouquet: charming, with hints of woodland berries and appealing vanilla overtones. Serve at room temp. with grilled steak or chops.
---
Calling all Culinary Connoisseurs!
Grand Opening of New York Wine & Culinary Center Offers Finger Lakes Destination for Classes, Tastings and More
It is a foodie's dream! The grand opening of the New York Wine & Culinary Center will bring together food and wine from across New York, with hand-on classes and expert demonstrations – in one beautiful lakeside location. Scheduled to open June 17 in Canandaigua, NY, the Center will welcome and introduce travelers to the state's cuisine scene. Whether you prefer learning how to make a gourmet meal or would rather just sample one, the Center is a first-stop "gateway destination" with something to tempt every palette.
TASTE OF NEW YORK
At the New York Wine & Culinary Center, visitors will have the chance to sample food and wine from across the state. From culinary connoisseurs to kitchen novices, the wide range of programs and classes encourage visitors to smell, touch and taste New York food and wines. Classes on topics such as nutrition and wine & food pairing will be held in a hands-on training kitchen, where up to 36 visitors can participate in the food fun. Guest chefs will also entertain a live audience in the 44-seat demonstration theater. Classes and demonstrations will require pre-event registration; log onto www.NYWCC.com for more information. After class, visitors can retreat to the tasting room where a rotating selection of New York State wines will be poured. Upstairs at the Taste of New York Lounge, experiment with different wine and food pairings, sample flights of wine and beer or enjoy a light meal.
LAKESIDE RETREAT
Situated on Canandaigua Lake, this brand-new center, with more than 19,000 square feet of space, is a breathtaking addition to the Finger Lakes landscape. Stroll through the orchard and grape vineyard or rest on the lakeside wrap-around porch with a glass of New York State wine. It is the perfect place to figure out which of the more than 90 nearby Finger Lakes wineries to visit or which local restaurant to try for dinner. Based on the belief that good food should be a vital part of everyone's life, the Center has been designed as a family destination. Programs targeting children and teenagers are planned and youth can participate alongside adults in these classes.
TAPPING INTO TRAVELERS' TASTEBUDS
With the explosive growth of culinary tourism across the country, the Center will serve as a "gateway destination," teaching visitors about New York's agriculture heritage and rich abundance of food and wine products, while also guiding them to other culinary tourism opportunities across the state. Agriculture is one of New York's most vital industries, encompassing 25% of the state's landscape. Home to more than 36,000 farms, dairy is the state's leading commodity but New York is also a national leader in the production of apples, cherries, sweet corn, cabbage, beans, onions and maple syrup. With the recent growth of New York State wineries, especially in the Finger Lakes and on Long Island, the state is also one of top wine producers in the nation.The not-for-profit New York Wine & Culinary Center is expected to draw 76,000 visitors each year and infuse more than $11 million into the local economy.
The New York Wine & Culinary Center includes the following:
Tasting Room: featuring a rotating selection of New York wines
Taste of New York Lounge: offering light fare, flights of beer and wine and wine & food pairings
Demonstration Theatre: This 44-seat space will host guest chefs, preparing culinary masterpieces in front of live audiences, as well as presentations from special groups and corporate events.
Hands-On Training Kitchen: Up to 36 guests will participate in hands-on cooking classes in a state-of-the-art kitchen
Outdoor Garden: Visitors can stroll through orchard trees, grape vines and other native New York agricultural products
Exhibit Hall: This area will include interactive exhibits showcasing New York agriculture and its importance to the state.
Retail Center: Visitors will be able to purchase culinary and wine-related items and products.
Private Dining Room: A private dining area will be available for small personal and corporate events and parties.
For more information about NYWCC's Grand Opening on June 17, 2006, call (585) 394-7070.