GAINEY VINEYARDS
A TASTE OF STYLE IN SANTA YNEZ VALLEY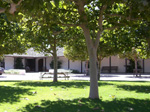 The Gainey Vineyards is very beautiful winery to tour. The grounds are lovely, and the tasting room is tasteful in design and offerings The Gainey picnic area is extensive with a great view of the surrounding mountains, and is used for summer concerts, where many well-known musicians and musical groups perform.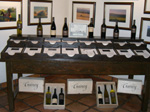 In 1962 the Gainey family acquired 600 acres of land and today 85 acres are vineyards. The tasting room is elaborate with a variety of great wine merchandise, including delicious wine pairing items, and gifts.
There is a demonstration vineyard just outside the tasting room. Gainey produces a modest 20,000 cases of wine per year. Short wine tours are available that end with a tasting in the barrel room. To get to Gainey visit www.gaineyvinyard.com for directions.
Gainey Vinyards, Tasting Room Hours: Open daily, 10 am – 4 pm
Phone: (805)688-0558, email: info@gaineyvineyard.com
DUCK CONFIT WITH TURNIPS RECIPE         
Ingredients: 1 quart chicken stock - 1 cup Gainey Merlot - 10 large garlic cloves, halved - four 3-inch-long strips of orange zest - 2 bay leaves - eight 5 oz. confited duck legs with skin - 1 teaspoon butter - 2 tesaspoons all purpose flower - salt & pepper to taste - steame turnips and their greens, for serving.
Preparation: Preheat the oven to 375. In a saucepan, combine stock, wine, garlic, orange zest and bay leaves and bring to a boil. Reduce to 2 cups over high heat, 30 minutes. Add the reductin to a large roasting pan. Arrange the duck in the pan skin side up. Cover and braise until hot, 30 minutes. Preheat the broiler. Transfer the duck to a large rimmed baking sheet. Strain the braising liquid into a saucepan, pressing on the garlic to mash it into the sauce. Bring the sauce to a simmer. In a bowl, blend the butter with flour; whisk the paste into the sauce. Suimmer, whisking, until thickened, 3 minutes. Season with salt and pepper to taste and keep warm, whisking occasionally. Broil the duck, rotating the pan, until the skin is crisp, 4 minutes. Transfer to plates, top with sauce and serve with turnips.
---
THE GRAND DEL MAR'S JESSE RODRIGUEZ
ATTAINS ADVANCED SOMMELIER STATUS
Latest Accreditation Reflects Resort's Comprehensive Wine Program
Jesse P. Rodriguez, the much acclaimed wine director of The Grand Del Mar resort, has attained the level of advanced sommelier, an important certification from the American Chapter of the Court of Master Sommeliers, the premier international examining body for the wine industry.
According to Tom Voss, president of The Grand Del Mar, this latest achievement is a major accomplishment for Rodriguez, and an important reflection of the resort and its extensive wine collection. "The Grand Del Mar is the only property in San Diego to have two advanced sommeliers, as Addison sommelier Dan Pilkey has also attained this coveted status," Voss said.   "Rodriguez and Pilkey are amongst just a few hundred advanced sommeliers in the U.S., so we are exceptionally proud of this accomplishment." (The only other San Diegan to hold the certification is Dan Chapman of George's at the Cove).
A rigorous five-day experience, the intensive testing leading to the advanced sommelier accreditation process includes lectures, tasting and interviews, followed by three days of written testing on theory, service and tasting.
Prior to being named wine director for the resort, Rodriguez was head sommelier for its signature dining venue, Addison, compiling an in-depth, thoroughly researched wine program, and accruing accolades such as a ranking as one of America's "Best New Sommeliers" by Wine & Spirits magazine.  In addition, under his direction, Addison earned a Wine Hospitality Award from the 10th Annual Santé Magazine Restaurant Awards and was recognized as having one of seven new winning wine lists for 2007 from Food & Wine Magazine.
During his tenure with the The Grand Del Mar, Rodriguez has helped assemble a vast collection of stellar wines, including a total of more than 32,000 bottles and 3,300 selections at Addison and the resort.  He is currently augmenting and finessing the collection, which already features the gamut of fine wines – from top California vintage cult wines to the classic wines of France, Italy and Spain – housed in Addison's 3,000-bottle custom Paul Wyatt designed wine room, as well as the resort's expansive cellar.
Prior to joining the resort, Rodriguez was the head sommelier at the venerable French Laundry in Napa, Calif., helping the restaurant garner a Three Michelin Star rating.  He was also California sales manager for ZD Wines; the estate manager for Phoenix-based Alliance Beverage Distributing Company; and a sommelier for The Phoenician in Scottsdale, Ariz.
In addition to his accreditation by the Court of Master Sommeliers, he is credentialed as a Certified Wine Educator by the Society of Wine Educators. 
About The Grand Del Mar
Situated amid a pristine private preserve in Coastal North San Diego County, The Grand Del Mar opened its elaborate doors in October 2007 following more than two years of construction and meticulous planning.
The luxury resort features 249 elegantly appointed guestrooms and suites; San Diego's only Tom Fazio-designed championship golf course; two outdoor tennis courts; a 21,000-square-foot Renaissance-inspired spa; four swimming pools; regional dining, including Addison, the signature restaurant and Amaya, a Mediterranean-style venue; an enclave of residential Villas; and more than 20,000 square feet of indoor/outdoor meeting space.
For more information, call 858-314-2000 or
visit the Web site at www.TheGrandDelMar.com.
---
NEW PASO ROBLES WINE TASTING EVENT
EMBRACES THE UP-AND-COMING
WINE CONNOISSEUR
Tickets Now on Sale for CRAVE – A Paso Robles Wine Experience – Friday, October 24, 2008

Paso Robles comes to San Luis Obispo this October for a wine tasting that is sure to satisfy all your cravings!  The Paso Robles Wine Country Alliance announced today that tickets for CRAVE – A Paso Robles Wine Experience are now on sale.  Research shows that the "millennial" generation (21 – 29) has a high interest in the appreciation of wine through tasting and education.  CRAVE is a new spin on wine tasting that blends tradition with a hip tasting experience.
CRAVE takes place on Friday, October 24 from 7:30 – 10:30 p.m. at the Veterans Hall in San Luis Obispo (801 Grand Avenue).  Nine different Paso wine varietal bars will be featured and paired with the finest fare of San Luis Obispo County.  Over 55 Paso Robles wineries will showcase a single wine from their portfolio. The CRAVE experience is perfectly complemented by D.J. Flight, a frequent D.J. of Native Restaurant & Lounge, in a relaxed atmosphere. CRAVE attendees are encouraged immerse themselves in the experience and learn all there is to know about the different varietals presented.  Varietal descriptors are readily available www.cravepaso.com and will be featured at the event.
There are approximately 70 million millennials, and according to the Wine Market Council Millennial Survey, 75% of this generation chooses wine as their choice beverage on a first date.  "Wine consumption among this age group is on the rise, and the Alliance recognizes a need to focus marketing programs on this group of wine drinkers," said Stacie Jacob, executive director of the Paso Robles Wine Country Alliance.  "CRAVE targets the next generation of wine consumers, educates in a fun way and positions Paso Robles as the choice wine region."
Thanks to the Wine Wrangler, safe rides will be offered at various times throughout the night.  Three drop-off spots include the Cal Poly Student Union, Laguna Shopping Center and Downtown SLO.  Responsible tasting is also an important element of CRAVE.  Practice of the Four S's of responsible tasting -- swirl, smell, sip, spit -- is a valuable way for wine enthusiasts to experience and understand each wine from first to last taste.  This practice will be encouraged and is essential to make the most of this Paso Robles Wine Experience.
Tickets are $40 presale and $50 at the door, and include an evening of unlimited tasting, food pairings, as well as a commemorative glass made by Reidel.  Tickets may be purchased online at www.cravepaso.com or at 800.549.WINE (9463).  Photo identification verifying age will be required at time of entry.  Tickets are limited, and advance purchase is highly recommended.  Free parking will be available at the Veterans Hall Parking lot.   For a complete list of wineries participating, to purchase your ticket, or for more information about CRAVE, go to www.cravepaso.com.

The Paso Robles Wine Country Alliance represents wineries, growers and businesses in Paso Robles Wine Country. Centrally located between San Francisco and Los Angeles, along California's Central Coast, Paso Robles Wine Country is California's fastest growing wine region. It encompasses more than 26,000 vineyard acres and more than 200 wineries.
For more information, visit www.pasowine.com
---
CELEBRATE WITH HOLIDAY SIZE REED'S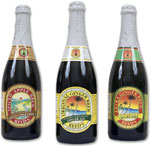 The Reed's folks have new celebration size bottles of their Ginger Brew and Apple Cider for special entertaining this holiday season. If you have not tried their new flavors ... you should! This is a very healthy and delicious option for the entire family. I love the Apple Cider and the new fruit flavors. For information visit: www.reedsgingerbrew.com.
---
NEW FALL COCKTAILS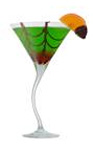 Midori's Spider Kiss:
1 oz. MIDORI

1 oz. SKYY Vodka

Dash of fresh lemon juice
Shake and strain ingredients into a martini glass.
For an extra scare, drizzle grenadine down the side of the glass, creating a blood-like effect.  For garnish, add a chocolate-dipped orange slice.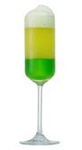 Midori Phantom:
1 oz. MIDORI

Pernod

Water

1 egg white
Pour 1 oz. Midori into the bottom of a champagne flute. Shake the pernod and water, and pour on top of the Midori layer. Add the foam of one egg white.  Use a dash of Midori to create green foam.
---
LANSDOWNE RESORT'S "UNCORK AND UNWIND"
PACKAGE SHOWCASES CHARMING WINERIES
AND TOWNS OF LOUDON COUNTY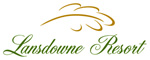 Lansdowne Resort, located in the heart of Virginia's wine country, just 25 miles from Washington, D.C., announces "Uncork and Unwind," an attractive fall getaway package featuring Loudoun County's wineries, as well as the area's spectacular countryside and bounty of historical treasures.
 
"Uncork and Unwind," Lansdowne Resort's fall wine package, includes deluxe guest room accommodations, full American breakfast for two, a bottle of wine (priced up to $50) to savor over dinner in On the Potomac, a Loudoun County Wine Trail visitors kit and a welcome wine tasting at the resort.
 
The package is available on Friday and Saturday nights, from September 24, and is priced from $279 per room, per night, based on double occupancy and availability.
 
As an additional package option, Reston Town Limousine offers Saturday wine tours for $35 per person and will pick up guests at Lansdowne Resort's front door.
 
Reservations for the "Uncork and Unwind" package are available by calling 877/509-8400 or by visiting www.lansdownresort.com.
Loudoun County, known as Washington D.C.'s wine country is made up of four clusters of boutique wineries sprinkled throughout the countryside and offering a mix of perfectly balanced varietals, surprising blends, and dessert wines.
 
At On the Potomac at Lansdowne Resort Executive Chef Jason Lage offers an eclectic dining experience featuring fine regional, American cuisine utilizing fresh, local ingredients.  The restaurant is the best way to end a day of touring, where the best of everything the Virginia countryside has to offer is skillfully prepared and presented. And always, under the careful eye of sommelier Mary DeLauder-Watson, wines are paired to match the chosen cuisine.
 
Lansdowne Resort, a AAA Four Diamond Award recipient, has recently experienced a dramatic $55 million renovation that saw enhancements made to all of the property's 305 luxurious guest rooms and suites. For additional information, visit the Web site at www.lansdowneresort.com.
---
FIVE GENERATIONS OF GERMAN BREWERS
TO OFFER LEINENKUGEL'S OKTOBERFEST
TO CRAFT BEER LOVERS ACROSS U.S.
Leinenkugel's Fall Seasonal Honors 141 Years of Brewing Tradition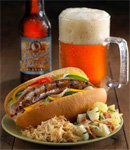 Since 2001, Leinenkugel's Oktoberfest has set the mood for crisp autumn evenings as a seasonal beer offering in the upper Midwest. Now craft beer enthusiasts across the U.S. will be able to find this traditional German Marzen-style bier on shelves in September and October.
Due to the popularity of adventurous and seasonal brews, Leinenkugel's Oktoberfest is the brand's second seasonal brew release to debut nationally following their first and successful national release of the seasonal Leinenkugel's Summer Shandy. Oktoberfest is brewed with Munich, Caramel and a blend of two-row Pale malts. These barley malts give Leinie's Oktoberfest a rich, hearty character and deep amber color while Hallertan, Tettnang, Perle and Cluster hops provide an aromatic and smooth, well-balanced lager.
"We brewed our first batch of Oktoberfest to celebrate our five generations of rich German brewing heritage," said Jake Leinenkugel, president of the upper Midwest brewery which his great-great-grandfather founded in 1867. "Fall is an ideal time to enjoy a quality hand-crafted beer on a crisp autumn evening or at a festive Oktoberfest celebration."
Leinenkugel's, one of the oldest craft brewers in the U.S., continues to look for ways to quench the adventurous spirit of its dedicated fan base of nearly 200,000 Leinie loyalists living throughout the U.S. Leinie loyalists are a group of devoted fans of the specialty brewer who stay in touch virtually throughout the year via Leinenkugel's newsletters and gather for the Leinie Lodge Family Reunion in Chippewa Falls, Wisconsin every June.
Brewed in small, high-quality batches, Leinenkugel's Oktoberfest is available in 6-pack bottles at supermarkets and liquor stores nationally and on draft at bars and restaurant in limited markets. Six-packs retail for approximately $7.99.
Leinenkugel's Oktoberfest is an excellent complement to full-flavored hors d'oeuvres, hearty soups and chili. For a fall party pleaser, craft beer lovers may also consider using Leinie's Oktoberfest to brew up a batch of flavorful brats.
Leinenkugel's Oktoberfest-Infused Brew Brats
1 dozen brats

1 dozen brat buns

Leinenkugel's Oktoberfest, to cover

1 medium large sweet onion, sliced

1 green pepper, sliced

1 yellow pepper, sliced

1 red pepper, sliced

2 ounces butter
Place brats in a Dutch oven with sliced onions, peppers and butter, cover the brats with Leinenkugel's Oktoberfest. Bring to a boil and reduce to simmer until brats are cooked. Remove brats and set aside remaining beer mixture. Grill brats until golden brown and return to beer mixture until ready to serve. Serve brats on fresh brat buns with your favorite toppings (sauerkraut, onions, peppers, ketchup, mustard). Savor with a Leinenkugel's Oktoberfest and enjoy.
About Leinenkugel's
Leinenkugel's, brewed in Chippewa Falls, is the leading craft brewer in the upper Midwest. Leinenkugel's year-round offerings include Leinenkugel's Sunset Wheat, Honey Weiss, Berry Weiss, Leinie's Red, Creamy Dark, Original and Light. In addition to Oktoberfest, Leinenkugel's offers three other limited-release beers including Leinenkugel's Summer Shandy as well as Fireside Nut Brown (new for 2008) and 1888 Bock (new for 2009). For more information on the rich history of Leinenkugel's, visit www.leinie.com.
---
THREE TEA TOUR
Seattle to Latin America and South America begins
October 4, 2008 with Steve Baker
 
Three Tea Tour starts on the 4th of October from Seattle, WA  and takes in as much of Central and South America as possible within an initial 6-month period, with a Christmas Tea Party scheduled for Ushuaia, the southern most city on the Americas' Continent.
Rather than this just being a journey by motorcycle and covering miles, my intention is to take a journey of familiarization and understanding, and the medium enabling this will be tea.
Tea will be, I hope, the bridge that will enable me to communicate with people from every country I will visit, to exchange not only polite conversation, but also deeper mutual understanding of each other's lives, social, environmental, economical etc…
The idea of three teas came about when I was on Lummi Island , where during a discussion about my planned ride and an early concept of drinking tea, just because coffee is dominant, a fellow guest told me of the three cups philosophy:
Cup one - polite introduction

Cup two - exchanging understanding

Cup three – friendship
So that was it, three cups it was.
Then, passing a bookstore a few weeks later, what were piled high in the window? 'Three Cups of Tea', a book by Greg Mortensen, relating his Himalayan school building project adventures. What were the chances?
Rather than regard this as a stumbling block, the opportunity to promote Greg Mortensen's great work, by riding my bike, worked out splendidly and I will be supporting Ikat.org , pennies for peace and the Central Asia Institute, as well as working on school projects myself, during the ride.
The Republic of Tea kindly offered to provide some tea for the trip and I will be trying local teas where-ever possible.
My bike is equipped with four video cameras. The trip will be recorded, the intention being to produce a DVD of the trip, with profits going to the charities.
The trip will be blogged via my website. Dubious web TV, a Seattle web caster will be filming the departure on the 4th October, 2008, from the NW Tea Festival.
---
TWO NEW KENWOOD MERLOTS
IT'S ABOUT PERSONAL PREFERENCES
One size and style does not fit everyone – not in clothes, not in shoes and not in wines. Kenwood Vineyards produces both a Sonoma County and a Reserve Merlot because wine drinkers have a range of personal preferences in Merlot that cannot be satisfied by a single bottling. The just-released 2006 Kenwood Sonoma County Merlot and 2005 Kenwood Reserve Merlot differ in their style and appeal, but both deliver delicious Merlot character.
The 2006 Kenwood Sonoma County Merlot emphasizes fresh fruit and forward character – the perfect personality for casual wine drinkers. To achieve this style, premium Merlot grapes from several Sonoma County appellations are fermented separately, aged in small French and American oak barrels for 22 months and blended with approachability in mind. It's also is released soon after bottling to keep the fruit elements "front and center" in the aromas and flavors. In contrast, the 2005 Kenwood Reserve Merlot is a more concentrated, more complex and altogether more "serious" Merlot. For the Reserve, Kenwood draws grapes from its best Merlot blocks in Dry Creek Valley and Sonoma Valley, ages the young wine exclusively in small French oak barrels for a full 24 months, blends in a judicious percentage of Cabernet Sauvignon and gives the finished wine an extra six months of bottle age prior to release.
The 2006 Kenwood Sonoma County Merlot's generous aromas of loganberry and blueberry are accented by a hint of allspice. Mouthfilling flavors of loganberry and blueberry slowly reveal suggestions of spice and toast with aeration. Structured on the palate yet with the promise of Merlot's hallmark smoothness, it culminates in a long, bright finish. A generous 41,500 cases of the 2006 Kenwood Vineyards Sonoma County Merlot were produced. It is available nationally at a suggested retail of $16.
Deep in color, the 2005 Kenwood Reserve Merlot displays multi-dimensional aromas of red currant, raspberry, mint and semi-sweet chocolate. Red currant and raspberry also dominate the layered flavors, with vanilla and oak notes in the background for complexity. Big yet smooth, with uncommon depth that suggests potential for additional development with cellaring, it has a lingering, spicy finish. Due to the small production of only 800 cases, the 2005 Kenwood Vineyards Reserve Merlot's availability is limited to select markets and the Kenwood Vineyards tasting room in the Sonoma Valley. The suggested retail is $25.
Established in 1970 in the Sonoma Valley, Kenwood Vineyards produces premium wines that showcase Sonoma County's world class vineyards.
---