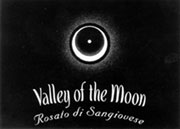 2005 VALLEY OF THE MOON
ROSATO DI SANGIOVESESUMMER'S EXUBERANT ROSÉ
In a sea of slightly pink, lightly fruited and definitely sweet California rosés, the newly released 2005 Valley of the Moon Rosato di Sangiovese stands out as a rosé with real attitude. In its vivid color, vibrant fruit and dry, crisp finish, the 2005 Rosato di Sangiovese shows exuberance ideal for summer sipping and equally ideal for pairing with flavorful summer fare. The Sangiovese grape's generous fruit character and excellent balancing acidity are a natural for rosé and Valley of the Moon takes a minimalist approach making Rosato di Sangiovese to highlight the variety's distinctive qualities. Premium Sonoma County Sangiovese grapes are picked at maturity and quickly crushed, after which the juice receives 24 hours of skin contact before pressing to gain fruit character and color. The juice then is fermented at cold temperatures and the young wine is stored exclusively in neutral stainless steel until bottling to preserve the fresh, forward personality. Brilliant fuchsia in color, the 2005 Valley of the Moon Rosato di Sangiovese is no wimpy blush wine. In the glass, it brims with aromas of fresh picked raspberry and cranberry, plus a hint of honeysuckle. The flavors are equally fresh and vibrant; strawberry and cranberry dominate, with some red cherry showing in the midpalate. Excellent balancing acidity gives this dry rosé a long, crisp, thoroughly delicious finish that invites second glasses. Just 1,600 cases of the 2005 Valley of the Moon Rosato di Sangiovese were produced. It is available nationally at select wine shops and restaurants at a suggested retail of $16. Valley of the Moon Winery welcomes visitors daily at its beautifully restored cellar in the heart of the Sonoma Valley. In addition to Rosato di Sangiovese, the winery produces Chardonnay, Pinot Blanc, Cabernet Sauvignon, Zinfandel, Pinot Noir, Sangiovese, Syrah, and Cuvée de la Luna, a Bordeaux-inspired blend.
---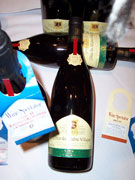 ALSACE/RHONE VALLEY WINE EXPO 2006
A Collection of the best in Inter-Rhone Wines at the Olympic Collection
by Bonnie Carroll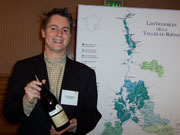 The premiere event presented by some of France's finest wine makers was held at the Olympic Collection in Los Angeles to celebrate their outstanding annual tasting. Guests were treated to sample servings, and got answers to all their questions, as proud wine producers demonstrated cordial responses to all comments and reactions from invited guests.Producers for the 2006 Wine Expo included jean Becker, Domaine Bernard-Reibel, Domaine Michel Fonne, Paul Ginglinger, Domaine Josmeyer, Frederic Mallo & Fils, Domaine Albert Mann, Domaine Riefle, Domaine Seilly, Louis Sipp, and Domaine Weinbach-faller.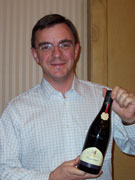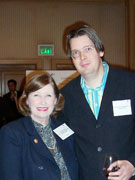 "Think Value" was the word for this year's event. There is no other red wine region that offers such an abundant variety of wines at such an excellent price and quantity lever," said Francois Drounau, Export Manager of Inter-Rhone Cotes du Rhone producers are able to offer the American consumer an extensive selection of well-made, food-friendly wines for around $10, he said.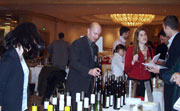 Many producers felt that due to the gentle summer temperatures, the whites maintained a distinct freshness with delicate fruit and flower aromas that characterize young wines, and flaunting their beautiful deep color, the roses have a combination of balance and finess. For information please visit www.rhone-wines.com.

---
2005 KENWOOD VINEYARDS PINOT NOIR
ROSÉDELICIOUS IS IN THE DETAILS
One of the wine trends of the early 21st century is a greater appreciation for rosé. It is a realization that pink has its place, in wines whose fresh fruit, bright color and dry, crisp character enhance casual sipping and casual dining in a way few reds or whites can. It also is an acknowledgement that rosés have made a big jump in quality in recent years. As in all wines, delicious is in the details, and the newly released 2005 Kenwood Vineyards Pinot Noir Rosé gets the details right. The Pinot Noir grape's red berry fruit and delicacy make it a natural for rosé. To create Pinot Noir Rosé, Kenwood Vineyards sources the grapes from the Russian River Valley. Considered among the finest vineyard regions for Pinot Noir in California, Russian River Valley's cold climate and long growing season endow the grapes with impressive fruit and outstanding balancing acidity, both important to making a rosé that displays the variety's unique character. To give Kenwood Pinot Noir Rosé more color, heft and complexity, Winemaker Pat Henderson blends in a small percentage of barrel-aged red Pinot Noir just before bottling. The 2005 Kenwood Vineyards Pinot Noir Rosé's moderately pink color leads to a full, yet elegant nose of fresh strawberry, rhubarb and subtle spice. Fresh strawberry also dominates the flavor, accented by an undertone of lychee. The wine's generous flavor and dry style are complemented by perceptible weight on the palate and balancing acidity that adds crispness to the finish. Only 2,900 cases of 2005 Kenwood Vineyards Russian River Valley Pinot Noir Rosé were produced, It is available nationally at a suggested retail of $13. Kenwood Vineyards handcrafts wines to showcase the character of premium Sonoma County vineyards. Established in 1970 in the scenic Sonoma Valley, just an hour north of San Francisco, Kenwood Vineyards welcomes visitors to its tasting room daily.
---
Wine Camp...Finally A Camp For Adults

Wine Camp, a four day, three night hands-on immersion into the world of Long Island wines, will teach wine enthusiasts exactly what it takes to make some of the best wine in the country. Participants will have the opportunity to work in the vineyards on seasonal activities, blend wines in laboratories with professional winemakers, learn professional tasting techniques and how to pair wines with all types of food, and find out just what makes Long Island uniquely suited to growing wine grapes.
Along with new, extensive wine knowledge, Wine Campers will also leave with a case of Long Island wines, a personally autographed book from the founder of Long Island's first vineyard, exclusive Wine Camp memorabilia and, of course, a Wine Camp Certificate ready for framing.
This program includes many of the region's award winning wineries: Bedell Cellars, Castello di Borghese, Corey Creek Vineyards, Jamesport Vineyards,The Lenz Winery, Peconic Bay,The Old Field Vineyards, Palmer Vineyards and Paumanok Vineyards. Campers will have their choice of lodging at participating B&B's, sensational breakfasts, Al fresco lunches at the wineries, Dinner the first evening at the 5th Season, And the final night 'Food & Wine' Pairing Event at Castello di Borghese. Enjoy Borghese Wines & food prepared by Chef Steve, owner of Black Tie Caterers.
Campers experience tastings & tours, Seasonal activities in the vineyards, working in the fields, vineyard management, the soil, food and wine pairings, Long Island terroir, the evolution of wine making in Long Island's Wine Region and they meet the vineyards owners
The price for wine camp is $749 per person based on double occupancy. There are only 4 places left for the July Wine Camp. To reserve your place contact Debbie Gioquindo at Exclusive Wine Vacations 845-485-7221 or 877-485-7221
---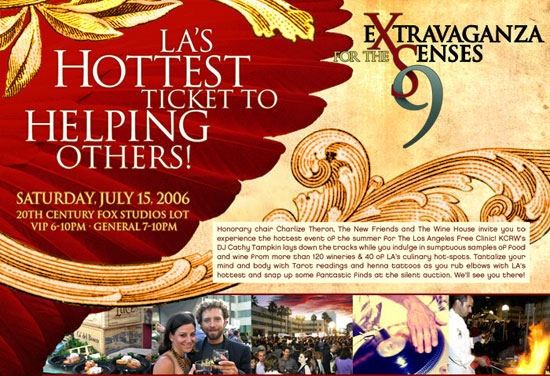 HISTORIC COCTAILS HIT THE SCENE
Aspen Crud - The J-Bar, Hotel Jerome, Aspen, Colo.
1 cup vanilla ice cream
2 tablespoons warm chocolate sauce
1 cup chilled heavy cream
1 shot of bourbon
Combine all ingredients in blender until smooth.
Goody Cocktail - Carousel Piano Bar and Lounge, Hotel Monteleone, New Orleans
1 ounce dark rum
1 ounce light rum
1 ounce Orgeat
1 ounce pineapple juice
2 ounces orange juice
Mix well and serve in a tall glass over ice.