ITALIAN TRADE COMMISSION PRESENTED VINO 2009
The First Industry Convention of Italian Wine in America
New York, February 12, 2009- More than 2000 wine industry professionals from around the nation attended The Italian Trade Commission's inaugural Vino 2009 - Italian Wine Week-convention of Italian Wine in America.  The program kicked off with seminars at the Boston Wine Expo January 24-25, continued in New York with a three-day conference January 26-28, and concluded in Miami on January 30 with a day-long program.  According to the Italian Trade Commission, VINO 2009 was the largest Italian wine conference to be held in the United States with participation from more than 270 wine producers and U.S. importers.
"VINO 2009 underscores the importance of the United States as a wine export market for Italy. The goal of VINO 2009 is to foster business relationships between wine producers and wine buyers and purveyors in the U.S., which is the number one market for Italian wines," said Aniello Musella, Italian Trade Commission and Executive Director for the USA.
"VINO 2009 was designed to bring together all different interests within the Italian wine business and raise greater awareness for Italy's range of wines and their marketing potential, both on and off premise and to address trends and transitions in the wine business," added Musella.
Five regions of Italy were showcased during a variety of tastings, discussions and seminars: Abruzzo, Calabria, Lombardia, Toscana and Veneto, including an "Italian Wine Exchange on January 28th which enabled over 1000  attendees to meet producers and sample over 1700 wine labels.
"The regions featured at this year's program represented an exciting range of styles from vastly different geographical areas of Italy," said Musella.
Another highlight was the presentation of the first Distinguished Service Awards on January 27th at a dinner  hosted at the Rainbow Room. Eight industry leaders were inducted into the Italian Trade Commission's first "Distinguished Service Awards Hall of Fame." Honorees included: Burton Anderson, author/journalist, The Wines Atlas of Italy; Darrell Corti, co-owner, Corti Brothers (Sacramento, CA); Victor Hazan, author, Italian Wine; Leonardo LoCascio, President, CEO and Founder, Winebow; Dr. John Mariani, Jr., Chairman Emeritus, Banfi Vintners and Castello Banfi; Hubert Opici, Chairman of the Board, Opici WineGroup; Piero Selvaggio, proprietor, Valentino Ristorante (Santa Monica, CA) and Anthony Terlato, Chairman, Terlato Wine Group.
 "These individuals were recognized for their contribution to the consolidation of Italian wines in the US market. Their commitment helped lay the foundation for a greater appreciation of Italian wines in the U.S.," commented Musella.
The Italian Trade Commission hopes the success of VINO 2009 will result in its continuation as an annual program.  "It is valuable to make a connection for wine buyers and sellers with producers and importers. The United States is the number export market for Italian wines, and we want to continue the momentum in years to come," said Musella.
According to figures provided by the Italian Trade Commission, the U.S. represents 27.45% of total exports of Italian wines totaling one billion, two hundred and sixty million dollars. For additional information on Italian wines and VINO 2009, log on to: www.italianmade.com/vino2009.

             Aniello Musella (Center) with other members of the Italian Trade Commission.
---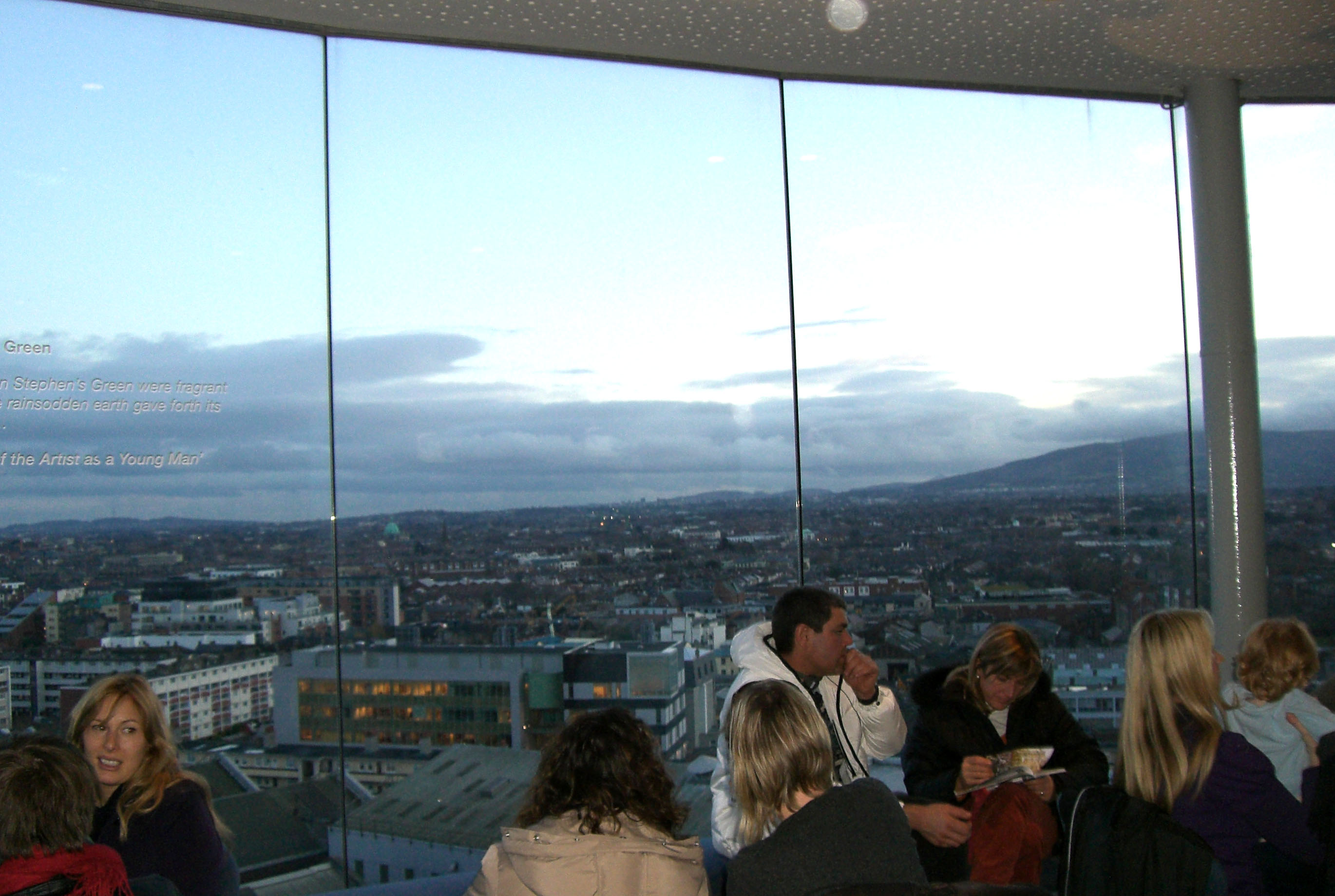 GUINNESS STOREHOUSE
'Top of the World Ma'  with a Perfect Pint
by Bonnie Carroll
A Guinness Fermentation Plant from 1904 to 1988 is now a seven story visitor center dedicated to the history of Guinness and to the making of a world renowned beer. The Storehouse is located in the heart of the St; James's Gate Brewery and is where you can get a Ph D in the art of making a perfect pint.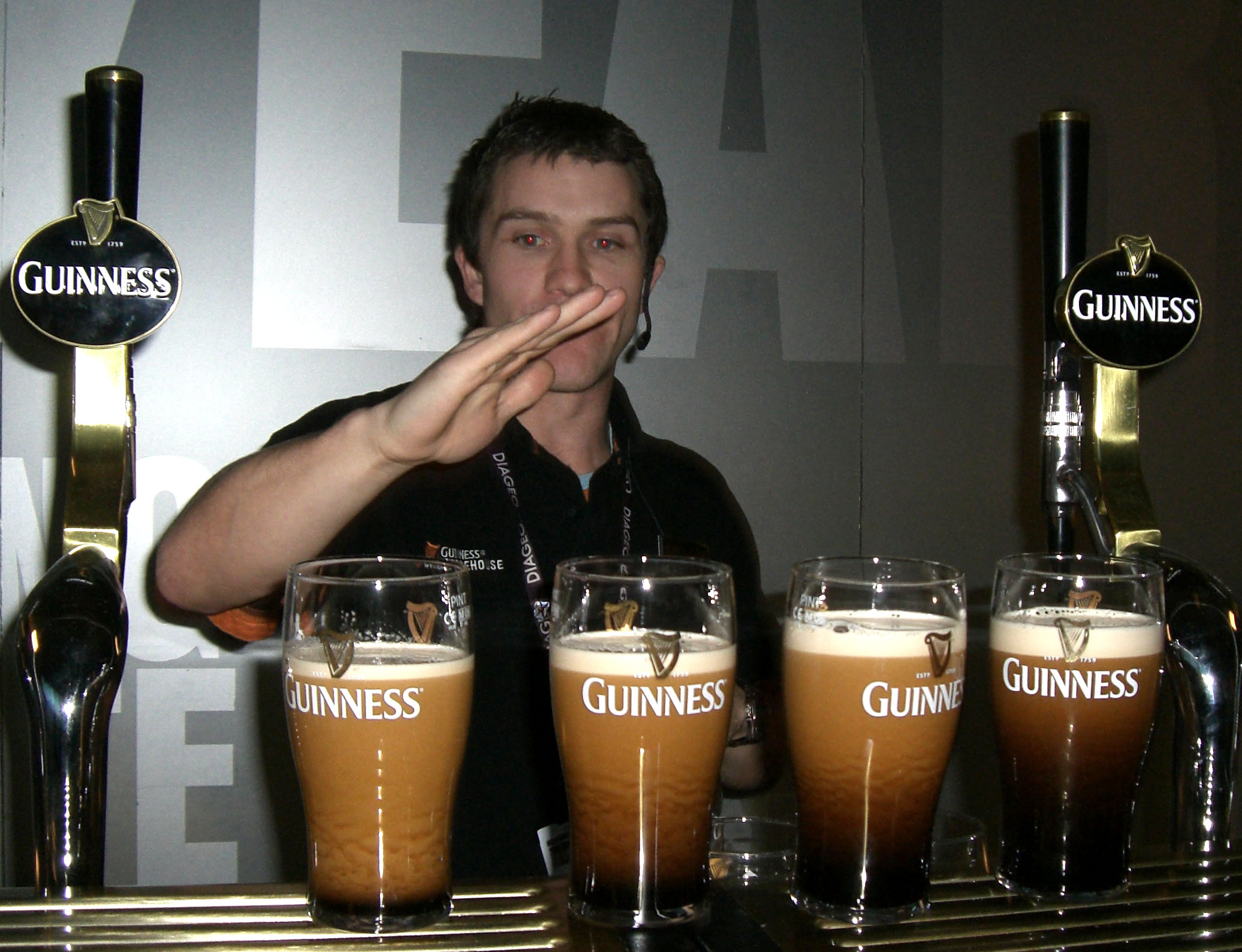 The building is designed in the shape of a giant pint of Guinness, and it is said if full it would hold 14.3 million pints! The tasting laboratory offers visitors an opportunity to become a beer connoisseur, and pour a pint, with assistance from experts in the field.
The Brevity Bar at the top of the building offers visitors a 360 degree view of the City of Dublin. It is a spectacular experience, and a very lively place. The Storehouse also offers visitors a chance to pick up wonderful Guinness novelty gift items, including glasses, mugs, a variety of clothing and food products made with Guinness. There is also Irish cuisine served with a Guinness in the Brewery Bar on level five if you are hungry.
The media relations manager is a charming, and very good looking Irishman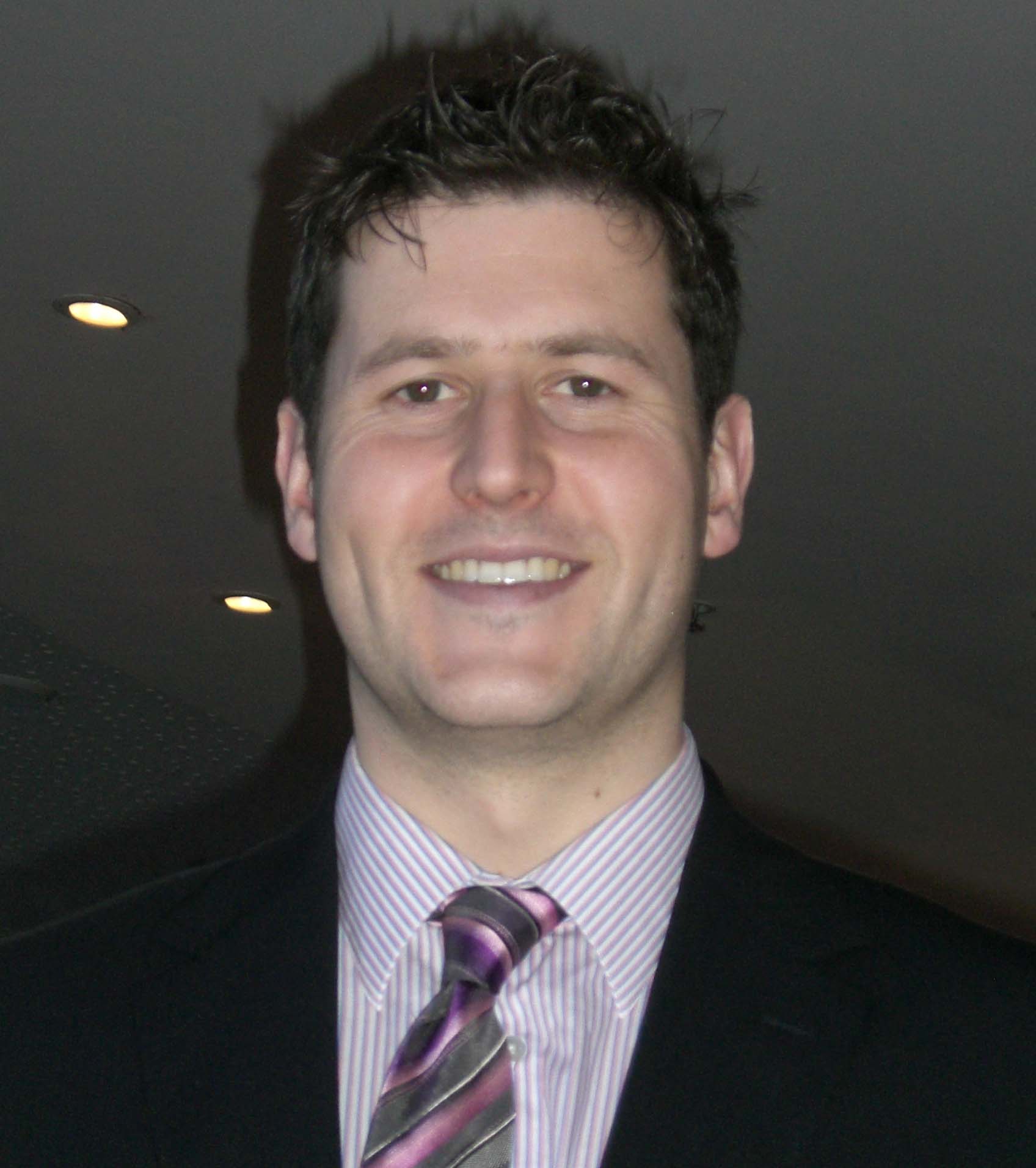 named Mark McGovern, and what a helpful host he was. The tour guides at Guinness have all worked in every department of the company, and are full of historic information on how the beer is made, and how the design and brand have changed through the years. But, the recipe remains the same, and Guinness is appreciated around the world.
This is a tour I would recommend to anyone visiting the fair City of Dublin. It is very educational, entertaining and at the end you can revel in a panoramic view of the entire city while enjoying a perfect pint. Opening hours are 9:30 to 5:00 p.m. Last admission 5:00 p.m. There is a late opening in July and August at 7:00 p.m. They are closed on Christmas Eve, Christmas Day, St. Stephen's Day (Boxing Day) and Good Friday. You can book online to skip the queue and receive a 10% discount.
Guinness Storehouse
St. James's Gate
Dublin 8, Ireland
www.guinness-storehouse.com
---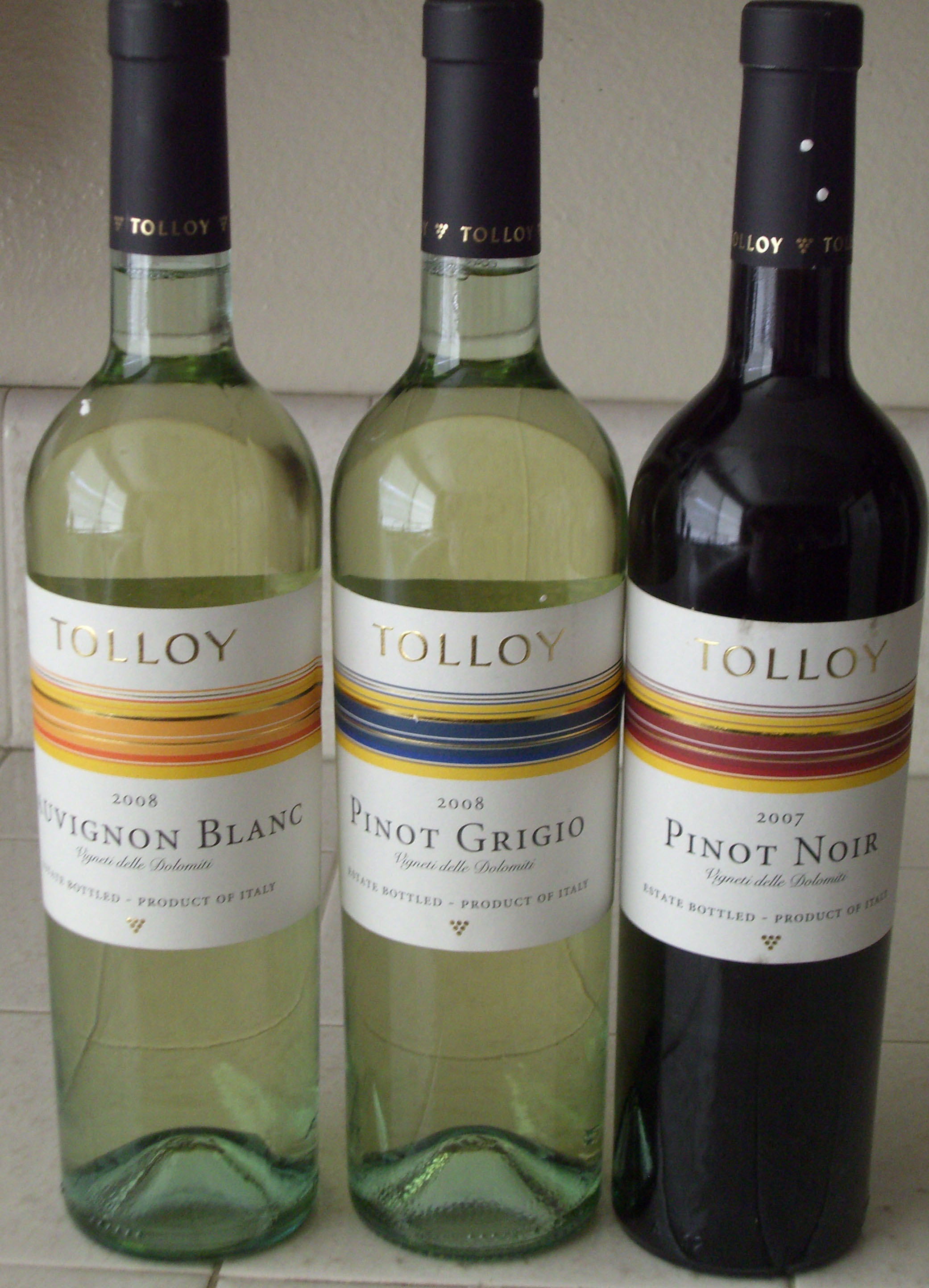 TOLLOY - FINE ITALIAN WINES                   
FROM PRESTIGE WINE IMPORTS CORP.
Tolloy is protected from cold northern winds by the Italian Alps and graced with the Mediterranean infuence from Lake Garda, this is an exceptional microclimate of unparalleled richness, ripe for cultivating extraordinary wine varietals. 
As a converging point of cultures from North and South since the 18th century, the region's history is the inspiraton for Tolloy's modern viticultural philosophy. These wines are international in taste, and are a perfect aperitif or as a compliment to international cuisine.
Varietals include: Pinot Grigio, Sauvignon Blanc, and Pinot Noir. They are all uniquely delicious, and wonderful for pairing with your favorite dishes, including meat, seafood, soups and cheese. For informaton contact mbattista@prestigewineimports.com.
---
SKYY INFUSIONS™ SAY ALOHA TO PINEAPPLE
First All Natural Pineapple Infused Vodka to Hit Store Shelves Nationwide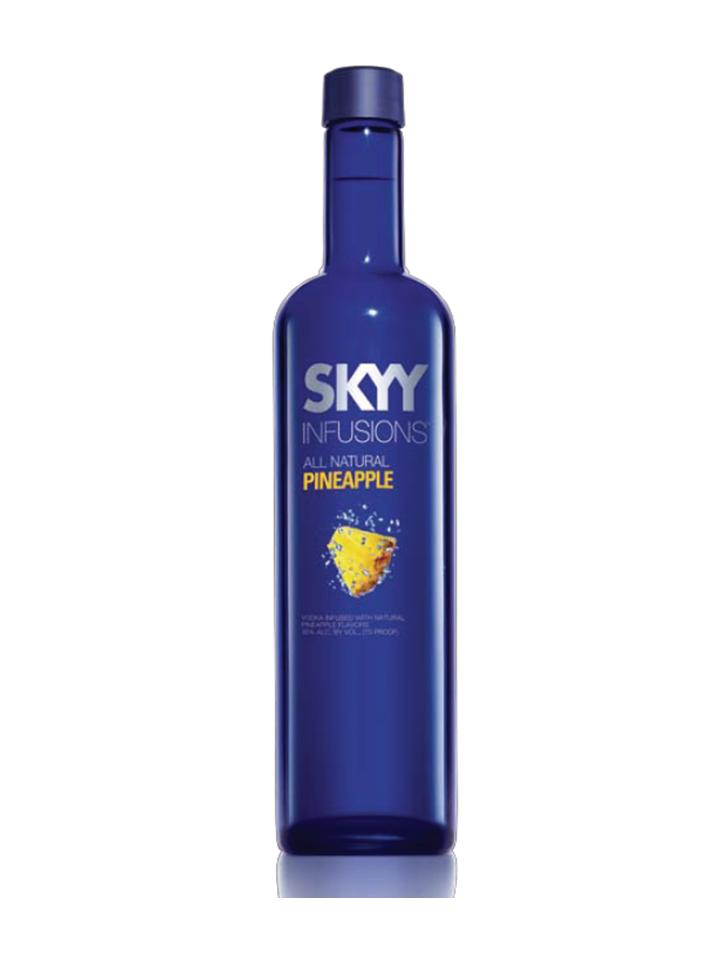 Move over rum.  There is a new, lighter tropical spirit on the horizon bursting with the exotic taste of the islands.  SKYY® Vodka is proud to announce the latest addition to its SKYY Infusions™ All Natural line – succulent Pineapple.  Launching this month, SKYY Infusions All Natural Pineapple is the first Pineapple infused vodka available nationwide.  It joins the SKYY Infusions portfolio of Citrus, Cherry, Passion Fruit, Raspberry and Grape, an assortment of all natural infusions made from real fruit that was already named "Best in Class" by the prestigious Beverage Tasting Institute. 
Perfect for a flavorful escape from the day-to-day, SKYY Infusions Pineapple was developed for the modern tropical cocktail as an alternative to heavy rums.  The moment you open the bottle, the aroma is lively, juicy and an explosion of fruit reminiscent of an island vacation. SKYY Infusions Pineapple is created through a proprietary process, where real fruit is infused into smooth SKYY Vodka, creating a true-to-fruit taste experience bursting with the explosive essence of sweet Pineapple.
"As the first Pineapple vodka infused with real fruit, SKYY Infusions Pineapple showcases the sweet, refreshing flavor of one of the most popular and versatile fruits on earth," said Jason Daniel, Senior Brand Manager for SKYY Vodka.  "Our All Natural SKYY Infusions capture the taste of succulent real Pineapple like no ordinary flavored vodka ever could.  It is the perfect base for a wide range of tropically inspired cocktails that can be enjoyed anywhere, anytime."
Major cities on both coasts are experiencing a Tiki renaissance of late with classic cocktails, like Scorpion Bowls, Mai Tais, Pina Coladas and punches popping up on cocktail menus everywhere.  Tiki lounges and restaurants like Luau in Beverly Hills and The Rusty Knot in New York are being reinvented for the modern Tiki lover.
"People enjoy Tiki cocktails because they are fun," said Barbi Caruso, Bar Manager and Head Mixologist at Luau in Beverly Hills.  "Coming to places like Luau is like a mini-vacation.  You might not be able to afford a trip to Hawaii but you can still share a Scorpion Bowl with friends."
SKYY Infusions was launched in April 2008 by Skyy Spirits, a wholly owned subsidiary of Gruppo Campari and the definitive marketer and distributor of super-premium and luxury spirits brands in North America. All six of the All Natural SKYY Infusions are made with premium SKYY Vodka infused with real, sun-ripened fruit. The five original SKYY Infusions, Citrus, Cherry, Passion Fruit, Raspberry and Grape, were submitted for taste testing versus their competition to the Beverage Testing Institute (BTI) in Chicago.  In a clean sweep, SKYY Infusions topped every major flavored vodka in their respective categories. This is completely unprecedented: in BTI history, no company has ever had their entire product line place at the top in every category entered. 
The entire SKYY Infusions collection can be enjoyed on the rocks, or with club soda, lemon-lime soda or in a myriad of other delicious, sophisticated cocktails.  Learn more at www.skyyinfusions.com.
---
Paso Wine Festival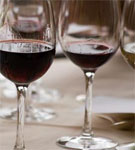 March 20-22
More than 100 wineries will host an array of special events throughout Paso Robles Wine Country during the Zinfandel Festival weekend. Winemaker dinners, food pairings, seminars, open houses and special tastings are just a few of the activities in store, such as "Spirit of Wine" in the Eberle Wine Caves 5 - 7 p.m. Ten wineries will gather in the caves at Eberle Winery for an exciting night of Wine, Cheese and Appetizers. Tickets are $20/pp plus tax. www.pasorobleswinerieseast.com
---

The Finnishing touches for your St. Patty's Day! St. Patrick's Day will soon be here. It is the one day a year when we are all a wee bit Irish. So lads and lasses, on Tuesday, March 17, Finlandia® Vodka, too, will raise a toast on St. Patty's Day with some tasty green cocktails sure not to break your pot of gold:


Emerald Martini

1 3/4 oz. Finlandia® Vodka
3/4 oz. Melon liqueur
Splash of pineapple juice

Shake and strain into chilled cocktail glass







Green Fin

1 1/2 oz. Finlandia® Vodka
1 oz. Green apple liqueur

Shake and strain into cocktail glass
Garnish with green apple peel

(You can present the peel in several ways. One, thinly slice the outside of a green apple in an oval shape and float in the drink or cut a slit and hang off the glass. Another way would be to peel the outside of a green apple and let dangle into the drink on one end and casually drape outside the glass. Pick whatever looks better to you.)



Sparkling Clover Charm

1 oz. Finlandia® Mango Fusion
4 oz. Korbel® Champagne
1/2 oz. Melon liqueur

Stir the above and pour into a rocks glass with ice. Garnish with a stir stick topped with a marshmallow clover (you know, those ones found in a particular cereal box)




With a few simple ingredients, combined with Finlandia, the world's finest vodka®, your guests will feel like they found a four-leaf clover with these festive drinks. And don't forget, you can find more delicious cocktails for all your celebrations at www.mixologyart.com.

---