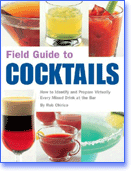 FIELD GUIDE TO COCKTAILS
How to Identify and Prepare Virtually every Drink at the Bar
by Rob Chirico

This bright bartender, writer, painter and beverage enthusiast has finally created a handbook for beginners and professionals in the cocktail scene that is easy to follow and delightfully put together. For information go to www.quirkbooks.com.
---
HART DAVIS BREAKS WINE AUCTION RECORD IN CHICAGO
September 17th Auction Fetches Record Total--$2.2 Million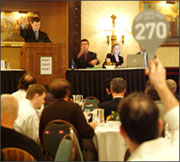 (September 22—Chicago, IL)— Hart Davis Hart launched its Fall wine auction season on Saturday in Chicago with a highly charged auction that tallied $2.2 million, a record total for a commercial wine auction in Chicago. 97% of the lots sold by value. The sale exceeded its pre-auction estimate, with roughly one third of the lots soaring above their individual estimates. Bidders participated from 34 states, as well as Brazil, Canada, China, Germany, Iceland, Indonesia, Japan, Mexico, Puerto Rico, Singapore, Switzerland, and the United Kingdom.
---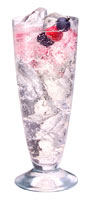 Wild Berries Splash
1 1/2 oz Finlandia Wild Berries
Sprite
Splash of Grenadine

In a tall glass, pour Finlandia Wild Berries over ice and fill with Sprite. Add grenadine on top and garnish with fresh berries.