KORBEL CHAMPAGNE CELLARS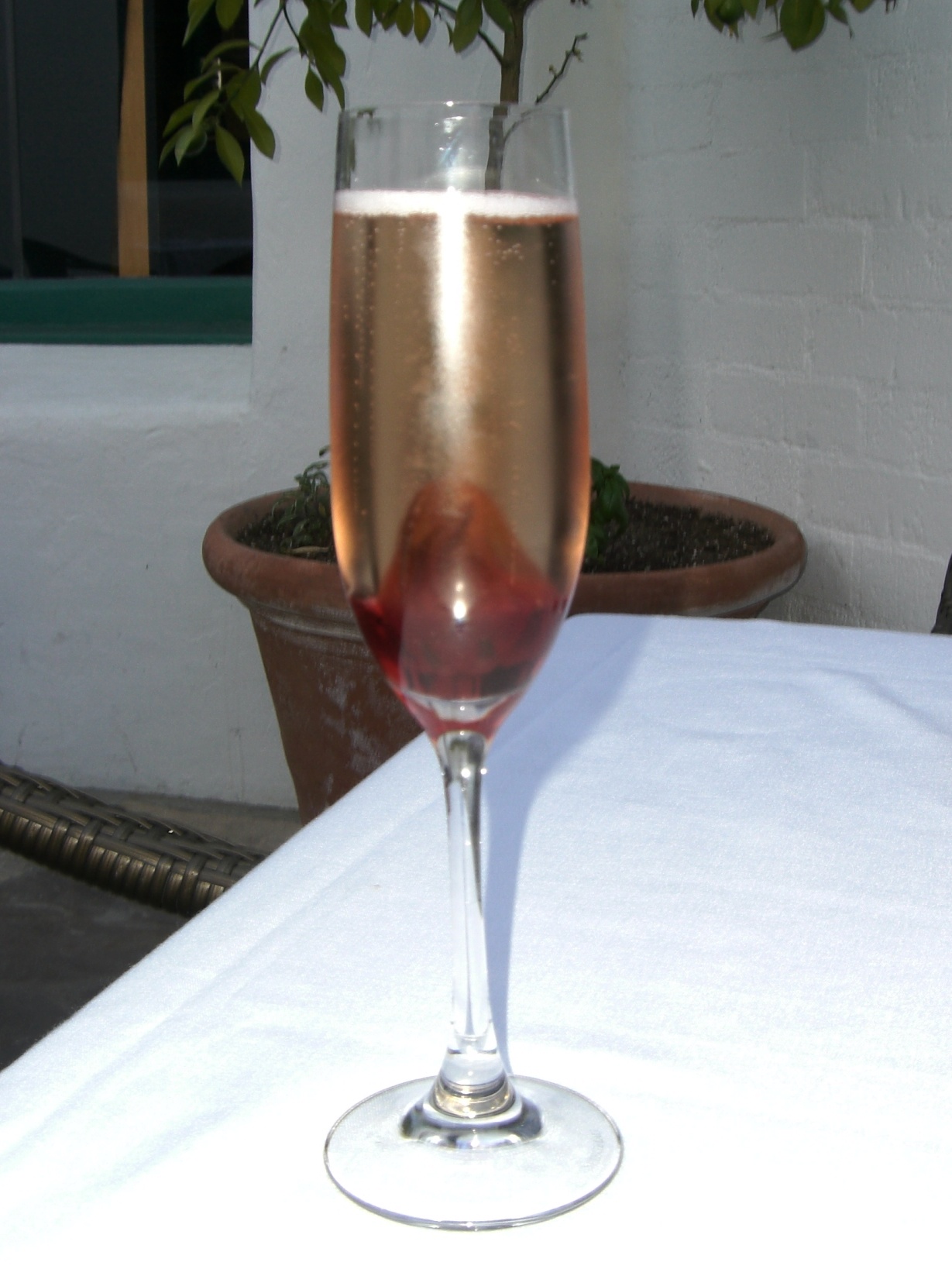 THE TOAST OF THE INAUGURAL LUNCHEON
Seventh Inauguration for America's Premium Champagne
History was made when Barack Obama was sworn in as the 44th President of the United States and Korbel Champagne Cellars was there to toast the new president on this momentous occasion. 
---
Just in time for Valentine's Day, New York's Park South Hotel Embraces

the Holiday's Sexier Side

 

Call it the ultimate ice-breaker.  For starry-eyed couples (and those who've logged more Valentine's Days together than they care to recall), New York's Park South Hotel introduces a sex-fueled package that goes well beyond the requisite rose-petal strewn bed.  The Mojo in Manhattan package features luxurious accommodations for two nights, two admission tickets to the Museum of Sex and two tickets to the hilarious Off-Broadway comedy "My First Time" -- two experiences that are sure to ignite romantic repartee over dinner and champagne at the hotel's acclaimed Black Duck restaurant and European-style breakfast for two (also included).  The package is priced $599 for two and is available from February 15 – March 27, 2009.

Billed as the "most stimulating museum in New York," the Museum of Sex (www.museumofsex.com) preserves and presents the history, evolution and cultural significance of human sexuality. With each new exhibition, the museum addresses a wide range of topics, while simultaneously highlighting material and artifacts from different cultures, time periods and media. In addition to changing exhibitions, the museum offers visitors a sampling from over 15,000 objects that form the museum's permanent collection.

My First Time (www.MyFirstTimeThePlay.com) is the new play in the style of The Vagina Monologues, featuring four actors in hysterical and heartbreaking stories about first sexual experiences.  Even before its opening, My First Time was already the most talked about show in town, having been featured in TMZ.com, the New York Times, Daily News, Associated Press, and on television in "The Tonight Show with Jay Leno" as well as news programs on CBS, CNN and MY9 (formerly WOR-TV).

Located in a beautifully restored historic 1906 building, the South Park Hotel is nestled between the Gramercy Park and Murray Hill neighborhoods on 28th Street between Park Avenue South and Lexington.  The hotel features 141 guest rooms, a well-stocked library, business center and fitness studio, as well as the renowned Black Duck Restaurant, where guests enjoy a complimentary European-style breakfast buffet.

The "Mojo in Manhattan" package is offered Thursday through Sunday, subject to availability.  For more information or reservations please call 1-800-345-2678 or visit www.atlanticstars.com.
---
Paso Robles Zinfandel Festival Features the Classic American Varietal

17th Annual Festival is set for March 20 – 22; Tickets on Sale Now

The 2009 Paso Robles Zinfandel Festival, presented by the Paso Robles Wine Country Alliance, is slated for March 20 – 22.  Tickets are currently available at www.pasowine.com.  The weekend brings together a culmination of America's classic heritage wine grape in three distinct events – RESERVE, Paso Robles Wine Country Auction and Grand Tasting.  Zinfandel vines were planted in Paso Robles beginning in the early 1800s and continue to thrive today with over 9% of the total acreage dedicated to this variety.  To many, Zinfandel is known as America's Heritage Wine Grape, a varietal as diverse as the American's who drink it.  Enjoy this American classic at the all new RESERVE component, featuring the region's best Zinfandels held on the eve of Zinfandel Festival. 

RESERVE acts as the all access Paso Robles Zinfandel Festival Pass. RESERVE ticket holders are invited to this intimate event from 4 – 6 p.m. on Friday, March 20.  This unique component will feature exclusive Zinfandel wines including reserve and barrel samples and will be complemented by local wine country cuisine.  Guests will also have the opportunity to preview auction lots in advance of Saturday's live and silent auctions, a benefit that is only offered to RESERVE ticket holders.

RESERVE attendees may preview and taste distinctive Zinfandels from the region, which kicks off the all American Festival Weekend.   Speaking to the proprietor or winemaker one-on-one gives RESERVE guests an exclusive opportunity to learn about this unique American varietal," said Stacie Jacob, executive director of the Paso Robles Wine Country Alliance.  "Wine enthusiasts will be thrilled with the new elements we are bringing to the weekend, while also upholding the timeless tradition for which the Zinfandel Festival is known."

The Wine Country Auction held on Saturday features one-of-a-kind wine and lifestyle auction packages only available on the auction block.  Unique and rare items including winemaker dinners, dinners with a Master Sommelier, special VIP tours, seminars and special large format bottles are up for bid.  The Wine Country Auction is also the only opportunity to taste and purchase the 2009 Zinfandel blend, a collaboration of the American spirit among Paso Robles winemakers, specially created by the 2009 blend master, Alex Villicana of Villicana Winery.  Directly following is the Grand Tasting featuring vast selections of Zinfandel and Zinfandel blends from more than 40 Paso Robles producers.  Local chefs preparing local American cuisine at the Grand Tasting further tantalizes your taste buds completing the Festival experience.

In addition to these marquee events, more than 100 area wineries will host an array of events allowing attendees from across the nation to enjoy three days of wine tasting bliss throughout Paso Robles.  Winemaker dinners, food pairings, seminars, open houses and special tastings are just a few of the activities in store.  Zinfandel Festival brochures are available by calling 800.549.WINE, or for a full listing of winery activities visit www.pasowine.com/events/zinfandelfestival.php.

Tickets -- All Zinfandel Festival tasting ticket packages include unlimited wine tasting and a commemorative glass made by Riedel.

 RESERVE - $120 – Friday RESERVE event – 4 - 6 p.m.; Saturday Wine Country Auction – 4:30 - 7 p.m.; Saturday Grand Tasting 7 - 9:30 p.m. – Advance purchase only

•          Wine Country Auction - $85 – Saturday Wine Country Auction – 4:30 - 7 p.m.; Saturday Grand Tasting 7 - 9:30 p.m.

•          Grand Tasting - $60 – Saturday Grand Tasting 7 - 9:30 p.m.

 

Tickets may be purchased online at www.pasowine.com. A limited amount of Wine Country Auction and Grand Tasting tickets will be available at the door, provided they are not sold out. All tickets are limited, and advance purchase is highly recommended. Must be 21 and older; photo identification verifying age will be required at time of entry. For more information about the 17th Annual Zinfandel Festival, local hotel accommodations and restaurants visit www.pasowine.com.

 

The Paso Robles Wine Country Alliance represents wineries, growers and businesses in Paso Robles Wine Country. Centrally located between San Francisco and Los Angeles, along California's Central Coast, Paso Robles Wine Country is California's fastest growing wine region. It encompasses more than 26,000 vineyard acres and more than 200 wineries.

For more information, visit www.pasowine.com
---
---
BRIX26, PROVIDING INSIDE ACCESS TO CALIFORNIA'S FINEST BOUTIQUE WINERIES 
Highly Personalized Wine Service Offers Handpicked Selections From California's Limited Production Labels
Announcing Brix26.com, a highly personalized service that identifies California's boutique wineries, hand-selecting only the very best to ship to clients. Brix26 founder, Peter Langenstein created the concept to give wine lovers around the country access to California's finest limited production labels. The number of California's wineries has exploded in the past decade from several hundred to thousands of world-class producers. Even remarkably skilled enthusiasts find it difficult to determine the most exceptional wines with so many options available.
"90% of what we taste, we will not recommend to you. The other 10% you will find with Brix26," says Langenstein. With the mission to seek out undiscovered gems for his loyal clients, Langenstein regularly travels to various growing regions of California in search of the very best. He created the name for his company by combining the word "brix", which is a measure of sugar level in grapes, and the number "26"—the "perfect ripeness", which falls between 25 and 27 for California's finest Cabernet. "Although we are approached by hundreds of wineries, we will only carry the product for sale if we think it's something truly extraordinary."

Langenstein likens the highly personalized award-winning service of Brix26 to that of a local wine shop—an educational and informative experience for everyone from the casual sipper to the true connoisseur. With bottles ranging from $15 to $1500, all wines are accompanied by hand-written fact sheets, which include pairing suggestions, "tasting notes" and information on the winery. In addition, gifts from Brix26 are individually wrapped in tissue paper for direct shipping. Langenstein acts as a "personal shopper" of sorts, encouraging clients to call or email Brix26 directly for recommendations. "We typically like to talk one-on-one to our clients to get a feel for what varietals they like, as well as favorite labels or styles they prefer," he says. "From there, we send recommendations via email for wines to match their specific tastes. Ideally, we'd like to establish a long term relationship with each of our customers on an individual basis."
In addition to specialized consulting, expertly chosen mixed "boutique" cases and individual bottles, Brix26 also offers clients the option of joining "The Insider's Wine Club". Using their connections to only the best small-production family wineries, Brix26 ships the latest discoveries directly to your home or business each month as a member of this premium tasting experience. Brix26 frequently obtains access to select wines that are produced in such limited quantities, that customers receive exclusive offers to purchase wines that can't be found for sale anywhere else. For more information please visit 

www.brix26.com

.
---
Chopin Vodka Enlists Santa Barbara's Top Bartenders to Develop Original Cocktails for the 2009 Santa Barbara Film Festival

New York

, NY (January 2009) – The honorees of the Santa Barbara Film Festival willnot be the only winners in town during this month's film extravaganza!  Chopin Vodka, scheduled to present the Chopin Outstanding Performer of the Year Award to Penelope Cruz on January 24, 2009, has also selected five original Chopin cocktails created by Santa Barbara bartenders to showcase at their VIP and celebrity events.  Select cocktails will also be poured at participating bars and lounges this January.

 

The five Chopin cocktail winners were chosen from an original list of fourteen nominees, developed by Santa Barbara's talented pool of bartenders.  Judged on the basis of originality and integrity to the base ingredient – Chopin Vodka, luxury potato vodka from Poland – the winners were selected by Moët Hennessy USA/Chopin Vodka representatives and a panel of judges from the Santa Barbara Film Festival.   

 

The 1st Grand Place Winner is The Red Carpet, a signature Chopin cocktail created by Josh Lewis of Tonic Nightclub:

 

The Red Carpet – 1st PLACE GRAND WINNER Josh Lewis, Tonic Nightclub

 

2 oz Chopin Vodka

4 Raspberries

1/2 oz Simple Syrup

Muddle in shaker, and then add 1/2 oz Elderflower Liqueur.  Shake all ingredients with ice.  Strain into Champagne Flute. Top with a float of Moët Chandon White Star Champagne.  Garnish with a floating fresh raspberry.

 

Additional Chopin cocktail winners from Santa Barbara include the following: Grapefruit Julep by Alvaro Rojas of Milk & Honey, Alcazar and Chilongo's; The Orange Blossom by John Loewen of Press Room, Seagrass Restaurant and Bouchon; Farmers Market Peach by Andy Davis of Eos Lounge; and Virtuoso's Tini, which also received a "Creative Genius Award," by Beth Weinberg of Elements Restaurant.  All recipes are available upon request.

 

Chopin Vodka will honor Penelope Cruz with the Chopin Outstanding Performer of the Year Award at the 2009 Santa Barbara International Film Festival on January 24.  Qualified media and photographers are invited to apply for a press pass for access to the 2009 Chopin Outstanding Performer of the Year Award, and to select media events featuring the winning Santa Barbara cocktails.

 
---
 Sensuous Spanish Sips for Romance
January 30, 2009 -  Whether you plan to celebrate Valentine's Day at a restaurant or with a romantic meal at home, a sure-fire way to conclude the evening on a sensuous note is with a fine Brandy de Jerez or rare-aged Sherry.
Two luscious, smooth sips to try are Gran Duque de Alba Solera Gran Reserva Brandy de Jerez and Dry Sack Especial (Dry Sack 15) rare-aged 15-year-old Oloroso sherry.  Both options are from Spain and aged in oak casks under the time-honored solera system.  They are produced by Williams & Humbert, maker of some of the world's finest Sherry and Brandy de Jerez.  While both will appeal to aficionados of fine wines and spirits, each has a distinctly different personality.
Gran Duque de Alba, is the world's leading Solera Gran Reserva Spanish brandy.  It is aged 12 years and has undertones of roasted nuts, warm caramel and dark fruit notes tinged with brown spice. The finish is long and satisfying with a soft after-taste. This is a brandy to savor in a snifter. Pair this smooth brandy with dulche de leche ice cream, crème caramel, carrot cake and spiced nuts. Suggested retail price $49.99. Gran Duque de Alba is a gold medal winner from both the San Francisco International Spirits Competition and the Beverage Testing Institute.
Dry Sack Especial (called Dry Sack 15)is a rare aged sherry that is spicy and full-flavored with a deeply satisfying taste of raisins, figs, roasted nuts, oak and vanilla. It is similar to a fine Port but less sweet with a touch more spice.  Dry Sack 15 pairs beautifully with sharp cheeses (think a hearty Spanish Cabrales blue or an aged Manchego) and with dried fruit desserts (fig or pear tart, chocolate desserts). Suggested retail price: $34.99. This rare Oloroso sherry was awarded a "92" rating by Wine Enthusiast.
"Both Gran Duque de Alba and Dry Sack 15 are unique spirits that are rich, smooth and satisfying on the palate.  Either choice can put a sensuous spin to the end of an evening," said Abbey Glaser, Director of Marketing for Kindred Spirits of North America, Inc., exclusive U.S. importer.
Gran Duque de Alba and Dry Sack 15 are not just for enjoying after dinner; both can be used as mixers in cocktails and are popular with many mixologists, " Glaser noted. 
Below are two cocktails that are perfect for stirring up romance before a meal.
The Matador
by Joel Baker, Bourbon & Branch, San Francisco
Finalist in the 2008 Sherry Cocktail Competition (digital photo available)
1.25 oz. Macallan 12
.75 oz. Dry Sack Especial 15 year old
.75 oz. Aperol
Measure and combine ingredients in a glass. Stir and strain into a rocks glass. Garnish with orange peel.
The Powhattan
by Wayne Curtis, author "And a Bottle of Rum: The History of the World in Ten Cocktails"
Created for 2008 Tales of the Eco-Toddy, New Orleans

1 1/2 oz. Gran Duque de Alba Solera Gran Reserva Brandy de Jerez
3/4 oz. sweet vermouth
1/2 oz. Fee Brothers Pumpkin Spice Cordial Syrup
2 dashes Regan's Orange Bitters
1 Luxardo Marasca cherry

Combine all but cherry and stir with ice until chilled. Strain into chilled cocktail glass and garnish with cherry.
Kindred Spirits of North America, Inc. is a beverage import and marketing company with a select portfolio of premium wine and spirit brands. Kindred Spirits is a joint venture between spirits industry veteran Joel Gosler, Williams & Humbert of Spain   and The Reformed Spirits Company Group. Its brand portfolio includes: Dry Sack and Dry Sack 15 Year Old sherries from Spain, Gran Duque De Alba Spanish Brandy, Crema de Alba, Heering Cherry liqueur, Xante liqueur, Martin Miller's Gin and Malt Trust Single Barrel Cask Whiskies from Scotland.  www.KindredSpiritsUSA.com.
---