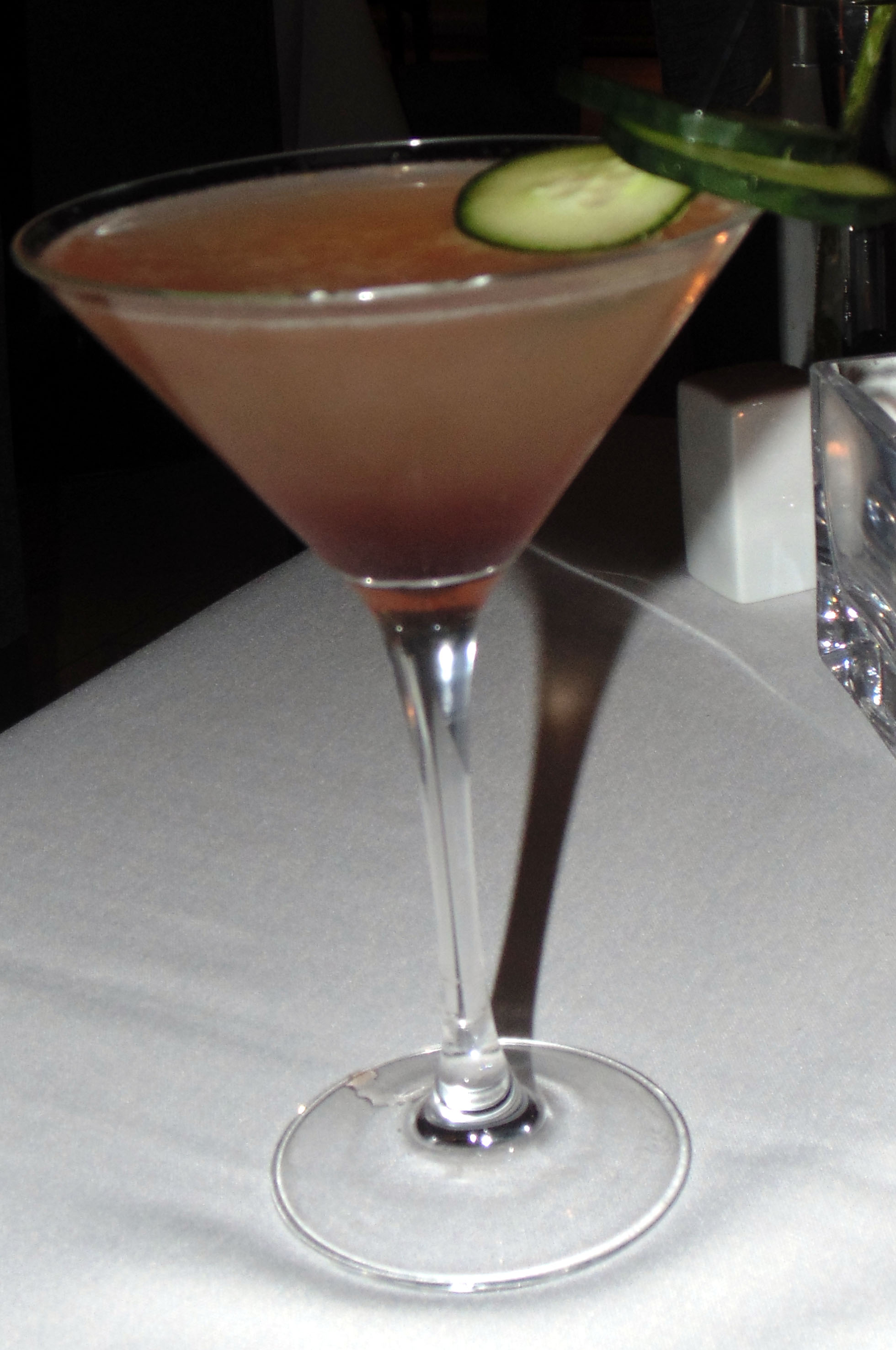 Luxe Rodeo Hotel
On Rodeo Bistro &Bar Cucumber Fizz Cocktail 
Recipe:
1 ¼ oz House Cucumber infused Vodka
½ oz St. Germain
1oz. Fresh made Sweet & Sour
½ oz Chambord
____________________________________________________________________
THE THIRD WINE & FOOD FESTIVAL EDITION IN
CANCUN - RIVIERA MAYA 2014 CELEBRATES FRANCE
It will honor Celebrity French Chef Daniel Boulud from NY and Star Chef Guillermo González Beristáin from Mexico, in addition to celebrating the most recognized chefs, sommeliers, and gourmet products of the American continent.
 Official Twitter: @CRMWineFoodFest Facebook: www.facebook.com/WineFoodFest
 The  Wine & Food Festival Cancun-Riviera Maya announces its third edition to be celebrated from Thursday, March 13 through Sunday, March 16, 2014, where visitors from Mexico and worldwide will enjoy a great selection of gastronomy and wine offerings from the Americas' continent, in the spectacular natural paradise of Cancun.
With our theme, Europe Meets the Americas, next year we will be celebrating FRANCE, with the participation of recognized Chef Daniel Boulud, –world famous Chef considered as the culinary authority who has evolved French Cuisine in the Americas and around the world. From Mexico, the Festival will honor Chef Guillermo González Beristáin from Monterrey, who has revolutionized traditional and contemporary food in the northern part of the country.
These Celebrity Star chefs are accompanied by 50 recognized chefs from Canada, United States, United Kingdom, Mexico, Brazil, Chile, Colombia, Guatemala, Peru, and Venezuela, and most will delight guests with their star dishes in the favorite guests' event, the spectacular opening dinner called Taste the New World: Star Chefs of the Americas.
For the food and beverages students and professionals, the invited chefs will share their perspectives regarding the evolution of their cuisine in insightful conferences, and lovers of Cooking shows can enjoy fun cooking competitions by Star Chefs of the Americas.
Likewise, acclaimed sommeliers and enologists, including some of the best sommeliers of Mexico, the Americas and the World, will offer tastings of the best wines from the Americas, Europe, and Mexico; in addition to mezcal and other spirits.
The Festival will present its most popular "all-inclusive" gourmet day event under a magic mega-tent, ocean-front: the Gourmet Tasting Village, where French wines, gourmet products and pastries, as well as "arts de la table" will be presented to delight the attendees. In addition, the star restaurants of Cancun-Riviera Maya will offer their best dishes with excellent wines from up to 55 wineries from the entire American continent, Mexico, and Europe. Music will maximize the experience.
One of the most appreciated events of the 2014 Festival will be the Sunset Luxury Catamaran. A fun cruise including a private beach-club lunch, with swimming under the sun, surrounded by music, food and wine, surrounded by crystal-clear waters of the Caribbean before returning to the catamaran to admire the sunset.
 Vive la France: French Delights and Sinful Desserts will be the theme of the closing celebration. French and Mexican chefs specialized in French cuisine will delight our guests with French bouchees including Foie Gras and other specialties. Later that evening, an incredible exhibition of fine desserts prepared by recognized pastry chefs, including best Pastry Chefs in the world and Mexico, accompanied by sweet wines, premium spirits, and gourmet coffee.  
SPONSORS:
The Cancun-Riviera Maya Wine and Food Festival is possible thanks to the support of important sponsors. The co-title sponsors of the Festival are: Food & Wine, Travel & Leisure, Travel & Leisure México, The Conventions and Visitors Bureau of Cancun (OVC, for its acronym in Spanish), Riviera Maya Tourism Promotion Trust, and the Tourism Promotion Board of Mexico; Porsche, Hotel Nizuc, Hotel Secrets The Vine, and Hotel Fiesta Americana Grand Coral Beach as Platinum sponsors. Other important Diamond and Gold sponsors are Bohemia, Guillesa, and Schott Zwiesel; Nespresso, Aqua Panna, Agua San Pellegrino, Gula and Catadores publications, Avion creative advertising agency, Galux on-line marketing agency, CANIRAC, Paillés, Dosal & Ducloud Abogados. Despacho Gastronómico and Taller Gourmet will participate as commercial partners. Important wine distributorslike Novo Wine, Vinoteca, Ferrer & Asociados, Tattinger and others to be confirmed will be part of the third edition of the Festival, as well as prestigious wineries such as: Casa Madero, Viñas de Garza, El Cielo, and Monte Xanic; all of them believers in the vision to build the most magical wine & food festival on the Americas' continent, and allied in our commitment to help attract affluent lovers of gastronomy and lifestyle events to the great tourist attraction of Cancun and Riviera Maya.
Tickets will be available to the general public at www.crmfest.com as of October  2013. Visitors will be able to buy individual entries to the events or choose promotional packages to access a wide variety of events.
The EVENTS include: Welcome Celebrities Cocktail; The Future of the Cuisine Conference, given by Chefs Normad Laprise, Guillermo González Beristáin, and Daniel Boulud; Taste the New World: Star Chefs of the Americas' dinner; French Cuisine around the world, our Gala Dinner Tribute to Chef Daniel Boulud; Exceptional Wine and Liquor Tastings; Fun and Interactive Cooking Demos with Celebrity Chefs; VIP Cocktail and Lunch honoring Chef Guillermo González Beristáin; Spiritual, Artistic and Culinary Experience with creative Chef Martha Ortiz and world-famous Author Laura Esquivel; Gourmet Experience on a Catamaran; Gourmet Tasting Village; Vive La France Closing Celebration: French Delights, Sinful Desserts.
CONFIRMED CHEFS: DANIEL BOULUD (France) and Guillermo González Beristáin (Mexico), special guests of honor. International Chefs Jerome Ferrer, Normand Laprise, Daniel Vezina and Jean-Marc Guillot (Canada); Richard Sandoval, David Bull, Dale Talde (USA), Henri Charvet (France), Christopher Carpentier (Chile) Eduardo José González Arce (Guatemala) Nelson Méndez (Venezuela), Ricardo Zárate (Peru); Mexican Star Chefs Paulina Abascal, Mikel Alonso, Aquiles Chávez, Benito Molina, Daniel Ovadía, Federico López, Jonatán Gómez Luna, Martha Ortiz, Roberto Solis, Bruno Oteiza; and a wide representation of French Cooks and Pastry Chefs in Mexico, as well as Mexican pastry chefs like Paulina Abascal, Luis Robledo Richards, and many more. To showcase culinary talents in the Cancun-Riviera Maya destinations, we have invited 15 local Star chefs: Philippe Fournier, Jonatán Gómez Luna, Bladimir García, Juan Pablo Loza, Humberto Cal y Mayor, Isvi Eduardo Morales, Danielle Müller, Francisco Flores Obieta, Xavi Pérez, Alejandro Rojas, Jetzabel Rojas, Ricardo de la Vega, Eugenio Villafaña, Erik Villar, Vincent Wallez, and Rafael Zafra. All these chefs will cook to welcome the group of recognized chefs from Canada, United States, Mexico, Brazil, Columbia, Venezuela, Guatemala, Peru, Chile, United Kingdom, and France.
CONFIRMED SOMMELIERS: Veronique Rivest (Woman World's Best Sommelier 2013), Elyse Lambert (2009 Top Sommelier of the Americas), and Juan Carlos Flores Mazón (Best Sommelier of Mexico 2004 and Six Diamonds Award by the American Academy of Hospitality Sciences in 2010). These distinguished sommeliers will participate in the Festival by sharing their knowledge through impressive tastings and pairings during the tribute dinners or VIP events.
LUXURY HOST HOTELS IN CANCUN:
(More than 25 events will take place within these Hotels).
Hotel Secrets The Vine: Venue for the Gala Dinner honoring Chef Daniel Boulud and "The Future of Cuisine" Conferences.
The elegance of this resort will frame the Gala Dinner honoring Chef Daniel Boulud. Secrets the Vine is without a doubt a spectacular place for a unique dining experience, accompanied by extraordinary French wines and with the participation of five Celebrity French Chefs that will delight us with their peculiar style. It will also host a series of conferences with the topic: "The Future of Cuisine".
Starting October, Secrets The Vine Cancun will also be offering a special festival package to guests on their website http://www.secretsresorts.com/vine-cancun. Take notice of the excellent opportunity of staying in a grand hotel and attend the remarkable event that will be held at its facilities at a special price.
 Hotel Nizuc Resort & Spa: It will be the venue of theCelebrityWelcome Cocktail; and Tribute Lunch for Chef Guillermo González Beristáin.
Among mangroves and the beautiful Caribbean sea, it will take place the Celebrities' Welcome Cocktail that will bring together all the top chefs of the world. Also, the hotel will host the Tribute Lunch for Chef Guillermo González Beristáin at the restaurant Ramona, in front of the beautiful Caribbean Sea, the ideal place to honor one of the finest chefs in Mexico.
Coral Beach Cancun Resort & Spa: It will be the venue of the dinner Taste the New World: Star Chefs of the Americas.
Its cozy facilities will be the ideal venue for the unique dinner Taste the New Word: Star Chefs of the Americas, with the participation of the most recognized Star Chefs of the American Continent, this culinary trip has been one of the favorites for the public, as it is possible to interact with the chefs and taste the best wines.
AID TO SOCIAL CAUSES:The Festival is proud to aid several social causes, giving away computers to Fundación Ciudad de la Alegría, scholarships to gastronomy students in local universities, and economic grants to multiple Mexican and International Foundations.
WINE & FOOD FESTIVAL CANCUN-RIVIERA MAYA 2014 will be carried out from March 13 through 16, 2014. Missing it would be a Sin! For more information and ticket purchase please visitwww.crmfest.com.
Visit Event Website: 
www.crmfest.com
There's no doubt about it: 2013 in Ireland was the year of craft beer. Micro- and independent breweries such as the Franciscan Well Brewery in Cork, the Hilden Brewery in County Antrim, Northern Ireland and the Burren Brewery in County Clare got taste buds revved up. And in pubs and restaurants, beers and ales from O'Hara's, Eight Degrees and Whitewater made a perfect accompaniment to plates of artisan Irish cheese and local charcuterie boards. And there's no doubt about it: craft beers are here to stay for 2014.
But alongside this, a new drink trend has been brewing in Ireland, and globally: upscale cocktails. We're not talking mojitos mixed from a packet – we're talking elegant, sophisticated and very creative cocktails. All over the island, little speakeasy-style cocktail bars and gin dens are driving the new trend, from the hush-hush Blind Pig Speakeasy and the Vintage Cocktail Club in Dublin, to Limerick's award-winning Cornstore and the fabulous cocktail bar inBelfast's Merchant Hotel. And restaurants, such as Dublin's new Drury Buildings and Mandarin Karma in Derry-Londonderry are putting as much effort into their cocktail menu as they are into their food. If cocktails are your thing, in 2014 Ireland is the place to be.
The 2014 St. Patrick's Day Parade will officially kick off on Sunday, March 2nd, Grand Marshal Public Investiture at the Savannah Civic Center at 2:45 p.m. St. Patrick's Day is Monday, March 17th, St. Partrick's Day Parade is Monday, March 17th, 2014. More than 300,000 people are expected to visit Savannah to help celebrate the second largest St. Patrick Day Parade in the United States and to enjoy the city-wide festivities. Held in Savannah's National Landmark Historic District, the parade begins at the corner of Abercorn and Gwinnett Street and culminates at the corner of Bull and Harris Street.
Expect to see approximately 350 floats and marching units featuring representatives from various local Irish groups, Irish pipe bands, local and regional celebrities, area politicians and military units make regular appearances in Savannah's St. Patrick's Day Parade. You may even have the chance to drink green beer or to sample emerald-colored grits, for a true taste of St. Patrick's Day, Savannah-style.
A beloved annual tradition, the first St. Patrick's Day Parade marched through the shady streets of Savannah in 1813. In its earlier days, the parade was more of a military spectacle, with soldiers from various regiments marching in honor of St. Patric's Day. Except for major wars, including the Civil War and World War 1, the parade has run nearly every year for almost 200 years.
The event on River Street is free and open to the public. Be sure to bring I.D. to prove that you are over 21 – and of course, don a bit o'green into the spirit of St. Patrick's Day!
Savannah's hospitality is truly the stuff of legend. You'll feel right at home in the Hostess City of the South during St. Patrick's Day weekend. Erin Go Braugh!