PUT SOME SPARKLE IN YOUR CIDER
 As the New Year approaches, its time to get out with the old and in with the new.  So, instead of toasting with the same old champagne, put some sparkle in cider with Maestro Dobel Diamond Tequila.  This diamond clear tequila offers fabulous cocktails like its, Diamond Celebration, which are sure to ring in your new year.  
 DIAMOND CELEBRATION
1 PART MAESTRO DOBEL TEQUILA
2 X FINE SUGAR CUBES
1 SQUEEZE OF LEMON WEDGE
3 PARTS FINE CHAMPAGNE (CHILLED)
(Build in a champagne flute.)
---
Holiday Ho Ho (variation)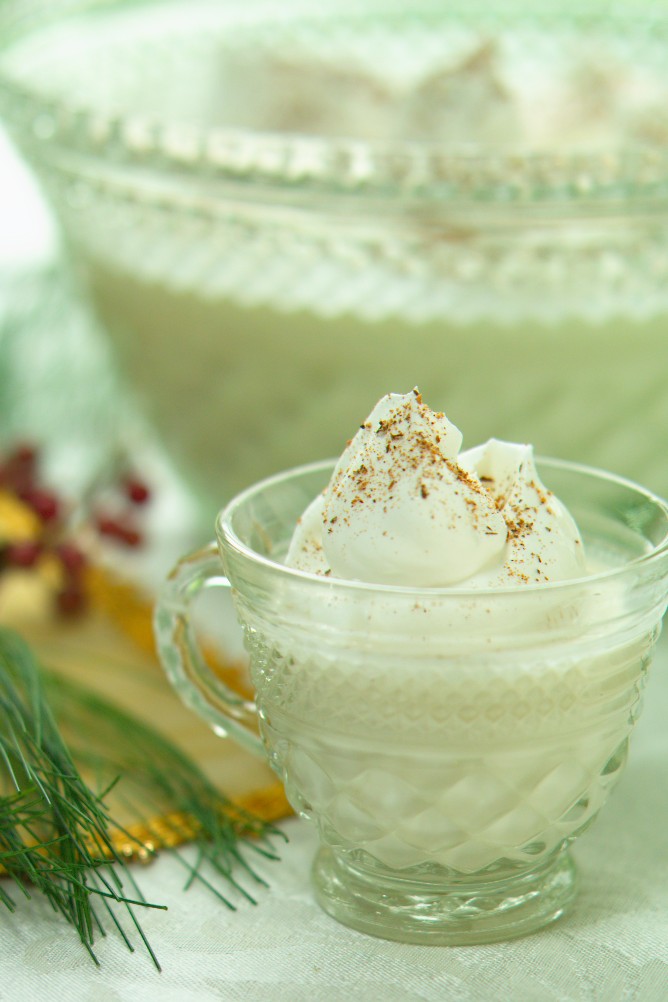 Serves 12

·         24 eggs separated

·         2 cups sugar

·         1 cup bourbon

·         2 cups brandy

·         4 cups heavy cream

·         8 cups whole milk

·         1 quart good quality vanilla ice cream, softened

·         2 tablespoons vanilla extract

·         Freshly ground nutmeg for sprinkling

In a large bowl, using an electric mixer, beat the egg yolks and sugar until thick.  Add the bourbon and brandy and mix to combine thoroughly.  The liquor will "cook" the eggs.  Add the cream and milk and continue beating while adding the ice cream in small amounts until combined.  Stir in the vanilla extract. 

 

In another bowl, with clean beaters, beat the egg whites until stiff.  Fold into the ice cream mixture.  Pour into the punch bowl, sprinkle with nutmeg to taste, and serve. 

 

For nonalcoholic Holiday Ho Ho, omit the bourbon and brandy and add 2 teaspoons each ground nutmeg and cinnamon.  Recipe from Colleen Mullaney, entertainment guru. Visit: www.coleenmullaney.com for great recipes and fun holiday ideas.

---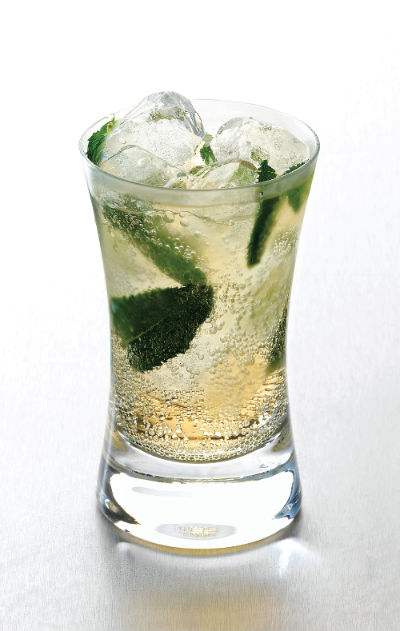 AgroLabs Hangover Helper
½ oz. Green Envy Daily Detox
½ oz. Acai Daily Cleanse
Juice from ½ lime
4 Mint Leaves
Ginger Ale
 Mix ingredients in a glass filled with ice, top with ginger ale and stir
---
Dry Creek Vineyard Celebrates 10 Years of Sponsorship at the Screen Actors Guild Awards®
Family Winery Creates One-of-a-kind Commemorative Cuvée to Serve at the SAG Awards® on Jan. 23, 2010
As the official vintner of the Screen Actors Guild Awards®, proprietor Kim Stare Wallace of Dry Creek Vineyard has proudly served her family's wines to the who's-who of filmmaking and television since 1999.

 

In celebration of this 10-year milestone, the winery has crafted a commemorative Cabernet-based Cuvée, which will be served for the first time at the 16th Annual Screen Actors Guild Awards on Saturday, January 23, then made available for sale from the winery in a limited quantity.
<!--[endif]-->
At the 16th Annual SAG Awards dinner, Dry Creek Vineyard will serve its 10th Anniversary SAG Awards Cuvée and 2007 Chardonnay. The winery will also continue its tradition of offering wine tasting bars for sampling of select Dry Creek vintages during the pre-show cocktail hour. This year's additional tastings include Dry Creek's 2008 Fumé Blanc and 2007 Heritage Zinfandel.


The 10th Anniversary SAG Awards Cuvée was produced from the 2007 vintage and bottled exclusively in 1.5L magnums.

 

This artful composition was carefully selected from a handful of the winery's finest estate vineyards and grower partners.

 

Each of the components, 82% Cabernet Sauvignon, 8% Merlot, 6% Cabernet Franc, and 4% Petit Verdot, add depth, richness and complexity to the wine.

 

This particular blend aged for 20 months in a combination of French, American and Hungarian oak barrels.
Pouring wine for the world's finest actors has served the winery well over the years.

 

A number of celebrities have visited the property and Kim Stare Wallace says it's a win-win for everyone involved.

 

"It's always an honor to present our wines to Hollywood luminaries.

 

Dry Creek Vineyard receives excellent visibility as a result of the show and the attendees get to sample some of Sonoma County's finest."  


A live simulcast of the 16th Annual Screen Actors Guild Awards can be viewed on TNT and TBS on Saturday, January, 23, 2010 at 8 pm ET/PT, 7 pm CT, 6 pm MT from the Shrine Exposition Center in Los Angeles. (Check local listings if watching via satellite or in HD).
Founded in 1972 by David S. Stare, Dry Creek Vineyard is located in the heart of Sonoma County, just outside of the charming wine country town of Healdsburg.

 

As the region's first new winery in the Dry Creek Valley following Prohibition, founder David Stare paved the way for a viticultural reawakening in this vibrant winegrowing region.

 

Among other industry firsts, Stare is recognized as being the first vintner to plant Sauvignon Blanc in the Dry Creek Valley.

 

He was also responsible for the region's AVA status in 1983 and was the first vintner to use the term Meritage on his wine labels with the 1985 vintage.

 

For almost 40 years, Dry Creek Vineyard has remained a successful family owned winery, with the second generation – Dave's daughter Kim Stare Wallace and son-in-law, Don Wallace, now running the business.
Today, the winery is known for producing some of California's finest Fumé Blancs and Zinfandels.

 

In addition to these "flagships," Dry Creek Vineyard is also known for excellent Chenin Blanc, Chardonnay, Cabernet Sauvignon, and Merlot.

 

In 1997, the family released a new vineyard designated Cabernet Sauvignon called, "Endeavour" from their estate vineyard in the Dry Creek Valley.

  

Then, beginning with the 2004 vintage, the family introduced a new proprietary blend called "The Mariner."

 

Each wine has further redefined the concept of terroir as the winery continues to shape their portfolio for future success.

 

Dry Creek Vineyard owns over 200 acres of vineyard land, primarily in Dry Creek Valley and the Russian River Valley.

 
"The 16th Annual Screen Actors Guild Awards" will be produced by Jeff Margolis Productions in association with Screen Actors Guild Awards®, LLC. Jeff Margolis is the executive producer and director. Kathy Connell is the producer. JoBeth Williams, Daryl Anderson, Scott Bakula, Shelley Fabares and Paul Napier are producers for SAG. Gloria Fujita O'Brien and Mick McCullough are supervising producers. Benn Fleishman is executive in charge of production.  More information is available online at

www.sagawards.org

.
Screen Actors Guild is the nation's largest labor union representing working actors. Established in 1933, SAG has a rich history in the American labor movement, from standing up to studios to break long-term engagement contracts in the 1940s to fighting for artists' rights amid the digital revolution sweeping the entertainment industry in the 21st century. With 20 branches nationwide, SAG represents more than 120,000 actors who work in film and digital theatrical motion pictures and television programs, commercials, video games, industrials, Internet and all new media formats.  The Guild exists to enhance actors' working conditions, compensation and benefits and to be a powerful, unified voice on behalf of artists' rights. Headquartered in Los Angeles, SAG is a proud affiliate of the AFL-CIO. More information is available online at

www.sag.org

.

TBS, a division of Turner Broadcasting System, Inc., is television's top-rated comedy network.  It serves as home to such original comedy series as "My Boys," Tyler Perry's "House of Payne" and "Meet the Browns," as well as the upcoming "Neighbors from Hell"; late-night series like "Lopez Tonight," starring George Lopez, and "The Very Funny Show," hosted by Tim Meadows; hot contemporary comedies like "The Office," "My Name is Earl," "Family Guy" and "Seinfeld"; specials like "Funniest Commercials of the Year"; special events, including star-studded comedy festivals in Chicago and Las Vegas; blockbuster movies; and hosted movie showcases.

 Turner Network Television (TNT), one of cable's top-rated networks, is television's destination for drama and home to such original series as the acclaimed and highly popular detective drama "The Closer," starring Kyra Sedgwick; "Saving Grace," starring Holly Hunter; "Leverage," starring Timothy Hutton; "HawthoRNe," with Jada Pinkett Smith; and "Dark Blue" starring Dylan McDermott, as well as the newly acquired "Southland."  TNT also presents such powerful dramas, such as "Bones," "CSI: NY" and "Numb3rs"; broadcast premiere movies; compelling primetime specials, such as the "Screen Actors Guild Awards®"; and championship sports coverage, including NASCAR and the NBA.  TNT is available in high-definition.

Turner Broadcasting System, Inc., a Time Warner company, creates and programs branded news, entertainment, animation and young adult media environments on television and other platforms for consumers around the world.
---
The Color Yellow Goes Platinum:

Ventura Limoncello Originale Takes Top Honors At The First Annual Consumer-Juried SIP Awards

Ventura Limoncello Originale has won a prestigious Platinum Award at the inaugural SIP Awards Competition held recently in Los Angeles.  The honor was conferred by a judging panel of 100 consumers, who blind-taste tested spirits in various categories and rated them strictly on taste, aroma and finish.   Ventura Limoncello Originale was the only spirit among 23 entered in the fruit liqueur category to receive the Platinum ranking.   The SIP Awards competition attracted entries from around the globe, and was open to both established and emerging brands.

 

Ventura Limoncello Originale is an Italian style lemon liqueur that owners James Carling and Manuela Zaretti-Carling craft by hand from a generations-old family recipe, using only the finest Ventura County grown lemons.   This is the latest in a series of accolades for the all-natural liqueur, which includes a gold medal at the San Francisco World Spirits Competition.    Since its debut in a handful of local liquor markets and restaurants less than two years ago, Ventura Limoncello has spread its sunny yellow glow to more than 150 on and off-premise outlets across Southern California.   Chefs and mixologists have also embraced the product, using it to create signature cocktails, desserts, salad dressings, main courses and more.

 

According to Paul Wright, Operations Manager for the SIP Awards, the competition aims to take spirits evaluations in a new direction by giving a voice to consumers.   "Consumers were recruited as judges through local print and online media outlets," explains Wright.   "In the screening process, all potential judges needed to exhibit a strong, responsible affinity for spirits and the spirit lifestyle and be self-proclaimed yet raw, untrained, unbiased connoisseurs of fine spirits," Wright adds.

 

"The SIP Awards recognition is an important measure of success for the Ventura Limoncello Company," says James Carling.  "The consistently positive feedback from both our consumers and our industry inspires us to continue to produce the best and most delicious limoncello possible, using only the finest ingredients."

 

Ventura Limoncello Originale has a suggested retail price of $14.99 (375 ml) to $24.99 (750 ml.)   For retailers, as well as bars and restaurants carrying the product, visit www.venturalimoncello.com.
---
---
Chef's Choice Electric Tea Kettle Ranked #1 By
Good Housekeeping Magazine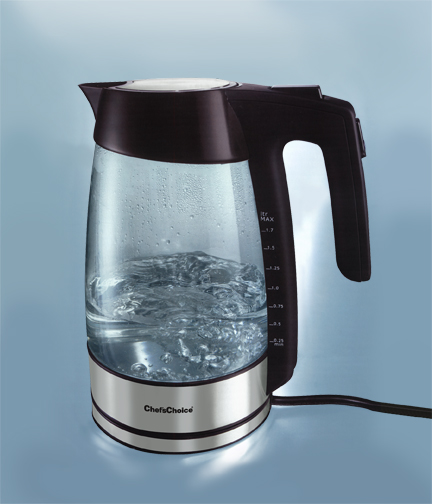 The Chef's Choice Cordless Electric Glass Kettle Model 679 receives the number one ranking for top electric teakettles in Good Housekeeping magazine's Top Electric Teakettles§ article featured in the January 2010 issue available on the newsstands today.
            Taking the number one spot out of 25 electric tea kettle contenders evaluated for best heating performance and ease of use, the M679 was ranked number one and dubbed as well designed and a cinch to use.§ It also received a nod for its glass design and a mention that you can watch this pot boil.§
We are delighted to be acknowledged by such a respected publication, says Chef*sChoice Founder Dan Friel." Celebrating our 25th Anniversary this year, we have been in the business of providing high quality small kitchen electrics for a quarter century. As leaders in the market we receive kudos from customers on a daily basis but it is a special honor to receive such a nod of approval from this lauded magazine that millions of women trust," he says.
Faster than a stove or a microwave, the Cordless Electric Glass Kettle Model 679 is as functional as it is stylish with an advanced design of heat resistant glass and stainless steel. It is constructed with a concealed heating element that is never in contact with the water, eliminating objectionable build-ups. 
The ChefsbChoice Model 679 electric kettle adds a touch of ※glass§ to your kitchen and includes the following advanced features:
Extremely fast and quiet

Large capacity: 1 取 quarts (1.7 liters)

Automatic shut-off when water boils

Boil-dry safety shutoff protection

360◥ cordless swivel design for convenient right or left handed use

Heat resistant soft-touch plastic handle

Convenient push button, single hand lid opening

Illuminated on-off power switch

Water level gauge

Cord stores neatly in base: adjusts to desired length

Cool touch bottom

1 year limited warranty
 For more information go to www.chefschoice.com. To locate a store nearest you, call 800-342-3255. 
---
2010 BOSTON WINE EXPO ANNOUNCES EXCITING SEMINAR SERIES
- Kevin Zraly Leads Seminars as Keynote Speaker -
- Sessions Designed for Both Connoisseurs and Novices -
 New England's largest wine tasting event, the Boston Wine Expo, is back in 2010 with an all-star line-up of seminar speakers.  The 19th annual event takes place January 23rd-24th at the Seaport World Trade Center and Seaport Hotel.
This year's Keynote Speaker, Kevin Zraly, noted author and lecturer, will leads his highly acclaimed one- hour, fast-paced, action-packed wine seminar each morning called the "One Hour Wine Expert". Zraly, often referred to as the "one man Cirque du Soleil" takes you on a tasting tour of Riesling, Sauvignon Blanc, Chardonnay, Pinot Noir, Merlot and Cabernet Sauvignon wines. As an added bonus, participants are guaranteed an early entrance to the Grand Tasting.
The Wine Expo features over 26 continuous seminars throughout the weekend, both connoisseurs and novices are sure to learn something new.  The all-star lineup of industry experts include:
Tim Mondavi Co-Founder, Proprietor and Winemaker of Continuum Estate
Leonardo LoCascio, President, CEO and Founder of Winebow, Inc.
Marilisa Allegrini, Founder, Poggio al Tesoro
Paul Hobbs, Owner/Winemaker at Paul Hobbs Winery and Vina Cobos
Bernard Retornaz, President of Louis Latour Inc.
Scott McCleod, Winemaker at Rubicon Estate
Katarina Prüm of J.J. Prüm, and Wilhelm Steifensand of Kloster Liebfrauenstift
Gary Vaynerchuk of WineLibraryTV.com
Gloria Maroti Frazee, Wine Spectator
Leslie Sbrocco, Award-Winning Author, "Adventures of a Thirsty Girl"
Christian Tietje, Founder of Four Vines
Kevin Hall, Winemaker at Alexander Valley Vineyards
 Seminar Schedule:
Saturday, January 23, 2009
11:00 AM        Corton Charlemagne and Corton Grancey: The Great Grand Cru's of Maison Louis Latour 
11:30 AM        "The One Hour Wine Expert" with Kevin Zraly
12:00 PM         o ya… Sake and Sushi featuring Boston's Premier Sushi Restaurant
12:30  PM        Wine Spectator Presents"Everything You Always Wanted to Know About Wine, but Were
Afraid to Ask"  
12:30 PM         Alain Junguenet: A Collection of 2007 Châteauneuf-du-Pape Super Cuvées
12:30  PM        Power & Grace of Italian Red Wines
1:00PM            The Wines of Loire Valley
2:00  PM          Taste Wine Like a Pro: Learn the Secrets Behind How to Taste Wine Through A Blind Tasting
2:30 PM           Affordable Bordeaux's – Off the Beaten Track with Margaret Calvet, Co-Owner of the
Aquitaine Wine Company
3:00  PM          California, Argentina, and Beyond: A Tasting and Seminar with Paul Hobbs
3:00 PM           Expand Your Palate with Gary Vaynerchuk
3:30 PM           Quinta do Noval Port Seminar Featuring the Rare Nacional
4:00  PM          Italian Distillates – Then, Now and Forever.  Grappa 701 Plus Infusions and Other Surprises 
4:00 PM           The Rise of Touriga Nacional
4:00 PM           New Zealand Sauvignon
Sunday, January 24, 2009
11:00 AM        Cristal Vertical with Devin McGary
11:30 AM        "The One Hour Wine Expert" with Kevin Zraly
11:30 AM        South American Star Power! – Chile's Icon Reds
12:00  PM        Cheese and Wine Matching Seminar with Steve Wasik of the Wellesley Cheese Shop
12:30  PM        "Valpolicella and the Art Appassimento" with Marilisa Allegrini
12:30  PM        Top-Scoring Argentina with Wine Spectator
1:00 PM           Rubicon Estate Terroir Tasting with Winemaker Scott McCleod
2:00 PM           Build Your Wine Self-Esteem with Gary Vaynerchuk
2:30 PM           Superstar Sangioveses – Italy's Ultimate Red Grape Variety in the Spotlight
2:30 PM           Continuum Estate, Napa Valley with Tim Mondavi
3:00  PM          Irreverence and Mischief Four Vines Style- An Indoctrination and Tasting with Chris Tietje
3:00  PM          Delicious Riesling Fuels Great Debate with Katarina Prüm of J.J. Prüm, and Wilhelm
Steifensand of Kloster Liebfrauenstift  
3:30 PM           The Wines From Castilla-La Mancha
4:00 PM           Spotlight on Zinfandel 
 Ticket prices for the Grand Tasting are as follows: Saturday Single Day, $85 prior to January 16th and $95 after January 16th and onsite.  Sunday Single Day, $75 prior January 15th and $85 after January 15th and onsite. Two-day tickets are $125 prior to January 15th and $140 after January 15th and onsite.  Grand Cru Wine Lounge ticket prices are $175 before January 16th and $195 after January 16th.  A $2.50 administrative fee is added to all Grand Tasting tickets ordered in advance.  Seminar and other events are priced separately. You do not have to purchase a Grand Tasting ticket in order to purchase a seminar ticket. No refunds allowed.  Proper ID required.  No one under age 21 allowed including children and infants in strollers.  Public hours are 1 PM – 5 PM daily.   
 Tickets for the Boston Wine Expo may be purchased at www.wineexpoboston.com or by calling 877-946-3976.  Area liquor merchants also sell tickets in advance of the Expo.  A list of these locations can also be found on the website. 
 Throughout the history of the Boston Wine Expo, over $1,000,000 has been donated to over 27 charitable organizations.  This year's beneficiaries include:
Floating Hospital for Children at Tufts Medical Center

Dana Farber Cancer Institute's Pan Mass Challenge

New England

Center for Homeless Veterans

Massachusetts

Coalition for the Homeless
 The 2010 event is sponsored by Alaska Seafood, , Beverage – the Massachusetts Beverage Business magazine, Boston Common Magazine, Alsace Wines, Loire Valley Wines, Vini Portugal, Intermezzo Magazine,  JetBlue Airways, Kingdom of Navarra,  and The Boston Globe, Inifiti, , and others.
 The Expo is produced by the Boston Guild of Oenophilists, Inc. and ResourcePlus Shows & Events, a Boston-based show and event management company.  ResourcePlus also produces the New York Wine Expo February 26th -28th, 2010, and the Newport Mansions Wine & Food Festival on September 24th-2th, 2010.  For more information on ResourcePlus, please call 617-385-5088.
---
2010 Crab & Wine Festival in Northern California Celebrates Local Bounty
Mendocino County Serves Up Delicious Fare at Internationally Recognized Annual Event from January 22-31
Every January, Mendocino County in Northern California celebrates locally harvested Dungeness crab and locally grown and produced wines with a festival that delights foodies and oenophiles alike! From gourmet, crab-themed dinners in four-star restaurants, to family-style cioppino feeds, to the ever popular Crab Cake Cook-off featuring local Mendocino chefs, this festival has something for everyone. And to wash down the abundance of crab, local winemakers will be pouring at winemaker dinners throughout the county and also at the official Wine Tasting Competition of the festival. Visitors will also enjoy special menus at restaurants, crab appetizers at wineries and "crabby" lodging specials throughout the County.
"This is our 11th year, and the festival continues to attract more and more people," said Scott Schneider, President of Visit Mendocino County, Inc. "It's a win-win for everyone, as the local chefs and winemakers are able to showcase their talents, the attendees get to sample an array of fabulous food and wine creations, and local organizations are able to raise a substantial amount of money for philanthropic purposes."
The festival takes place from January 22nd – January 31st, 2010. A few highlights of the festival include:
Crab and Wine Days - January 22nd and 23rd in Fort Bragg, CA – Two Benefit Events!
Mendocino Coast Clinics hosts the 11th Annual Crab & Wine Days, held at Pentecost Hall in Fort Bragg, where spectacular ocean bluffs and majestic redwood forests create an incredible backdrop for the festivities. 
Jan 22 - Cioppino Dinner:

  Family-style dinner features steaming bowls of Cioppino, fresh salad, dessert, wine, beer, coffee & lots of homemade hot bread for dipping! 4:30PM, 6PM or 8PM seating. $35 per adult.
Jan 23 - Crab Cake Cook-Off and Wine Tasting Competition:

 

The premiere event of the Crab & Wine Festival!

Held under a big tent set up just behind Pentecost Hall, this is where Mendocino County Chefs and Wineries serve up their best to celebrity judges – and the public gets to sample each of the entries as well!  Vote for the coveted Peoples' Choice Award! 12PM-3PM. $75 per adult.
Proceeds from the Cioppino Dinner, the Crab Cake Cook-Off, and the Wine Tasting Competition fund uncompensated care for those in need. Mendocino Coast Clinics, a non-profit, board-governed community health center, provides medical, dental, perinatal and behavioral health care to all Mendocino Coast residents & visitors, regardless of their ability to pay. For more information, go to www.mendocinocoastclinics.org, e-mail events@mccinc.org or call 707-961-3463.
Other Crab & Wine Festival events are being hosted by the following venues:
Little River Inn – Little River, CA
www.littleriverinn.com, (800) 466-5683
Dennen's Victorian Farmhouse – Mendocino, CA
www.victorianfarmhouse.com, (800) 264-4723
11th Annual Navarro Vineyards Crabalicious Cocktail event – Free to guests, $18 for others – January 23rd
Albion River Inn – Albion, CA
www.albionriverinn.com, (800) 479-7944
Elk Cove Inn – Elk, CA
www.elkcoveinn.com, (800) 275-2967
Spa Champagne & Crab Brunch - $25 per person – January 23rd, 24th, 30th & 31st
Wine Tasting & Hors d'oeuvres - $25 per person – January 25th through 28th
Rendezvous Inn & Restaurant – Fort Bragg, CA
www.rendezvousinn.com, (800) 491-8142
Patrona Restaurant & Lounge – Ukiah, CA
http://mendocinowineco.com/MWC-Events-Parducci.swf, (707) 462-9181
4 Fantastic Crab Offerings Paired with Parducci Wines - $20 per person – January 29th
Mendo Bistro - Fort Bragg, CA
www.mendobistro.com, (707) 964-4974
Stop into any of the following wineries during the weekend portions of the festival and enjoy specially-prepared crab appetizers with your (mostly free) wine tastings:
Truly immerse yourself in "crab-culture," join Captain Tim aboard the Sea Hawk and catch your own crabs! (up to 10 crabs per person). 4-5 hour excursion includes tackle and cooking of crabs. www.allaboardadventures.com
Or, take a cooking class hosted by the Gualala Arts Center. Learn to prepare fresh seafood dishes and learn secret tricks of the trade from local chefs. Every Thursday in January (with a special focus on crab on January 28th). www.gualalaarts.org
Come discover Mendocino County's gourmet restaurants, unique inns, picturesque villages, friendly wineries, majestic redwoods and rugged seaside. Enjoy our longstanding tradition of coming together as a community and creating an environment where you will encounter friendly faces, peaceful places and delicious local seafood!
For a full listing of festival events, please visit http://gomendo.com/media/3629MCrab%20and%20Wine%20Days.pdf. To learn more about Mendocino County, please call 866-STAY-MENDO or visit www.gomendo.com.
---
Cambria Annual
Art & Wine Festival
January 29, 30, 31 2010
Friday opens the event with shopping deals, demonstrating artists and some wine tasting at local participating businesses.

Friday evening an Event Kick-Off Party offering wine & food pairing, entertainment, preview of the Art Show/SilentAuction and special raffle prize packages will be held at the Veterans' Hall.

Saturday offers Wine Tasting at the Veterans' Hall (west village) & the Cambria Historical Museum (east village), over 25 local wineries participating. In addition Saturday offers an Art Show/Silent Auction of local artists original creations and more opportunities for guests to acquire raffle tickets by visiting participating businesses throughout the village.

Saturday evening offers additional venues with artists, food and wine pairing and continued entertainment. Click for details

Sunday offers an Artist's Faire with demonstrating artists, wine tasting and a barbecue lunch available. Raffle drawings will be held at the end of the event on Sunday at the Artist's Faire.

Click here for further details. If you are an artist, business or winery that would like to participate in any of the several venues click on the button to the left for more information.

Click here to learn more about the featured artist Howard Kline

View List of 2010 Participants

---
---