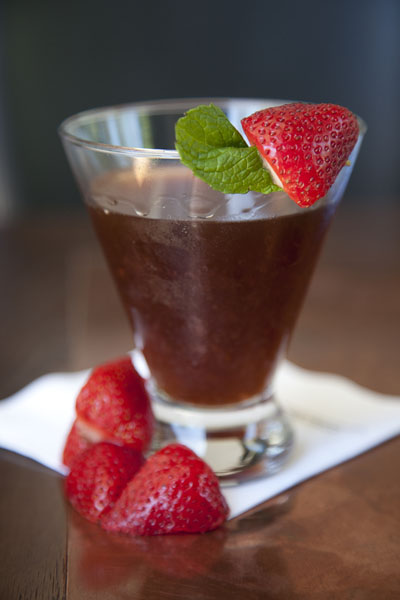 Strawberry Balsamic Martini
MARTINI GLASS—NO ICE
1 ¾ oz Belvedere Vodka
1 oz Simple Syrup
Squeeze of Fresh Lime Juice
3 Strawberries, Hulled
¼ oz Balsamic Vinegar (2 small spoonfuls)
Muddle the strawberries with the balsamic vinegar (the better the vinegar, the better the martini will be), simple syrup and lime juice. Add the Belvedere and ice. Shake vigorously and strain into chilled short martini glass. Garnish with half strawberry.
---
              AUTUMN BEER FEST – ORIGINAL FARMERS MARKET
3RD & FAIRFAX, Los Angeles
OCTOBER 3, 2009
Music, Cheese and a Bevy of Great Beer
To Benefit: THE SABIN FREE CLINIC
For information visit: www.sabinfreeclinic.
Advance registration call Monsier Marcel Gourmet Market
323-939-7792  $20  or $25 at the door.
---
                     Are you Enjoying Seasonal Beers this Fall?
Highly Anticipated Harvest Ales Reach Retailers
The month of September marks the end of the hop harvest and the introduction of seasonal releases, including Harvest ales and lagers. These unique beers are created by adding fresh hops, pumpkin and other recently harvested ingredients to a brewer's beer recipe. These field ingredient additions impart rewarding flavors and aromas including citrus, earth, pine and spice from the practice of adding freshly picked whole hops, known as "fresh" hopping.
"The Harvest Ale is the brewery's celebration of the amazing variety of ingredients available," said Julia Herz, spokesperson for the Brewers Association. "When beer lovers think fall, they think Harvest Ales. Fortunately, many restaurants and better beer stores have prioritized stocking these limited releases from small and independent craft brewers."
The popularity of Harvest Ales is so strong that 'Fresh Hop' beer, 'Field Beer', and 'Pumpkin Beer' are all sub-categories in the Great American Beer Festival SM, North America's most prestigious commercial beer competition.
According to Information Resources Inc, fall seasonal craft beers generated the highest case and dollar sales last year. Seasonal beers as a category reached new limits in 2008, with sales up 15.7% over 2007 in U.S. supermarkets.
Through the Web site www.SeasonalBeerandFood.org, the Brewers Association is able to provide information on seasonal releases straight from the brewers who brew them. This site allows consumers to access current and future lists of special release beers in their state complete with detailed descriptions and food pairing suggestions.
Suggested Food Pairings with Fresh Hop Craft Beer:
Smoked meats and foods with strong and spicy ingredients complement the intense hop flavors.
Blue cheese or a sharp and rich American cheese.
Sweet decadent desserts like carrot cake, caramel cheesecake or créme brulée are able to match the intensity of many Fresh Hop craft beers.
Other Fall Seasonal Craft Beers Include:

Oktoberfest- Originally referred to as Marzen meaning March, these are brewed in the spring and aged, and then tapped in the fall. This is an amber lager, classically malt based with good body and complexity with an average of 5% alcohol by volume ratio. In Germany, they are known for being fermented in caves in March and intended for tapping at the end of summer. Food Pairings: Marzen matches the flavors in meat dishes like roasted pork tenderloin and pot roast.
Pumpkin Beers- This style features the best of a very versatile ingredient of the season, pumpkin. Pumpkin beers come in all styles, flavors and strengths and can be ales or lagers. Enjoying your local brewer's interpretation is definitely a worthy way of ringing in the fall. Food Pairings: Depending on the brand it may go well with pork chop, roasted corn and chicken chowder and pumpkin pie.
---
MARNIER-LAPOSTOLLE GROUP NAMES R. SCOTT GREEN SENIOR VICE PRESIDENT MARKETING & SALES FOR NORTH AMERICA
Marnier-Lapostolle Group, owner of world-renowned liqueur GRAND MARNIER® (grand-marnier.com), is pleased to announce the appointment of R. Scott Green to Senior Vice President Marketing & Sales – North America, effective June 2009.  Mr. Green's expanded role places him in charge of the entire suite of Marnier-Lapostolle products, including GRAND MARNIER®, Navan Natural Vanilla Liqueur as well as the Lapostolle  and Chateau de Sancerre wine brands.
"Scott has made enormous contributions to the company in a short amount of time.  He has our full support in leading the business toward great success in the future," said Alexandra Marnier Lapostolle, President of Marnier-Lapostolle, Inc. – North America.
Mr. Green's responsibilities encompass the combined Marketing, Communications and Sales efforts for the Marnier-Lapostolle brands.  Under Alexandra Marnier Lapostolle's leadership, Mr. Green is charged with creating a new positioning and creative direction for the brands, while maintaining the brands' authenticity and rich heritage.  GRAND MARNIER® , NAVAN ® , Lapostolle and Chateau de Sancerre are distributed by Moët Hennessy USA.  
"Marnier-Lapostolle is one of the most established and respected names in the industry and Grand Marnier is one of if not the most iconic brands in the industry;  I am honored to be a part of the team," said Green. 
Mr. Green, with over 20 years experience in brand marketing and new product development, brings a depth of industry knowledge and expertise to the Marnier-Lapostolle team.
Prior to joining Marnier-Lapostolle Group in 2008, Mr. Green held the position of Vice President Marketing of Imported Brands and Innovation at SKYY Spirits, LLC.  At SKYY, Mr. Green managed all marketing disciplines and spearheaded the company's "Innovation" effort. 
---

                                     NEW KENWOOD VINEYARDS WEBSITE
SPOTLIGHTS SONOMA WINE COUNTRY

Kenwood Vineyards takes pride in producing premium Sonoma County wines and that pride shows in the vibrant new Kenwood Vineyards website. In the 39 years since Kenwood Vineyards' founding, Sonoma County has been recognized as one of the world's great wine growing regions and www.kenwoodvineyards.com enables wine lovers and wine novices alike to appreciate its beauty and bounty.
The new website combines advanced web technology, eye-catching photographs, and informative text and graphics to showcase Kenwood Vineyards, the Sonoma Valley and Sonoma County. Cursor-activated headers take users to drop-down sections on Kenwood Vineyards' winery, wine portfolio, recent accolades, upcoming events and wine club, each with its own full-page photographic backdrop. Side menus in each section provide access to detailed information, from directions to the Kenwood Vineyards tasting room to information on its sustainable farming and business practices. The "Discovery" section provides a concise guide to Sonoma County wine country and the region's 12 American Viticultural Areas, a regularly updated winemaker's newsletter and a glossary of wine terminology. There is even a "weather corner" that shows the temperature, wind speed and wind direction at Kenwood Vineyards in real time. The website's elegant design was created by HeckArt Studios of Beverly Hills, California. The web address for Kenwood Vineyards is www.kenwoodvineyards.com.    
Established in 1970 in the Sonoma Valley, Kenwood Vineyards produces premium wines that are representative of Sonoma County's world-class vineyards.
---
PASO ROBLES WINE COUNTRY GEARS-UP FOR EXCITING FALL ACTIVITIES

 

Experience California Wine Month the Entire Month of September and Save-the-Date for Harvest Wine Weekend, October 16 – 18, 2009

 

Paso Robles Wine Country offers a breadth of activities this fall showcasing California Wine Month in September and Harvest Wine Weekend, October 16 – 18. Autumn is the busiest time of year in wine country; winegrapes are being harvested, the new vintage is being crushed and in 2009, for the fifth consecutive year, September has been declared California Wine Month. 

Harvest Wine Weekend: October 16 – 18, 2009

Harvest Wine Weekend in Paso Robles Wine Country offers a wealth of activities unique to the season and is the idyllic wine country getaway, conveniently located on California's Central Coast.  This neatly packaged weekend offers extraordinary and seldom seen crush and harvest activities at more than 130 wineries throughout Paso Robles Wine Country.  With over 150 activities to choose from, wine enthusiasts are sure to capture a Harvest Wine Weekend memory.

 

Wineries from the region open their doors for an array of activities, including culinary arts and wine pairings, traditional grape stomping and barrel tastings and other harvest activities completing the grape to glass experience.  Enjoy vineyard practices in motion during this lively, three-day celebration. For more information on Harvest Wine Weekend events and hotel accommodations, visit www.pasowine.com.

 

Take pleasure in the most colorful time of year in Paso Robles Wine Country during California Wine Month and Harvest Wine Weekend and bring your memories home to share with a bottle of distinct, different Paso Robles wine.  For a complete list of activities, events and more, visit www.pasowine.com. 

 

The Paso Robles Wine Country Alliance represents wineries, growers and businesses in Paso Robles Wine Country. Centrally located between San

Francisco and Los Angeles, along California's Central Coast, Paso Robles Wine Country is California's fastest growing wine region.

 It encompasses more than 26,000 vineyard acres and more than 180 wineries.  For more information, visit www.pasowine.com
---
The Second Annual French Wine Society Conference
October 4 – 7 at the French Embassy in Washington, DC. The program, which is available for wine trade professionals as well as advanced students of wine, focuses on education and discussion of the varied wine-producing regions of France. This year, the conference will invite speakers to lead discussions on Armagnac, the Rhône & Loire Valleys, cru Beaujolais, natural sweet wines from Languedoc-Roussillon, and premier cru Burgundy, among others.

For the first time, the conference will also host the Cheeses of France Academy, which will offer participants a comprehensive overview of fromage fundamentals, guides for pairing wines & cheeses, and information for educating others.

The attached program provides a complete listing of classes and seminars during the 4-day conference. For more information, or to purchase tickets, please visit: http://www.frenchwinesociety.org/site.php?page=events&id=268

Take advantage of the French Wine Society's offer of a 10% discount on all French Wine Society Conference events! Use coupon code RIUT6B when purchasing online or via phone.

For more information, please contact Julien Camus, President of the French Wine Society, at (202) 466-0775 or jcamus@frenchwinesociety.org.
---
The Ireland Whiskey Trail is your personal guide to everything that is best about whiskey in Ireland. This Whiskey Trail will not only help you discover the distilleries of Ireland - past and present - but also the finest Irish pubs, restaurants, hotels, whiskey shops and golf courses, where you can enjoy the very best in Irish whiskey and Irish hospitality. It is a call and challenge to smell, see, taste, talk and capture the magic and enchantment of whiskey - The Irish way!

Relax and share some Irish "craic" with informed locals in some of the nicest bars and pubs in Ireland. Enjoy the hospitality of some of the very best hotels in the country, where an excellent selection of whiskeys await you. Stock up on familiar and not so familiar brands in our finest whiskey shops, where knowledgeable staff will inform and advise you. Or just relax in a friendly clubhouse after a great round of golf with a glass of your favourite Irish.

Ireland and its whiskeys is very much about a different pace of life - so enjoy your trip, relax and remember to drink responsibly and in moderation. We look forward to welcoming you on this Whiskey Trail, sharing our whiskey, our stories and your company!
---
HOLLOWEEN INSPIRED COCKTAILS

Award-winning mixologist Victoria D'Amato-Moran has created a series of specialty Halloween drink recipes to toast the night fright.   With ghoulishly green coloring, these haunting treats are as festive as they are delicious.  Quenching thirst and adding décor, serve up the Midori Halloween Harvest punch by mixing the seasonal flavors of cranberry and apple juice with Midori Melon Liqueur and rum:

Midori Spider's Kiss 

 

1 part Midori Melon Liqueur

1 part SKYY Vodka

Juice from ½ Lemon

Chocolate syrup

Grenadine

With chocolate syrup, draw a web on the inside of the martini glass.  Chill glass.  Shake Midori, SKYY and lemon juice with ice and strain into martini glass. Drizzle grenadine down the side for a blood effect.

Midori Harvest

1 part Midori Melon Liqueur

1 part Dark Rum

1 part Light Rum

2 part White Cranberry Juice

1 part Unfiltered Apple Juice

1 part Simple Syrup

Juice of one lemon

*For a Punch Bowl (32 ounces) use this recipe X's 8.  Add the liquid ingredients and mix well.  Top with apple slices, blueberries, and melon balls.
---
CRAVE – A Paso Robles Wine Experience, Slated for Friday, October 23, 2009
Tickets to Popular Wine Tasting Event Now Available on www.pasowine.com
Paso Robles, CA (September 24, 2009) Paso Robles Wine Country satisfies all your cravings this October with the popular wine tasting event, CRAVE – A Paso Robles Wine Experience!  The Paso Robles Wine Country Alliance announced tickets are available at www.pasowine.com for CRAVE, slated for Friday, October 23, 2009 from 7:30 – 10 p.m.  This distinctive event, now in its second year, blends wine tasting tradition with a stylish format geared toward millennial wine enthusiasts.
According to the Wine Market Council, the millennial generation exhibits the same receptivity to wine as leading edge baby boomers and offer the wine industry the kind of growth potential not seen in more than thirty years.  With wine consumption among this age group on the rise the Alliance recognizes the need to focus marketing programs on millennials.  CRAVE targets the next generation of wine consumers, educates in a fun way and positions Paso Robles as the choice wine region.
"CRAVE attendees are encouraged to join us in Paso Robles Wine Country during the harvest season to experience wine country," said Stacie Jacob, executive director of the Paso Robles Wine Country Alliance.  "CRAVE is the ideal way for millennials to familiarize themselves with Paso wines. November and December is the perfect time to take advantage of wicked wine steals in preparation for the holiday season."
CRAVE takes place at the Veterans Hall in San Luis Obispo (801 Grand Avenue).  Various Paso Robles wine varietal bars are featured and paired with the finest fare of San Luis Obispo County.  More than 60 Paso Robles wineries showcase a single wine from their portfolio allowing attendees to focus on each varietal presented. CRAVE is the ultimate Paso Robles wine tasting experience complemented by music in a relaxed, lounge-like atmosphere.  Visit www.pasowine.com for a complete listing of the nine varietal bar descriptions and food pairings to be showcased during the event.
Thanks to The Wine Wrangler (www.thewinewrangler.com), various safe rides will be offered free of charge.  A safe ride from Downtown Paso Robles, to and from the Veterans Hall in SLO will be available. In addition, three drop-off spots will be offered throughout the evening, including to the Cal Poly Student Union, Laguna Shopping Center and Downtown SLO.  Responsible tasting is also an important element of CRAVE.  Practice of the Four Ss of responsible tasting -- swirl, smell, sip, spit -- is a valuable way for wine enthusiasts to experience and understand each wine from first taste to last.  This practice is encouraged and is essential to make the most of this Paso Robles Wine Experience.
Tickets are $40 presale and $50 at the door, and include an evening of unlimited tasting, food pairings, as well as a commemorative glass made by Riedel.  Be sure to follow Paso Robles Wine on Twitter and become friends with Paso Robles Wine on Facebook to stay updated CRAVE enhancements, exciting offers as well as pre parties and after parties. 
Tickets may be purchased online at www.pasowine.com or at 800.549.WINE (9463).  Photo identification verifying age will be required at time of entry.  Tickets are limited, and advance purchase is highly recommended, as CRAVE sold out in advance in 2008.  Free parking will be available at the Veterans Hall Parking lot.   For a complete list of wineries participating, to purchase your ticket, or for more information about CRAVE, go to www.pasowine.com.
---