MIDORI MELON LIQUEUR
Can transform any ordinary summer cocktail into something more alluring and delicious.
Adding a delicious twist to a wide range of cocktails, MIDORI continues to be the secret ingredient to create delicious drinks season after season.  Below is a sampling of recipes from MIDORI specially designed to awaken your cocktails this summer.
MIDORI Rock-It
1 shot MIDORI
½ pint light beer
Drop entire shot glass into pint glass half filled with beer.
MIDORI Fresh Sour
1 part MIDORI
1 ½ parts simple syrup
1 ½ parts fresh lime juice
Shake over ice.  Pour into rocks glass.  Garnish with fresh fruit. 
---
THE DRY MAMATINI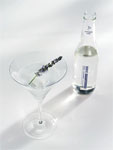 Treat your Mom or Mama to a special martini that's lightly sweet and deliciously smooth.  If you're in the mood for kumquat, lemongrass or rhubarb, they also taste great with this simple recipe.
2 oz. Vanilla Vodka

3 oz. Lavender DRY Soda
Shake ice and vodka together, then strain into a chilled martini glass.  Top with Lavender DRY and garnish with a sprig of lavender.
FROM THE CRESCENT HOTEL, BEVERLY HILLS, CALIFORNIA 
---
INDULGE IN A CUP OF HEAVEN AT THE ROCKS
Enjoy fresh coffee, exotic teas, luscious chocolate, fragrant spices and sweet treats at The Rocks Aroma Festival - Sunday 6 July.

Delight in the decadent this winter as the historic streets of The Rocks plays host to more than 90,000 lovers of coffee, chocolate, tea and spice at The Rocks Aroma Festival.
From 10am–5pm on Sunday 6 July, visitors can sample some of Sydney's best coffee for just $1 a cup, indulge in mouth-watering chocolate and sweet treats, pick up tips on cooking with some of the world's most exotic spices and discover dozens of teas you've never tried before ranging from Pina Colada and Moroccan Mint to Rose Oolong and Sweet Almond.
More than 25 roasters including Toby's Estate will be brewing up a storm at the festival. Pick up a freshly brewed cup and enjoy comparing the different roasts as you wander through Sydney's heritage quarter. 
Skip straight to the sweet treats at the Chocolatier's Boulevard where you can indulge in chocolates from local producers such as Adora Handmade Chocolates and tempt yourself with delicious goodies including liquid chocolate shots, chocolate dipped strawberries and marshmallows and chocolate fountains.
If that isn't enough to satisfy your sweet tooth then head to the All Things Nice stalls which will abound with fabulous fudge, rocky road, nougat, gingerbread, coconut ice, pavlova, biscotti and all things honey. Treat yourself to an exquisite cupcake that looks too good to eat 
Tea-lovers will delight in the exotic brews from Emporio, Bondi Chai, Valley Green and Kenteco including lively green teas, delectable infusions of fruit, flowers and spices and full-flavoured traditional favourites.
For culinary connoisseurs head to the cooking demonstrations at the Aroma Lifestyle Forecourt then dip into the Spice Bazaar and tempt your tastebuds with offerings from spice gurus including Gourmet Spice Blends and Disaster Bay Chillies.
Full steam ahead to the Overseas Passenger Terminal and peruse a wide variety of machines at the Domestic Coffee Machine Expo.
The festival will also feature all-day live music to compliment the perfect winter outing. Don't miss what is sure to be the most self-indulgent event of the year!
The Rocks Aroma Festival is presented by Sydney Harbour Foreshore Authority.
For more information visit www.therocks.com
---
A NEW BAR AND ENTERTAINING CONCEPT,
THE VODkART™ DEBUTS AT NIC'S BEVERLY HILLS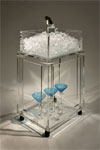 Vodkateur Larry Nicola, one of LA's most beloved restaurateurs and owner of Nic's Beverly Hills, has done it again as his latest creation, the VODkART™, wheels vodka into a whole new category of classy cool. The VODkART, Nicola's newest uber-luxe vodka tasting experience, is an opulent bar on wheels that displays and serves luxury vodkas tableside. The top level of this sexy, two-tiered Lucite cart chills the vodka on ice – keeping the spirit at the coolest degree for either an ultra smooth tasting or for a blending with a vodka driven cocktail. The bottom level is lit with candles and showcases the elaborate glassware in which the vodka and martinis are served.
An extension of the VODBOX (Nicola's one-of-a-kind modern, walk-in exhibition vodka tasting freezer exclusively at Nic's Beverly Hills), the VODkART was created as the ultimate way to indulge in vodka without having to leave your table. Vodka aficionados can get cozy in their seats as the VODkART connoisseur prepares the order tableside. With the VODkART, the VODBOX experience comes directly to you as all VODkART vodkas can be found in the VODBOX.
Nicola has made this must-have amenity available for sale to the public – perfect for parties and poolside. Pricing information and other product details are available upon request.
"Imagine you're visiting with friends in your living room or having a romantic evening with your significant other, and, all of the sudden, this beautiful, cool kart, full of ice and an exquisite bottle of vodka, is wheeled out," says Nicola. "You can have everything on the VODkART - olives, glasses, a shaker, or you can just have shot glasses and drink it straight. It's the ultimate amenity to entertaining."
Known for its steak & spa'ing cuisine, extensive Martini menu and the VODBOX, Nic's Beverly Hills is a longtime LA favorite to food and vodka aficionados worldwide. Modern American cuisine and décor with vibrant colors and cool lounge are featured along with today's top deejays, music and provocative art. Nic's Beverly Hills is located at 453 North Canon Drive. For dining information or reservations, please call 310.550.5707 or visit www.nicsbeverlyhills.com.
---
THE ART OF FOOD & WINE PALM DESERT
RECOGNIZED WITH MULTIPLE TOP HONORS
Festival captures event, advertising and public relations awards
The Art of Food & Wine™ Palm Desert, a four-day celebration showcasing the very best in art, food and wine hospitality and education, today announced that it has earned four awards in recent weeks – one national, two in the Coachella Valley and one in Chicago. These awards recognized the event and its organizers for outstanding event programming, creative design, and communications.
Top 100 Annual Events in Southern California
BizBash, the leading trade media for the event industry, named The Art of Food & Wine Palm Desert to this desirable list as a result of its impact in the field and the community at large.
2008 Gold ADDY & 2008 Bronze ADDY
The Advertising Federation of the Desert recognized the engaging talent of artist Michael Bast, commissioned to design the artwork for the 2007 event. Bast was also honored with a Bronze ADDY for the poster he developed to complement and commemorate The 2007 Art of Food & Wine Palm Desert. 
2008 Golden Trumpet
Chicago is home base for The Art of Food & Wine Palm Desert's event production firm, KemperSports. Recently, The Publicity Club of Chicago, the nation's largest independent public relations membership organization, bestowed its coveted top honors upon the communications efforts related to the 2007 festival, which resulted in more than 17 million local, regional and national media impressions and created awareness of the event in the minds of foodies, wine lovers and those looking for a unique experience.
"The Art of Food & Wine Palm Desert is truly a showcase of all the exciting facets that Palm Desert has to offer," said City of Palm Desert Mayor Jean Benson. "We are thrilled to be honored by these outstanding organizations and for the festival to receive such tremendous recognition."
Tickets are now available for The 2008 Art of Food & Wine Palm Desert which will take place November 6 – 9, and includes an opening night culinary competition, celebrity chef demonstrations, cooking and cultural seminars, golf tournament, decadent dessert evening poolside, charity wine dinners, a concert, and two unique days of Grand Tastings.
About The Art of Food & Wine Palm Desert
The award-winning Art of Food & Wine Palm Desert is a unique four-day celebration attracting thousands of art and culinary enthusiasts from across California and around the country to enjoy the very best in art, food and wine hospitality and education. Taking place November 6-9, 2008 in Palm Desert, California, the event features food and wine tastings, celebrity chef demonstrations, culinary seminars, art, music, shopping and golf — all nestled in Southern California's beautiful Coachella Valley. For more information and to order tickets, visit www.artoffoodandwine.com or call 1.866.96.TASTE (82783).
---
BEHIND THE VINES
at the Pony Club, Hotel Cheval's Wine Bar
Hotel Cheval ("cheval" is French for "horse") is pleased to announce its Behind the Vines events. The Behind the Vines events take place every Thursday at Hotel Cheval's Pony Club from 5 p.m. to 7 p.m. The Pony Club is located at 1021 Pine Street, Paso Robles, CA 93446 and for more information please call 866.522.6999 or visit www.hotelcheval.com.
Paso Robles winemakers will mingle with guests and discuss how their wines are made, their techniques for creating the perfect wine and share insights about their respective vineyards. Guests will be able to sample select wine flights while enjoying live music from a variety of Paso Robles based musicians and specialty priced small plates to pair the wine. The upcoming Behind the Vines schedule is as follows:
5 June 2008
Winemaker: Windward Vineyards
Live Music: J Street Slim & The Leisurnaut
12 June 2008
Winemaker: Edward Sellers
Live Music: J Street Slim & The Leisurnaut
19 June 2008
Winemaker: Halter Ranch
Live Music: Dorian Michael
26 June 2008
Winemaker: EOS Winery
Live Music: Dorian Michael
3 July 2008
Winemaker: Lone Madrone
Live Music: Dawn Lambeth
10 July 2008
Winemaker: Justin Winery
Live Music: Dorian Michael
17 July 2008
Winemaker: Eberle Winery
Live Music: Randy Rigby
24 July 2008
Winemaker: J. Lohr
Live Music: Randy Rigby
31 July 2008
Winemaker: Calcareous Vineyard
Live Music: Randy Rigby
7 August 2008
Winemaker: Niner Wine Estates
Live Music: Dawn Lambeth
14 August 2008
Winemaker: Maloy O'Neill Vineyards
Live Music: TBD
21 August 2008
Winemaker: Meridian Vineyards
Live Music: Dawn Lambeth
28 August 2008
Winemaker: Terry Hoage Vineyards
Live Music: TBD
5 September 2008
Winemaker: Donati Family Vineyard
Live Music: Dorian Michael
11 September 2008
Winemaker: Chateau Margene
Live Music: TBD
18 September 2008
Winemaker: Tablas Creek Vineyard
Live Music: Dawn Lambeth
25 September 2008
Winemaker: Clayhouse Vineyard
Live Music: TBD
Pony Club, Hotel Cheval's Wine Bar, located just off the Lobby, is a favorite among locals and winemakers alike. Serving premium beer, wine, champagne and gourmet small plates the Parisian inspired horseshoe-shaped zinc bar, with high, open, wood- beamed ceilings, is the perfect spot to meet friends and taste some of Paso Robles finest wines. The Pony Club is open seven days a week at 3:00 p.m.
About Hotel Cheval
Hotel Cheval is located in the charming downtown area of Paso Robles. The 16 rooms are thoughtfully and individually composed with a classic and stylish flair featuring a hint of contemporary design. Cozy window seats, fireplaces, outdoor patios, fountains and European artifacts are complimented by original artwork by Richard Tullis. Additional amenities include complimentary Continental Breakfast on the weekdays and complimentary Hot Breakfast on the weekends, flat screen televisions, complimentary Ethernet and wireless internet connections, DVD players, luxury linens and bathroom amenities by Temple Spa. Chester, Hotel Cheval's Belgian draft horse, escorts weekend property guests on various trips throughout the downtown Paso Robles area.
Paso Robles Winemakers reveal their secrets for crafting the perfect wine.

---