SIPS    .    .    .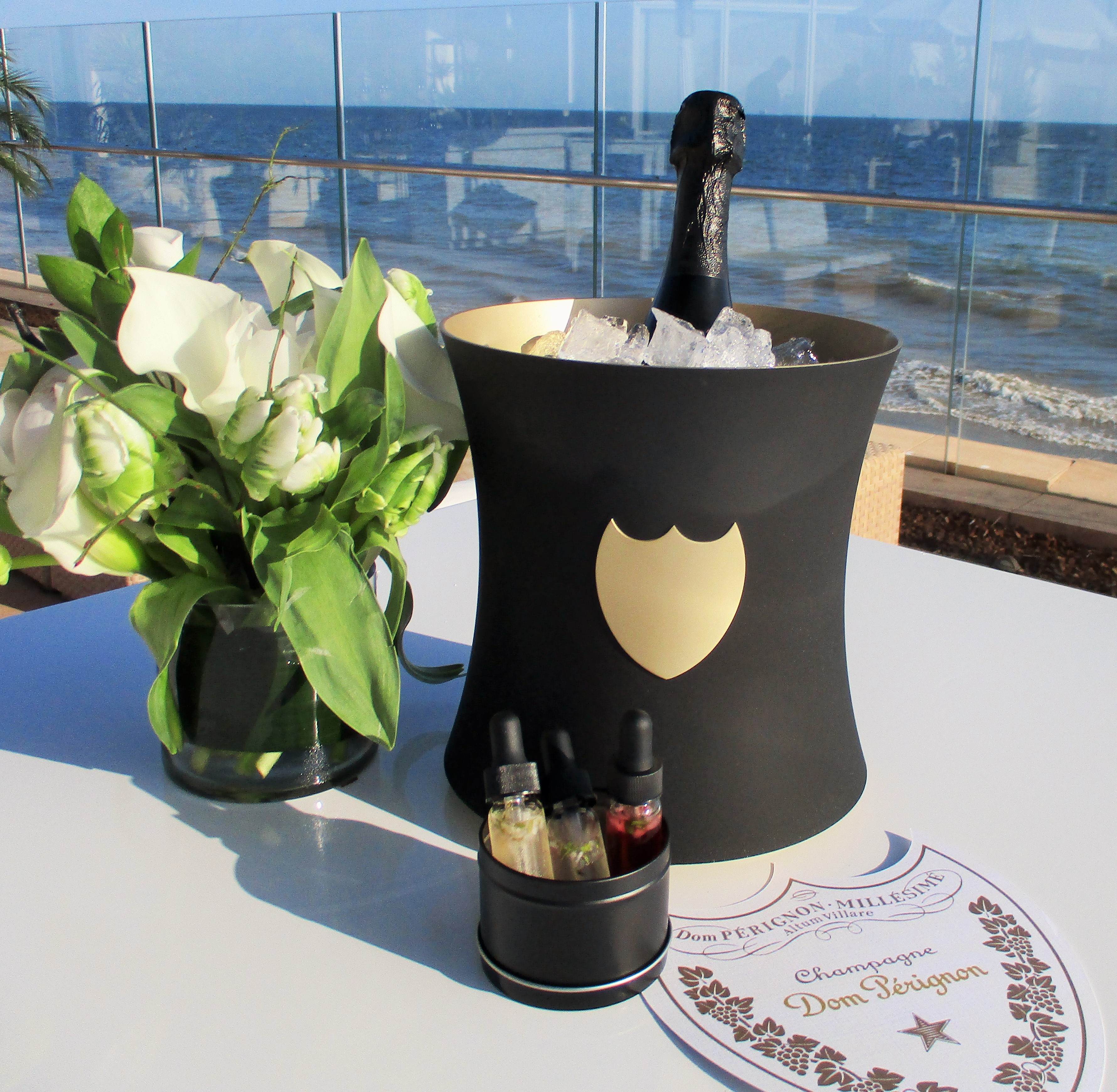 FOUR SEASONS BILTMORE DOM PERIGNON BY THE GLASS/BY THE SHELL EVENT
by Bonnie Carroll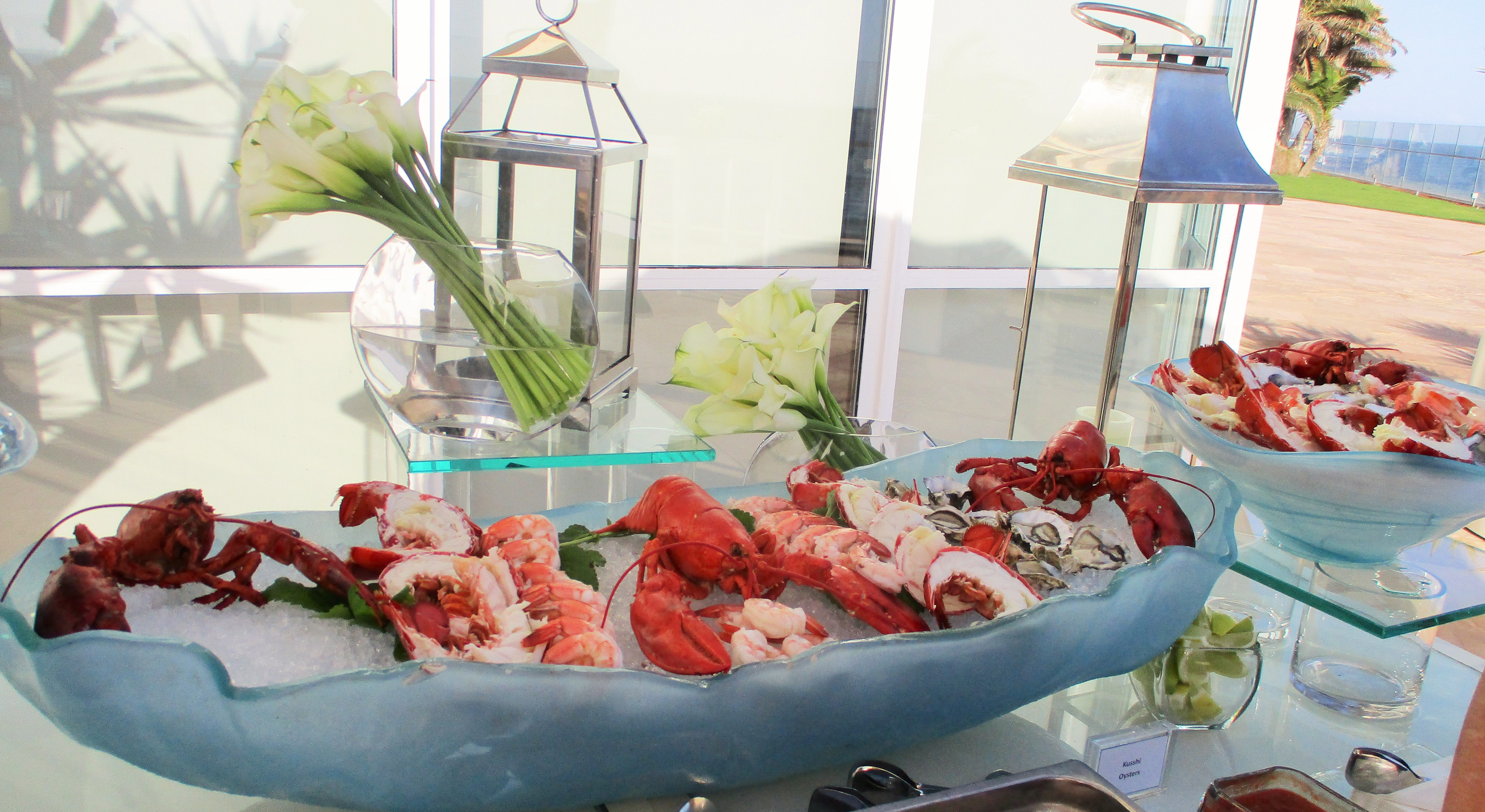 Divine Seafood Platter with Mignonette Sauces
The sunset kick-off party for the Dom Perignon by the glass/by the shell was held on the Patio of the Coral Casino at Four Seasons Resort The Biltmore Santa Barbara to promote their special Dom Perignon with oysters offering this summer. This exciting new experiential dining program features Dom Pérignon Vintage by the glass, paired with tableside-shucked oysters and an array of specially crafted & paired mignonette sauces.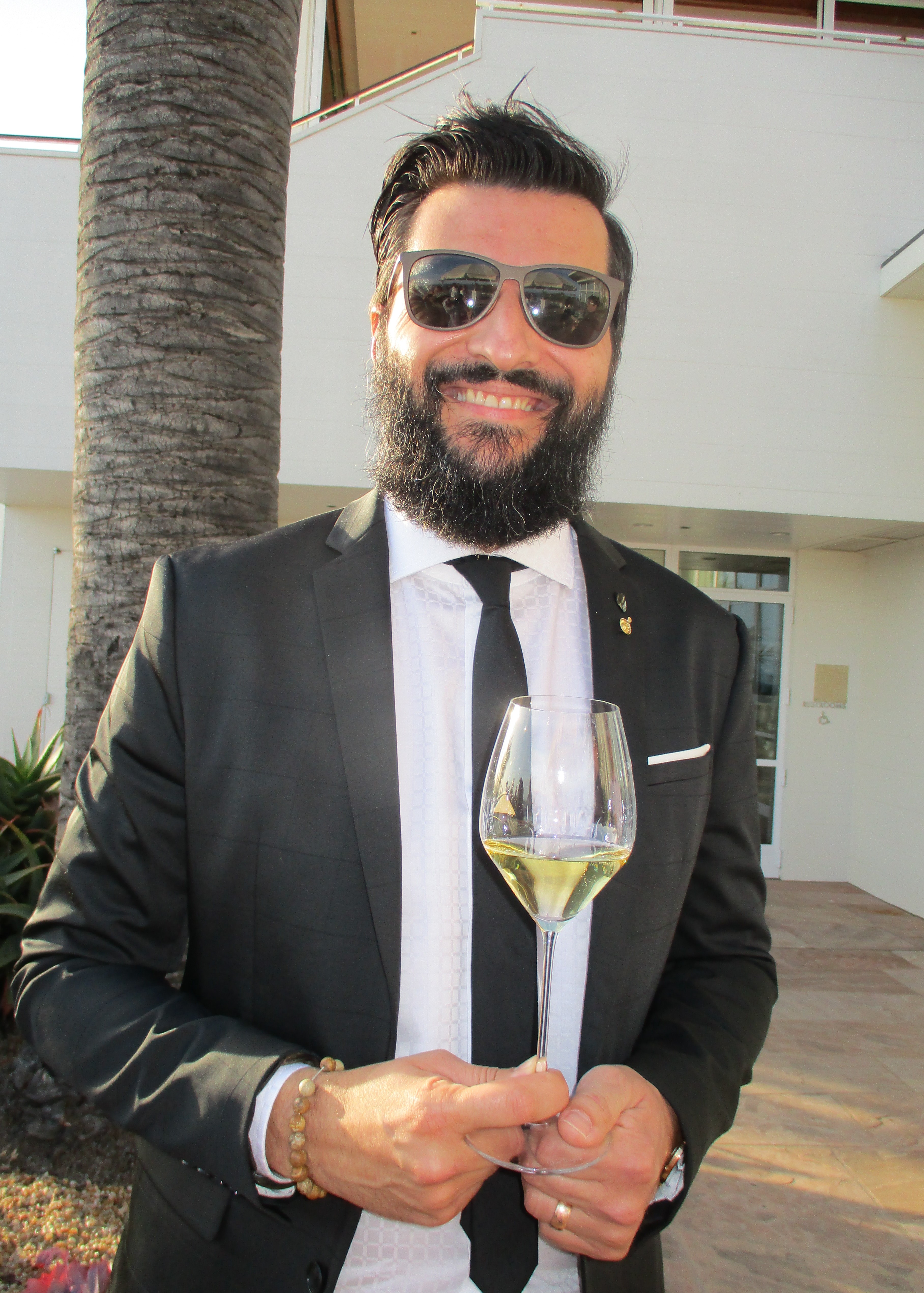 Jeff Baldwin, Julie Fitzroy, Michal W. Weisbrock  - Diego Meraviglia Dom Perignon Ambassador
In attendance were Julia Fitzroy, Business Development Director for Dom Perignon Champagne and Diego Meraviglia, US Brand Ambassador for Dom Perignon, along with guests Michal W. Weisbrock, Executive Director Arthritis Foundation Santa Barbara with Jeff Baldwin, a bevy of Four Seasons Biltmore executives and a crowd of local food and beverage enthusiasts. Executive Chef Marco Fossati was answering questions from guests on the beautiful El Cardon Pacific, Kusshi and Kumai Oysters on the menu, as well as the delicious mignonette sauces prepared to pair with them. The seafood buffet was overflowing with lobster, shrimp, clams and oysters with a collection of delicious accompanying sauces.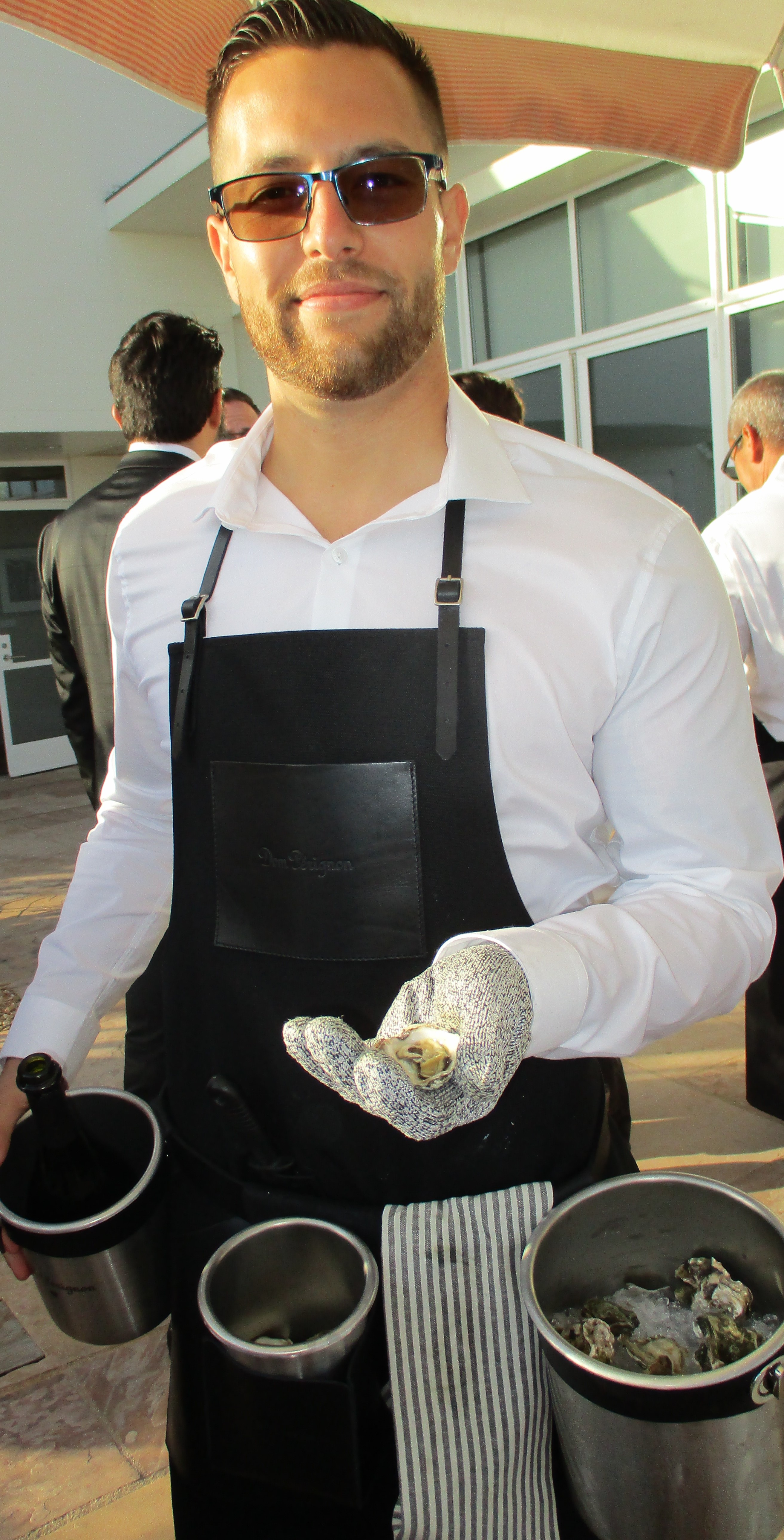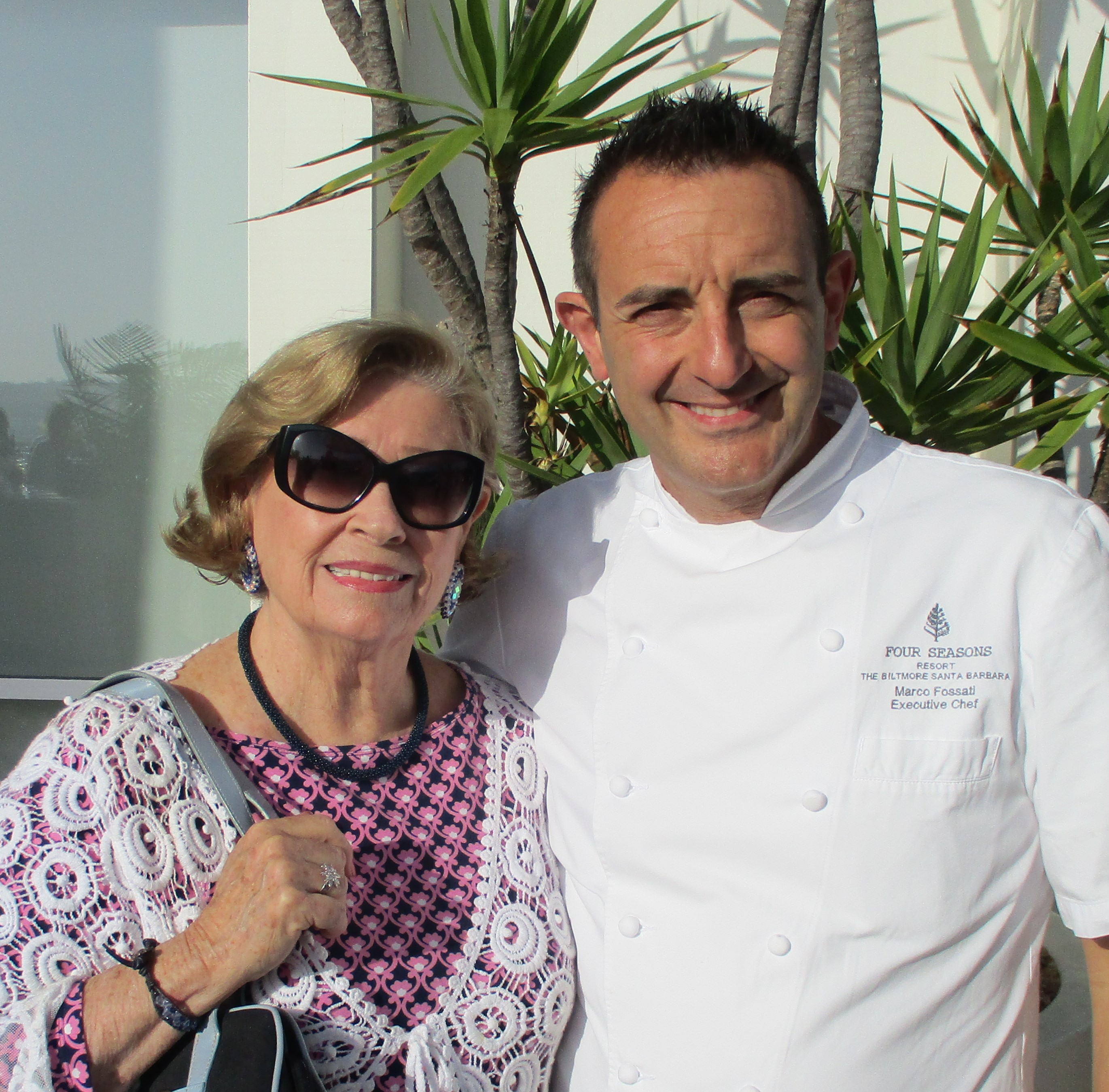 Custom Champagne/Oyster Design - BC with Chef Marco Fossati
Oyster shuckers who were also serving Dom Perignon by the glass from uniforms created especially for this experience were enthusiastically shucking oysters selected by guests throughout the patio, where everyone was enjoying a magical Butterfly Beach sunset as they savored the delicious offerings being presented by the fantastic hotel staff. The quail eggs stuffed with caviar and watermelon bites were sensational.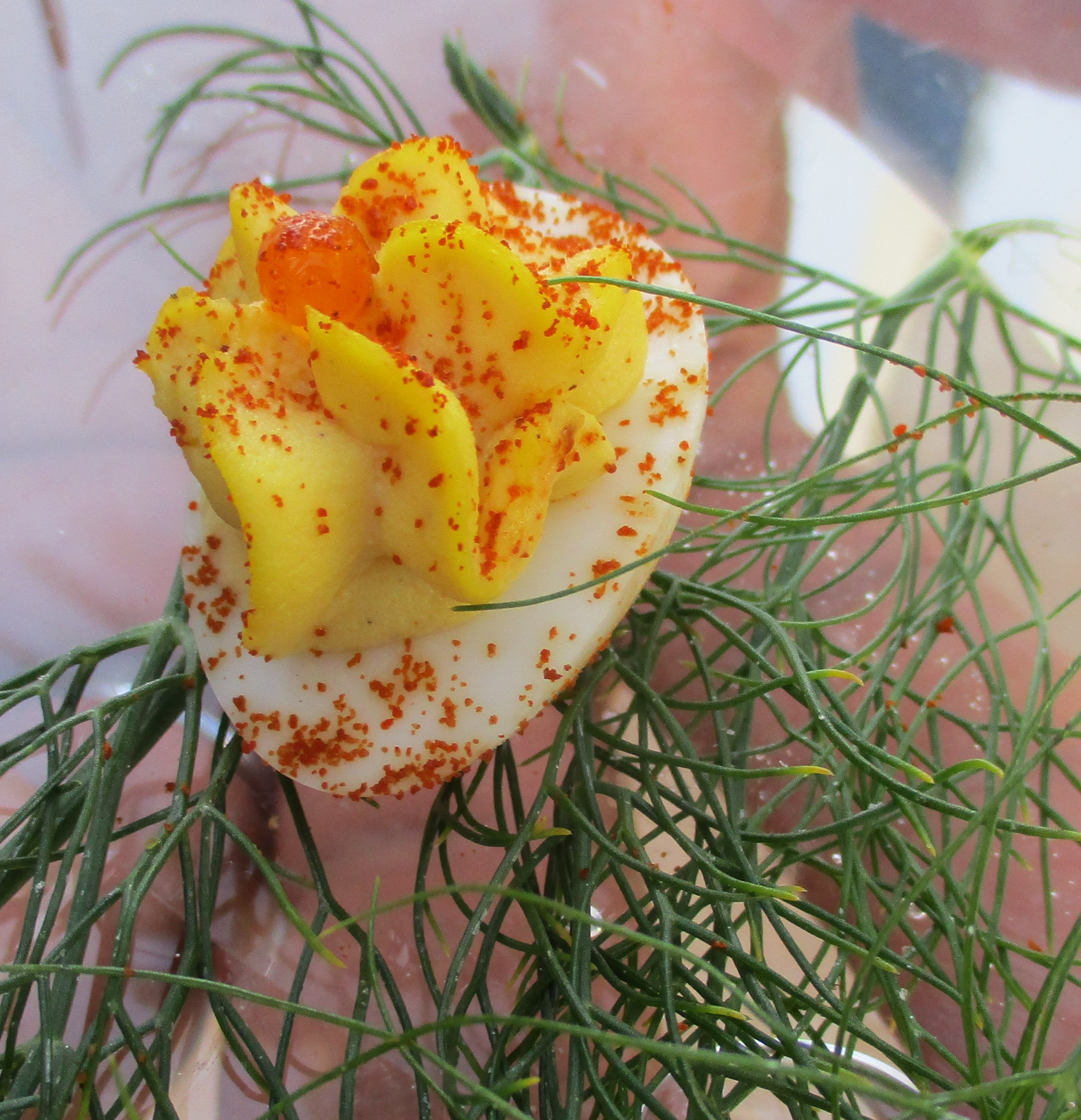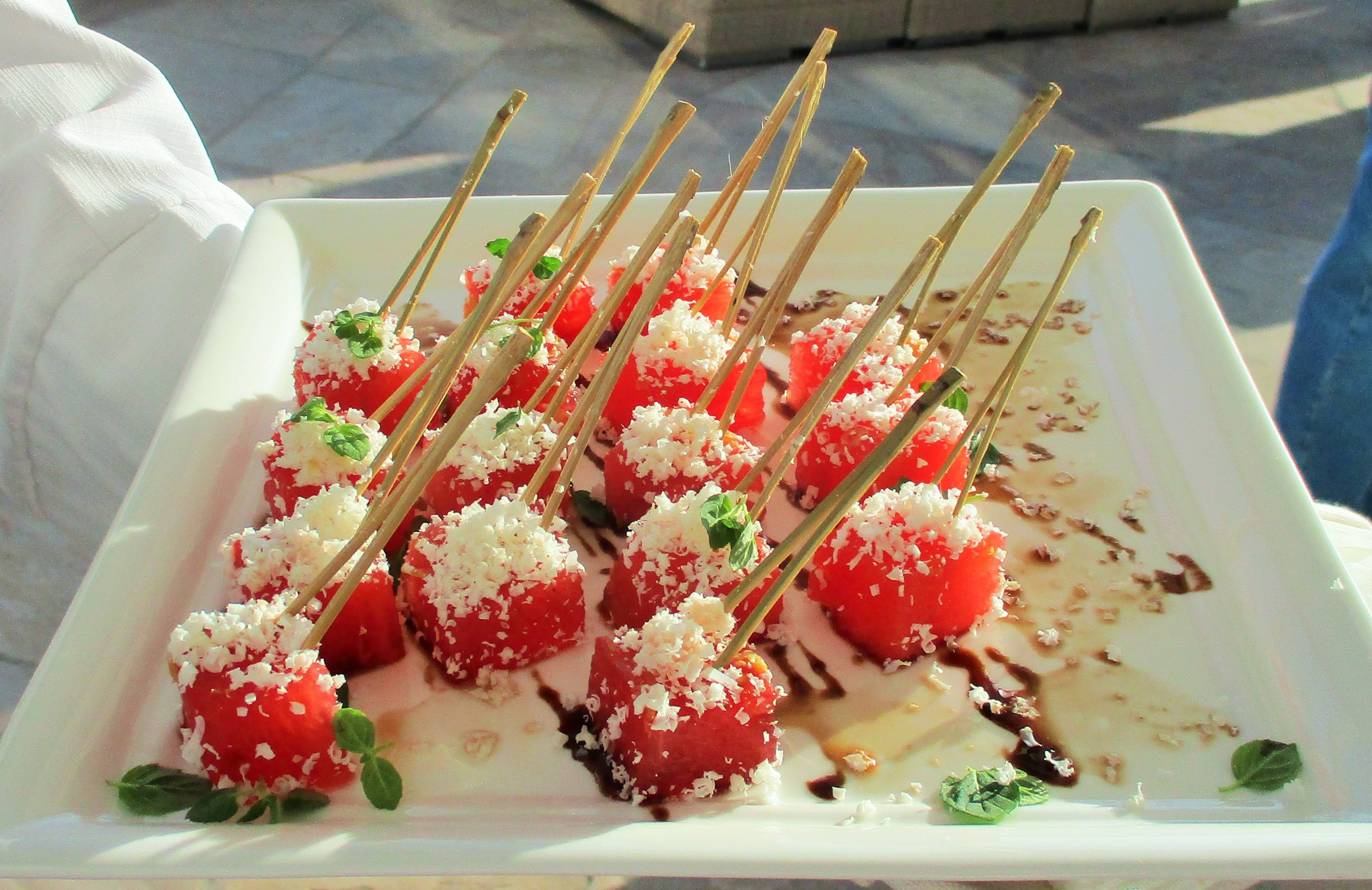 Quail Egg w/caviar - Watermelon Balsamic Hors d'oeuvre
Guests are invited to enjoy glasses of Dom Pérignon, served tableside by servers outfitted in custom, new Dom Pérignon By the Shell holsters that hold both raw bar items like oysters and clams and bottles of Dom Pérignon champagne. After pouring glasses of Dom Pérignon, servers prepare raw bar items live, tableside for the guests and offer a selection of special mignonette sauces, created in collaboration with Executive Chef Marco Fossati at Four Seasons Resort The Biltmore Santa Barbara. The program will continue each Friday in Ty Lounge at the Resort from May through August 2019. For reservations or additional information visit: www.fourseasons.com/santabarbara.
____________________________________________
'SUNSET TO FIRELIGHT' SOLSTICE SUNDOWNER TO BENEFIT ELVERHOJ MUSUEM COMING JUNE 22

Jonata Vineyards
The Divine Alfresco Dining at 7th Annual Solstice Sundowner in Solvang will take place June 22, 2019 at Jonata Vineyards.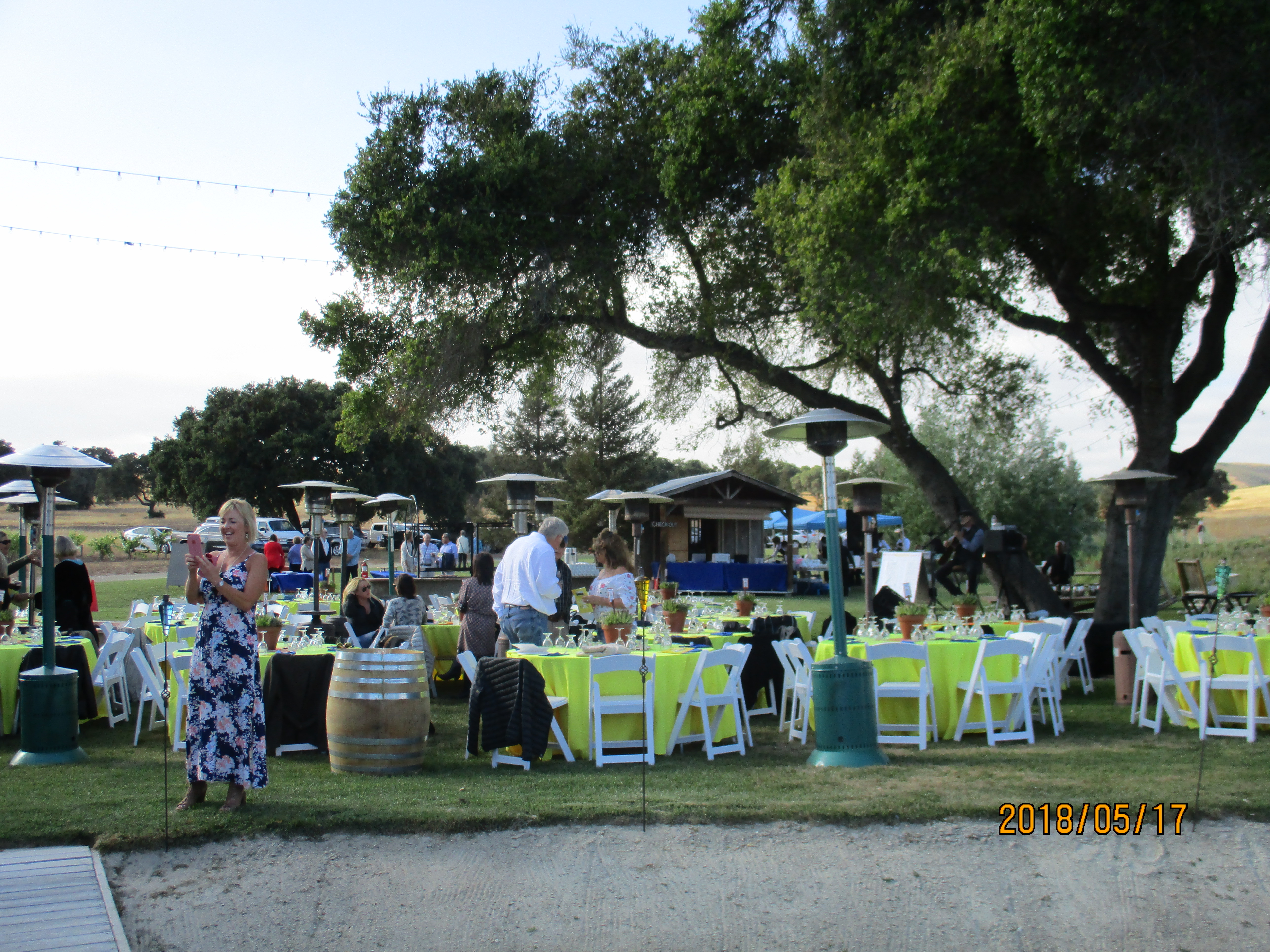 Get your tickets now for this exquisite brush with nature at Jonata Vineyards, where the wine, buffet, music, and warmth of the Elverhoj board will only be outdone by the experience of the lighting of the Sankt Hans Aften Bonfire (a traditional celebration in Denmark during the month of June honoring Saint John the Baptist) by official fire tenders Rodney Nielsen and Bruce Pedersen. For tickets or information visit: www.elverhojorg.org or call 805-686-1211.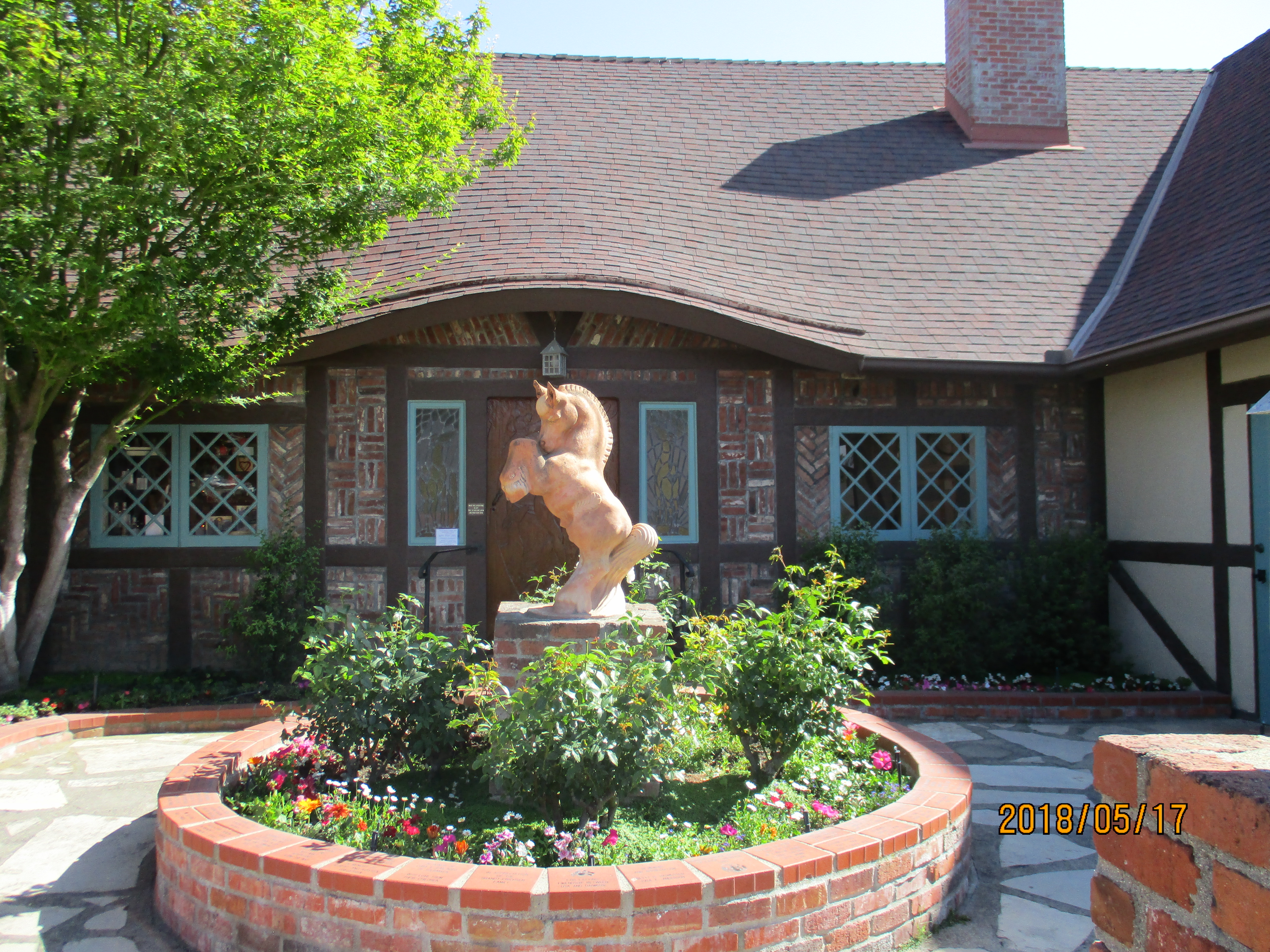 Elverhoj Museum, Solvang California

_____________________________________________
 ROSE' ALL DAY THIS SUMMER  by Bonnie Carroll
The amazing variety of rose wines available to enjoy on warm summer days at the country club, beach or backyard are countless. I have had the pleasure of coming across some delightful varietals that you may enjoy and wish to share them with you.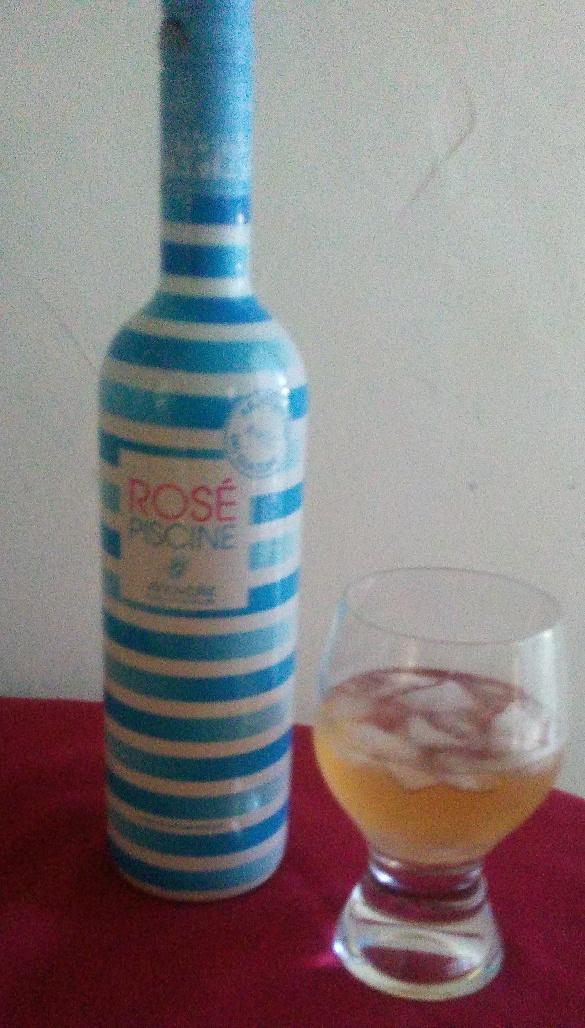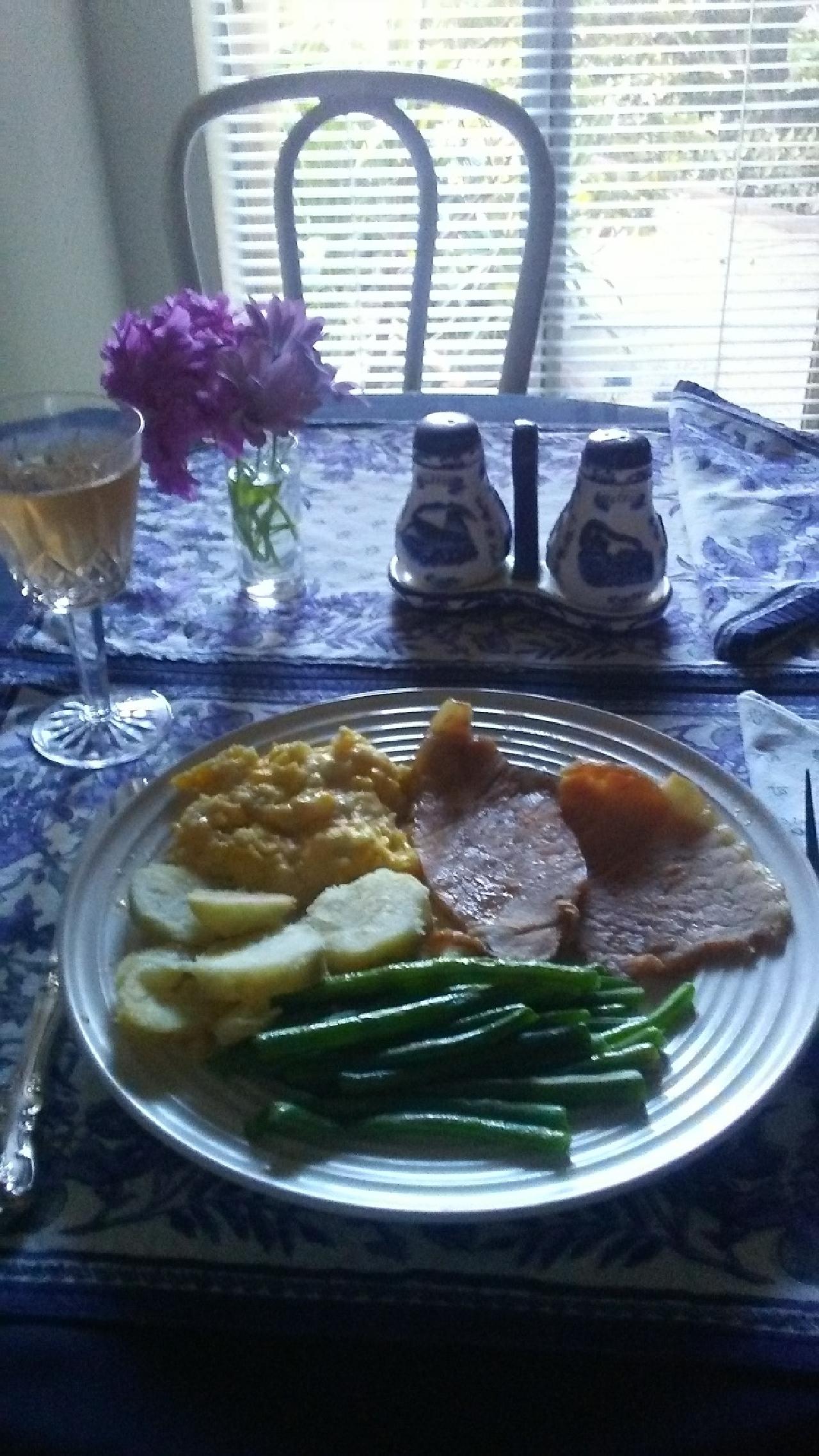 Rose Piscine, Vinovalie - Vin De France - Rose Wine is one delightful rose from France made to enjoy on the rocks, and is perfect with just about anything you might find yourself eating at a summer event. It is light, soft and easy with a subtle sweetness you will love. Perfect for Sunday brunch or dinner pairing. www.rosepiscine.com.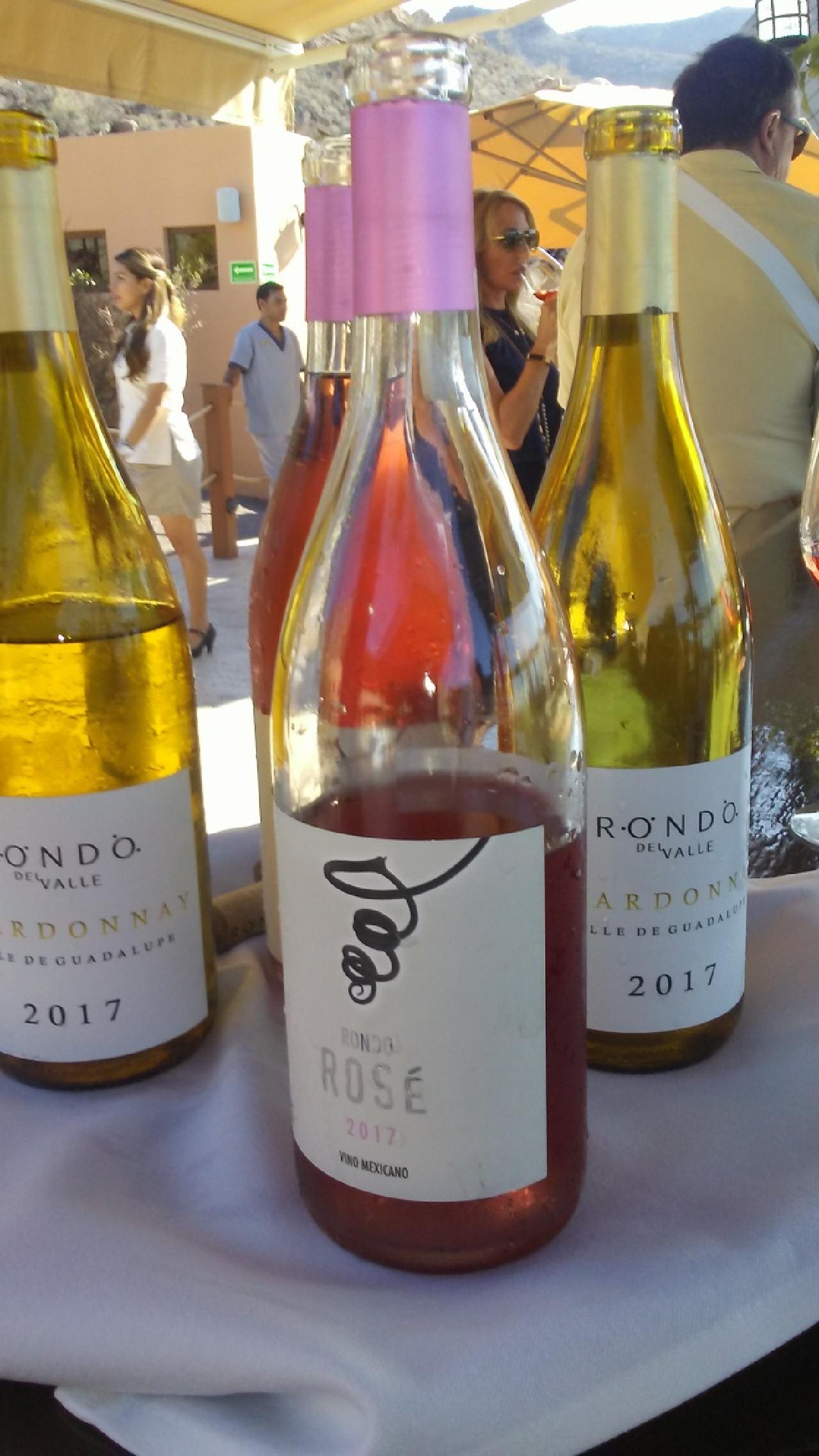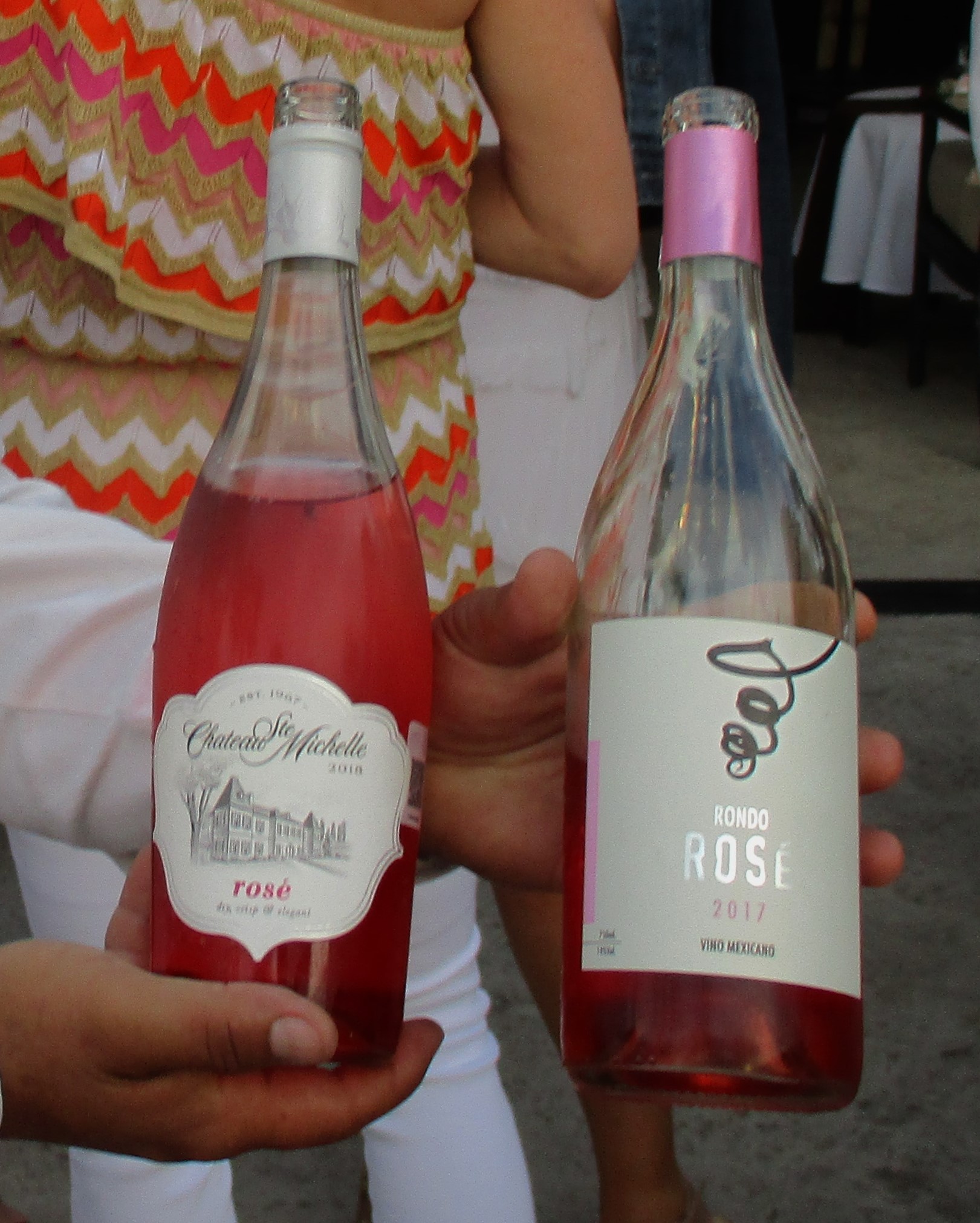 CHATEAU STE MICHELLE 2018 ROSE'
ROSE' This is a very popular blend of syra and merlot that is very versatile with or without food. It is great with light pasta and rice dishes, grilled fish and any variety of cheeses. "It is a dry elegant style rose with a light pale pink color. Aromas of watermelon and rasberry with flavors of wild strawberry, citrus zest and hints of melon. It is soft and flavorful on the palate with a long crisp finish." Bob Bertheau, Head Winemaker. www.chateaustemichelle.com.
MiMi Chardonnay is another Chateau Ste Michelle wine that pleases in summer with its crafted lightly oaked fresh style which allows bright, elegant fruit to shine through. Delightful with fish or pork entrees or luncheon salads.
RONDO DEL VALLE ROSE'
This is a rich and delightful wine from Mexico that was made to pair with beautiful Mexican inspired apetizers or salads. It has a lovely rose' color and would be great with salads of fish dishes. Albert Cruz is the celebrity wine expert for Rondo and is a Mexican viticulturist, producing wines independently for eight years, in lands his parents bought 30 years ago in Valle de Guadalupe. he also owns grape crops in Ojos Negros, Ensenada. www.rondodelvalle.com.
BRANDER VINEYARDS
My personal favorite standby Rose' for summer is Rose' by Brander Winery in Los Olivos. Fred Brander is an amazing vintner who has been producing an entire menu of delicious wines to pair with every menu and occasion. The Brander Rose' pairs perfectly with fish or an Argentinian BBQ and is ideal for family parties or social gatherings. www.branderwines.com/

---