SIPS .  .  .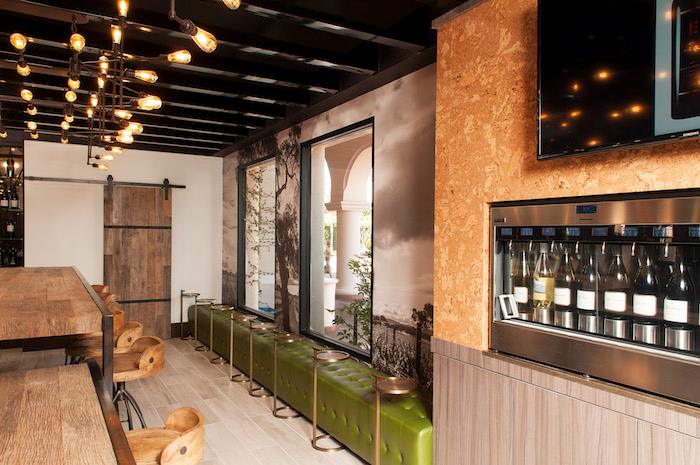 Fess Parker, Double Tree by Hilton Hotel Lobby Wine Bar
Fess Parker Properties Opens New Santa Barbara Tasting Room in  The Fess Parker - A Doubletree by Hilton Resort  by Bonnie Carroll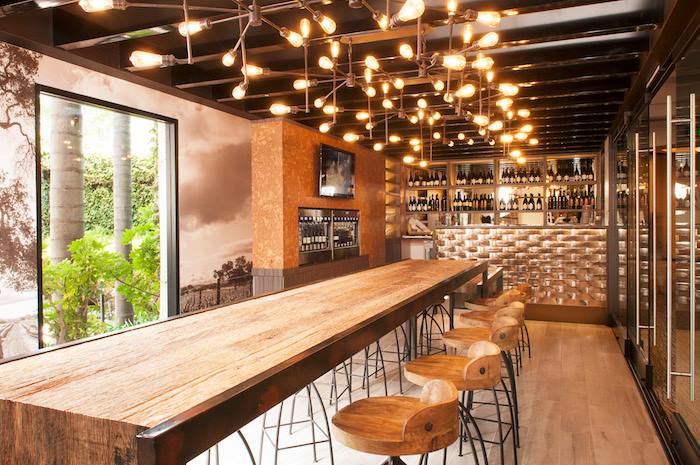 Fess Parker, Double Tree by Hilton Tasting Salon & Bar
Opening its doors on June 22nd, the newest Fess Parker tasting room will bring together Santa Barbara's iconic beach atmosphere with a rotating selection of 16 wines from Fess Parker Winery and Epiphany, focusing on limited production and single vineyard offerings.  In addition, the tasting experience will be fresh and innovative featuring the state-of-the-art Enomatic® wine dispensing system, known for protecting the freshness, flavors and characteristics of each wine.  Wines are enjoyed with the touch of a button, and savored as if each bottle had just been opened.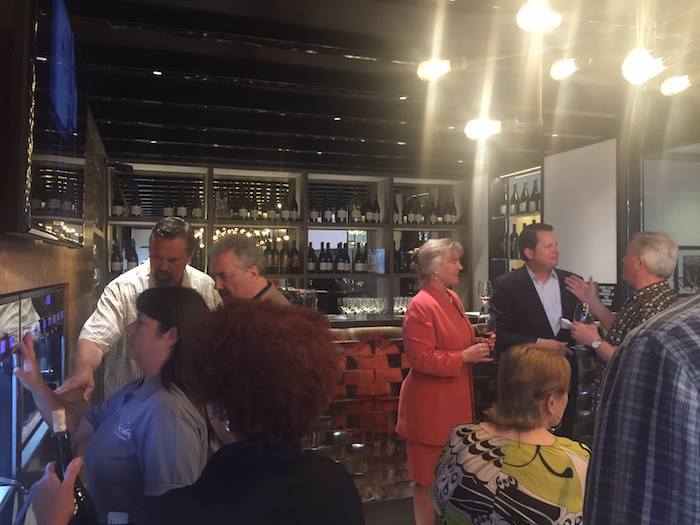 VIPs and Media Enjoy Opening Celebration
The Fess Parker family of wines expanded its tasting experience with the opening of a new tasting room inside Santa Barbara's four diamond beach-front resort property, The Fess Parker - A DoubleTree by Hilton Resort.  The opening party was attended by VIPs and industry media, where everyone enjoyed usine the new card system for delicous wine tasting.
"We are excited to have the opportunity to bring the Fess Parker Winery experience 'over the hill' to our hotel guests who aren't able to journey to wine country during their stay," said Eli Parker, "It is a project we have envisioned for this property for quite some time.  To see it come to fruition is very satisfying." 
The Santa Barbara beach-front tasting room, located off of the main lobby inside the resort, joins the Parker family's long-celebrated Los Olivos, California properties, including Fess Parker Winery, Fess Parker Wine Country Inn, Epiphany Wine Co. and The Bubble Shack. 
"The tasting room is our direct connection with the Fess Parker Winery," commented Matthew LaVine, general manager of The Fess Parker – A DoubleTree by Hilton Resort. "Guests who pass through our resort doors will now have the unique opportunity to experience a variety of   Fess Parker award winning wines indigenous to Santa Barbara and in an intimate and private setting."  
  Known for their hospitality and lifelong dedication to Santa Barbara County's wine culture, the Parker family has also launched a series of enhanced tasting experiences at its flagship Fess Parker Winery and Vineyard in Los Olivos.  From in-depth tastings of exclusive wine sections to food pairings featuring locally sourced cuisine, the family looks forward to creating the ultimate wine country experience for guests.  For more information on the Fess Parker family of wines, please visit www.fessparker.com.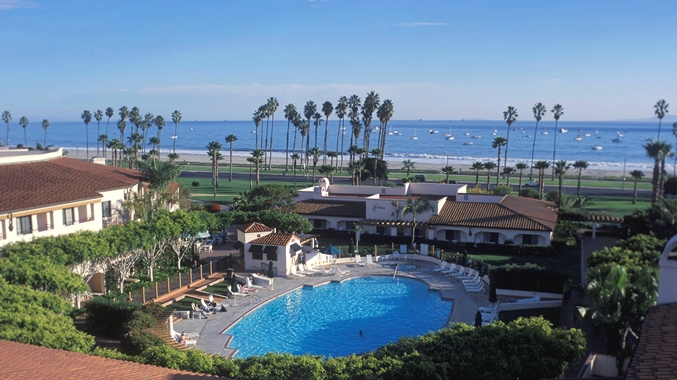 Fess Parker, Double Tree by Hilton Resort
  
About The Fess Parker, a DoubleTree By Hilton Resort Set on 24 lush acres overlooking the Pacific The Fess Parker, a DoubleTree by Hilton Resort, offers 338 guestrooms and 22 suites complete with patio or balcony views, a full-service spa, award-winning Rodney's Grill and 45,000 sq. feet of functional event space. 
Opened in 1986 by Hollywood legend Fess Parker, the property is set in a Mediterranean footprint with vaulted ceilings, airy courtyards, expansive gardens and seven mission-style guestroom buildings.  The AAA Four Diamond resort embodies Santa Barbara's eye for elegance with a casual seaside charm. Ideally located just blocks from Stearns Wharf, Santa Barbara Zoo, Santa Barbara Harbor and the vibrant new Funk Zone,
The Fess Parker offers immediate access to the Cabrillo Art Walk, beachfront biking/inline skating, sailing/kayaking, whale watching, volleyball and wine tasting.  Nearby the destination features Mission Santa Barbara, downtown shopping/cultural venues, seven golf courses and Santa Ynez wine country.  Info: www.fpdtr.com; 800.879.2929. 
Fess Parker Double Tree by Hilton Resort 633 East Cabrillo Boulevard, Santa Barbara, California, 93103, USA TEL: +1-805-564-4333 FAX: +1-805-564-4964
____________________________________
17.06.2016
GREY GOOSE® VODKA BRINGS A TASTE OF THE FRENCH RIVIERA TO MANHATTAN WITH BOULANGERIE BLEUE EXPERIENCE
Grey Goose® announced the official launch of the global summer pop up experience, the Boulangerie Bleue in New York City. Private guests will be transported to the French Riviera via a secret entrance through a traditional French bakery and will enjoy an immersive, experience created by an influential list of culinary, cocktail and music partners.
GREY GOOSE has collaborated with French music label, Kitsuné to curate the music, baking prodigy Adam Leonti of Brooklyn Bread Lab to create artisan breads inspired by the finest French ingredients that comprise GREY GOOSE vodka, and a selection of New York's best bartenders to craft exceptional cocktails.  To top it off, the world's most intimate martini cocktail bar, the GREY GOOSE Camionette, will be taking appointments for private consultations, where guests will have the opportunity to tailor the vodka martini cocktail to their own personal taste.
The New York launch event featured DJ sets from Zimmer, musician and producer Olugbenga (Metronomy), and a live performance by electro-pop dance group Rüfüs du Sol.  Zimmer is part of the new wave of Parisian producers who are redefining French House music.  Describing his sound as 'horizontal disco,' which refers to relaxed summer poolside lounging, Zimmer's infectious beats are both soothing and dance floor-friendly.
For those who want to create their own summer soiree, Zimmer has created custom playlists available for download at:
https://soundcloud.com/zimmermusic/boulangerie-bleue-sounds-of-the-riviera-daytime-1/s-mk0Qc
____________________________________
Coast Wine Classic August 10 - 14
Wining and Dining at the Highest Level
Santa Barbara locations added to the venerable Central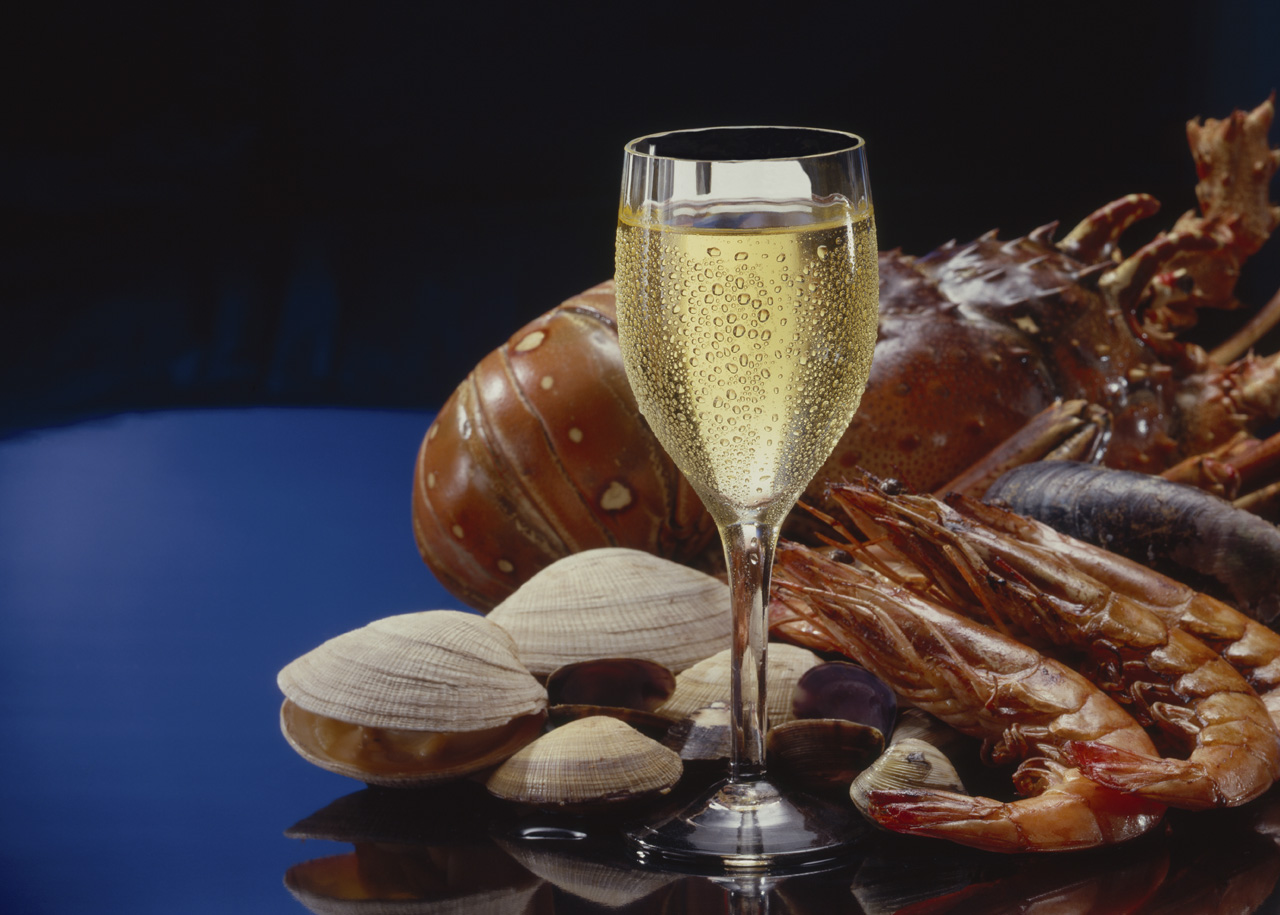 The Central Coast Wine Classic is excited to announce major enhancements to its consistently comprehensive schedule as one of the most educational charity wine auction weeks in America. According to Central Coast Wine Classic Founder & Chairman, Archie McLaren, "Our array of culinary and wine symposia has been highly praised by our Wine Classic patrons over the years. We want to heighten our educational mission by embracing an even greater depth and breadth of edifying wine and cuisine related topics. In the process, the Wine Classic will be presented in an even broader array of special venues, including San Simeon, Paso Robles, Templeton, Santa Margarita, San Luis Obispo including the Edna Valley, Shell Beach, Avila Beach, Arroyo Grande, Santa Maria, Los Olivos, Buellton, Santa Ynez, Santa Barbara and Montecito, a far cry from when the original Wine Classic in 1985 took place over a single day."
The Wine Classic has evolved in so many ways from that single date in '85 to this 31st edition which covers two counties, over five days with 19 events, including six symposia, in addition to making its' debut in Santa Barbara with a dozen events planned. The center attraction, the auction, will be on the striking Bella Vista polo estate with views of the Pacific and Channel Islands. Wines from San Luis Obispo and Santa Barbara County will be in some rare and expensive company as there will be wines from all the major wine growing regions of the world. In fact, Wine Spector rated this five-day event as on of the Top Ten Wine Classics.
Generosity is all embracing at the Wine Classic. Since 2004, when McLaren initiated the Central Coast Wine Classic Foundation it has been a patron to 125 arts centric non-profits in Santa Barbara and San Luis Obisbo Counties. Raising an incredible $2.5 million for these vital healing arts, studio arts and performing arts organizations.
In addition to wining and dining, this Wine Classic has some terrific symposiums lined up. This is a great opportunity to gain a greater appreciation of this 'liquid of the gods' by learning more about the grape and its varieties. From how it's grown and in what soil; to the careful production steps each wine demands. Symposiums on Paso Robles Bordeaux Varietals, Chardonnay, Pinot Noir, Napa Valley Cabernet Sauvignon, Australian Wines, Louis Roderer Champagne, and even Black River Caviar dot the landscape of choices. Pinot Noir gets two meetings on Friday August 12 in the afternoon: The Santa Barbara Wine Collective meets in the Funk Zone and the Central Coast Pinot Noir Symposium will be at the newly opened Santa Barbara Inn.
Coast Wine Classic August 10 - 14
2016 Events Schedule
San Luis Obispo County Packages
Your Complete Choice of Activities, Not Including the Dinner at Hearst Castle — $300/person Your Complete Choice of Activities, Including the Dinner at Hearst Castle — $1460/person
Santa Barbara County Packages
Your Complete Choice of Activities, Not Including the Rare Wine Dinner —$550/person Your Complete Choice of Activities, Including the Rare Wine Dinner — $1200/person
WEDNESDAY, AUGUST 10, 2016
5 to 6:30 PM — Barrel Tasting & Barrel Auction
Featuring yet-to-be-released wines from an array of California wineries at Greengate Ranch & Vineyard in the Edna Valley. Beginning at 5:45 PM, the Barrel Auction presents cases of yet-to-be-released fine wines from throughout California Wine Country from the Napa Valley to Santa Barbara County and hand-painted barrels designed by the Wine Classic's family of artists— $75 (includes tasting and auction)
7 to 10 PM – Winery Dinners at San Luis Obispo County Wineries, Restaurants, Resorts and Homes of Patrons including Justin Vineyards & Winery at Dolphin Bay Resort & Spa; and a Superb Group of Edna Valley Vintners at Greengate Ranch & Vineyard in the Edna Valley— $115 or Center of Effort Winery on a remarkable Estate at the confluence of the Edna Valley and the Arroyo Grande Valley — details and price TBA
THURSDAY, AUGUST 11, 2016
11 AM to 1:30 PM – Vineyard Tour and Rhône Rangers Tasting & Luncheon
At Tablas Creek Vineyard & Winery on the heralded West Side of Paso Robles, hosted by Tablas Creek Partner/GM Jason Haas, 2015 Paso Robles Wine Industry "Person of the Year," the iconic vineyard a manifestation of a partnership between the Haas Family and the Perrin Family of Chateau Beaucastel in the Rhone region of France. The Luncheon will be presented by renowned Chef Laurent Grangien of Bistro Laurent in Paso Robles — $75 or 11 AM to 1:30 PM – Paso Robles Bordeaux Varietal Symposium & Luncheon at Daou Vineyards & Winery, hosted by visionary owner Daniel Daou, from the panoramic 212 acre Daou Estate, overlooking Paso Robles Wine Country from 2200 feet above the valley floor — $75
6 PM – Dinner at Hearst Castle in San Simeon
Beginning with a Champagne Reception featuring Roederer Estate Brut in Magnums, presented by Xavier Barlier, Marketing Director of Maisons Marques & Domaines, followed by Five Dinner Courses, conceived and created by Renowned Chefs, Christophe Eme, & Laurent Quenioux, as well as assisted and presented by the Wine Classic's Stellar Family of Chefs, including Santa Barbara-Area Chefs James Sly, Michael Hutchings, & James Siao, matched with fine Dinner wines from Heralded Wine Classic Vintners — $1250
Fund-A-Need Auction to benefit the Hearst Preservation Foundation and the Friends of Hearst Castle Foundation that sustain the irreplaceable, historic Hearst Castle artifacts.
FRIDAY, AUGUST 12, 2016
9 to 11:30 AM – Edna Valley & Arroyo Grande Valley Vineyard Tour & Tastings
With continental breakfast, the Route to include Tolosa Winery, Saucelito Canyon Vineyard & Winery, Wolff Vineyards & Talley Vineyards & Winery — $75
12:30 to 3 PM – Santa Rita Hills Santa Barbara County Tour, Tasting & Light Luncheon
Hosted by Iconic Vintner Richard Sanford of Alma Rosa Winery, who planted his initial Pinot Noir Grapes in 1971 and created the hallowed 1976 Pinot Noir that brought world-wide focus on the Sanford & Benedict terroir — $75
or 3 to 4:30 PM – Santa Barbara Wine Collective Chardonnay & Pinot Noir Symposium At the comprehensively vibrant The Funk Zone in Santa Barbara, including Babcock, Ca del Grevino, Fess Parker & Paring — $75 or 3 to 4:30 PM – Central Coast Pinot Noir Symposium Including Au Bon Climat, Babcock Winery, Baileyana Winery, Center of Effort, Laetitia Vineyard & Winery, Longoria Wines, Mount Eden Vineyards, Pisoni Vineyards & Windward Vineyard, at the newly renovated and visually stimulating Santa Barbara Inn across from the Pacific Ocean — $75 7 to 10 PM — Winemaker Dinner co-sponsored by the Santa Barbara Courthouse Legacy Foundation Featuring Vintners Fred Brander of The Brander Vineyard & Bob Lindquist of Qupé Wine Cellars, the cuisine presented by renowned Santa Barbara Chef Michael Hutchings, in the Stunningly Beautiful and Recently Restored Mural Room of the Historic Santa Barbara County Courthouse (constructed in 1929) in Downtown Santa Barbara — $150
7 to 10 PM — Winemaker Dinner Featuring Vintners Bion Rice of Sunstone Vineyards & Winery and Artiste Winery & Bryan Babcock of Babcock Vineyards, with an Array of Fine Wines from Each Property, on the exquisitely designed Channel Cat, the largest luxury sailing catamaran ship in Santa Barbara Harbor — $150
7 to 10 PM — Rare Wine Dinner
Hosted by Dr. Blake Brown, Don Schliff, John Tilson & Central Coast Wine Classic Chairman Archie McLaren in the Private Dining Room at the Santa Barbara Club, prepared by Guest Chef Bernat "Bernard" Ibarra and Club Executive Chef Humberto Perez, featuring such Rare Wines as 2006 Champagne Louis Roederer Brut Nature, 2010 Domaine de Chevalier Blanc (99 points), 1983 Chateau Margaux (Wine of the Vintage), 1990 Penfolds Grange (98 points), 1971 Chateau d'Yquem (in Magnum) & Don PX Convento Seleccion 1946 from Bodegas Toro Albala (825 bottles produced-100 points) — $750
SATURDAY, AUGUST 13, 2016
10 to 11:15 AM — Napa Valley Cabernet Sauvignon Symposium
Featuring the wines of remarkable wineries from the Napa Valley, such as Alpha Omega Winery, Baldacci Wines, Herb Lamb Vineyard, Lieff Wines, Pride Mountain Vineyards & Spottswoode Winery, at Bella Vista, the extraordinary Pat Nesbitt Polo Estate, in Summerland — $95 or10 to 11:15 AM — Champagne Louis Roederer & Black River Caviar Symposium Featuring Vintage Brut, Vintage Brut Rosé, Vintage Blanc de Blancs & 2006 Brut Nature at Bella Vista, the extraordinary Pat Nesbitt Polo Estate, in Summerland. The hosts will be Xavier Barlier, Marketing Director of Maisons Marques & Domaines, and Graham Gaspard, Marketing Director of Black River Caviar — $95
10:30 AM to Noon — Auction Preview With Entertainment & Exotic Automobiles at Bella Vista, the extraordinary Pat Nesbitt Polo Estate, in Summerland (included in Auction fee)
12:30 to 5 PM — Rare & Fine Wine & Lifestyle Live Auction, Silent Auction and Luncheon
Including Auction Preview, Exotic Automobile Showcase, Silent Auction, Live Auction and Luncheon prepared & presented by dynamic & creative Chef Rick Manson & renowned Chef Frank Ostini of the Buellton Hitching Post. Auction Day is Hosted by San Francisco Bay Area Culinary Icon Narsai David & Central Coast Wine Classic Founder & Chairman Archie McLaren, featuring vibrant and dynamic Auctioneer DawnMarie Kotsonis, at Bella Vista, the extraordinary Pat Nesbitt Polo Estate, in Summerland — $175
The Annual Fund-A-Need Auction Lot inuring to the benefit of The Léni Fé Bland Performing Arts Fund, established by 2016 Wine Classic Patron Honoree Sara Miller McCune of Montecito.
SUNDAY, AUGUST 14, 2016
10:30 to 11:15 AM — Australian Wine Symposium
Featuring Sparky Marquis of the renowned Mollydooker Wines in the McLaren Vale of South Australia, who created the Number 2 Wine in the World on Wine Spectator's Top 100 List for 2014, at the newly renovated and visually stimulating Santa Barbara Inn across from the Pacific Ocean — $75
11:30 AM to 1 PM — VIP Champagne & Black River Caviar Departure Brunch at the ideally located Country French Stella Mare's restaurant adjacent to the beautiful Riparian Zone & Bird Refuge between Montecito and the Ocean — $9
For details & reservations visit: www.centralcoastwineclassic.org.
___________________________________________________________________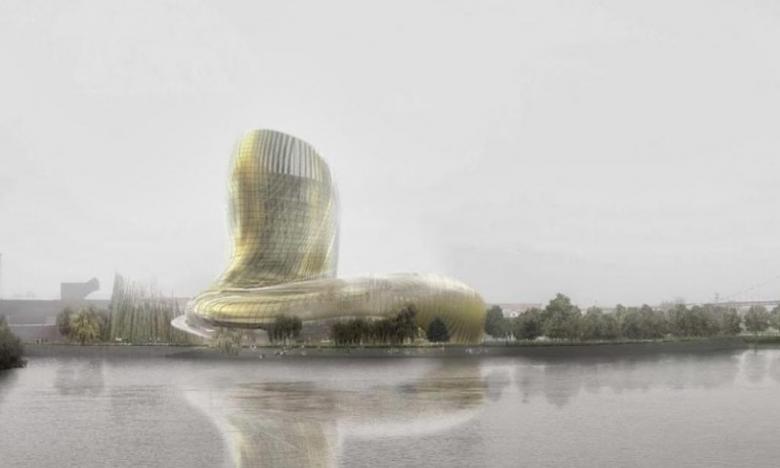 Wine Museum and Cultural Center  Opens in Bordeaux in
The Bordeaux-based wine museum and cultural center known as La Cité du Vin (
www.laciteduvin.com
) opened its doors on June 1, 2016. It will draw visitors into an unparalleled discovery of wine-growing civilizations from all over the world.
The value of the Cité du Vin is anchored in two propositions: the construction of a world-class museum in a building with remarkable architecture uniquely suited to its purpose; a spectacular voyage through time, history and the cultures of the world to learn about wine.
Located on the banks of the Garonne River, the Cité du Vin is a monument to be marveled at before you even step inside. An original design from Parisian agency XTU, the bold architecture was intended to stand out in a crowd of both great international museums in other cities and majestic facades in Bordeaux. The shape of the building is said to symbolize the spiral flow of wine swirling in a glass. With a belvedere rising 180 feet above the ground (and a viewing platform 115 feet up on the 8th floor), the riverside structure will be decorated with 3,000 iridescent aluminum panels that catch and mirror the changing reflections of the adjacent river to which Bordeaux and its wines owe their prominence.
Inside, temporary and permanent exhibitions will lead visitors on a journey through time (from 6,500 BC to the modern era) to gain an understanding of the wine-growing cultures of five continents. This tour will be divided into 23 exhibition modules, covering everything from "The Vineyards World Tour" and "The Changes of Wine" (from grape seed to wine) to "The Buffet of the Five Senses" (tasting), wine and art, and even health and religion.
The latest technological innovations are being used in the scenography, including 3D images, holograms, smell diffusors, music and other interactive tools. The end result is an immersive, multi-sensory experience accessible via individual handset guides issued to each visitor. These will deliver explanations in real time in the user's selected language (eight are available), triggered by a device that detects the wearer's position and sets off the appropriate multimedia content.
The 450,000 visitors expected in the first year will also be able to make the most of shops, restaurants and a wine tourism service for further information about and tickets to the surrounding vineyards. A five-star hotel with 150 rooms, a shopping centre and a boat shuttle service will expand the site even further.
With all of this in place, the Cité du Vin hopes to become the flagship tourist attraction and cultural hub of Bordeaux.
__________________________________________________________________
How to Cocktail: French 75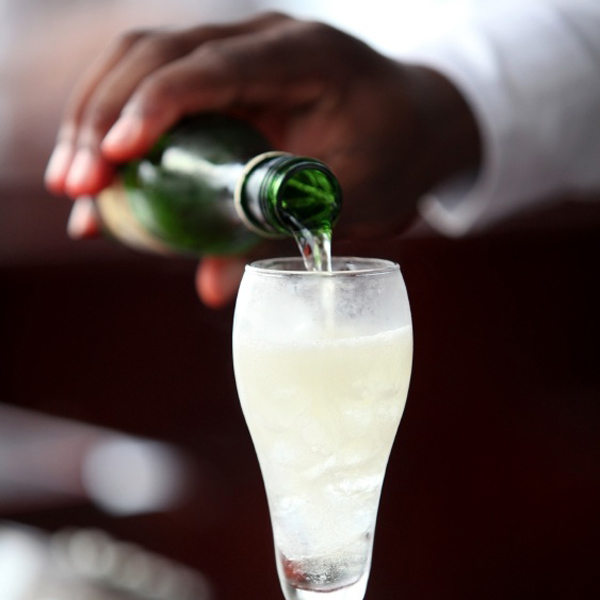 Whether you like cognac or gin, this classic cocktail is for you. Learn to make the bubbly drink from top San Francisco mixologist Brooke Arthur.
INGREDIENTS:
PREPARATION:
Add all the ingredients except the Champagne to a shaker and fill with ice. Shake well and fine-strain into a Champagne flute. Top with the Champagne and garnish with a long ribbon of lemon peel.
How to Cocktail: French 75
Whether you like cognac or gin, this classic cocktail is for you. Learn to make the bubbly drink from top San Francisco mixologist Brooke Arthur.
INGREDIENTS:
PREPARATION:
Add all the ingredients except the Champagne to a shaker and fill with ice. Shake well and fine-strain into a Champagne flute. Top with the Champagne and garnish with a long ribbon of lemon peel.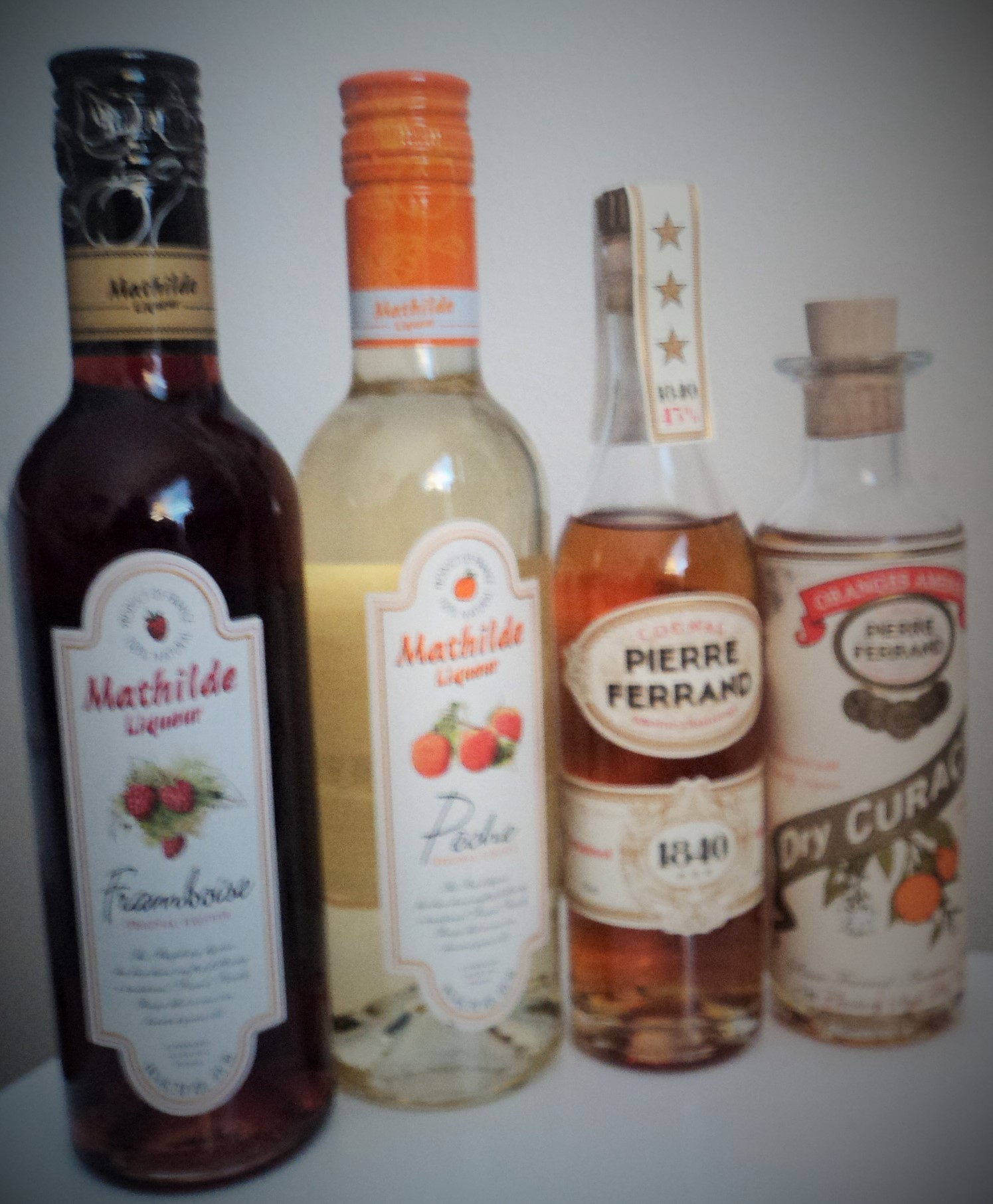 ________________________________________________________________
GREEK WINE NEWS "WHAT'S HOT"
Greece and wine go back about 4,000 years and just as Greece created the concept of culture and brought the first democracy to the world, they also developed the first appellation system that is so common today and even the first wine glass.
Greece is one of the world's oldest and newest wine regions at the same time. Nearly 5,000 producers are using modern viticulture methods to make wine from 350 indigenous grapes along with many of the international varieties.  
As the third most mountainous country in Europe, Greece has never been an easy place to make wine. Its distinct topography enables the cultivation of cool weather grapes in a warm weather climate. The result is wines with a perfect balance of high acidity and low alcohol. They taste crisp and fresh and work beautifully with a variety of foods.
Try the four most common varietals sold in the U.S. They may be difficult to pronounce, but a glass or two always makes it easier. (Try this: whenever you see a "g" in writing, it's pronounced as a "y" and an "x" is pronounced as "c"):
Assyrtiko: One of the great white wine grapes in the world, Assyrtiko is best known as being from the island of Santorini, although it can also be found in other parts of Greece. Typically unoaked, it offers great minerality and may remind you of a Chablis or dry Riesling. It is an ideal complement to fish and seafood.


Moschofilero: Think Torrontes on the nose and a cross between Albariño and Pinot Grigio on the palate. Fresh, aromatic and elegant, this is a great wine with Asian cuisine, seafood and sushi. Cultivated on the high plateau of Mantinia in the north-central Peloponnese (Google a map of Greece if you must!).


Agiorgitiko: If you can't pronounce it, just call it Nemea, which is its region of origin. It offers fine tannins, an elegant, soft mouth feel, and layers of dark fruit, spices and cocoa. It's perfect paired with duck, lamb and roasted meats.


Xinomavro: If you love the great Nebbiolo-based reds of Barolo and Barbaresco, add Xinomavro to your list. From the mountainous Naoussa and Amynteo regions in northwestern Greece, this wine is known for its bright pale to deep red color, high acidity, strong tannins and complex aromatic character. It has a vegetal character and its tannins soften over time to give it a velvety structure. Xinomavro pairs well with strongly-flavored meat like steak, duck, and venison.
Besides these four, there are many more Greek wines you'll love including some incredible dessert wines. Sign up for the Wines of Greece online community and you'll learn more about Greek wines, get great recipes, travel ideas, invitations to events and the opportunity to win a $100 gift certificate to your favorite Greek restaurant. Pretty soon, when asked about the wines you drink, you'll say, "It's all Greek to me."
___________________________________________________________________
Visit: Buywine.com for great wine buys!
____________________________________________________________________
MARIN BREWING BIG WINNERS!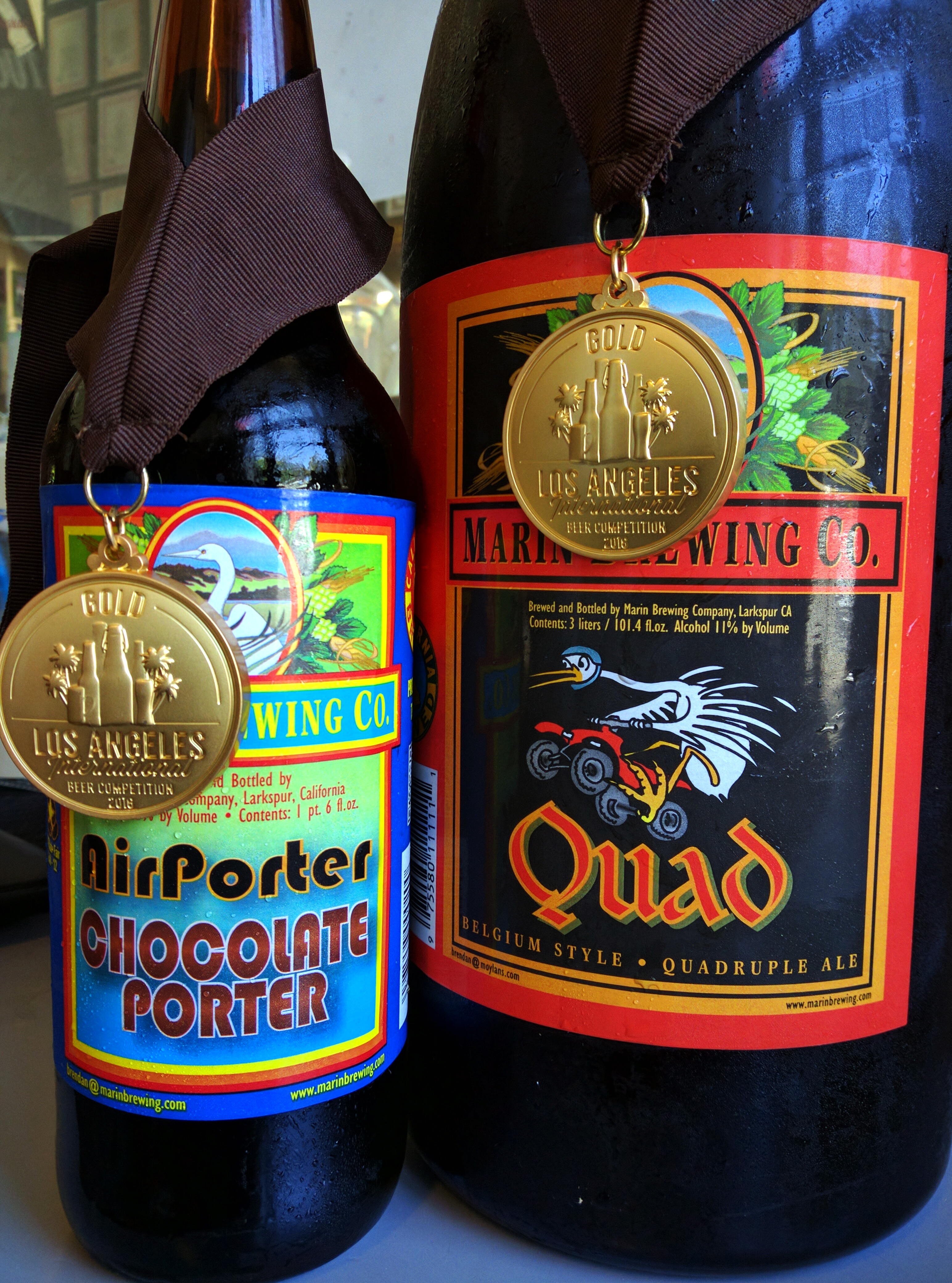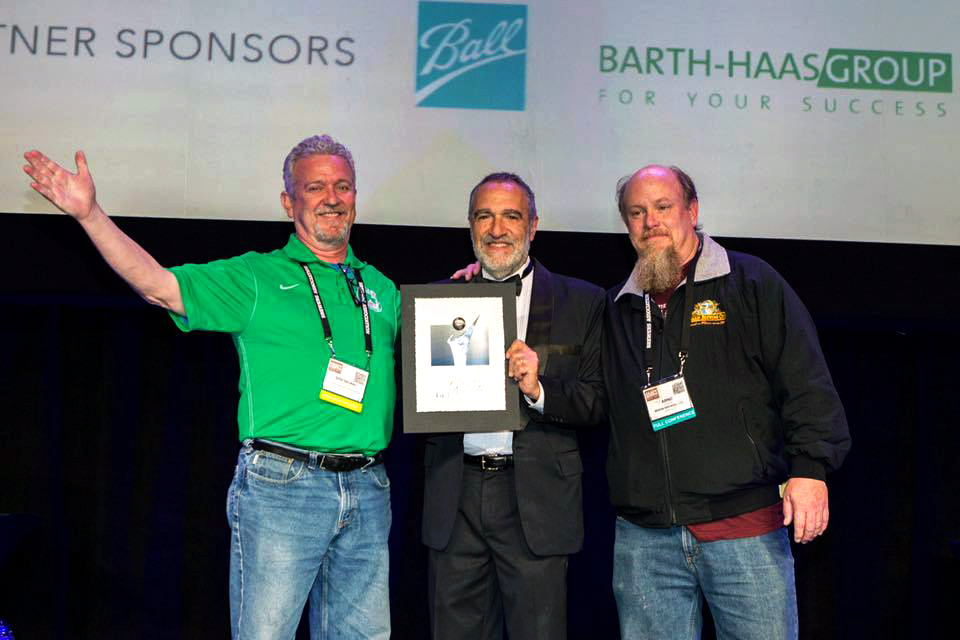 Marin Brewing scored a big win this past week at the 2016 World Beer Cup, picking up the silver in the chocolate beer category for its AirPorter Chocolate Porter.  The World Beer CupSM, a biennial event,  considered by many to be the most prestigious and largest international competition, attracted nearly 6,600 entries this year. The medal is the second for Marin Brewing's award-winning porter this year, which also won the gold at the 2016 Los Angeles International Commercial Beer Competition in the same category last month.
Also winning at the highly respected, and increasingly competitive 2016 LA International Commercial Beer Competition, was Moylan's Brewing, nabbing a gold in the cutthroat Classic Irish-Style Dry Stout category for its Dragoon's Dry Irish Stout. Not to be out done, Marin Brewing added it second medal at the event by earning a gold in the Belgian-Style Strong Specialty Ale category for its legendary Quad.
What's next for the award-winning breweries? In the coming weeks, Moylan's will be rolling out its gold medal-winning Afternoon Tea Light, an English Style Ale brewed with Earl Grey Tea. As the weather warms up further, you'll see the return of Hop Garden Pilsner, a once-a-year treat for the craft beer lover. For Marin Brewing, summer heralds the release of its gold medal winning, Hella Art Wah, a pilsner that combines German and French hops to create a clean and crisp lager with a firm bitterness and a bold hop flavor for some West Coast flair.
Like many beer aficionados, Moylan's and Marin Brewing will attend a number of upcoming beer festivals and charity events, including the 16th Annual Breastfest in July, Novato Art Festival, the Annual Lion's Club July 4th Celebration in Corte Madera, CA and the Marin County Fair.
In addition, Moylan's and Marin Brewing will participate in several beer competitions: the International Beer Competition in San Diego, the California State Fair in Sacramento, the North American Brewers Association Competition in Idaho, and the US Open Beer Championship in Oxford, Ohio.
Founded in 1989, Marin Brewing Company is a craft brewery and restaurant located in Larkspur, California. Marin Brewing Company has won global recognition for outstanding artisan beers.
To learn more about Marin Brewing Company's award-winning family of beers and their acclaimed food, please visit the Marin Brewing website. You can also follow them on  Twitter, Facebook and Instagram to stay up to date with all our latest news and events.
Founded in 1995, Moylan's Brewing Company is a craft brewery and restaurant located in Novato, California. Moylan's has won global recognition for its outstanding artisan beers, including multiple medals from: The Great American Beer Festival, The California State Fair and The World Beer Cup.  Moylan's distributes beer to more than twenty-five states and carries 22 oz bottles, growlers, and kegs.
---