ABSOLUT® VODKA JOINS FORCES WITH B. SMITH, LIFESTYLE
EXPERT & RESTAURATEUR, TO CREATE STYLISH HOLIDAY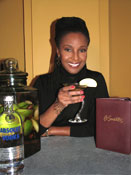 Two Entertaining Experts Join Forces to Create a Celebration - Absolut® Vodka and renowned restaurateur and lifestyle expert B. Smith have teamed up to create three stylish and palate-pleasing new recipes. The style diva will create two drinks and one food recipes for the premium vodka company. The three recipes will make entertaining easy for pros and novices alike, and will be available in time for the holidays at www.bsmith.com.
The first recipe, Apple Cinnamon ABSOLUTINI, adds new life to the popular apple martini with a sophisticated touch to spice things up. The main ingredients for a serving of ten include: one liter of ABSOLUT VODKA, five green apples, eight cinnamon sticks and caramel syrup. First, slice the green apples into wedges and place them into a container with the cinnamon sticks. Pour one liter of ABSOLUT VODKA over mixture to create cinnamon apple infused ABSOLUT and let stand for 24 hours. Next, remove cinnamon sticks and pour three parts of the cinnamon apple infused ABSOLUT VODKA; one part Apple Pucker, and ¾ part caramel syrup into your finest martini glasses and enjoy.
In addition to drink recipes, B. Smith also will create a dish featuring ABSOLUT. "Many people don't realize you can easily create appetizers, entrees and desserts using any of ABSOLUT flavors as marinades, sauces or a main ingredient," added B. Smith.
---
I'LL TAKE A BOTTLE OF THE ROLLING STONES…
Celebrity Cellars has launched line of wines dedicated to The Rolling Stones. According to the New York Daily News, the labels for the 12-bottle Stones line feature various tour logos and takes on their famous tongue logo. The wines in this collection go for 25 to 100 dollars a bottle and can be purchased online at CelebrityCellars.com or RollingStones.com.