SIPS  .    .    .

SANTA BARBARA WINE FESTIVAL 2015
Food & Wine at the Museum of Natural History
By Bonnie Carroll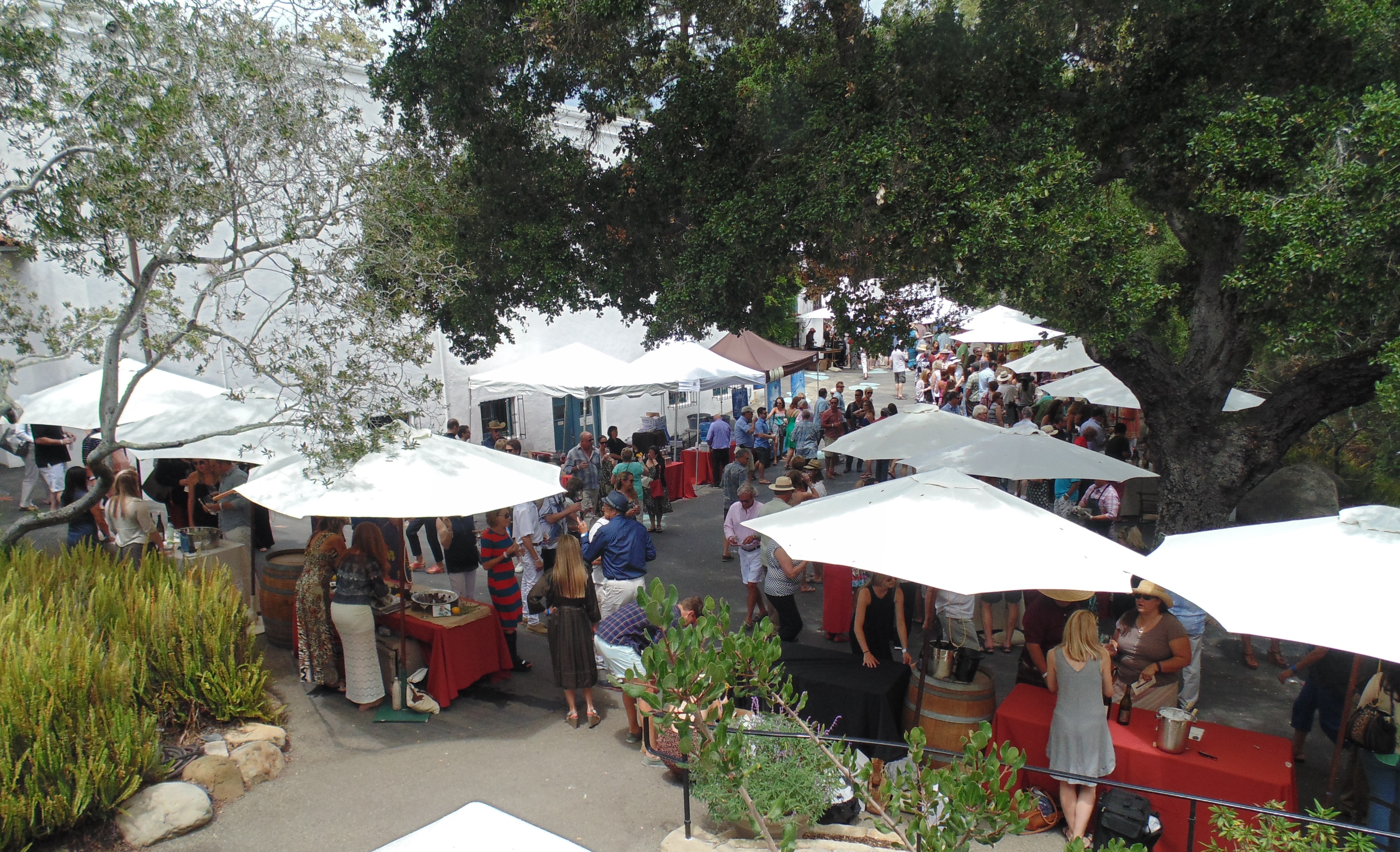 From the check-in to the delicious walk around the back of Boulder Alley, the charming grounds of the historic Santa Barbara Museum of Natural History was the hottest ticket in town for enthusiastic museum supporters, along with sponsors and purveyors who provided sensational sips and delicious bites for the charity fundraiser. The tasting samples from area restaurants and sips from vintners were real crowd pleasers. People watching at this event is half the fun, as well as chatting with the vintners and chefs, and this year was no exception.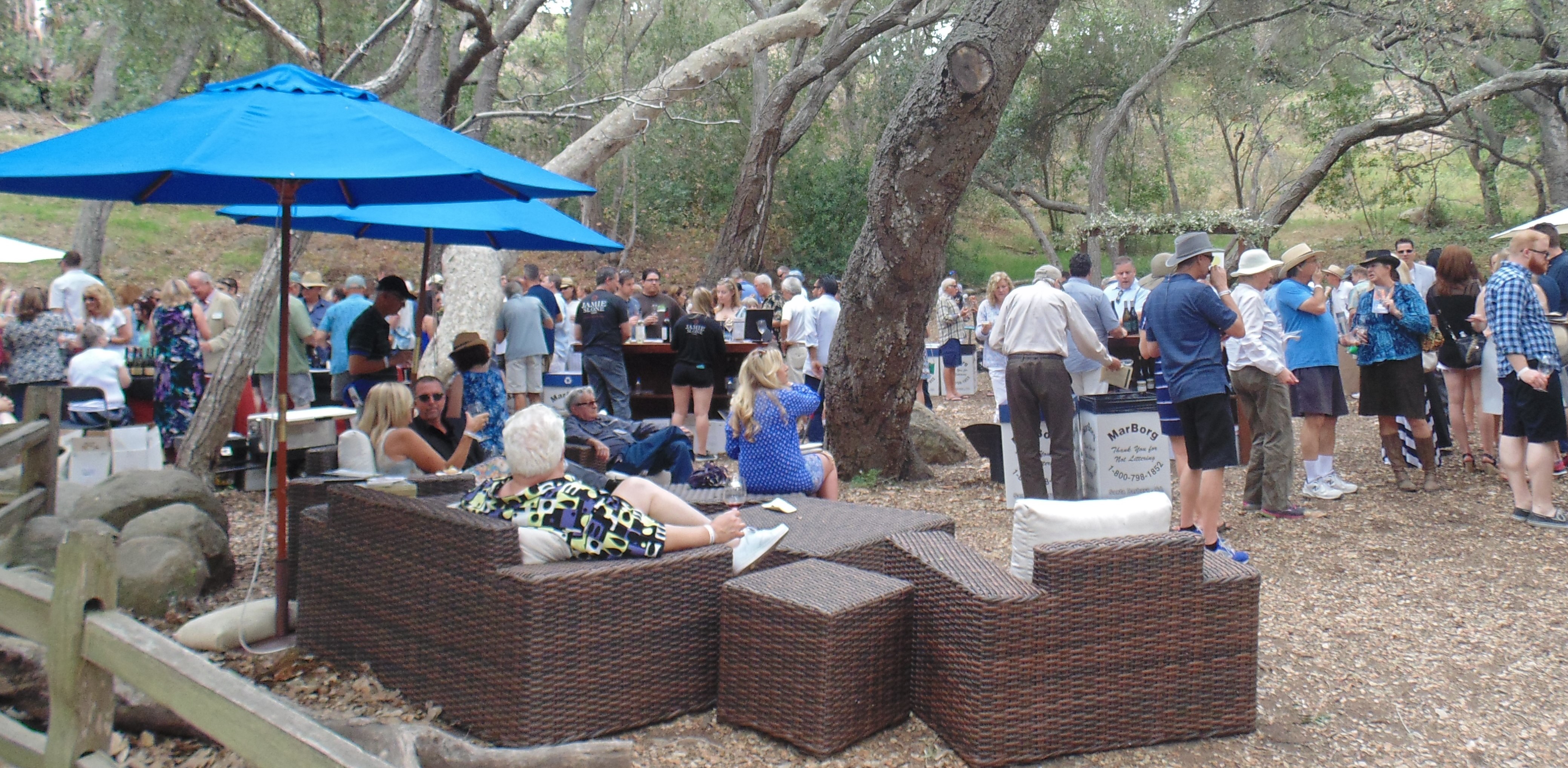 Sponsors for the 2015 SBMNH Wine Festival included The Berry Man, Inc., Classic Party Rentals, Mission Wealth Management, Riviera Insurance Services, Real Water, and OnQ Financial (Bag Sponsors), along with a bevy of area media sponsors.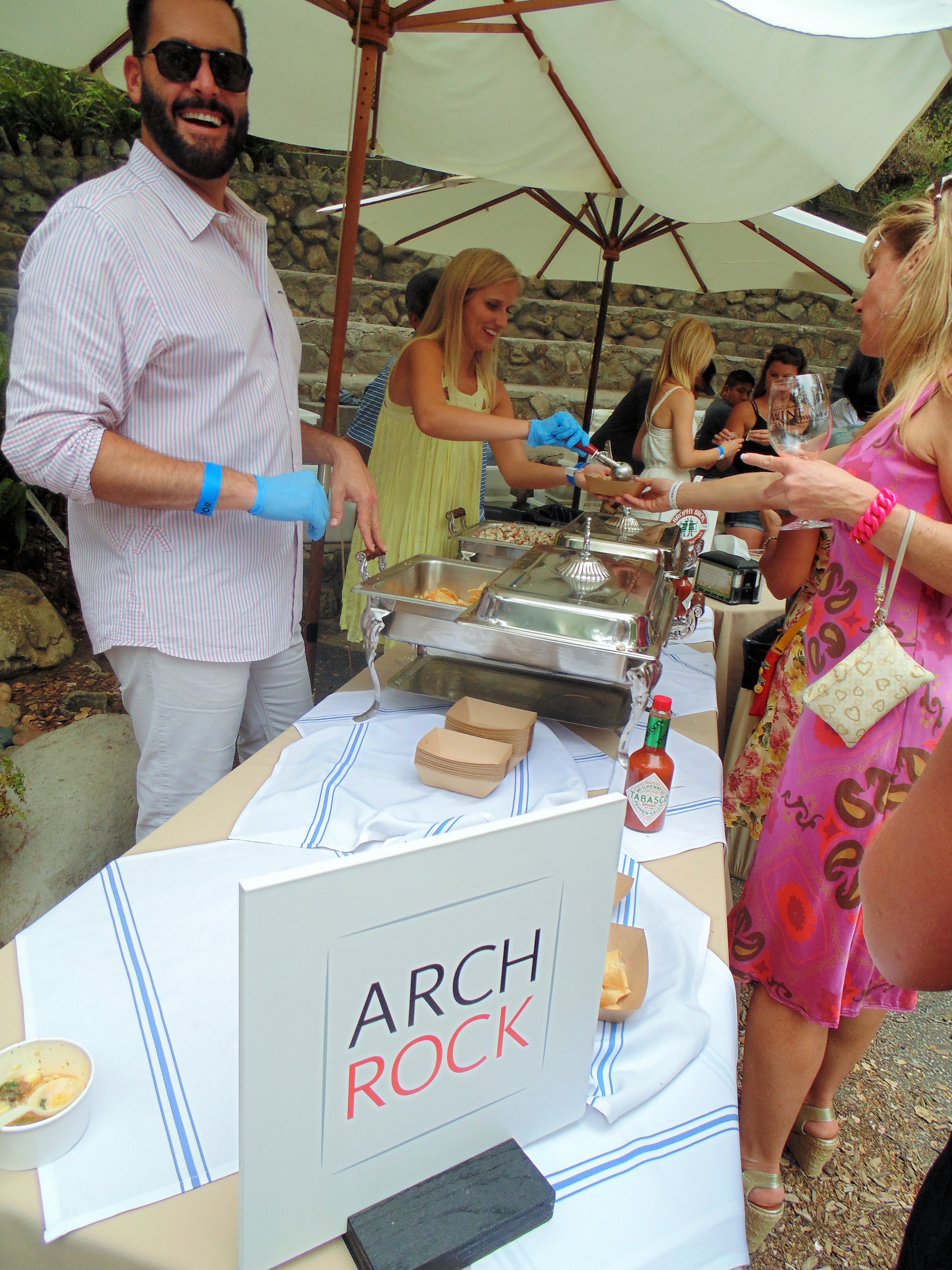 Food Vendors included Arch Rock Fish, Barbareno, Benchmark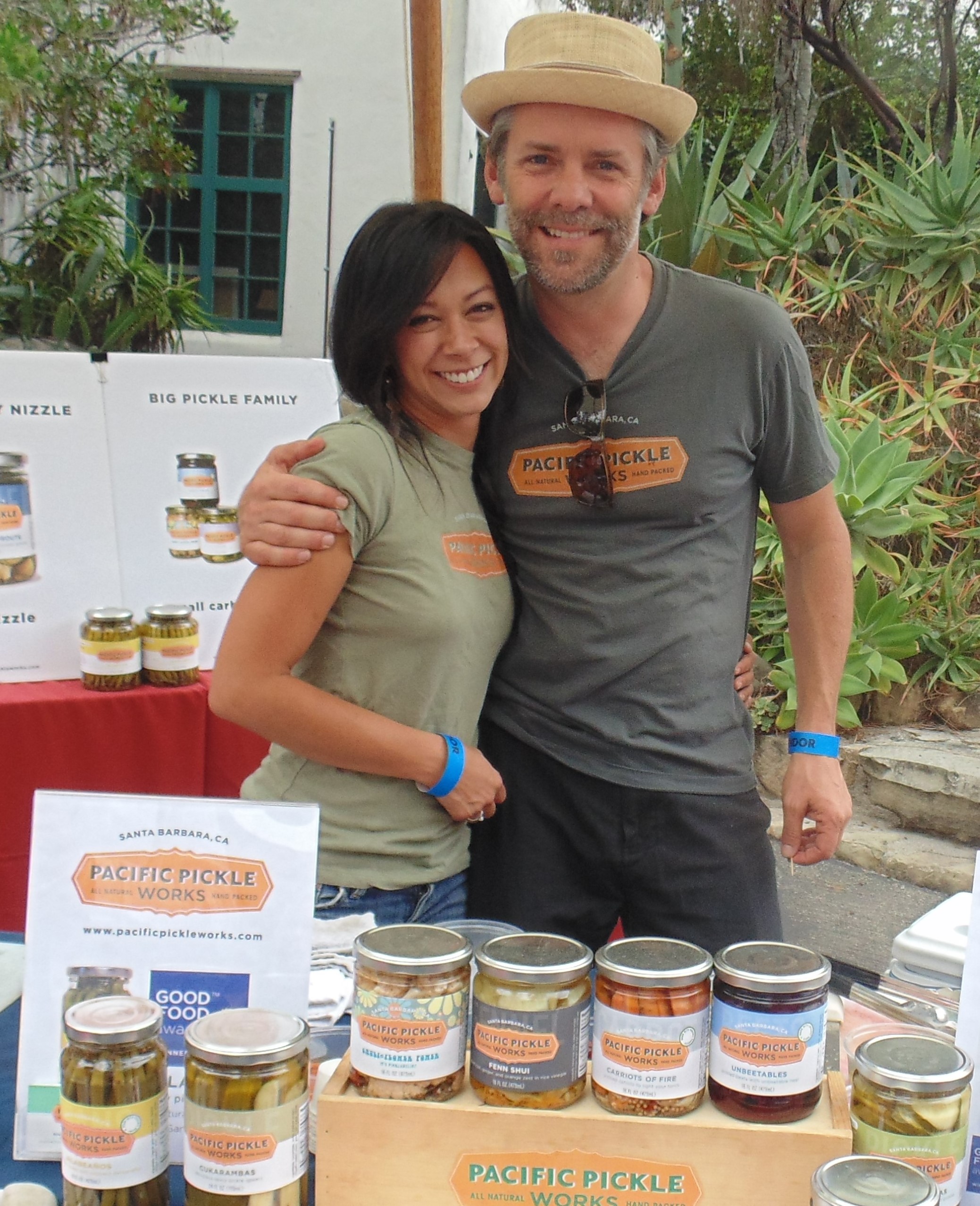 Eatery, Bob's Well Bread, Brophy Bros., Via Maestra 42, C'est Cheese, Cinnies, Coffee Bean and Tea Leaf, Country Catering, Coveted Cakery, Finch and Fork, FreezerMonkeys, Funk Zone Patio, Georgia's Smoke House BBQ, Il Fustino, Jessica Foster Confections, Le Sorelle, Michael's Catering, Omni Catering, The Outpost at Goodland Hotel, Pacific Pickle Works, Paloma Restaurant, Renaud's Patisserie, Sama Sama Kitchen, Santa Barbara Tamales To Go, Tartisan, The Shop, The Stonehouse, Truffle Gatteau and Village Modern Foods.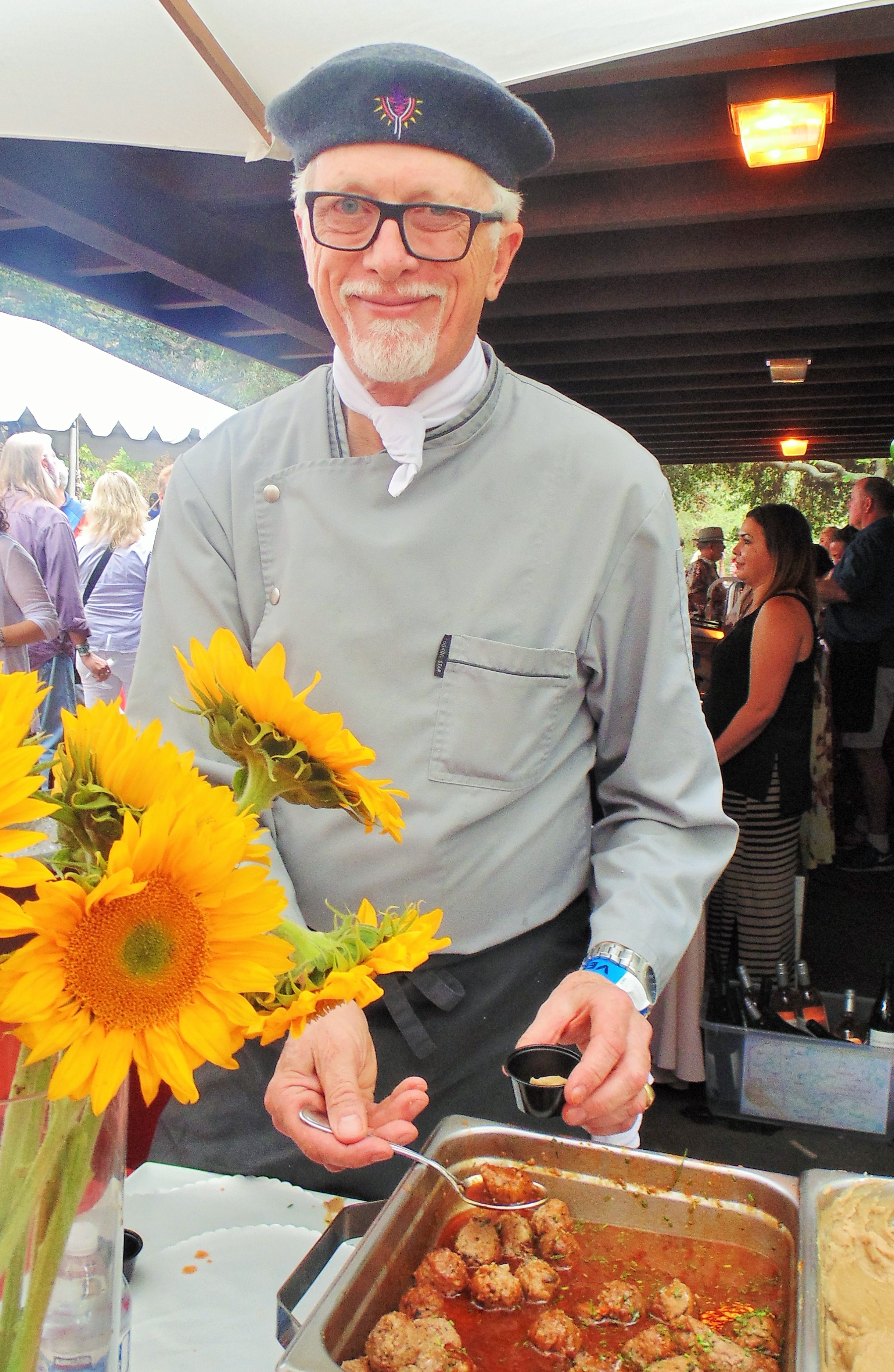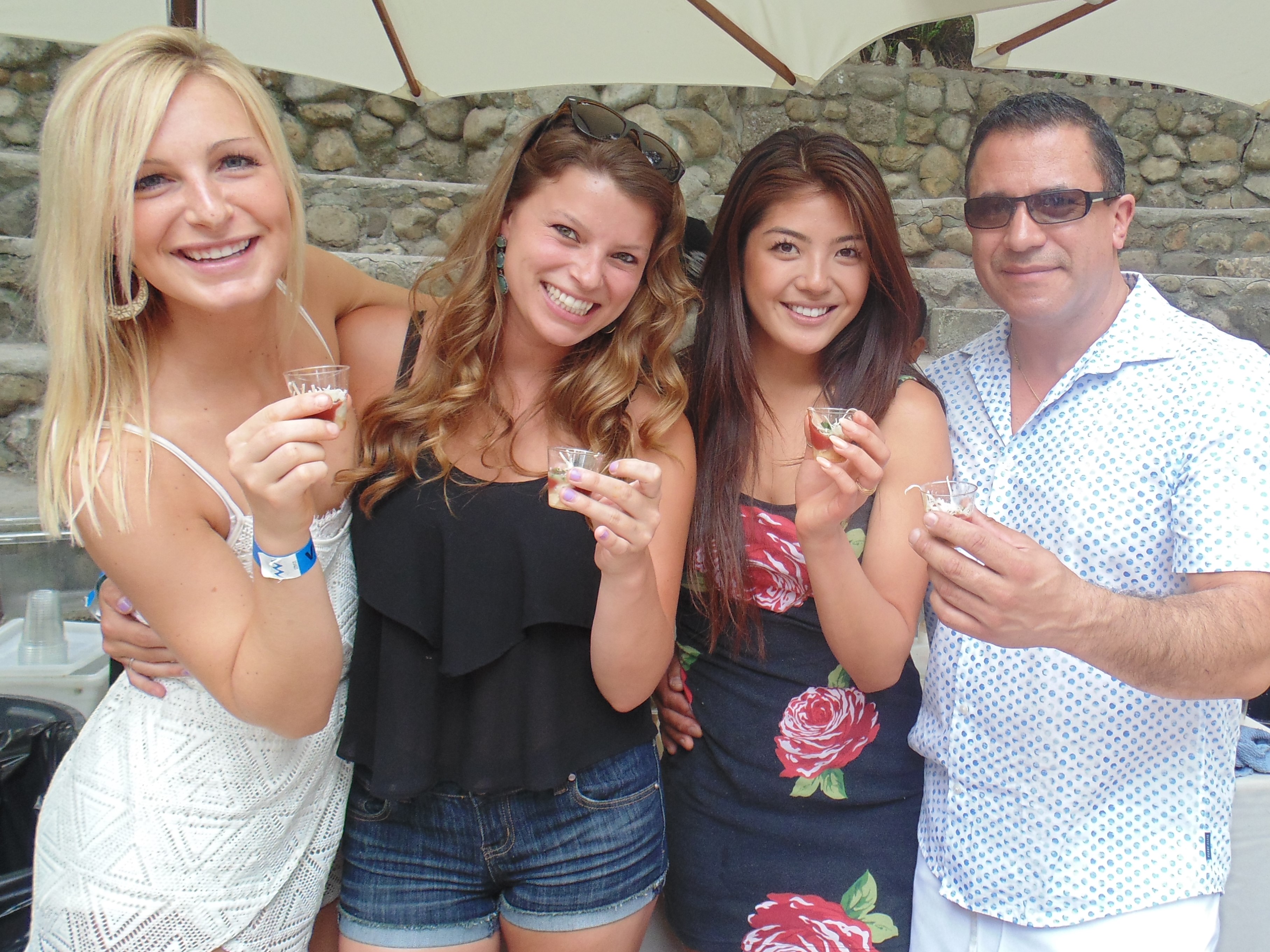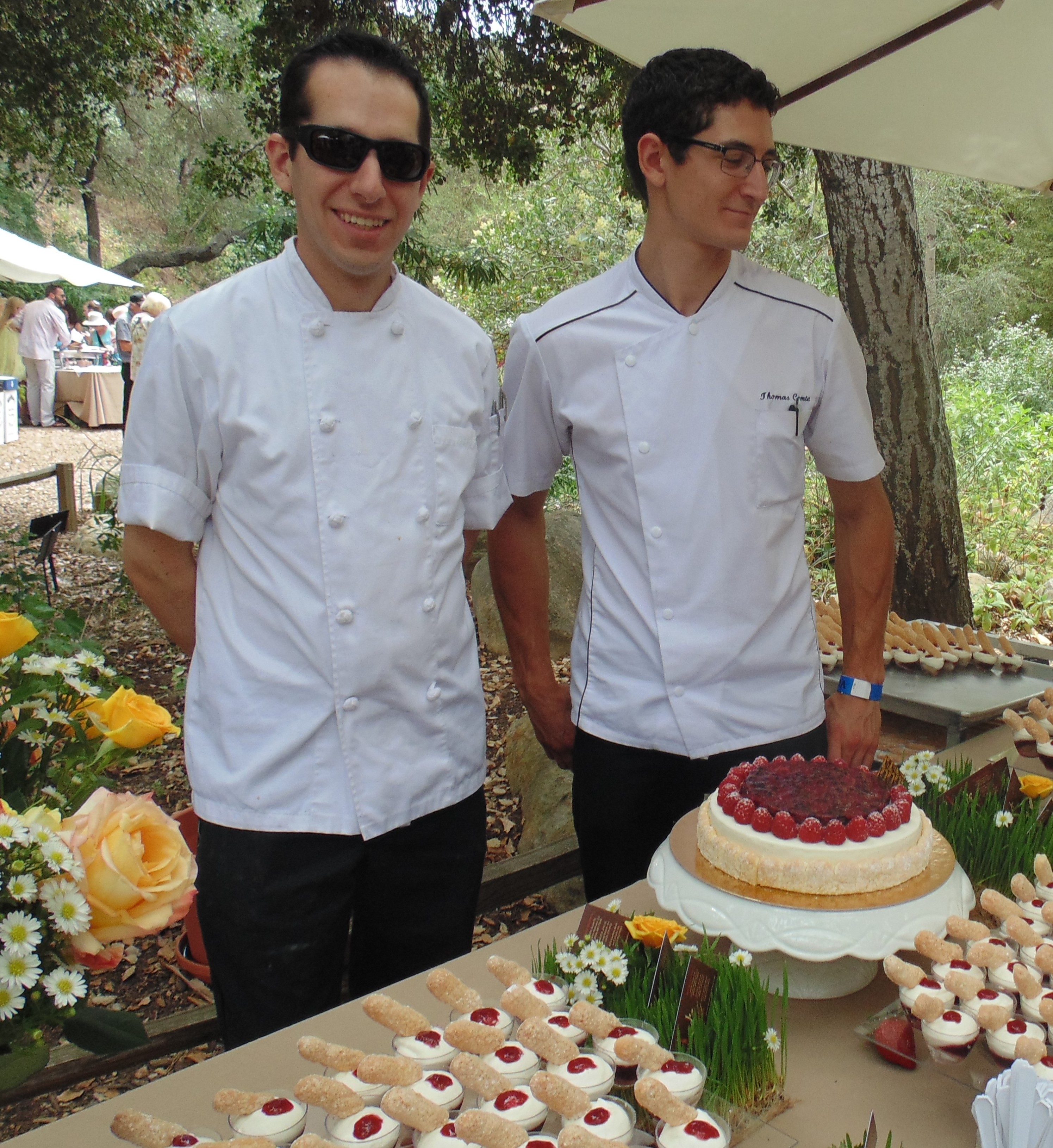 Michael's Catering                                   Brophy Oyster Shooters                                   Renaud's Pastries
Gourmet food and dessert favorites included Braised Short Rib Meatballs (Michael's Catering); Oyster Shooters (Brophy Bros.); Savory Tarts (Tartisan); Homemade Tamales (Santa Barbara Tamales To Go); Signature Ravioli (Via Maestra 42); Organic Popsicles (FreezerMonkeys); Cheese Tastings from around the World (C'est Cheese); Divine Strawberry and Cream Dessert Cups (Reneau's Patisserie); and Ceviche (Arch Rock Fish) just to name a few.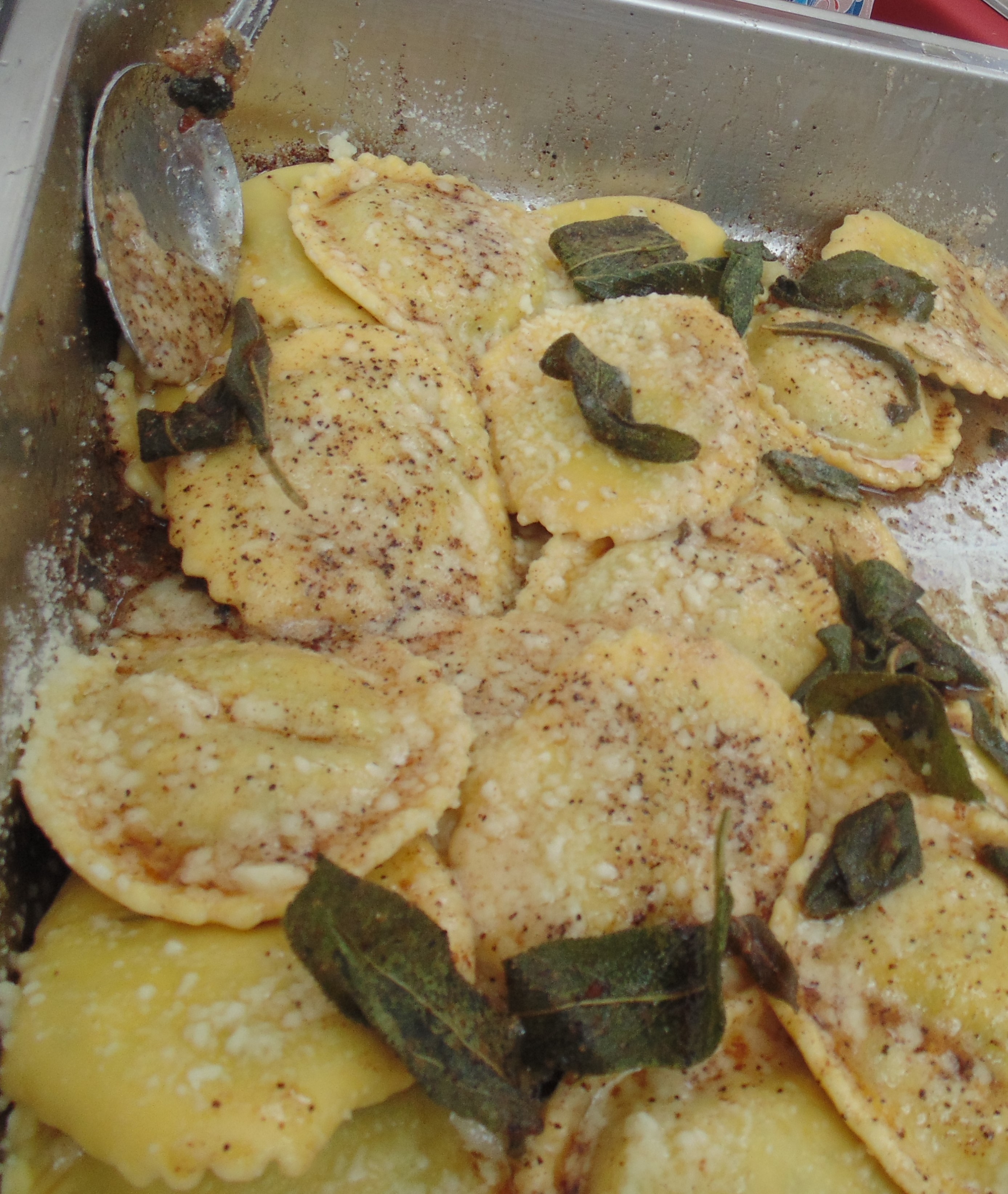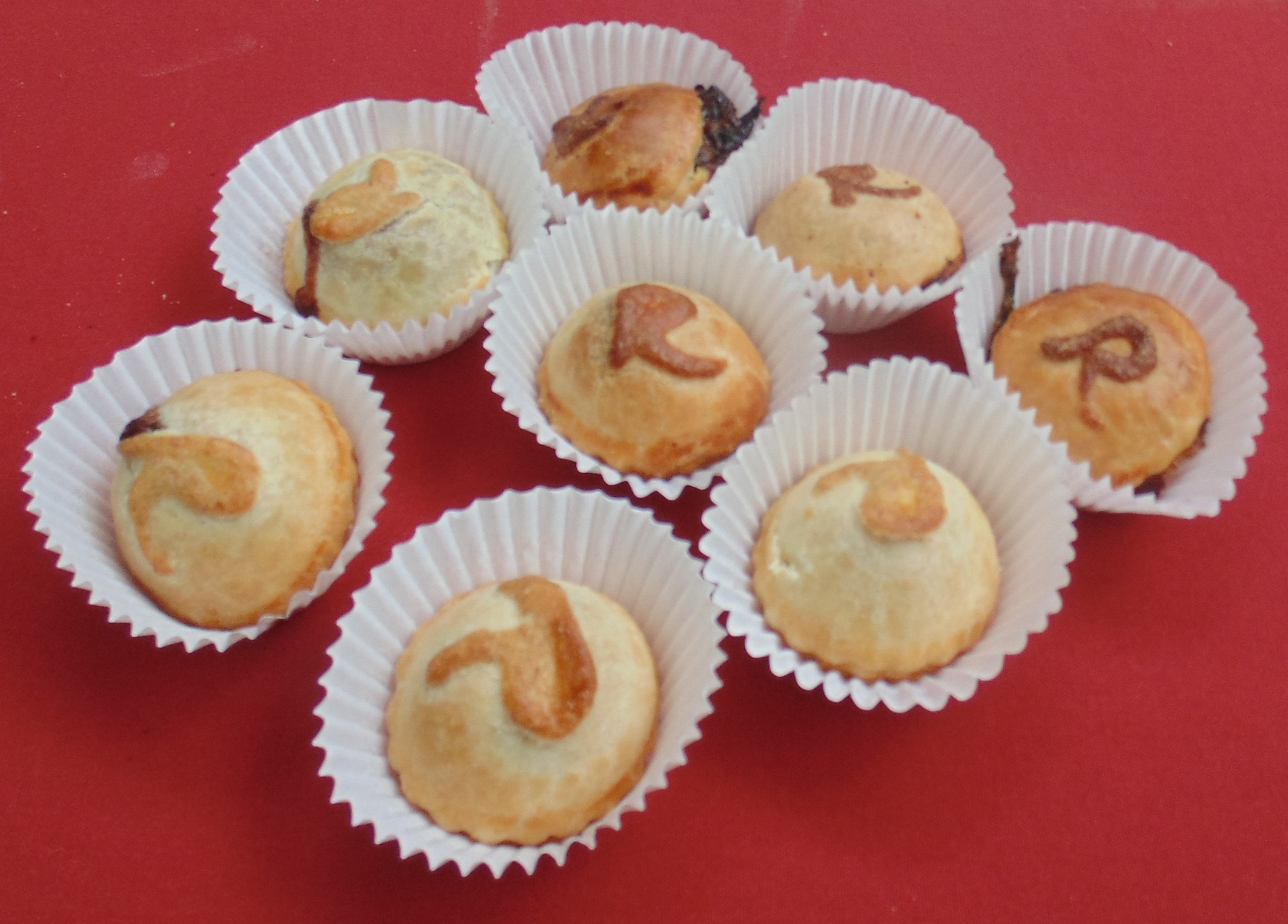 Ca Dario Ravioli                                     Tartini Savory Pies                               Freezer Monkey Bon-Bons
Wines poured at the event Included sips from Alexander and Wayne, Alma Rosa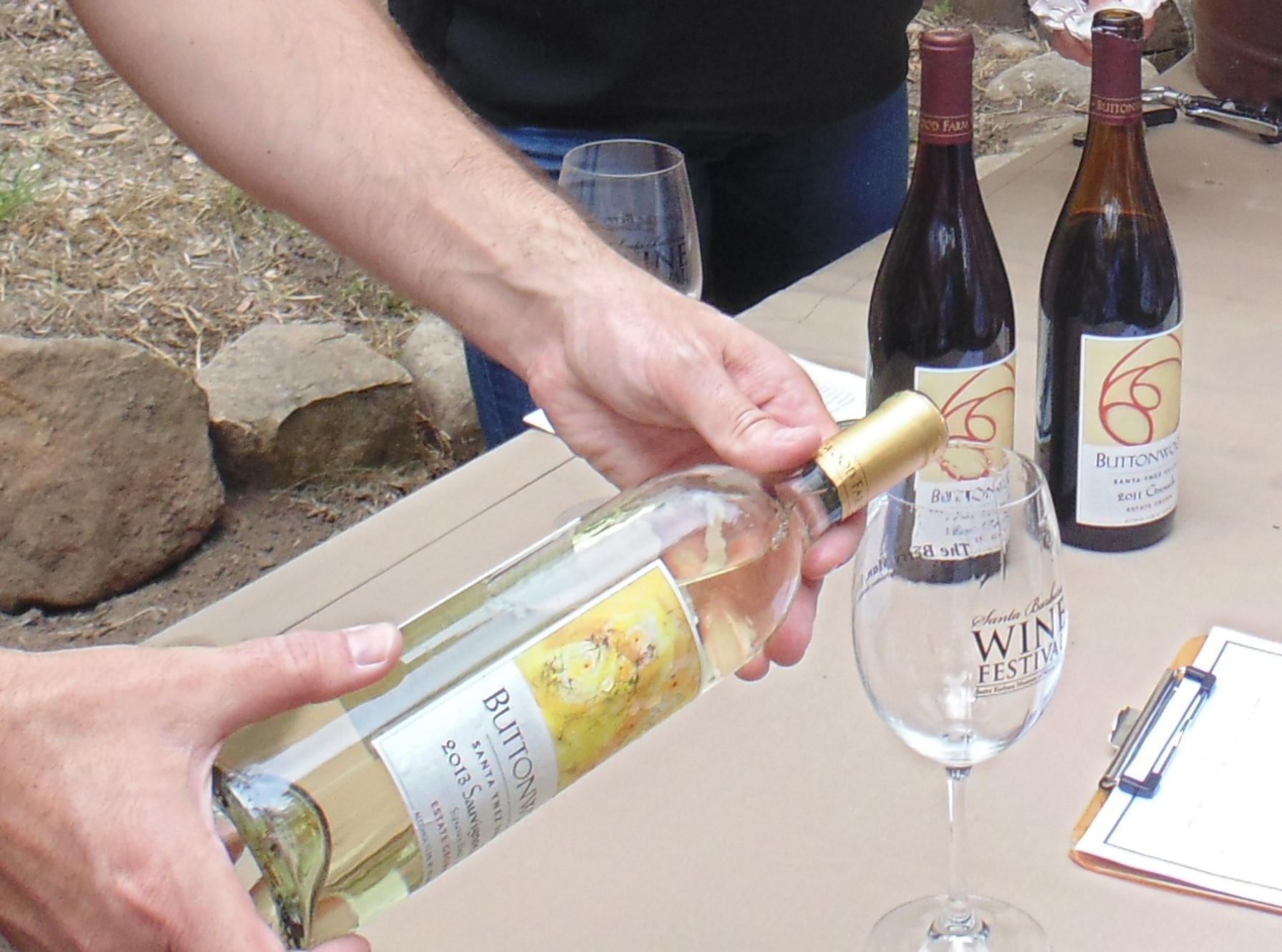 Winery, Andrew Murray Vineyards, Arthur Earl, Au Bon Climat, Avelina Wine Company, Babcock Winery and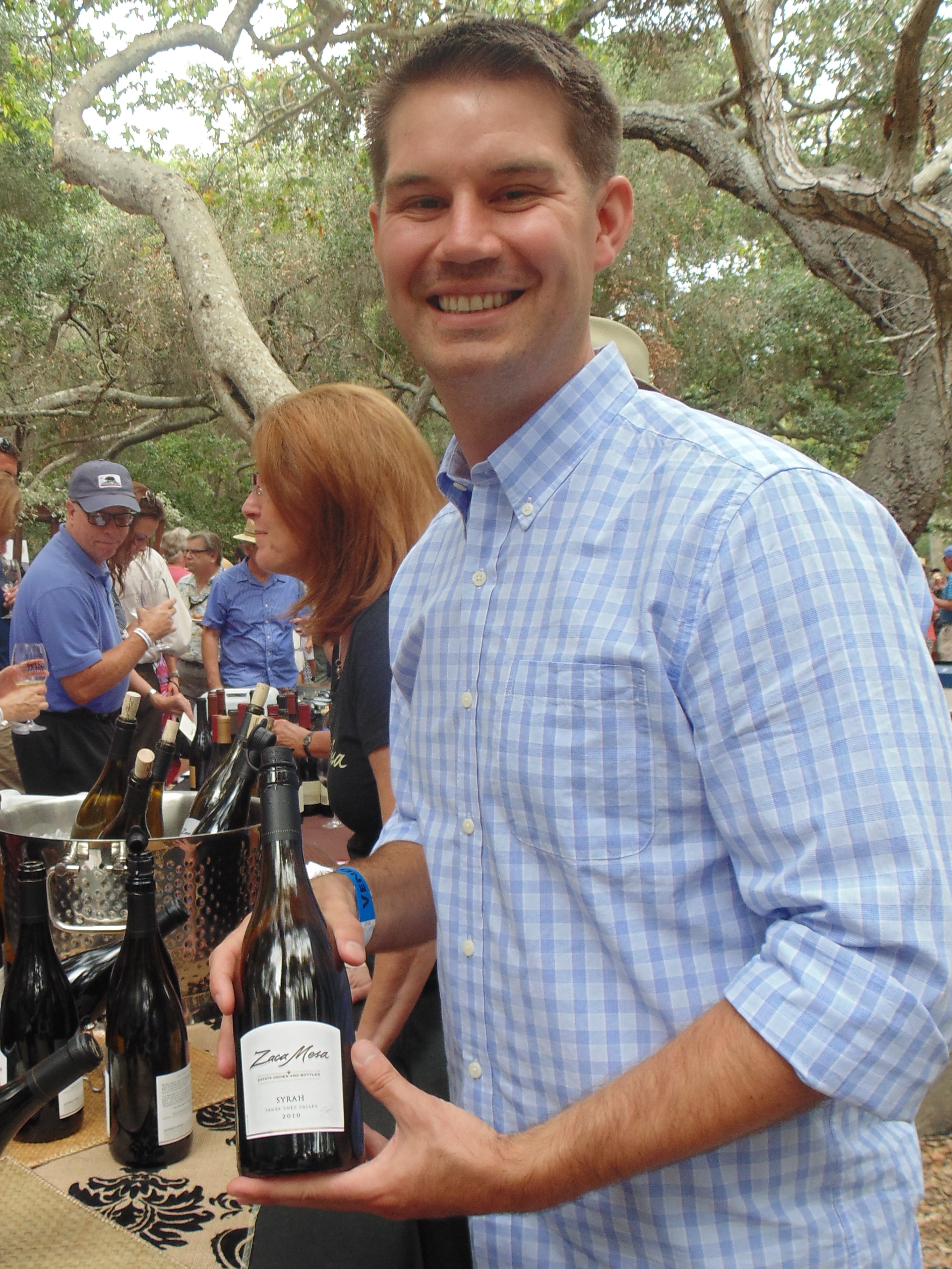 Vineyards, Beckmen Vineyards, Bedford Winery and Vineyards, Black Sheep Finds/Holus Bolus, Blair Fox, Brander Vineyard, Brewer-Clifton, Byron, Cambria, Cargasacchi, Carr Vineyards and Winery, Cebada, CORE, Crawford Family Wines, Daniel Gehrs Wines, Dierberg Estate Vineyard, Epiphany Cellars, Falcone Family Vineyards, Feliz Noche Cellars, Fess Parker Winery & Vineyard, Fiddlehead Cellars, Flying Goat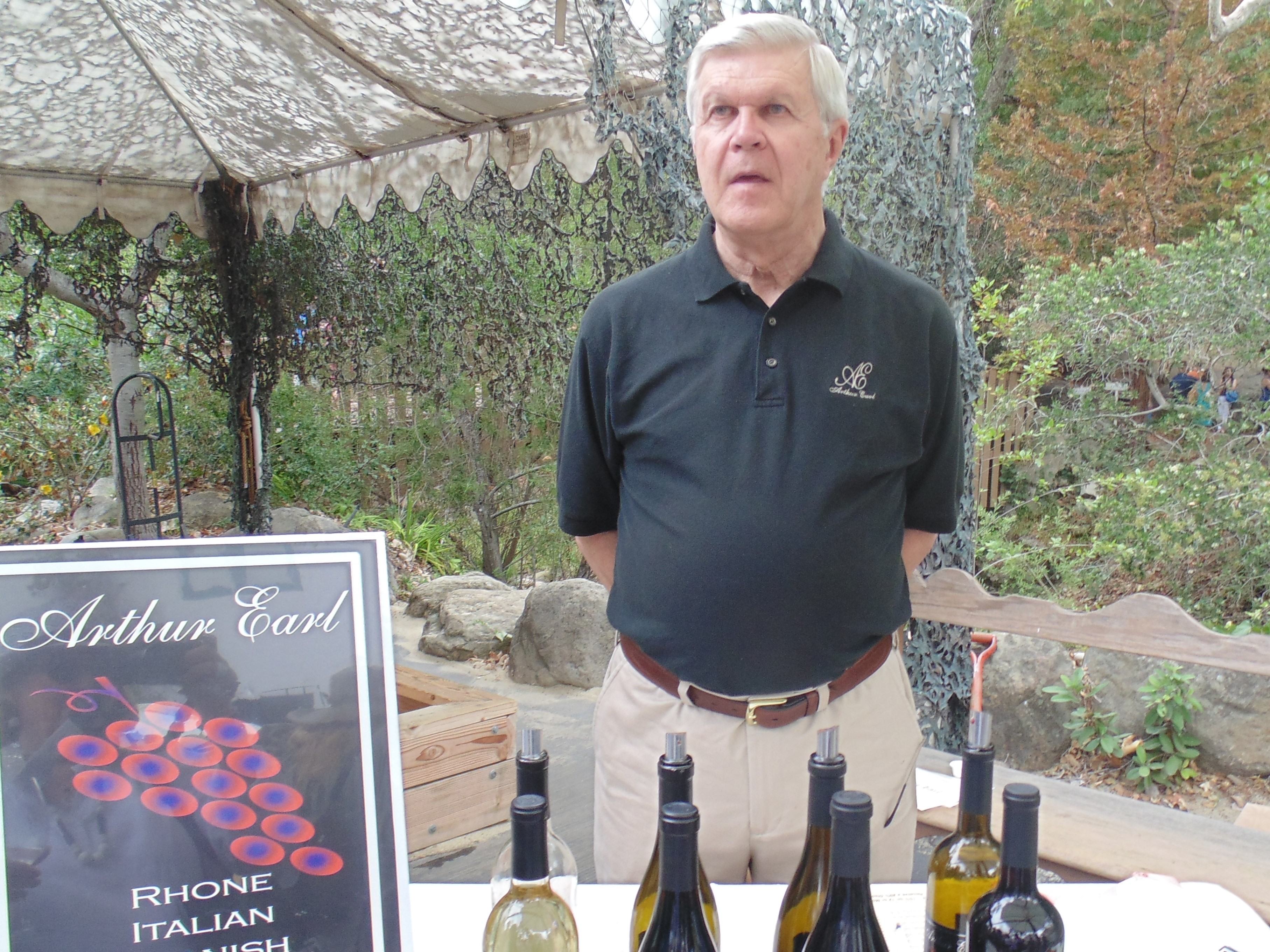 Cellars, Foxen, Gainey Vineyard, Grassini Family Vineyards and Winery, Jaffurs Wine Cellars, Jamie Slone Wines, Kalyra, Ken Brown Wines, Kenneth Volk Vineyards, Kita Wines (Chumash Tribe), Koehler Winery,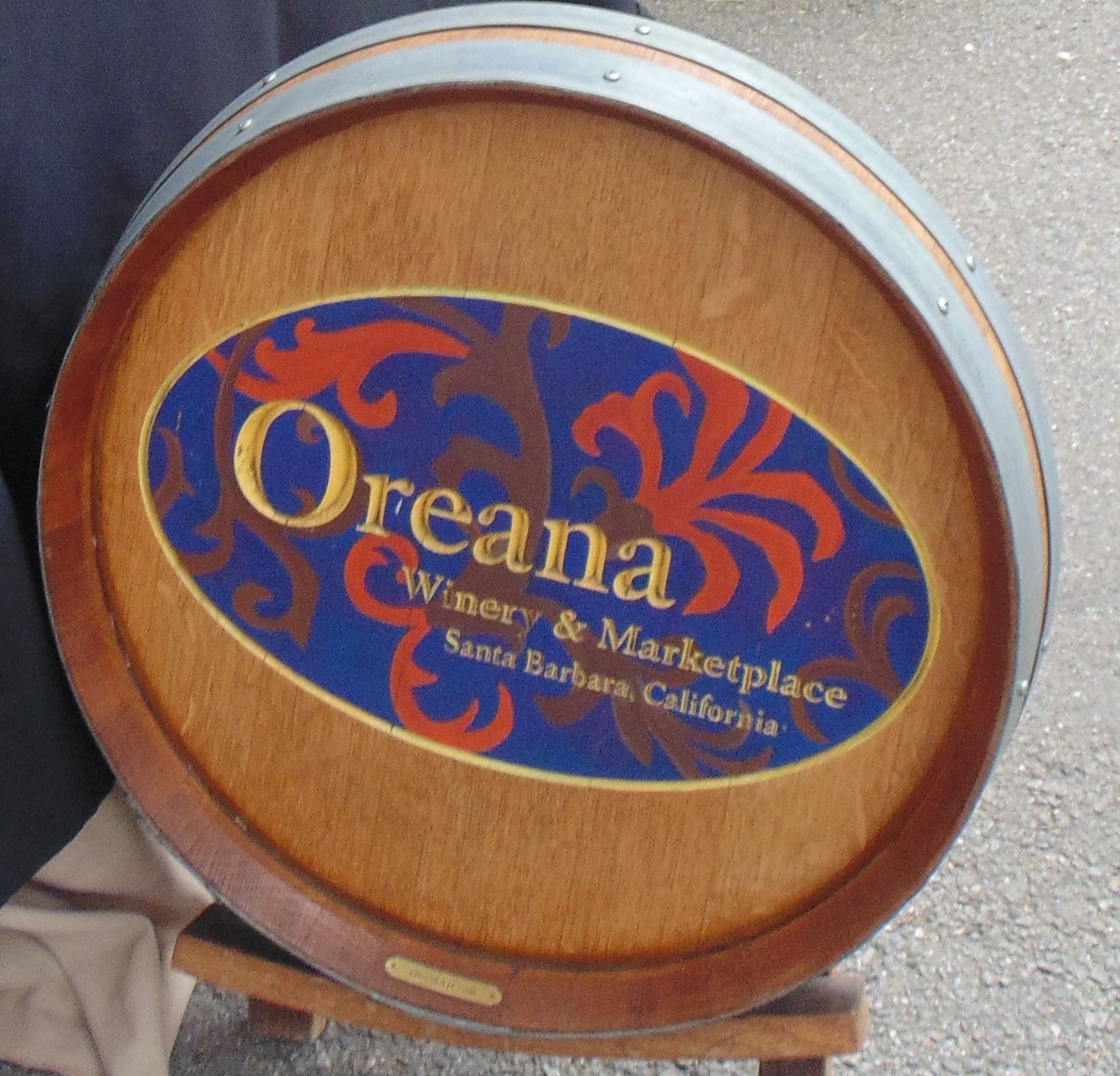 Kunin, Larner Wines and General Store, Margerum Wine Company, Melville, Mosby Winery & Vineyard, Municipal Winemakers, Oreana, Palmina, Qupé, Rancho Sisquoc Winery, Refugio Ranch, Sagebrush Annie's, Santa Barbara Winery, Silver Wines Star Lane Vineyards, Sunstone Vineyards and Winery, Tablas Creek Vineyard, Tercero Wines, Toucan Wines, Transcendence Wines, Vogelzang, Whitcraft Winery, The Winehound, and Zaca Mesa winery.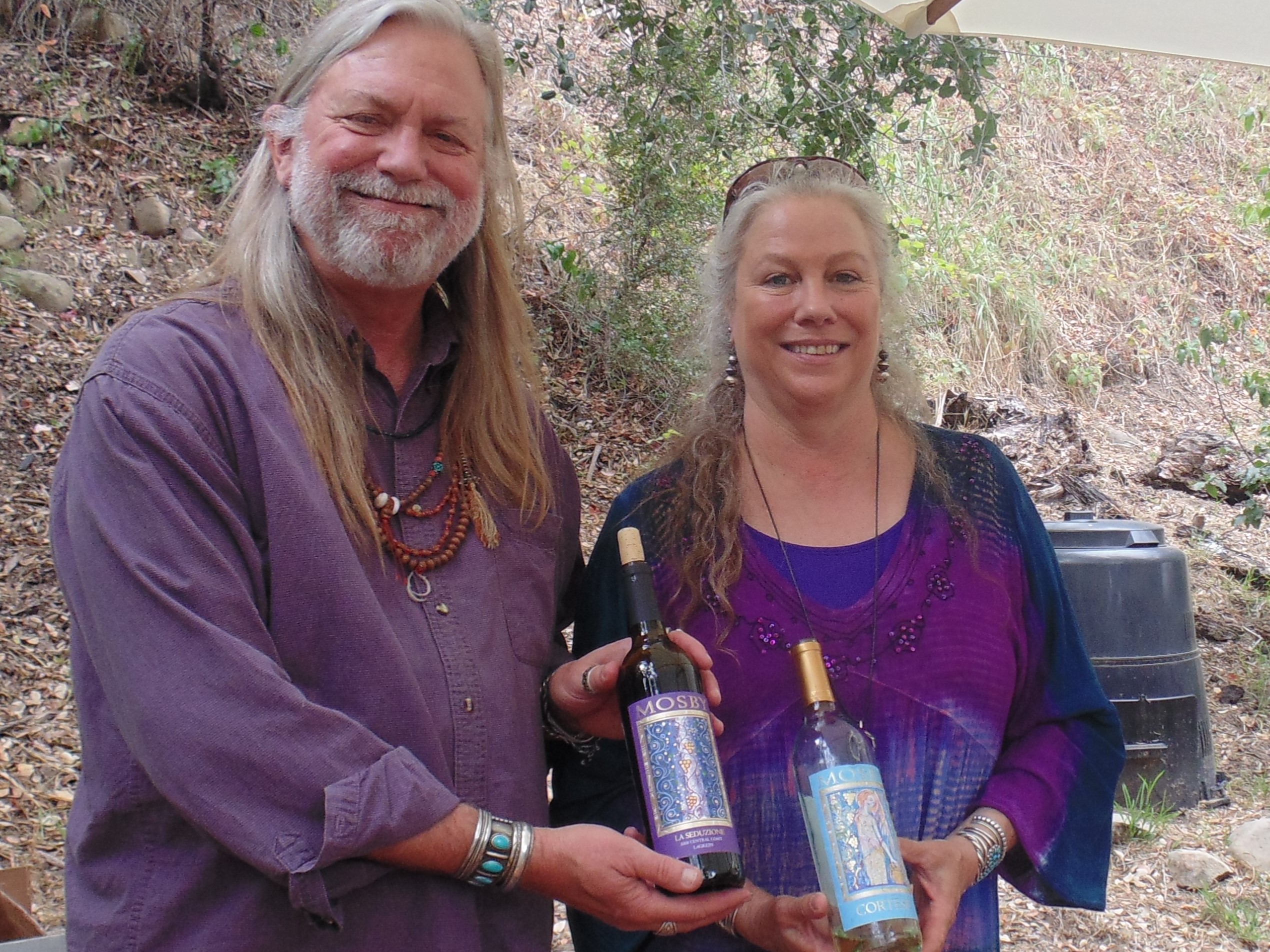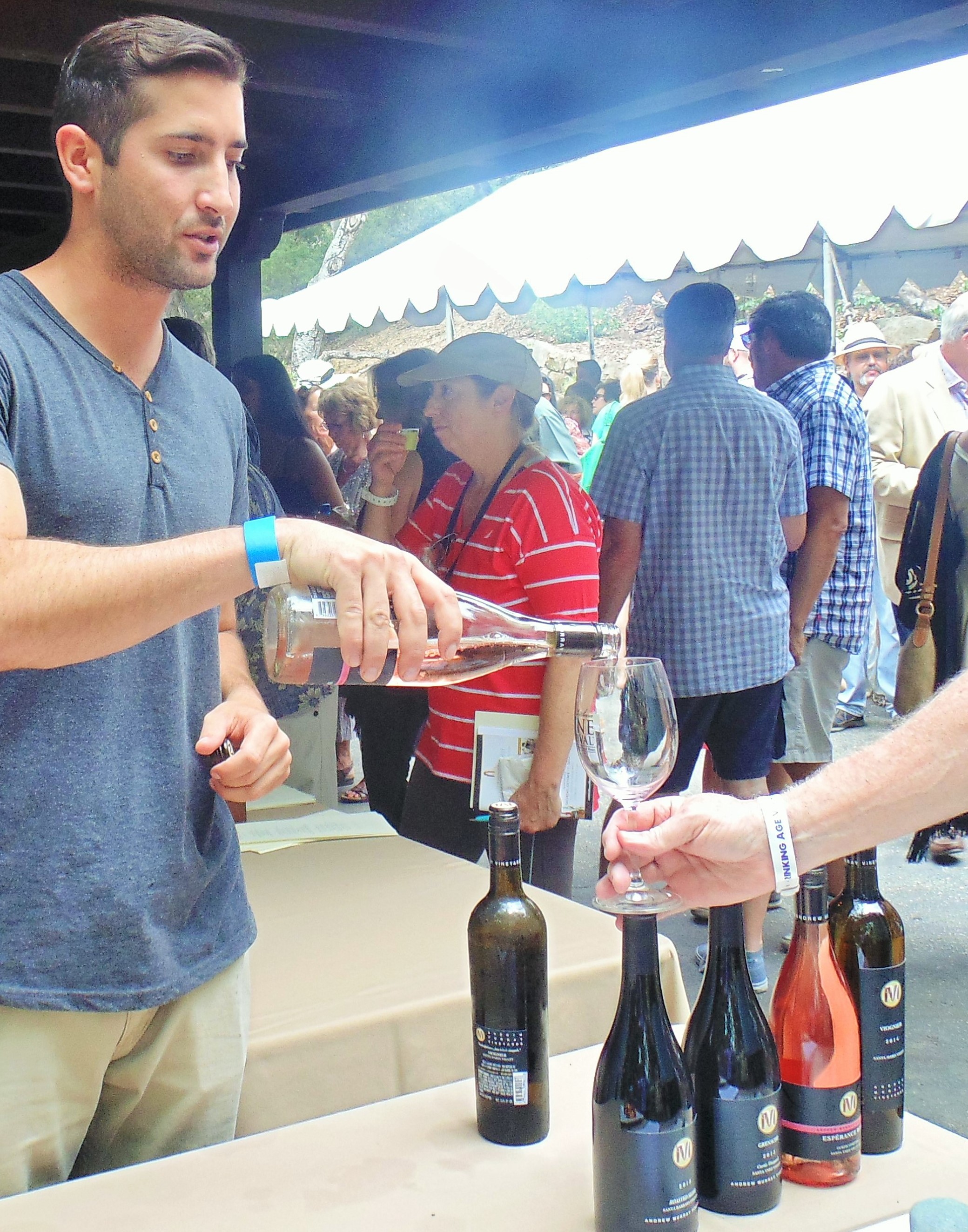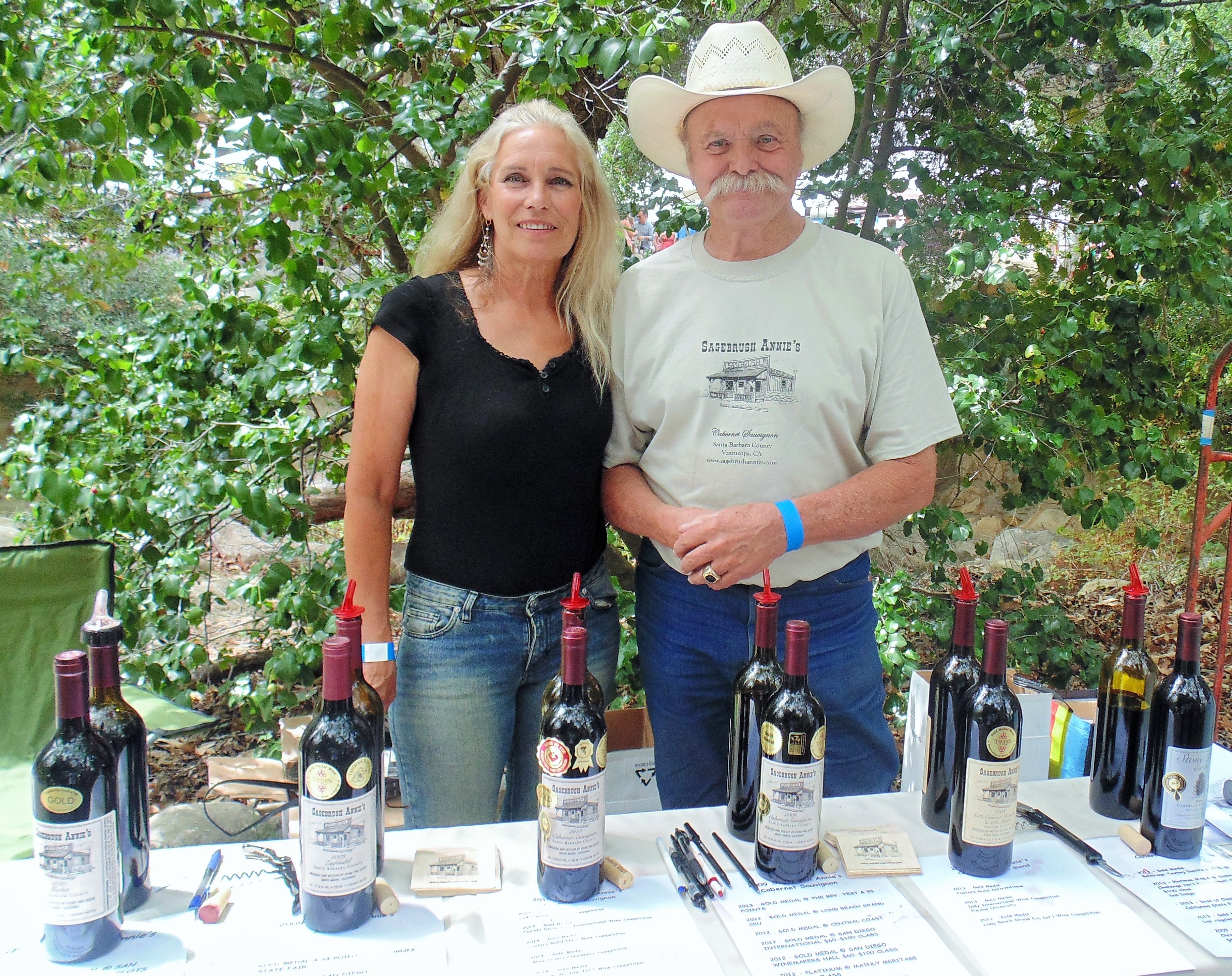 Mosby Vintners                                    Margerum Winery Pouring                            Sagebrush Annie's Wine
"Our event is a wine-focused festival. However, we have a large array of top-shelf food purveyors, many of whom are especially paired with wineries that complement one another," said Festival Chair, Meridith Moore." "It is exciting because many of the winemakers and chefs are present and available for the guests to meet and discuss the qualities of their varietals and menu items. This is just another example of why this has become one of the most beloved wine festivals on the Central Coast and the one seen as the one to attend," she said.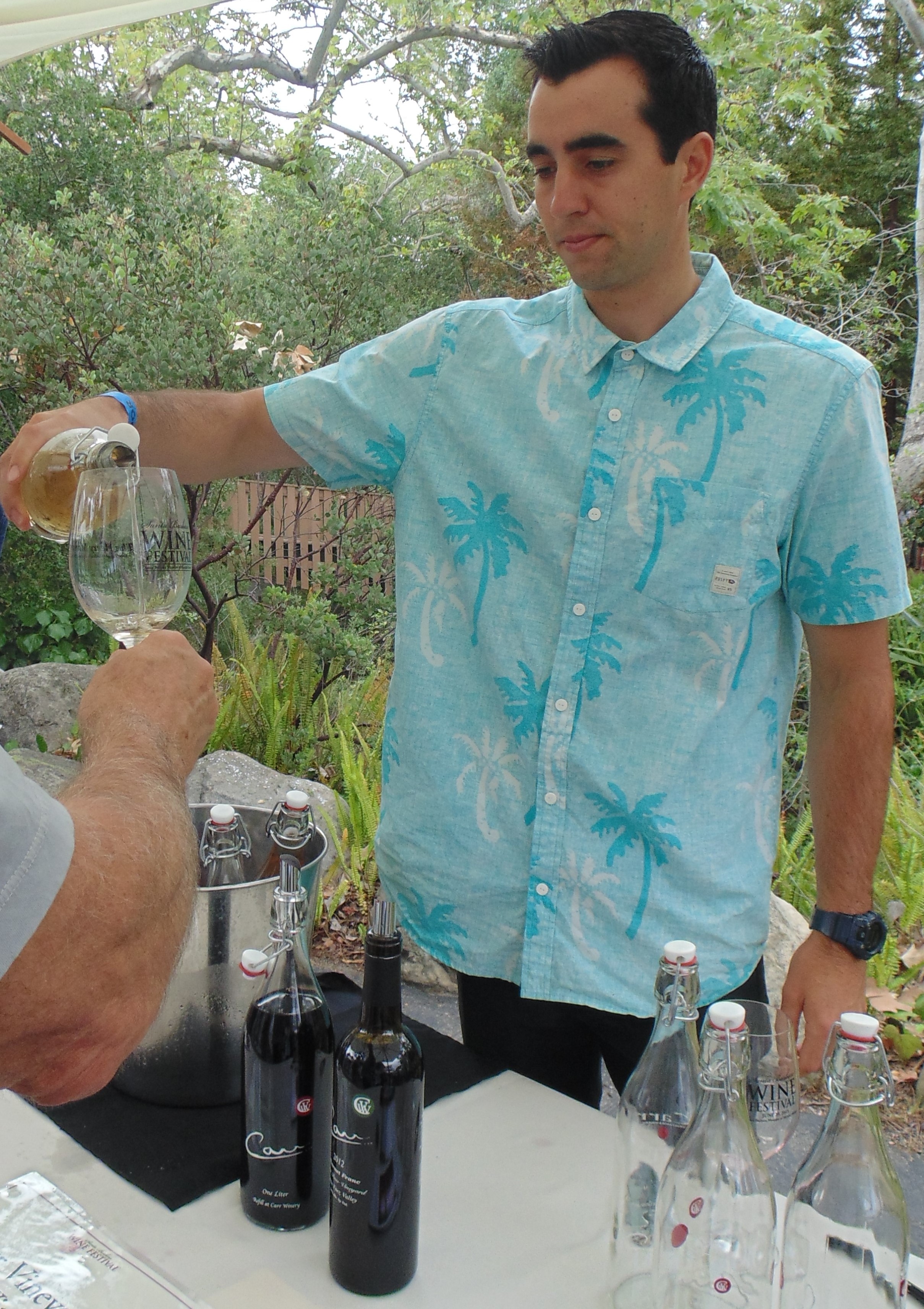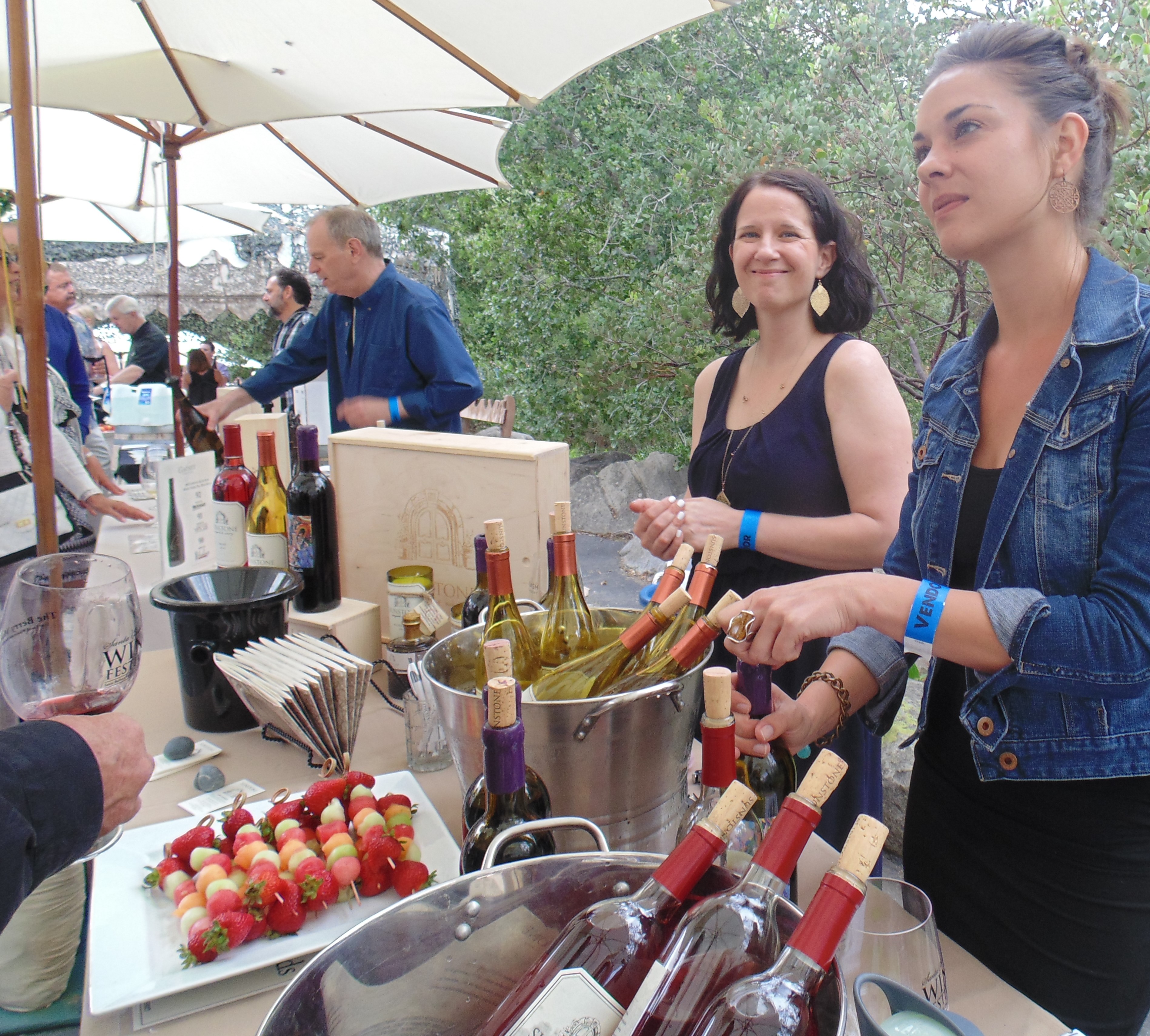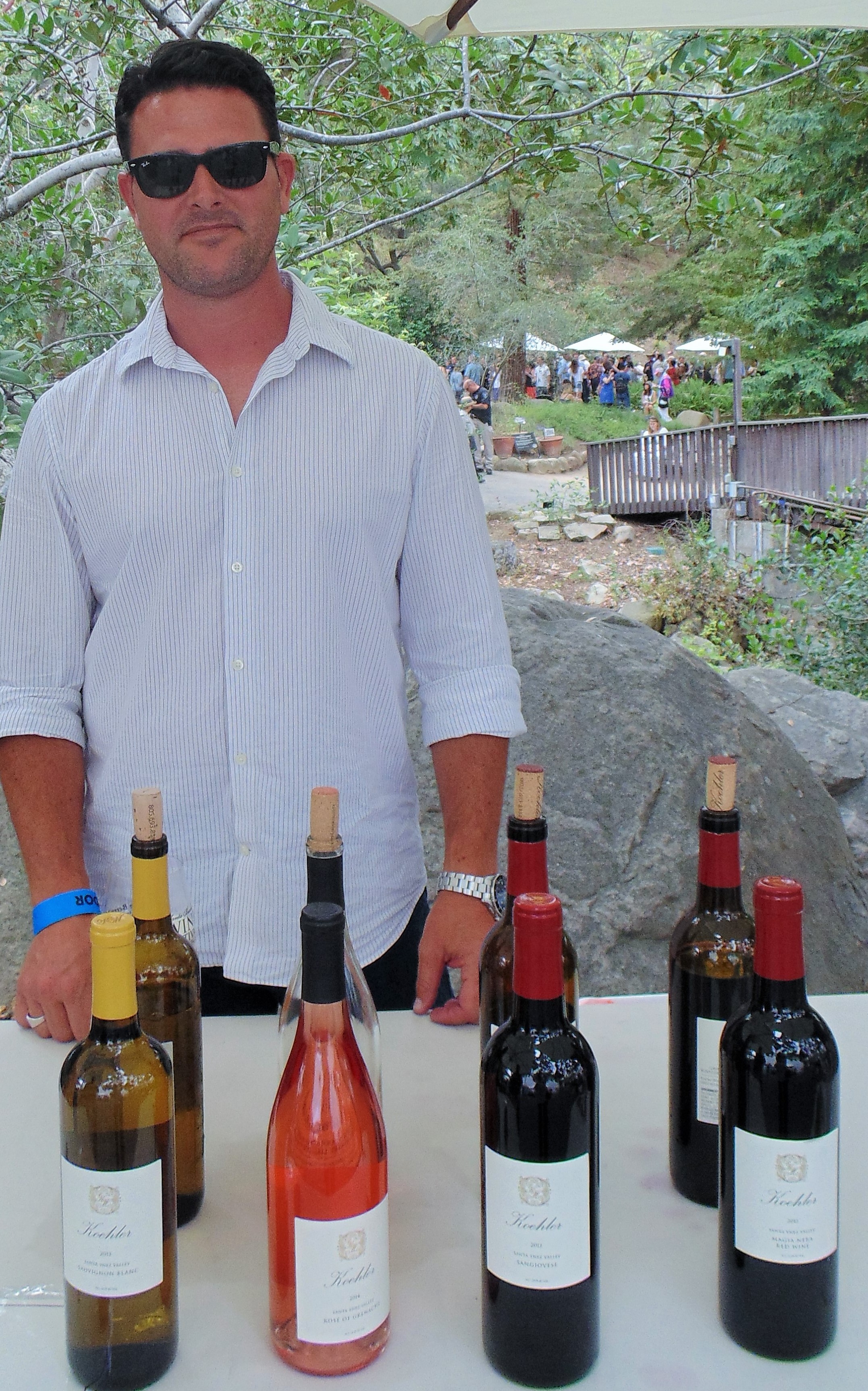 Carr Winery                                      Sunstone Winery                                    Koehler Winery
The Santa Barbara Wine Festival is a ticketless event. Guests 21 and older purchased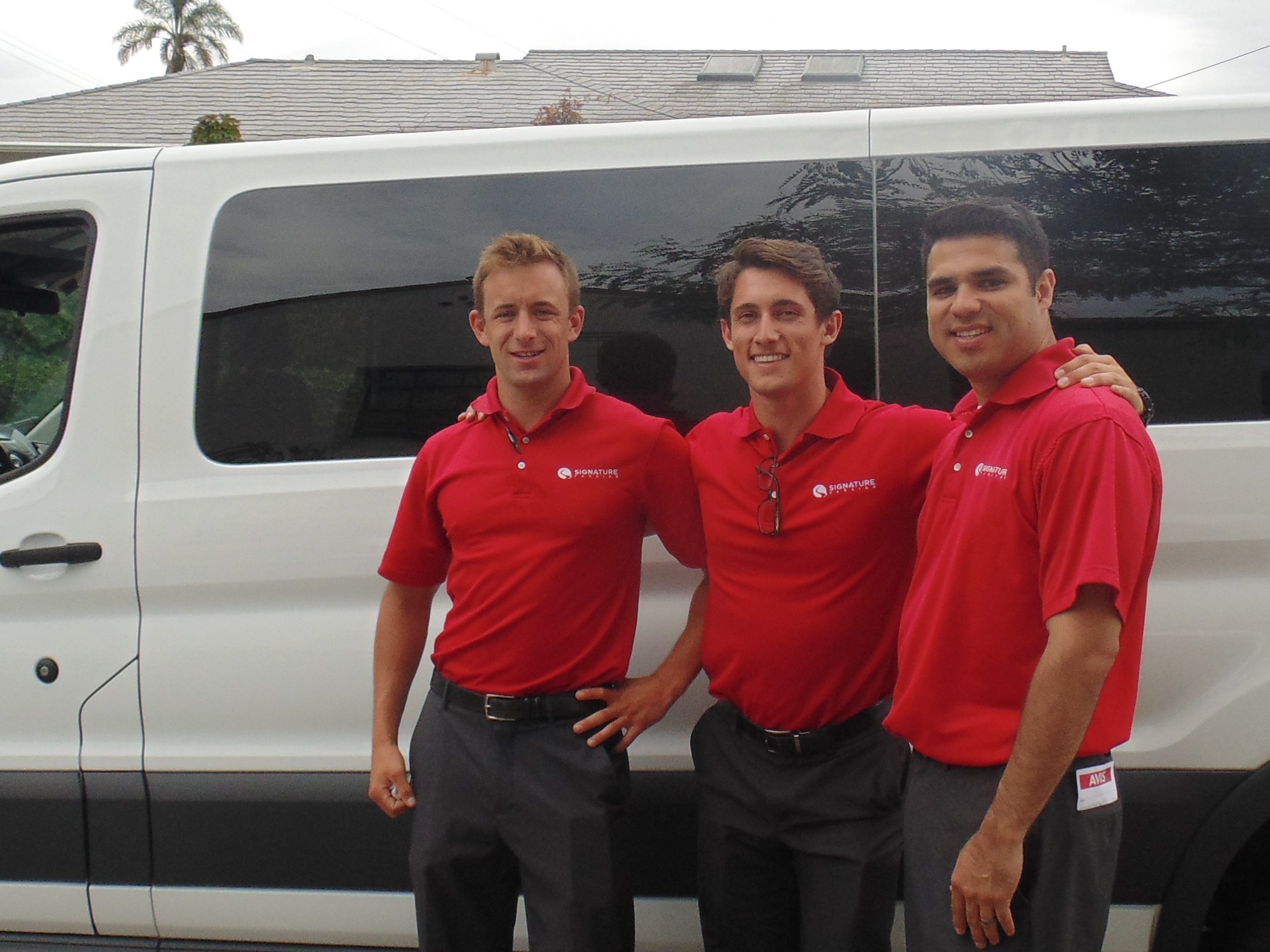 admission on the Museum's website and all guests had to present a valid identification to join the festivities. I was more than impressed with the Signature shuttle drivers who provided rides for guests from designated parking lots to and from the event. The Santa Barbara Wine Festival also offers a Designated Driver Program made up of volunteers who agree in advance to the guidelines of the program and received a complimentary ticket to the festival. Designated Driver, guests wore a badge to signify "No Alcohol" and were not given a tasting glass. Limited parking tickets on the museum grounds were on sale in advance for $20.
Cheers to another magical and profitable afternoon under the trees of the SBMNH. Visit www.sbnature.org. For details on the 2016 date.




_________________________________________________________________________



Master the Art of Sabrage at Four Seasons Hotel Hampshire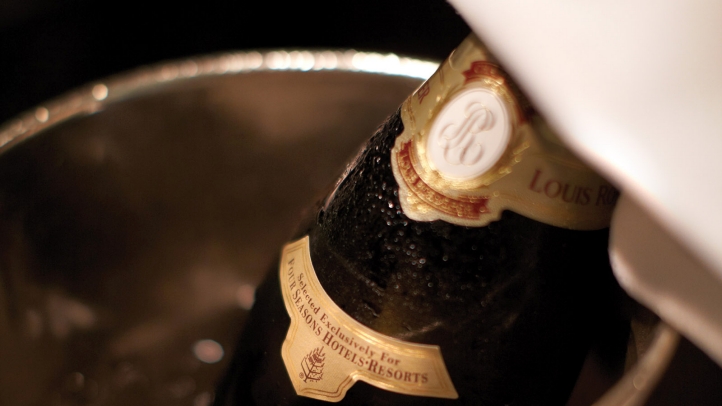 Celebrating at Four Seasons Hotel Hampshire has become even more special thanks to the introduction of the Art of Sabrage in Bar 1086 .
Sabrage is the traditional ceremonial technique of opening a bottle of Champagne with a sabre. Popularised during the French Revolution by Napoleon's army following their spectacular victories across Europe, Sabrage has since become a popular celebratory practice to commemorate victorious and joyous occasions.
With the purchase of every bottle of Champagne, the Bar 1086 bartender will escort guests onto the terrace overlooking the 500 acre (200 hectare) estate, where they will impart their sabreur skills.  They will then be invited to slice open their own bottle and will be presented with a commemorative certificate at the end of the ceremony, before being served the chilled Champagne back at their table.
"I drink Champagne when I win, to celebrate." - Napoleon Bonaparte
Art of Sabrage Details
Art of Sabrage runs from June 1 to August 31, 2015
House Champagne Louis Roederer NV is available from GBP 75.00 per bottle
The Art of Sabrage is just one of a number of food and drink initiatives taking place at Four Seasons Hotel Hampshire throughout the summer
____________________________________________________________________
BOMBAY SAPHIRE GIN FAVORITE COCKTAILS
Bombay Sapphire has been at the forefront of the classic cocktail resurgence for good reason: Nothing is more versatile than an excellent gin. Sapphire is a simple summer stunner in gin and tonics, sure, thanks to the Tuscan juniper berries, Mediterranean lemon peel, and Moroccan coriander seeds that produce its nuanced, floral bouquet. But there are oodles more easy, elegant Sapphire drinks to concoct at home.
For one, there's the SAPPHIRE® Collins, a twist on the Tom Collins:
Combine 1.5 parts BOMBAY SAPPHIRE® gin
.5 parts fresh lemon juice
¾ part simple syrup
3 parts club soda over ice in a tall tumbler or Collins glass
Garnish with lemon
More of a lime person? No problem. To make the SAPPHIRE® Gimlet:
Shake 1.5 parts SAPPHIRE® gin
½ part lime juice
½ part simple syrup with ice
Strain into an ice-filled rocks glass
Garnish with a lime wheel
(Who needs limeade or lemonade poolside when you have a Collins or a Gimlet?)
For evening entertaining, consider a shimmering, burnt-orange Sapphire Negroni—one part Sapphire, one part Martini Rosso vermouth, 1 part Campari bitters, stirred with ice and garnished with orange.
____________________________________________________________________
WINE NEWS FROM WINES OF SPAIN

Food & Wine Classic in Aspen, Aspen
June 18-21
The FOOD & WINE Classic in Aspen is America's premier culinary event—a dazzling weekend of cooking demonstrations and wine tastings. Wines from Spain will participate with its signature stand-alone tent consisting of 24 stations, including special regionally focused tables featuring the wines of Navarra, Cariñena, Rioja and Jerez-Xérès-Sherry; culinary-focused tables offering Spanish cheese, Ibérico ham and tapas from Tempranillo Restaurant; and a tourism focused table with the Tourist Office of Spain.


Wine Enthusiast Importer Connection/Spanish Wine Cellar,
New York
July 13-14
Wine Enthusiast Importer Connection is an exclusive showcase of up-and-coming wines from Spain. It is an opportunity for members of the trade to meet the producers of Spanish wine and taste their wines.

Spain's Great Match,
New York
October 7
Wines from Spain's signature event of the year, Spain's Great Match is a celebration of Spanish culture including wines, food and design from Spain. During the day, there will be seminars and tastings for trade and press. In the evening, the event will open up to the public, featuring an extensive offering of wine and tapas.
_________________________________________________________________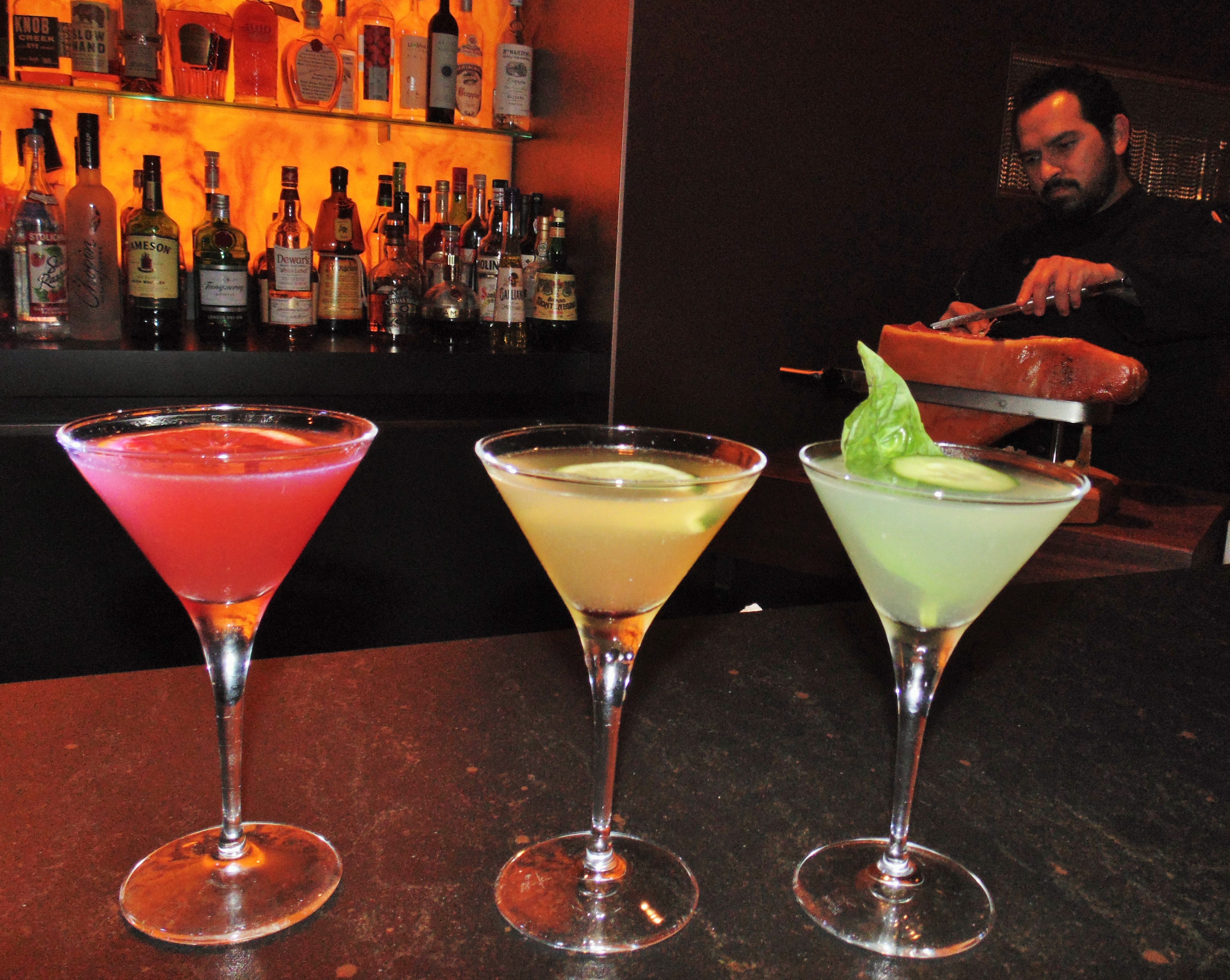 Celebrate National Martini Day With Summer's Best Cocktails
Start your weekend right this National Martini Day with culinary cocktails from Azzurre!
It's time to celebrate, as National Martini Day is here again! On June 19th, kick your traditional martini up a notch with a smooth cocktail from Azzurre Spirits! What's even more awesome? This year, Martini Day falls on a Friday. What better way to start a weekend?! 

Tingle your tippling taste buds with a Chili Lemontini, made with Azzurre Vodka, Ancho Reyes chili liqueur (known for its metabolism boosting properties), agave nectar, and freshly squeezed lemon (a natural anti-inflammatory from the vitamin C!). Try this recipe from now through fall. 

Want to go global? Try an Acai Ecotini, made with ingredients like fresh lime, ginger, and a splash of acai berry juice.

Tea based cocktails are trending this year. Take a twist on a Tom Daly (the adult version of an Arnold Palmer) with Tom's Back Porch, featuring fresh brewed ginger peach tea, lemon, mint, and Azzurre Gin. Refreshing, light, and delicious!
Tom's Back Porch
By Cassandra Rosen
•    1 oz Azzurre Gin
•    8 Large fresh mint leaves
•    1 cup ice
•    3 oz Ginger Peach Tea (brewed in advance)
•    5 oz freshly squeezed lime juice
•    3 oz Monin peach syrup
•    2 oz club soda

Muddle mint leaves and ice in a shaker. Add the rest of the ingredients, shake well. Pour into a glass and top with soda. Garnish with a sprig of mint or lemon twist.

Additional recipes and high res images are available for your convenience.


Chili Lemontini
By Cassandra Rosen
•    1.5 oz Azzurre Vodka
•    .5 oz Ancho Reyes Chili Liqueur
•    1 oz fresh squeezed lemon juice
•    .5 oz  agave
•    Club soda
•    Garnish: lemon wheel

In a cocktail shaker with ice, combine Azzurre Vodka, Ancho Reyes, freshly squeezed lemon juice, and simple syrup. Shake, strain into a chilled martini glass. Top with soda. Garnish with a lemon wheel.


Acai Ecotini
By Cassandra Rosen
•    2 oz Azzurre Vodka
•    1 oz dry orange liqueur
•    .5 oz Ginger juice
•    .5 oz Acai juice
•    .5 oz agave
•    Fresh squeezed lime juice
•    Garnish: Lime slice

In a shaker with ice, muddle appx. 1 inch of peeled, fresh ginger to create ginger juice. Add the rest of the ingredients. Shake well. Double strain into a chilled martini glass. Garnish. 
_________________________________________________________________

_________________________________________________________________


PISCO PORTON LAUNCHES LA CARAVEDO PISCO
Pisco puro made from Quebranta grapes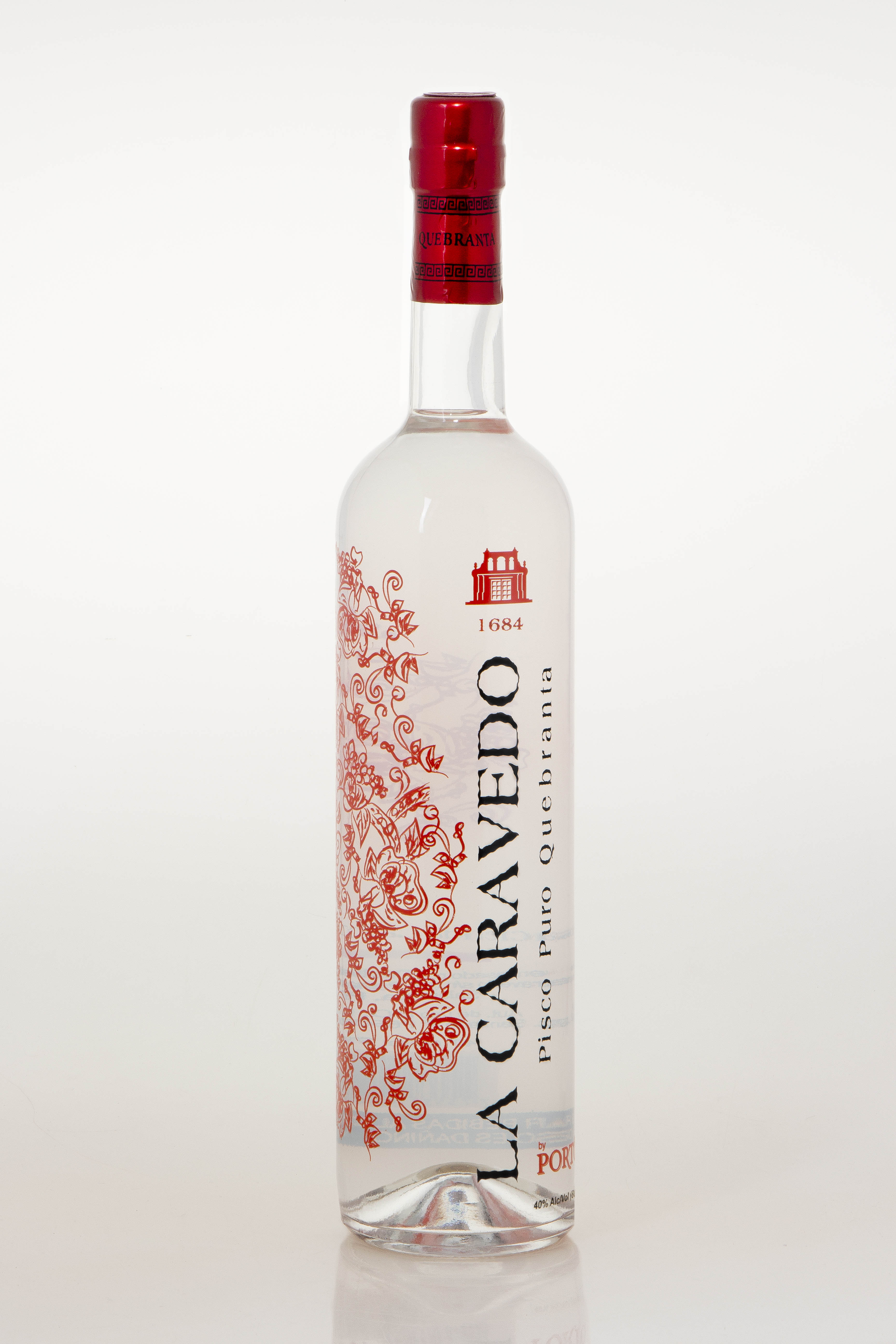 This pure spirit brand imported from Peru is gaining rapidly in the USA, and the latest variation on the theme is La Caravedo, a Pisco puro made from Quebranta grapes. The new expression comes from Master Distiller Johnny Schuler at Hacienda La Caravedo located in Ica, Peru, which is in the foothills of the Andes. It is also known as the oldest   distillery in the Americas, and was established way back in 1684. The name itself is based on the port of Pisco in Peru, and it also means "little bird" in the language of Peru's Quechua Indians.
La Caravedo is made solely from the Quebranta grape which is one of the eight grapes allowed by Peruvian law to make Pisco. It is a non-varietal grape which is known for its fullness and flavor. It takes 8 pounds of grapes to make one bottle of the drink, which when it eventually arrives stateside sells for a retail price of $24.99 for the 750 ml bottle.
Alcohol volume for La Caravedo is 40% and is 80 proof. As a comparison to the Pisco Porton brand from the company which is of course a lot more established, this strong white spirit is 43% alcohol volume, and a high 86 proof.
It is a tough job being a Pisco distiller because since it is distilled to proof, he only has one chance to make each small batch exactly right. La Caravedo is a crystal clear spirit with a slightly sweet palate and notes of botanicals and dried fruits. On the nose it is quite crisp and fresh, and you might smell the unusual combination of grapes, wheat and caramel.
The Pisco spirit dates back to the 16th century and must be produced in a specific region and under certain strictly enforced guidelines that include being crafted in traditional copper pot stills. No additives or flavorings can be added to the finished product, and surprisingly that includes water as well. Apart from the aforementioned Quebranta grape, the other grapes that are allowed are Albilla, Italia, Mollar, Moscatel, Negra Corriente, Torontel and Uvina.
SUMMER DRINK RECIPES
LA CARAVEDO BLUSH
2 oz La Caravedo, Fresh Lemonade, Lemon Wheel
Add La Caravedo to a tall glass filled with ice. Top w/lemonade and garnish w/lemon wheel
LA CARAVEDO COOLER
2 oz La Caravedo, 1 oz Fresh lime juice, 1 oz Simple Syrup, Fresh Mango Juice
Soda.  Add ice and all ingredients except mango juice and soda in a mixing tin. Shake and strain
Into ice-filled Collins glass. Top with mango juice and a splash of soda and garnish w/lime twist.
(Release & photo compliments of  Michael Hepworth)
---