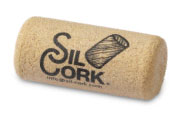 Sil-Cork is the alternative wine closure that provides all the
benefits of premium natural cork without the risks or cost.
Premium product. Premium performance.
Sil-Cork wine closures use a proprietary combination of quality natural cork and neutral food-grade silicone that completely eliminates the risk of TCA, and delivers consistent bottle-to-bottle performance without the use of petroleum or plastic. It behaves like premium cork, ensuring the true character of the wine comes through.
After years of development and extensive industry trials, Sil-Cork has become the superior alternative to both natural cork and synthetic wine closures. Winemakers and consumers will enjoy the benefit of a high quality closure that will protect their wine for years to come. Visit: www.sil-cork.com.
Sil-Cork advantages:
No risk of TCA (cork taint)

Consistent oxygen transfer and SO2 retention

Preserves aroma and palate

Easy insertion using standard bottling equipment

Excellent extraction and reinsertion

Self-sealing, will not dry out, crack or crumble

Consumer preferred look and feel

All natural, non-synthetic (no hydrocarbons)
---
FALL FESTIVALS: SIP AND SAVOR SAN DIEGO
Coastal daily temperatures in the 70's and summer crowds back in school make fall one of the best times to visit San Diego.  An even more compelling reason to visit is to sample the region's special events that celebrate the fruits of the vine and best local brews.       
San Diego boasts an international reputation for top-notch craft beer with area breweries earning more medals at the 2010 World Beer Cup than those in England, Germany and Belgium combined.  During the fall, the region offers a bumper crop of festivals for thirsty travelers that celebrate award-winning brews, dining and wines. 
SEPTEMBER
Guests can sample craft beer against a backdrop of exciting horseracing action and live music at the Del Mar Thoroughbred Club's Beer Fest on Sept. 4, 2010.  More than 75 different beers including many from local breweries like Ballast Point, Coronado, Gordon Biersch and Green Flash will be poured from 12 to 6 p.m. or until supplies last.  Following the races at 6:30 p.m., classic rockers ZZ Top will perform in the race track's infield.  Race fans can purchase $15 wristbands, each good for five 7 oz. sample size beers, and event entry is included in the $6 price for Stretch Run general race admission.  www.dmtc.com
More than 6,000 beer lovers will gather for the 16th Annual San Diego Festival of Beer on September 10, 2010 in downtown San Diego.  Seventy-five local brewers will be in attendance, providing samples and tastings of their signature and award-winning beers.  Tickets cost $30 in advance (through Sept. 1) and $40 at the door.  Admission includes ten (4oz.) beer tastings, and the first 6,000 guests receive a free souvenir event logo tasting mug.  The event also features live music and food booths. www.sdbeerfest.org
OCTOBER
Bratwurst, beer gardens and oompapa bands can only mean one thing-Oktoberfest!  More than 200,000 revelers are expected to turn out for the annual Oktoberfest in La Mesa, October 1 - 3, 2010, making it the largest festival of its kind West of the Mississippi.  Visitors can enjoy dancing, traditional German food, Bavarian bands and 300 crafts and commercial booths laid out along six blocks of La Mesa Boulevard.  www.lmvma.com
The La Jolla Art & Wine Festival will unite high art and refined libations during two days of festivities occurring 11 a.m. to 6 p.m. on October 9-10, 2010.  More than 20,000 guests are expected to turn out to peruse more than 100 booths featuring a juried selection of artists from San Diego, Northern Baja Mexico and around the world.  In addition to browsing and purchasing art, guests can enjoy a beer and wine garden featuring a selection of local wines and beer.  www.lajollaartandwinefestival.com
On October 31, 2010, artisans and gourmets will gather at The Lodge at Torrey Pines in La Jolla for a unique celebration of California's indigenous ingredients, innovative cooking and winemaking during the 8th Annual Celebrate the Craft.  San Diego's top chefs will offer a full day of cooking demonstrations, and growers, vintners and culinary artisans from some of California's most renowned farms, bakeries, wineries and confectioners will be on hand for a picnic on the resort's Arroyo Terrace.  Tickets cost $75 per person.  www.celebratethecraft.com
NOVEMBER
San Diego Beer Week returns November 5-14, 2010 for a 10-day celebration of local craft beer and San Diego's thriving brewing culture.  Festivities kick off with a Brewers Guild Festival and conclude with a Chef Celebration of San Diego Beer, a gourmet beer and food pairing event.  Last year's inaugural San Diego Beer Week boasted an estimated 20,000 attendees and more than 300 events, ranging from beer dinners to meet and greats with local brewers.  2010 San Diego Beer Week events will be posted online.  www.SDBW.org
The San Diego Bay Wine & Food Festival , the largest wine and food festival in Southern California, returns November 17-21, 2010 for five days of epicurean fun along San Diego Bay in downtown San Diego. The 7th annual event will feature cuisine from San Diego's best chefs and nearly 1,000 wines from around the world during a celebration that includes wine tasting seminars and cooking classes, a WineRave, elegant Reserve & New Release Tasting, wine dinners, an AIWF Big Bottle Auction & Celebrity Chef Luncheon, Tommy Bahama Rum VIP Party, a $50,000 "Chef of the Fest" Competition and star-studded Grand Tasting Event. The 2010 festival is expected to draw a crowd of over 10,000 over the five-day event. www.worldofwineevents.com
---
TIMELY COCKTAILS . . .
Summer Sunset
1 oz. Three-O Pomegranate Vodka
1 oz. Three-O Mango Vodka
½ oz. coconut rum
1 oz. pineapple juice
1 oz. cranberry juice
Shake with ice and strain into a chilled martini glass
Garnish with a pineapple slice.
September Sunrise
2 oz. 1800 Silver Tequila
4 oz. orange juice
¾ oz. grenadine
Combine tequila and juice into a cocktail shaker. Shake with ice and strain into rocks glass with ice.
Pour grenadine into the glass, it will naturally sink to the bottom.
The Working-man's Margarita
1.5 oz. 1800 Silver Tequila
¼ oz. pear puree
¼ oz. fresh lime juice
½ oz. triple sec
 Combine ingredients and blend with ice, or shake ingredients with ice and serve on the rocks
White After Labor Day
1 oz. Three-O Triple Shot Espresso
1 oz. white chocolate liqueur
1 oz. half and half
 Shake with ice and strain into a martini glass
Garnish with espresso beans.
---
THE BARBARY COAST CONSERVANCY OF THE AMERICAN COCKTAIL ANNOUNCES
FOURTH ANNUAL SAN FRANCISCO COCKTAIL WEEK
September 21-27, 2010
 
San Francisco likes nothing better than to celebrate itself, in the sunshine, with a cocktail in hand.  Natives and visitors alike will once again enjoy equal parts soiree and symposium from September 21-27 as the Barbary Coast Conservancy of the American Cocktail (BCCAC) hosts the Fourth Annual San Francisco Cocktail Week. Tickets are available at www.sfcocktailweek.com.   
 
In the first Barbary Coast Era, barmen such as Duncan Nicol, Jerry Thomas and Bill Boothby cut their teeth in San Francisco saloons slinging the best cocktails in the land; then came Trader Vic and Tony Abou-Ganim, two unrivaled talents in cocktail lore. Now, the Millennial Barbary Coast boasts hundreds of barfolk as talented and sophisticated as any in the world. It's these maestros of spirit who are the living legacy of the bygone Barbary Coast.
 
"The World's First Cocktail Week" is produced entirely by volunteers, and will once again showcase the variety and depth of San Francisco's liquid culture. The BCCAC, a not-for-profit organization co-founded by cocktail entrepreneurs H. Joseph Ehrmann (Elixir), Jeff Hollinger (Comstock Saloon) and Duggan McDonnell (Cantina), is dedicated to preserving the cultural heritage of saloons and their cocktails in San Francisco while also celebrating California's culinary philosophy and traditions with special events, publications and educational seminars.
 
San Francisco Cocktail Week kicks off on Tuesday evening, September 21, with the formal dedication of the Boothby Center for the Beverage Arts, the new home of the Conservancy and future hub of beverage education in San Francisco. The week's festivities continue through Monday evening, September 27, with numerous events including the Farmer's Market Happy Hour, a Barbary Coast-era card and gaming night co-presented by Cocktail Lab, an under-the-sun Cocktail Cookout and the deliciously delightful Gala and Cocktail Carnival co-presented by The Bon Vivants, replete with circus and burlesque acts and more punch than anyone can swill. Additional events include Cocktail College seminars, after parties, tastings and more.
 
"True to our philosophy, we've created something entirely original for San Francisco," said McDonnell. "Everything we've done to create San Francisco Cocktail Week, we've done so on our own, without a model or an example. Like San Francisco itself, we've carved our own original path."

San Francisco Cocktail Week showcases the most talented bartenders paired with local farmers, chefs and distillers, along with San Francisco's authentic, grassroots passion for enjoying a great drink and celebrating the heart and soul of its beverage culture.
 
San Francisco Cocktail Week 2010
Schedule of Events
Tuesday, September 21
 
Inauguration of the Boothby Center
6 to 8 p.m.
Celebrating the debut of the "Cocktail Bill" Boothby Center for the Beverage Arts: the new community center, conference room, event space and "beverage lab" with a fully functional bar. "Cocktail Bill" Boothby was a turn-of-the-century San Franciscan barman, author, philanthropist and civic leader who connected the fabric of the City with his wits, his grit, and his cocktails. The Barbary Coast Conservancy of the American Cocktail dedicates their home office as an homage to this historic San Franciscan and all those alive today who honor his work. Highlights of the evening include a silent auction and presentation by co-founders of the Barbary Coast Conservancy of the American Cocktail (BCCAC), H. Joseph Ehrmann (Elixir), Jeff Hollinger (Comstock Saloon), Duggan McDonnell (Cantina).
$25 per person (Ticket includes cocktails and hors d'oeuvres.)
Address: 1161 Mission Street, Suite 120, San Francisco
 
Wednesday, September 22
 
Farmer's Market Happy Hour
6 to 8 p.m.
The country's first market-inspired happy hour is back at the Ferry Building! Featuring the City's best farm-to-table bars, the evening benefits the BCCAC and Center for Urban Education about Sustainable Agriculture (CUESA). Enjoy bites from six San Francisco restaurants, creations by 12 talented bartenders and tunes by DJ B Love.
$40 per person (Ticket includes cocktail tastes and hors d'oeuvres.)
Address: CUESA Kitchen at the Ferry Building Marketplace, San Francisco
 
Thursday, September 23
 
Ragtag Rabble Gaming Soirée
Co-Presented by Cocktail Lab
8 p.m. to 12 a.m.
Games of chance such as craps, blackjack, roulette and poker played out by dealers dressed in ye olde Barbary Coast-era attire! Join us in the Burritt Room as it's littered with bars and ragtag tables along with Cocktail Lab's signature innovations of classic, turn-of-the-century cocktails, live music, and a buy-in cocktail mixoff. Festive attire encouraged.
$60 per person (Ticket includes cocktails and hors d'oeuvres)
Address: Burritt Room, Crescent Hotel, 417 Stockton St. (at Sutter) San Francisco
 
Friday, September 24
 
Second Annual Epic Happy Hour
5 to 8 p.m.
Friday Sunshine along the Bay: the perfect way to start the weekend. This Second Annual Happy Hour at Epic Restaurant's Outdoor Patio features tunes by DJ B Love, hearty hors d'oeuvres from Executive Chef Jan Birnbaum of Epic Roasthouse and culinary cocktails from such all-star bars as Rickhouse, Comstock Saloon, Cantina, Rye and 15 Romolo.
$45 per person (Ticket includes cocktail tastes and hors d'oeuvres.)
Address: Epic Roasthouse, 369 The Embarcadero (at Folsom), San Francisco
 
Saturday, September 25
 
Cocktail Carnival Gala
Co-Presented by The Bon Vivants
9 p.m. to 2 a.m.
Location, guest chefs and details to be announced.
$95 per person (Ticket includes punch and hors d'oeuvres.)
 
Sunday, September 26
 
Cocktail Cookout on the Island
12 p.m. to 6 p.m.
Bay Area bartenders and chefs team up for a meaty, boozy outdoor festival, pairing barbecue with tableside bars under the sun at the Distillery in Alameda.
$50 per person (Ticket includes plate of barbeque, cocktails and other beverages.)
Address: St. George Spirits Distillery (AKA Hangar One), 2601 Monarch Street (on the former Naval Base), Alameda
 
Please stay tuned for further release of information regarding the Cocktail Carnival Gala, daily Cocktail Colleges, nightly After-Parties, Saturday Symposium schedule, Karaoke Gong Show and the Barbary Coast Bar Crawl.
 
All events are ticketed and attendees must be 21 years of age to participate. ID will be checked at the door.
 
For tickets, additional information and updates, please visit www.sfcocktailweek.com. Advance purchase is recommended. Many San Francisco Cocktail Week events sell out and there are often limited tickets available at the event.
 
Net proceeds from all San Francisco Cocktail Week events benefit the Barbary Coast Conservancy of the American Cocktail.
---