---
TOWER OF LOVE
Sweets to Enjoy with your Sips on Valentines Day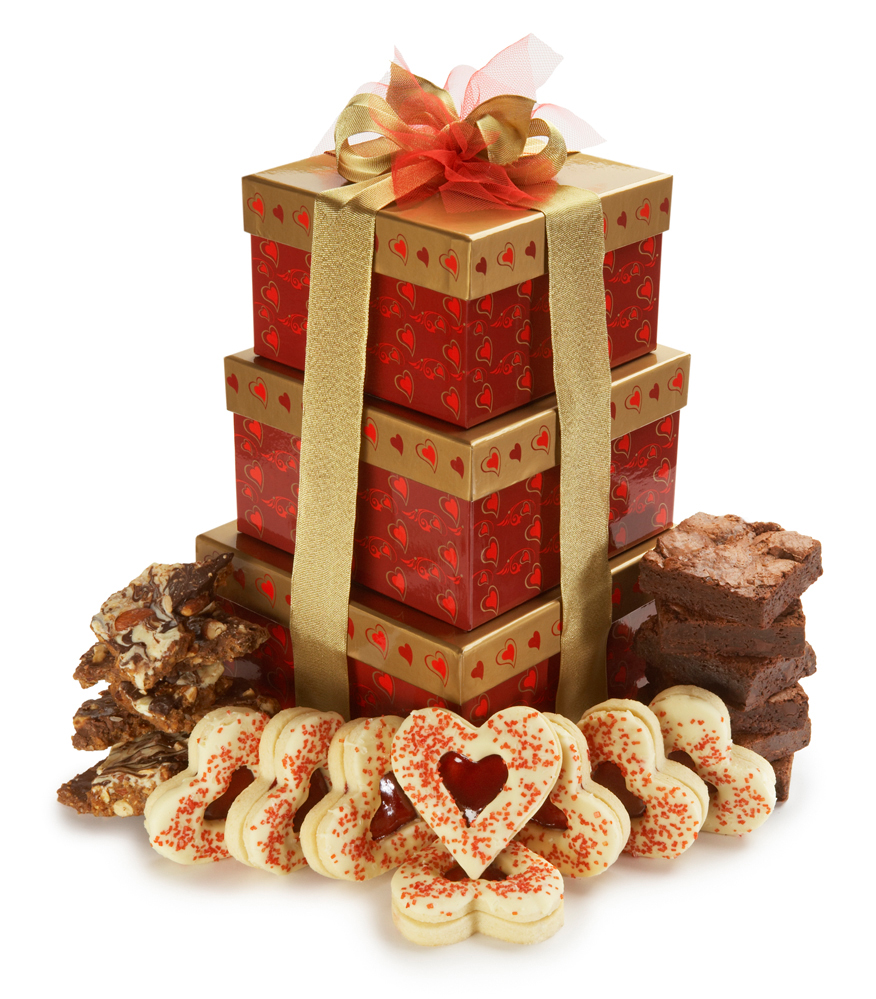 www.harvardsweetboutique.com
---
           Chruffle Wine Pairing Chocolates White Wine Selection
Savor Chruffles with this sommelier-selected White Wine pairing selection. Featured in this set are one each of these four delectable flavors: amaretto, butter pecan, raspberry and orange. Guided by the enclosed pairing mat and tasting information on the inside panel of the package, experiment with the bursts of flavor from the combinations. You'll be pleasantly surprised.
The Cholive Company, located in Milwaukee, Wisconsin, provides unique and original wine pairing chocolates and cocktail chocolates for your sweet endings and beginnings.
Visit: www.
---
Sweetheart SIPS 
LES PETITS GRAINS – Muscat de Saint Jean de Minervois
This little bottle of joy is a perfect selection to pair with your favorite dessert and is always a crowd pleaser. A sweet ending that I personally recommend at a price you can afford. This product is available at World Market.
Another favorite enjoyed during the holidayt is Le Jaja de Jau Syrah, Savignon Blanc or Rose; all delicious and affordable for home entertaining. Visit: www.pasternakwines.com for a complete list of wonderful imported wines.
---
---
ARTISAN OFFERS ALL-WEEKEND VALENTINE'S DAY CELEBRATION, À LA CARTE AND TASTING MENU
Friday, Saturday and Sunday Dining
WHO:                      ARTISAN, Paso Robles, California
WHAT:                    ARTISAN restaurant is offering their entire dinner menu on Valentine's Day, Sunday, February 14, 2010, enabling guests not interested in an obligatory prix fixe evening to enjoy their own favorite selections from Chef Chris Kobayashi's seasonal menu. 
                                And to make Valentine's celebrations more convenient, ARTISAN is accepting reservations for both Friday lunch and dinner, Saturday lunch and dinner and Sunday brunch in addition to Sunday Valentine's Day dinner.
                                Chef Kobayashi will offer a specially designed five-course tasting menu for $69 per guest which will be available on Saturday and Sunday night only, in addition to the restaurant's à la carte menu.
Valentine's Day Menu
First Course
Lobster Chowder, creamed leeks, debbie's bacon, cracked black pepper butter crackers
Second Course (choice of)
California Burrata, fra' mani salumi, market radishes, hazelnut olive oil
Wild Arugula Salad, winter citrus, sherry vinaigrette, warm goat cheese toast
Third Course (choice of)
Ricotta Gnocchi, chanterelles, pea tendrils, citrus olive oil
Charter Oak Beef Tongue Ravioli, slow braised beef cheek bolognese
Crispy Pork Belly, butternut squash, smoked almonds, pedro ximinez
Fourth Course (choice of)
Grilled Hearst Ranch New York Striploin, pan fried artichokes and potatoes
Petrale Sole, dungeness crab, early spring asparagus, rutabaga, kumquat brown butter
Green Lasagna, sautéed rapini, black trumpet mushrooms, parmigiano-reggiano
Dessert
Chocolate Conversation Heart and Housemade Chocolate Confections
WHEN:                    Friday, February 12, Saturday, February 13, and Sunday, February 14, 2010
Lunch: Friday-Saturday 11:00am-2:30pm
Dinner: Friday-Saturday 5:00-10:00pm; Sunday 5:00-9:00pm
Brunch: Sunday 10:00am-2:30pm
WHERE:                 ARTISAN restaurant
1401 Park Street
Paso Robles, CA 93446
805.237.8084
For further information and full menus at Artisan, visit www.artisanpasorobles.com / digital imagery available
---
6th ANNUAL SAN DIEGO BAY WINE & FOOD FESTIVAL REPORTS RECORD NUMBERS
Southern California's Largest Wine & Food Festival Records Highest
Attendance To Date
The producers of the San Diego Bay Wine & Food Festival, Southern California's largest luxury wine and food event, announced today record breaking attendance for their 6th annual Festival that took place this past November 18-22. The weeklong extravaganza drew in a crowd of over 9,000 wine and food enthusiasts who experienced a culinary showcase of 170 wineries and spirit producers, 60 of San Diego's finest restaurants, gourmet foods, celebrity chefs and culinary personalities, cooking and wine tasting classes, live entertainment and more, said Michelle Metter, the Festival's co-producer.

"The Festival attracted a large audience of food and wine enthusiasts from across the country showcasing the city of San Diego as a hot spot for culinary tourism," added Metter. "The Festival continues to have an impact on tourism in San Diego, as well the wine, food and hospitality industries, while creating a world-class experience for the thousands of wine and food lovers who join us." 

The Festival featured a number of sold out events throughout the week, including a WineRave, cooking and wine tasting classes, a Reserve & New Release Tasting, Celebrity Chef Luncheon and the Grand Tasting Event. Ticket sales for all events were up by approximately 15 percent from the previous year. The Grand Tasting Event, taking place on the Embarcadero Park North in downtown San Diego, was completely sold out to a crowd of 5,500.

Of the 9,000 enthusiasts who enjoyed the event, 30.4 percent came from out of the San Diego market. The Festival also has a major impact on aspiring wine and food professionals. The event's live and silent auctions benefit the American Institute of Wine & Food's Culinary and Enology Scholarship Program. This year, over $30,000 were awarded to individuals looking to make a career in the food and wine industry. The San Diego Bay Wine & Food Festival has raised over $150,000 to date for the AIWF.

The 7th Annual San Diego Bay Wine & Food Festival is scheduled for November 17-21, 2010. For more information about the San Diego Bay Wine & Food Festival, please visit www.worldofwineevents.com or call 619-342-7337.

---
The Château de la Selve (Ardèche) will be present at Millésime Bio, in Montpellier, FRANCE, from January 25 to 27, 2010, STAND18.

Benoît and Florence Chazallon will make you discover with passion their domain of the South Rhône Valley and will make you taste the new vintages of their organic wines.

The Château de la Selve, created in 2002, is:
- 38 hectares in organic culture;
- natural yeast and long fermentation;
- non fined and not filtered wines;
- respect of the moon influences.

All this work done in the vineyard and in the winery give birth to natural wines which combines elegance and complexity for the red wines; mineral quality and delicacy for the white and rosé wines.

During the trade fairs, we will propose you taste their new rosé cuvée in the range "Les Confidentielles": "L'audacieuse".

To know more about us:  http://www.chateau-de-la-selve.fr , florence@chateau-de-la-selve.fr , tél.: +33(0)4 75 93 02 55.



---
FAT TUESDAY COCKTAILS  -  www.colleenmullaney.com
Colleen Mullaney, entertaining maven and author of It's 5 o'clock Somewhere, is giving you a taste of New Orleans with two easy to do cocktails.  A night all about music, food, and friends, these recipes are the perfect way to celebrate the New Orleans tradition.
Voodoo
Serves 4
8 oz./237ml Finlandia Mango Vodka

8 oz./237ml mango nectar

8 lime wedges, plus 4 more for garnish

12 fresh mint leaves, plus extra for garnish

Soda
Muddle the mint and the lime wedges in a cocktail shaker. Add the mango nectar and vodka and allow a few minutes for the flavors to marry. Put 4 ice cubes in each glass. Strain mixture into glasses. Top with soda, garnish with mint and lime wedges and serve.
Whiskey Smash
Serves 4
Combine all ingredients except bourbon in a large glass. Using a wooden spoon, smash the ingredients together. Add whiskey and transfer to a cocktail shaker. Shake vigorously, strain into glasses filled with crushed ice and garnish each with a sprig of mint.
---
THE EIGHTH ANNUAL BOGART PEDIATRIC CANCER RESEARCH
PROGRAM WINE AFICIONADO DINNER TO FEATURE
"THE BIGGEST STARS IN WINE TODAY" ON MAY 13TH
AT THE SPECTACULAR NEW W HOTEL IN HOLLYWOOD
The Annual Event Has Raised Over $1.65 Million for Children's Cancer Research
The Eighth Annual Wine Aficionado Dinner benefiting the Bogart Pediatric Cancer Research Program will take place on Thursday, May 13th at the spectacular new W Hotel, located near the world famous intersection of Hollywood and Vine. Tickets for this year's dinner, "Hollywood and Wine: The Biggest Stars in Wine Today", are $1,250 per person or $10,000 per table of ten. Attendees also have the opportunity to be among the first to stay at the W Hollywood at a special rate of $259 on the night of the dinner.
"The Bogart Wine Aficionado Dinner has earned a reputation for being among the top benefit events in Los Angeles due to its combination of world class gourmet cuisine, fine wines, and giving patrons," comments event Co-Chair Sandra Rapke. "The money we've raised over the past several years has saved countless children's lives. It is a privilege to carry on the tradition with what is sure to be our best event yet."
The year's dinner will showcase some of the world's finest wines paired with a four-course dinner prepared by Innovative Dining Group. In keeping with the dinner's theme, for the first time this year the Bogart board has secured several of LA's sommeliers to oversee the dinner's wine service.
With only a limited number of seats available, this exclusive fundraiser has become a must-attend event for wine lovers in Los Angeles. The evening begins at 6:30 p.m. with a Champagne reception. A four-course dinner paired with some of the most famous wines from around the world will be served at 7:30 p.m., and the evening will once again conclude with an exciting live auction featuring one-of-a-kind lots such as a stroll down the red carpet at a Hollywood premiere in a Randolph Duke couture gown; a dinner with comedians Cheech and Chong; a progressive dinner for four couples in Los Angeles' top elite homes; a private movie screening; and a lot of 100-point Robert Parker rated wines from around the world.
For more information or to purchase tickets, contact Bogart by calling 323.330.0520 or emailing info@bogartfoundation.org.

Event co-chair Sandra Rapke, vintner Ann Colgin, and actors Kyle MacLachlan and Dana Delaney.
About the Bogart Pediatric Cancer Research Program

The Bogart Pediatric Cancer Research Program's primary purpose is the financial support of the Bogart Labs at Childrens Hospital Los Angeles.
Named in memory of Neil Bogart, the late record and film executive who died of lymphoma at the age of 39, The Bogart Pediatric Cancer Research Program was founded in 1984. Looking to celebrate his life, friends, family and colleagues linked efforts with the beginnings of a pediatric program at Childrens Hospital Los Angeles. Songwriter Carole Bayer Sager and Neil's widow Joyce Bogart Trabulus cited as an inspiration his love of children and his resolve that one person could make a difference.
The exciting research that goes into the Bogart Pediatric Cancer Research Program is a result of the unique combination of the leadership, talent and ideas of the researchers and clinicians; the research funding from Bogart; the facilities, staff and patients of the Childrens Hospital Los Angeles (CHLA); and the Children's Oncology Group (COG). An idea begins in the mind of a researcher and is funded by seed grants from Bogart. As the research shows promise, more traditional funding sources are available to expand the research. Because of the relationship between the Labs and CHLA, research jumps at the earliest stage from the bench to bedside of a child, where it is needed most. Through the COG, medical professionals at 120 member facilities around the world have access to this research and are able to cross reference their patients and treatments with the latest protocols.
This January Bogart awarded a five-year $4.7 million grant to support the Childrens Center for Cancer and Blood Diseases (CCCBD) and the creation of the Bogart Leukemia Research Program at Childrens Hospital Los Angeles. 
---
Trade Exclusive Seminar & Tasting
Paso Robles Wine Country, one of the nation's premier wine producing regions, hits the road for its 2010 National Grand Tasting Tour with the first stop scheduled the week of February 23-25, 2010 in San Diego. More than 40 winemakers from Paso Robles will converge on San Diego in a number of scheduled tasting events and you are cordially invited to attend.
Join us on Wednesday, February 24, 2010 at the NTC Promenade - McMillin Event Center for a seminar and tasting exclusive to the wine trade and media of San Diego.
Trade tasting and seminar are complimentary and open to qualified wine buyers and media only.
Explore more than 150 wines from California's third largest and fastest growing wine region within the heart of San Diego. For questions, please contact Mary Crocker at Fast Forward Events, crocker@fastforwardevents.com or call 858-578-9463. For a list of participants and more information on the 2010 San Diego Trade Tasting, please visit www.pasowine.com.
Paso Robles Wine Country will also be making an impact in the San Diego all week long with a number of tasting events for consumers, including winemaker dinners, retail tastings, and two consumer walk-around tastings.  Visit www.pasowine.com to learn more and guide your customers to take advantage of this one time opportunity.
Seminar: 1 - 2 p.m.
Experience a vintage to vintage comparison of Paso Robles wines from three top Paso Robles producers - Hope Family Wines, L'Aventure and Tablas Creek Vineyard.  Attendance is limited so reserve your seat early.
Walk Around Trade Tasting: 2 - 5 p.m.
Representatives from over 40 Paso Robles wineries showcase a sample of their portfolios.  Come reacquaint yourself and meet the many new brands coming out of Paso Robles Wine Country.
We look forward to seeing you at the Paso Robles Grand Tasting Tour in February!
 Cheers,
 Paso Robles Wine Country Alliance
---
2010 Coastal Uncorked Poster Competition
ABOUT COASTAL UNCORKED
The inaugural Coastal Uncorked Food & Wine Festival will take place May 16 -23, 2010 and will promote Myrtle Beach through culinary events.  Each year, the official Coastal Uncorked poster will be sold and distributed to event attendees and used in various marketing materials to promote the event.  Any artist is encouraged to submit an artwork for the official Coastal Uncorked poster.
CRITERIA
Visually display the concept of Coastal Uncorked Food & Wine Festival. The committee will have discretion to disqualify any artwork submitted with inappropriate content.
ADJUDICATION
A panel of three judges will select the official poster image based on the specifications, design quality, and marketability.
SPECIFICATIONS Original artwork submitted by the artist or the artist's representative only will be accepted • Limited to two (2) entries per artist • All forms of art are eligible including photography, painting, sculpture, graphic design and illustration • Size must not exceed 36″ x 36″ • Submit actual artwork, no slides accepted • Completed entry form (on bottom of page) must be attached to the back of the artwork.
FINALISTS
All artworks will be featured in a Poster Revealing event in a silent auction on March 3, 2010. The artist will get a commission of 50% of the money raised from the artwork in the silent auction.
AWARDS TO THE WINNER
Recognition as the official 2010 Coastal Uncorked poster artist • Winning image will be produced as the official festival posters and merchandise • Coastal Uncorked, Inc. will retain possession and all legal rights to the artwork selected, including all reproduction and photographic rights, with credit for the artwork being given to the artist in all accompanying materials. • Winning artist receives 10 posters • The artist will get a commission of 50% of the money raised from the artwork in the silent auction at the Food Fight Gala on May 23, 2010.
POSTER COMPETITION TIME-LINE Drop-off: Friday afternoon, February 26. Entries must be hand-delivered to The Brandon Agency or the Franklin G. Burroughs- Simeon B. Chapin during normal business hours by February 26.
Poster Revealing Event:
Wine & Cheese Reception at the Franklin G. Burroughs- Simeon B. Chapin Art Museum
Wednesday, March 3, 2010
5:30 – 7:30 pm
Catered by Croissants Bistro & Bakery.  All Coastal Uncorked artwork will be for sale except the winning poster, which will be auctioned off at the Food Fight Gala on May 23, 2010.
---
VALENTINE SIPS FROM THREE OLIVES VODKA

Valentine's Day on the Rocks
1 ½ oz. Three-O Cherry Vodka
4 oz. ginger ale
Splash of grenadine
Mix in a glass filled with ice and garnish with a cherry.
Cupid's Broken Arrow
3 oz. Three-O Mango Vodka
½ oz. Triple Sec
1 oz. cranberry juice
Splash fresh lime juice
Shake with ice and strain into a chilled martini glass.
Garnish with a cherry.
Shot of Love Stinks
1 oz. Three-O Grape Vodka
½ oz. black raspberry liqueur
½ oz. cranberry juice
Shake with ice and strain into a chilled shot glass.
---