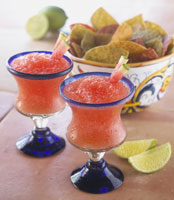 Watermelon Mango Margarita
This is the best margarita ever! Smooth, cold and full of flavor. Just add sun and a sparkling pool of water.

2 cups chopped seedless watermelon
One ripe mango
Juice from 2 fresh limes
1 tablespoon sugar
1 tablespoon triple sec
2 jiggers tequila
2 cups ice
Place all ingredients (except the sun and pool of water!) in a blender and puree until smooth. Serves 2 or 3.
Watermelon Mocktail
You can add a shot of chilled premium vodka to the shaker and make this mocktail a cocktail!
1 cup watermelon puree
1 teaspoon grenadine syrup
Juice from one fresh orange
1 tablespoon granulated sugar
2 cups ice cubes
Place all of the ingredients in a martini shaker and shake for 20 seconds. Strain the chilled liquid into a sugar rimmed martini glass. Makes 1 or 2 mocktails.

---
POLITICS AND PINOT DOWN UNDER
Special to Bonnie Carroll's Life Bites
by John Blanchette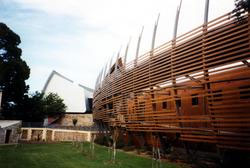 Adelaide, South Australia – While mulling over my wine options in the Air New Zealand flight lounge at Los Angeles International Airport I was interrupted by a handsome woman, who asked if I could pass her some
ice. I mentioned that this was my first time flying Down Under and she said, "Well let me be the first to welcome you, my name is Helen Clarke and I'm the Prime Minister of New Zealand."
It was an auspicious beginning. She was returning with her cabinet from meetings in Europe. I exchanged cards with her Press Secretary, sat next to the Minister of Defense and we departed on what felt like New Zealand's Air Force One.
After dropping off the Prime Minister and her entourage in Auckland, we continued on to Adelaide, the Capitol of South Australia. It's located in about the same spot on the map that New Orleans is in the United States, and the food is spectacular too! But Adelaide is also the gateway to Australia's finest wine regions.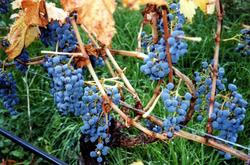 While in Adelaide you should begin your tour of the wine country at the National Wine Centre, a giant wine cask-like edifice situated in the stunning Botanical Gardens. The city is awash in parks, gardens and open green spaces. It was planned that way by the early colonists who set off the graceful Victorian and Edwardian structures of the inner city by surrounding them with green parklands.
Wine is a very serious matter in Adelaide. Most of Australia's fine wines are produced within a 60-mile radius of the city. My cab driver was grousing over a front-page story about Australian wines finishing "dead last" in a tasting competition conducted by the Los Angeles Times. I knew about the contest. It was conducted by five writers in the Food Section who compared some Australian and Californian wines in the under $15 range, Australia topping two categories and California five. Hardly the devastation portrayed in the paper.
After touring the museum, a state of the art, multi-media presentation on the wine industry in Australia, I hit the tasting room to get a real feel for what I had just learned. Thankfully, admission includes a tasting of several wines from the 10,000 bottles available for purchase in the wine seller.
Surprisingly to me, Australians are the largest per capita consumers of wine in the world, much preferring it to beer. The most popular beers, by the way, are James Boag, Cascade and Cooper. Fosters is not. As I was told by my hotel barkeeper, "Aussies don't drink Fosters, it's only for export."
I met my guide, Chris Smyth of Tourabout Adelaide, www.touraboutadelaide.com.au, outside the museum, where we began our walking tour of the city in the Botanical Gardens, stopping for lunch at the Botanic Garden Restaurant, a large, glass encased gazebo-like structure overlooking a pond.With a population just over a million people, Adelaide is a lovely walking city with many fine shops and a vibrant downtown area. A must visit is the Central Market, the largest in-door produce market in the Southern Hemisphere. Also look for Rundle Street to find some of the best bars, cafes, sidewalk dining, funky clothing stores and wine shops.
When it becomes the walking street, Rundle Mall, you'll find the large department stores and fancy shops. Look for The Opal Mine. It has the world's largest opal on display, "The Fire of Australia." Its value is priceless. This softball-sized jewel is sitting unprotected in a glass case within easy reach and just a few steps from the front door. There are no guards, only women shopkeepers. Don't think I didn't think about it. It's been there since it was discovered in 1946. And this is a country that was once a penal colony? Any guess how long it would have survived in Los Angeles or New York? Further on is Hindley Street, which is a curious mix of red light zone, university students, inexpensive restaurants and bookstores, dance clubs and lively bars. Look for Chianti Classico on Hutt Street for the best Italian food in the city.
I was in Adelaide the day they were electing the new Lord Mayor and staying at the five-star, 163-year-old Medina Grand Adelaide Treasury Apartments, the original site of the city treasury. It has a terrific pub, where I was doing some research for my trip to the wine country. In came Michael Harbison, the lead candidate for Lord Mayor, with his wife, daughter, about 20 supporters, his campaign manager and the
photographer from the local paper.
They had come to await results of the election and bought drinks for everyone, including yours truly. We talked, exchanged cards, took photographs and in the next day's paper I was photographed seated next to the new Lord Mayor, toasting his victory. I was beginning to feel like a part of the political establishment Down Under. The next day my guide to the wine country, Mary Anne Kennedy of A Taste of South Australia, www.tastesa.com.au, picked me up at the hotel and we drove north to visit the Barossa and Clare Valleys, the Napa and Sonoma of Australia, about an hour outside the city.
The Barossa Valley produces about 25 percent of the wine grown in Australia and contains 60 different wineries, including the largest and most well known. Almost all have tasting rooms and encourage visitors. Many are now using the new Stelvin screw caps instead of corks, to cut down on spoiled wines.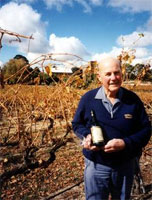 Established by German settlers beginning in 1839, wine has been produced here for well over 100 years and there are even some remaining 100-year-old vines. Like almost all wine growing areas, the beauty of the landscape produces a calming effect that reaches deep into the soul. The Barossa is spectacular, with cattle and sheep dotted in the rolling green hills dividing the vineyards. The neighboring Clare Valley is even more beautiful. Called "the most unblemished wine region in Australia," it was founded in the 1840s by Irish, English and Polish settlers, and many of the town names reflect that heritage. With over 30 vineyards, this area produces some of the finest Rieslings in the world. Also highly recommended are the Pinot Gris, which, have a flowery nose and a dry citrus/kiwi back end that is quite remarkable.
FOOD, WINE AND LODGING:
BAROSSA VALLEY
Maggie Beer's Farm Shop
Nuriootpa exportkitchen@maggiebeer.com.au
The Martha Stewart of Australia, this is a beautiful little restaurant perched above a duck pond in the north end of the Barossa, where you can purchase Maggie's signature products, including pheasant pate, jams, vegetarian pates, smoked salmon crème, her cookbooks, etc.
Vintner's Bar & Grill
Nuriootpa
A vineyard restaurant that serves Kangaroo; London broil will hop to mind.
Peppers Hermitage
Marananga
Lovely family owned inn set in the middle of a vineyard.
Penfolds
Nuriootpa
Produces Grange, Australia's most celebrated red wine.
Peter Lehmann
Tanunda
Picnicking is encouraged, "Best Winery" in 2001
Yalumba
Angaston
Founded in 1849, this beautifully preserved winery has one of the nicest tasting rooms in Australia. Look for the emus and kangaroos that inhabit the property.
Henschke
Keyneton
CLARE VALLEY
George's of Clare restaurant
Indoor dining or el fresco among the vines of Neagles Rock winery.
Salt n Vines
Clare
Excellent seafood in a modern Bistro setting.
Thorn Park Country House
Sevenhill www.thornpark.com.au
David Hay and Michael Speers restored 1850s estate. Beautiful home, good conversation, wonderful hosts.
Sevenhill Cellars www.sevenhillcellars.com.au
The oldest winery in the Clare Valley (1851). Brother John May is the 7th Jesuit winemaker. He prays that God will send him the 8th Jesuit soon so that he may teach him all his knowledge. St. Aloysius Church
(1875) graces the grounds.
Mount Horrocks Auburn
Lovely tasting room in restored railway station. Stephanie Toole's Cordon Cut Riesling was the most elegant dessert wine I tasted in Australia. Her husband, Jeffrey Grosset, owns Grosset wines, also in Auburn. Other Clare wineries: Pikes - Kirrihill - Kilikanoon - Mitchell
The highlight of my stay was the final evening. Australia's best-known chef, Cheong Liew of The Grange Restaurant in the Hilton Adelaide, was preparing a six course tasting menu matched with six different area wines, followed by dessert wines and brandies. The menu was designed to tie together my food and wine experience over the past week. If you are in Adelaide, do yourself a favor and dine with Chef Liew, you will remember it the rest of your life.
I introduced myself to people sitting at the next table and found that I was speaking with Nick Greiner, the former Premiere of New South Wales. It was a pleasure, but by now I was used to meeting with the powerful and politically entrenched in the land Down Under.
GETTING THERE:
From the United States flying over the International dateline, you lose a day. I flew two of the world's greatest airlines, Air New Zealand to Australia (12 1/2 hours to Auckland and 3 1/2 to Sydney), and Qantas inside Australia (about a two hour flight from Sydney to Adelaide), a lot of hours and reason enough to extend your stay. The Tourist Office, www.southaustralia.com provides comprehensive booklets on wine & food, with contact information, maps and brochures, and guides to housing in all price ranges.