SIPS   .    .   .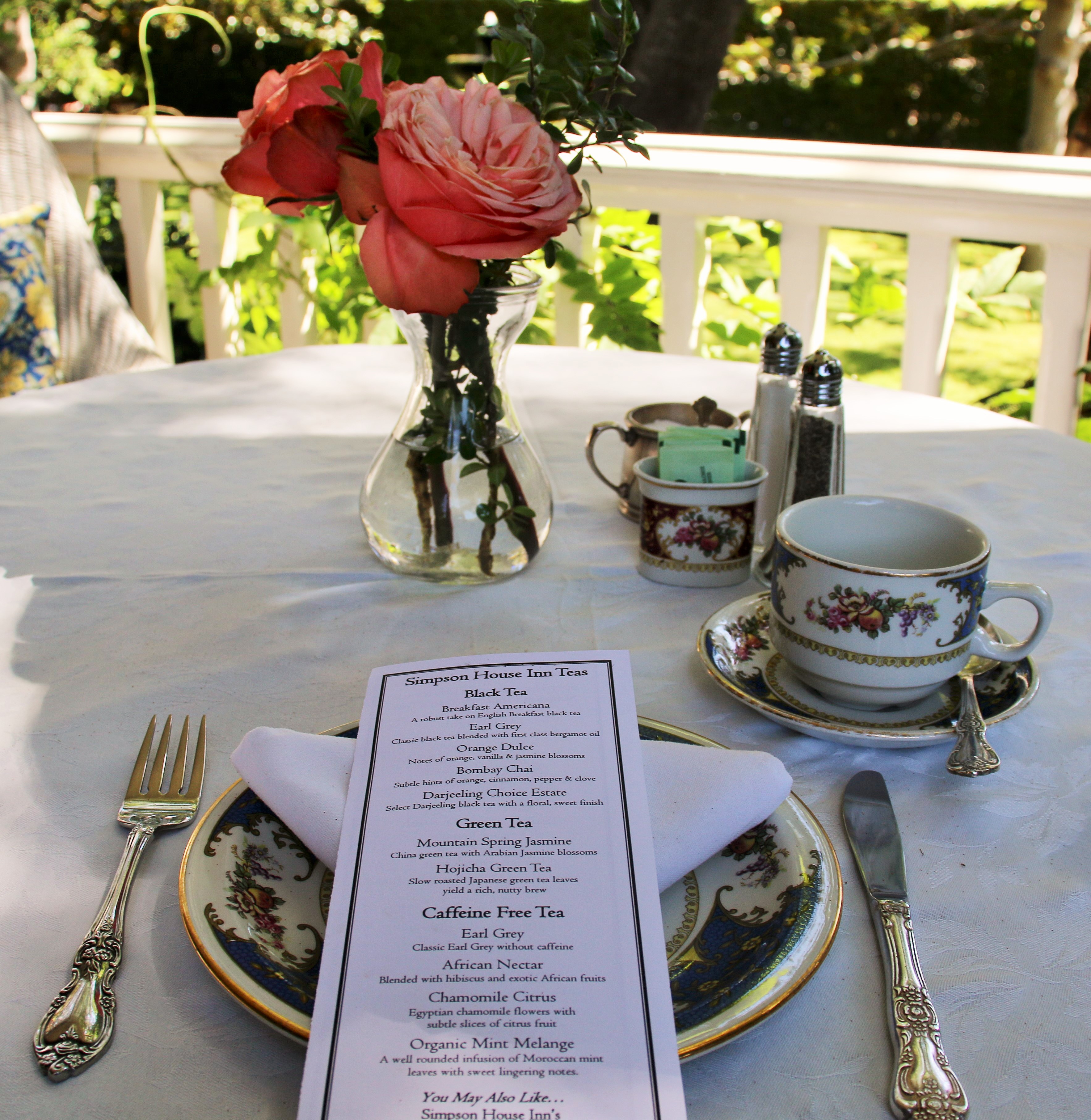 AFTERNOON TEA AT THE SIMPSON HOUSE    by Bonnie Carroll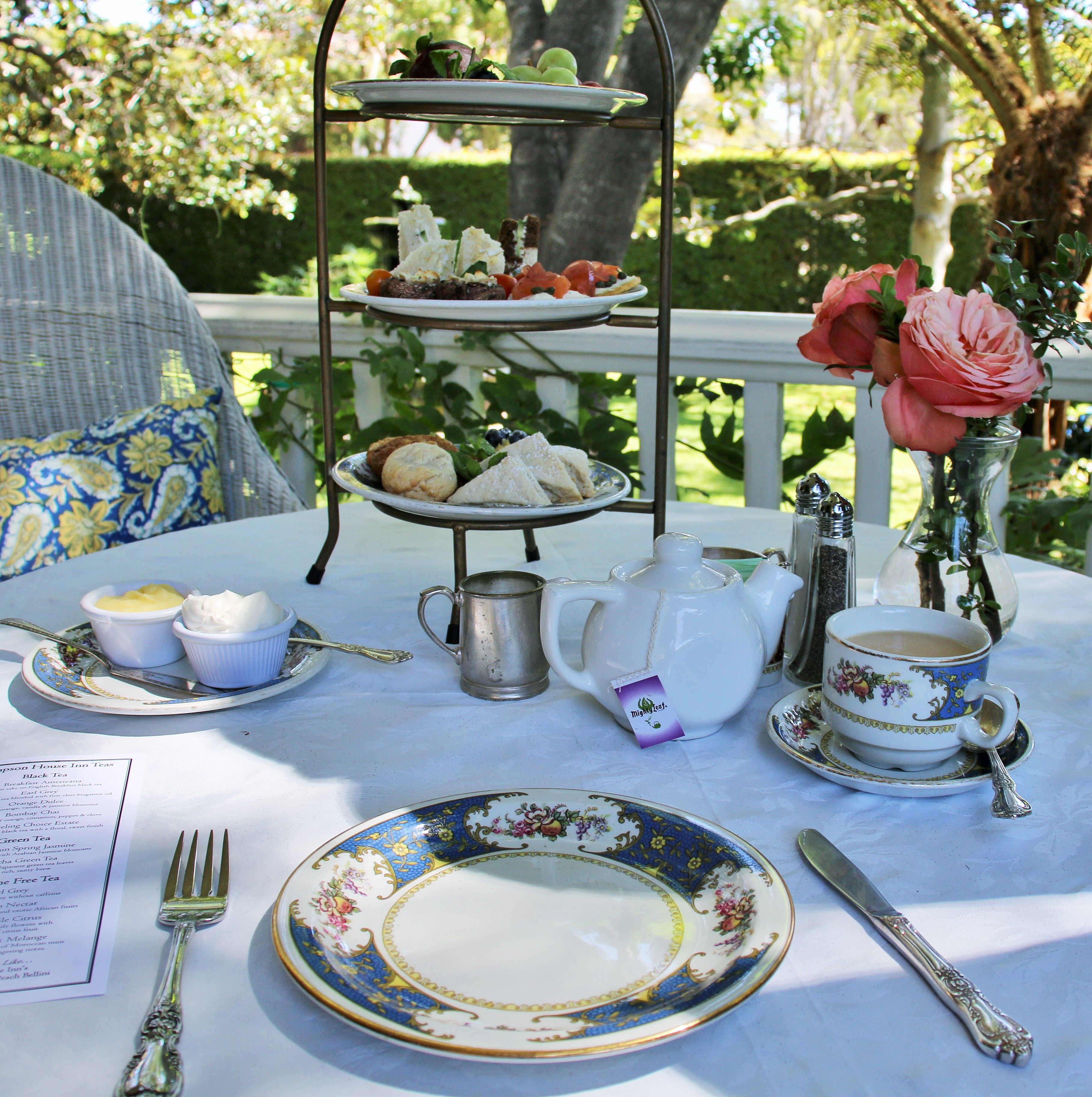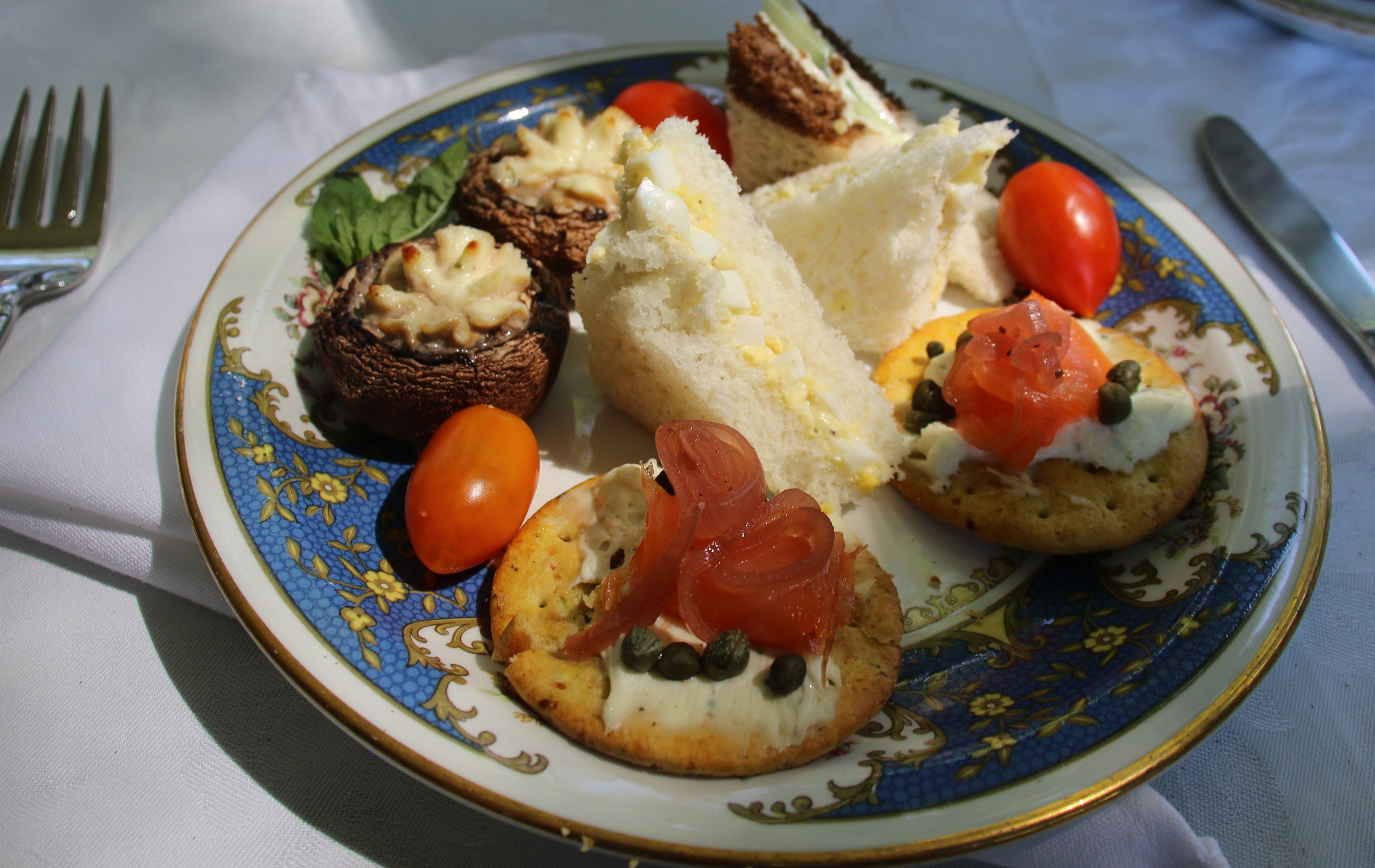 One of the best kept secrets for a delightful afternoon tea anytime of year, but especially in the fall, is the Simpson House Inn, located at 121 East Arrellaga Street in Santa Barbara. In 1874 Robert and Julia Simpson completed their beautiful Italiataic Victorian home on Arellaga Street, where they raised their family.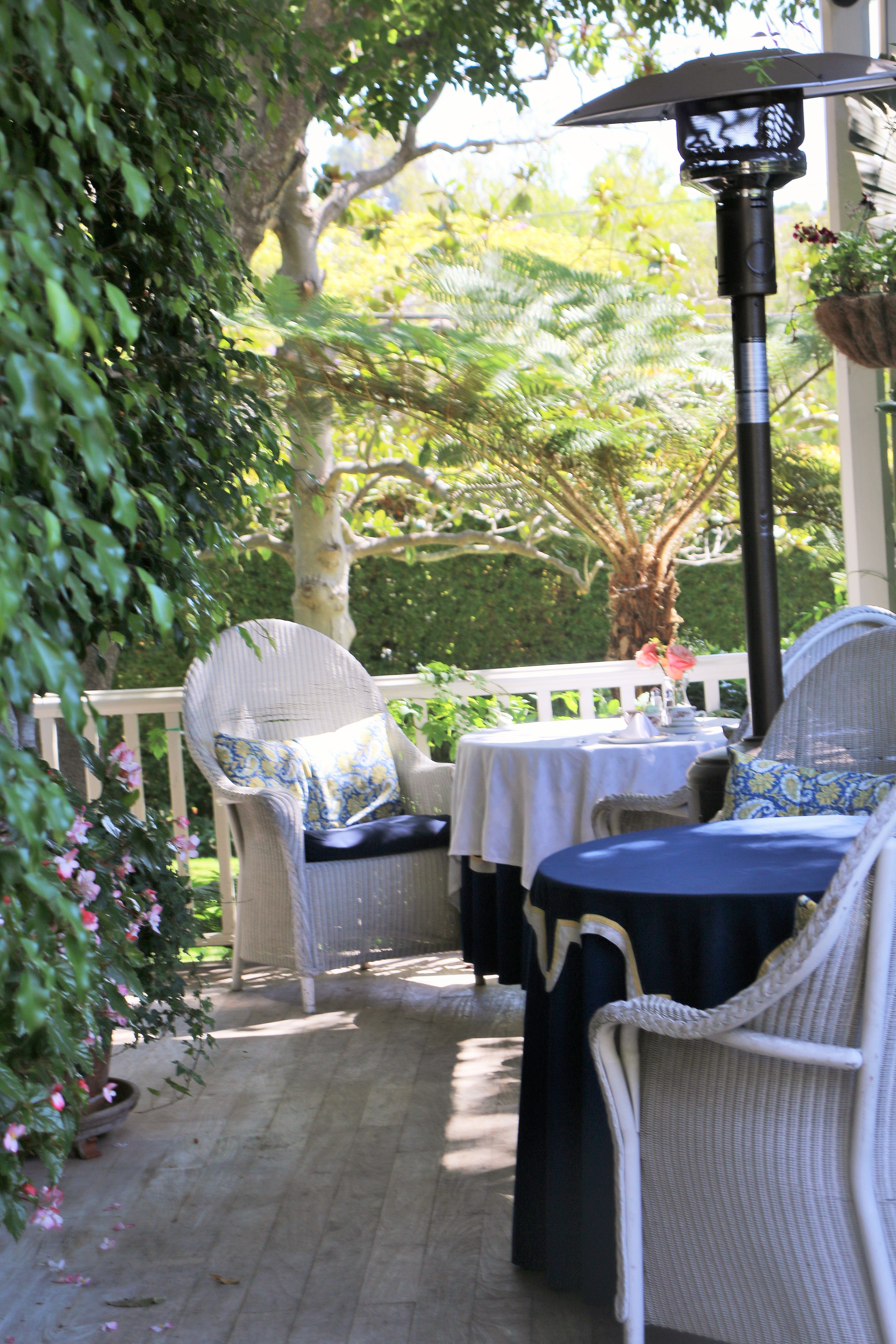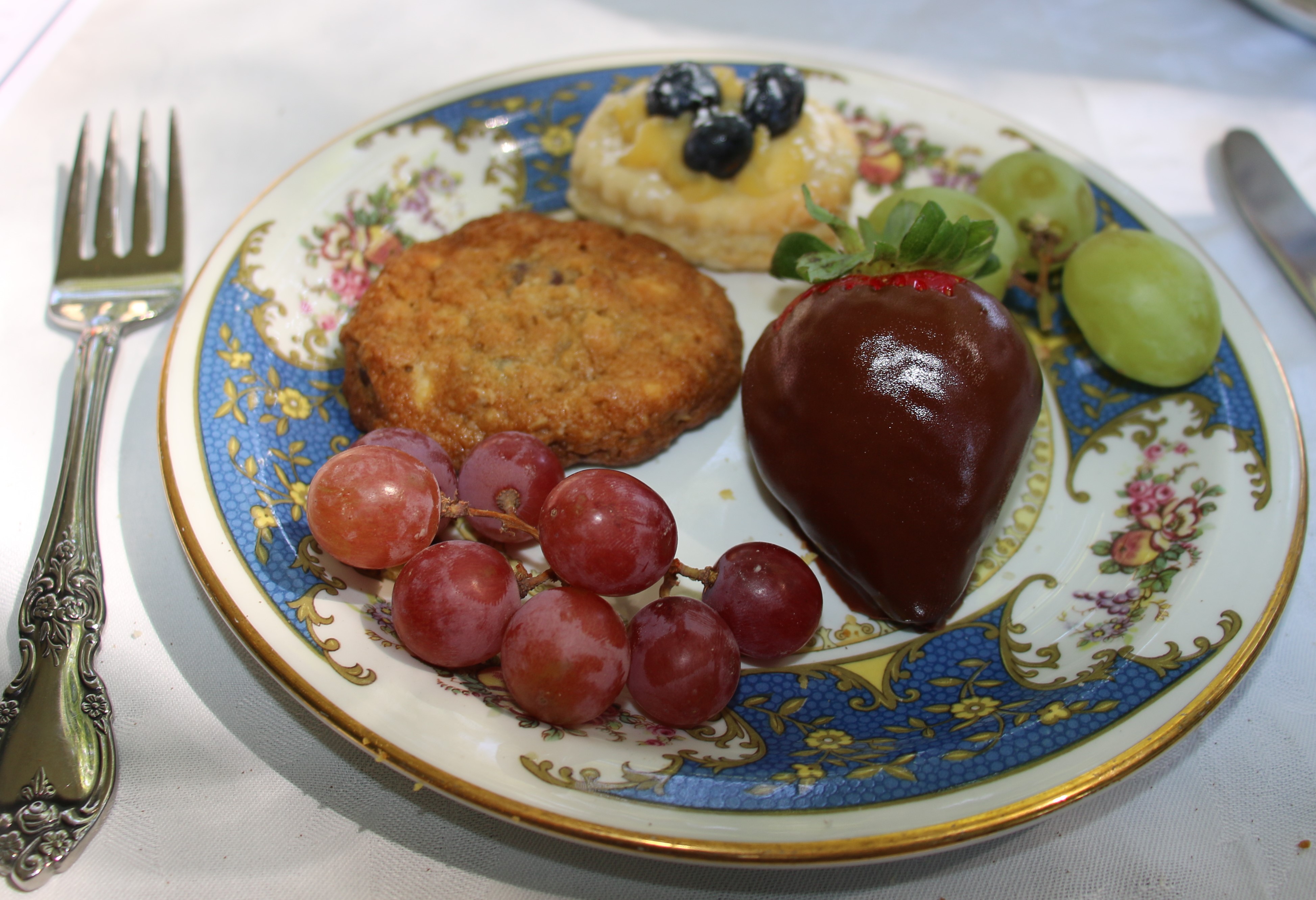 This historic home had many owners, and the last were Glyn and Linda Davies, who re-inveted this family home into a beautiful bed and breakfast in 1985. Not only does this home offer guests all the comforts of home, but they can also stay in hidden English garden style cottages built on the property in 1993 that are quite romantic.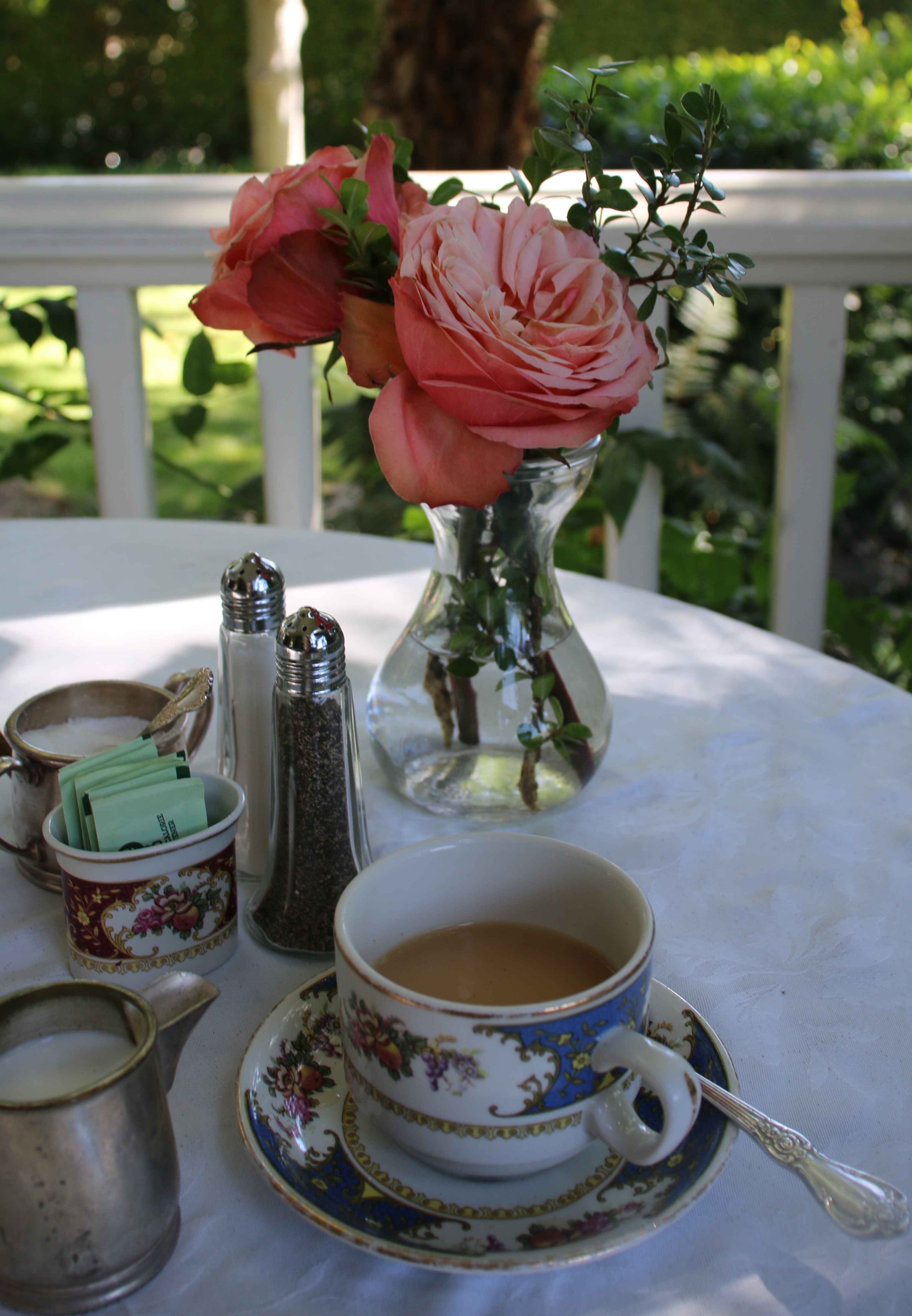 My favorite time at Simpson House is afternoon tea on the lovely front porch, where the staff serve a high tea that could hold its own against the Fairmont in Seattle or Peninsula in Beverly Hills, however, guests are sitting in a blissful garden setting complete with the sound of water dancing created by the antique fountain. Wonderful place for a private talk or just to enjoy some moments of peace and quite over a cup of tea.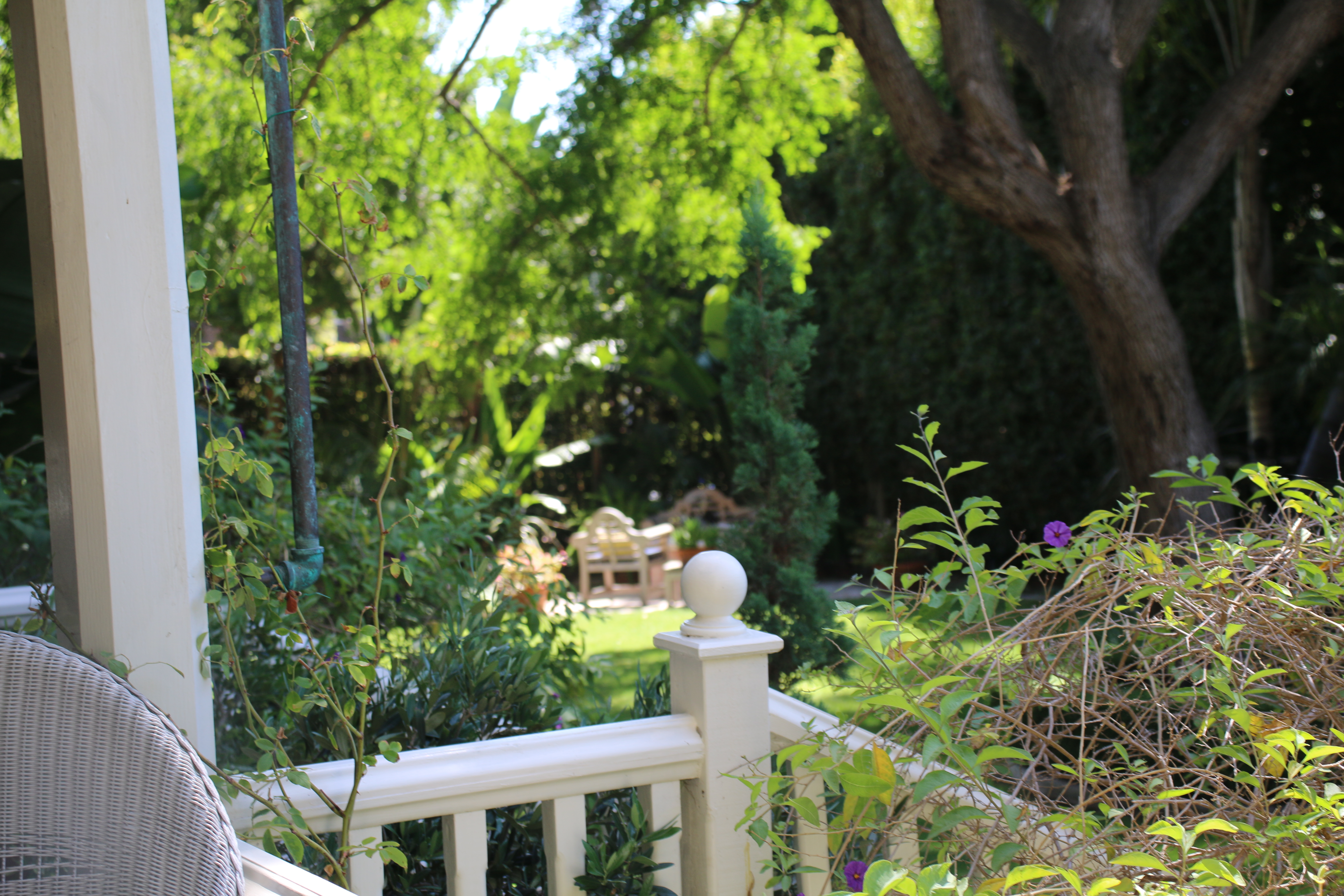 The tea offers chef made finger sandwiches, cakes, cookies and a choice of amazing tea with enchanting names in regular or cafeine free, as well as an orange mimosa or peach bellini at a small additional charge. General Manager Tony Pace and the staff are always alert and helpful, but never intrusive at Simpson House Inn.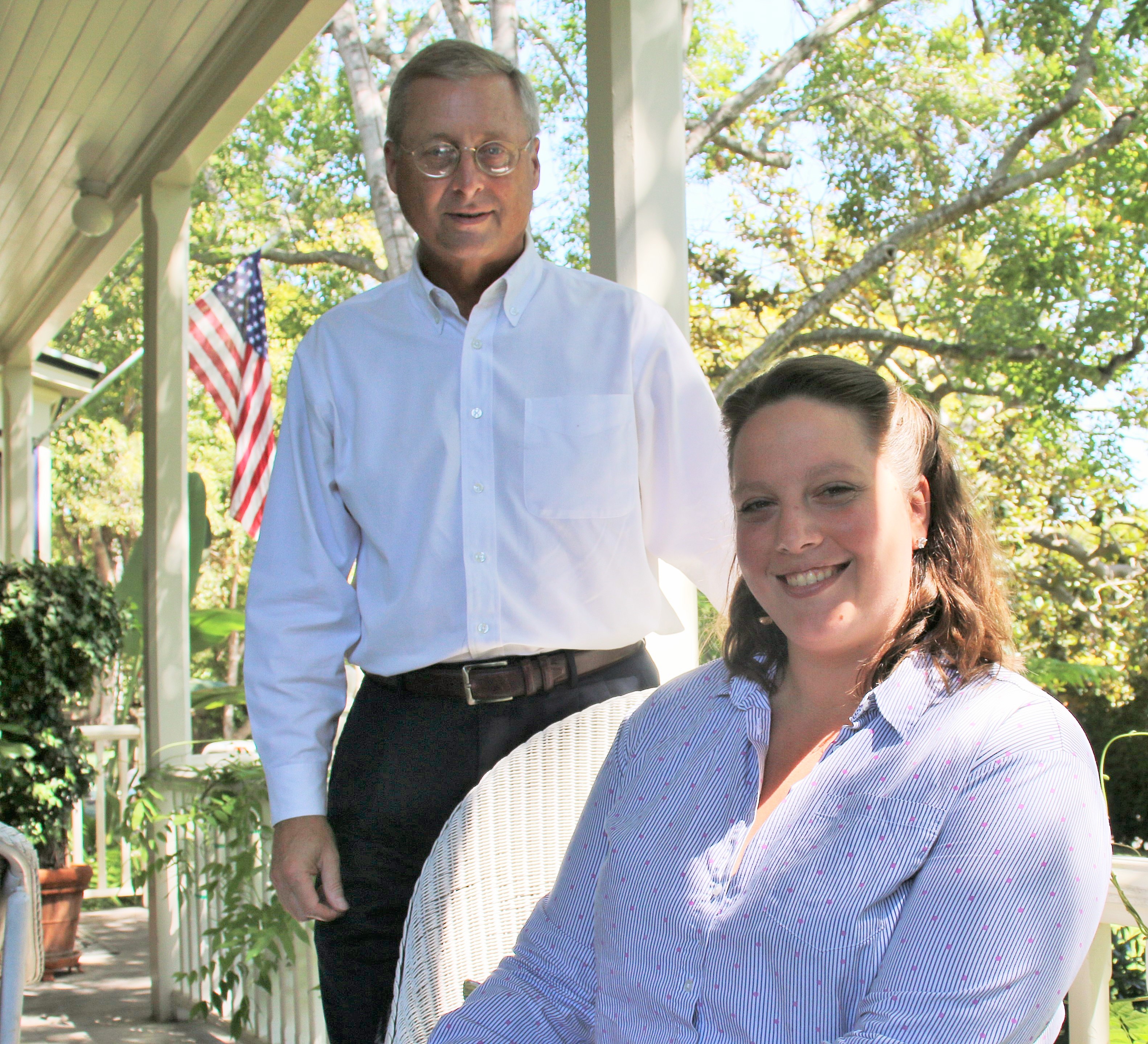 Guests are also welcomed to enjoy a beautiful gourmet breakfast in the morning, afternoon cookies with beverages, and wine with hors d'oeuvres  in late afternoon before going out to dinner at one of the renowned local restaurants such as Opal Restaurant on State Street just a short walk from the relaxing Victorian Estate, which was declared an Historic Landmark in 1993.
Simpson House Inn
121 East Arrelaga Street
Santa Barbara, CA 93101
____________________________________
SPOOKY HALOWEEN COCKTAILS
Curated some enticing cocktails inspired by the villains of this season's most horror-driven movies and TV shows. Whether dressing up as a creepy clown or mysterious personality, these concoctions make the ultimate pairing to any spooky Halloween costume.
The Cruel Cult
The mysterious and unidentifiable cult members of American Horror Story's "Cult" has us shaken to our core. Here's a shot recipe that might ease our nerves as we uncover the mysteries one episode after another…
2 parts Sugar Island Spiced Rum
½ part Lime juice
½ part Ginger liqueur
Apple Cider, to fill
Add all ingredients into a shaking tin. Dry shake for 5 seconds. Fill shot glasses ½ way with Apple Cider. Pour the remaining ingredients from the shaker and fill into shot glasses.
You'll Float Too
This cocktail is synonymous to that of the shapeshifting, demonized clown that continues to haunt our nightmares from the film "IT."
2 parts Maker's Mark® Bourbon
1 part sweet vermouth
Orange bitters
Orange twist, for garnish
FOR THE CAMPARI ICE CUBES:
¾ part Campari
2 parts water
Several hours before serving, mix together Campari and water and freeze in a square ice mold. When frozen, make the cocktail: Place 2 Campari ice cubes in rocks glass. Pour all ingredients over ice cubes and garnish with a wide orange twist. Stir the drink to start the ice melting.
Texan Morgue-a-Rita
Created by Masa Urushido of Saxon + Parole
Get a glimpse of the early days of the Texas Chainsaw Massacre villain: Leatherface. This terrifying asylum escapee is sure to make you shakenly reach for that 'killer' spicy margarita.
2 parts Tres Agaves Blanco Tequila
¾ parts fresh lime juice
¼ part smoky simple syrup*
Lava salt and dried red chili pepper for garnish
Shake all ingredients with ice and strain over fresh ice in rocks glass. Garnish rim with lava salt and add dried chili pepper.
*Smoky simple syrup: Pour equal parts sugar and water into a saucepan with one dried chili pepper. Simmer until sugar is dissolved. Remove from heat and let the mixture cool. Remove chili pepper and set syrup aside.
__________________________________________________________________
PORTO VINO by Marisa China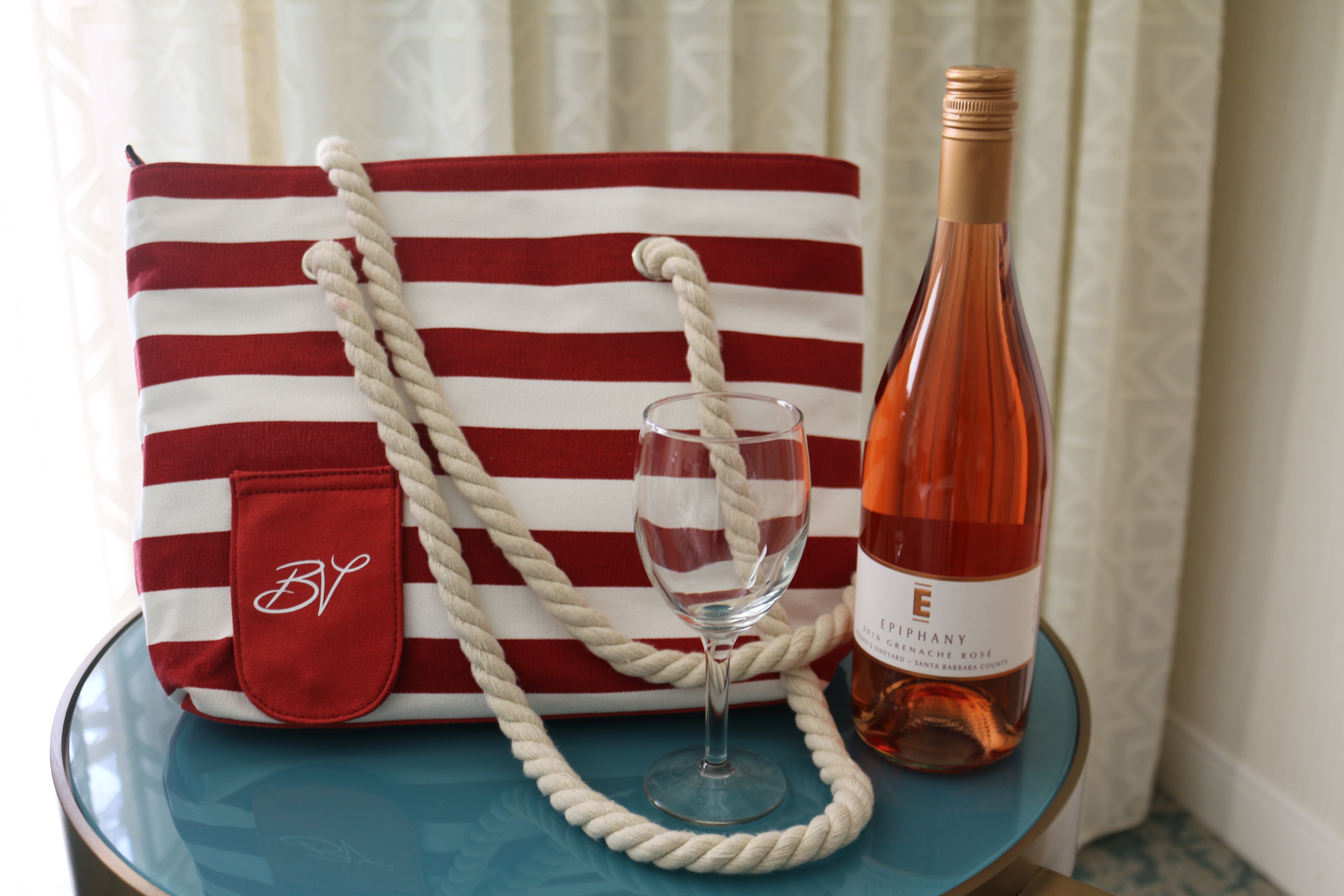 Taking your wine along can be stylish and enjoyable with these chic new wine bags from Porto Vino. They come in sporty and business looking styles and in different colors. They are a great gift item for the upcoming holiday season. For designs and pricing visit www.porto-vino.com.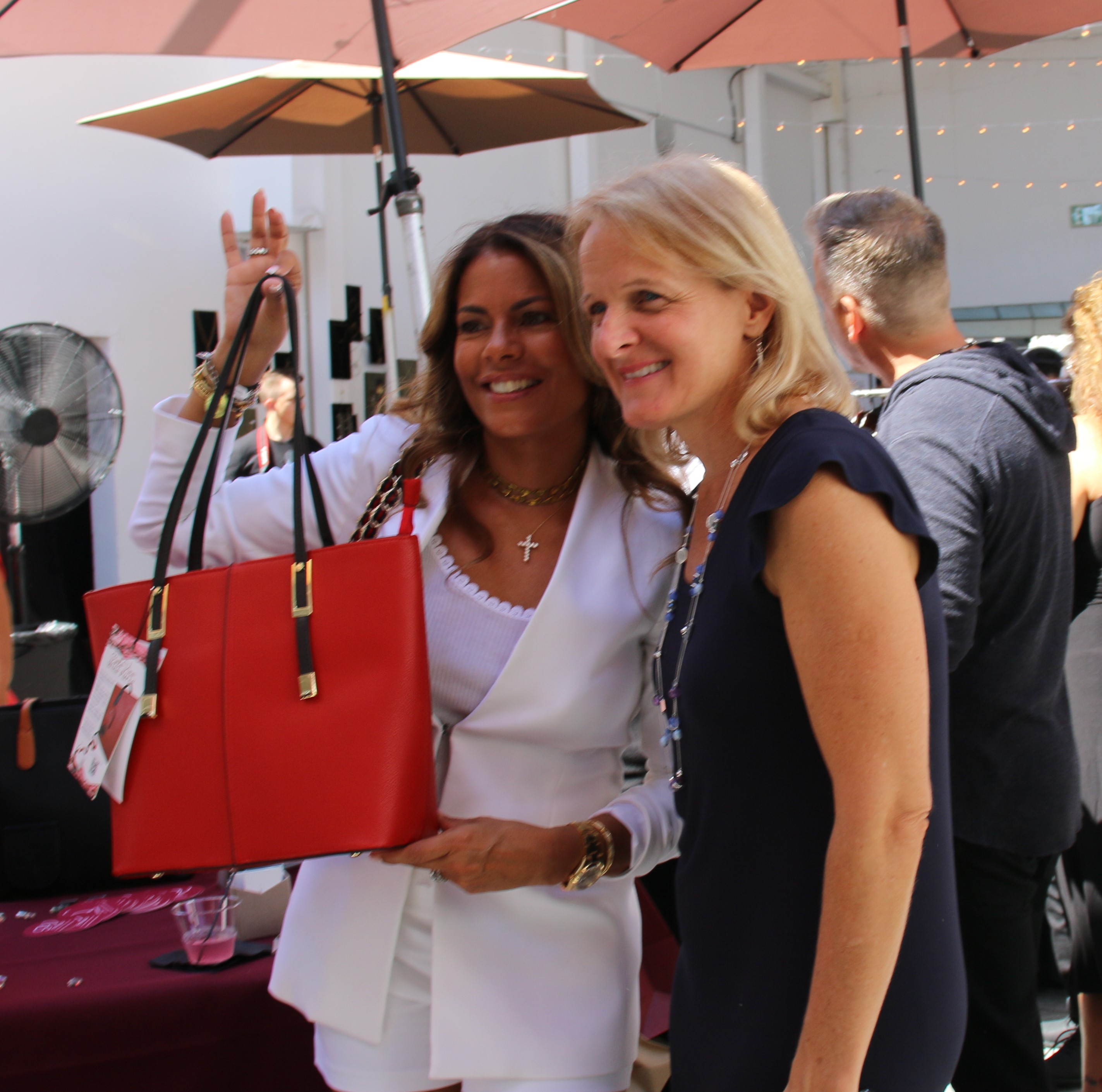 Marisa China participated in Doris Bergman's Pre-Emmy Celebrity Luncheon Event at Fig & Olive in Hollywood, where she was busy gifting 2018 Emmy nominees, presenters and VIPs.
---