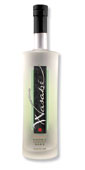 HOT NEW PRODUCT HERE FOR THE HOLIDAYS
by Bonnie Carroll

East has met West in a new blend of Dutch Vodka and Japanese Sake. Wasabe, launched in September in San Francisco, arrives just in time for a unique holiday taste.
The sake is made by a Japanese master brewer, and the recipe dates back 500 years. Then the sake is sent to the Netherlands where it is blended with Dutch vodka. No flavors are added to balance and preserve the delicate taste.
Below are some great new recipes using this newly released product:
CUCUMBER MARTINI
4 thin slices of cucumber
5 counts of Wasabe
1 1/2 tsp simple syrup
In a cocktail shaker, muddle 3 slices of cucumber, fill with ice, add simple syrup and Wasabe. Shake vigorously, strain and garnish with the last slice of cucumber.
MAIDEN'S KISS
4 counts of Wasabe
2 counts Peach Schnapps
1/2 tsp sugar
1 strawberry
2 counts guava juice
In a cocktail strainer, muddle the strawberry and sugar, fill with ice, add Wasabe, peach schnapps, and simple syrup, shake and strain. Serve up with a strawberry slice. Soooo good!
---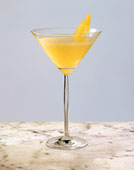 CHILEAN CARICA MARTINI
The following is a recipe from restaurant "Calle Ocho" (Alex Garcia) in New York. Cheers!
1/4 oz Vodka
1/4 oz. Pisco (grape liquor)
1/4 oz peach snapps
1 oz Carica Puree (prepare from 1 jar of Carica including juice)
1 oz pineapple juice
Shake with ice and strain into a chilled Martini glass.
Garnish with a small Carica skewar