SIPS .  .  .
Holman Ranch Releases Tasting Notes on Its New Wine Releases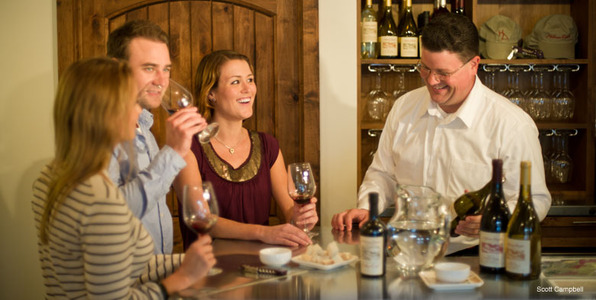 The estate wines of Holman Ranch include: Pinot Noir, Pinot Gris, Chardonnay, Sauvignon Blanc, and Rosé of Pinot Noir. Holman Ranch's 21 acres of vineyards lie between 950 and 1150 feet in elevation. The root stocks and soils are most important in producing excellent fruit from the vineyards.
The surrounding Santa Lucia Mountains are very important to Carmel Valley viticulture. The local hills hold back the marine layer and broad breezes, which is beneficial to producing consistently good fruit. Sedimentary soils, such as, chock rock and Carmel stone also play a major role in wine producing methods by providing good soil drainage. Holman Ranch "stresses the vines" of the fruit with emphasis on reproduction, which in turn, stops growth and ripens fruit. The valley configuration allows for fog in the morning but with it rapidly moving out as the air warms which is great for Pinot Noir grapes. The proximity to the ocean and the elevation are positive characteristics for the vines.
Holman Ranch's vines are planted 15 degrees off due north which allows for all day sunlight on fruit zone and good protection from breeze. No chemical herbicides or pesticides are used on our fruit and we have received our sustainable and organic certification.  Holman Ranch is also 100% estate vineyards and winery.
Holman Ranch's wines are unfined and crafted to deliver the true varietal of the grape from harvest to table. Purity and passion are key ingredients in the wine-making process, and this is where Holman Ranch truly stands out.
Holman Ranch New Wine Releases Tasting Notes:
'13 - Big Daddy - Late Harvest Pinot Noir
Our first ever Late Harvest Pinot Noir has been a long time in the making. 18 months in neutral French Oak and  fortified with high proof brandy, this Big Daddy is warm and robust. Dark Chocolate notes are prominent, but the toast, raspberry jam and coffee notes almost make you want to have it for breakfast.....Hmmmm........
'13 - .5 Degrees Brix
True to the original and no less awesome. Our slightly sweet Pinot Gris blend has lots of tropical fruit intensity and a beautifully pleasant citrus nose. The mouth feel on this year's vintage is slighlty softer than the first, but the finish is rounded out with brilliant acidity.
'11 - Holman Ranch Pinot Noir
Dried Cherries and light oak waft from the glass on this traditional Old World Pinot Noir. There is a bright acid up front, followed by a round and creamy middle. The dry, yet soft finish on this wine leaves your mouth watering and you, wanting another glass.
'11 - Hunter's Cuvee Pinot Noir
A soft and creamy nose with hints of cherry licorice and eucalyptus begin the experience. Followed by a velvety texture and a warm spiced finish. As bold and complex as it's namesake.
'13 - Pinot Gris
As it dances on your palate, this smooth, yet crisp Pinot Gris will inspire your taste buds. While lovely aromas of ginger and honey fill the air when you swirl your glass. Close your eyes and enjoy the moment.
'12 - Chardonnay
It's nice to know that some things never change and our 2012 Chardonnay is classic Holman Ranch. The oak is prominent on the nose, but mingled with fresh aromas of orchard fruit, like apples and pears. As always, the finish is crisp and light, the calling card of our house Chardonnay.
Two new wines have been created specifically for Holman Ranch's restaurant Will's Fargo Steakhouse + Bar:
'13 Will's Pinot Noir 
Our Rustler's Rouge was crafted with the Will's Fargo menu in mind. Whether Steak, Chicken, Salmon or Quail are on your wishlist, this Pinot is Perfect! This soft, medium bodied wine is full of fresh berries & cream, with a whisper of spice. 100% Carmel Valley Pinot Noir.
'12 - Will's Pinot Gris
Our Wrangler's White, is 100% Pinot Gris and 100% Carmel Valley. Our coastal climate with warm sunny days and cool nights is world renowned for light and dry white wines. Like Carmel Valley itself, our House White is a little rugged and wild, but mostly refreshing and absolutely gorgeous.
Wine Caves:
The winery at Holman Ranch, located in The Caves, is completely underground in order to take advantage of the natural cooling and humidity held below. The 3000 square foot area maintains a constant temperature of 58˚F-60 ˚F and contains four 750 gallon tanks, four 1200 gallon tanks, and four open top tanks that can hold two tons each. One hundred (100) French oak barrels are maintained year round. Winery operations such as destemming, pressing, fermenting and aging take place within the cool environment of The Caves, while bottling is done directly outside using a mobile bottling line. During harvest, 6 to 8 tons of grapes a day are processed. This may seem low but it is due to the fact that harvesting hours are between 7am to noon on any given day. Grapes are hand picked and loaded into half ton bins, transferred to the winery by tractor and then moved by forklift to the destemmer. White wines take around three weeks to ferment at 50˚F and are bottled in February, while red varietals ferment for two weeks and are bottled in early June. All skins, seeds and stems are composted and returned to the fields. Slow months for our winery are June, July and August with the busiest time being September. The winery will produce 3000-5000 cases annually.
Vineyard & Winery Background:
Located at the north eastern tip of the Carmel Valley Appellation, the family-owned Holman Ranch resides approximately 12 miles inland from the Pacific Coast. Immersed in history and romance, the ranch has not only proven to be an excellent growing location for our vineyards but also for the Tuscan varietal olive trees which have flourished under the temperate climate.
Our estate-grown wine varietals are planted on approximately 21 acres of undulating terrain.
The wines produced are unfined and crafted to deliver the true varietal of the grape from harvest to bottle.
The climate and terroir of the appellation has played a critical part in the success of our wines. The warmth of our inland valley coupled with the cooling marine layer has established itself as an ideal microclimate for the production of Pinot Noir and Pinot Gris. Our Burgundy Clones have thrived from the perfect blend of ideal climate, southern exposure and thin rocky soils.
Holman Ranch Tasting Room:
Holman Ranch's Carmel Valley tasting room offers the perfect backdrop to swirl, sip and savor the different complexities of Holman Ranch Vineyard and Winery wines. There is something for everyone (4 varietals in fact), from the full-bodied Pinot Noirs to the light, fruity flavors of our Pinot Gris and lightly oaked Chardonnay. Holman Ranch also offers estate grown and bottled Olive Oil available for tasting and purchase at the Tasting Room. 
The Tasting Room showcases the estate wines of Holman Ranch which includes our Pinot Noir, Pinot Gris, Chardonnay, Sauvignon Blanc, and Rosé of Pinot Noir. Carefully hand-harvested, cold pressed and bottled, the Extra Virgin Olive Oil produced from the fruits of our Tuscan trees has a delightful spice followed by a buttery finish.
Three tasting flights of three wines each (White, Mountain and Pinot Noir) are available 7 days a week. The Tasting Room also holds a series of cooking demos called In Your Backyard. For more information, call (831) 659-2640.
Olive Grove:
Holman Ranch has its own distinctive olive grove located on a south facing hill of our vineyard. The grove is comprised of 100 trees with multiple cultivars planted. These cultivars consist of 25 Frantoio, 25 Leccino, 10 Mission, 25 Coratina, 5 Pendolino, and 10 Picholine, all of which were originally planted in 2194 in a Carmel Valley orchard then replanted at Holman Ranch in 2007. These mature olive trees allowed us to produce olive oil right away. They are planted in shale for the best production and harvesting results possible. We harvest our fruit by hand in December, which is then milled, producing a superb, high quality product. Although the Olive Grove is not certified organic, we do employ organic practices when farming our trees. Our mill, however, is certified organic. An interesting fact is that olive trees are alternate bearing, which means that one year they may produce 650, 375ml bottles worth of oil, while next year they may produce only 50, 375ml bottles.
Holman Ranch Background:
Holman Ranch: Where the Past is Always Present. Tucked away in the rolling hills of Carmel Valley, Californian historic Holman Ranch provides a unique and memorable setting for weddings, special events, family gatherings, corporate retreats, and team-building events. With its charming gardens, stunning mountain views and serenity, this private estate affords old-world charm while providing modern day conveniences. This stunning Property includes a fully restored stone hacienda, overnight guest rooms, vineyards, olive grove, horse stables and more. www.holmanranch.com
___________________________________________________________________

SPANISH WINE REGIONS OF RIBERA DEL DUERO AND RUEDA SEEKING TO EXPAND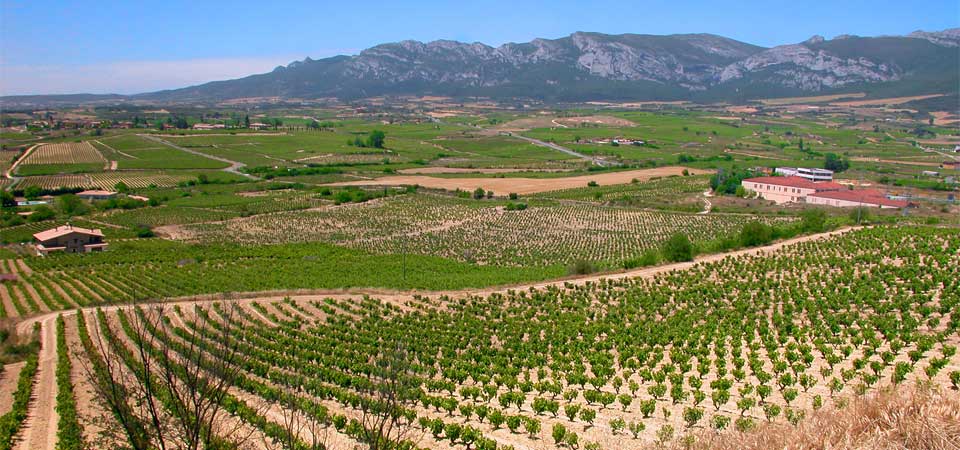 In an attempt to let the world know a bit more about the wines from this region which Is about 1 ½ hours north of Madrid, a lavish wine dinner was held at the trendy A.O.C. Restaurant in Hollywood for assorted high profile wine media. What we can report is that the wines are very good and will become increasingly accessible in the months and years to come in the important California market.
Ribera wines are described as bold, rugged and ripe and go with almost very style of food and in particular barbeque. Ribera has a very extreme temperature swing, making it ideal for the Tempranillo grapes that grow there. The terrain is very rocky, summers are very hot and the winters have been described as frigid. Look out for red wines from pago de los capellanes (2013) and lleiroso crianza (2011)
Rueda is known for the Verdejo grapes that flourish in this particular climate, which is the grape friendly type of hot days and cool nights. They are white wines full of flavor that go with anything from oysters and sushi to pizza or cheese and crackers Some of the winemakers to look out for in this category are Javier Sanz and Jose Pariente, both having 2014 vintages on the market.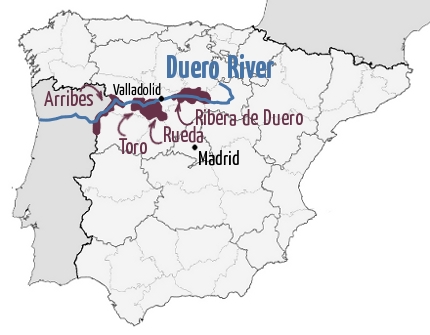 For those interested a little bit more about the history of the wines in the region, we can report that the Ribera wines come from the upper reaches of the Duero river. Ribera del Duero DO built a solid reputation on "Vega Sicilia", the most expensive Spanish wine. The vintages to look for in this outstanding, but inconsistent wine are the years of 1953, 1962, 1975, 1976 and 1982,and this inconsistency was brought about by the habit of ageing in different sizes and ages of wooden casks. At one time these wines were being aged for up to twenty-five years, but that time has now been reduced substantially to about six years. The estate dates back to 1864 in limestone hills above the south bank of the Duero but the yield of this powerful wine remains very low due to the climate and the old fashioned wine making techniques.
Rueda wines from the Verdejo grape traditionally were fortified by fino (Palido Rueda) and rancio (Dorada Rueda) styles. Rueda traditionally made its name with a form of sherry known as Palomino a yellow wine grown on chalky clay. Investors from France have seen the potential of the region, so now the white wines are starting to gain momentum, including the newer ones listed above.
Facebook, Twitter etc @RiberaRuedawine
Story Compliments of Michael Hepworth
____________________________________________________________________
José Rallo of Donnafugata the first Patroness of the Bio-Mediterraneum Cluster
In the opening week of Expo 2015, the Sicilian producer did the honors in the pavilion dedicated to the countries of the Mediterranean and led by Regione Siciliana 
José Rallo of Donnafugata is the first Patroness of the Bio-Mediterraneum Cluster, the thematic pavilion that sees the presence of Sicily, official partner of the Universal Exposition, and 10 countries: Albania, Algeria, Egypt, Greece, Lebanon, Malta, Montenegro, San Marino, Serbia, Tunisia. 
The Patroness - along with the commissioners of the countries belonging to the Cluster - has inaugurated the pavilion and will welcome the official delegations that will be arriving from all over the world. A role, of the women of wine, that Regione Siciliana wished to see alternating, rotating, between the island's women producers, the first of them is José Rallo. 
The project of the pavilion, inspired by the image of the Mediterranean city, is built around a large semi-covered piazza and hosts four structures dedicated to the distribution of enogastronomic products of the territories. The Cluster recounts the Mediterranean culture characterized by the values of "Beauty, Health and Harmony" and evokes an atmosphere of colors, tastes and aromas blended in a unique cultural experience. 
For the countries of the Mediterranean basin - the crossroads of three continents, Europe, Africa and Asia - agricultural practices and food are among the founding elements of their cultural identity, and therefore will be protagonists of the Cluster program; the cultivation of grain, the olive and the vine can still be considered the symbol of man's activity, and the Mediterranean diet an extraordinary and exemplary synthesis to ensure health, preserve the beauty of the landscape and the harmony of living together. 
The program for the first week in the Bio-Mediterranean Cluster was dedicated entirely to the territories of the minor Sicilian islands. Donnafugata celebrated the heroic viticulture of Pantelleria with a Speakeasy - Mediterranean cultural aperitif centered on the themes of "agricultural creativity, biodiversity and landscape". Costanza Pratesi, Head of Environmental Sustainability FAI - Fondo Ambiente Italiano (Italian Fund for the Environment) and Salvatore Gino Gabriele, Mayor of Pantelleria took part the meeting, held Wednesday 6 May from 19.00 to 20.30 at the central platform in the Cluster. 
---