For 25 years, the Italy-America Chamber of Commerce has been an innovative force in the community, championing economic exchange and fostering trade opportunities. IACCW is a private, non-profit organization whose mission is to promote and stimulate economic and trade relations between Italy and the Western United States. The goal of the IACCW is to provide both members and the business community with a broad range of services, emphasizing commercial assistance and referrals, in support of their business activities and expansion goals. In addition, the IACCW organizes on-going events including conferences, seminars and lunch meetings, attended by high-profile individuals from the entrepreneurial, governmental, political, diplomatic and cultural sectors, designed to open new levels of cooperation and dialogue.

Vino California
The week-long wine and food extravaganza is widely recognized as the largest native Italian wine celebration across the West Coast and has become an iconic fixture in the national wine landscape. VINO CALIFORNIA brings together a cadre of A-list Italian winemakers, master sommeliers and top local culinary personalities delivering a series of epicurean experiences that appeal to the sophisticated palates of wine and food enthusiasts.
VINO CALIFORNIA gathers Italian wine producers, importers, distributors, press, and consumers fostering an array of invaluable business opportunities.
Kicking off on May 13, 2013, the 5-day wine celebration includes a Grand Tasting extravaganza, a series of seminars, trade-only events and wine pairing dinners featuring Los Angeles top rated chefs and restaurants.
GRAND TASTING MAY 14
For questions about events and/or ticketing, please contact info@vino-california.com.

Sponsors
VINO CALIFORNIA, the West Coast's most anticipated Italian wine classic, returns May 13-17, 2013 for a five-day feast of the senses. With an incredible line up of events, VINO CALIFORNIA is a unique opportunity to share in the love of Italian wines with Southern California wine professionals, connoisseurs, consumers, bloggers, and media. From wine tasting seminars to tastemakers dinners, VINO CALIFORNIA sponsorship and participation options are endless for your brands. We would like to personally invite you to join us at this year's VINO CALIFORNIA and hope to see you in May. Below are the sponsors for this years' Vino California event.
Italian Magic Olives, PreGel America,
Bindi Fantasia nel dessert, Ferrarelle, Pasta Mia, Il Fornaio, Authentic Italian Restaurante & Bakery.
Media Sponsors: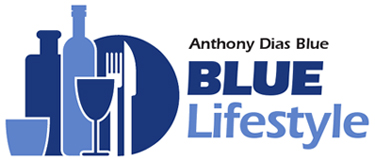 PUCKER®VODKA UNVEILS A NEW AUDACIOUS FLAVOR TO THE VODKA MARKET WITH THE INTRODUCTION OF WATERMELON WOW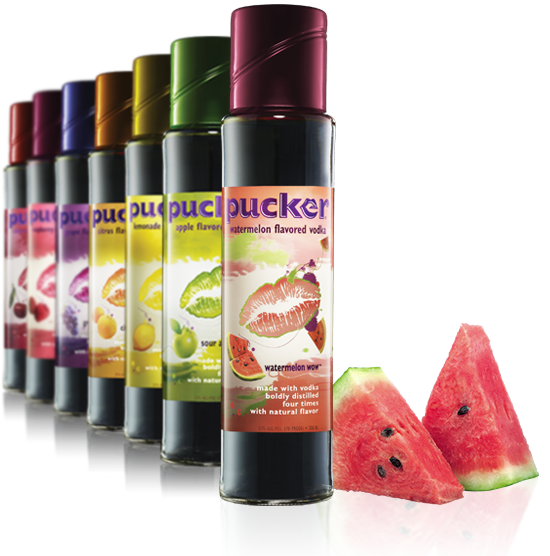 The Premium Vodka Line Grows its Portfolio With the Addition of Latest Flavor Expression
 ­
Just in time for Spring, Pucker® Vodka introduces its latest expression, Pucker® Watermelon Wow Vodka. Leveraging its bold and innovative flavor expertise, this new vodka features an intense and refreshing watermelon flavor that provides an extra dimension of taste to cocktails.
Made from quadruple distilled vodka and with natural flavors, Pucker® Watermelon Wow Vodka is a premium spirit unlike any other flavored vodka on the market. It combines the luscious flavor of watermelon with the invigorating aroma of candied fruit and melon for a unique sensory experience.
³We are thrilled to introduce Pucker Watermelon Wow Vodka,² said Kim Washington, Senior Director, Vodkas for Beam Inc. ³This refreshing new expression is a perfect addition to our vibrant and innovative line of flavored vodkas, bringing watermelon to consumers in a way that only Pucker Vodka can - up front, intense and full of flavor.²
This clear, smooth spirit delivers a taste that is balanced and confident enough to enjoy with a simple mixer, served straight up or in a cocktail creation, such as one of these:
1 3Ž4 parts Pucker® Watermelon Wow Vodka
Method: Combine all ingredients in a shaker with ice. Shake and strain into a chilled highball glass. Garnish with a Watermelon candy slice.
1 1Ž2 parts Pucker® Watermelon Wow Vodka
2 parts Kiwi and Strawberries, Pureed
Method: Combine all ingredients in a shaker, shake and strain over crushed ice into a highball glass. Stir/swizzle and top with a mint bunch, kiwi slice and strawberry slice. Optional garnish: a red sugar rim.
Watermelon Wow is available nationwide at a suggested retail price of $16.99 for a 750ml bottle. Available in seven bold flavors, including Sour Apple Sass, Grape Gone Wild, Cherry Tease, Citrus Squeeze, Lemonade Lust, Raspberry Rave and Watermelon Wow, Pucker® Vodka continues to deliver a multi-dimensional vodka experience for the playful, audacious, and spontaneous. To find a store or additional recipes, please visit
www.puckervodka.com
, ³LIKE² Pucker Vodka on Facebook, or follow us on Twitter @PuckerVodka.
_________________________________________________________________________________
SAUZA® TEQUILA REVOLUTIONIZES THE MARGARITA WITH THE INTRODUCTION OF SAUZA® SPARKLING MARGARITA
Three Refreshing Flavor Combinations Offer A Unique Tasting Experience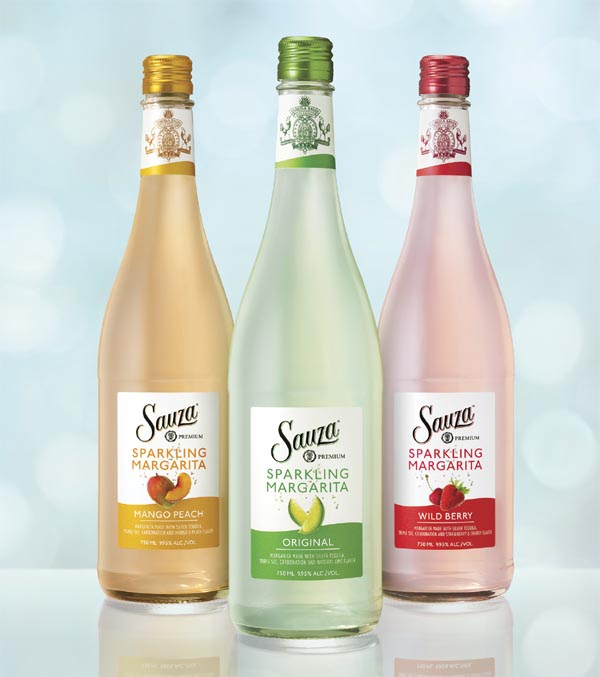 Today, Sauza® Tequila, the world's #2 premium tequila, announces the launch of Sauza® Sparkling Margarita, a refreshing new way to enjoy the authentic taste of a margarita with the unique addition of effervescent bubbles. Available in three delicious flavors, including Original Lime, Wild Berry and Mango Peach, this fun, ready-to-serve cocktail captures the spirit of the traditional margarita paired with a unique twist of flavor.

Each variety of Sauza® Sparkling Margarita begins with a Sauza® Silver Tequila base, which is enhanced with Triple Sec along with bubbly effervescence and refreshing flavors.
Sauza® Original Lime Sparkling Margarita – Offers margarita purists a simple twist featuring fresh agave and sweet and tart lime along with effervescent bubbles.

Sauza® Wild Berry Sparkling Margarita – Perfect for those looking for an unexpected flavor pairing, Wild Berry features notes of bright cherry and citrus with just a hint of spice.

Sauza® Mango Peach Sparkling Margarita – A sweet sensation, Mango Peach features the perfect balance of sweetness combining fresh mango and peach with the tart taste of lime.
"Launching just in time for the spring and summer entertaining season, Sauza® Sparkling Margarita allows you to easily turn any moment into a celebration," said Vanessa Jenkins, Senior Marketing Director of Tequilas at Beam Inc. "We've taken America's #1 cocktail and made it even more refreshing by adding a bit of effervescence to it. It's fresh, bubbly, and ready-to-serve – perfect for any ladies' evening with friends. Now, you can simply open and pour margaritas that will truly bring some sparkle to the party, of course always responsibly."
visit www.sauzatequila.com.
___________________________________________________________________________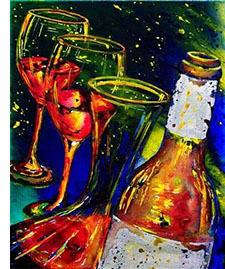 Art In April
April 1, 2013 - April 30, 2013 - Time: 10:30am - 5:00pm
Renowned artist and interior designer Vaso Peritos is gracing our walls with her beautiful artwork.
With a BFA in Interior Design from the Academy of Art University, Vaso has a wealth of artistic and practical experience. Many of her wine-themed paintings will be displayed at the winery throughout the month.
We will also be featuring fantastic photos taken by our own Jean-Pierre Huser and "The Story of Wine" exhibition by Ansel Adams as well as selected artworks from the Sterling Private Art Collection.
All the exhibits will be on view for the month of April. Art lovers and wine enthusiasts alike will find these pieces positively captivating. Enjoy wonderful wines and works of art this April at Sterling Vineyards.
Sterling Vineyards

1111 Dunaweal Lane
Calistoga, CA94515 (800) 726-6136
____________________________________________________________________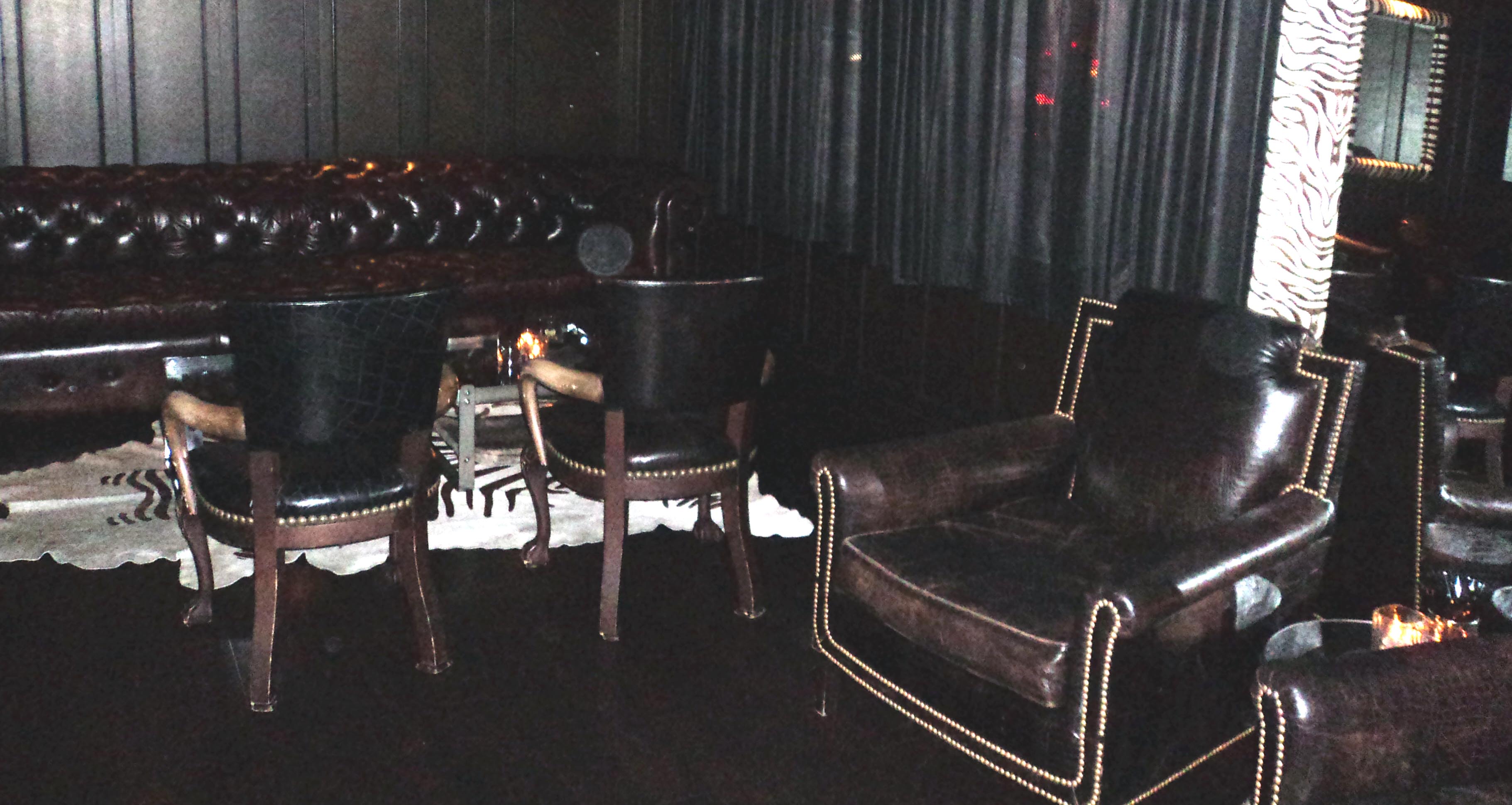 THE LIBRARY - HOLLYWOOD ROOSEVELT HOTEL
Herbal Refreshments for a Healthy Buzz
By Bonnie Carroll
The Library Bar in the Hollywood Roosevelt Hotel is home to up and coming performers and entertainment moguls, talent is seen both in front of the bar and behind the bar. With the demand for healthier social refreshments the mixologists' at The Library are mixing and mudling up some amazingly healthy optons that spotlight farmer's market ingredients. The front of the bar itself is lined with beautiful herbs, fruits and vegetables included in the original recipes used for favorite and specialty cocktails prepared for patrons.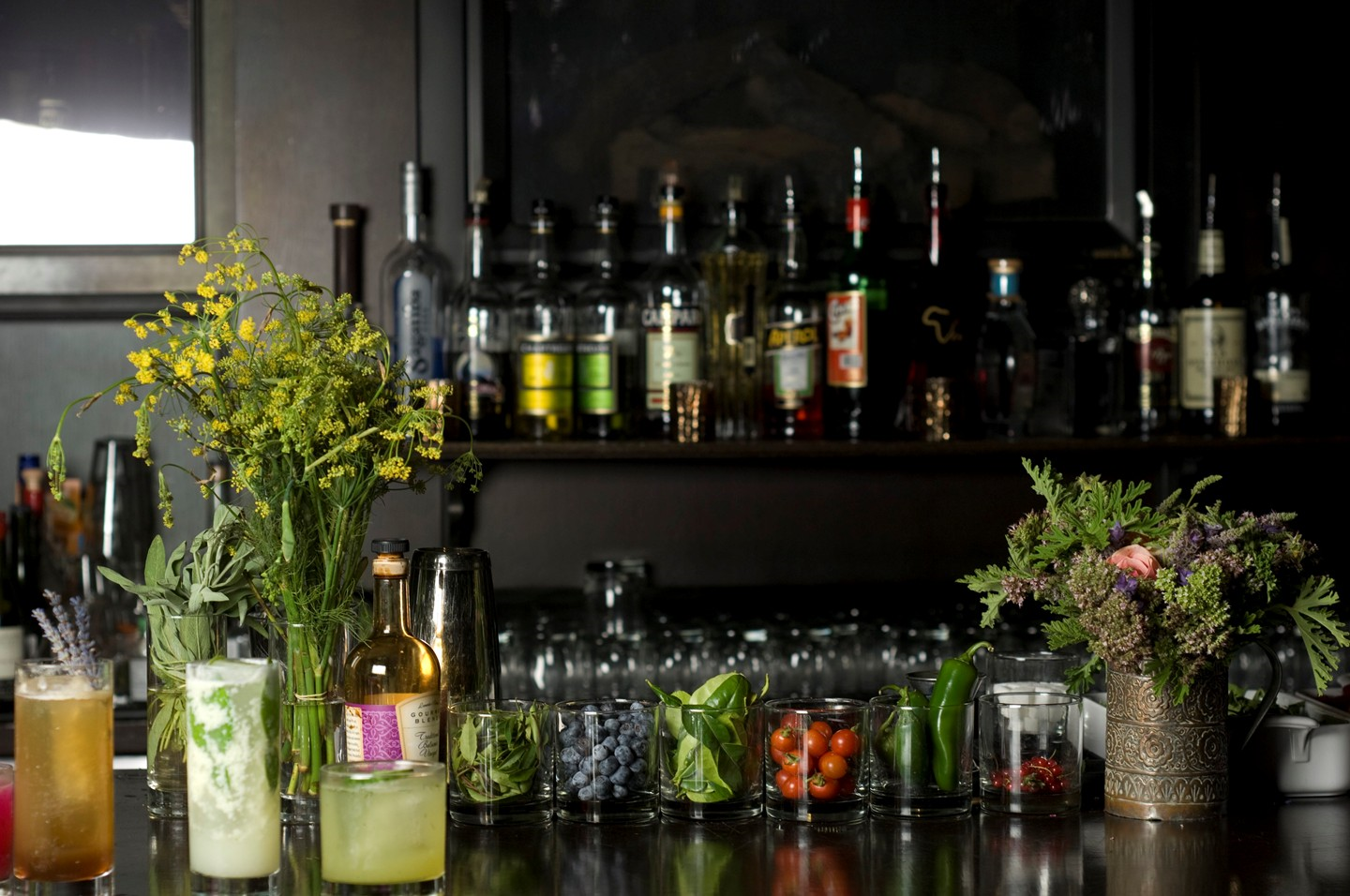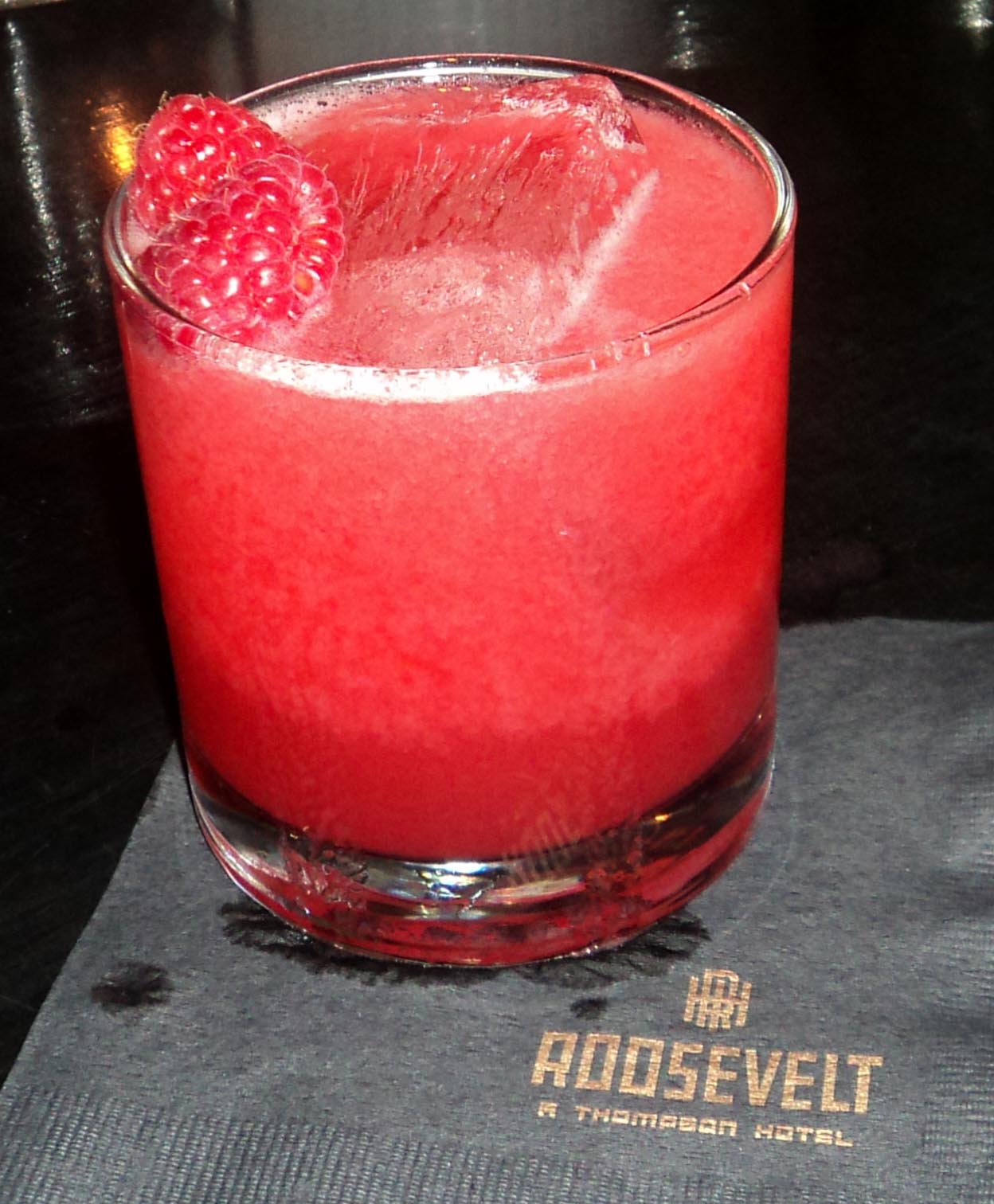 Not only do they serve amazing standard and individual requests, but they also mix up some fantastic tasting non-alcoholic cocktails to please the most sophisticated Hollywood hopeful.
The private little bar emulates a dimly lit and cozy library that is filled with comfy leather furniture accented with wild animal prints. I guess you could say it's a hipper crowd 'cheers' style hangout for the already arrived and the hope to soon be famous crowd along the boulevard of stars. If you are in Tinsel Town you don't want to miss this historic little hide-a-way. It's all good here, and everyone is having a great time being healthy.  www.Thompsonhotels.com.
 ________________________________________________________________________
Pinot and Paella Festival
JUNE 6, 2013
Starts at 02:00 pm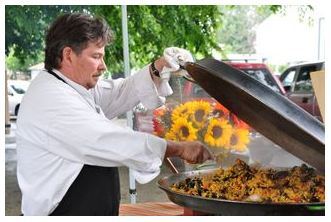 The 10th Annual Paso Pinot & Paella Festival will be held on Sunday June 2nd, 2013 in the beautiful Templeton Community Park. Join the Paso Robles Pinot Noir Producers for an afternoon of great wine, exceptional food & unmatched fun. Joining 20 Paso Pinot Producers are 20 of the Central Coast's Best Chefs, with live music by Incendio.
Mingle with the winemakers and discover how the "sense of place", or terroir, is reflected in each sip of glorious Paso Pinot Noir. Taste why leading food magazines identify this area as a great place for wonderful cuisine made with locally grown and farm fresh ingredients.
Each year, ticket sales raise upwards of $20,000 to be donated to programs that support youth arts in San Luis Obispo County like the Paso Robles Youth Arts Foundation.
Tickets include a souvenir Burgundy-style fine wine glass, endless tastes of 20 Paso Pinot Noirs paired with 20 paellas, live music by Incendio, and dancing if you like. The festivities take place under the shade of giant oak trees in the park. Blankets & lawn chairs welcome.
Where: Templeton Community Park
When: Sunday June 2, 2013
Hours: 2-5pm
Tickets: $65/pp, limited to 500 guests
Location:
Templeton Community Park
_________________________________________________________________________
OLD TOWN HOTEL ALBUQUERQUE WELCOMES GARDUNO'S
Beloved New Mexican Restaurant Replaces Café Pazuela and Cantina
By Bonnie Carroll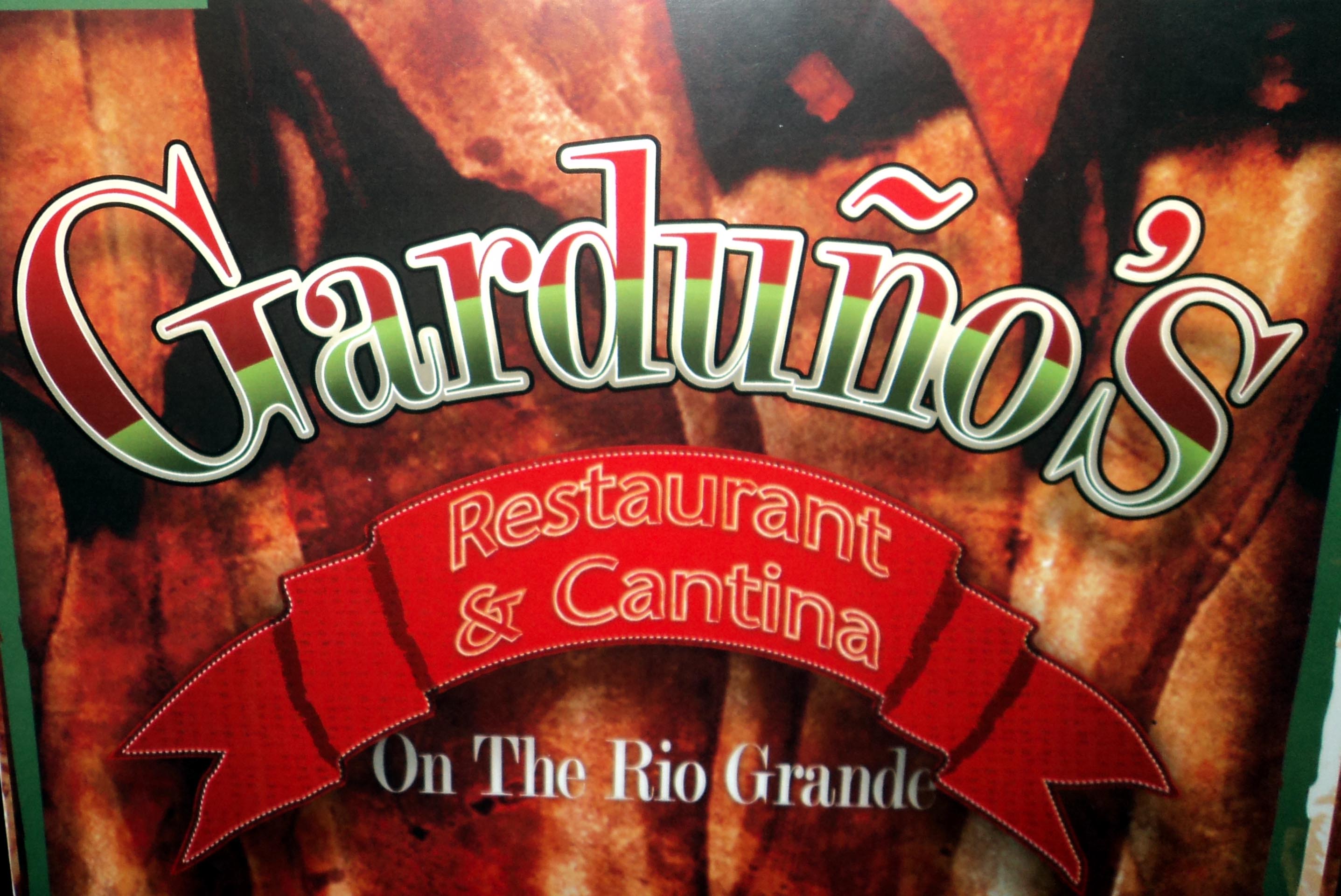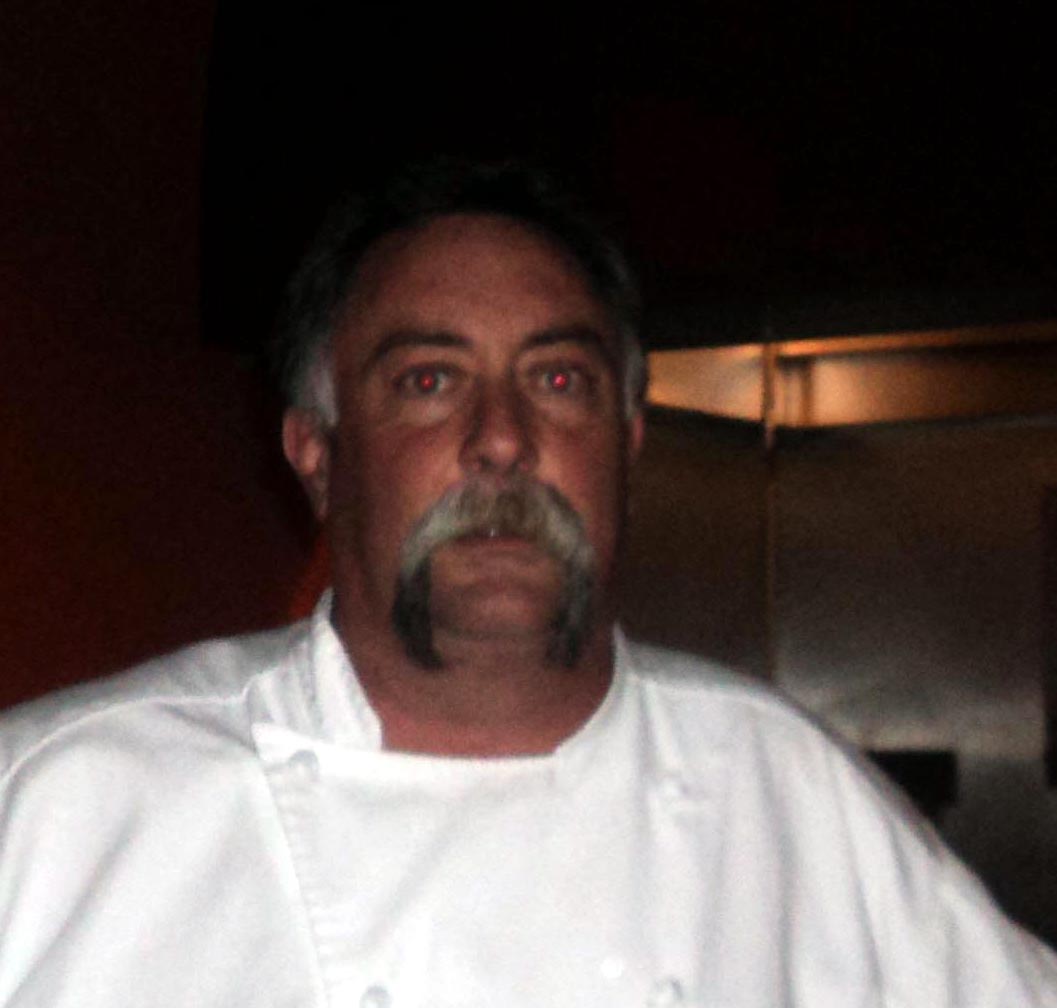 May is the month for Garduno's On the Rio Grande Restaurant & Cantina to premiere at Hotel Albuquerque at Old Town in the former Café Pazuela and Cantina. Chef Tony Trujillo, along with his staff and the chefs from Garduno's have worked together to offer hotel guests the best of all worlds in the new menu now being presented to patrons.
"Everyone is very excited about this new addition to our Heritage Hotel experience,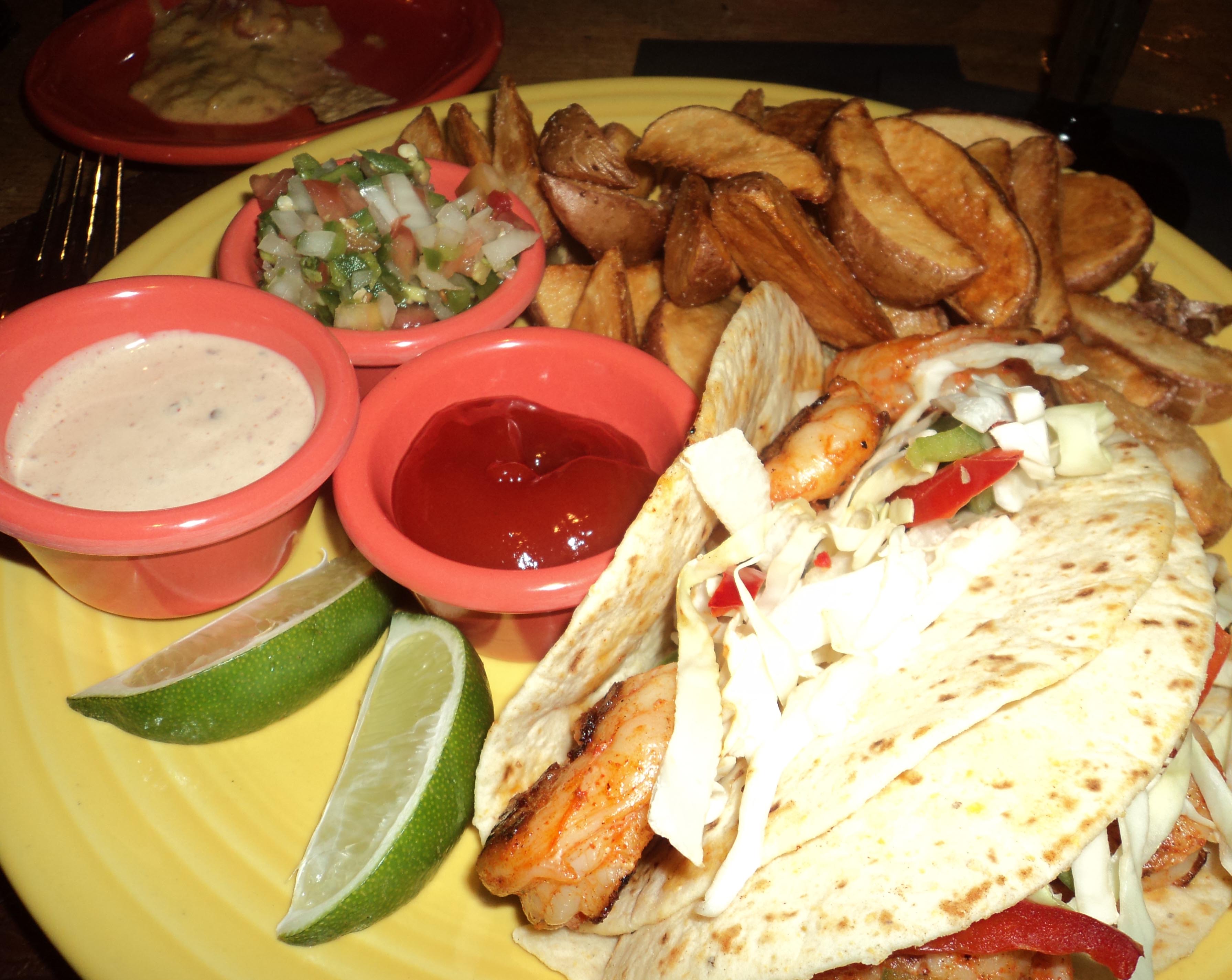 and we expect Garduno's will soon be included in the dining destinations at all of our hotels. This beloved New Mexico brand is a perfect match for our property, and the expansion of Café Pazuela and Cantina, along with the outdoor extension we are implementing is expected to be a major attraction where our guests and their families may enjoy delicious food in either an indoor or outdoor ambiance," said Shanon Lente, Director of Operations.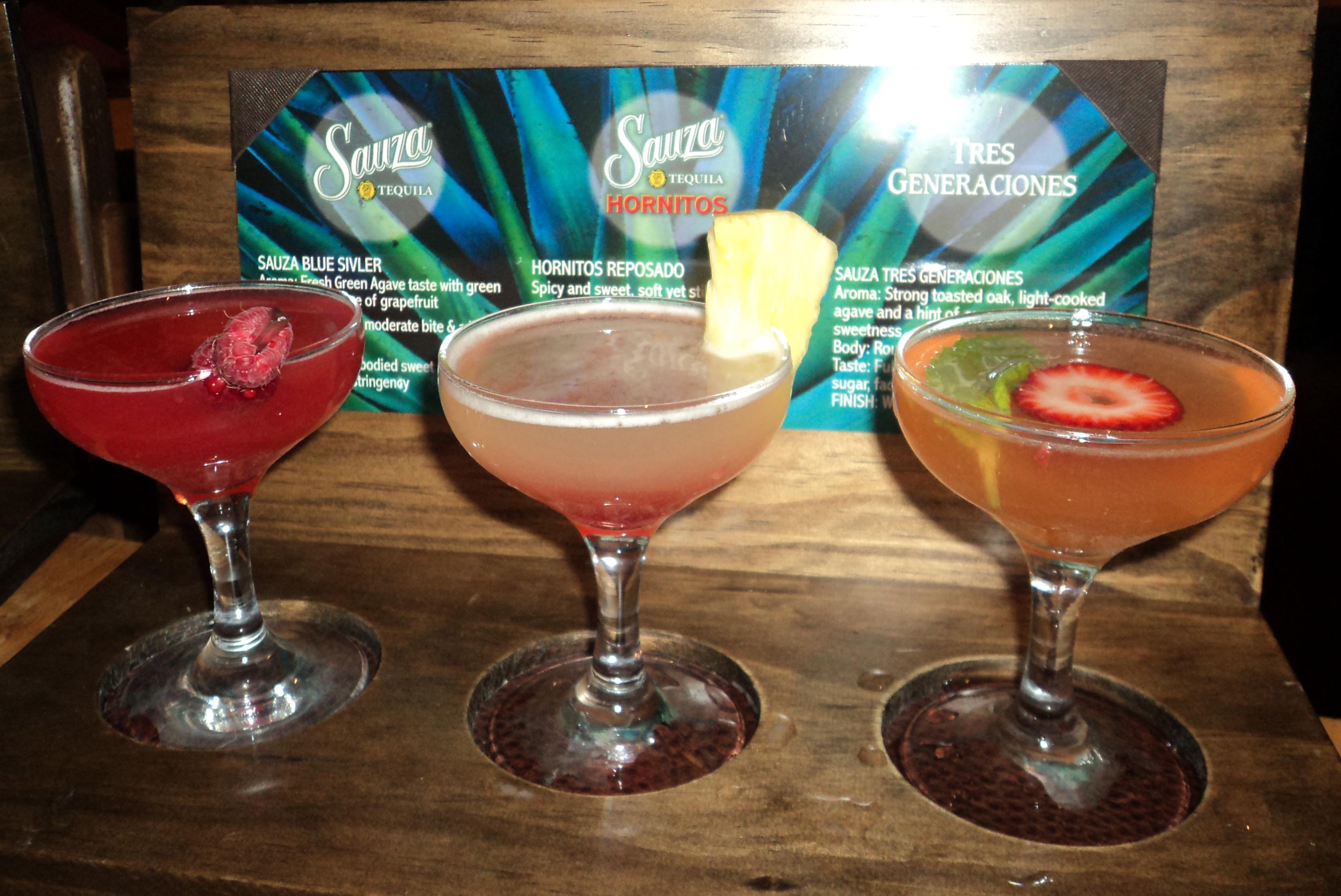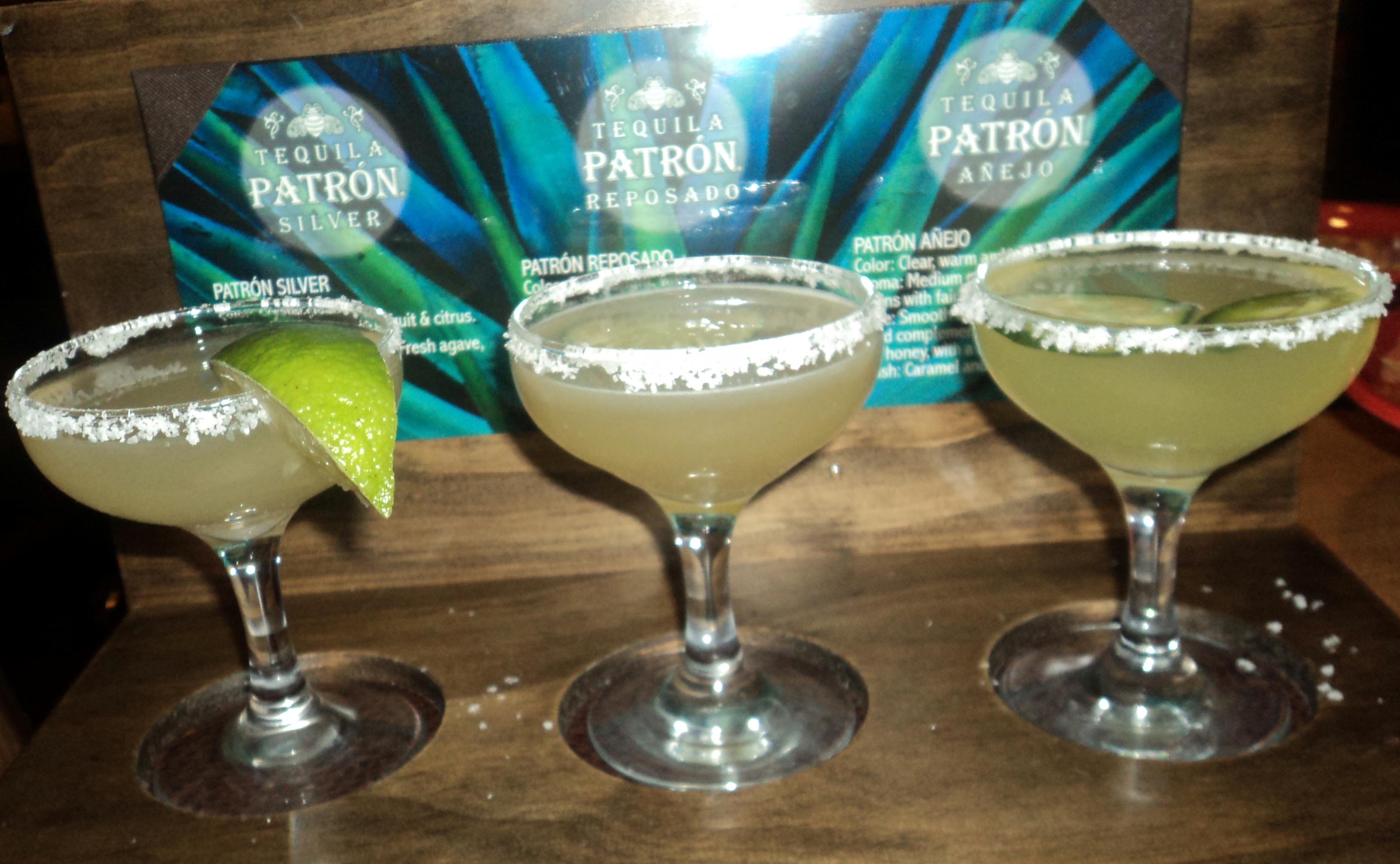 Along with outstanding authentic appetizers, entrees and desserts, the mixologist will be premiering two margarita flight options in Garduno's. One offers three margarita's made with Sauza Tequila selections, and another from Patron Tequila includes three margarita's featuring fruit flavors.
Heritage Hotels & Resorts is a cultural hospitality company offering a collection of award winning accommodations distinct in style. Each celebrates the rich, multicultural heritage of the south western United States. When you stay in any one of the four properties you encounter a distinctive history that celebrates New Mexico's rich cultural legacy. A portion of every room night is supporting cultural preservation and advancement.  Visit: www.hotelabq.com.
____________________________________________________________________
_
---