Suds on the Green: Teeing Up For Beer!
New Brew Fest Finds Home on the Golf Course With Semi-Pro Sacramento Eagles
Creative Cats Presents, in partnership with the Sacramento Eagles, are bringing another great beer drinking event to Sacramento. Dubbed Suds on the Green, this event will combine a National Golf League semi-pro tournament with a beer fest featuring at the historic William Land Golf Course. Coming September 22, the event is a fundraiser for The First Tee, and is promising to be another great, regional, event.
As Matson Breakey, spokesperson for the event says "Beer and golf is always a worthy combination! Whether you are enjoying a bottle on the 9th hole or a pint at the "19th" hole. But Suds on the Green is a bit different. You don't have to play... just drink!"
Modeled after the FBR (aka Phoenix Open), a PGA Tour event in Phoenix, Arizona, where tens of thousands come out to watch the golf and enjoy the live music and beer vendors around the 18th hole, Suds on the Green will bring 2000 - 3000 attendees to come watch Semi-Pro Golf and have a fun time tasting unique beers and enjoying live music around the final hole.
The Sacramento Eagles, hosts for Suds on the Green, are members of the National Golf League (NGL), a team-based golf league with 24 teams across the nation in four divisions.
According to Doug Powell, co-founder of the league and Sacramento local, watching team-based golf "is as exciting as it gets! You are not just watching a player against the course, you are watching teams compete against each-other in three exciting rounds of 9 hole golf."
"It will truly be an incredible experience," adds Matson. "The 9th hole is going to be set up like an arena with private booths all around and the beer fest will be set up between the 8th and 9th holes. There will also be breweries set up at each hole for those who want to wander around and watch the golfers."
Attendees to Suds on the Green can either pay a small donation to enjoy unlimited beer tasting from area breweries or they can come and watch the golf tournament for free.
Designated driver tickets are also available for $5. Designated Drivers get unlimited free sodas.
For tickets and information, go to http://www.SudsOnTheGreen.com
---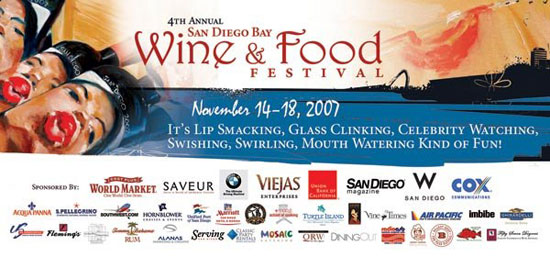 ---
The Joy of Sake 2007: America's Largest Sake Celebration
Returns to San Francisco September 13, 2007

The Joy of Sake is a celebration of the art of sake brewing featuring over 250 premium sakes - the largest sake tasting in the United States. Phenomenally successful in its first years, the Joy of Sake now draws about 1,200 sake enthusiasts and novices to its annual event. The San Francisco event is one of three Joy of Sake tastings. This year, events will be held in Honolulu on August 23, San Francisco on September 13 and New York on September 27. With high demand for tickets, the San Francisco venue has steadily grown in size reflecting the popularity of the event and sake itself. This years Joy of Sake event will take place for the first time at the San Francisco Hilton Hotel Ballroom.

The Joy of Sake offers the rare opportunity to sample outstanding labels in peak condition (freshness and proper handling are key), many of which are not otherwise available in the US. The attendees will sample the http://www.SudsOnTheGreen.com in the junmai, ginjo and daiginjo categories, many recipients of silver and gold medals from the U.S. National Sake Appraisal, a rigorous blind tasting conducted by judges from the U.S. and Japan every year prior to the Joy of Sake events. With 250 sakes to taste, guests will discover the diversity and complexity of premium sake, which matches that of wine. Top Bay Area restaurants will serve appetizers to complement the sakes, showing off a diversity of cuisines, from Asian and Japanese to American and French.

Sake continues to be one of the fastest growing segments of the beverage market, with imports of Japanese sake nearly doubling in the last five years alone. The Joy of Sake anticipated and aided the awakening of interest in sake in America with its very first public tasting in Honolulu in 2001 in conjunction with the first U.S. National Sake Appraisal. The Joy of Sake traveled to San Francisco for the first time in 2003 and New York in 2004.

The 2007 San Francisco Joy of Sake will be held on September 13, 2007 at The Hilton San Francisco 333 O'Farrell Street 6:00PM to 8:30PM. Information on this year's Joy of Sake, as well as a photo gallery from last year's event, may be found at www.joyofsake.com. Tickets are $75.00 and may be ordered on-line or through the local sake hotline in San Francisco (415-359-9138).
---
IZZE Sparkling Juice - IZZE COCKTAILA
Citrus Cooler
Courtesy of Rhumba Cafe Caribbean
Sparkling Lemon IZZE & Sparkling Grapefruit IZZE with
Orange Rum and Finished with a splash of lime juice.

MojIZZE
Courtesy of Rhumba Cafe Caribbean
Muddled mint and fresh lime, silver rum and finished with
Sparkling Blackberry IZZE
The IZZE version latin favorite made with no refined suger.


Orange Crush
Courtesy of Jax Fish House
Sparkling Clementine IZZE & Orange Vodka
Refreshing and exciting - perfect poolside
---
Beaulieu Vineyard® Featured Wine for 4th Consecutive Year
At the 59th Primetime Emmy® Awards
Georges de Latour Private Reserve First Toast of Emmy Winners

Beaulieu Vineyard, a leader in Napa Valley with over 100 years of excellence in winemaking, will once again be the featured wine of the 59th Primetime Emmy® Awards Governors Ball to be held on September 16, 2007 at the Shrine Auditorium in Los Angeles immediately following the Primetime Emmy® telecast. This is the fourth consecutive year that BV wines will be poured at this event, as well as at the Creative Arts Awards Dinner, which will be held at the Shrine one-week prior, on September 8, 2007.
To celebrate the occasion on September 16, Beaulieu Vineyard will pour the signature Georges de Latour Private Reserve Cabernet, the first private reserve Cabernet produced and a benchmark in California winemaking since the first vintage in 1936. Named for the winery founder, Georges de Latour Private Reserve has a suggested retail price of $100 per bottle and has been poured at the White House for presidents and princes. This is the second consecutive year that "Georges" has been poured at the Emmys.
In keeping with the green eco-friendly theme of this year's Primetime Emmy campaign, following the celebrations, all 2400 empty BV bottles will be recycled for their glass.
"Once again we are thrilled and honored to be served at the Primetime Emmy Awards celebrations," said Jeffrey Stambor, Senior Winemaker. "BV is a benchmark, uniquely American winery, and the Emmys are truly a benchmark, uniquely American awards…the perfect way to toast the best of American television talent."
The 2005 Beaulieu Vineyard Carneros Chardonnay will join the 2003 Georges de Latour Private Reserve Cabernet Sauvignon at the table and will be paired with Master Chef Joachim Splichal's impressive menu for the Governors Ball, the official celebration of the 59th Primetime Emmy Awards.
Beaulieu Vineyard, established in 1900, is a benchmark Napa Valley winery with a tradition of quality and innovation. Founded by French immigrant, Georges de Latour, BV set early standards for excellence in premium winemaking that subsequent generations of vintners continue to maintain. BV holds a unique place in the history of California wineries and is one of the most collected American Cabernets. For more information about Beaulieu Vineyard, visit www.bvwines.com.
Beaulieu Vineyard wines are produced by Diageo Chateau & Estate Wines, which is part of Diageo, the world's leading premium drinks business. DC&E also produces and markets Sterling Vineyards, the wines of the Chalone Wine Group, Sterling Vintner's Collection, Solaris, Blossom Hill and The Monterey Vineyard, as well as the French wines of Barton & Guestier. DC&E is also a leading importer of classified Bordeaux in the U.S. and F. E. Trimbach wines from Alsace. A collection of burgundy estate-bottled wines and several other fine European wines complement the selection. Diageo's broader business includes: Smirnoff Vodkas and flavored malt beverages, Guinness, Bailey's Irish Cream Liqueur, Crown Royal Canadian Whiskey and Captain Morgan Original Spiced Rum, as well as many other of the world's leading premium drinks brands.