La Quinta Resort & Spa Hotel - La Quinta, California
Azurtini, the signature martini, featured at the Azur Piano Bar in AZUR by Le Bernardin Restaurant at La Quinta Resort & Spa, 49-499 Eisenhower Drive, La Quinta, California.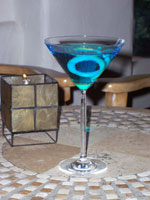 AZURTINI

1 shot of Vanilla Vodka
1 shot of Triple Sec
A dash of Blue Curacao
---
PISTACHIO GRILL . . . A TASTE OF THE MIDDLE EAST IN LA
by Bonnie Carroll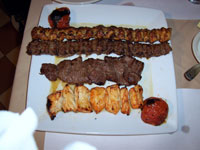 For couples who are looking to enjoy a fun date night in Beverly Hills, a movie at the Fine Arts Theatre, followed by dinner at the charming Pistachio Grill next door, is an interesting and romantic escape. The theatre often features popular European films, and the menu at Pistachio offers a special taste of the middle-east, that showcases the home-made cuisine of the family who own and operate the popular grill. The thoughtful staff provides very efficient service, and offer helpful suggestions.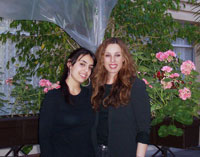 The garden patio is dotted with flowers and on cool nights the outdoor seating area becomes a cozy spot to sit under air warmers, and enjoy a middle eastern hot choclolate. The service from Liz, the owner, and her daughter is warm and cordial. They took the time to fully describe items on their menu, explain their origins, and offer tips on the preparation of their signature dishes, but said they are keeping their secret family recipes to themselves. If you want to sample these culinary treasures you will have to make a reservation.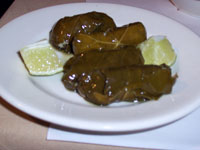 I recommend the grape leaves, tabouleh salad, yogurt salad, pistachio hommos, babaganouj, cream of pistachio soup, and all varieties of kebab and shawarma, which melt in your mouth. I was intrigued and delighted with the three rice dishes I was served. The cherry rice was my favorite, and I had never had anything like it. This is a white basmati rice served with pitted cherries and flavored with spices, and it is a lively looking and delicious tasting side to any entrée. Liz also prepared a chocolate volcano cake dessert that was a meal all by itself, and sinfully sweet.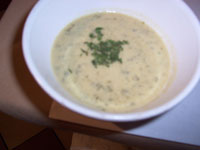 The thing I loved most about this charming café style restaurant, nestled adjacent to the Fine Arts Theatre, is the fine quality of the food and the cordial hospitality of the family, who show obvious delight to prepare and serve their wonderful original recipes. For a one-of-a-kind taste of the middle-east in LA, where you can taste the family recipes brought here by Liz and her family, don't miss a visit to this authentic venue, where friendliness and good taste matter.
Pistachio Grill is located at 8560 Wilshire Boulevard, Beverly Hills, California
For information call 310-854-1020