Our May issue contains an abundance of health, beauty and dining news. The Montage Beverly Hills Hotel is open and is dazzling visitors. The United States Navy Seals proved how capable we can be by demonstrating their swift and sure excellence in bringing a conclusion to the attempted pirating of the Alabama.
My daughters and my son have my thanks for all the happiness they have given me through the years, and the grandchildren they have given me are a constant source of joy. My children have been my inspiration and driving force throughout my life, and I thank God for them.
Kudos to some great women of our time including Elizabeth Barrett Browning, Jenny Churchill, Elizabeth Blackwell, Amelia Earhart, Margaret Thatcher, HRH Queen Elizabeth, Mother Theresa, Indira Ghandi, Jackie Kennedy, Lady Diane, Hillary Clinton, Joan of Arc, Carrie Prejean, Dolores Stein and the countless great women who have been an inspiration to us all. These women faced adversity, and all of them stood by what they knew was right. We hope your Mother's Day is filled with peace, joy and happiness. Try one of our recipes at home or make a reservations at one of our recommended spas or hotels. Just make this day one that is very happy for you . . . you deserve it!
Be sure to watch Travel Adventures video!


You can click here to watch it as well.
---
A Mother's Day Poem
by John J. Walsh   Voices of Erin 1918
WRITE A LETTER TO YOUR MOTHER
At the cottage door she stands alone;
  She looks so old and grey,
But the sweet smile on her loving lips
  Will never fade away.
She is waiting for the mailman,
  Ah, he has come at last!
And as he nears the cottage door
  Her heart is beating fast.
He'll surely have a letter from
  Her love one far away
For is it not, since last he wrote
  Full three long months today?
Oh, who are you who thus neglects
  A mournful aged mother?
A dearer friend who loves you more,
  Save God, there is no other.
Do you remember how she prayed
  The last sad hour of parting?
Do you remember how the tears
  Were in her dear eyes starting?
She pressed you to her loving heart,
  She kissed you and caressed you.
You still can hear the loving words
  She whispered as she blessed you.
She told you in her lonely heart
  That she'd be always waiting
And watching, daily watching for
  The letter you'd be writing.
Then do not let her vainly wait
  Nor wrong her patient love,
For oh, it is a sacred thing--
  A mother's holy love.
She's getting old and feeble now
  And may not long be waiting;
There'll be no mother than to read
  The letter you'll be writing.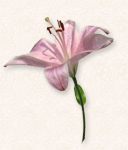 MOTHER'S DAY RECIPE 2009
Strawberry-Stuffed French Toast Recipe

1 8 oz. package cream cheese, softened
1/2 C. powdered sugar
1 T. vanilla extract
1/2 t. cinnamon
8 slices bread, white or whole wheat
3 cups strawberries, hulled and sliced
3 eggs, beaten
2 T. milk
4 T. butter, optional
2 T. powdered sugar, sifted

In a small bowl, combine the cream cheese, 1/2 cup powdered sugar, vanilla extract and cinnamon; mix until smooth. Spread one side of each slice of bread evenly with the cream cheese mixture. On the cream cheese side of four slices of bread, layer with some sliced strawberries evenly over the surface of each slice. Top each slice with a remaining slice of bread, pressing the cream cheese side down onto the strawberries. Press together gently to seal berries inside sandwich.

In a shallow bowl, combine the eggs and milk; mix well and set aside.

Preheat oven to 200°F. Spray a large baking sheet lightly with cooking spray and place in oven. Spray a large non-stick skillet with cooking spray or melt 1 tablespoon butter in skillet over medium-high heat.

Dip strawberry sandwiches into the egg mixture, turning to soak each side. Place soaked sandwich in the hot skillet and cook on each side until browned. Remove sandwich from skillet and place on baking sheet in warm oven and repeat until all sandwiches are cooked.

Just before serving, cut each sandwich diagonally; top with remaining strawberries and sprinkle with 2 tablespoons powdered sugar. Serve with Warm Strawberry Syrup (see recipe below) or maple syrup. Serves four.

Warm Strawberry Syrup
1/2 C. maple syrup
2 T. orange juice or Grand Marnier
3/4 C. pureed strawberries

In a small saucepan, combine the maple syrup, orange juice and pureed strawberries. Heat mixture over medium heat for 5 minutes or until thickened slightly, stirring frequently. Serve while warm.

Makes 1 1/2 cups.
---
Bonnie Carroll, Publisher/Editor
Laurence Vittes, Editor "Wheels" - Contributor "Sense of Style & Entertainment
Cody Chandler Hilton, "Kids K" Column - Teen Contributor
Mary Hilton, Style Consultant, Sales & Marketing
Mike O'Connell, Photo/Video Contributor & Consultant
Rose Frances, Lifestyle Journalist
Isabella D'Angelo, Rome Correspondent
Changing monthly contributors
Cyberindustries, Inc. Web Design