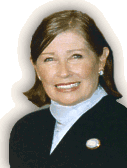 May 2007
Letter from the Publisher
Dear Life Bites News Readers,
Last week, following a delightful tour of the Abruzzo region, I had the great pleasure to be in Rome and experience the Independence Day Festivities being celebrated by all the proud Romans. What a wonderful prelude to Mother's Day. I spent some quality time in the Hotel Exedra Spa, where they have unique treatments designed for young mothers-to-be, as well as tired travelers.
As you will note, this issue is dedicated to all the special women in the food, travel, health industry who devote themselves to bringing the best to all people through their talent and effort. Our May issue contains reviews on Sporting Villa Maria Hotel in Abruzzo, as well as a bevy of information on interesting travel destinations to enjoy on Mother's Day.
There are so many women chefs throughout the country and the world that I have come to know and wish to honor on Mother's Day, and a few include "The Two Hot Tamales" of the Border Grill, Sherry Yard of Spago, Isabelle Alexandre of Citronelle, Chef Jennifer Naylor, and so many more than I have space to mention, but they know who they are.

Our past issues have included female authors who share their knowledge and expertise in the world of food, travel and health, and we look forward to featuring many more in the coming issues. The latest entertainment news offering in Life Bites comes to you by popular demand, and has hot tips on celebrity awards, special performances, verifiable gossip, and news on national and international film festivals.

To all the mothers who enjoy reading our online magazine I wish to say Happy Mother's Day, and to my own mother and grandmothers, who I know are in heaven, I say God Bless You for giving the best that you had to the world through your children -- you have contributed to making me the woman I am and I love you for your gifts.
To my own daughters, who are great women and great mothers, I send you my eternal love.
Warm regards,



Bonnie Carroll
Publisher/Editor
CLICK HERE for Mothers Day Tart from Todd English
CLICK HERE to read "Bravehearts Welcome American Women to Scotland"
Be sure to watch the video clip in Travel Adventures this month!


You can click here to watch it as well.