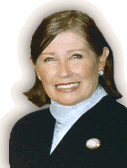 Letter from the Publisher
May 2008
Dear Life Bites News Readers,
May is a month of new beginnings, and a time to celebrate all the wonderful women in our lives, beginning with our own mother, aunts who were like mothers, and our own daughters with children, who by now may have made us proud grandmothers.
My own dear mother left this world many years ago, but I still wake up every Saturday morning expecting a call from her, and then I remember she is gone. I like to think she is in heaven with Frank Sinatra, enjoying a martini and listening to great 'big band' sounds. She was a great woman who worked very hard to give me the gifts that I enjoy today, and contributed to all the things I love, including LBN. She would have been my biggest critic and my biggest fan in this venture. God Bless you Rosaleen Joyce, wherever you are!
To my daughters I send my thanks for all the happiness they have given me through the years, and the amazing grandchildren they have given me. My only granddaughter is graduating from design school in Montreal this month. She is so talented, so beautiful and so wonderful that I thank God for letting me be related to her. Congratulations my darling girl, you are as magnificent as your own mom. Well done!
Our May issue contains health, beauty and dining news. The Ritz-Carlton, Marina del Rey has a new spa, and Spa Magazine hosted another great media event at the five star venue, featuring luxury spa destinations and exciting new beauty products. A bevy of Airlines are offering special travel rates for Spring and Summer, and cruise lines have some wonderful journeys planned for their sea going patrons. New chef, and seasoned chef news travels fast in Culinary Coup, and we have some great recipes included for May.
Art, leisure and travel will be on the agenda as we approach Summer, and as our readers plan their vacation itineraries. New film news and festival dates are available at Tinsel Town Tidbits, as well as entertainment features. "Spa Baby" highlights the talent of Sheila Cluff, founder of The Oaks at Ojai Spa, and what an inspiration she is to everyone who knows her. Kudos to Hillary Clinton, who is putting up an admirable fight to be our First Mrs. President. Women have been complaining for centuries that women were not getting a fair shake as leaders in business and politics, lets hope they put their ballots where their mouth is and elect this extremely qualified woman to navigate us through these dangerous times as our next President. 

We hope your Mother's Day is filled with peace, joy and happiness. Try one of our recipes or make a reservation at one of our recommended hotels. Just make this day one that is very happy for you . . . you deserve it! I will be at The Simpson House Inn in Santa Barbara enjoying a garden tea with my youngest daughter. Cheers!

Cordially,

Be sure to watch the video clip in Travel Adventures this month!


You can click here to watch it as well.
---