February 2005
A Valentine Letter From The Publisher
Dear Life Bites Readers,

I hope you enjoyed our premier issue of Life Bites News, online magazine. In a way this February issue is a Valentine from me to you. Creating this health/travel/food focused publication is a labor of love for me, and it has been so rewarding to hear from so many of you regarding the quality of the content. One reader described it as a beautiful online offering, and another said it was on a par with the very best magazines currently on the web.

Every February 14th, candy, flowers, and gifts are exchanged between loved ones, all in the name of St. Valentine. This special day, which contains vestiges of Christian and ancient Roman tradition, is credited to Valentine or Valentinus, who, according to legend sent the first "valentine" greeting to the jailors daughter, a young girl he fell in love with while in prison. Before his death, it is said he wrote her a letter, which he signed 'From your Valentine' an expression that is still in use today. The romance tied to this story made Valentine one of the most popular saints in England and France during the Middle Ages, and has had an indisputable influence on amore throughout the world.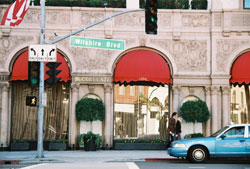 Buccellati in the Regent Beverly Wilshire Hotel
I am lucky to live walking distance from Rodeo Drive, known as "the street of dreams' and have easy access to all the delicious, decadent, and 'devil may care' gifts for sale in sublime designer venues like Tiffany, Lladro, Gucci, Fendi, Lalique, Geary's, Harry Winston, Bvlgari, Cartier, Burberry, and so many more who provide memorable gifts to please the most selective Valentine.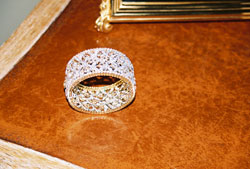 The ultimate Valentine surprise, a gold and diamond bracelet by Buccellati
My 1st gift choice for Valentine's Day 2005 is an exquisite Buccellati gold and diamond rose petal bracelet that glistens and is graceful beyond words. This piece of magnificent wearable art is $322,000.00, and is on display at Buccellati, located in the Regent Beverly Wilshire Hotel. Buccellati has elegant salons throughout the world, and will soon be moving to a new venue at 2 Rodeo Drive. Our readers who are world class shoppers will also be delighted to know that a salon will be opening on the Ponte Vecchio in Florence next year. Buccellati craftsmanship offers the ultimate in exquisite one-of-a-kind jewelry gifts, and their collection also includes handsome designer gifts for the man in your life.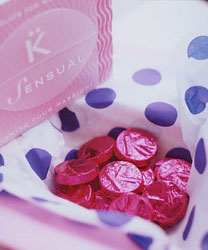 K Sensual Chocolate Gift Box is sure
to make her smile
Chocolate is always associated with this day, and Diane Kron's K Chocolates in Beverly Hills, thought of by some to be the Rolls Royce of chocolatier's, peaked my interest with her signature gift item that has taken candy to another level by creating K Sensual Chocolates, made with Chinese aphrodisiac herbs that are purported to intensify a woman's sexual pleasure. The chocolates are presented in a beautiful Garden of Roses gift box. For information see www.dkron.com.
What ever you do on Valentine's Day, and where ever you may be traveling in the world, I hope it is a loving and happy time for you. Thank you for joining us to read our latest issue of Life Bites News, and I'm sending you a big kiss to enjoy all through the sweetheart month.

Ciao Bella,

Bonnie Carroll
Publisher/Editor