The Chicago River Goes Green For St. Pat's Day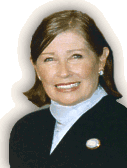 March 2007
Dear LBN Readers,
This month marks St. Patrick's Day, a great day for the Irish, and the holiday is celebrated around the world with grand parades and celebrations that include all things green. Dublin, Ireland holds a five day celebration,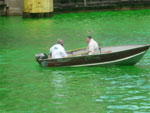 New York puts on the largest parade in the world, and my home town, Chicago, makes the river green. Lent is broken on this day for the enjoyment of green dyed beer, great Irish faire, as well as authentic song and dance. Below you will find some fun recipes to enjoy on this special day. Slainte!
Our March issue features a visit to the magnificent Four Seasons Hotel George V in Paris, and shares some secret treatments to enjoy at The Spa at the Beverly Wilshire in Beverly Hills. CUT, the hot new steak restaurant, created by Wolfgang Puck has become quite the rage in the Beverly Wilshire Hotel, and offers some of the best choice meat available. The Culinary Coup and Epicurean sections are jammed with hot new food and beverage information, including a feature on Chakra Restaurant, and TinselTown Tidbits offers a look at latest celebrity award and film festival news.
Our cub reporter, Cody Hilton will suggest some great new books for kids in Kids Kaleidoscope, and our wine & cocktail section offers news on tempting new beverage options. As spring approaches we look forward to bringing you the best in vacation destinations, as well as upcoming national and international event dates.
We thank you for reading LBN and welcome any editorial or advertising inquiries. Please email us at: writebc@aol.com
Most cordially,

Bonnie Carroll
Publisher/Editor
CLICK HERE for St. Patrick's Day Celebration Recipes
Be sure to watch the video clip in Travel Adventures this month!


You can click here to watch it as well.