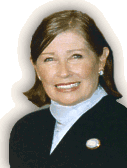 June 2007
Letter from the Publisher
Dear Life Bites News Readers,
Well, it's time to remember dear old Dad again! We have some very nice gift items in the gift guide, and a bevy of fun destinations to enjoy a vacation with him. Happy Father's Day to all of you reading this magazine!
Our June issue is filled with stories, including coverage of the Italy Symposium 2007 in Abruzzo, Italy. I hope you enjoy taking this journey with me. Eurofly Airlines has added a direct flight from JFK to Pescara Airport in the Abruzzo Region, and the planes are beautiful. You will also find the news on the Monterey Aquarium Sustainable Cooking extravaganza, and fun photos of celebrity chefs.
Some sizzling Santa Barbara news is featured in our Culinary Coup section, and Cody Hilton, our kid reporter has news on new movie releases. 'Sleep Away the Pounds' and 'The Secret' are featured in Book Bites this month, and Tinsel Town Tidbits has some juicy entertainment morsels.
See you next month, and I hope your Father's Day is the best!




Bonnie Carroll
Publisher/Editor
CLICK HERE to read "Bravehearts Welcome American Women to Scotland"
Be sure to watch the video clip in Travel Adventures this month!


You can click here to watch it as well.