TRAVEL ADVENTURES  .  .  .
Malecon' Puerto Vallarta Mexico 2020
PUERTO VALLARTA – MEMORIES THAT ARE NEVER ENDING
by Bonnie Carroll
 Traveling to Puerto Vallarta is something everyone looks forward to and I am one of those people.  My personal and family history with this blissful city is filled with special experiences and an opportunity to see what can happen with time as the world gazes on an uncharted territory. My personal discovery began in 1983 on an unexpected trip to the easy, breezy beach town in Mexico.
 My mother Rose had an unquenchable thirst for knowledge and a sense of adventure that took us on weekend sojourns through all the art and history museums, abandoned mansions, art film theaters with intermission tea served from silver pots, and dinners in every ethnic restaurant in Chicago starting when I was only five years old. It's really easy to understand why I became a travel gypsy and obsessive food and art lover.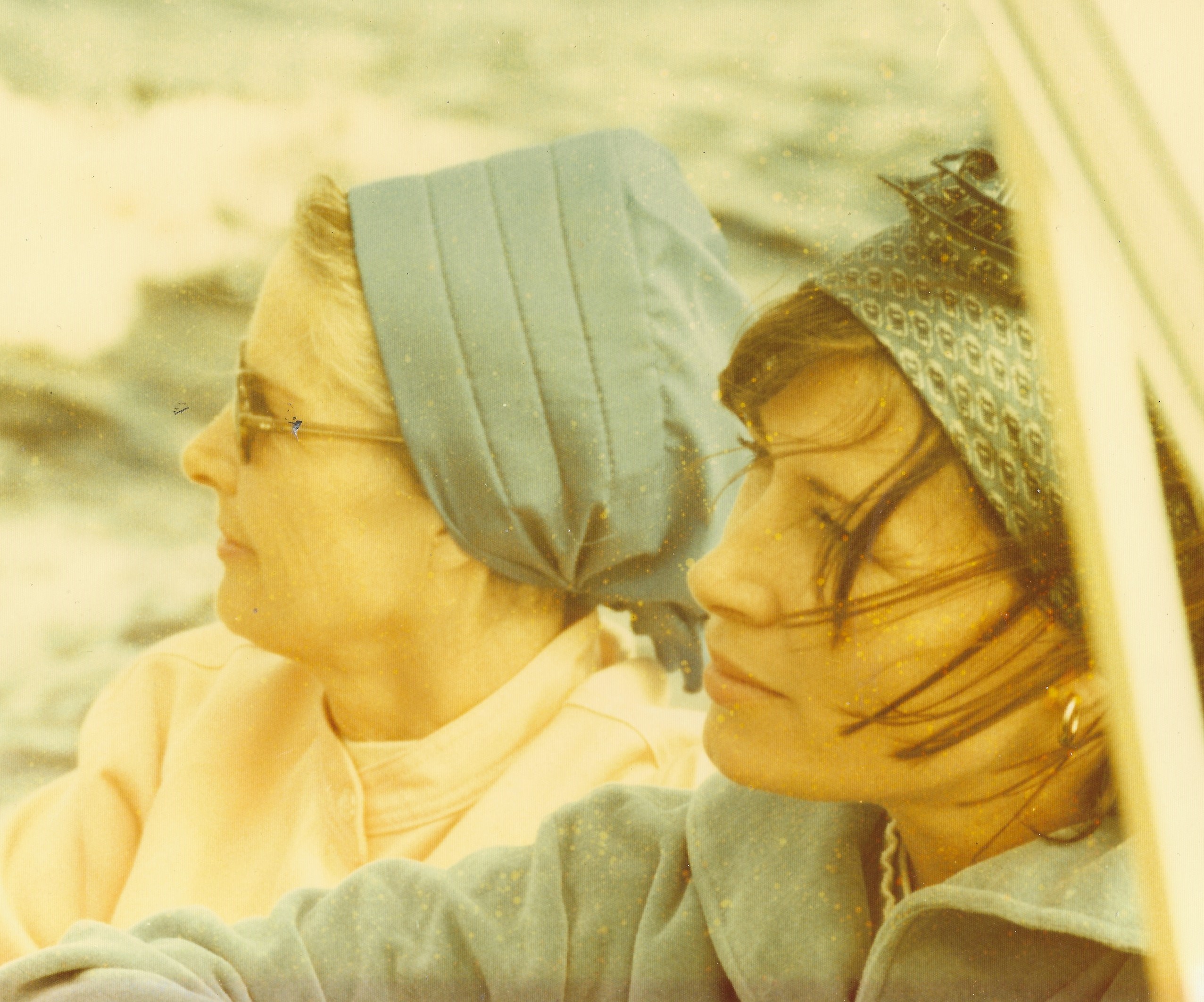 Rose and I on Vacation

In 1983 my mother invited me to join her in Puerto Vallarta for a weekend. It was our first visit to PV, and we spent our days touring Our Lady of Guadalupe Cathedral, perusing quaint shops, and just losing ourselves in the sleepy little town. I was amused by how fascinated she was with the scintillating stories of Richard Burton and Elizabeth Taylor's romance in the hills overlooking the charming little town.
The moments that have stayed in my mind and heart forever were those I spent with her sitting at a rickety picnic table on the beach watching the ocean and eating Mexican street food we had purchased from a family stand a few steps away. It was one of those perfect days where the sky and the water were magnificent shades of blue and a gentle breeze was blowing. Time seemed to stand still with each breaking wave, and we were basking in a kind of blissful harmony.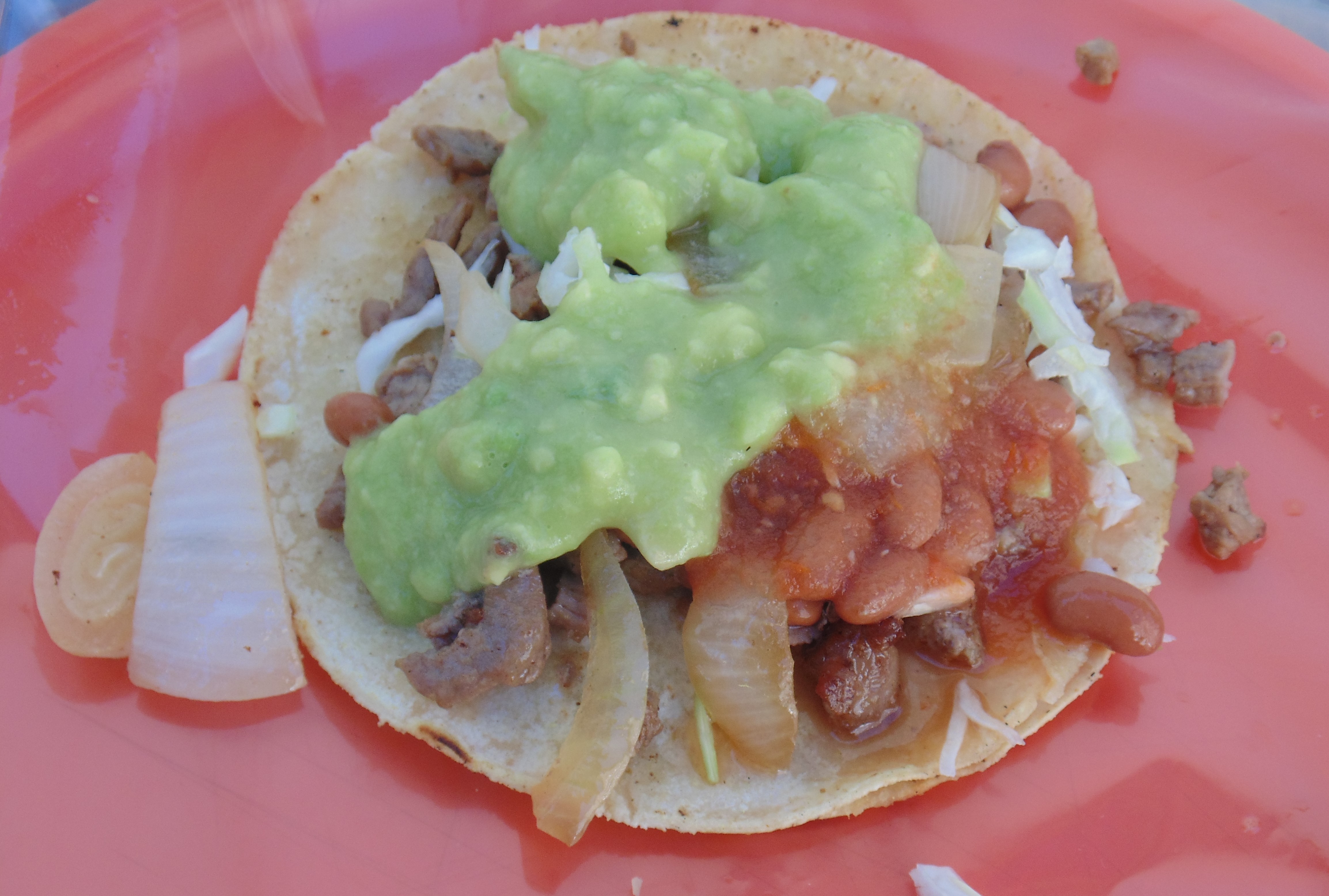 Puerto Vallarta Street Food
My mother passed away in 2002, and since my weekend with her in 1983 I have been to Puerto Vallarta countless times as a travel writer. I never tire of the visual beauty of the city or the charm of the people who live there. The road next to the beach where we sat together has now become a beautiful Malecon of world renown, filled with amazing art sculptures and an outdoor amphitheater that was inaugurated in 2011 celebrating the appealing Romantica Zone. I still treasure a pendant I bought in a little shop adjacent to the entrance of Our Lady of Guadalupe on that trip with mom, and although I have no idea what it is I love the memories it represents.

Countless new hotels, restaurants, art studios and gift shops line the Malecon and the entire coastal area today. I am blessed for learning all the nuances of fine Mexican food in five-star restaurants or from street vendors, as well as the history of Tequila from brand owners or skilled Tequlier professionals at major resorts for many years and loving every minute of it. To be a witness to the growth anid positive changes that have taken place in one of my favorite Mexican destinations is a joy, and to now live in Santa Barbara, a Sister City to Puerto Vallarta is such a gift.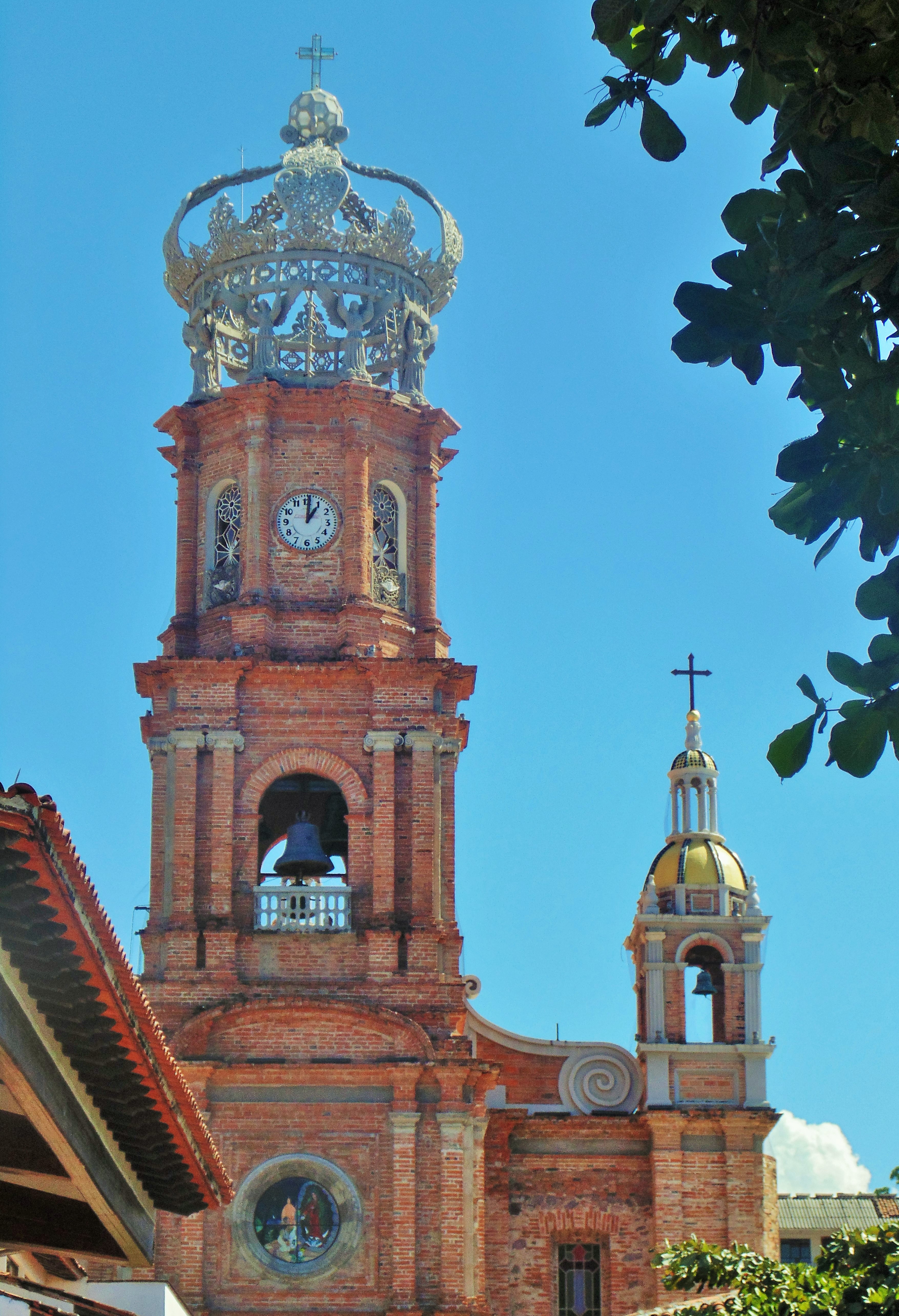 Our Lady of Quadalupe, Puerto Vallarta 2020
Our Lady of Guadalupe, whose construction began in 1851 did not have a crown in 1983 during that first visit, the magnificent crown was placed on top in 1987. Every time I return to Puerto Vallarta I stand with my back to the crown tower and my face toward the sea, with the ocean breeze kissing my face, and I find myself reveling in those precious moments sitting at the picnic table with my mom, and I'm so grateful to remember our mother-daughter PV moments once again. Viva la Mexico – Viva la Puerto Vallarta - Viva la Familia!
___________________________________________________________
Hotel Ynez Opens in Central California Wine Country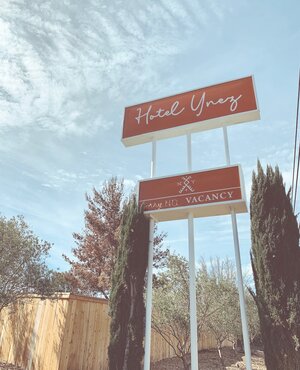 Hotel Ynez is a new boutique hotel in the heart of the Santa Barbara wine country on California's Central Coast. Opened March 1, the hotel comes from the creators of Skyview Los Alamos and Granada Hotel & Bistro and is nestled on two lush acres dotted with ancient oak and pine trees and native gardens. Formerly the Meadowlark Inn, new owners Nomada Hotel Group executed a complete transformation of the property.
The hotel has 18 spacious rooms with outdoor motel-style entrances, each boasting a private stone patio with a hammock that was responsibly sourced from the Bolivian Amazon. Interiors have restored wood floors and a neutral background palette highlighted with splashes of color, hand-painted tile, stylish patterned textiles, and local art. Beds are outfitted with Matouk bedding, and furnishings include comfy club chairs, vintage vanities, and retro mini-fridges filled with local snacks. Deluxe rooms feature rustic fireplaces, and some rooms have a private hot tub on their patio.
The grounds feature bonfire pits, a bocce ball court, strategically placed Adirondack chairs, a grassy lawn for sunbathing or star gazing, and lounge chairs and umbrellas surrounding the restored pool. If you can tear yourself away, grab a complimentary Linus bicycle or e-bike to explore the surrounding Solvang area and its charming Danish village, or go further afield in the surrounding Santa Ynez Valley and visit its many wineries, farms, and hiking trails.
Mornings at Hotel Ynez begin with included pre-packed breakfast boxes filled with fresh fruit, banana bread, apple cake, and fresh coffee and tea. When the sun begins to dip below the mountains, guests can gather in the courtyard for local wines, charcuterie, patés, and fresh bread from local favorite Bob's Well Bread. Hotel Ynez also offers specialty BBQ dinner kits packed with house-seasoned steak, burgers, and seasonal veggies delivered for guests to prepare on their own Weber grill.
A spa will debut later in the year, but in-room treatments can be arranged for now.
Rates at Hotel Ynez start at $179 per night, including daily breakfast. To book, visit www.hotelynez.com.
Hotel Ynez
Address
2644 Mission Dr, Solvang, CA 93463-9429, USA
Phone +1 805-697-5444
Web Visit website
___________________________________________________________
AVELO AIRLINES BEGINS FLYING FROM BURBANK
The catch? The ultra-budget carrier is only flying out of Burbank's Bob Hope International Airport, at least to start. Likewise, its destinations are all smaller, secondary airports. But that's kind of part of the mission. Currently, all 11 Avelo destinations are unserved by Burbank Airport and are gateways to national parks, wine regions, or big cities.
Andrew Levy, chairman, founder, and CEO of the ultra-budget carrier, said the airline is on a mission to inspire travel. "People are ready to reconnect with family and friends and explore new places," he said in a statement. "Avelo is a different and better kind of airline, built from scratch to offer an affordable, convenient, and caring travel experience."
Avelo Airlines marks the third low-fare airline to come out of the pandemic but will be the first to take off with its inaugural flight departing on April 28, 2021. Breeze Airways, started by former JetBlue co-founder, and Norse Atlantic Airways, a Norwegian transatlantic low-fare airline started by the former co-founder of Norwegian Air Shuttle, are still in the works.
However, if there were ever an airline team that knows what they're talking about, it would hopefully be the folks behind Avelo—a team composed of former executives from eight different U.S. airlines—including JetBlue Airways, Delta Air Lines, Hawaiian Airlines, Frontier Airlines, Northwest Airlines, and Spirit Airlines—and with a collective combined experience of over 200 years in the aviation game. Levy's own contribution is his own double-decade experience as the former CFO of United Airlines and co-founder and president of Allegiant Air.
While travelers may be used to equating smaller airports with smaller planes, passengers on Avelo will be flying on revamped Boeing 737-800 planes. The single-class aircraft will be outfitted with 189 seats, including a majority of slimline seats with a tight 29 inches of pitch and 60 roomier seat options with 31 to 38 inches of pitch.
Below-the-belt fares will feature no change, cancellation, or fees to book by phone, though it will charge for bags and onboard privileges. Checked luggage is $10 per bag, carry-on luggage stored in the overhead bins costs $35 per piece, priority boarding can be purchased for $10, and seat reservations start at $5 for window or aisle seats and $18 for the seats with a bit more room. Oh, and pets are allowed on board for $95.
"After more than 20 years of steadily shrinking consumer choice, the American flying public wants and deserves more options and lower fares," said Levy. "Avelo offers both — along with a refreshingly smooth and convenient experience."
Got an extra $20 bill laying around? It might just be enough to fund your next flight. To see where Avelo flies or to book a flight, visit the Avelo Airlines website. 
Route Map Avelo Airlines: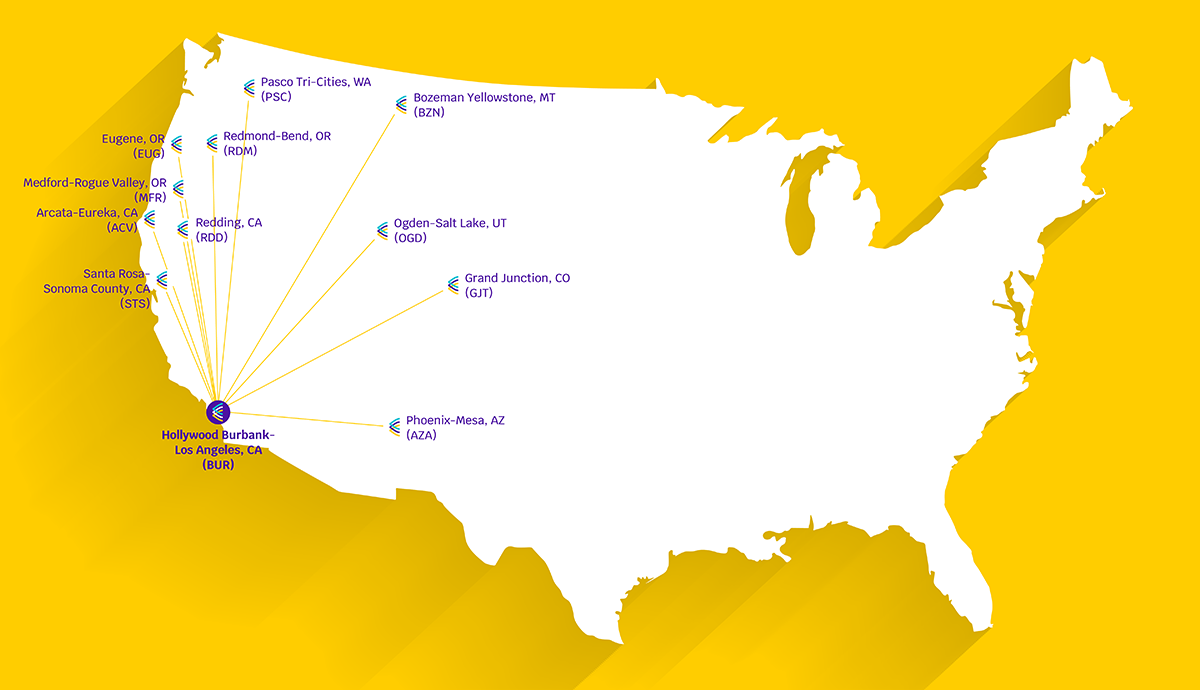 __________________________________________________________________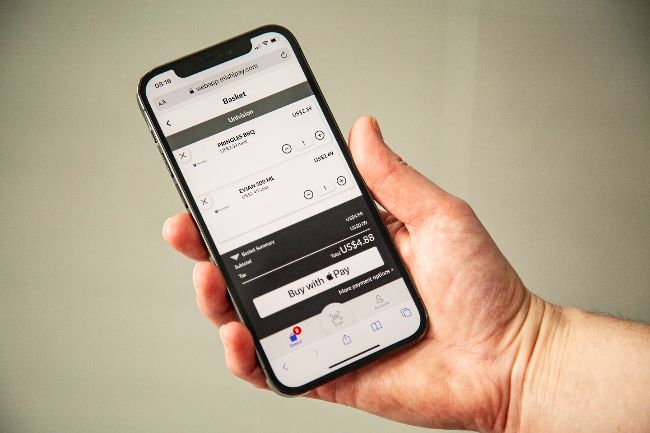 Paradies Lagardère First to Launch MishiPay's Scan, Pay & Go Technology in U.S. Airports.
 
 
Paradies Lagardère, the award-winning airport retailer and restaurateur in North America, has become the first concessionaire to introduce MishiPay's innovative Scan, Pay & Go technology in the U.S. airport market.
 
The revolutionary shopping solution was successfully piloted and unveiled to travelers at Paradies Lagardère's Univision travel essentials store in the Fort Lauderdale-Hollywood International Airport and the Charlotte News and Gift store in the Charlotte Douglas International Airport.
 
MishiPay's Scan, Pay & Go technology is entirely contactless and frictionless and requires no additional infrastructure to capture customer engagement and sales. Using their own mobile devices, travelers simply select the items they want, scan the barcodes and pay and go - without the need to interact with staff or waste time standing in line at a register.
 
This new in-store experience elevates overall customer satisfaction and convenience by enhancing speed of service and also reducing interpersonal contact, which supports safety and health protocols. Adding further benefits for travelers, MishiPay also improves operational efficiencies by freeing up staff from checkouts to assist in other tasks such as restocking, sanitizing high traffic sections and assisting customers. 
 
"We are thrilled to partner with MishiPay to deliver this next-generation service that will further enhance our customer's experience in our airport retail stores," said Gregg Paradies, President and CEO for Paradies Lagardère. "Yet another accomplishment in our ongoing digital strategy efforts, the Scan, Pay & Go technology is a significant step to the future of travel retail. Early results from our pilots at Fort Lauderdale-Hollywood International Airport and Charlotte Douglas International Airport show that travelers are embracing this user-friendly service."
 
MishiPay founder and CEO Mustafa Khanwala said: "Standing in line to pay for purchases is irritating at the best of times but in an airport environment, where customers always have an eye on the clock, it's even more frustrating. By using technology to remove this archaic bottleneck, MishiPay enables retail to evolve to meet the demands of consumers."
 
Paradies Lagardère's launch of MishiPay complements already existing initiatives to innovate the in-store experience. Self-checkout kiosks were unveiled in late 2019 at The Goods@ATL store at Hartsfield-Jackson Atlanta International Airport and fast pay options such as Apple Pay and Google Pay have been a part of operations for several years. Additionally, Paradies Lagardère's Dining Division recently expanded its partnership with Servy, formerly Grab, the airport e-commerce platform that incorporates omnichannel guest service technology at quick-service and full-service restaurants such as pre-ordering, pre-payment, tabling ordering and virtual kiosks.
 
About MishiPay
MishiPay brings the best of the online checkout experience to physical stores, giving shoppers the ability to scan and pay for their shopping using their mobile phones. Founded in 2015, MishiPay has grown quickly and now serves its scan, pay, go technology to some of the largest retailers in the world. Thanks to the skills of their technical team and their carefully curated list of partners, MishiPay are able to integrate quickly and cost-effectively into retailers' existing systems without the need for any additional hardware, making it possible for both shops and shoppers to benefit from the best of the online and in-store worlds.
https://mishipay.com/
___________________________________________________________________
CROATIA OPENS FOR TOURIST
There is finally some light at the end of the tunnel and summer travel looks positive and more likely to happen. Starting March 19th Croatia is opened for travel and will allow USA and Canadian citizens to enter the country.
What the clients need to enter the country:
Entry for tourism is permitted only with documentary evidence of an accommodation paid in advance and in full, prior to arrival at the border (The accommodation reservation alone is not sufficient to be permitted entry)
Tourists must have a negative PCR test result not older than 48 hours from the time of the swab to crossing the border.
There is no curfew in place and there are no travel restrictions between areas of Croatia. Bars and restaurants are open, but only the outside areas for now and all tourism attractions are open and accepting tourist.
We care about everybody traveling with us and we got awarded with
Safe Croatia
certificate proving that we follow all needed requirements and protocols to minimize the risk of catching COVID19 while traveling with us.
_________________________________________________________________
TRAVELING TO IRELAND
COVID-19 (Coronavirus) update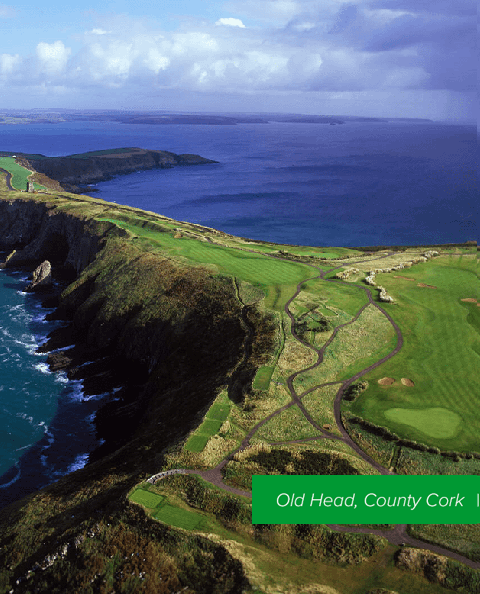 The authorities in the Republic of Ireland and Northern Ireland continue to take measures to protect public safety and limit the spread of COVID-19 on the island of Ireland - the authorities advise against all non-essential travel to the island until further notice.
Republic of Ireland
All passengers arriving into the Republic of Ireland are required to have a negative/'non-detected' result from a pre-departure COVID-19 PCR test taken within 72 hours prior to arrival into the island. 
 
On 26 January, the Irish Government announced the introduction of additional, short-term restrictions. These will include mandatory self-isolation or quarantine measures applying to all international arrivals and the suspension of visa-free travel to Ireland (with limited exemptions) for nationals of South Africa and all countries in South America. For further details and updates, please see the Irish Government Advice page

Northern Ireland 
You must self-isolate for 10 days upon arrival in Northern Ireland, for the latest updates and information click here
__________________________________________________________________
Sweden, Denmark, Norway, UK Restrictions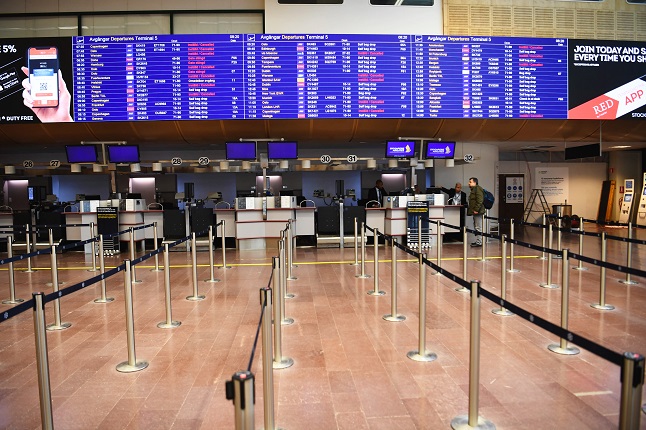 There are changes to which groups of people can travel to Sweden from Norway, Denmark and the UK. Photo: Fredrik Sandberg/TT
Sweden has announced changes to its rules on entering the country from March 31st, with special restrictions on Denmark and Norway lifted, and the UK subject to the same rules as other non-EU countries.
Sweden on January 26th imposed emergency restrictions on travel from Denmark, Norway and the UK, partly due to outbreaks of the infectious B.1.1.7 variant in Norway and the UK. In Denmark the motivation was that many businesses and restaurants were closed there, presenting a risk of cross-border travel.
"After a detailed analysis of the Public Health Agency's proposals, we consider that the especially strict restrictions for travel from Norway and Denmark can be removed without presenting an increased risk of transmission," said Swedish Interior Minister Mikael Damberg.
Travel from Norway and Denmark
From March 31st, people travelling from Denmark and Norway will be treated like other EU citizens and therefore are allowed to travel to Sweden for any reason, so long as they can show a negative coronavirus test less than 48 hours old. This means they can come to Sweden for any reason, such as visiting friends, staying at their summer house, or for tourism purposes for example — but they should still follow Sweden's rules for arriving travellers, which includes isolating completely for seven days on arrival.
Under the tighter restrictions in place until March 31st, travel was only possible if the traveler could prove they met certain exemptions, for example if they were a Swedish citizen or resident, worked in Sweden, or needed to travel to meet children under 18.
This particularly affected students who commuted to Sweden from Denmark, who were not covered by any exception, and also those whose spouses or partners live in Denmark. Another change to the rules for students means that from March 31st, they will be treated the same as cross-border workers and only need to provide a negative Covid-19 test less than a week old.
Travel from the UK
The special restrictions on travel in the UK, first introduced in December, will also be lifted on March 31st, at which point travel to Sweden from the UK will be treated the same as from other non-EU countries. This means that there is a ban on entry until at least May 31st, but some groups of people are exempt, including for example Swedish citizens or residents.
The exceptions to the entry ban for non-EU countries, which from March 31st will apply to those travelling from the UK, are slightly more generous than those currently in place for UK travelers.
Here are some of the main differences: 
Spouses and partners of Swedish citizens, EU/EEA citizens, or residents of Sweden or another EU/EEA country, will be eligible to enter Sweden. Under the special restrictions, the family exception only covered those visiting children under the age of 18, or children under the age of 18 visiting their parents.

"Highly qualified workers" whose work cannot be carried out at a distance will be allowed to travel to Sweden, whereas before there was no real window for business travel (apart from for example diplomats, those working for international organizations, seamen and truck drivers).

EU or EEA citizens living in the UK will now be able to travel to Sweden, whereas before they were not exempt from the stricter entry ban.
People travelling to Sweden from the UK will need to show they belong to one of the exempt categories, and will also be required to present a negative coronavirus test that is less than 48 hours old, as well as following the rules on testing and isolation which apply to everyone arriving in Sweden from overseas regardless of where they are travelling from. Proof of coronavirus antibodies or full vaccination against the virus is not accepted as an alternative.
Despite the changes, people will not be able to travel from the UK to visit friends or extended family in Sweden, for tourism purposes, or to visit a second home or summer house in Sweden for example, unless they also belong to an exempt category.
Further information
*   *   *
---