TRAVEL ADVENTURES    .    .   .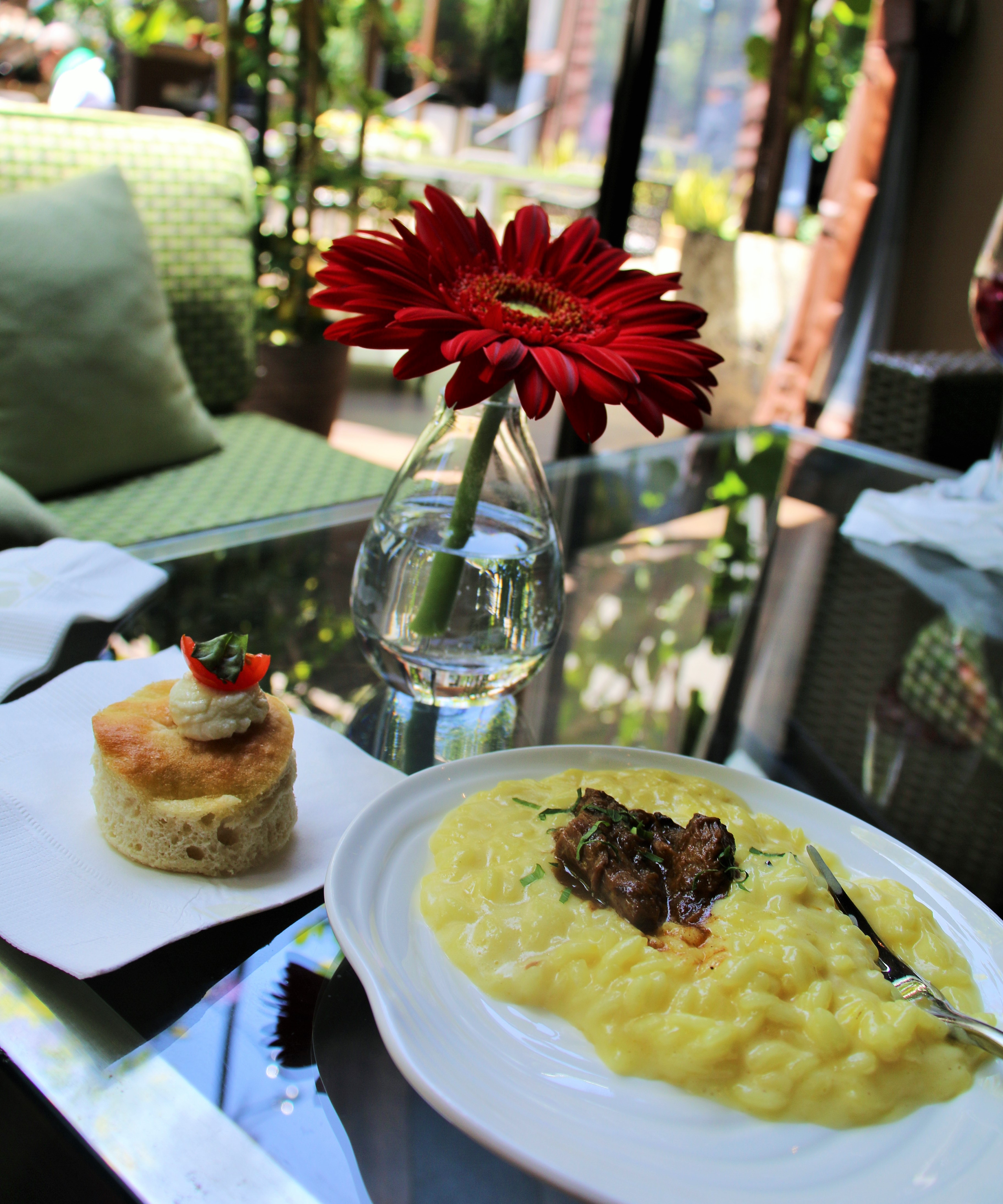 TASTE OF LUGANO IN L.A.
by Bonnie Carroll
The Switzerland Tourism, Ticino Tourism and Lugano Region Tourism presented a delicious luncheon and promotional program on the Lugano Region and Ticino at the Four Seasons Hotel Los Angeles at Beverly Hills that included an authentic menu prepared by Executive Chef Mauro Grandi, The View Lugano Hotel, along with the Four Seasons culinary team.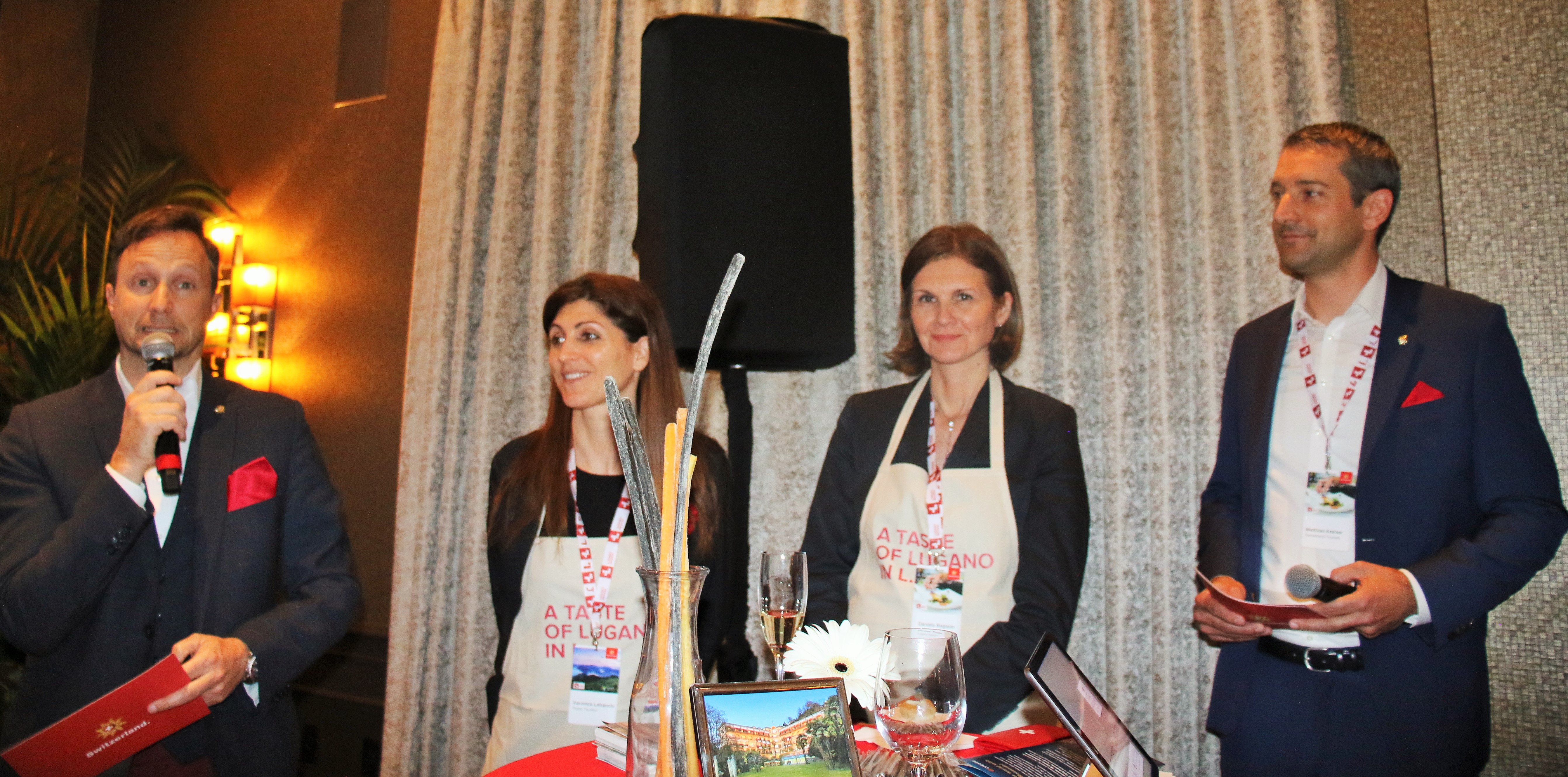 Mirko Capodanno, Veronica Lafranchi, Daniela Gugliotta Bagaian, Matthias Kramer
Matthias Kramer and Mirko Capodanno of Switzerland Tourism welcomed guests and introduced members of the Switzerland delagation in attendance including Daniela Gugliotta Bagaian of Ente Turistico Del Luganese and Veronica Lafranchi of Ticino Turismo who gave individual presentations on their specific areas in Switzerland and shared the exciting adventures awaiting tourists visiting them this spring and summer. Hotels represented included Grand Hotel Villa Castagnola, Hotel De La Paix, Hotel Lugano Dante Center, and The View Lugano.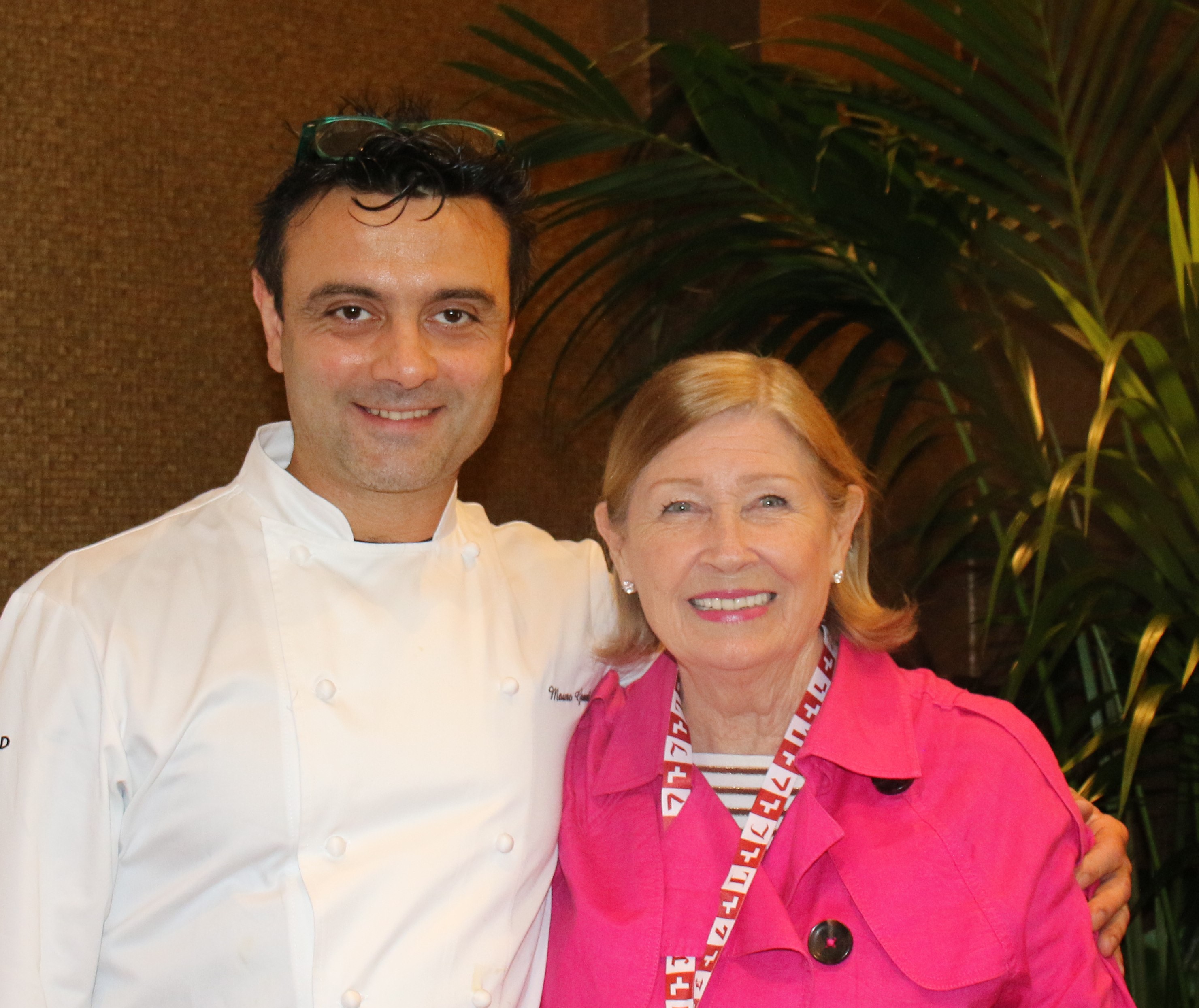 Travel Journalist Bonnie Carroll chats with Executive Chef Mauro Grandi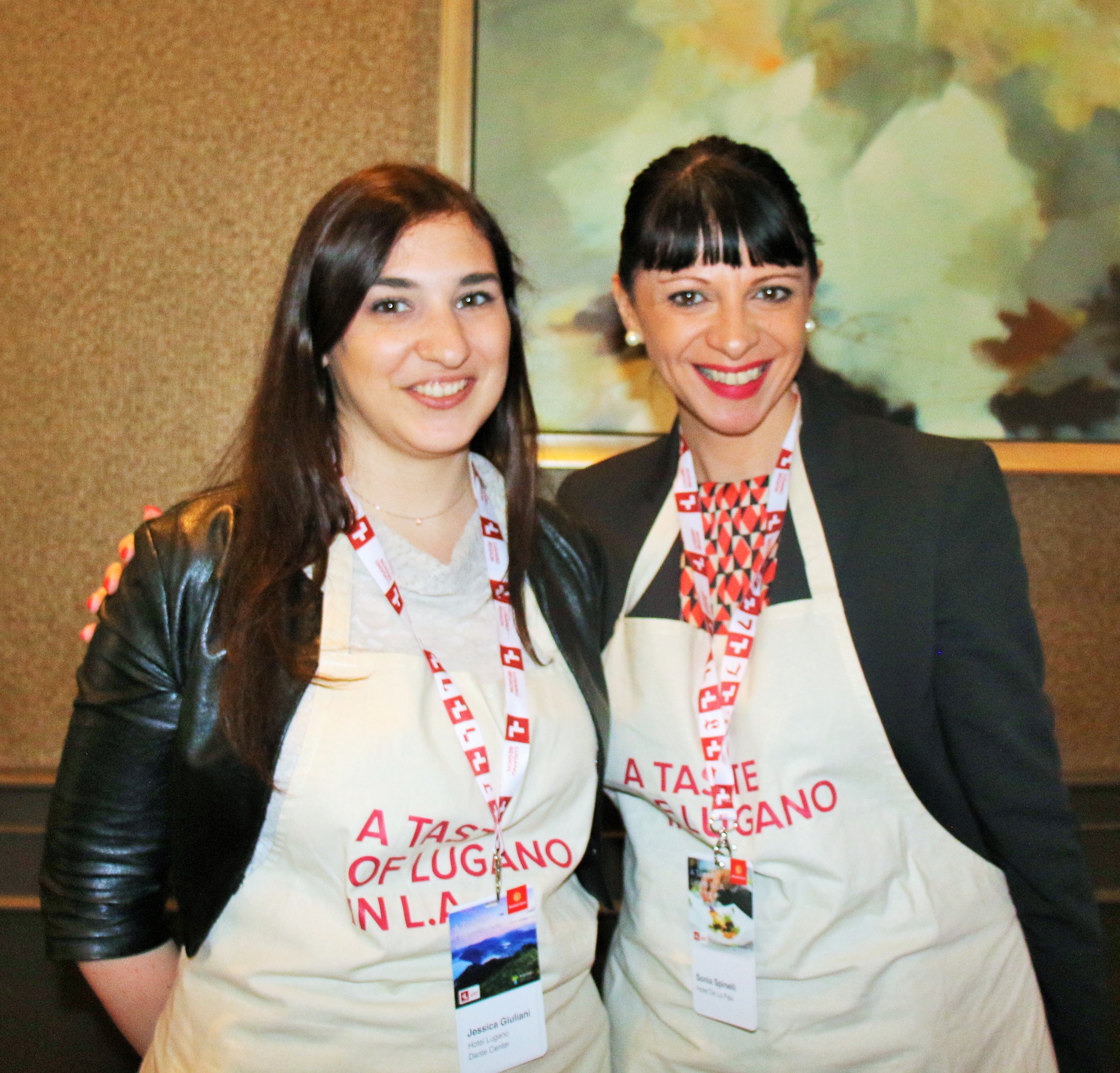 The luncheon was held in the popular Italian Culina Restaurant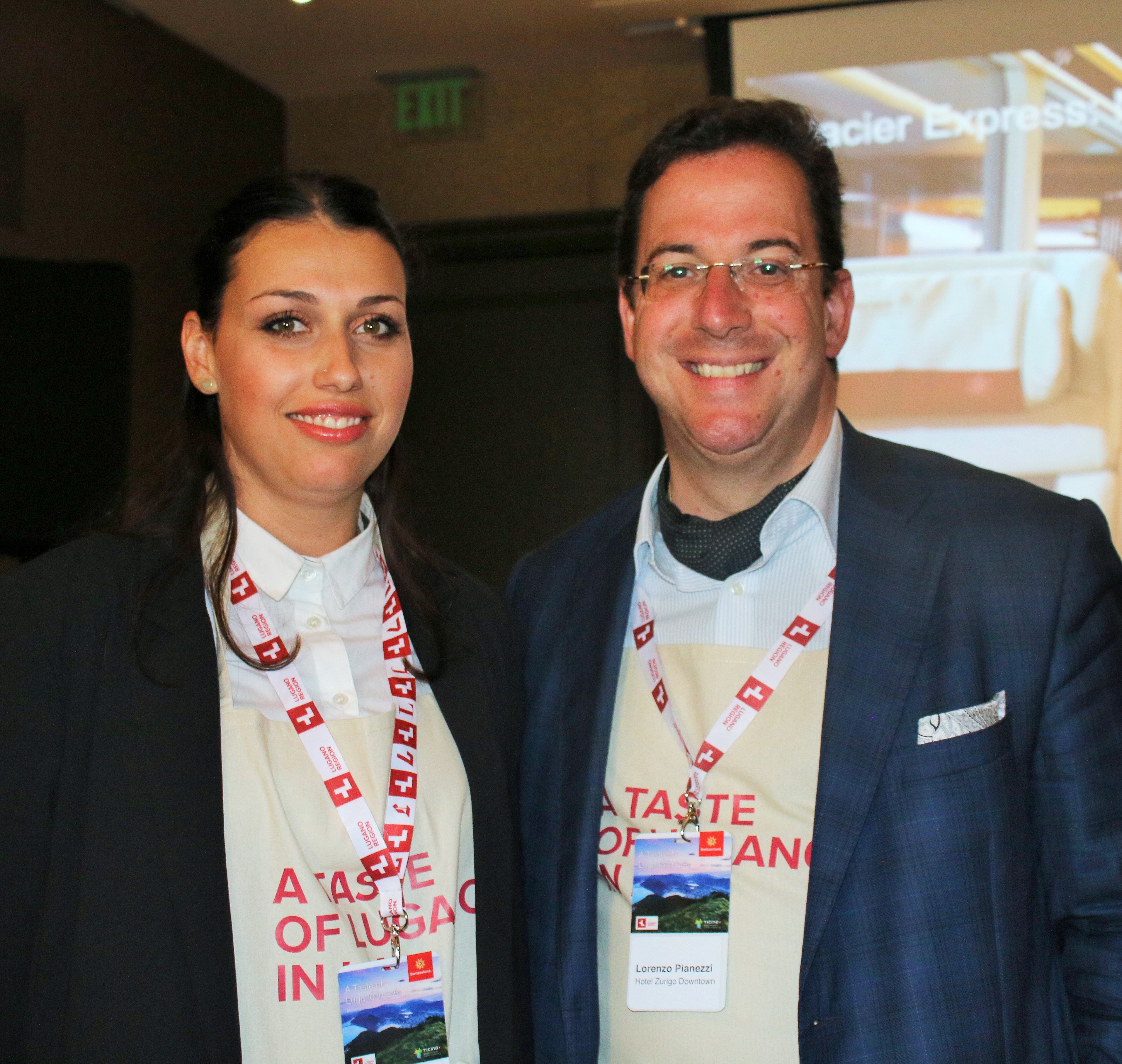 and Patio, where a parade of delicious Lugano inspired foods were enjoyed by guests. The lunch was paired with Switzerland Cantina Delea Losone Wines including dry sparkling: Charme Spumante Brut, white merlot: Chiar di Luna, and red merlot: Ismaro that were all ideal with the prepared menu. Many guests commented on the delicious and smooth taste of these three Swiss wines.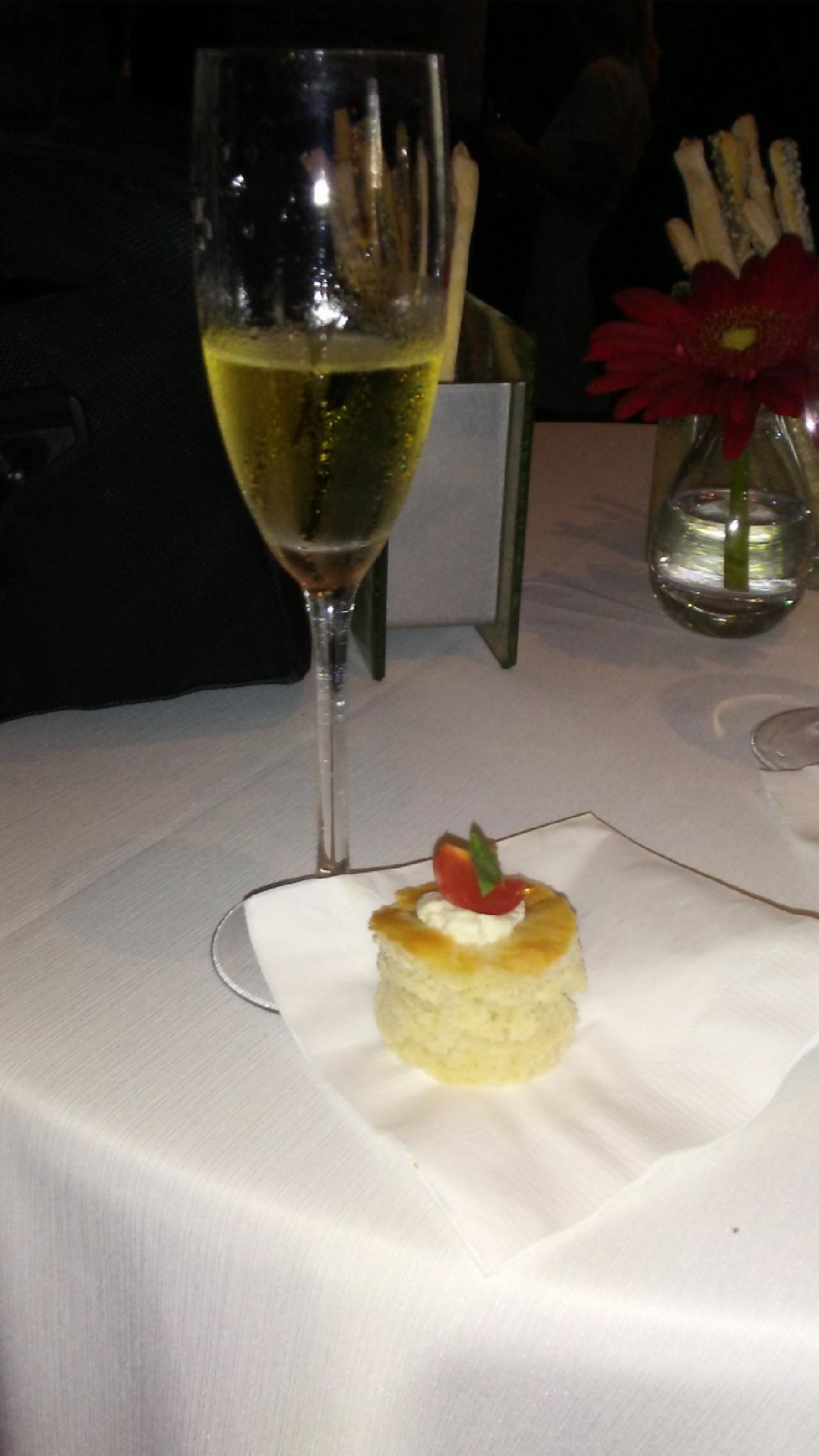 The menu was an authentic "Taste of Lugano" that included hors d'oeuvres including quinoa, celery and green apple, warm foccia and burrata, cucumber cheese soup with black pepper from "Valle Maggia", char rosetta mariated in red fruits with horseradish ream, puff pastries with smoked trout, and spring onions, and organic wine vinegar from Ticino, frid dumpling, lard and honeyu, chunks of crispy polenta, cheese fonduefrom the alp. The lunch entree dishes included risotto "Terreni alla Maggia", braised beef and Merlot, Penne pasta, asparagus, courgette flowers and mint. Desserts included "Cannoncini" with cream, bread cake, fruit skewers and raspberry sorbet cones.
A wealth of information was shared on the art & culture, sport & leisure, lake & nature, gastronomy & traditions, health & wellness, clubbing & nightlife, festivals & events, day trips & surroundings, shopping & lifestyle, lakefront activities, meetings & incentives and more. I had the pleasure of visiting the Lugano area on a past writing trip and was so impressed with the advanced health and spa treatments, the fun nightlife, wonderful art exhibits and overall fine health aspects of Switzerland. The lakes in thes area are serene and beautiful, where visitors can enjoy the delicious fun to be found in the grotto dining venues. For detailed information on Lugano and Ticino visit: www.Myswitzerland.com, www.ticino.ch, www.luganoregion.com.
___________________________________________________________________
The Hunger Games: The Exhibition launched at MGM Grand Hotel & Casino on June 6, 2019 in Las Vegas, Nev. The exhibition features a new spectacular, fully-immersive archery training experience, as well as new interactives, set decoration and costumes. The Hunger Games attraction is based on the world-renowned films from Lionsgate, which grossed over $3 billion at the worldwide box office. It celebrates the epic journey of Katniss Everdeen from her humble beginnings in District 12 to her rise as the Mockingjay. The thrilling experience features several inspirational galleries including the Hall of Justice, President Snow's Office, the Tribute Train, District 13, and an archery training experience set within a 60-foot wide interactive digital training lab, which is a climactic highlight of the exhibition and the first of its kind on the The Strip. On June 6, 2019, a grand-opening was held featuring Hunger Games star Eldon Henson and Welby Altidor, Group Chief Creative Officer of Cityneon Holdings and Victory Hill Exhibitions.
---