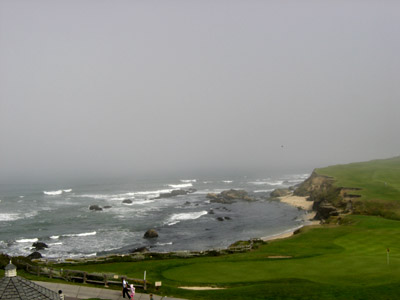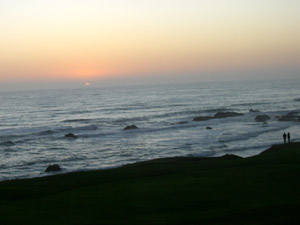 RITZ-CARLTON, HALF MOON BAY . . . A Touch of Scotland on the California Coast
by Bonnie Carroll
Located only fifty-five minutes from San Francisco, and six or so hours from Santa Barbara, the Ritz-Carlton Half Moon Bay offers guest an opportunity to enjoy the European style ambiance of an outstanding resort with every state-of-the-art convenience, catering to business guests, vacationing families and honeymooners.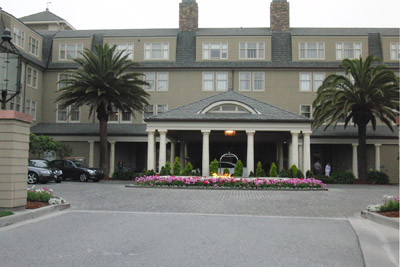 The entrance to the resort is impressive, and the rugged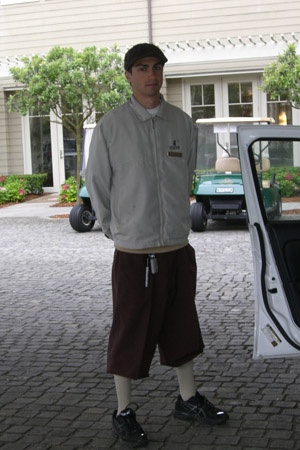 cliffs overlooking the Pacific, are reminiscent of Scotland. It is no small wonder the Ocean Course (6,700 yards) and the Old Course (7,104 yards) at this resort have become favorites of serious golfers from around the US and Europe, who make the resort a home-away-from-home where they can experience great golf on a challenging and awe inspiring course designed by golf architect Arthur Hill.
The suites and rooms are perfect, with exquisite ocean views, and contain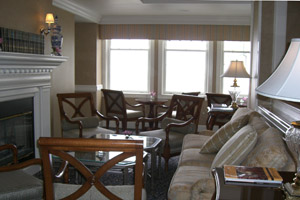 amenities that are in keeping with the fine Ritz-Carlton tradition. A special feature at the hotel is the 'Club Floor' which is home to a private dining-gathering area where guests enjoy complimentary online services to check their email, as well as an all day menu of light breakfast, lunch, appetizers with wine and desserts with after dinner cordials. This is understandably a very popular feature of the hotel.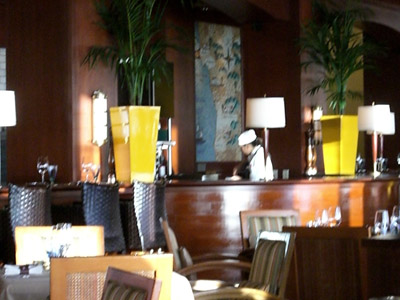 The Dining room Navio, a beautiful open restaurant lined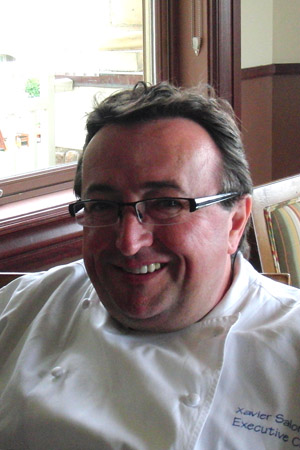 with windows overlooking the hotel green and fire pit, is under the skillful culinary charge of seventeen year Ritz-Carlton career Executive Chef Xavier Salomon, who is a third generation French Master Chef from France. His outstanding food preparation and presentation is exceptional by foodie's standards. His passion for gastronomique at its best is an inspiration to all who work with him, and if you are a traveler in search of culinary bliss Navio for breakfast lunch or dinner will not disappoint you.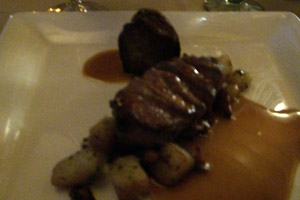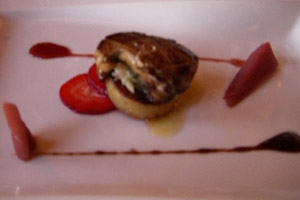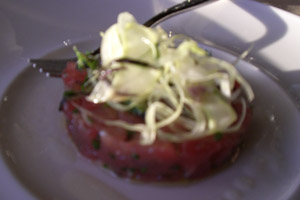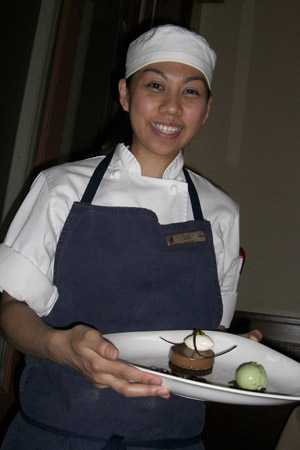 According to the chef "we live in an area where the best produce and seafood are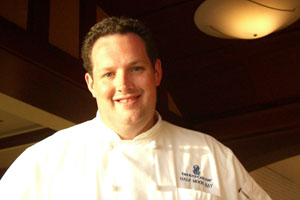 available to create recipes that are not only delicious, but healthful. My staff and I frequent the Farmer's Market in search of the best in fruits, vegetables and herbs." The culinary staff has many talented young chefs, as well as gifted pastry chefs. They all put their hearts and talent into the outstanding dishes being served at Navio and the result is magnifico.  "I tell those who work with me in my kitchen that if you want to be a chef you must have a real passion for a culinary life or the long hours and hard work will make it impossible for you to stay the course," says Salomon.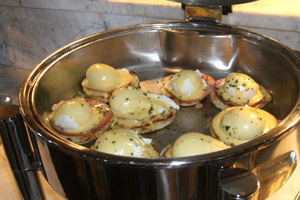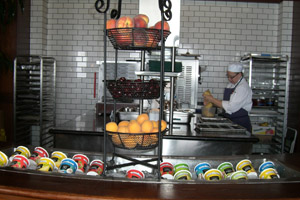 Brunch on Sunday is simply delightful, with a huge variety of breakfast favorites,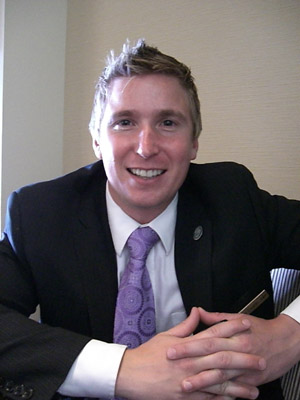 fresh fruits and juices, and the thoughtful service of a skilled staff. Dinner at the hotel is also a special treat and includes the special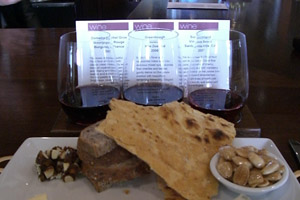 attention of a skilled and talented sommelier who will select the perfect wine to enjoy with your appetizer, entrée or dessert is always available. The Eno Wine, Cheese and Chocolate Bar provides a rare opportunity to learn more about fine wine through the exceptional skill of sommelier Ian Cauble. And, last but not least, if you are just looking for a great burger the Conservatory Lounge is where you will find it.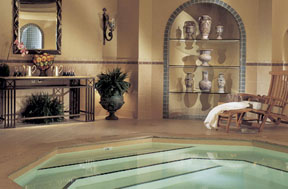 One of my favorite features at this property is their fabulous spa, which welcomes guests to experience a lush roman bath style pool room, where iced lemon water and fresh fruit enhance a completely relaxing experiences of elegant steam, sauna and a full menu of body treatments in a luxurious spa with spacious classically designed dressing rooms and comfortable nuances throughout. The plunge showers and new age music, as well as the burning fireplaces in the resting areas make this a not to miss California spa. The spa gift shop carries the finest in 'being beautiful' goodies, and a nearby salon offers full service hair and nail care.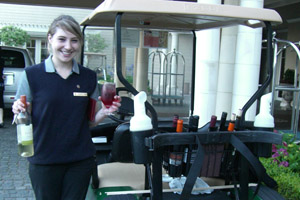 A delightful and thoughtful new service for guests staying in suites with firepits is the implementation of a fully stocked liquor cart that brings a selectiton of wines and appertifs directly to the outdoor patios of guests who choose to enjoy a drink in the comfore of their own patio. The young lady who was making these trips was so pleased to be offering this convenience to the hotel guests, and said it was a becoming a very popular addition, especially in the evening.
In October the resort will join in the fun of the 40th Annual Pumpkin Festival by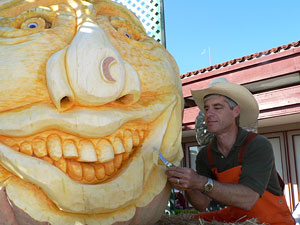 preparing special pumpkin inspired dishes for guests and will provide guest transportation to and from the festival grounds. The festival location is on Main Street in Half Moon Bay October 16 & 17 from 9:00 am to 5 pm, and offers pumpkin carving by Farmer John, a costume parade, music, every variety of pumpkin food and beverage selections, an art show and a fabulous fall experience of fun for the entire family. Visit: www.miramareevents.com for information. For Ritz-Carlton reservations visit: www.ritzcarlton.com.
Ritz-Carlton, Half Moon Bay
One Miramonte Point Road
Half Moon Bay, CA 94010
(650) 712-7000
---
Tuscany's "Aspen Institute"
The Renaissance Center at Borgo Finocchieto
There are a few spots in the world that strongly inspire reflection on man's achievements and potential, and on the meaning of life, places whose sheer beauty fosters a desire to preserve and enhance what is good in the world. Borgo Finocchieto, in the rural Siena Province of Southern Tuscany, is such a place. It has been a gathering place for some of the world's most accomplished individuals, and some of its greatest minds, to discuss peace, politics, music, art, food and ideas.

As one guest recently put it, Borgo Finocchieto is "...a place of enlightenment where the ideas are as expansive and beautiful as your panorama."

Since the restoration of this unique, ancient village was completed in 2008, Borgo Finocchieto has hosted groups of diplomats, business leaders, musicians, alumni of prestigious universities, chefs, and wine aficionados. At this magical village of five charming residences surrounding a central piazza, with its seemingly endless views of Tuscan hillsides and state-of-the-art facilities that belie the Borgo's long history, groups such as these have gathered to discuss ideas and create opportunities.

So much of its appeal for these intimate groups has to do with its history. Borgo Finocchieto was discovered in 2000 by its new patron John Phillips who, with great care, gathered a team of leading planners, architects and designers to restore the medieval buildings to their original beauty. After nearly a decade of dedicated work, Borgo Finocchieto is not just a physical rebirth, but also a place -- surrounded by the peace and beauty and history of the land -- where people can be inspired to think, discuss and create.

The Borgo encompasses twenty-two bedrooms and suites arranged around a central piazza. The Manor and Village Houses offer a variety of accommodations for groupings of associates or colleagues or fellow conferees. Each house has its own common indoor spaces and private outdoor terraces.

The largest of the houses, Finocchieto Manor House, takes its cue from its past as an aristocratic country house, grand but comfortable. It has nine spacious suites. The two smaller houses, Colussi and Filippi, are cozy retreats with a rustic style; each has living and dining areas. Santa Teresa was once the church of the village, as its shape recalls; its two floors feature four bedrooms, including a spectacular master bedroom with an arched window looking over the hillside, an open living area with fireplace, and a dining room. Fede is the largest of the village houses and, with three sets of French doors opening to a private outdoor terrace facing the hillside, takes full advantage of the vistas. Fede features five bedrooms on two floors, a large living area and dining area.

In addition to the gathering spaces in the Borgo's five houses, there are numerous other places for small or larger congregations. The Finocchieto Manor House has a living room, a library with fireplace and an extensive collection of works from the classics of literature to current bestsellers. The manor house also features a cozy bar, wine tasting room attached to the historic cantina, a small family dining room and a larger formal dining room, the salotto or living room with a grand piano, and a study. On the beautiful Tuscan evenings, guests take advantage of the arcaded courtyard, a piazza, and extensive lawn and garden spaces with pergolas, gazebos and shaded benches

Cuisine is an integral part of a stay at Borgo Finocchieto. In fact, the Borgo enjoys an ongoing friendship with Alice Waters, the American pioneer of the Slow Food movement, in which cooking is based on the finest seasonal ingredients that are produced sustainably and locally. Meals at the Borgo are an event, served on the terrace on balmy evenings or in the high ceilinged dining room with fireplace when the weather is cooler. Menus are created by the owner's venerated chef using regional ingredients accompanied by the fine local Tuscan wines.

The Borgo's conference room, with a large stage and its own bar, is the place for larger group discussions, lectures on art, architecture, opera, presentations, performances or movie screenings. An impressive collection of film favorites and Italian classics are available for viewing.

. As foil for the serious side of its conferences, recreational options in the Borgo's vicinity include hiking with customized Borgo maps and detailed custom itineraries -- biking on top-of-the-line mountain bikes and road bikes, croquet on the extensive lawns, bocce ball, tennis and full-court basketball. There is a 60-foot swimming pool, spa with Jacuzzi, cold plunge, steam room and sauna. The large, professional-quality gym has a large number of weight and cardio equipment, all in full view of the Tuscan hillside.

Borgo Finocchieto has become a favorite for issue-related conferences, study groups, academic gatherings and reunions and corporate think-tanks. Dedicated to one group or party at a time, with no other guests present, Borgo Finocchieto has become a venue of choice for high-minded, discerning groups that value the surroundings conducive to a thought- and creativity-rich experience.
For reservations and information, call toll free (800) 225-4255 or (203) 602-0300
For press information and photography, contact Martha Morano at
(212) 860-5566 or mmorano@sanctuare.com

ANTICO BORGO FINOCCHIETO, LOC. BIBBIANO, 53022 BUONCONVENTO (SI)
TEL: 0577 80981 FAX: 0577 809019
---
Red Mangrove Galapagos Lodges Offers
Sustainable, Land-Based Multi-Island Touring,
Three Eco-Lodges and PADI Dive Resort Distinction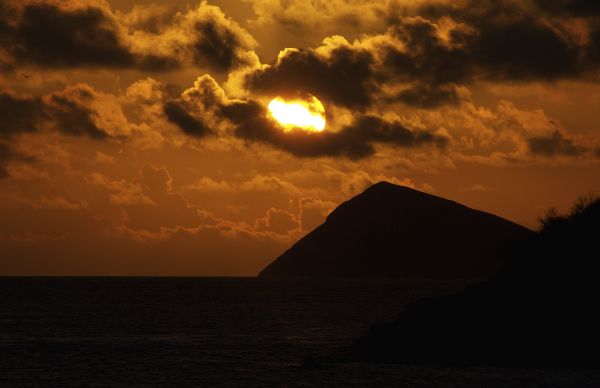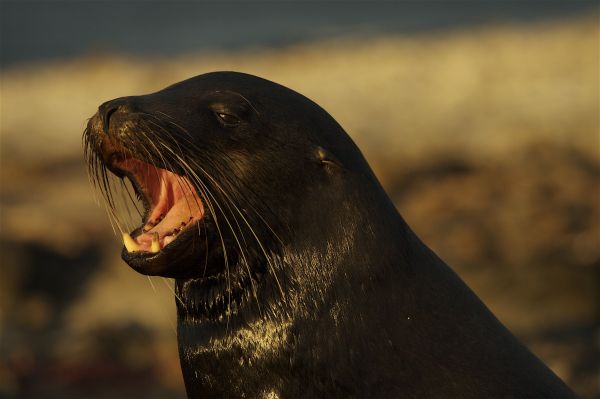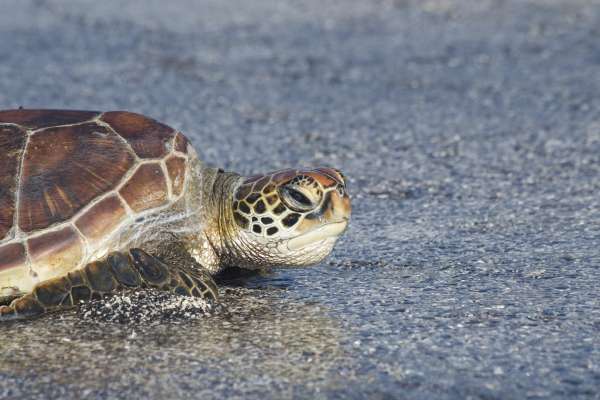 Company Is Breaking New Ground with Island Hopping Land Alternatives
To What Has Traditionally Been a Cruise-Only Vacation Destination
Red Mangrove Galapagos Lodges (http://www.redmangrove.com/), an up-and-coming hospitality company that is pioneering responsible, multi-island, land-based touring in the Galapagos, has secured PADI Dive Resort certification for its lodge operations. In so doing the company underscores its commitment to programming that supports sustainability in this fragile ecosystem.
Red Mangrove Galapagos Lodges is the life work of native Ecuadorian Hernan Rodas whose passion for and commitment to the Galapagos led to the creation of the region's foremost branded travel option for visitors who prefer a sustainable, land-based option to a cruise experience.
Until Red Mangrove Galapagos Lodges began offering multiple island hospitality in 2007, the Galapagos was primarily a cruise-only destination. Today the company is the leading lodge-to-lodge operation in the region, setting standards for quality and responsible tourism.
"The PADI programs give us yet another way to help our guests immerse themselves in the natural world here," said Rodas. He noted that the dive environments close to the company's lodges are as diverse as the islands themselves.
"We encourage our visitors to island hop among our three lodges to experience the magnificent diversity of nature, scenery and, of course, people," he said, noting that his is the only company in the Galapagos that can welcome guests to its doors on multiple islands while maintaining consistent quality and service throughout.
Guests of Red Mangrove Galapagos Lodges may choose from a selection of set itineraries of varying lengths or create their own private bespoke adventure. Daily activities include naturalist tours, wildlife viewing, snorkeling, scuba diving, hiking, mountain biking and more. Red Mangrove's certified PADI Dive operations offer the latest equipment, expert instructors and safety features. For divers, novice to advanced, Red Mangrove offers a wealth of options and packages (see: http://www.divingingalapagos.com/index.html).
Prices vary per length of stay, party size and chosen itinerary. 2010 rates for the popular 8 Day / 7 Night Full Adventure in Galapagos program start at $2,602 per person, double occupancy and include; 10% service charge, all meals noted in the itinerary, excursions with English speaking naturalist guides, boat transfers between lodges, free use of bikes when in Puerto Ayora and Isabela and all snorkeling gear. There is a 25% discount for children under 10 years old.
About Red Mangrove Galapagos Lodges
Red Mangrove Galapagos Lodges in 2007 introduced a land-based alternative to exploring the Galapagos that heretofore was a cruise-only destination. With upscale waterfront lodges strategically situated on Santa Cruz, Isabela and Floreana, it is the only company offering high quality, branded accommodations and services on multiple islands in the Galapagos. Because it is land-based, Red Mangrove can offer a more extensive roster of activities and more flexibility than traditional cruise options.
Red Mangrove walks the talk with habitat preservation and responsible stewardship. Accommodations and operations adhere to and often exceed the most stringent environmental standards. Out of respect for the local community, Red Mangrove has helped native fishermen find alternative livelihoods through tourism by utilizing a fleet of former fishing boats for transportation and sightseeing. Other outreach projects include support of a Family Health Program initially serving families of Red Mangrove employees on the Island of Isabela, assisting a dental health program in public schools and a care program for at-risk horses associated with local tourism in Puerto Villamil. See: http://www.redmangrove.com/our-involment/
The customary way to experience Red Mangrove's hospitality is to spend a number of nights on each island accessed by small boat and/or aircraft. With 14 guest rooms, Aventura Lodge on Santa Cruz is distinguished by its unique architectural design which blends its mangrove forest and seafront environments tastefully and responsibly. Its location boasts generous views of Puerto Ayora Bay. Separated from the ocean by a white sand, palm-lined beach, Isabela Lodge offers eight rooms outside the sleepy fisherman's village of Puerto Villamil on one of the most volcanically active islands on Earth. Red Mangrove Floreana Lodge is a romantic gathering of 10 private pine cottages just a five minute walk from the village of Puerto Velasco Ibarra (population 150).
---