TRAVEL . . .
GET READY FOR GALWAY'S INTERNATIONAL ARTS FESTIVAL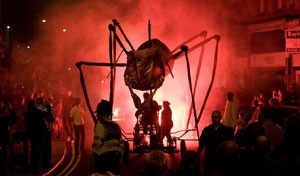 Ireland's largest annual arts extravaganza, Galway International Arts Festival, takes place every summer in the cosy city of Galway on the Wild Atlantic Way – and this year it bursts into life on 11 July.  For 14 days it will feature hundreds of performances and exhibitions in a convergence of arts and arts aficionados, creating one of Europe's most important cultural events.

The fortnight of arts will showcase an international programme of theatre, dance, music, talks, comedy and visual arts, and once again stage the extraordinary, the ambitious and the innovative.

Acts confirmed for the Absolut Big Top so far include song writing legend Elvis Costello (15 July), Dublin band Bell X1 (16 July) and Villagers with special guest Mick Flannery (19 July).
____________________________________________________________________
OLD SPANISH DAYS
– Fiesta is Coming! www.oldspanishdays-fiesta.org
Santa Barbara,CA. August 3–7, 2016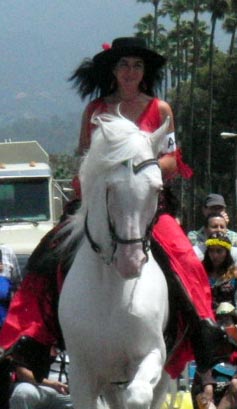 ___________________________________________________________________
WINDSTAR CRUISES ANNOUNCES NEW 'STAR PROMISE' INITIATIVE 
"You're the Star!" Declares Windstar to Travel Agents with New Star Groups
Bonus Commissions, Education Programs & FAMS, Improved Service,
PLUS Free Cruises & Tablets for Travel Agents Attending Cruise360
Luxury cruise line Windstar Cruises has announced Star Promise, a new travel agent partner initiative unveiled at a press conference today in Vancouver, B.C. at Cruise360, the largest and only official cruise industry conference.
Windstar's Star Promise initiative is aimed at making travel agents' jobs easier to successfully sell and manage reservations for the line's six luxury yachts. Windstar recently surveyed 20,000 travel agent partners, listening and creating Star Promise in response to their constructive feedback.
"Travel agents are at the center of our business and by listening to our most important partners we are renewing our commitment to agents by presenting new opportunities for success in selling our highly-rated yacht vacations," said Joe Duckett, vice president of sales and marketing. "Our new Star Promise program is about recognizing and thanking our travel agent 'stars', educating agents new to Windstar, and delivering the programs and service both need to be successful."
The travel agent-centric Star Promise initiative revolves around four cornerstones of success and features new corresponding programs and services announced today.
Extraordinary Guest Experience: "180 Degrees from Ordinary"
Windstar is known for delivering guests a truly unique style of cruising – upscale yet unpretentious in "private yacht style." With six ships in the fleet, the company is fully invested in bringing guests a more memorable vacation unlike any other in the market. Windstar offers the best of luxury cruising with a choice of sailing yachts and all-suite yachts visiting picturesque harbors off the beaten path, exceptional service and world-class cuisine. The experience adds up to repeat clientele and travel agent referrals.
Fresh Sales Tools and Support: New Star Groups Program Benefits
With Windstar's new Star Groups program, it's easier to attain tour conductor credits in addition to new bonus commission opportunities. Within the Star Groups program, there are two levels of benefits: Star Group and Star Advantage, depending on promotional dates and savings fares.
Star Groups Benefits:
Five percent discount from savings fares
Tour conductor policy of 1:9 people
New guest amenity of $100 per person shipboard credit
Complimentary cocktail party with hors d'oeuvres with 18+ guests.
259 cruise departure dates to choose from, all destinations
Added Star Advantage Groups Benefits:
Ten percent discount from savings fares
$100 per person travel agent bonus commission.
Tour conductor policy of 1:9 people
New guest amenity of $100 per person shipboard credit
Complimentary cocktail party with hors d'oeuvres with 18+ guests
164 cruise departure dates to choose from, all destinations
There are more than 250 Star Group dates available in 2016 and 2017 with nearly two-thirds offering top tier Star Advantage benefits, including Windstar's most desirable itineraries such as Around Iceland, Dreams of Tahiti, and Jewels of the Windward Islands.
Outstanding Educational Programs: Star FAM & Star Specialist
Designed to assist agents learn more about Windstar yacht vacations new educational programs provide the following:
The Star FAM program gives agents star treatment with free cruises to experience the product first-hand, immersing themselves in luxury and relaxation on select dates through 2016.
To apply travel agents should log in to Windstar Cruises' Travel Agent Center: http://www.agentcenter.windstarcruises.com/ and submit the form online.
The Star Specialist program helps agents discover useful tips about Windstar Cruises with a training program designed to help deepen confidence when selling the brand. Agents who register and complete the online travel agent training program by June 23, 2016 are eligible for a $100 bonus commission on a future Windstar Cruises booking. 
Excellent Agent Service: Star Service Commitment
The Star Service program concentrates on helping and supporting agents by responding to requests by the next business day and working towards a speedy resolution thereafter. The commitment is from both reservations and sales professionals at Windstar.  
For travel agents in attendance at CLIA's Cruise360 conference in Vancouver, BC, Windstar is also offering a giveaway of two dozen Acer tablets and two free cruises. Travel Agent Attendees must visit the Windstar Cruises' booth to enter. 
For more information on Windstar's new travel agent initiative Star Promise, visit http://www.windstarcruises.com/starpromise/.
For additional information, including daily itinerary highlights, special offers, and product information, contact a travel professional. Visit Windstar Cruises online at www.windstarcruises.com.
Windstar Cruises
operates a six ship fleet of small luxury sail and all-suite yachts visiting 150 ports throughout Northern Europe, the Mediterranean, the Caribbean, Costa Rica, the Panama Canal, and sailing year-round in Tahiti and the South Pacific. The luxury cruise ships are known for an intimate yacht-style experience, unique itineraries and exclusive access to the world's best small ports and hidden harbors. Windstar's fleet is the market leader in luxury small ship cruising with a total of 1,242 passenger berths. All ships in the fleet have recently undergone multi-million dollar transformations to embody casually elegant yacht travel. The all-suite yachts Star Breeze, Star Legend and Star Pride serve 212 guests in all-suite accommodations; while sailing yachts Wind Spirit and Wind Star sail with up to 148 guests, and Wind Surf serves 310 guests. The yachts cruise to 50 nations worldwide. Windstar Cruises is a part of Xanterra Parks & Resorts®, known for "Legendary Hospitality with a Softer Footprint." Xanterra's entities also include lodges, restaurants, tours and activities in national and state parks, as well as resorts, railway and tour companies.
____________________________________
Norwegian Cruise Lines New Liquid Limits
Exclude Wine and Baby Formula